Bucharest: the Indie Band
Words by Dalene Heck / Photography by Pete Heck
Water dripped on our heads – not from rain – but from air conditioners that hung precariously above as we made our way from our apartment into the historical center. It was hot, a little muggy, but not near what it could be in the summer, we were told.
We walked mapless, taking turns deciding which street to explore next. The historical centre is not big but it's dense with massive architecture. Our first impression – being genuinely wowed by it – was a complete surprise to us.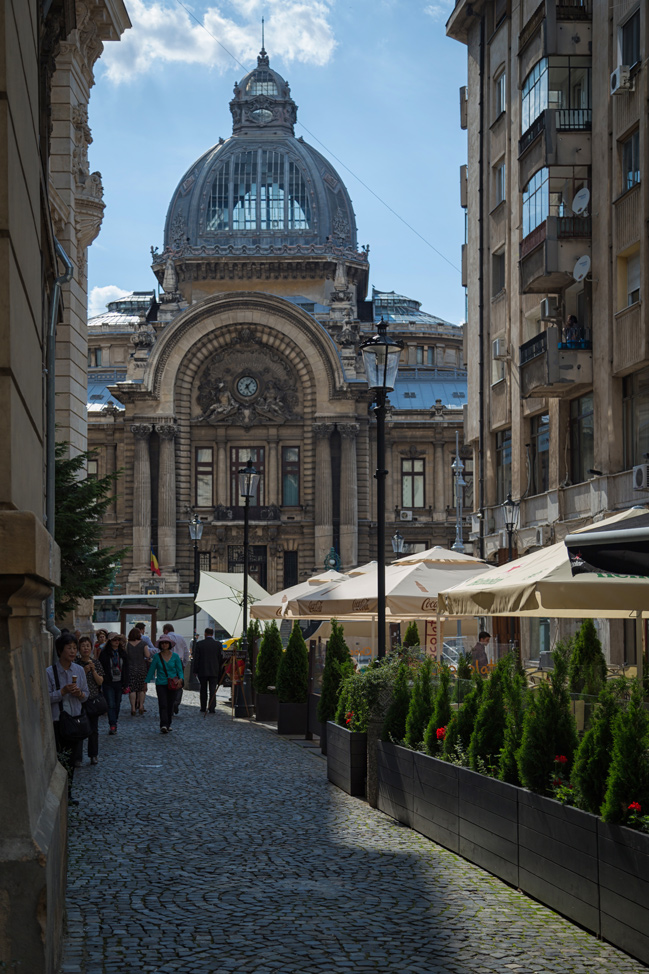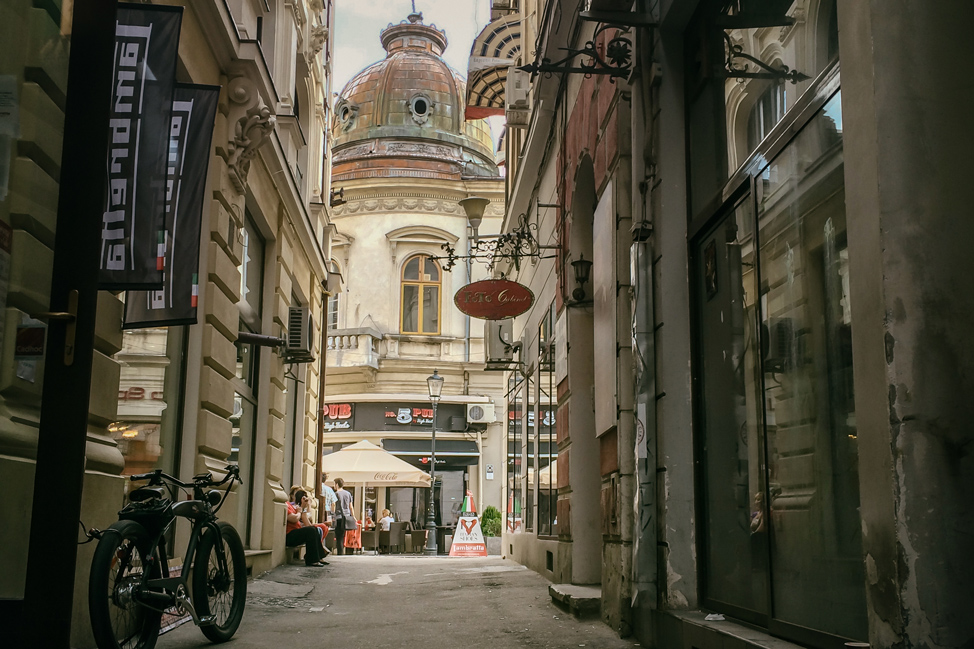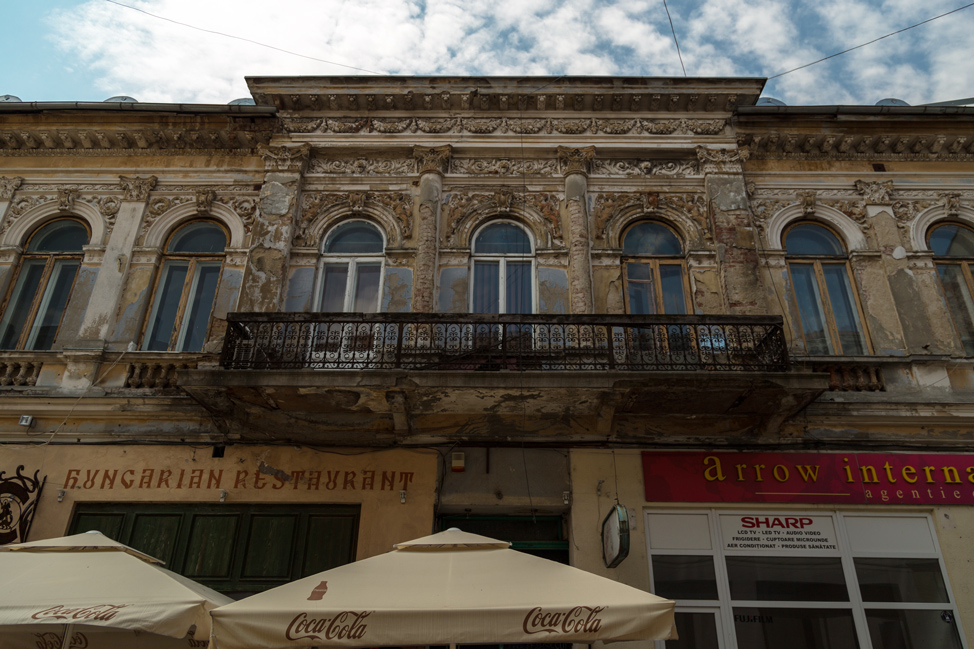 Arriving with a clean slate, we knew not that its name meant City of Joy or that it also has been called Little Paris. The architecture, albeit much of it in a state of decay, stunned us repeatedly. Baroque, neoclassical, communist, even art deco structures are scattered around the center. And many carry the illustrious title of "Palace" – Palace of Post, even the Palace of Phone – but most notably, there is the Palace of the Parliament.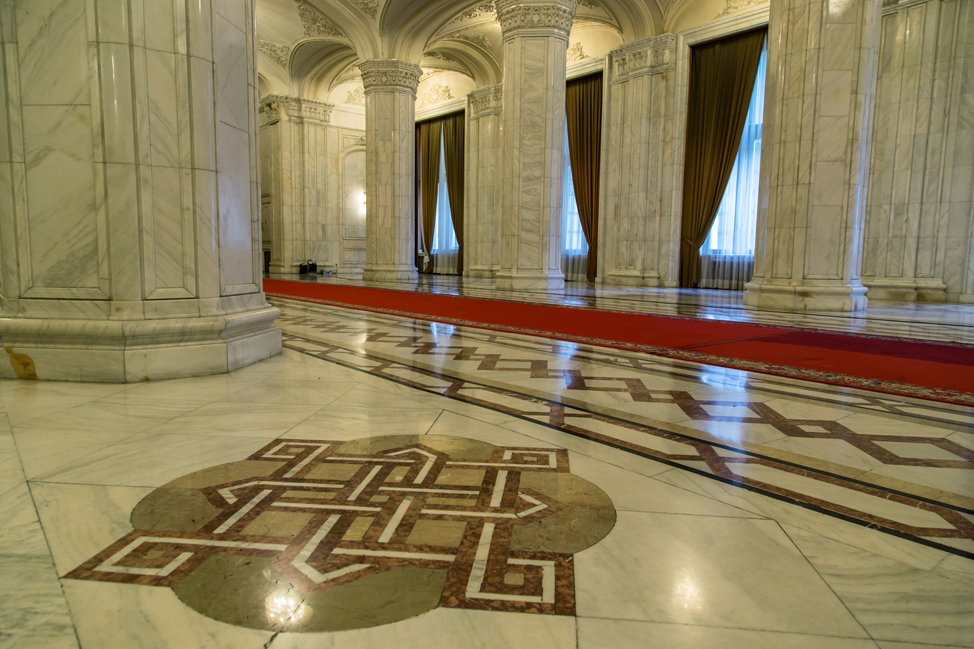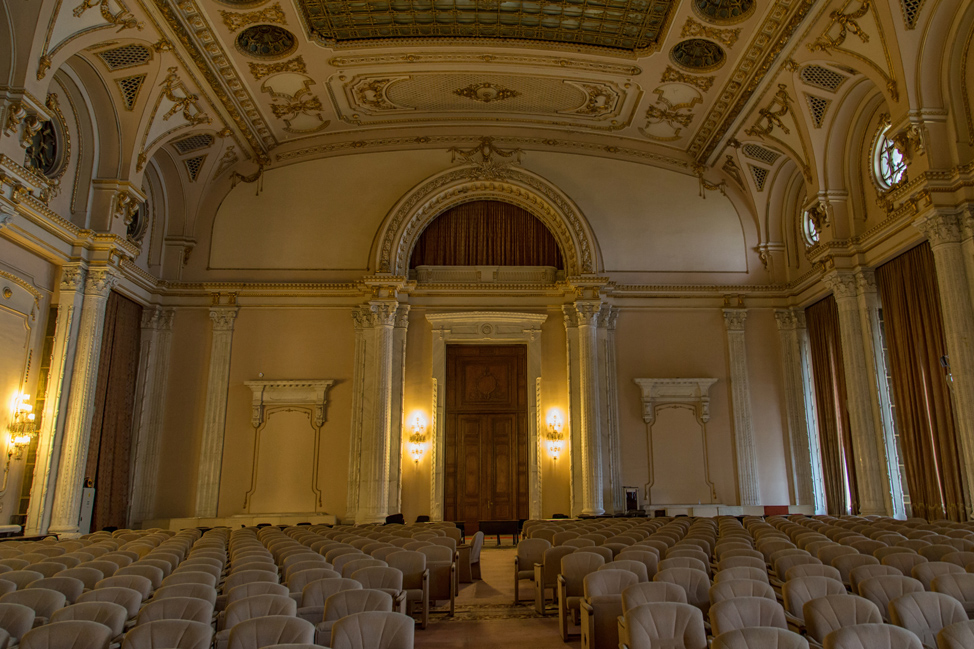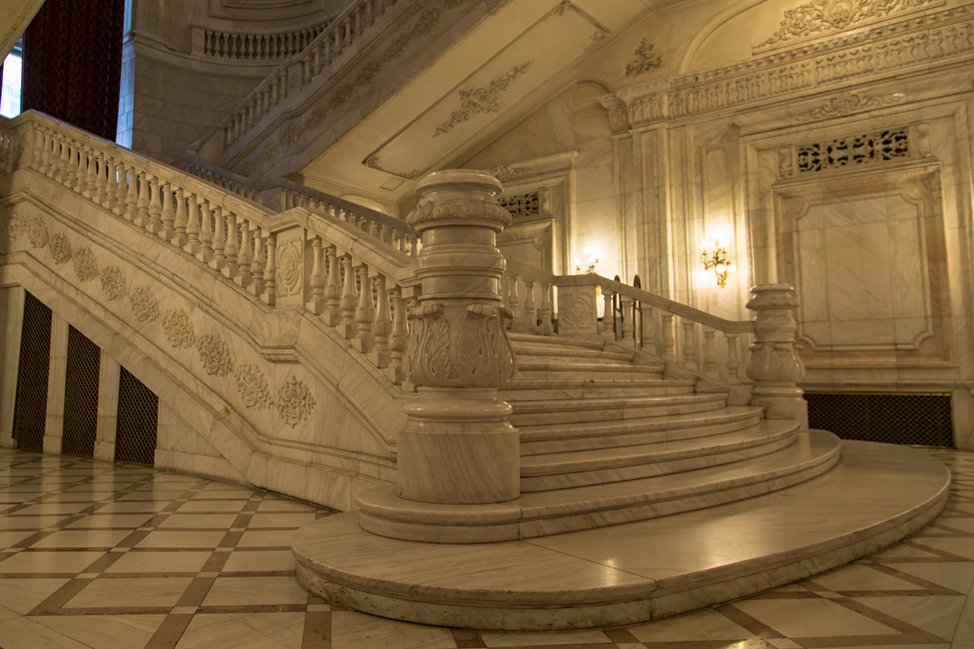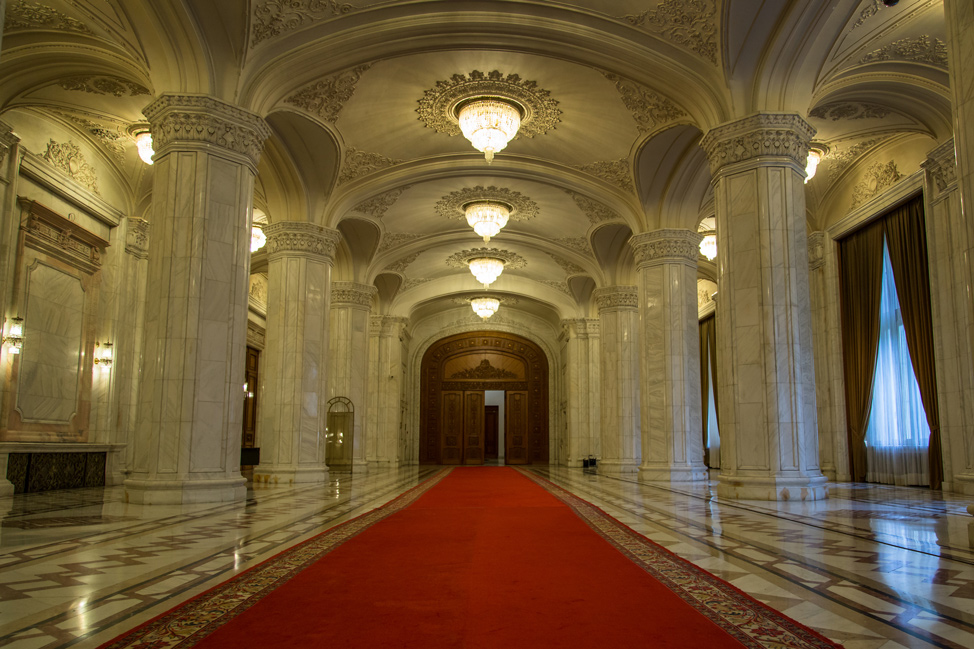 All other buildings pale in comparison to what was formally called "The People's House", not only in Bucharest, but nearly on the planet. We explored just a fraction of the colossal building and holder of many records: longest carpet in the world, largest chandelier in the world, largest administrative building in the world. From the extensive front balcony we faced the longest boulevard in the world, named the "Victory of Socialism", 4 meters longer than Paris' Champs Élysées.
Although we are still barely scratching the surface of understanding the plight of Eastern Europe prior to the fall of communism, this building is emblematic and of little wonder. Typical elements of communist architecture hold true: it is monstrous in size, impersonal in colour, and an overall abuse of material and space that should have been used to help the people. One fifth of the center was demolished to make room, including displacing people from 30,000 homes, shoving them into what were called "matchbox houses" in the suburbs. The Palace stands as 340,000 m2 of glorious glut that fed the megalomaniac leader Nicolae Ceausescu, while Romanians were starved in the process to fund it.
It is a phenomenal scar, its entire removal debated when the crazed Communist dictator was killed during the Romanian Revolution in 1989. It remains but many rooms sit empty. And since then, the country has been in a state of recovery.
Back outside, while much of the city does crumble from neglect, construction projects are also plenty. Romania is a country on the upswing (one of the fastest growing economies in the EU), but you won't hear that from many Europeans. It is oft disregarded as a land of grabby gypsies and hill-billies, outsiders are totally ignorant to the youthful vibrancy and so much more that exists in Bucharest. Think Berlin before it's ultra-hip status became a fact known worldwide.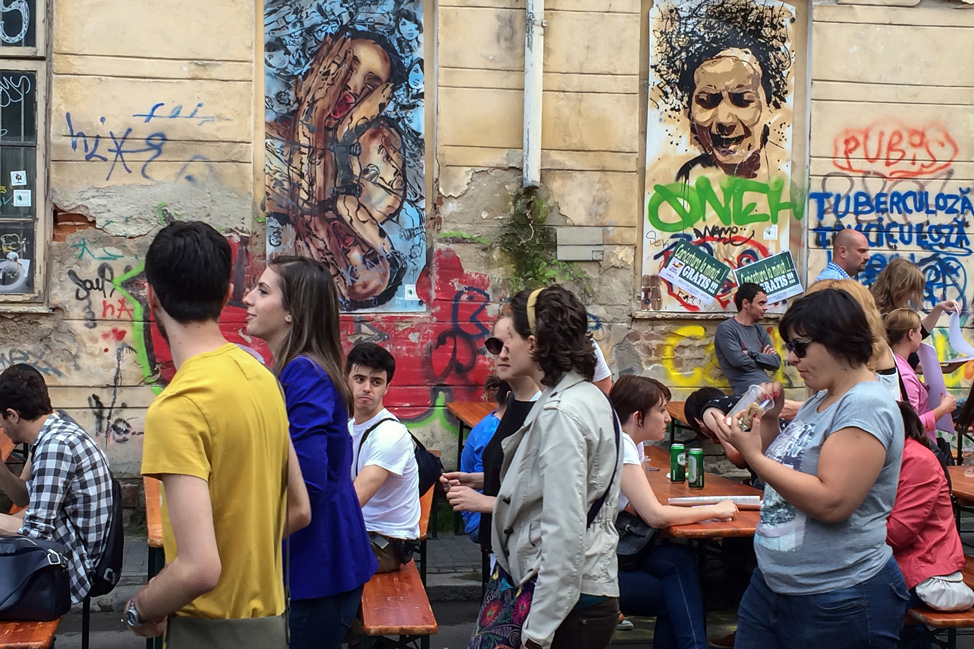 The city is brimming. It is not a perfect place by any means, many locals carry negativity about the state of their country and the appeal of others, but as a curious traveler drawn to those places not often talked about, it was a wonder to me that this place isn't more often talked about.
This city has so much potential, I repeated to myself often. But for what? To be cleaner, better constructed, to be more alluring for the camera-toting masses?
But then it might lose its natural appeal, its gritty yet compelling exterior, its visible scars – those which make Bucharest more authentic and livable than some of its prettier European counterparts. Maybe it is the view of this naive tourist who had but a week to spend there, but it feels like a city on the move and a city that you want to be a part of, if only so that you can say "I knew it first." Like an indie band discovered before everyone else.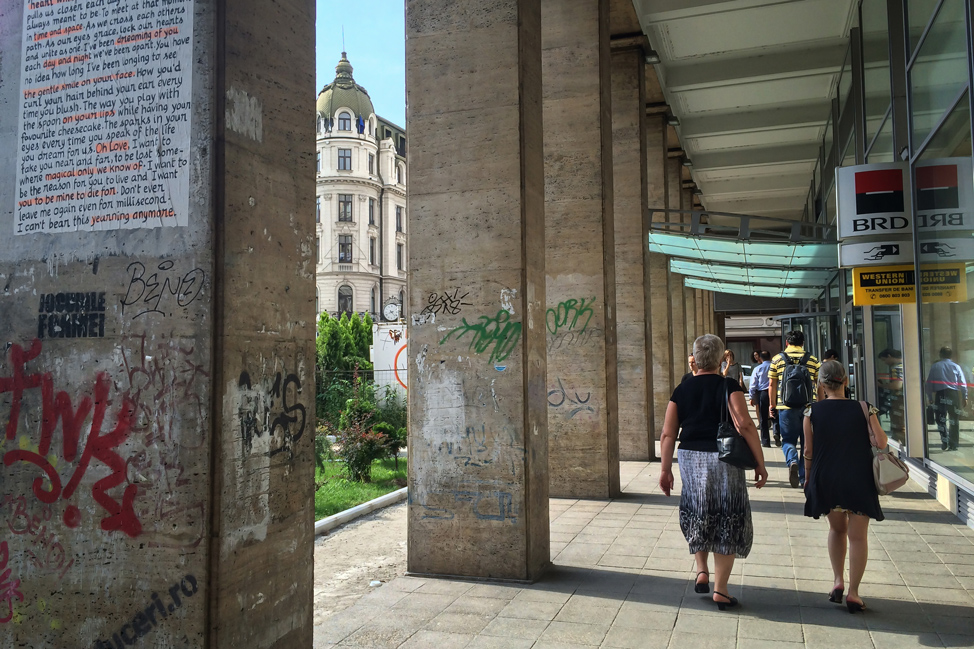 After every outing we would return to our renovated apartment in one of those dilapidated Soviet-style concrete buildings, stepping gingerly into the rickety elevator and holding our breath as it began its climb to the 7th floor. Once inside, I opened the window to the smell of unseen flowers. Melodies from unseen instruments drifted up from the music school nearby.
where we stayed
Do not let the rickety elevator fool you, we had a great modern apartment just on the outskirts of the historical center. Bucharest is very affordable compared to other European capitals, and the center bursts with great restaurants and lively nightlife (for those that are up for that sort of thing).
Haven't tried Airbnb yet? Sign up through this link and you'll receive a $25 credit (and we'll get a little something as well, thanks for helping!) 🙂