6 Incredible Festivals in Southern Nova Scotia
Words by Dalene & Pete Heck / Photography by Dalene & Pete Heck
It's one thing to become familiar with a location by sampling its food, viewing its landscapes, or reading through placards at a museum. It's quite another to engage with locals at events symbolic of their heritage, culture, and even their beliefs. While we've always been aware of that on some level, it wasn't until we planned our summer around attending Nova Scotia festivals that this idea began to crystalize.
Would we have understood the significance of scallops to the town of Digby and the entire region if we hadn't spent the day partaking in their annual festival? Would we truly have appreciated the kind-heartedness of the Acadian people if we hadn't had so many beautiful conversations with other attendees at the parade celebrating their heritage? I could go on with examples from every festival, and how deeply touched we were by the interactions we had and the knowledge we gained.
These six we attended in southern Nova Scotia not only further ingrained our understanding of our new home, but also were simply so much fun! Find out how and why below, plus our picks of other things to do when you're in the area.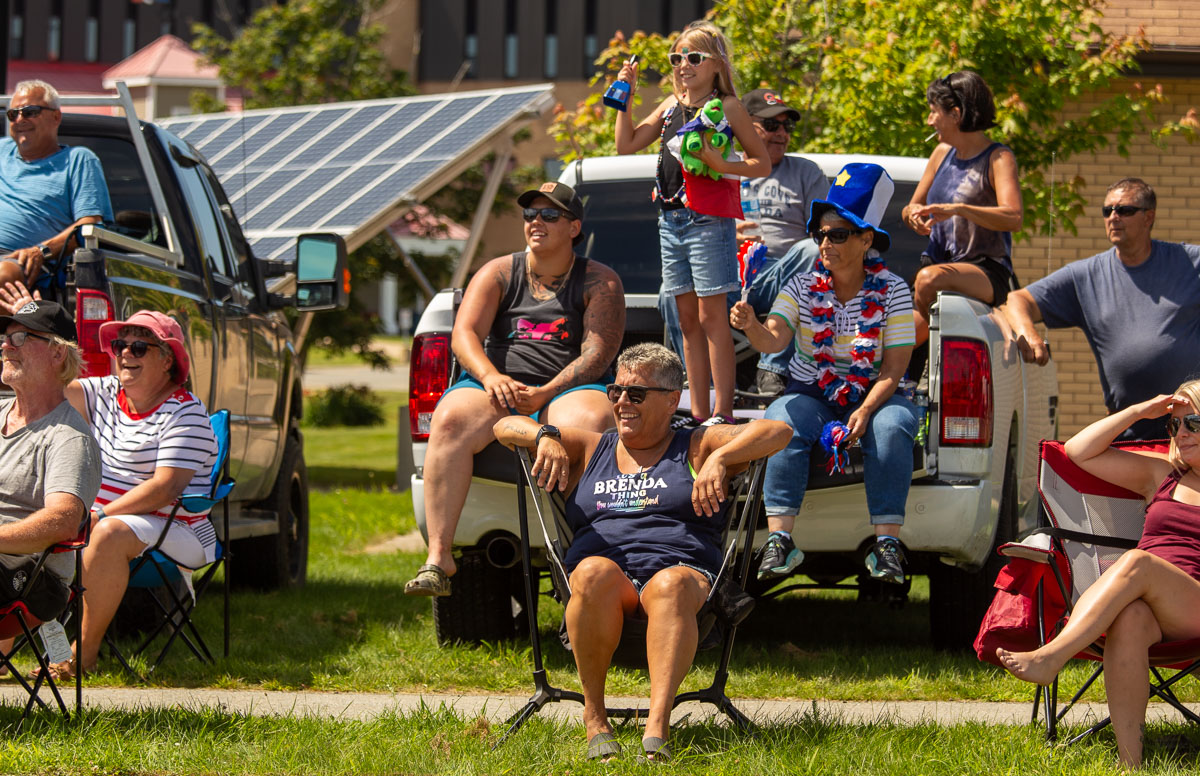 Festival Acadien de Clare
When: Typically, near the end of July, and again on August 15th (Acadian Day)
Where: Municipality of Clare
You only need to drive through the Municipality of Clare to get a feel for the immense pride of the Acadian people who live there. Flags abound, and other items – roofs, ornamental lighthouses, lobster traps, and more – are painted in the red, blue and white flag adorned with the signature yellow star. But the Acadians are not to be known only by their symbolism; we also experienced their famous friendliness multiple times during our short stay.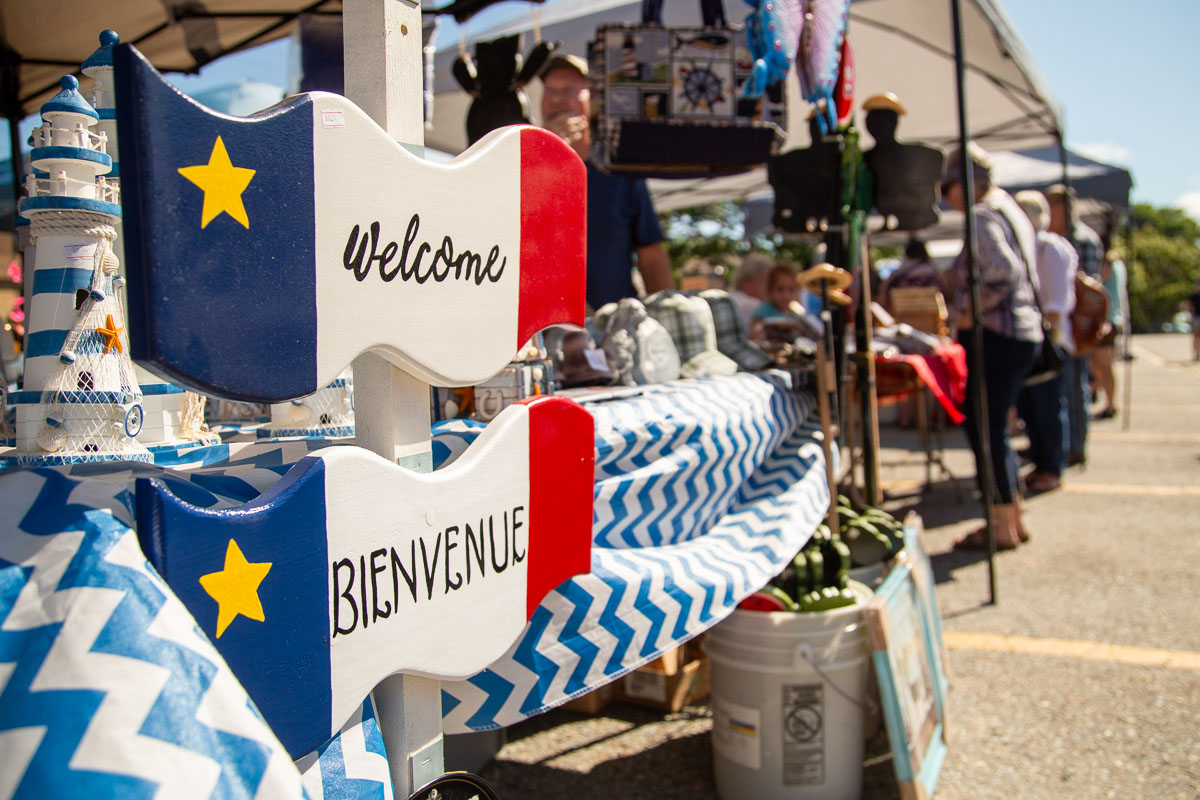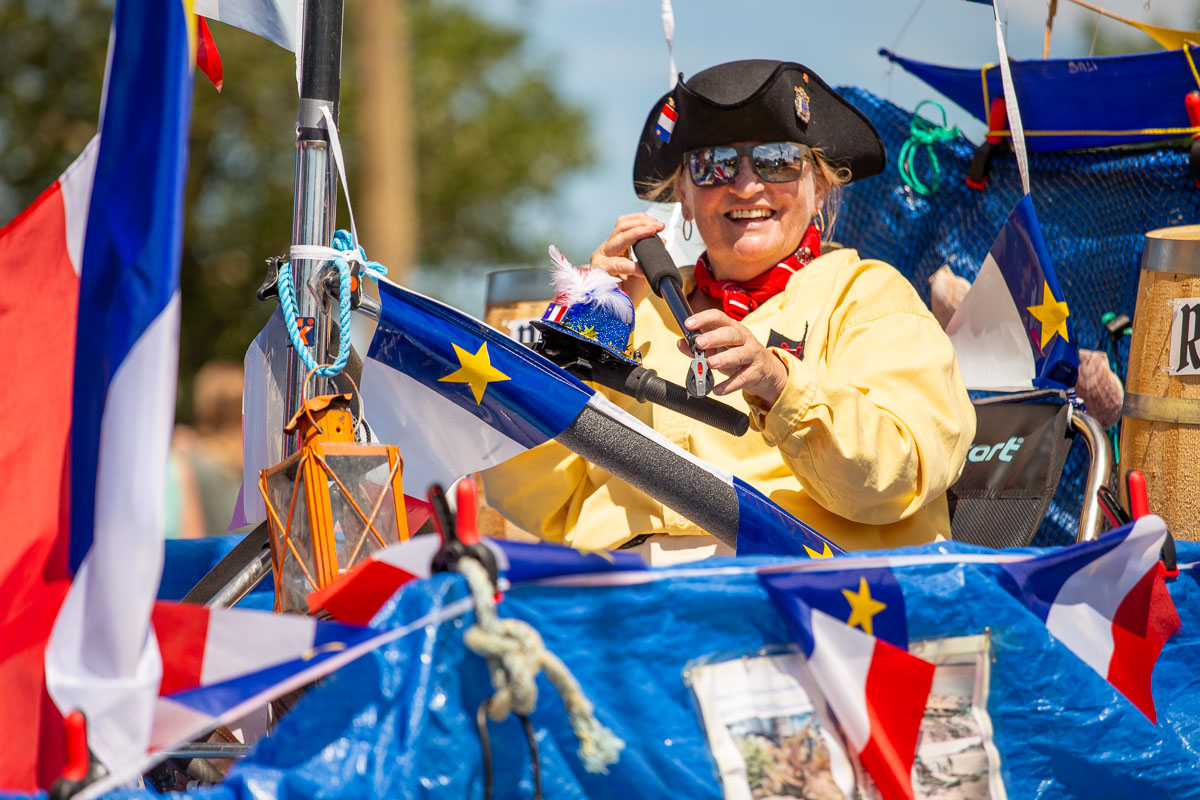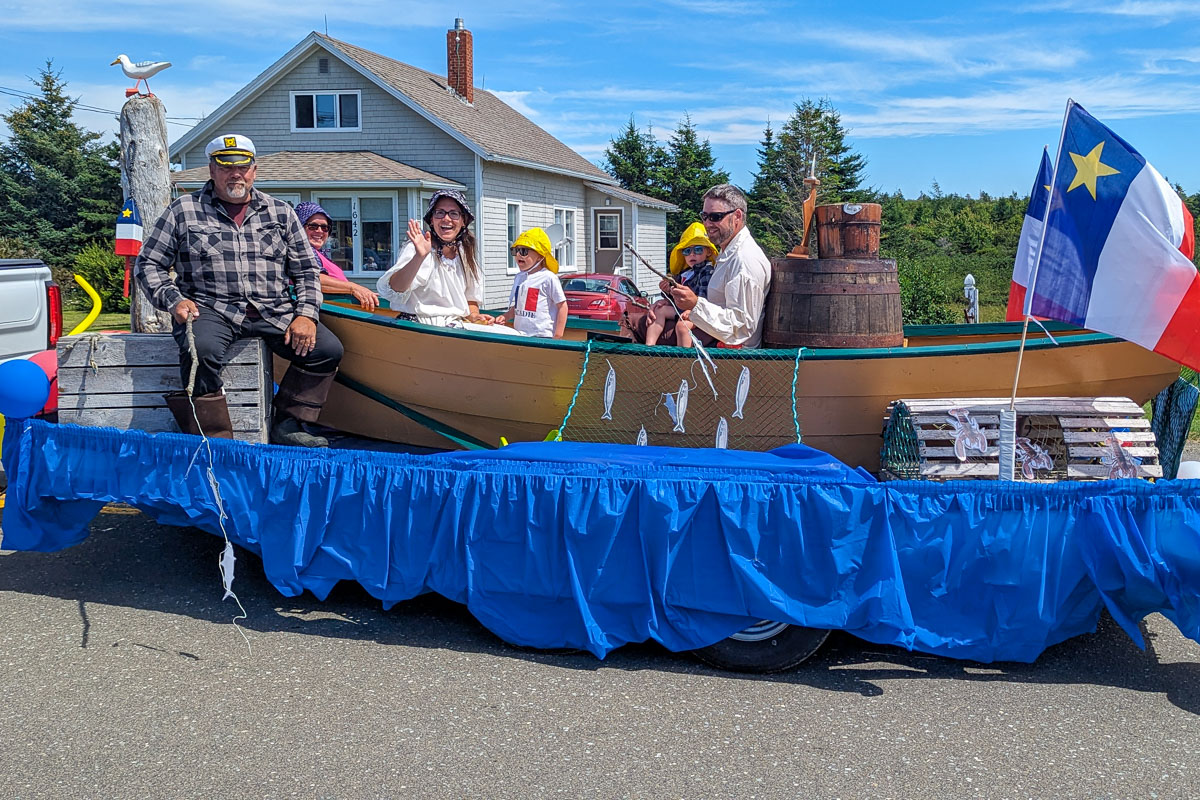 We were there for their most significant event of the year – the Festival Acadien de Clare – celebrating the history of the Acadian people. If you are unfamiliar with their story – the Acadians were the very first settlers to Canada (from France). They lived in harmony with the Mi'kmaq for many generations before the British expelled them. Some were allowed to return several years later, but not to their previous homes, and the population was scattered, left to start over on entirely unfamiliar land. The fact that Acadian culture is still so strong hundreds of years later is a testament to their resilience and perseverance. In essence, they have A LOT to celebrate, and this is the biggest Acadian festival in the world.
The festivities stretch for a whole week and culminate every year on August 15th, National Acadian Day. Our experience during our two days there will stick with us for a long time. From sampling Acadian cuisine to shopping for local art, watching their colourful parade and more, those experiences were punctuated by the friendliness of all we encountered.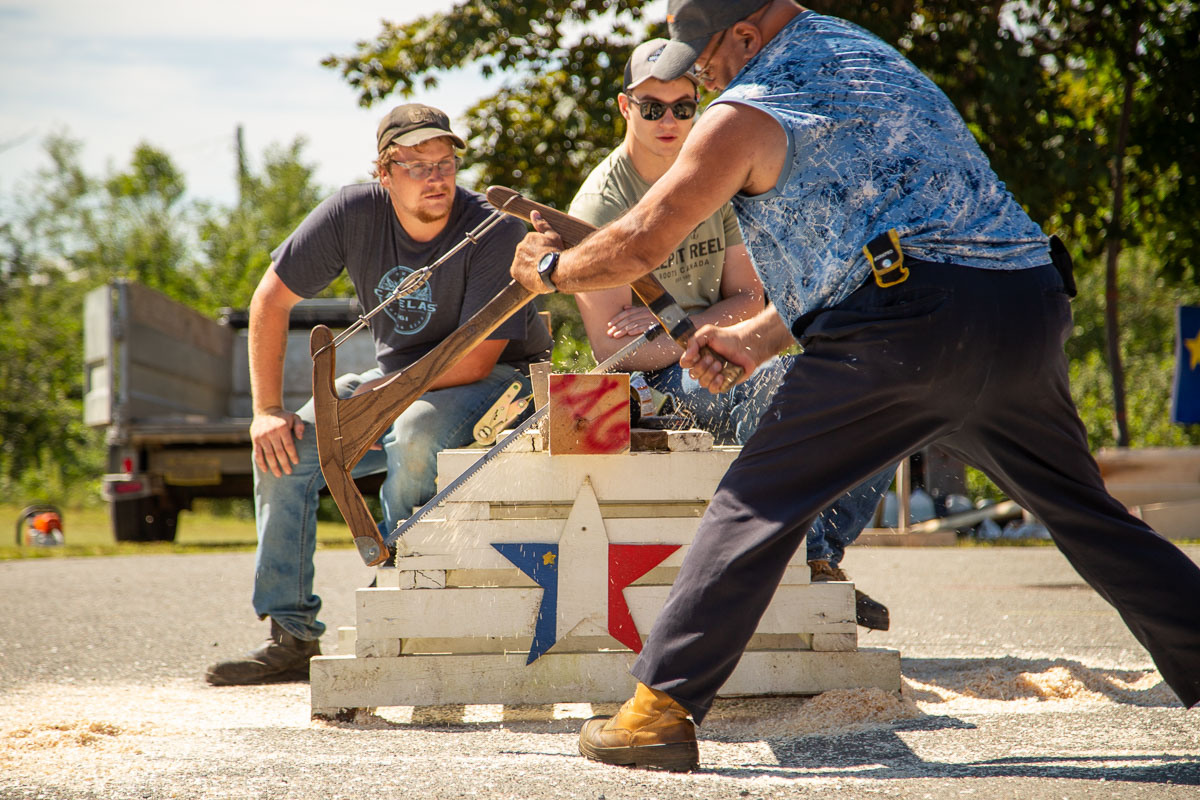 Other Things to Do Nearby
Mavillette Beach Provincial Park
This stretch of beach had been on our to-do list for a very long time. Our visit coincided with a dense fog for most of the time, but it did not hamper our spirits one bit. The white sand was soft and beautiful; the rolling waves were therapeutic. This is a spot we will definitely return to many times over, we are sure.
Smugglers Cove
Photos do not do this scenic spot justice. It's only a brief walk and a few stairs to get to that view below, and a very worthy stop.
Cape Saint Mary Lighthouse Park
A quick drive up the hill from Mavillette Beach, a stop here offers views of dramatic craggy cliffs. It took us back to Ireland or Scotland and had us lingering longer than we actually had time for! (Plan accordingly.)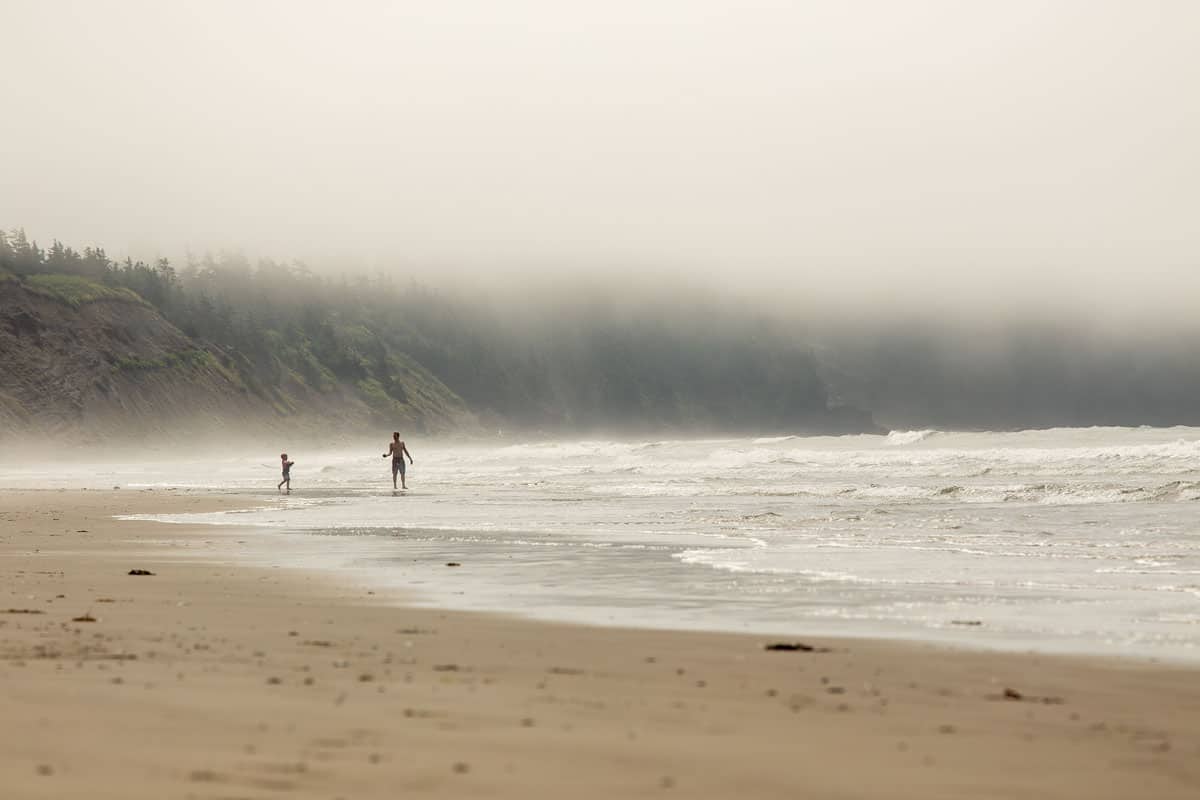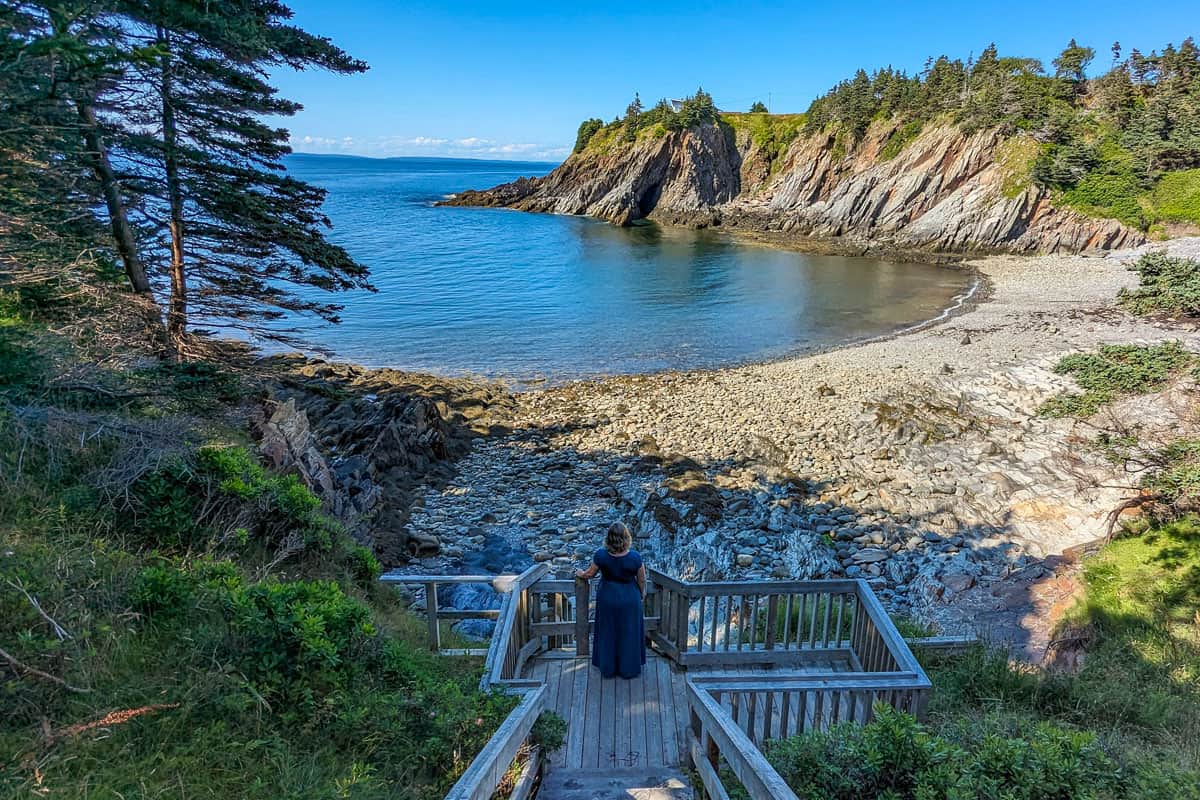 Where to Stay and Eat in Clare
La Cuisine Robicheau
If you want to sample Acadian food, make this your stop. Their famed poutine râpée often sells out by noon – make sure to order it in advance. They even smartly offer a sampler if you want to try it before ordering a whole plate, as it's NOT for everyone (Pete enjoyed it, I didn't)! Admittedly, Pete was more excited about this first sample of creamed lobster and still talks about it all the time.
The Wheelhouse Seafood and Pasta
A delightful little cafe with a fantastic fresh menu! But saving room for dessert is a MUST here – the homemade pie selection is to die for.
Cabane D'horizon
These sea cans on the sea are just down the road from La Cuisine Robicheau and owned by the same people. These wee containers are loaded with luxuries and give you a front-row seat to epic sunsets you won't find elsewhere.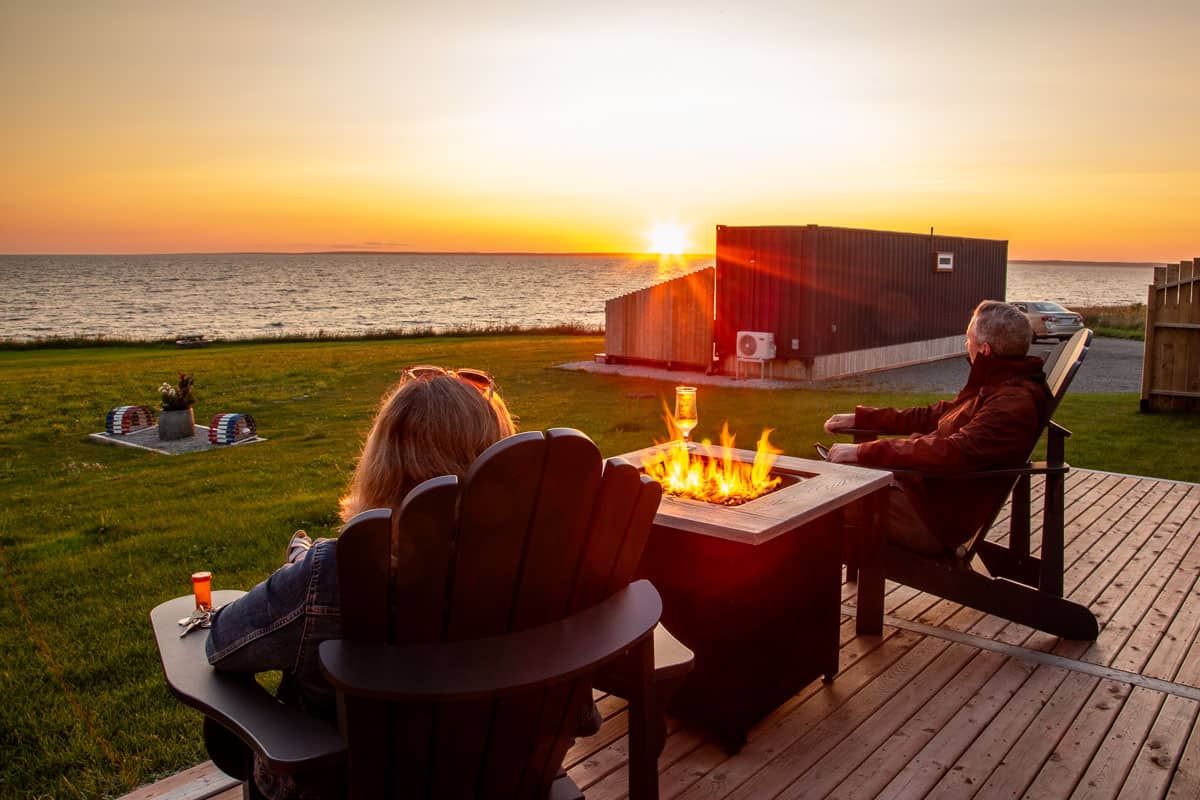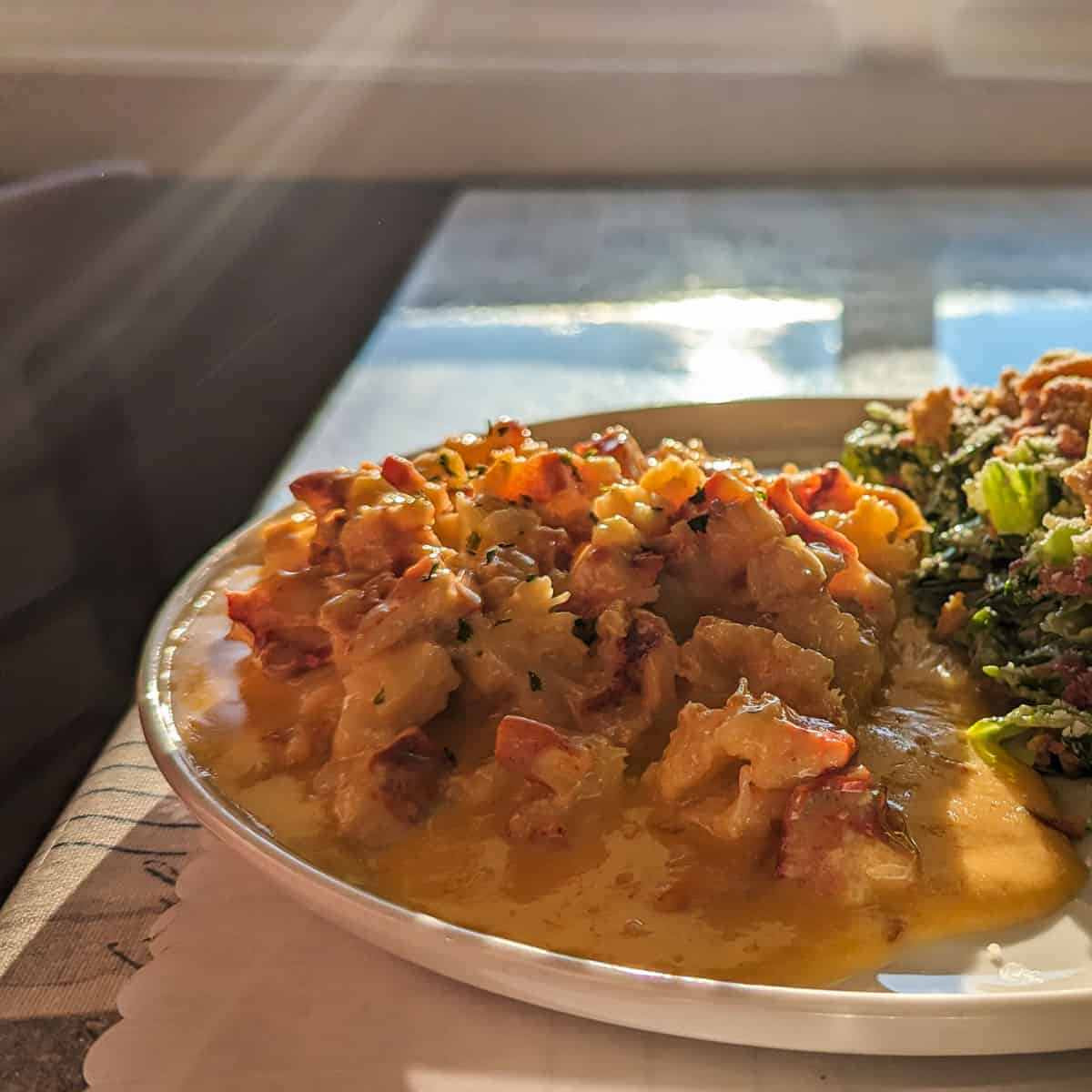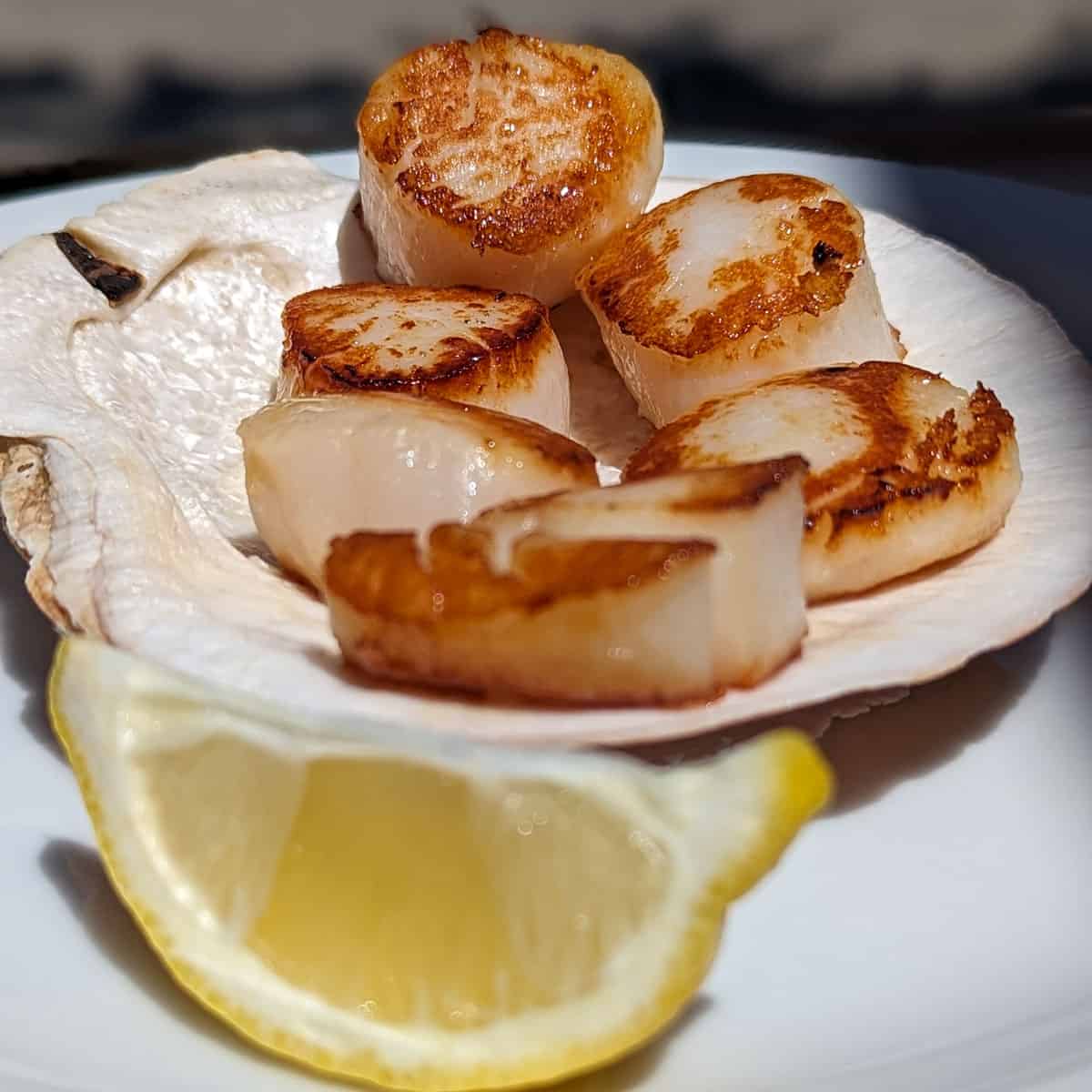 Shelburne Dock St. Days
When: Typically early August
Where: Shelburne
The small town of Shelburne, tucked away in the southeast corner of Nova Scotia, is poised for tremendous things. As beautiful as Lunenburg and with abundant historical stories to tell, Shelburne has so much to offer but is absent bountiful crowds. Yet.
That small-town feel is what made our experience at the Shelburne Dock St. Days so joyful. And it was the camaraderie around the locals that elevated it to truly memorable, likely (and SO unfortunately) because they were bonded months prior when the county and community were threatened with a substantial wildfire. With over 230 square km burned and 150 structures lost (including 60 homes), the locals rallied together. Fittingly, the 2023 festival was dedicated in honour of the volunteer firefighters, and many even participated in the just-for-fun firefighter games. "I'll be cheering for him," one woman standing said to me before one competition started, "He lost his home but just got back out there and continued to fight with everyone else."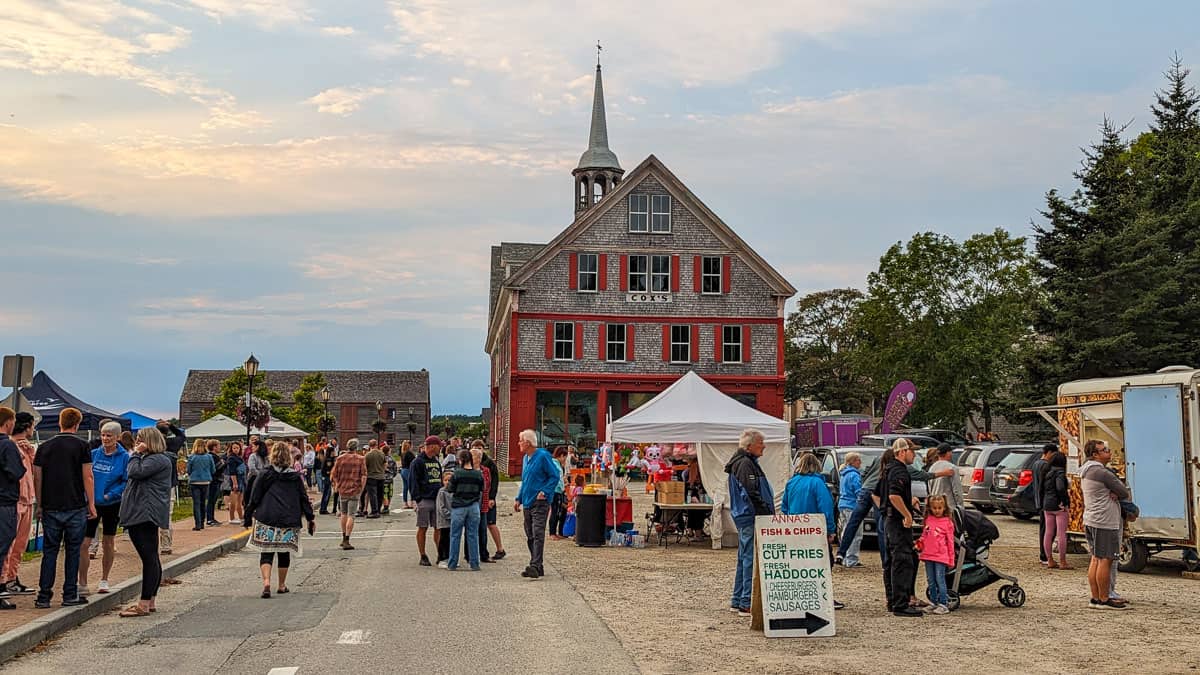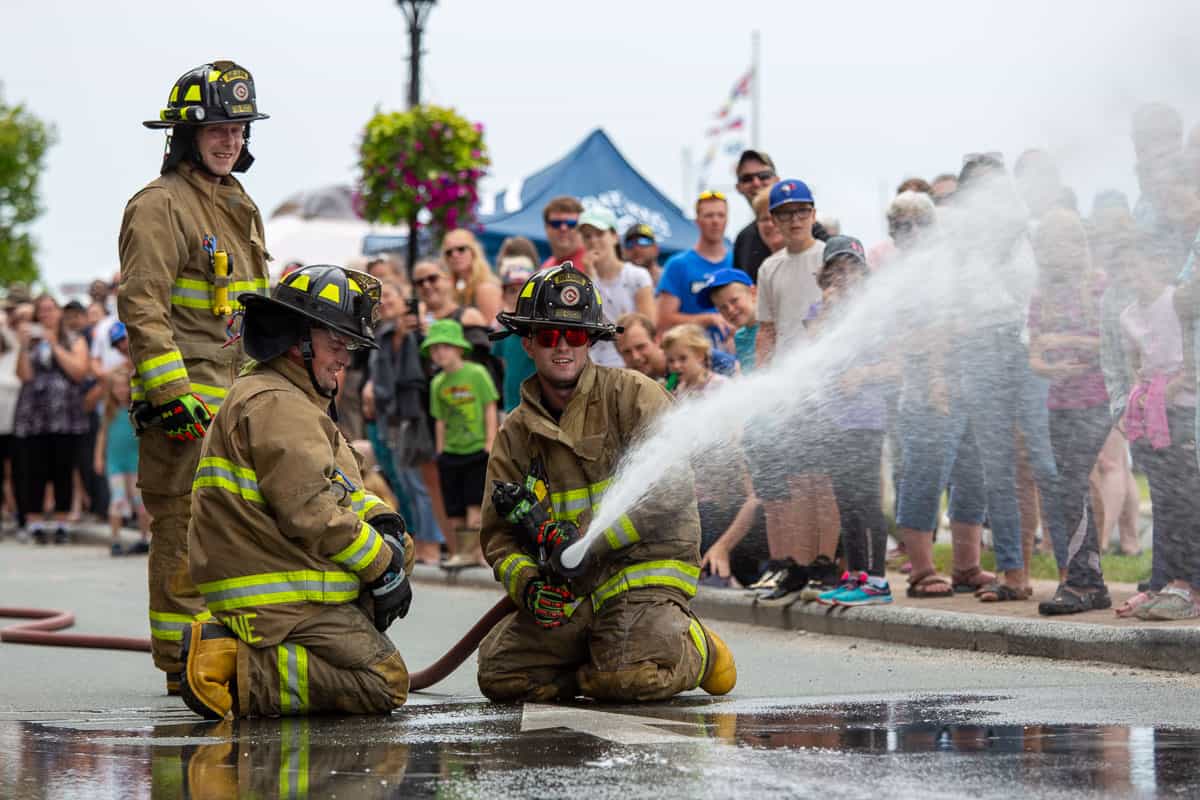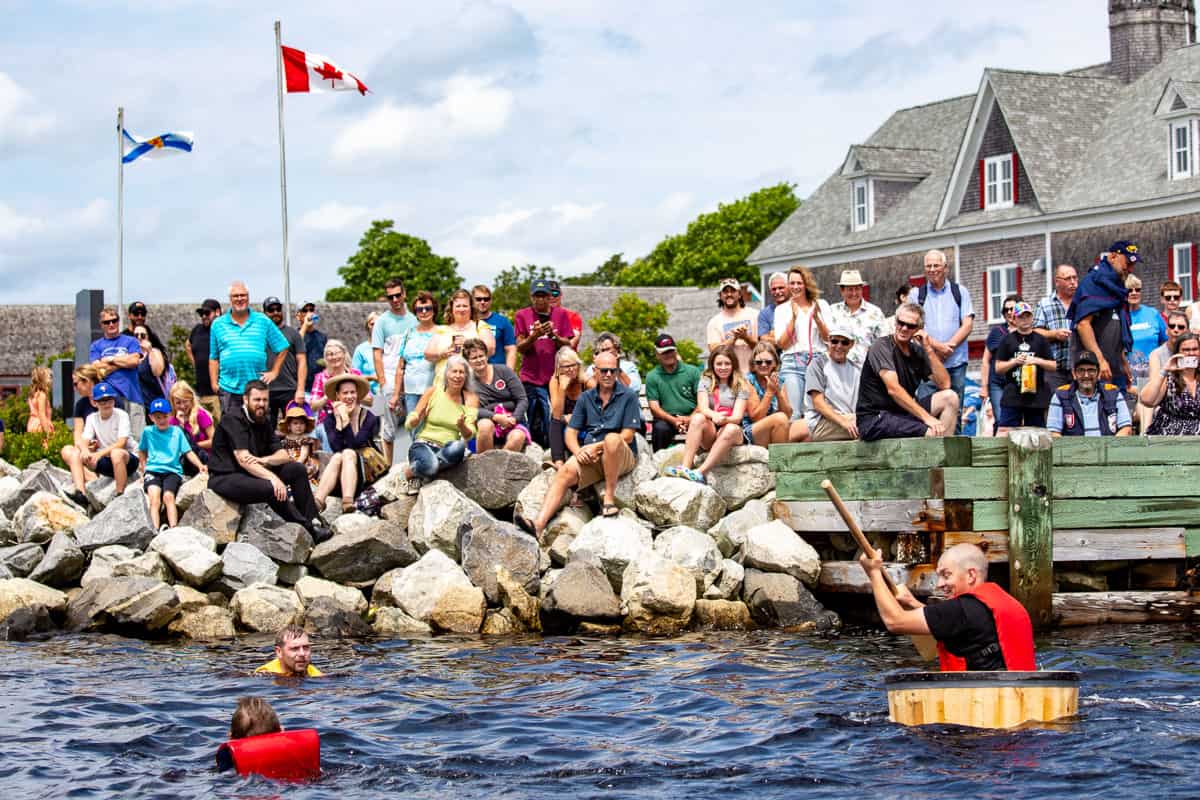 The cheers and pure jubilation of this festival may just be what the town needed, and it was a privilege to witness. Beyond the firefighter games, there were dozens of events: lots of live music, a djembe drum circle (which we particularly loved), a cornhole tournament, a children's parade, unique street vendors, the hilarious trawl tub races (which was almost total carnage right off the start, it's tough!), and so much more.
But the real highlight was the Parade of Lights: a procession of boats dressed up to the nines with lights through the natural harbour of Shelburne. Fireworks from onboard faded over the water and sparkled in reflection. With many boats decorated acknowledging local heroes, it was a spectacular way to honour them.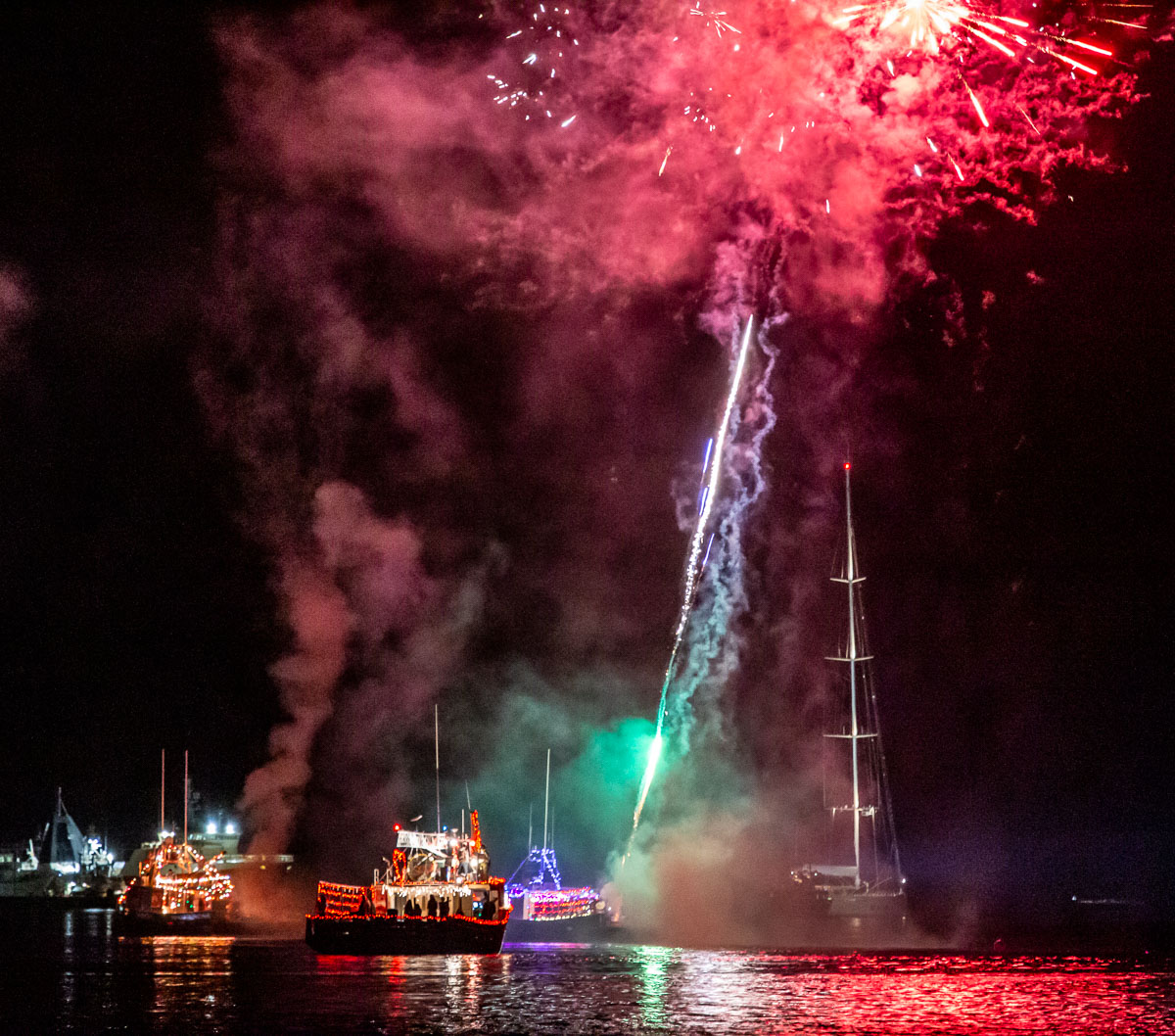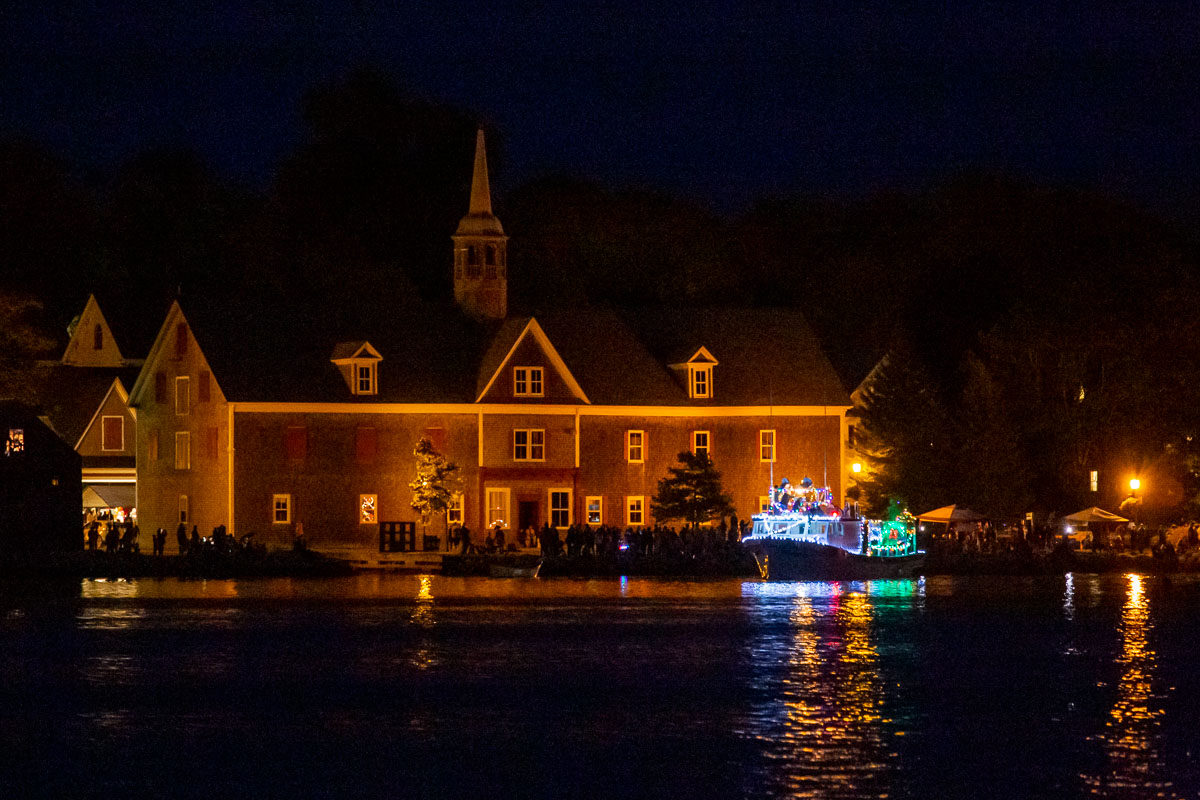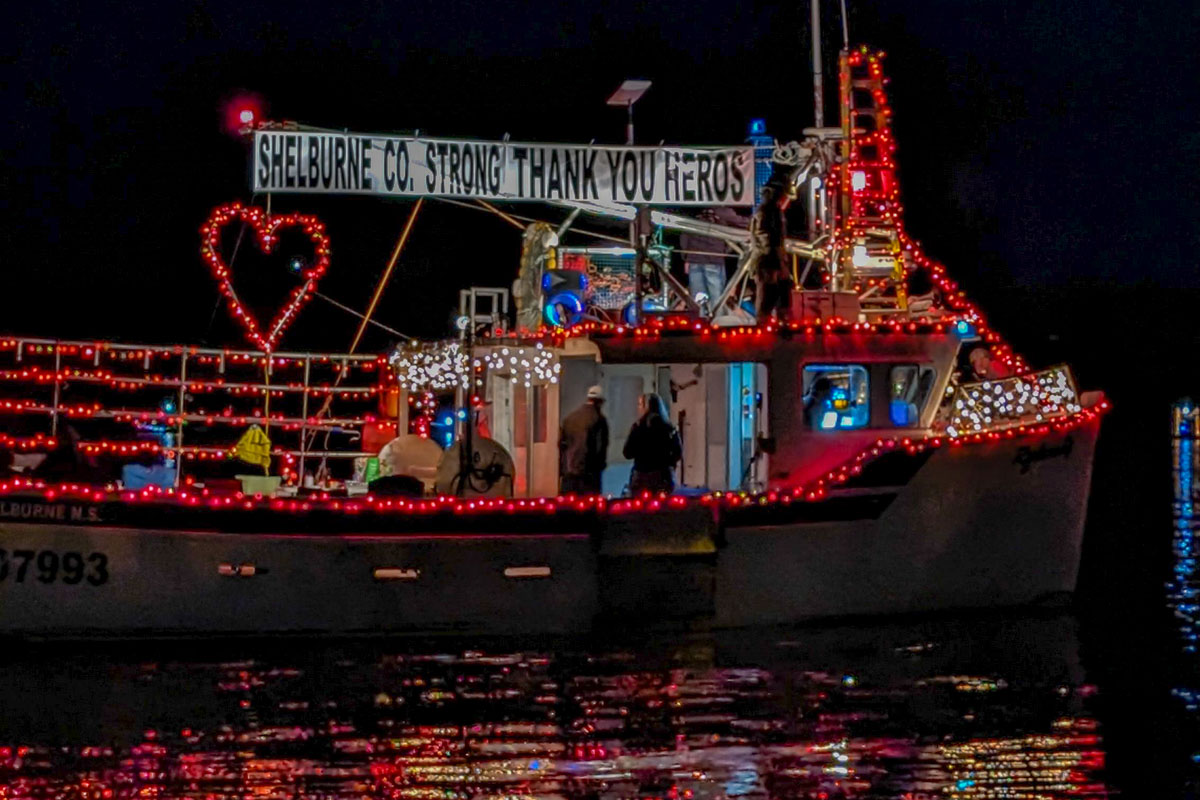 Other Things to Do Nearby
Sandy Point Lighthouse
Not far from Shelbourne, what is most remarkable about this lighthouse is that when the tide is out, you can walk right out to it! That's also the time when the gorgeous white sand emerges, and visitors can have some beach time before the tide rolls back in.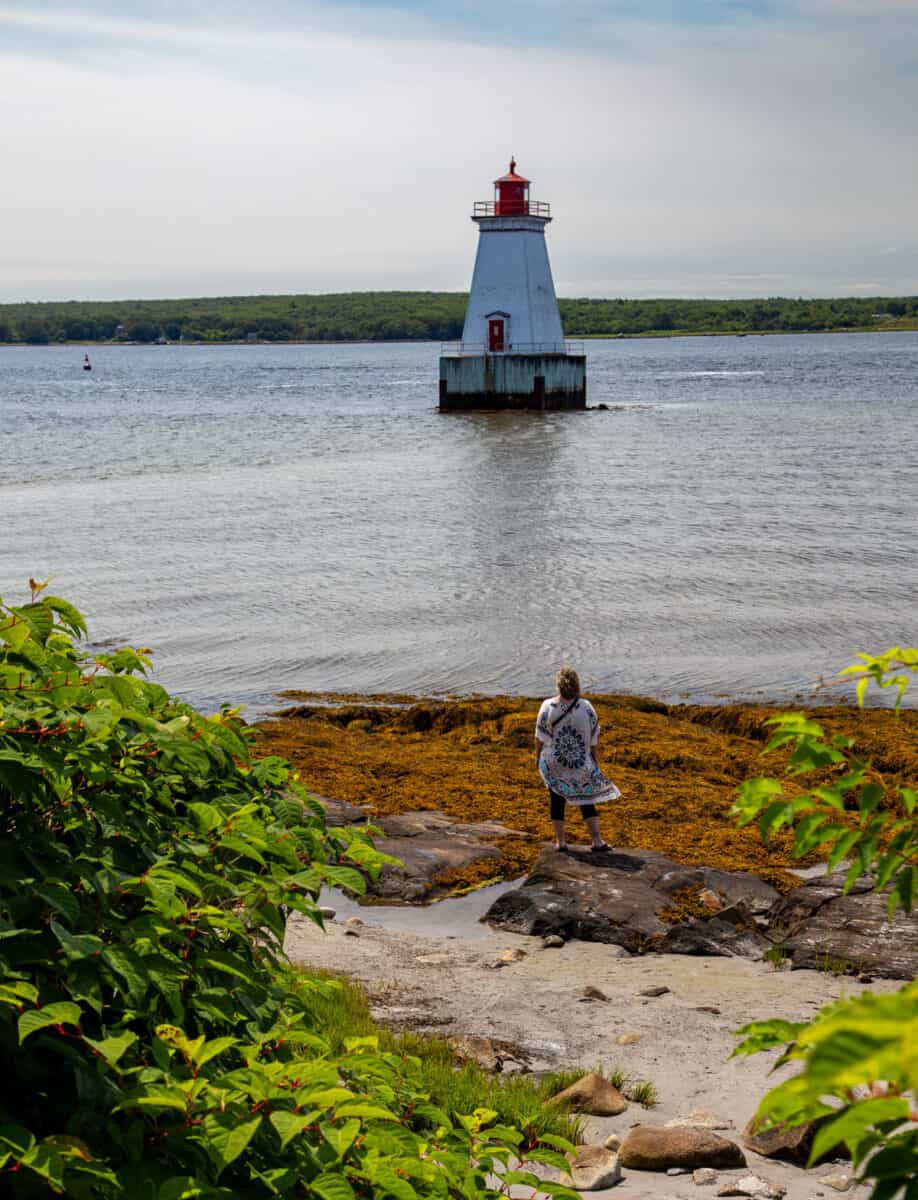 Where to Eat and Stay in Shelburne
The Emerald Light
As a non-seafood eater (me, Dalene!) I can get a little worn down by menu offerings in smaller places, as the choices are often repetitive and limited. The Emerald Light is an excellent exception! The Korean chicken and waffles were especially good.
Boxing Rock Brewing Company
We knew of Boxing Rock well before our arrival in Shelbourne, as the brand has graced our fridge shelves many times! Thus, a stop had to be made, and as expected, it always tastes better straight from the source. There's a great atmosphere there, too.
Cooper's Inn
We enjoyed comfort and great views at this historic waterfront property. Other reasons to stay: the sumptuous breakfasts and the gorgeous patio onsite.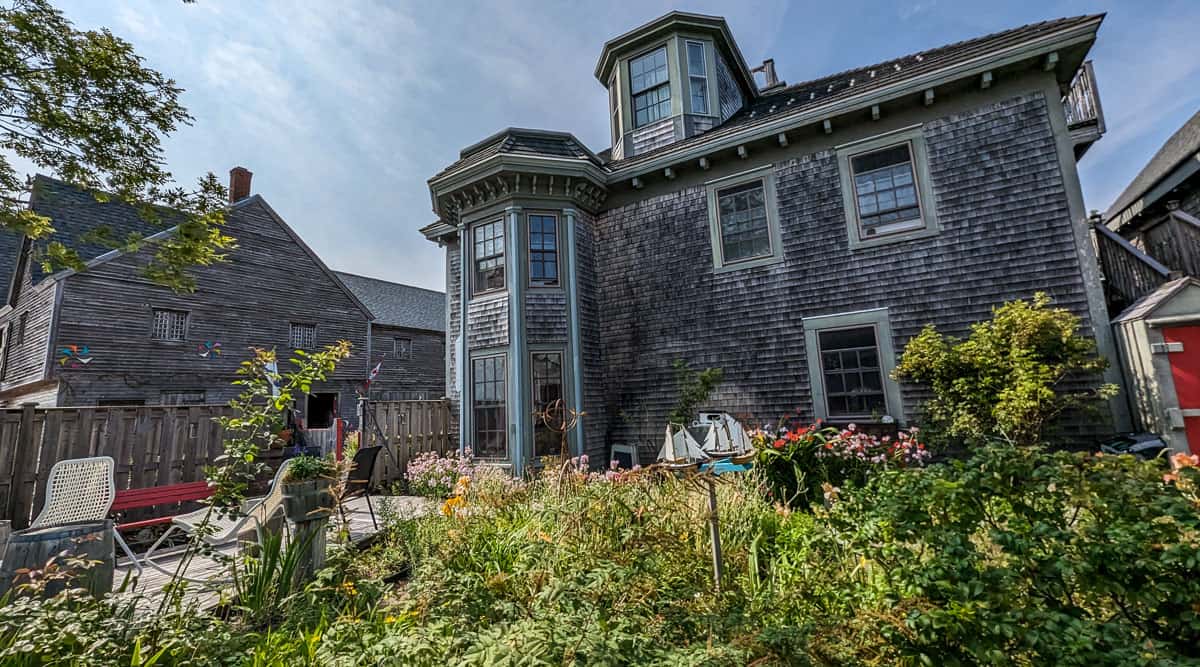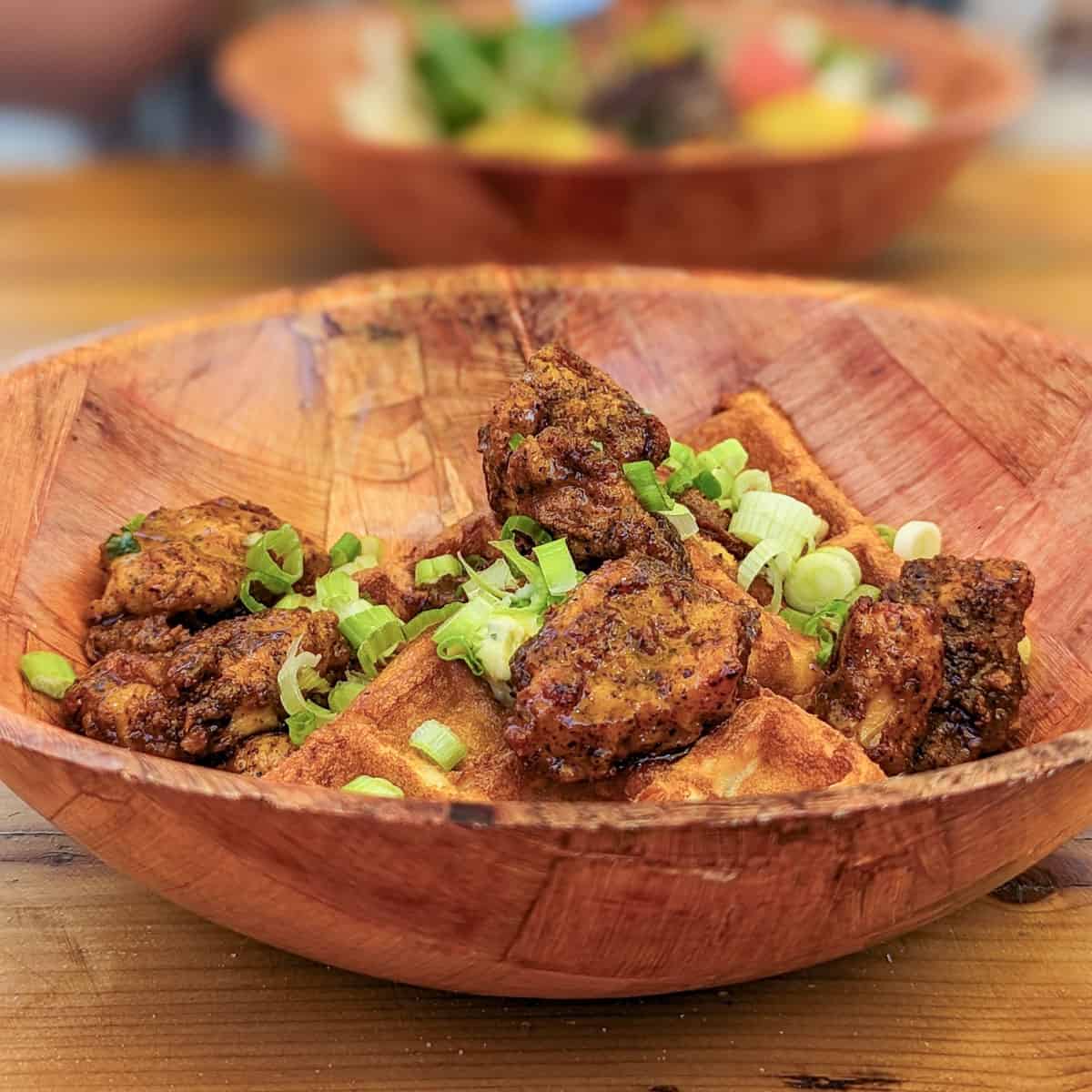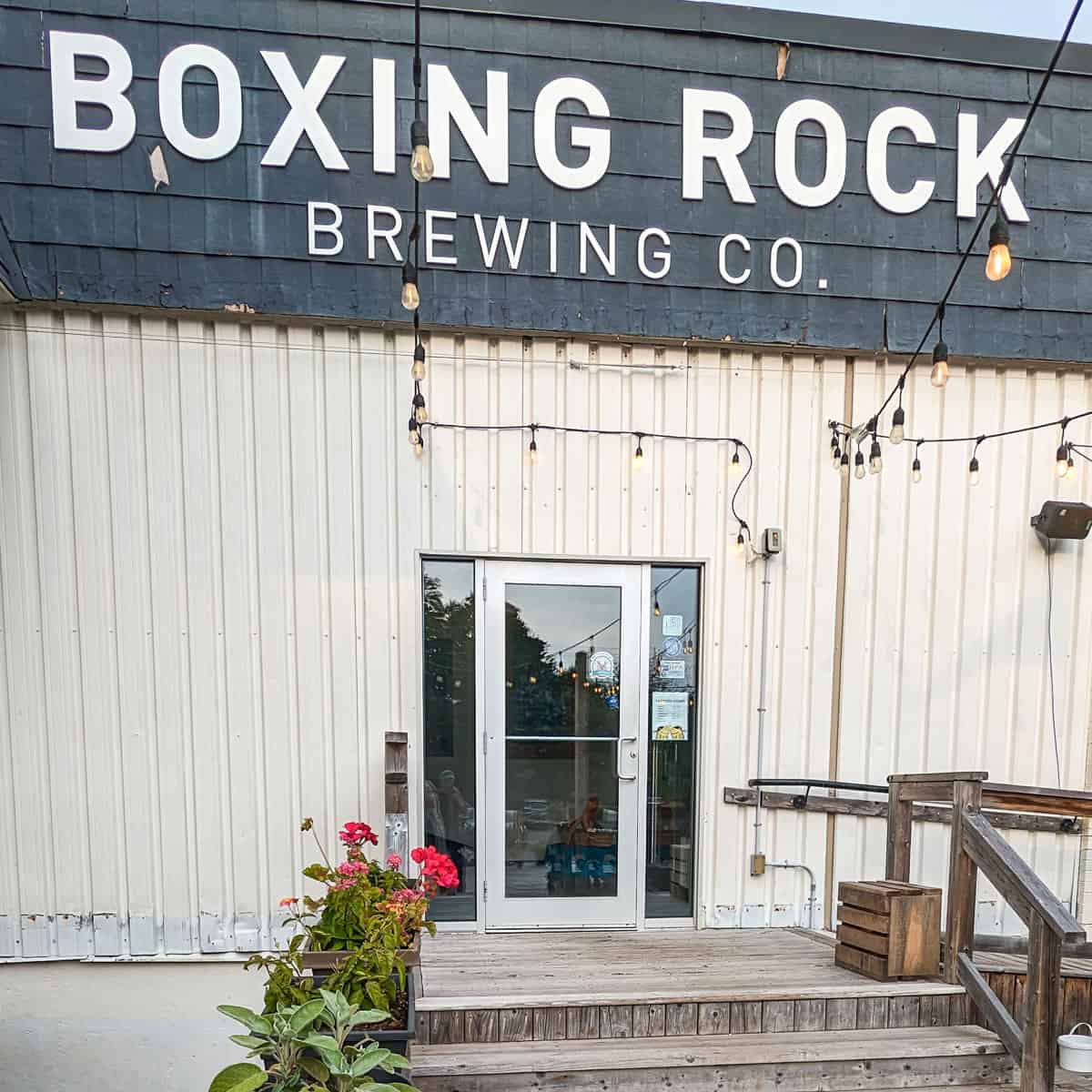 Digby Scallop Days
When: Typically, the second week of August
Where: Digby
The little town of Digby is home to a mighty big claim: "Scallop Capital of the World".
The title is well-earned! This is where commercial fishing for scallops started in 1920, and these little bivalve mollusks continue to help fuel the abundant fishing in the area. Digby scallops have also long had a stellar reputation for taste – the cold water in the area, combined with the giant swing in Bay of Fundy tides that bring in plenty of fresh food for the scallops – ensure they are plentiful and plump.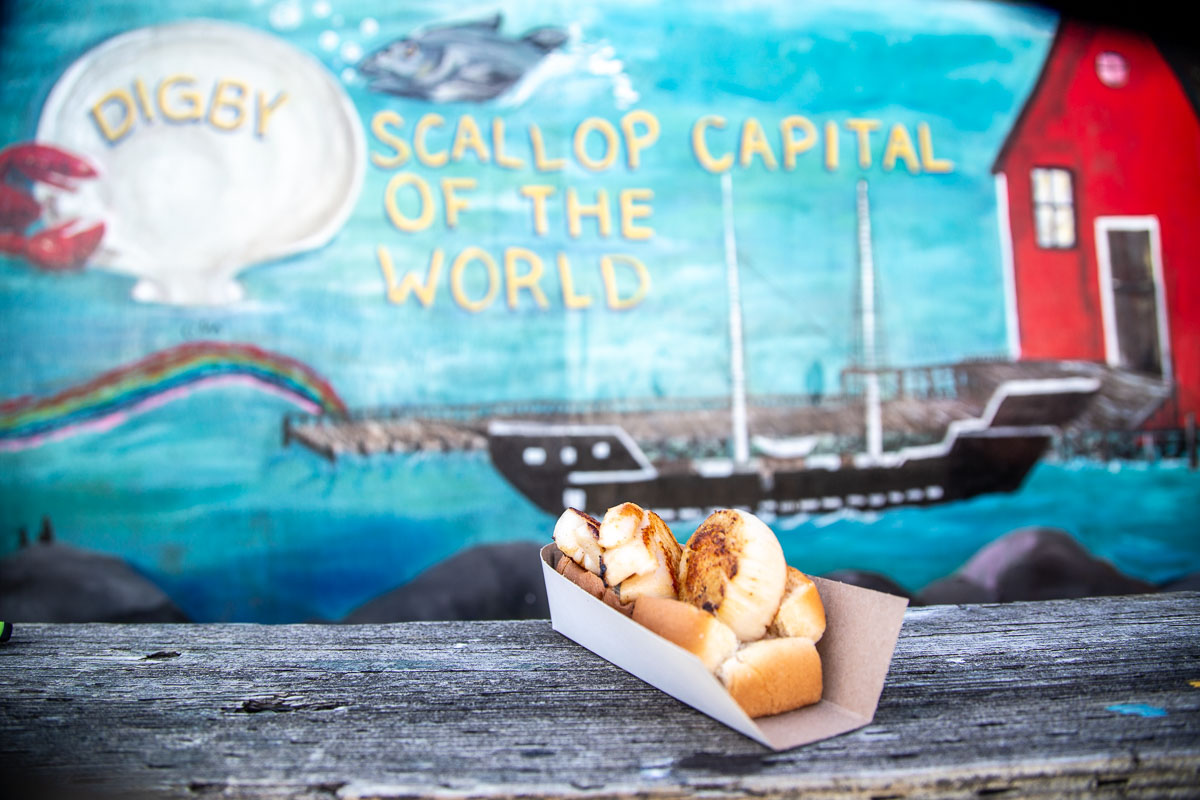 It is no wonder that Digby Scallop Days was such a fun festival to attend! Digbyites have a lot to celebrate regarding their relationship with scallops, and they went all out. In our short time visiting (just one day over a possible three, all full of events), we witnessed a scallop-shucking demo (which is a rare treat as this is usually done on the boat), live music, an enthusiastic parade, and we browsed through local vendor wares.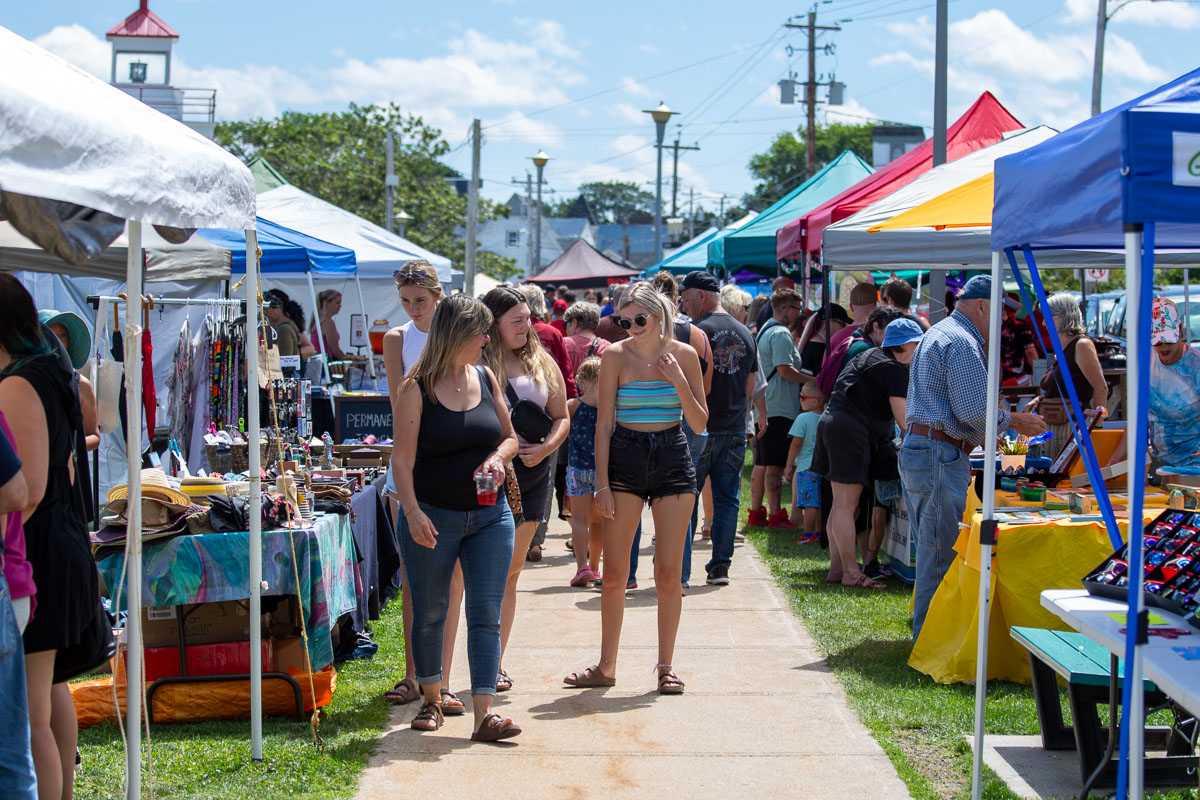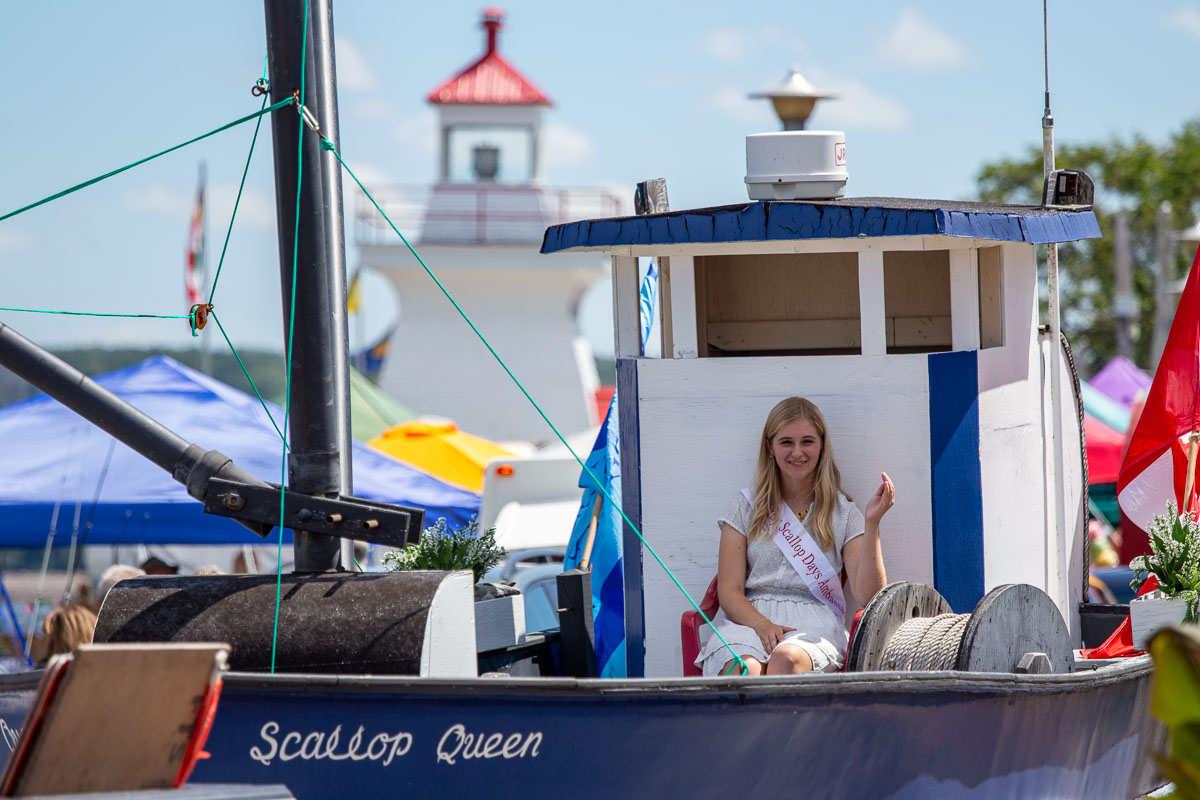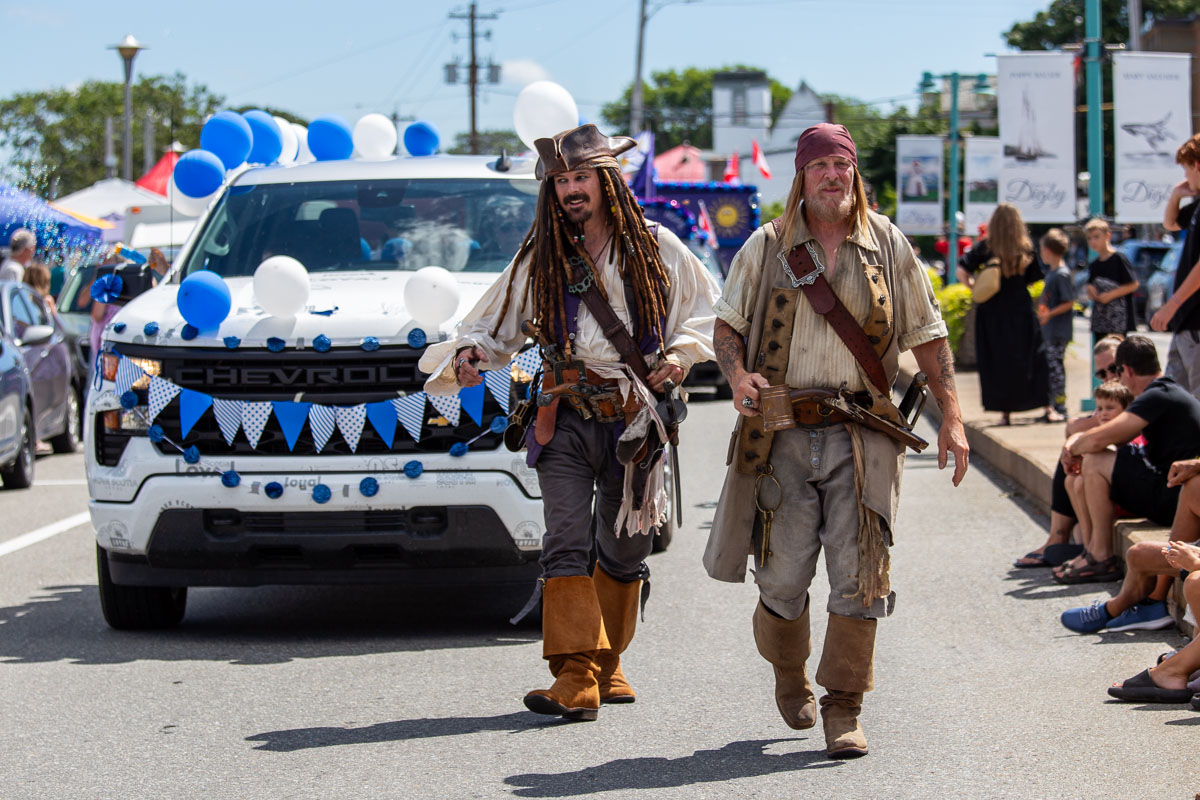 And, of course, there were plenty of unique scallop dishes to be had around town (Pete had his share!), and even though I don't eat anything from the sea, I loved pretending I was an artist for a hot minute by painting an empty shell.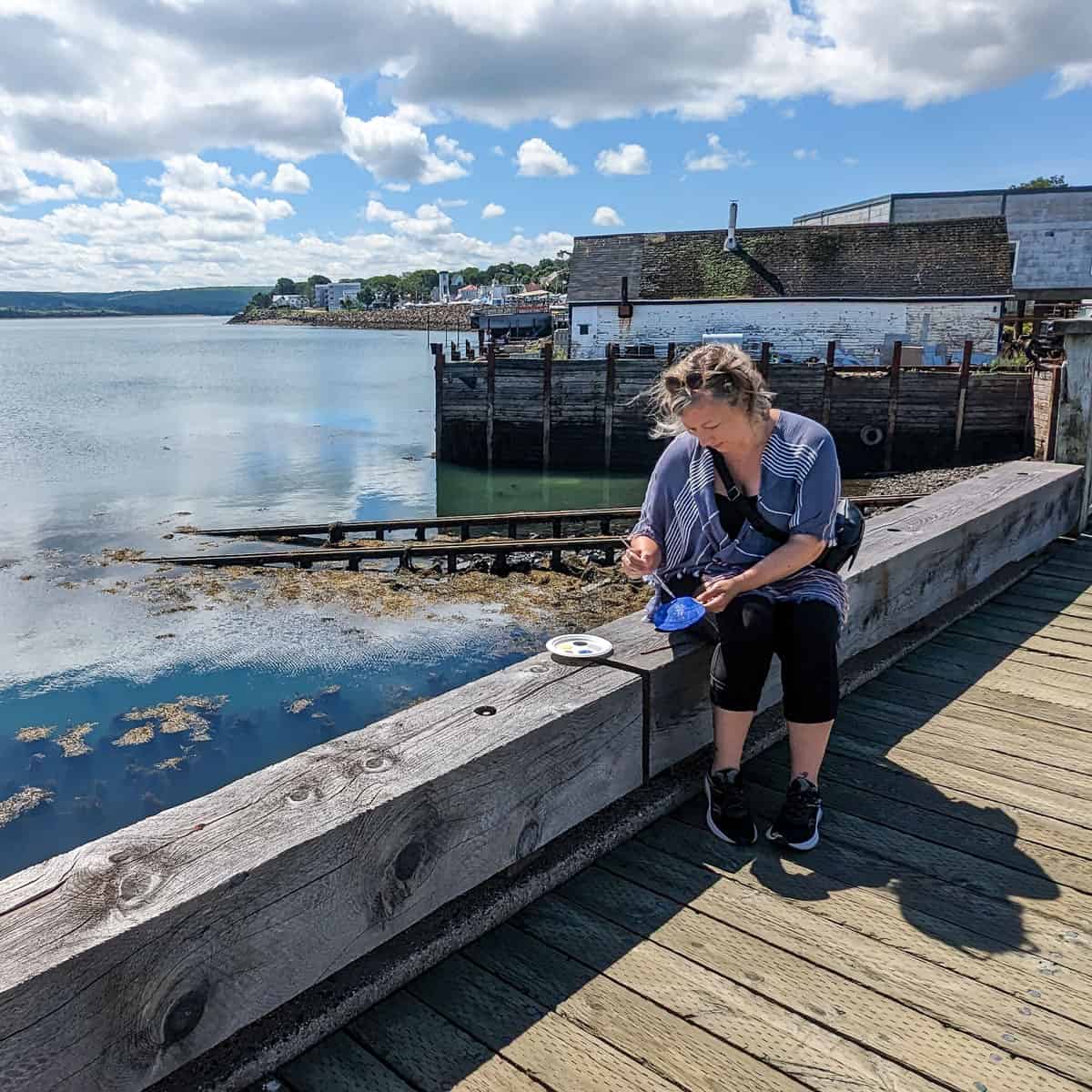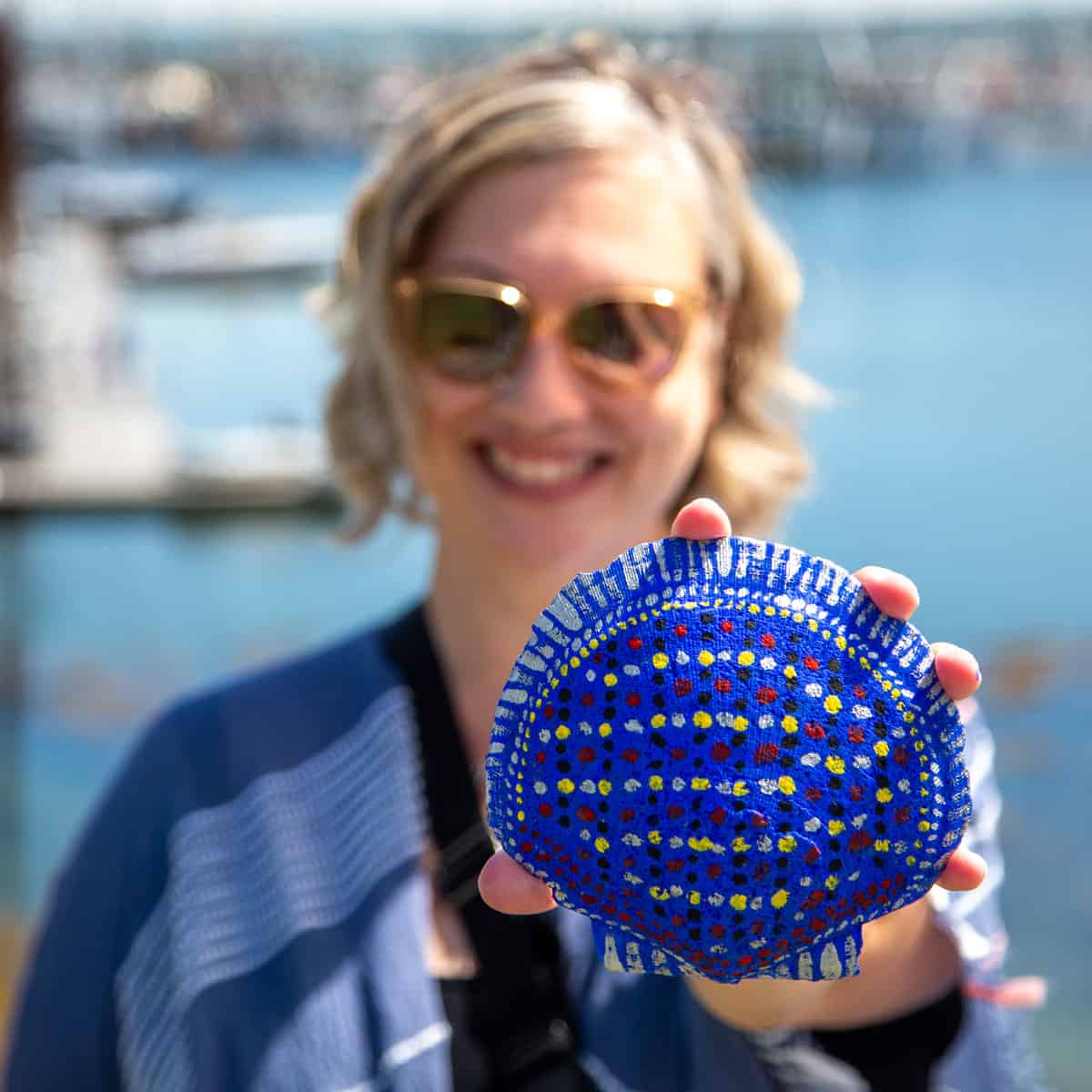 Other Things to Do Nearby
Balancing Rock
Make your way to Long Island and take a quick 2.5 km hike, including 235 steps down, which will bring you to a platform to see the Balancing Rock. The massive basalt tower looks out over St. Mary's Bay and is nicknamed the "Nature's Time Post".
Whale Watching
Another top reason for visiting Digby is as a jumping-off point for whale-watching tours via nearby Brier Island. Whale season is typically July to October (a perfect addition to your Digby Scallop Days itinerary!), and this post will help you plan an excursion.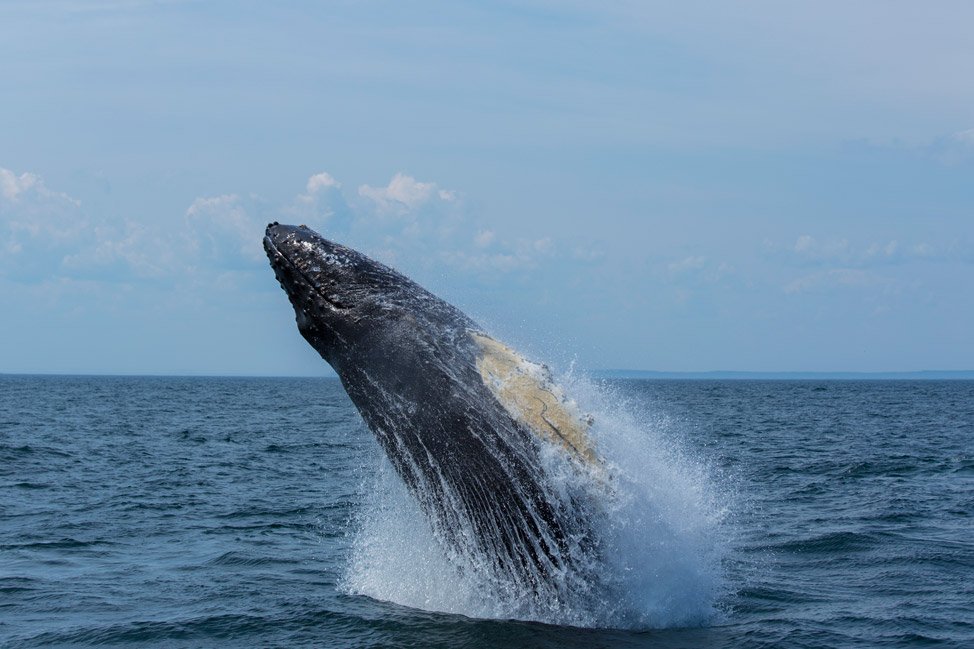 Maud Lewis Replica House and Memorial Park
Maud Lewis is one of Nova Scotia's renowned artists and is honoured near Digby with the Maud Lewis Replica House and the Maud Lewis Memorial Park. The house is a replica of the one where Maud spent her life and has an honour system gift ship for those looking for a souvenir. The Maud Lewis Memorial Park is where she created her work and is a peaceful spot to learn about her history and legacy.
Where to Eat and Stay in Digby
The Crow's Nest
Renowned for friendly service and excellent food, Pete devoured his lobster roll and a cup of chowder, and although the patio seating was a bit tight, we both loved the Digby harbour views.
Fundy Restaurant
Go for the scallops, but stay for the patio! With an elevated seat right on the water's edge, you can enjoy the fresh ocean breezes while you dive into their generous plates of food.
Digby Pines Golf Resort and Spa
This historic resort hotel is on a fantastic sprawl of land overlooking the Bay of Fundy. Enjoy the outdoor pool and golf course in summer, and in the off-season, the excellent food at the onsite restaurant will keep you coming back.
Cape Daze
When: Varies, watch this page for details.
Where: Cape Sable, accessible only by boat (must register in advance)
Cape Daze is not a typical festival – there is no parade, no live music, and no local market. It's simply a day to enjoy exploring an island once inhabited by lighthouse builders and then keepers, and now with only two summer cottages remaining. It's a day celebrating the tallest lighthouse in Nova Scotia (and the third highest in Canada) that saved many lives after being built along the treacherous coastline. And it's a day for visitors to help gather the garbage that accumulates here – given it's at Nova Scotia's most southerly point with a lot of water beyond, it's not an insignificant amount.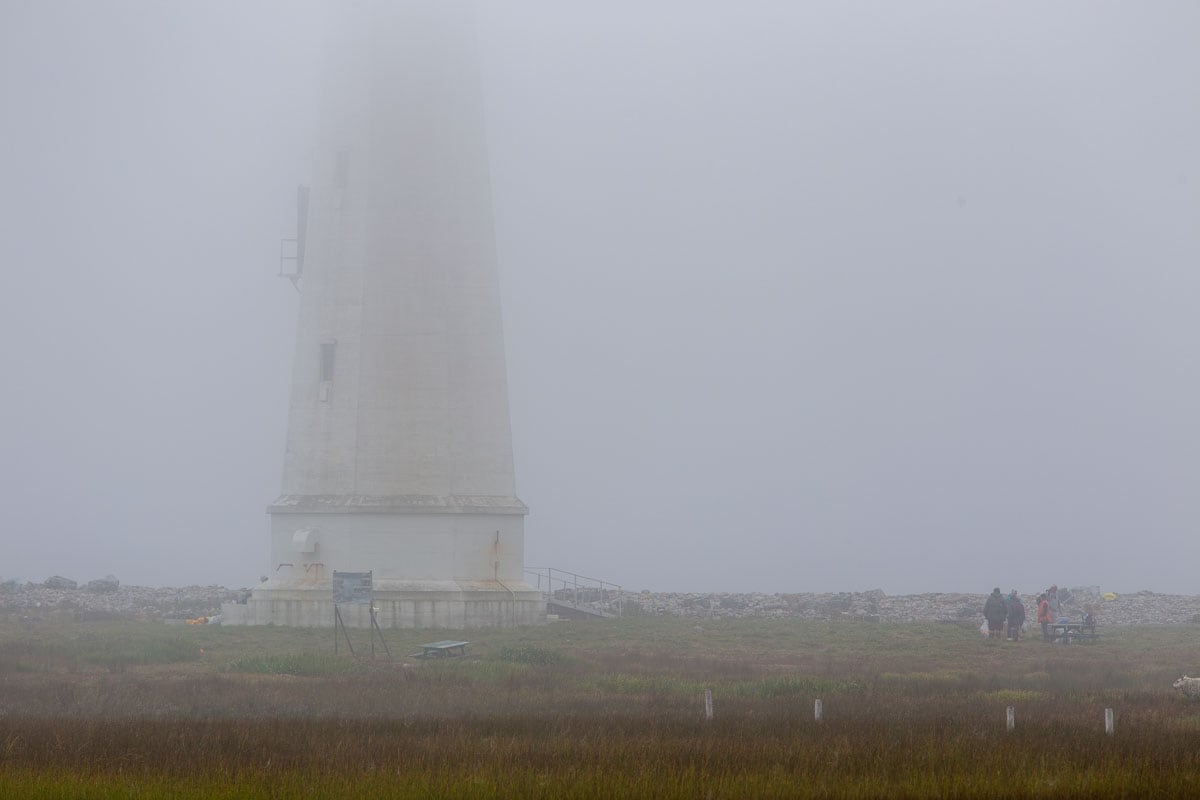 Even though it was quite foggy this year, the island's beauty was undeniable. We gathered garbage in two very full bags – all 68 volunteers brought in 800lbs – and also took some time to enjoy the blissful isolation and sound of only ocean waves.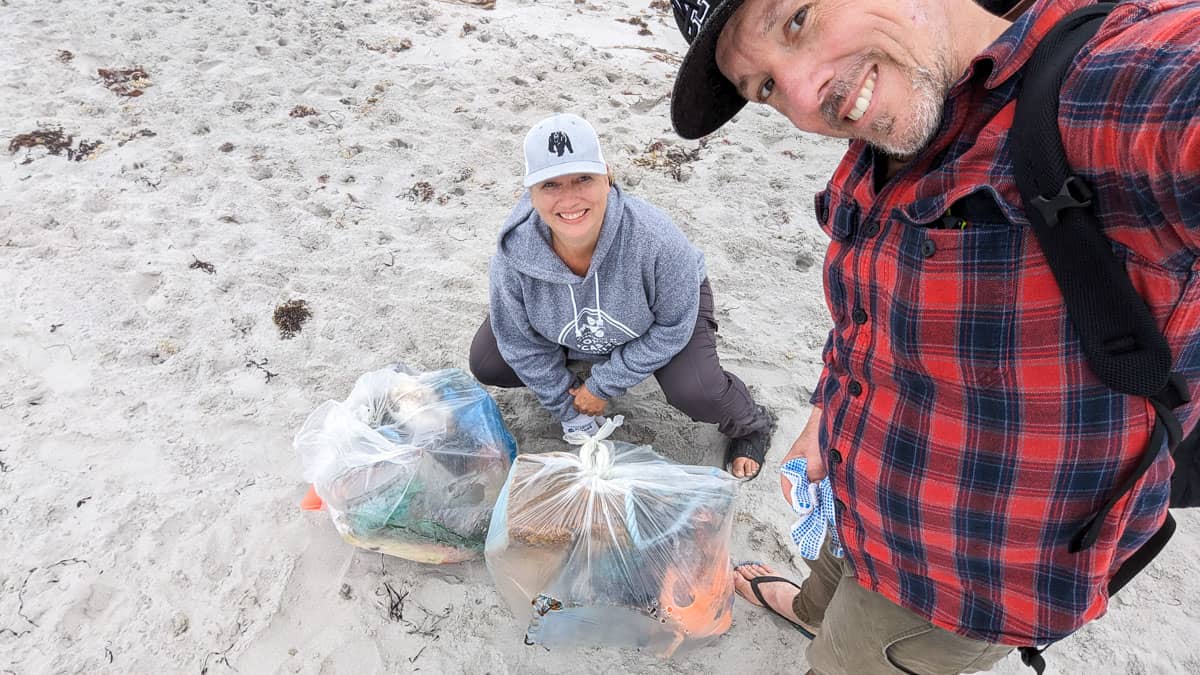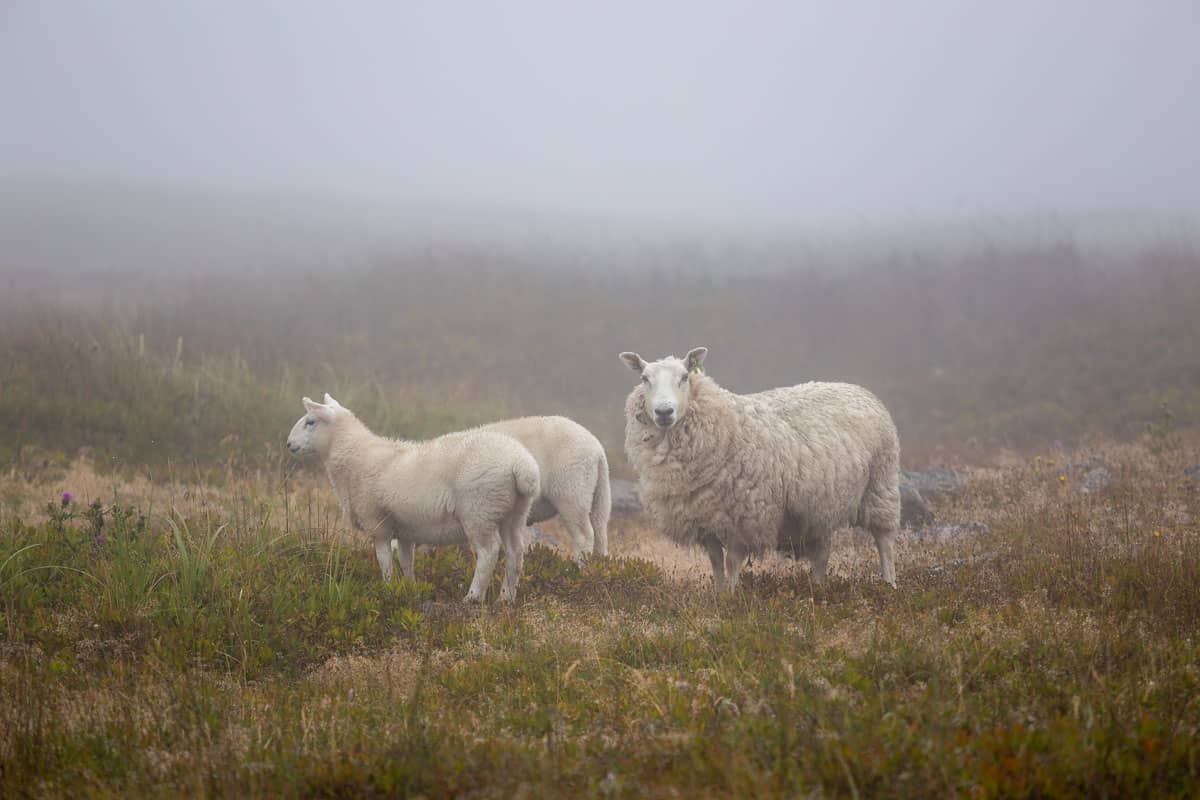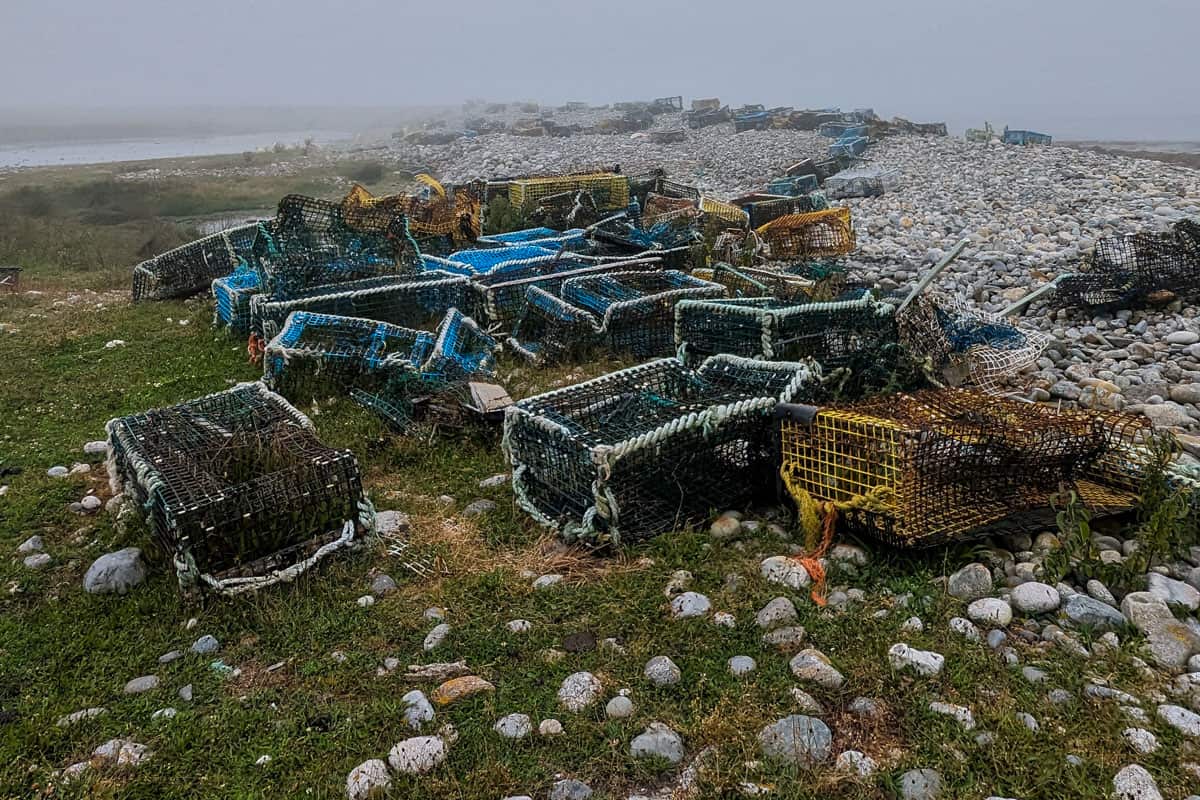 After five hours on the island (boats return regularly so you can stay longer – or shorter – if you want), we left wet and muddy but with smiles plastered across our faces. Coupling tourism with environmental work is not done enough, and Cape Daze sets an excellent example of how this can be done. We genuinely hope it inspires more.
Other Things to Do Nearby
The Hawk
You can actually view Cape Sable Lighthouse from this gorgeous stretch of sand that is also home to a 1,500-year-old drowned forest. Add the birding potential here (it's a protected area), and you can easily wile away a day or two enjoying it.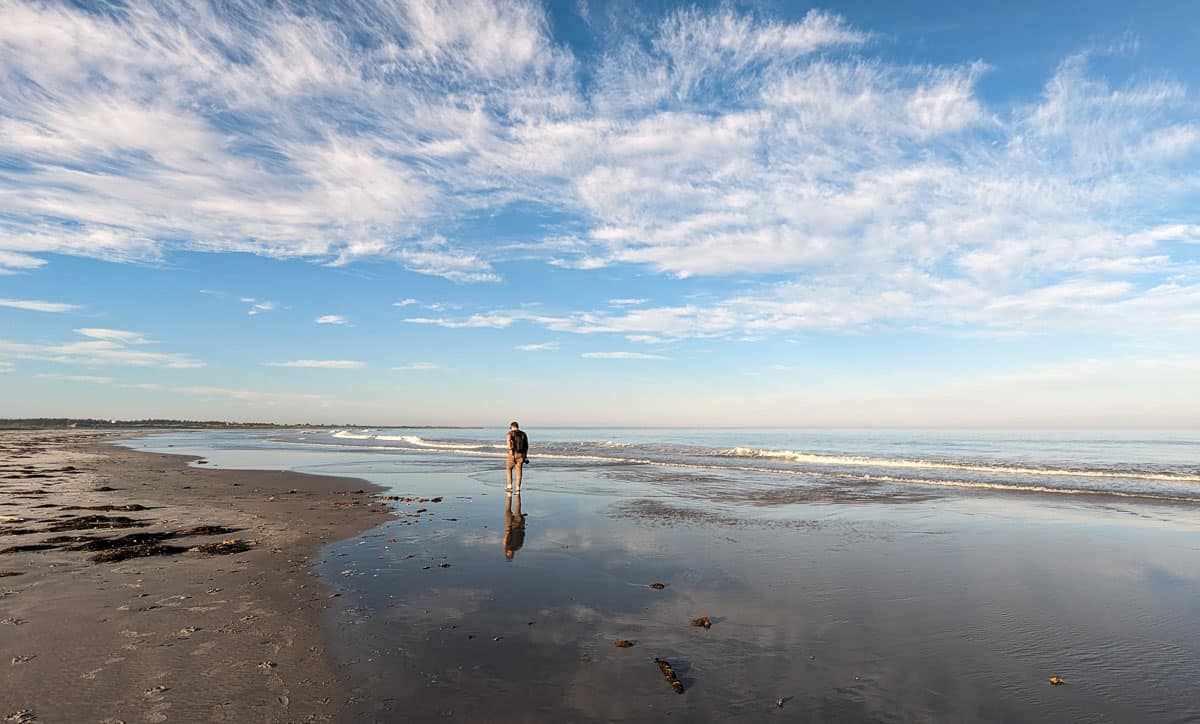 Wild Axe Lumberjack
Ever wondered how you would fare as a lumberjack? Well, you can find out at the Wild Axe Lumberjack experience in Barrington. Get instruction from world-champion logroller Darren Hudson and try your hand at axe throwing, your feet at logrolling, and much more!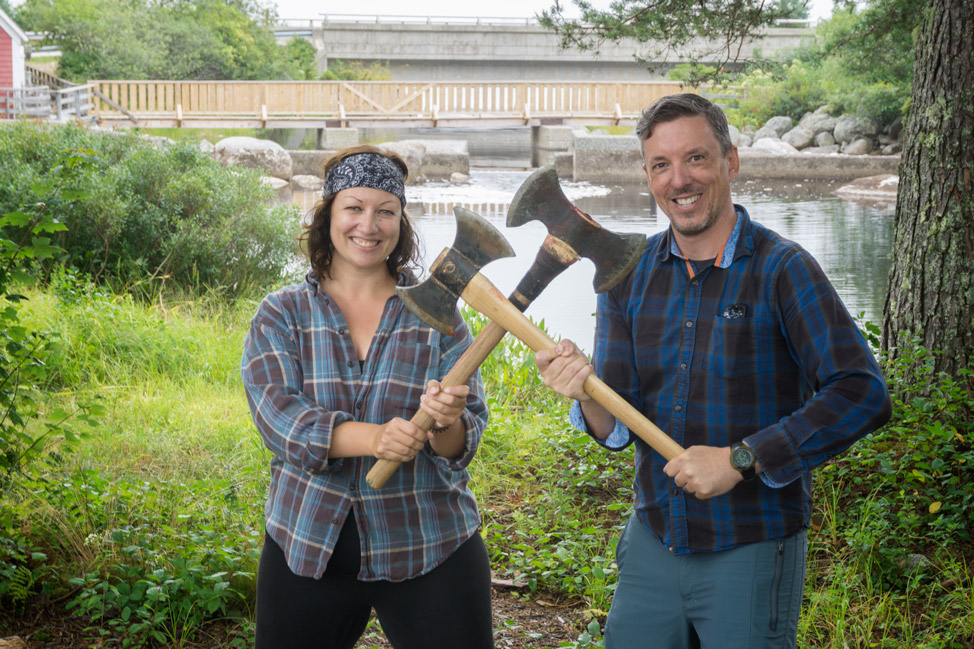 Where to Eat and Stay Near Cape Sable Island
Captain Kat's Lobster Shack
Captain Kat's is THE renowned place to go for lobster on the south shore, so you may need a couple of visits to try the array of lobster choices. Pete ordered both the lobster fondue and lobster roll, and I had to roll him out of there afterwards.
West Head Takeout
A tiny takeout shack in Clark's Harbour, prepare yourself for very generous portions (consider going splitsies with your pal) and to quickly devour the fresh seafood dishes. On recommendation from a friend, Pete had the "Captain's Burger" in which you can pick two types of seafood all within one bun. He opted for clams and haddock and left a very happy man.
PEBs by the Sea Dome
You can't get a much better view of Cape Sable than you can from these dome locations on the sea's edge. The domes themselves are cozy, but the patio is where you may spend most of your time watching the sun go down or the fog roll in (or both simultaneously).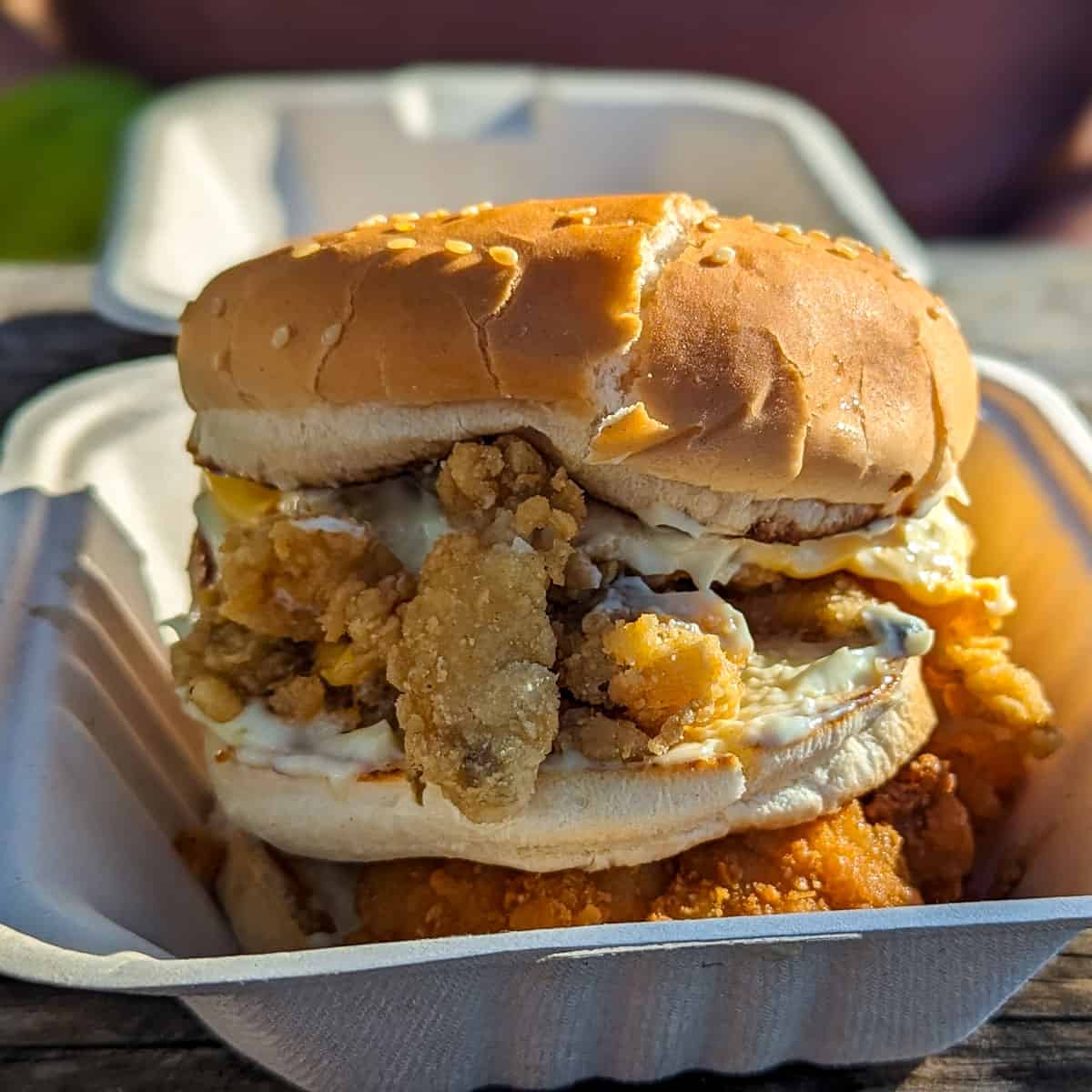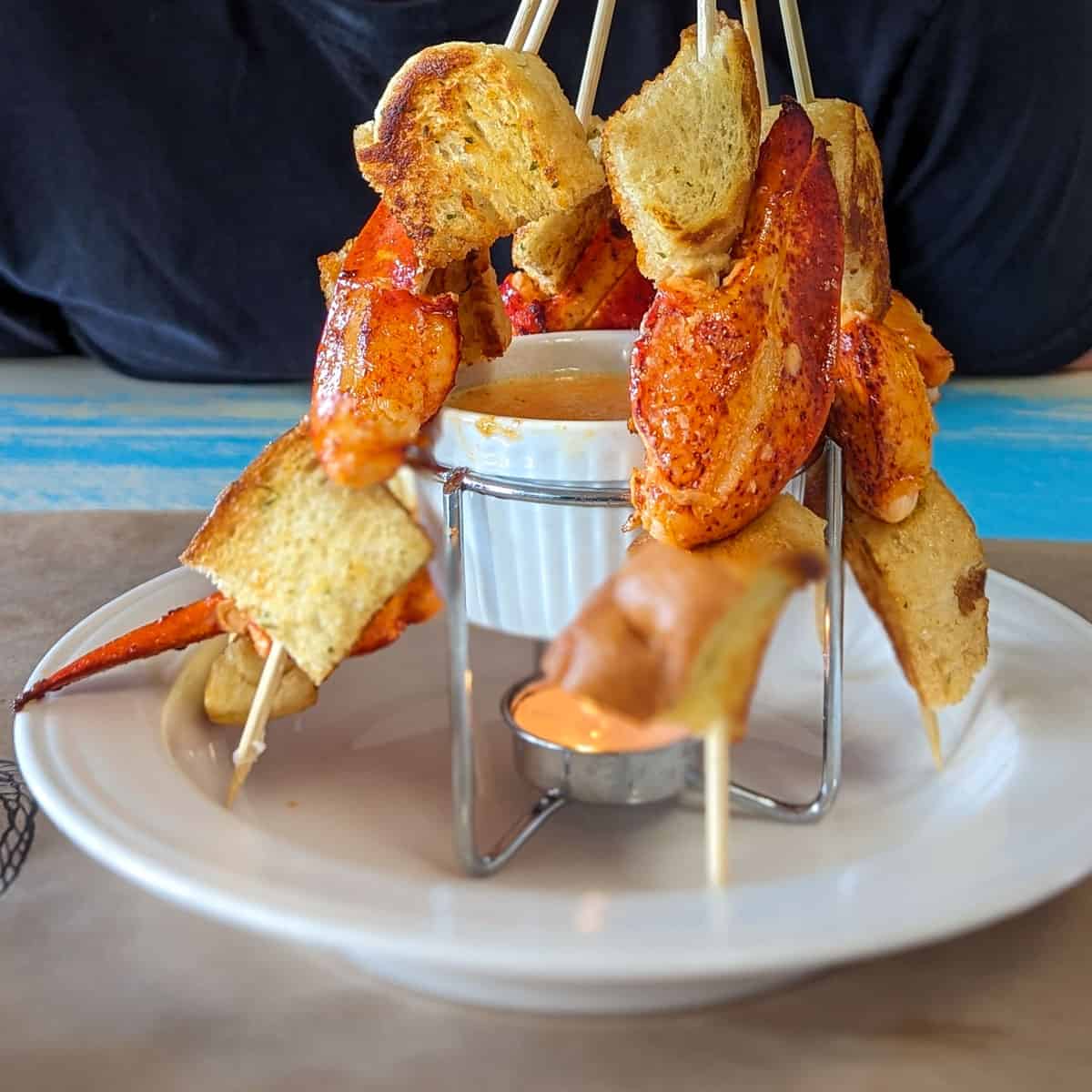 Starlight Festival
When: 10 days, starting in mid-September
Where: Yarmouth and area
When the point of a festival is to appreciate the night sky – to stand in the pitch dark and absorb your surroundings using your limited night vision and other senses – it is a bit disarming for us content creators. Our cameras became somewhat worthless, but on reflection, that might have been the best part about it. We were total participants in the events we attended.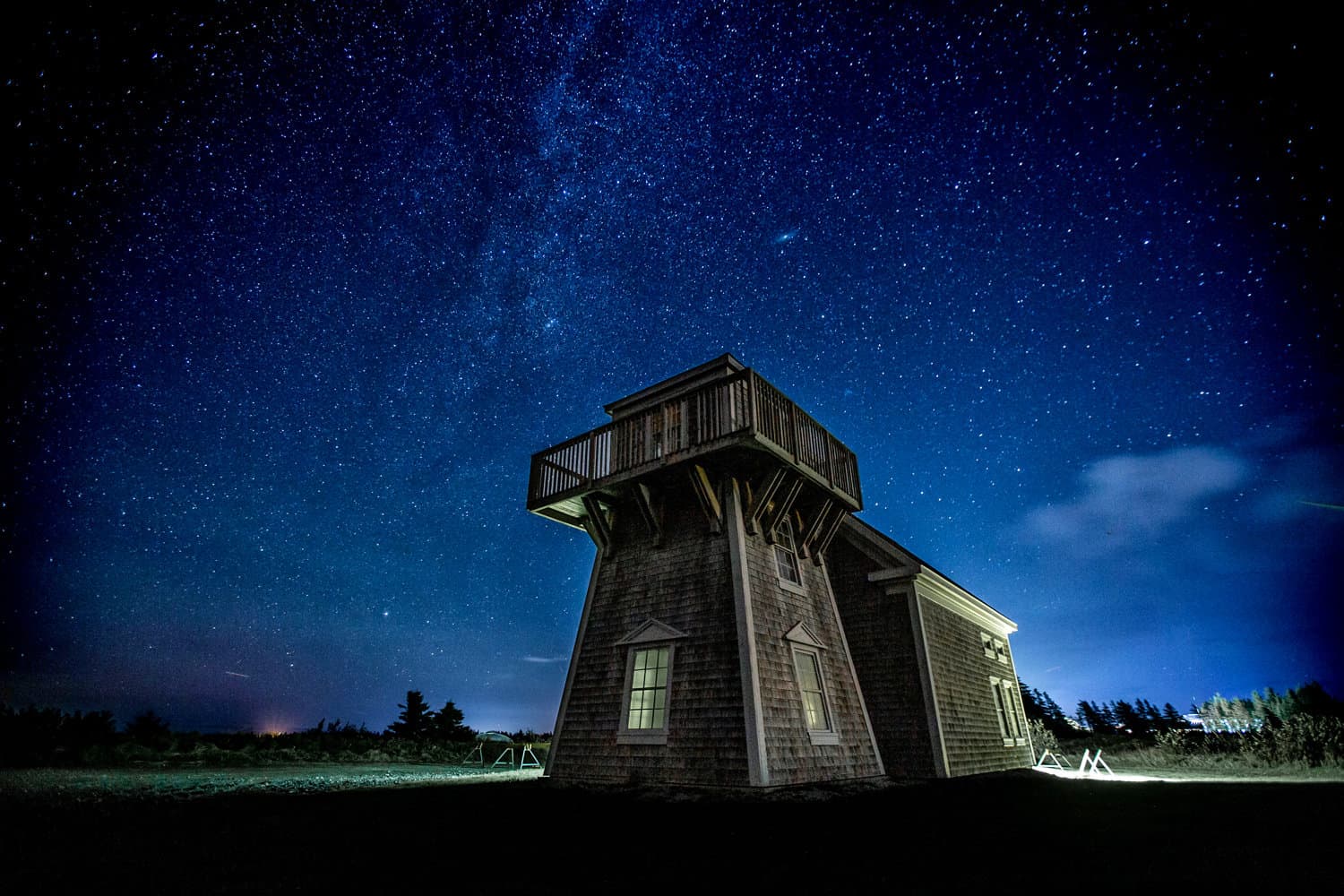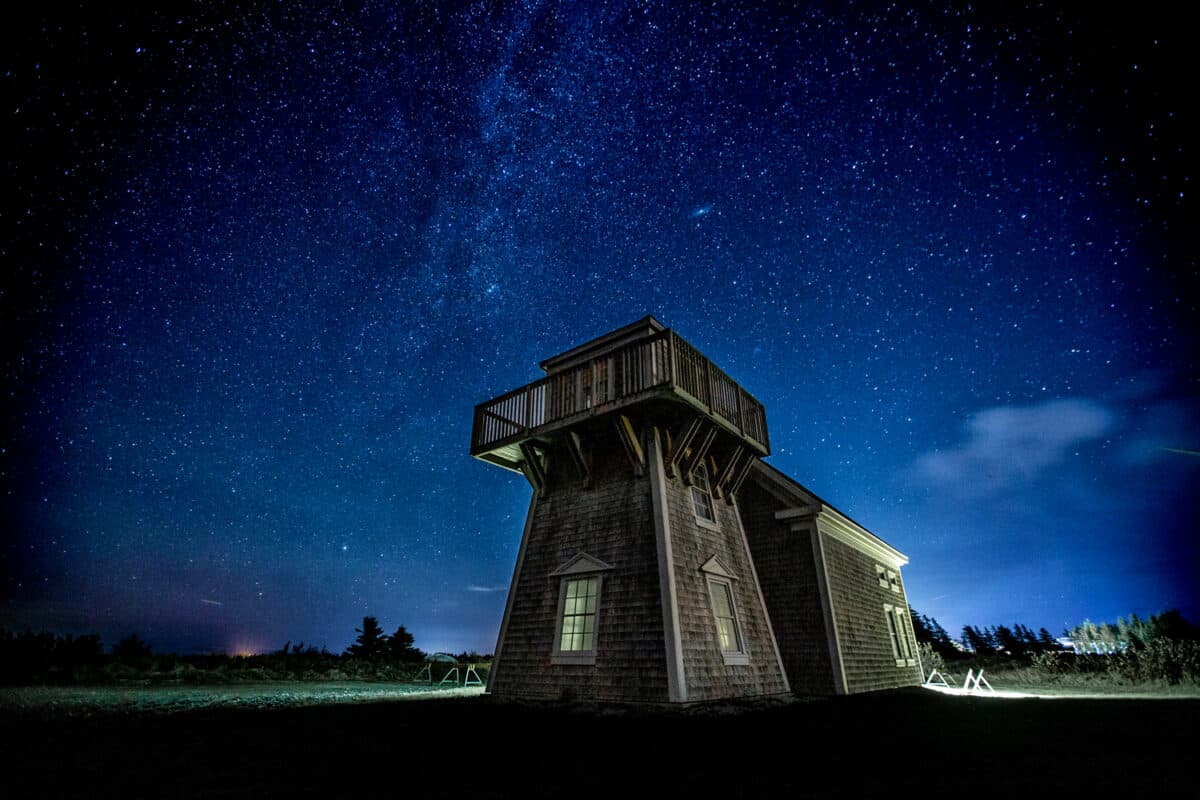 The Starlight Festival, anchored in Yarmouth but spread out in the region, lasts a week with various events to take in. The region is ideally suited for such an event, with consistent efforts being made to reduce light pollution and darken the skies. It was even designated the first Starlight Reserve in North America by The International Starlight Foundation. We opted to take in two events: a night hike and an evening spent in a dark field with a giant telescope.
A Night Hike with Paul Lelonde of La Nuit Stella
Paul led us on a forest walk, starting at the Université Sainte-Anne in Clare just after the sun went down. While a bit creepy at times to walk in total darkness and only be led by the sounds of shuffling feet in front of us, it was also such a fascinating way to challenge all of our senses. We stopped to test our ability to identify items only by smell (much more challenging than it sounds), to learn constellations, and even to spot glow worms (firefly larvae) that each emitted a tiny pinpoint of light. It was an incredibly immersive experience and a new way to *see* our surroundings on a simple walk.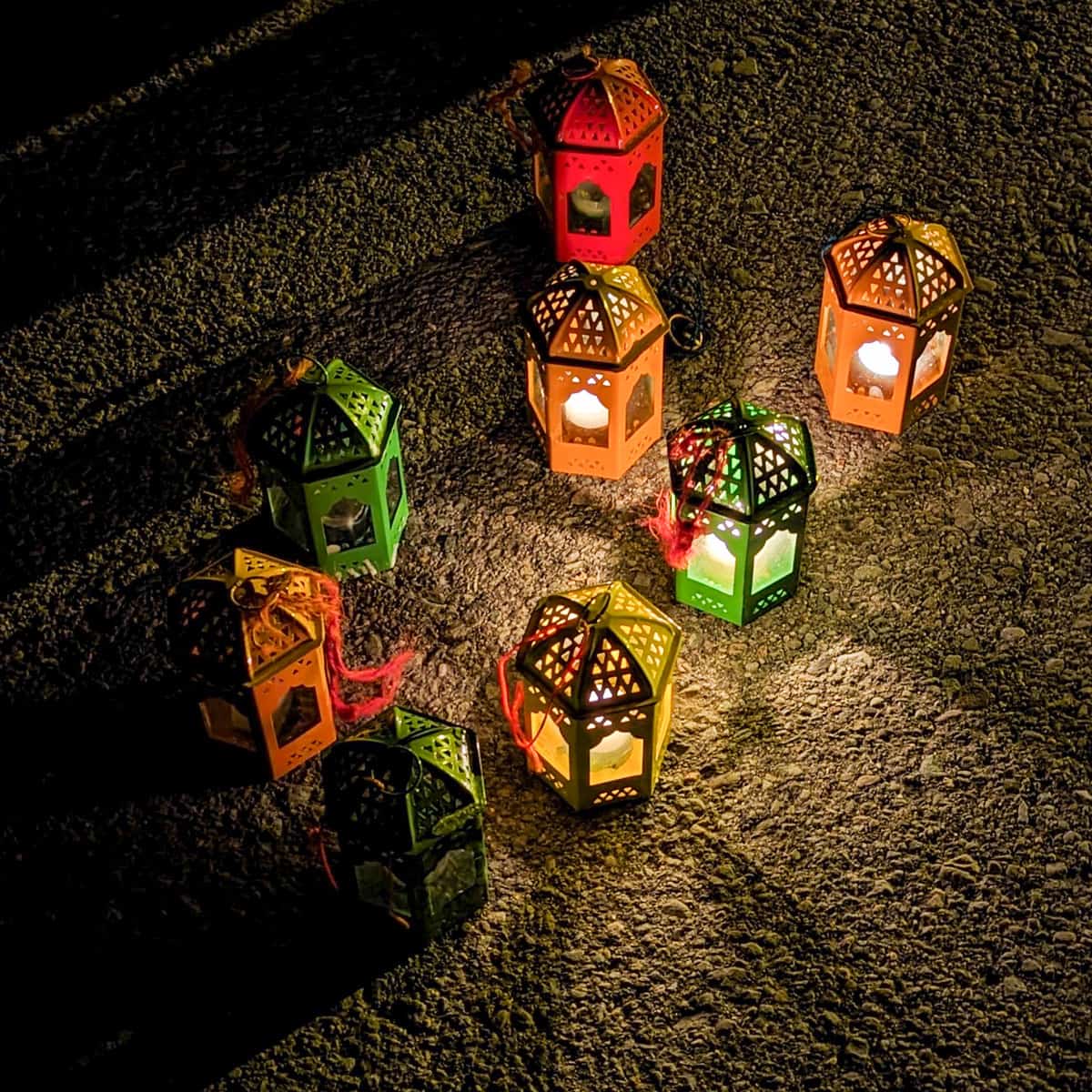 Dark Sky Observing with Tim Doucette
As an amateur astronomer and owner of the nearby Deep Sky Eye Observatory, Tim has a fascinating story and a true passion for all things space. So much so that he takes his "show" on the road, and we were able to meet Tim and a score of first-time night observers in a dark field right in Yarmouth.
After a brief instruction and demonstration on using his intensive telescope, all attendees were invited to take a turn looking at Saturn. "That was really cool; I'm a geek now," said the lady who went just before we did. SAME, LADY! Never before had either of us looked through such an impressive telescope, and to see Saturn as clearly as depicted in textbooks gave us a similar WOW moment. (And a vow to head to the Deep Sky Eye Observatory when we get a chance.)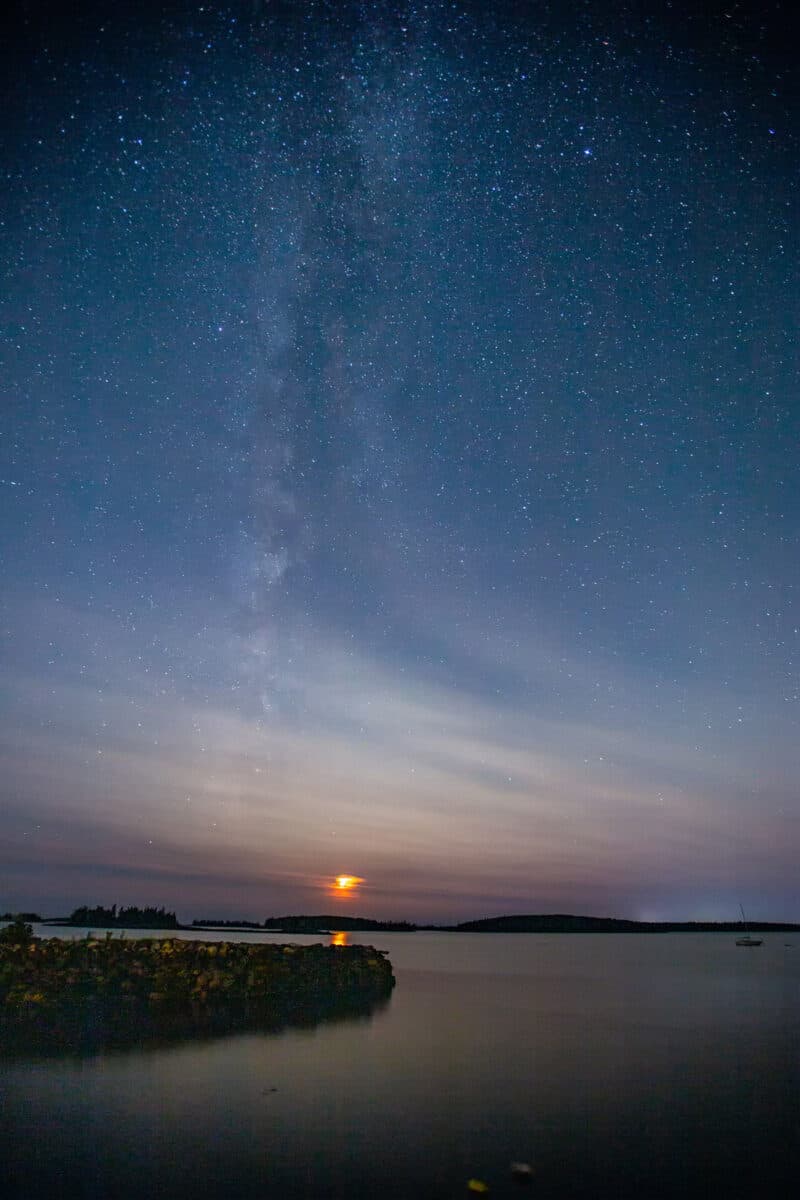 Other Things to Do Nearby
Le Village Historique Acadien de la Nouvelle-Ecosse
Step back in time to the early 1900s at this historic seaside village and an accurate representation of early Acadian life. Walk through numerous landmark buildings, including original wooden homes and a lighthouse. You can even observe and try fishing and farming traditions practiced over a century ago, plus enjoy Acadian cuisine at the onsite cafe.
Pubnico Point Trail
This well-marked trail is flat and easy to walk on, taking visitors right to the edge of the ocean for much of it. The main route is only 3.7 km (out and back), but there are a couple of offshoots and route variations that can make it longer.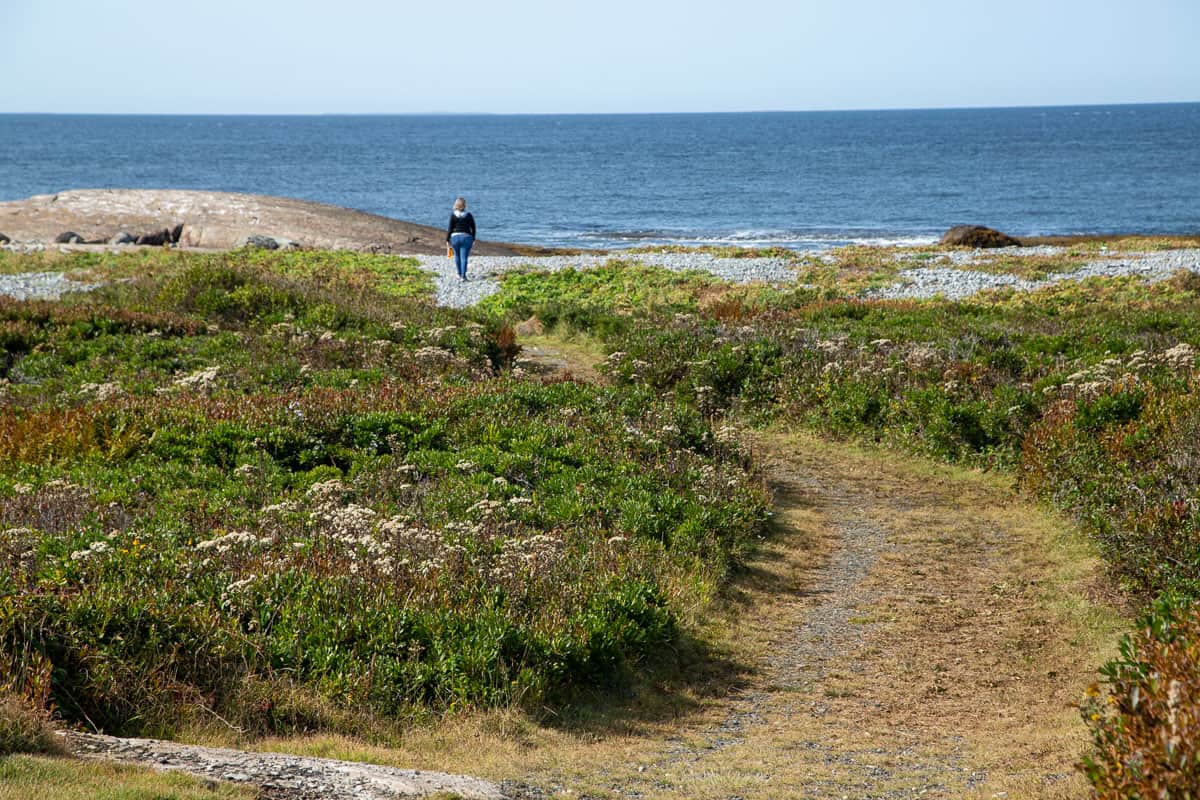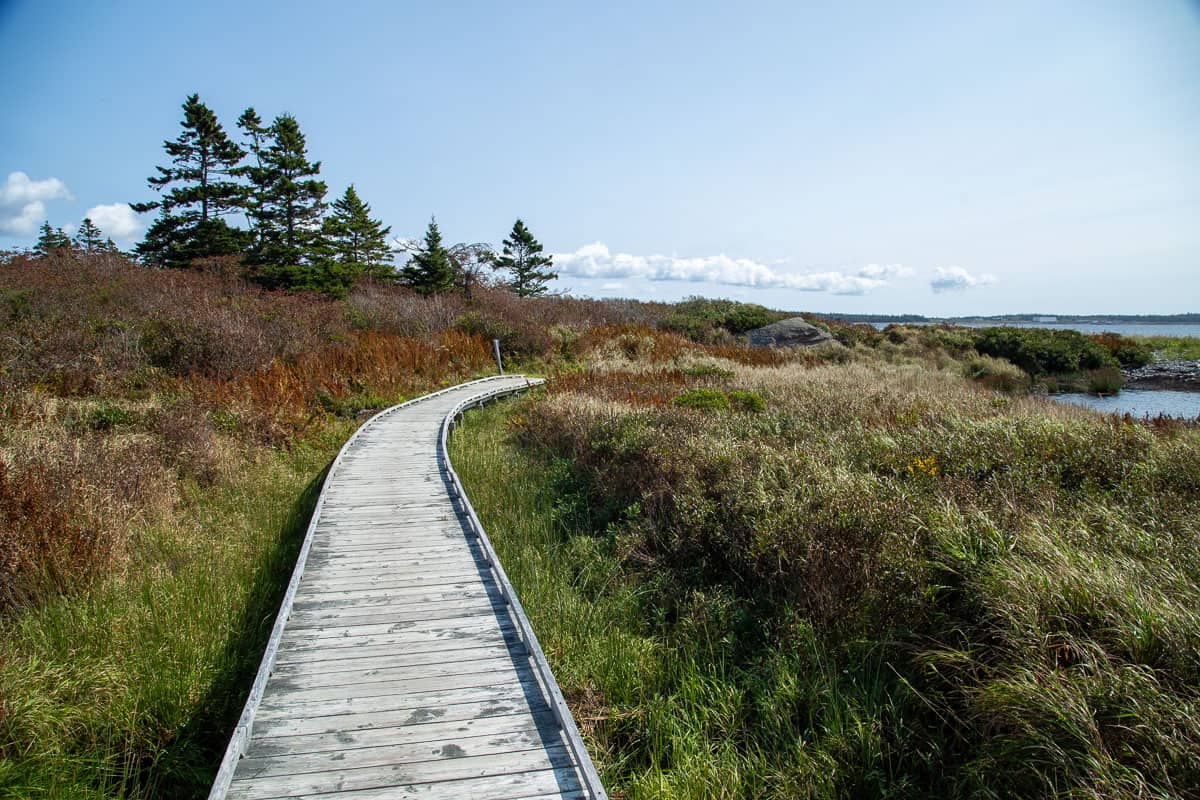 Where to Eat and Stay Near Yarmouth
Tusket Falls Brewing Company
Nova Scotia is blessed with an abundance of craft breweries, and for us, Tusket Falls ranks among the best. Most notable are their sours – some of the most delicious we've had!
Ye Olde Argyler Lodge
This remote lodge nestled in Lobster Bay is a perfect retreat from city life, and a chance to observe the gorgeous night sky (which matched up well with the purpose of our trip)! We stayed in one of the cozy cottages and made sure to also enjoy dinner in the Lodge, which lived up to our lofty expectations.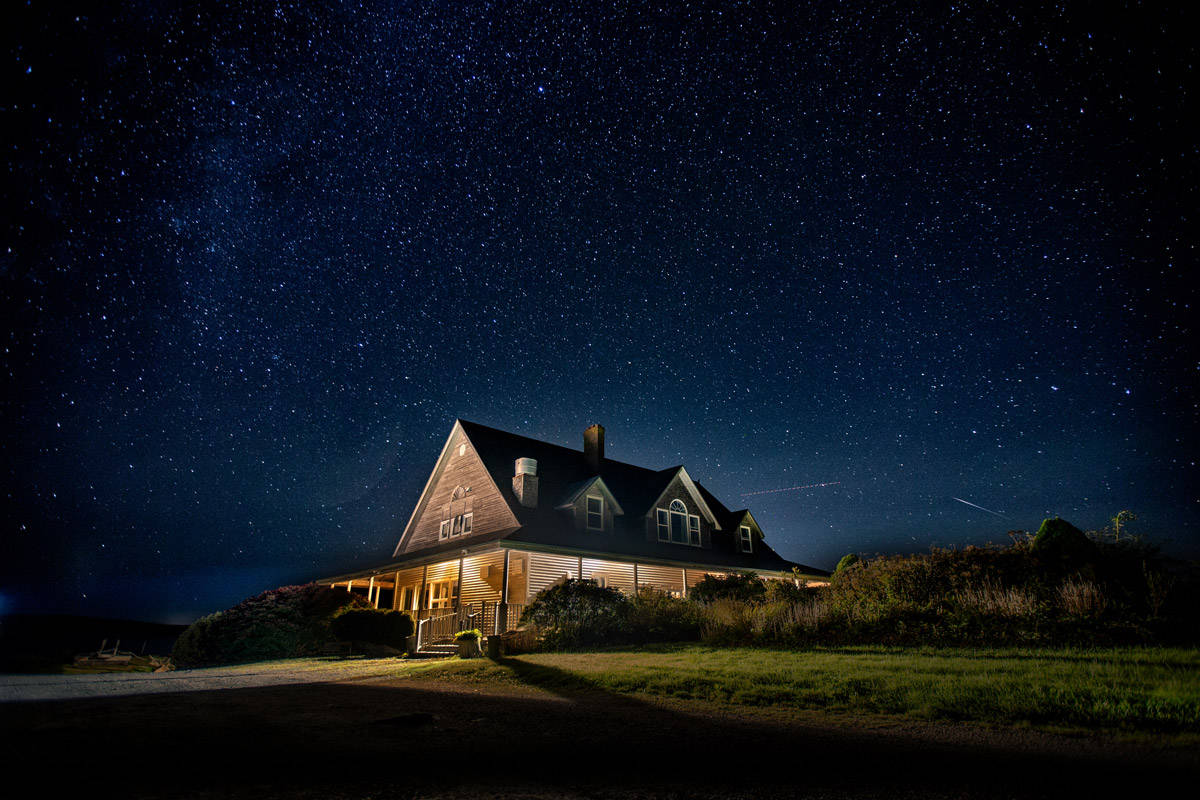 Shag Harbour UFO XPO
When: Last weekend of September
Where: Yarmouth, Nova Scotia
Growing up and watching the X-Files, we knew that "the truth is out there"." As it turns out, the truth is actually in Nova Scotia, and more specifically, Shag Harbour. Turn back the clock to 1967, and on an October evening, several people witnessed an unidentified flying object (UFO) hovering above the trees before diving into the waters of Shag Harbour. The fishermen in the area who saw the UFO impact, contacted the RCMP, and a search immediately began. Nothing was ever found, and to this day, the mystery around what exactly happened and why it happened here remains unknown.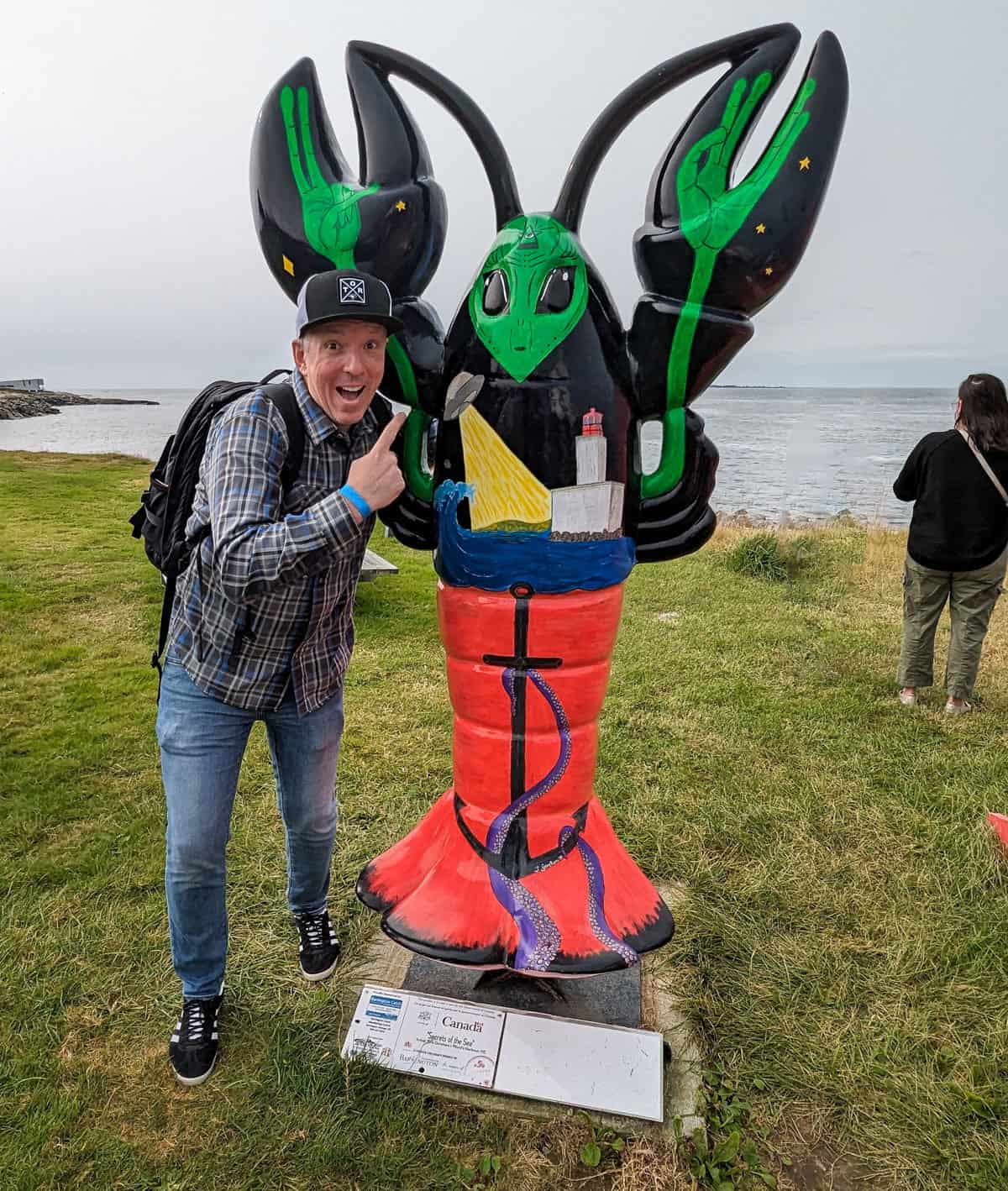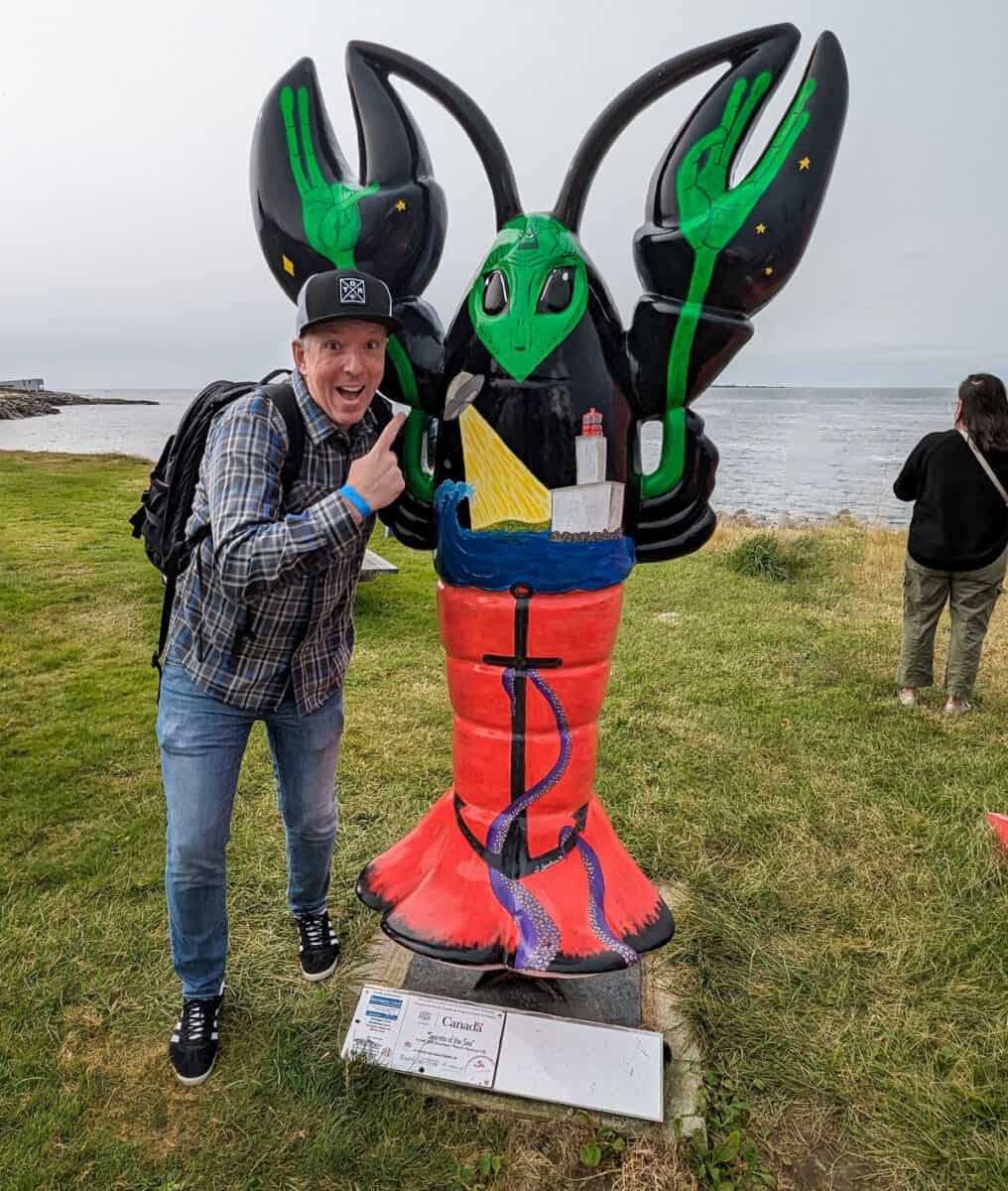 This is how the Shag Harbour UFO XPO came to be. People from around the world every October come to the festival in Yarmouth to listen to guest speakers, interact with other experiencers, listen to interviews, and tell their own stories about how they've encountered UFOs, UAPs or other phenomena. This year, the amazing speakers included:
Nick Pope – considered the Fox Mulder of British Intelligence, he once worked as the UK's Ministry of Defence investigating UFOs and talked about the latest discussions in US Congress and what it means going forward with investigating UFOs and UAPs.
Dean Alimoto – an award-winning feature filmmaker and TV documentarian, and we got a sneak peek at the first episode of his upcoming documentary series "The Alien Perspective," due to be released next year.
Travis Walton – shared his story of how, in 1975, he went missing for five days after being abducted by a UFO. His story has been adapted to the 1993 film "Fire in the Sky".
Chris Styles – the man behind digging up all the info on the Shag Harbour incident and other UFO encounters here in Nova Scotia. I can't wait to dive into his book "Impact to Contact" which explains everything that he has since uncovered.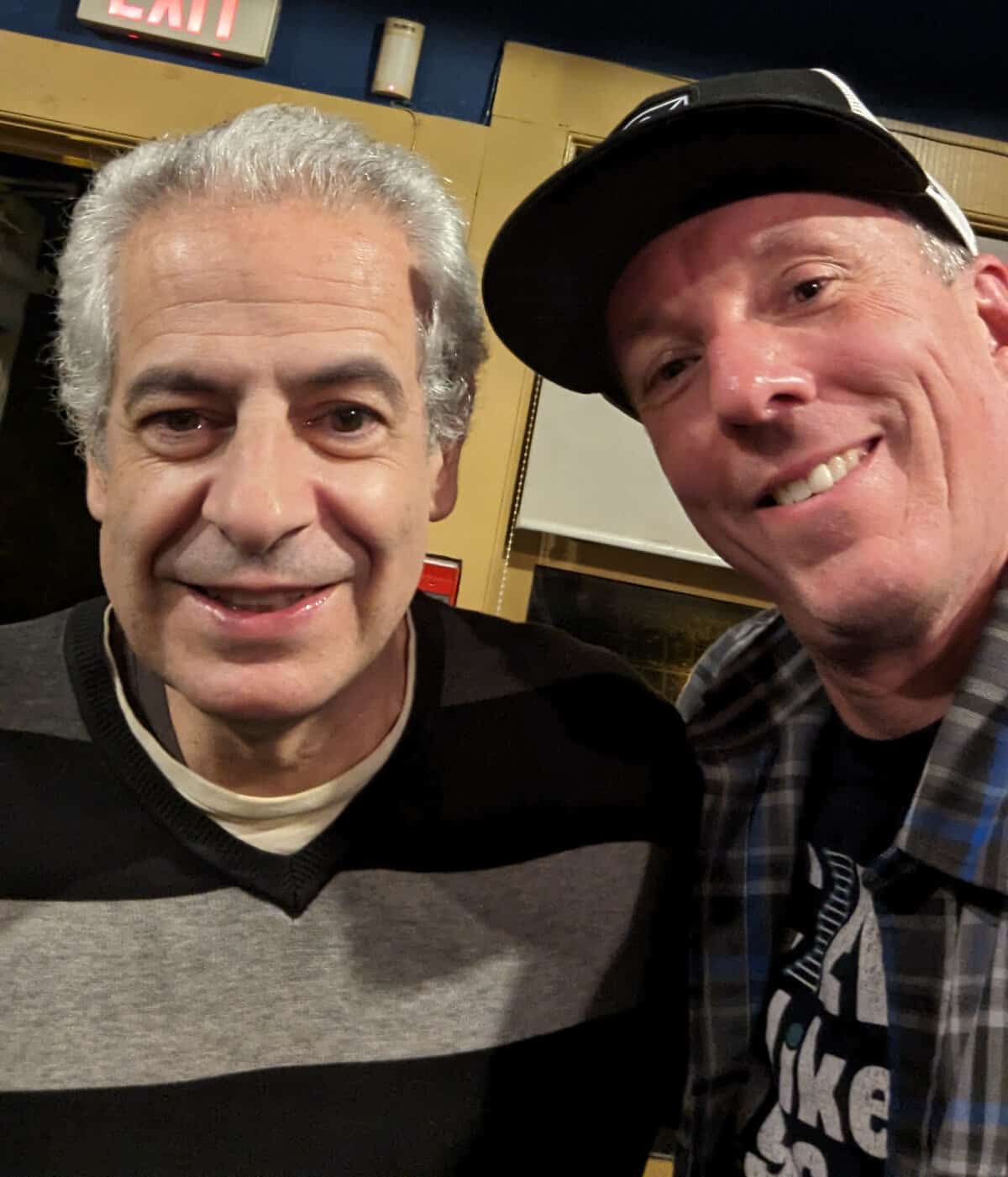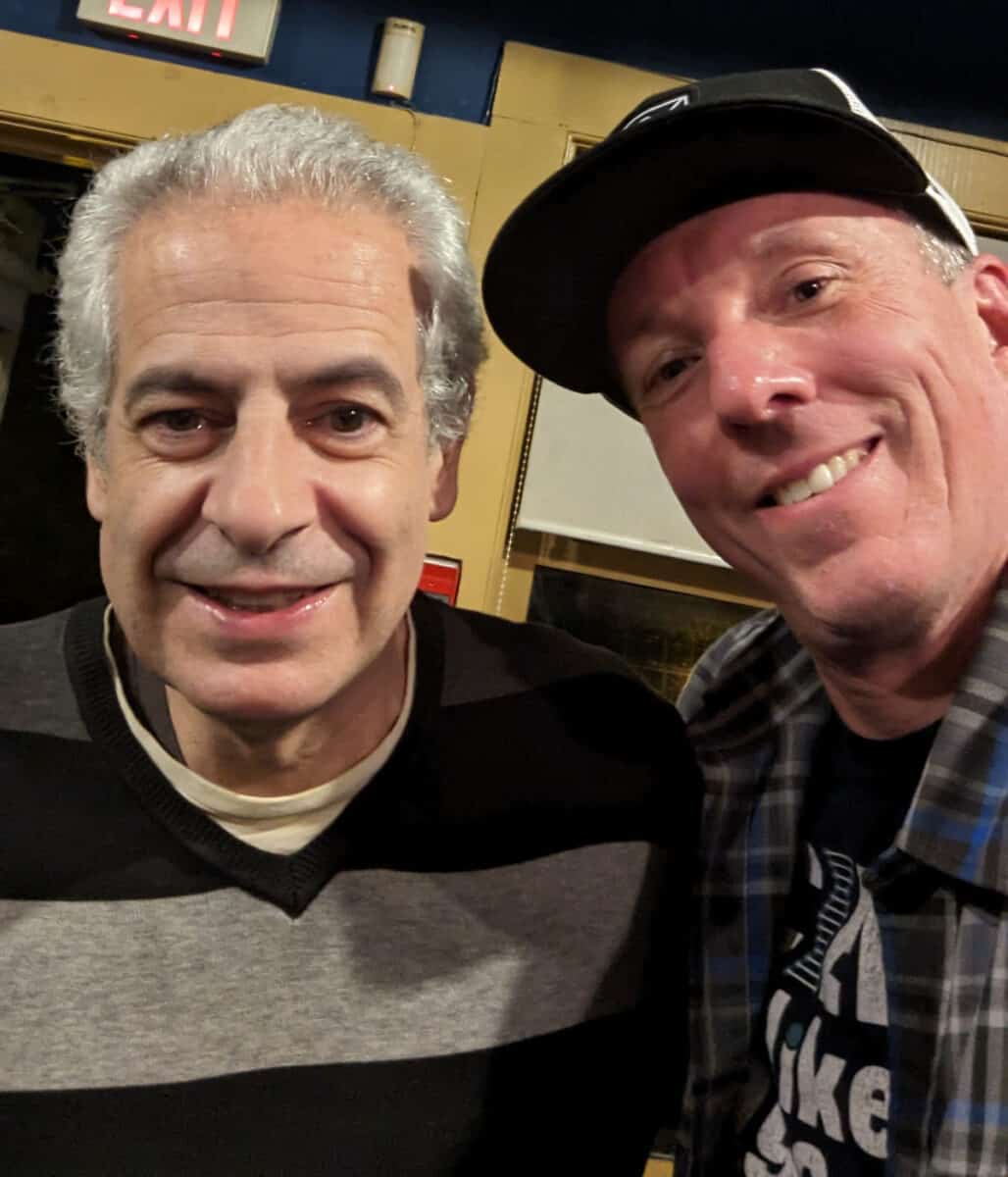 On the second day of the XPO, participants hopped on a bus to visit the crash UFO site in Shag Harbour and a secret military base that monitored the waters surrounding Nova Scotia. We were honoured that Laurie Wickens, one of the surviving witnesses, joined us and explained what he saw that evening. When arriving at the harbour, he showed us how close the UFO impacted the water to shore and had the Canadian Coast Guard circle where it would have gone down. In the afternoon, Chris Styles gave us an explanation of the abandoned military base and the activity that once occurred there.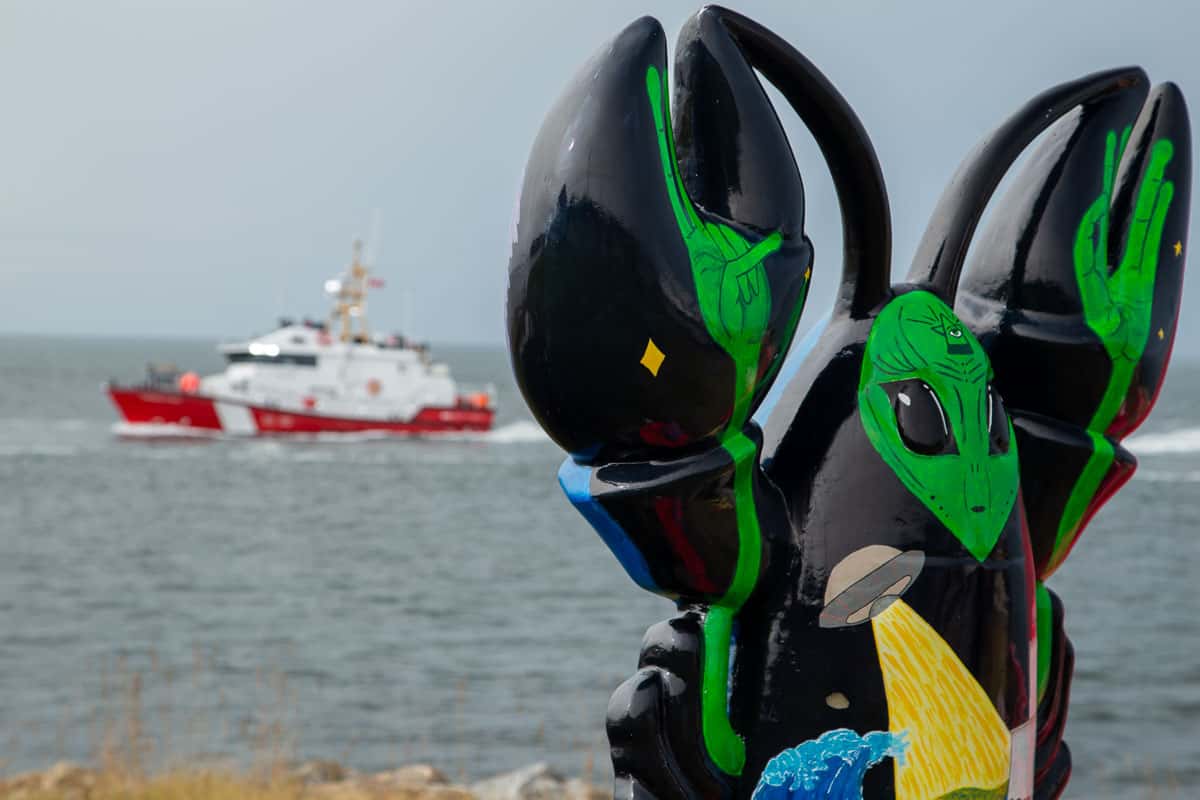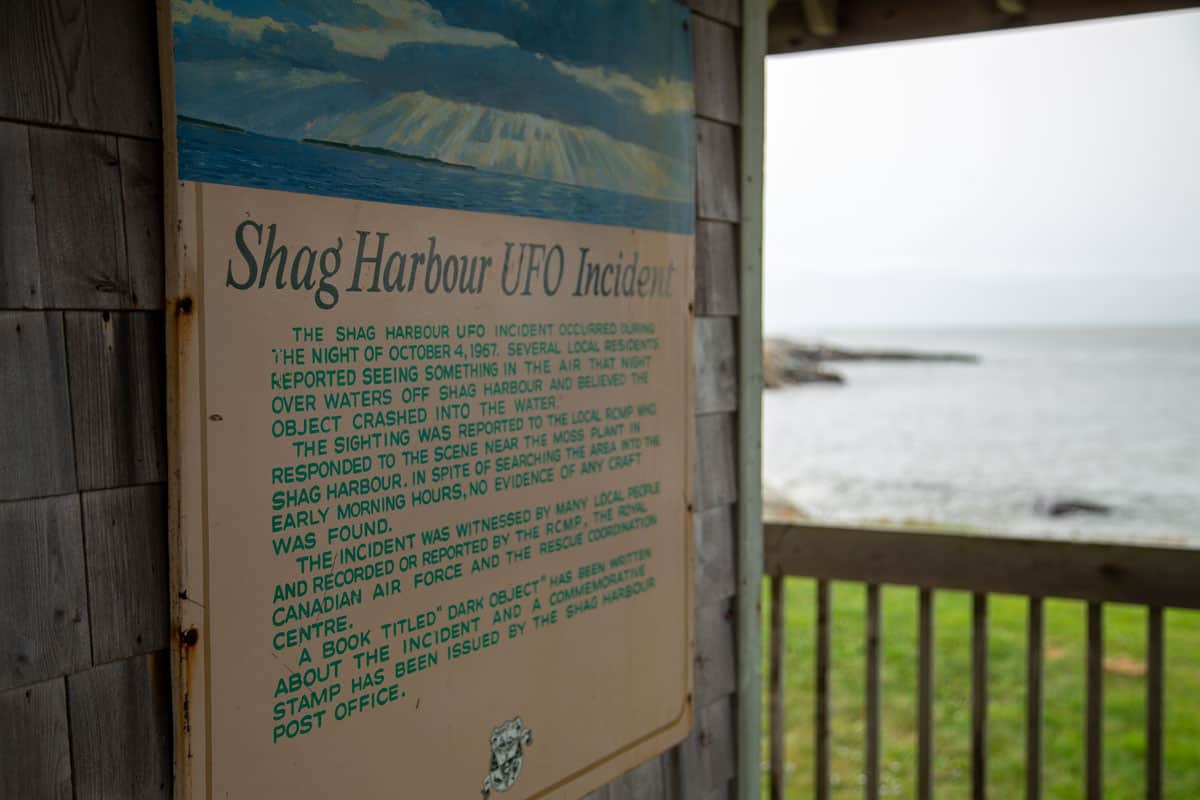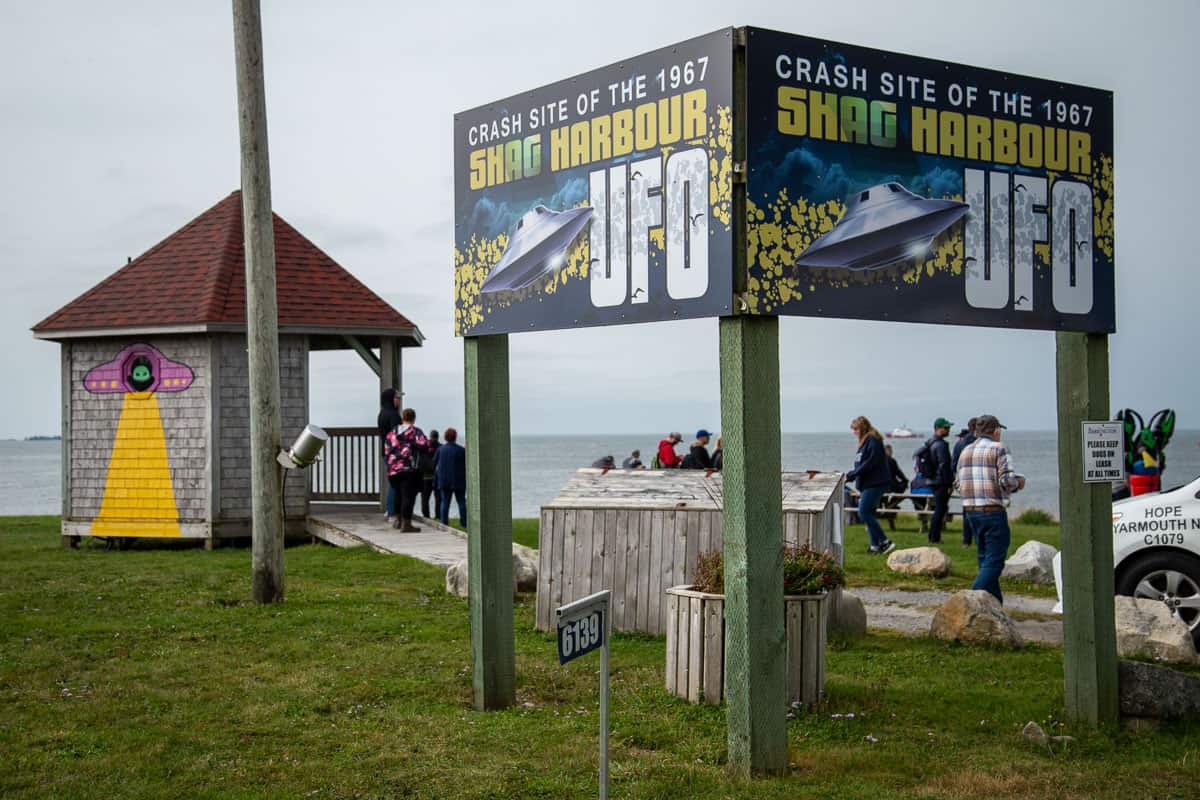 All in all, it was an entertaining weekend, opening a whole new part of my brain from initially thinking of "Do UFOs exist?" to "Why are they here, and what do they want?". The truth really is here.
Other Things to Do Nearby
Cape Forchu Lighthouse
This is one of Nova Scotia's most famous lighthouses, and rightly so. Not only for photographers looking for their version of this reflection shot but also because of the beauty that surrounds it, and most importantly how many lives this on-duty lighthouse saved (the harbour it sits in is a tricky one to navigate). It is also the only lighthouse in Nova Scotia that tourists can climb.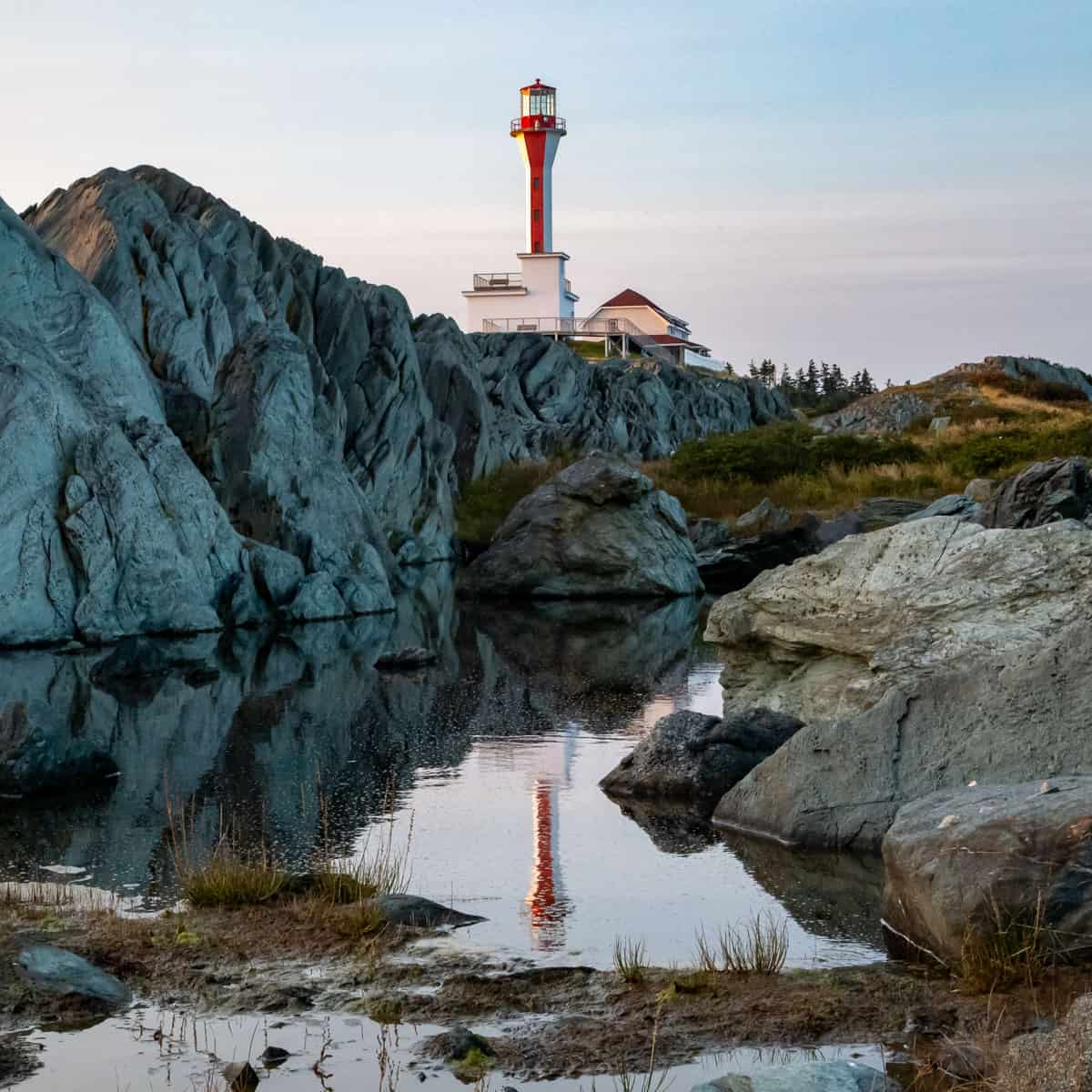 Where to Eat and Stay in Yarmouth
Rudder's Seafood Restaurant and Brewery
Right on the Yarmouth waterfront is one of the most popular restaurants in town. Rudder's Seafood Restaurant and Brewery offers the normal Nova Scotian fare and in a nautical-themed setting. What we particularly enjoyed was their locally brewed ales, especially the Yarmouth Town Brown.
Rodd Grand Yarmouth
Right in the heart of downtown Yarmouth is the Rodd Grand Hotel. This was where the UFO XPO conference was held and we had a south-facing room with a harbour view. What was best about this hotel was the location with a number of restaurants, pubs, and shops all within walking distance.
---
This post was produced by us, and sponsored by Tourism Nova Scotia.