And So We Traveled, Part One
And So We Traveled, Part One
Words by Dalene Heck
For many months now, we have shared some very intimate details of our life. In a lot of ways, we don't consider our website a typical travel blog – it has become as much about our personal story as it is about the places we visit.
And this online story is missing one important part – Pete and I have never fully shared our reasons for traveling. We've dropped snippets here and there in a few bullet points scattered around the web, or in response to random emails from curious readers. This is by far the number one question asked of us.
The truth is, it is a hard story to tell.
This life that we love so much, this one that people call us "so lucky" to have, was born out of inconceivable trauma.
Thus, I have shied away from telling it fully. Pete and I have gotten very good at condensing our story to just one or two factual sentences. We've stripped it of the emotion it is truly worthy of, emotion that we have suppressed, or at least, learned to deal with.
But with any trauma that one endures, the accompanying emotions can easily find their way back to the surface. Sometimes it's random – at the chance of hearing an old song, smelling a familiar perfume, or staring at scenery that reminds you of another time and another place.
Most poignantly, however, emotions rise at anniversaries of the trauma.
We are in the middle of our five year anniversary. I say "in the middle" because it is not just one single date or event that was the catalyst to our life of travel, but instead a stretch of time where crushing blows stacked up, one after another. Where we thought that life just couldn't possibly get any worse, that we had endured all we could handle, right before the next blow came. It culminated in one final shot to the chest, one event that shredded our insides and left us gutted and gasping.
Several months after that final event, I woke up one night with a start. I grabbed a piece of paper, a pen, and I started writing frantically. I had never before in my life felt such a compulsion to write, never before did I have such an intense need to dispense of words that were exploding in my head. To do so brought an onslaught of emotion but also some instant relief; I needed to spell it out, to put on paper these unthinkable things that had occurred. It was then that I started to believe that it actually happened, that it was more than just visions of an awful movie with a ludicrous plot line.
(Here is that piece of writing, mostly unchanged from when I wrote it then. I entitled it "Seven Months".)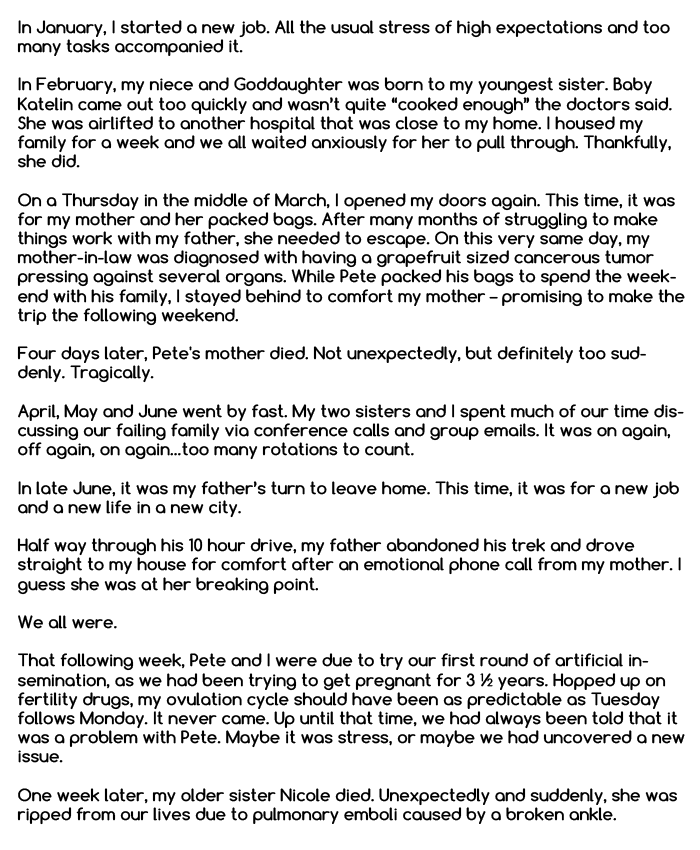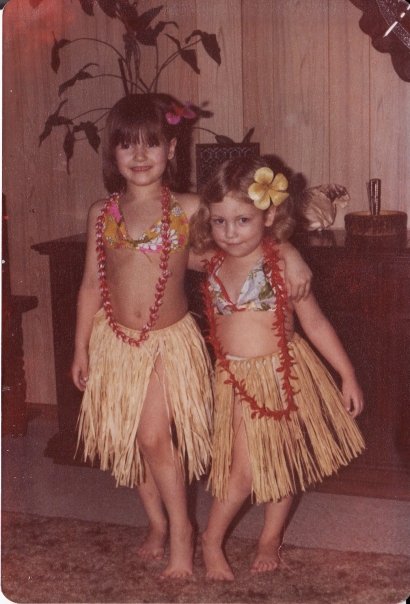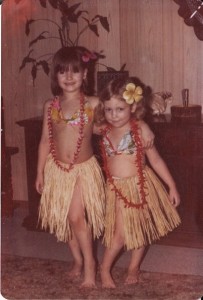 My beloved big sis, and one of my very best friends, was gone. Just like that. Two days after her thirty-fourth birthday and many, many, days too soon.
The combination of all these formidable events, as horrible and life-changing as they would be in their own time, had been amassed into a mere seven months. And starting on that fateful day in July, I felt their full impact.
Cue massive breakdown, stress leave from work, and an unending string of failed attempts at therapy. Days in my pajamas, nights spent sleepless watching TV on the couch. A ceaseless wave of messy emotion. Anti-depressants and social withdrawal. Pete's ever-compassionate and kind soul waited on me patiently, left to deal with his grief on his own.
I flailed at the bottom of a deep black hole for several months, frantically thrashing to find a way out. I took my pills. I ate better. I exercised. I wrote. Nothing seemed to help, and I sunk deeper.
Something caught my eye on the way down. A small beam of light appeared – a gloriously dazzling light that at once excited and terrified me. It came from a tiny outlet, a pinpoint really, so small that it seemed improbable that someone could fit their whole being through it. But it was clear that I had to try.
It was a tight squeeze. I knew I needed to shed much of what defined me in order to get through. And not just the material possessions that padded my soul, but lofty weights of character that did too – ego, ambition. I had to drop these all on the black side of the hole in order to make my way.
It wasn't a god with a soothing voice and gentle hand that guided me through, it was the black, bony fingers of grief that instead pushed me. It was those who left me and the children who were never able to find me. They spoke in unison, shouted actually, that my life belonged to me. Not to the four walls I decorated around me, not to the corporation. Not even to my beloved pets, friends and family.
Pete didn't need any convincing. He, of course, felt the push too, as he had endured the same pain. We clasped hands and made our way through that tiny hole together.
Our lives were ours.
They were short.
And we needed to make the most of them.
Continued with Part Two – The Decision.
Interested in how we've made our travel lifestyle work? Click through to read our methods for how to travel long term (and also get great suggestions from other travelers).