Travelling in Alberta: An Offbeat Roadside Attractions Road Trip
Words by Dalene Heck / Videography & Photography by Dalene & Pete Heck
When most people think of travelling in Alberta, they picture the Rocky Mountains, National Parks, and emerald lakes in the summer and snowy glaciers, frozen waterfalls, and ice skating on those famous lakes in the winter. They likely imagine visiting of the main tourist destinations of Alberta: Banff National Park, Lake Louise, Moraine Lake, Jasper National Park, the Columbia Icefield and Icefields Parkway, or even Elk Island National Park, and a UNESCO World Heritage Site or two.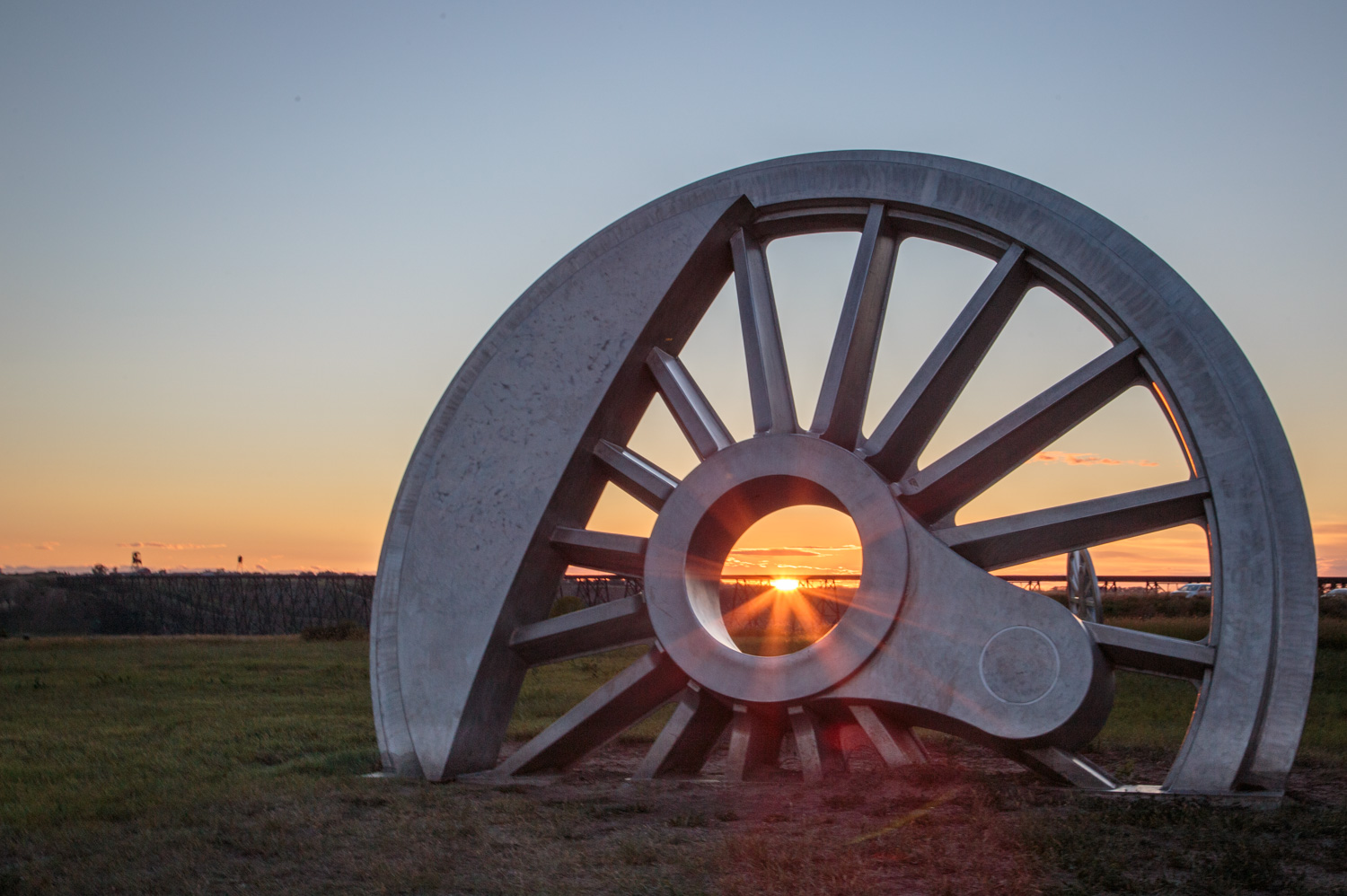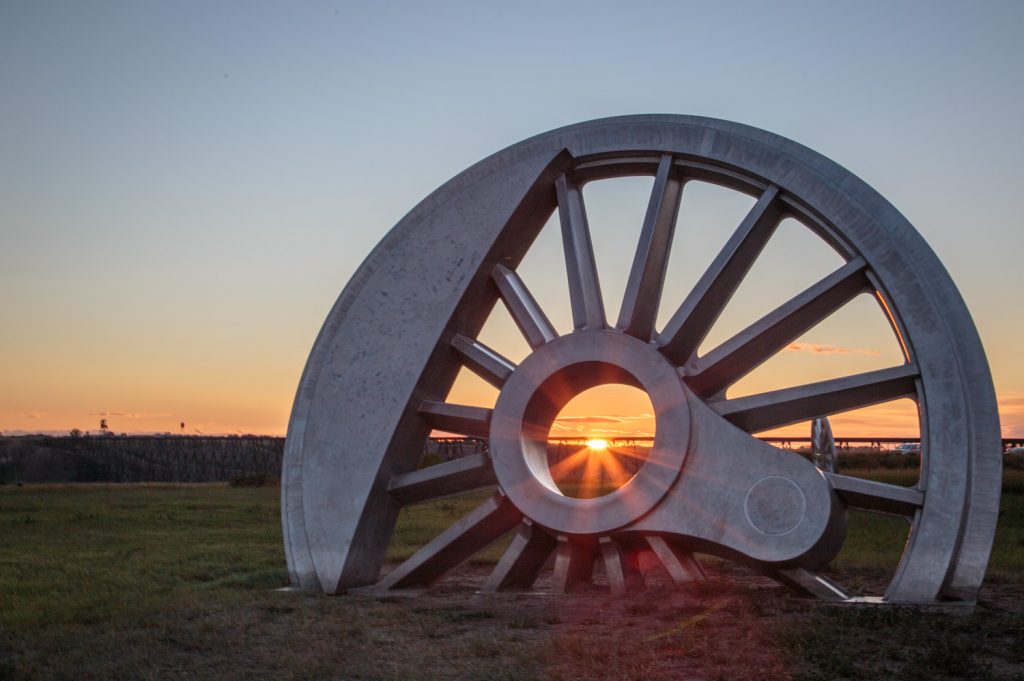 Of course, all of these locations are incredible locations to visit, and worth visiting Alberta in their own right. However, these popular spots are not all that Alberta has to offer.
We want to share some of our favourite spots that are a little more off the beaten path from our experiences of travelling in Alberta. The road trips certainly take you on some of the most scenic drives, but it's the quirky Alberta attractions along the way that really make the trip.
Travelling in Alberta – A Roadside Attraction Road Trip
On day two of our latest road trip in Alberta, we came upon a rather large goose in the small town of Hanna. Not the world's largest goose (as we first thought), but a large enough one that it was worth a stop on our journey to see some of the more offbeat things in our home province (tick that off our road trip scavenger hunt checklist).
Turns out, we weren't alone. Two young girls, early 20s by my estimation, appeared seemingly out of nowhere. They crept up on us as we fiddled with our cameras and discussed angles. Can you take our photo? One of them asked, handing me her phone. She adjusted her long loose braid to lay over her left shoulder; her friend put on a pair of heart-shaped iridescent sunglasses.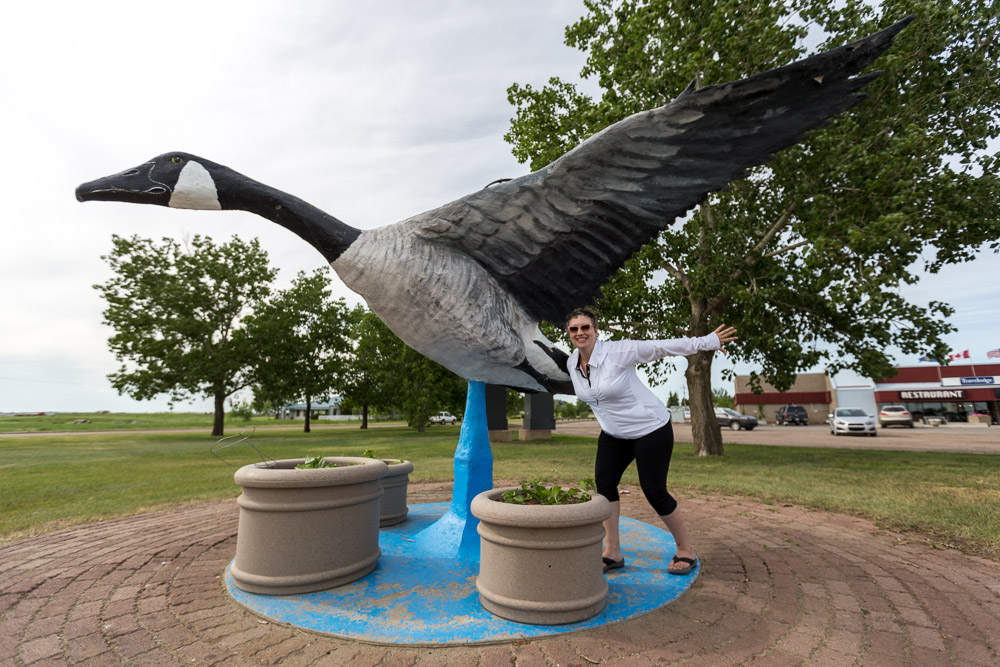 I took a few steps back and readied the phone. Both girls stood at the neck of the bird and splayed their arms behind them as if they were set to take flight themselves. I snapped a couple of shots, they took the phone back, thanked me, and were on their way. I didn't see in which direction they departed; the girls had disappeared as inconspicuously as they arrived.
It was a surprise to see them, in this tiny town not known for much, apparently in a pursuit not much different than our own. And that brief interchange, unbeknownst at the time to those girls, Pete, and to myself, would change the way we felt about the expedition we had just begun.
Henceforth, we became frivolous and playful tourists.
Some may think, because we have spent the large majority of the last decade exploring cultures that were not our own, we may turn a more discerning eye to our home, stacking Alberta up against other regions of the world. And maybe we expected that of ourselves, too, feeling a bit of pressure to discover and reveal the intricacies to this place that we are so familiar with. However, here we were, on an epic trip into parts unknown in our home province, and we shed that investigative inclination in the name of plain old fun.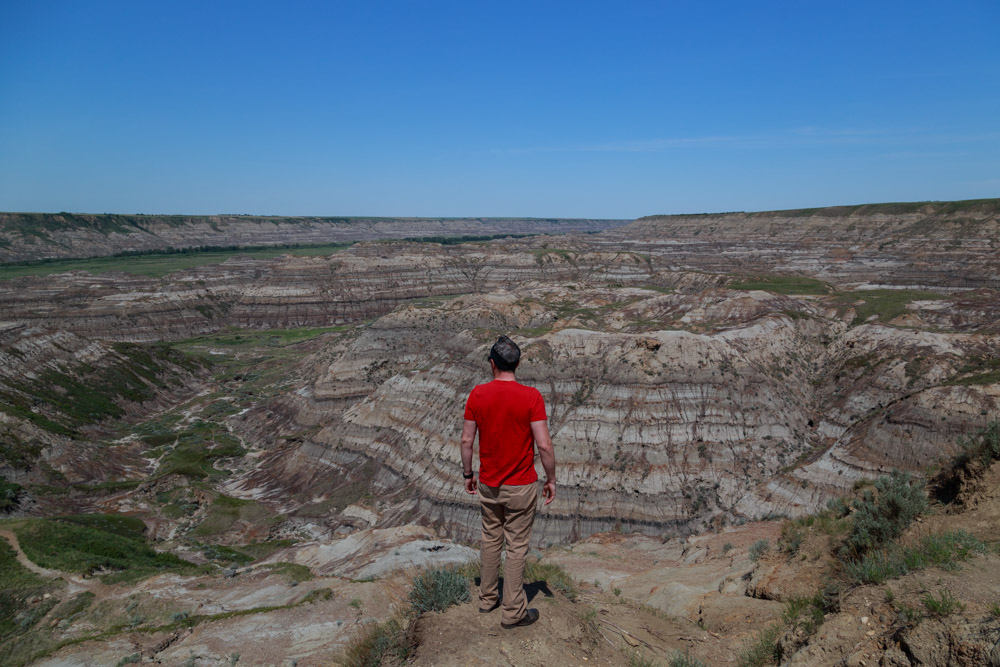 We drove just under 3,000 km and made dozens of photo stops, embracing our inner playful tourist the entire time. And in doing so, we discovered a ridiculously entertaining side to travelling in Alberta we had barely seen before.
World's Largest Sausage (Mundare)
Yes. You read that right. Unbeknownst to many, Canada is home to the third-largest population of people with Ukrainian heritage (outside of Russia and Ukraine itself), which began with a wave of immigration in the late 19th century. Many came to Alberta and settled around Edmonton.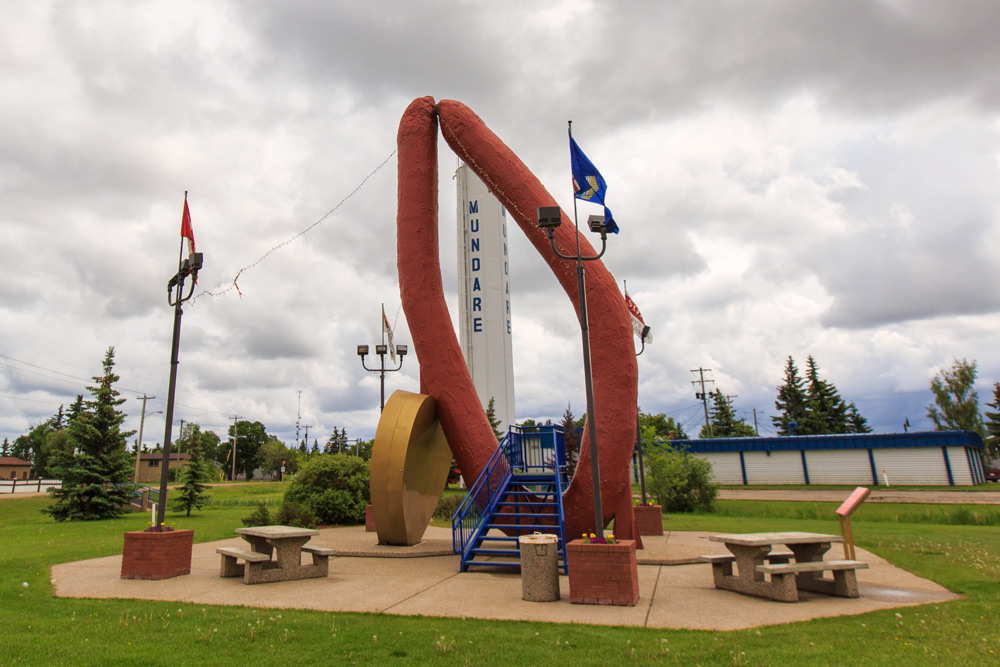 The parents of my paternal grandmother were a part of that movement. My grandma herself, although born in a small town in Alberta, didn't speak English until she attended school because her family only spoke Ukrainian at home. The region north of Edmonton is speckled with monuments to Ukrainian heritage.
Hence the sausage (and a few more "world's largest" landmarks to come). Erected in honour of a local food company (Stawnichy's), the structure stands at 42ft in the middle of the little town of Mundare. Nearby is the flagship store for Stawnichy's itself, and sampling the product after taking your sausage selfie is a must.
World's Largest Pysanka (Vegreville)
Of all the Ukrainian sculptures in Alberta, this might be the most famous and admittedly did make me a little emotional on arrival. I grew up painting pysanka often with my grandma around Easter and continued to carry that tradition on into adulthood. The statue stands three and a half stories high in Vegreville and was even once visited by the Queen.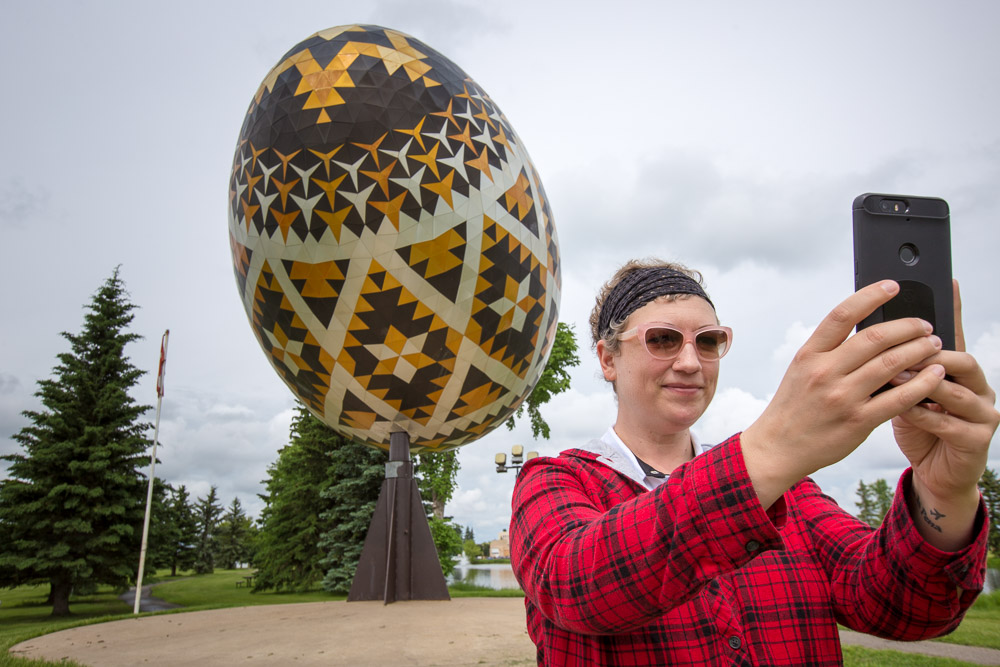 World's Largest Pyrogy (Glendon)
I made a lot of pyrogy with my grandma, too (and consider myself quite the connoisseur). You guys know how I feel about these little pockets of goodness (as demonstrated by my devouring everything in sight while in Poland), and leave it to the Ukrainian-Canadian population to build the largest in the world. And they are quite proud of it in Glendon, with streets and restaurants named after it.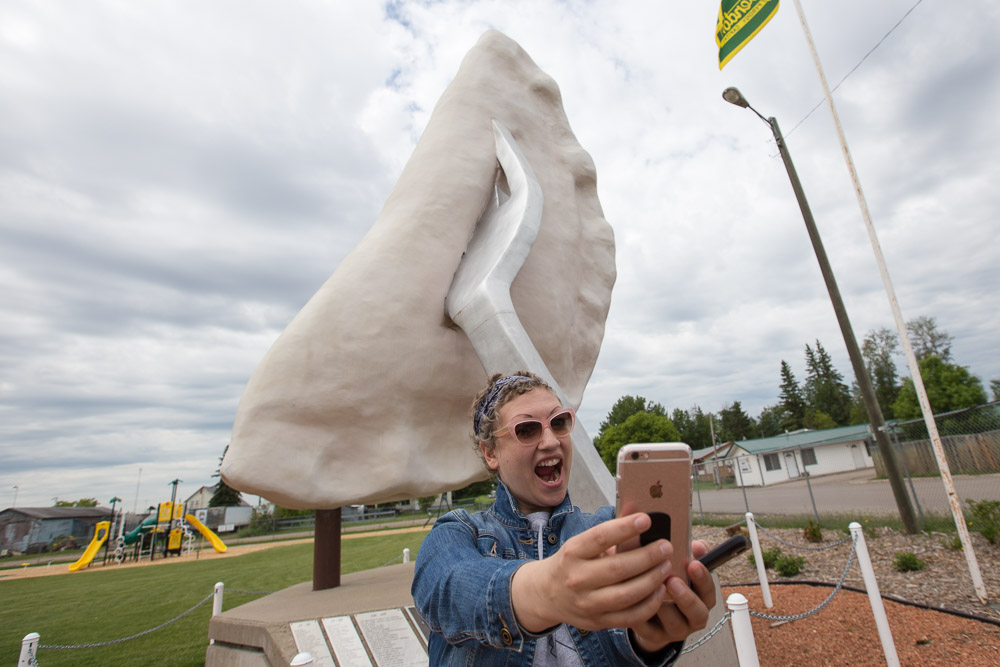 Who can resist such a selfie?
World's First UFO Landing Pad (St. Paul)
Why? You might ask.
Good question. As for a definitive answer, I could not find one. The town of St. Paul wanted to celebrate Canada's 100th birthday in 1967 by building a memorable landmark. Well, I suppose they did just that, and the government even responded by declaring St. Paul the Centennial Capital of Canada.
Starship Enterprise Replica (Vulcan)
Alberta has a fascination with the beyond, apparently! The small town of Vulcan, in southern Alberta, was originally named by a surveyor for the Canadian Pacific Railway after the Roman God of Fire, but the connection to Star Trek (as the homeworld of Mr Spock) has not gone wasted.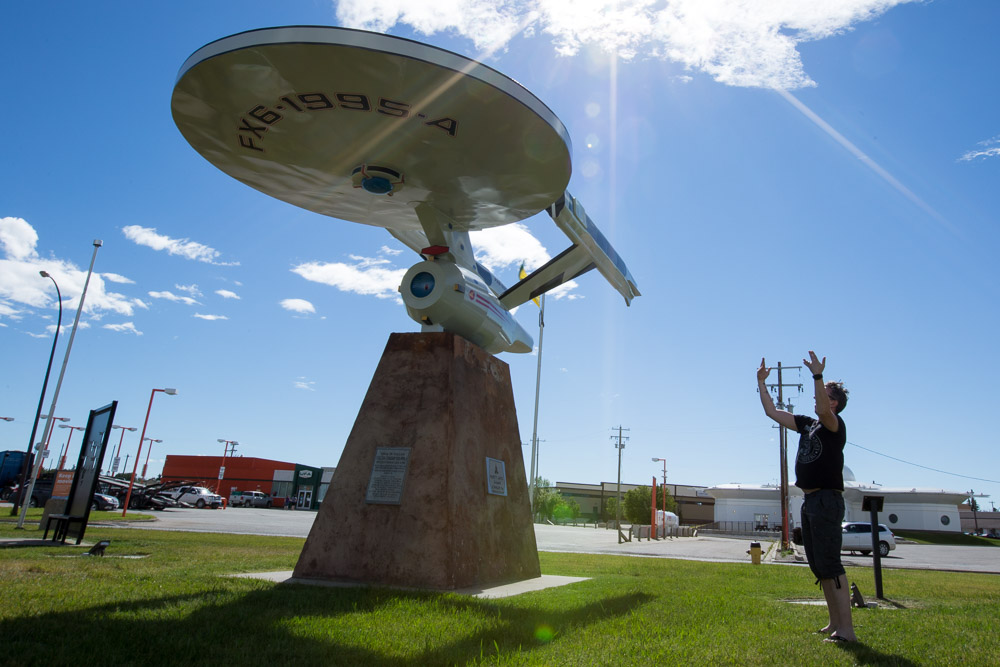 Star Trek themed murals and signs decorate the town, and on the side of the replica itself, writing in Klingon is found. They even host Spock Days annually, and Leonard Nimoy himself visited the town in 2010.
(We're not Trekkies, by any means, but admit that this was one of the more entertaining stops we made!)
World's Largest Border Markers (Lloydminster)
Of all the rivalries between neighbours in the world and all the talk of building walls, you probably wouldn't expect the title of largest border markers in the world to be held by Lloydminster. It is Canada's only border city.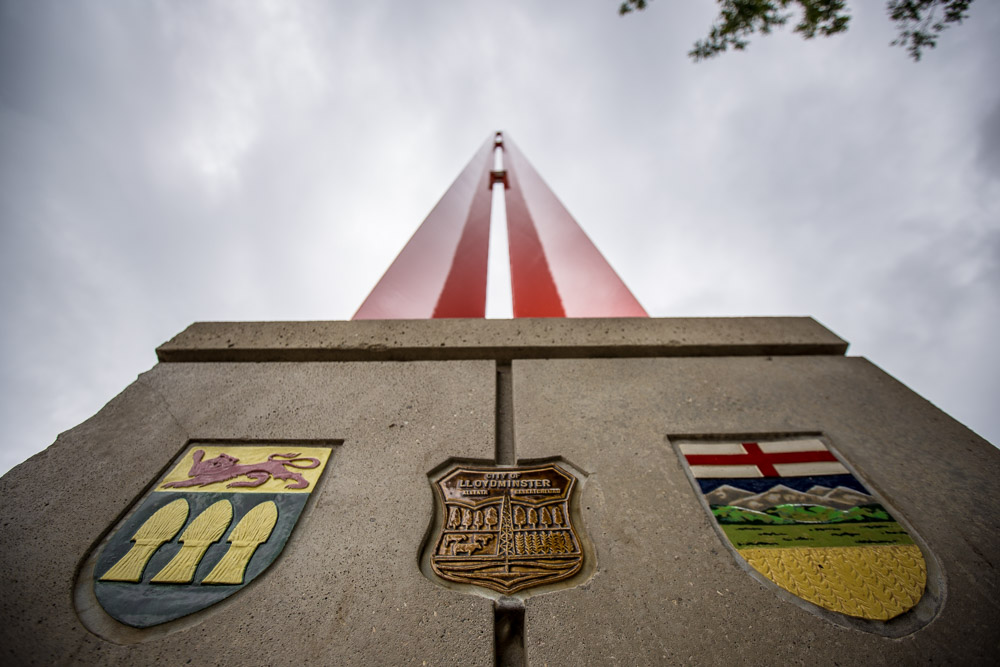 Lloydminster straddles both provinces of Alberta and Saskatchewan, and the markers were designed to actually signify the coming together of the city. A perfect spot. Maybe it's a necessary reminder at times – with debates about applying different taxes from each province coming to a head here, and even confusion over the time zones.
They are 30 feet tall and bright orange, running right down the street that separates the two provinces.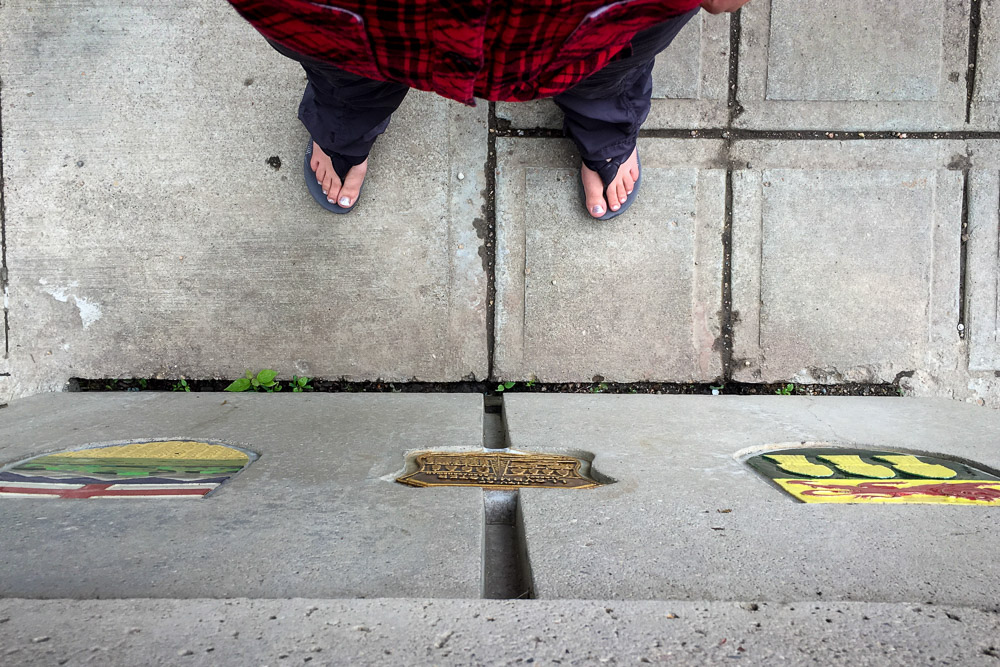 World's Largest Dragonfly (Wabamun)
I may have struggled with pronouncing this town's name, Wabamun (see video above!), but this lake-side community is a cute stop, no matter how you say it. And the 30-foot long / 30-foot wide dragonfly made of recycled goods (including wings from an old airplane) will be the first thing you see as you drive into town and towards the lake.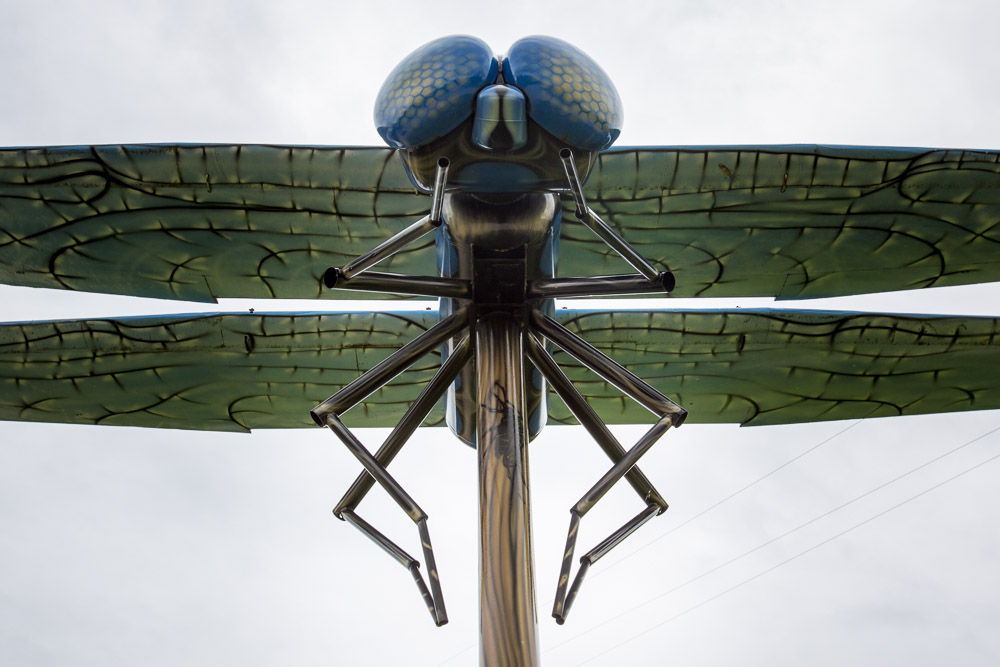 The Dragonfly Festival began a few years ago and runs every June, aiming to bring in tourists to the town that used to rely on a coal mine.
World's Largest Mushrooms (Vilna)
The tricholoma uspale mushroom grows wild in the vicinity of Vilna. It is often used as a traditional ingredient in dishes of the region.
Hunting for mushrooms has been a tradition since the Ukrainian settlers came to this area just Northeast of Edmonton.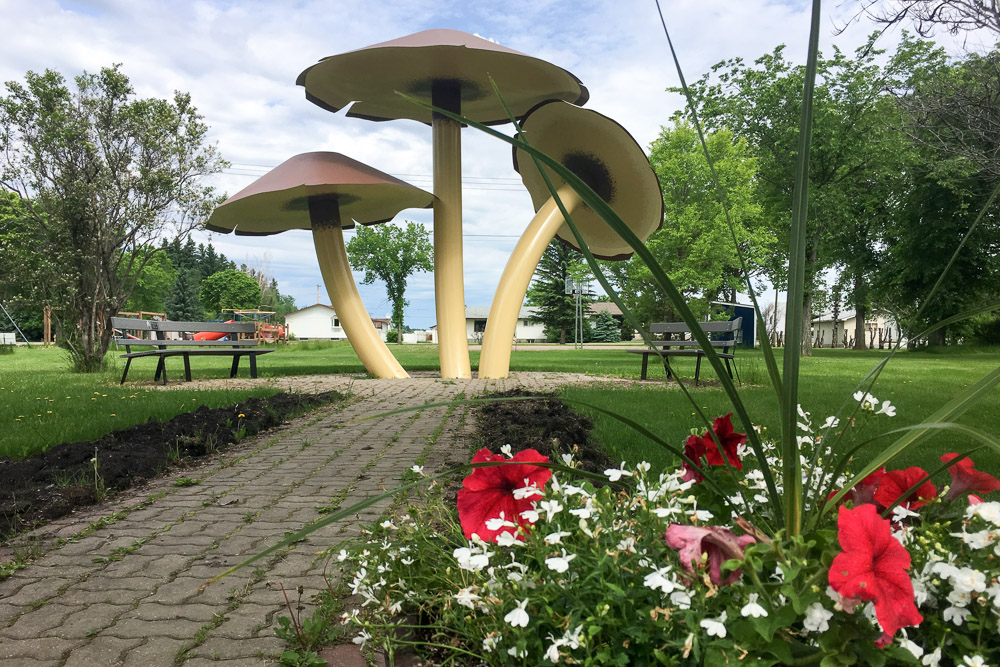 World's Largest Wagon Wheel & Pick Axe (Fort Assiniboine)
In Fort Assiniboine, we met Ken. As we started our ridiculous selfie-taking, he drove by and watched us intently before swinging his large truck around to pull in and park beside us. We were the only tourists we could see in this tiny town, and our selfie stances must have piqued his interest.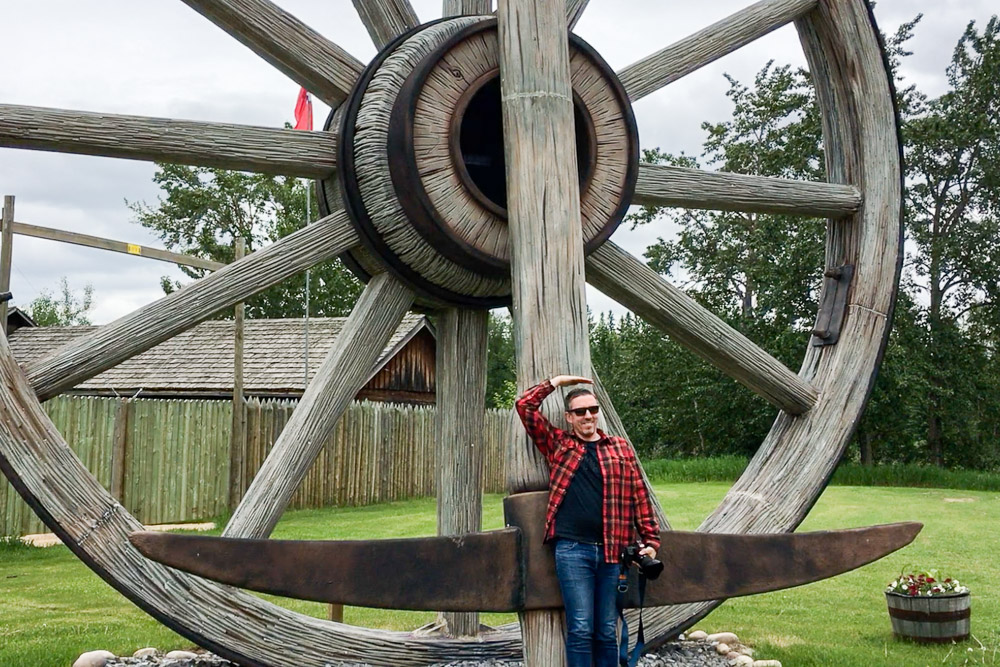 On appearance, he was a large and gruff man but quickly displayed the hospitality of northern Albertans that I was quite familiar with, having grown up just a few hours north of there. He told stories of his quaint little town (seriously, one of the cutest we visited on the whole trip), of floods that destroyed a field behind us, and of the declining school size. We talked about the wagon and pick axe being symbolical of the pioneers who settled in the north of this province.
Ken said he suggested that the town build a whole wagon to accommodate the one wheel (which would, I expect, be quite impossible). I told him we'd be the first to photograph it if they did!
Korean Totem Poles (Airdrie)
We're used to indulging in fusion food around these parts, given the giant mix of cultures that makes up Alberta, but this is taking it a step further by adding Korean symbols to these monumental sculptures which traditionally commemorate cultural beliefs of indigenous people of the Pacific Northwest.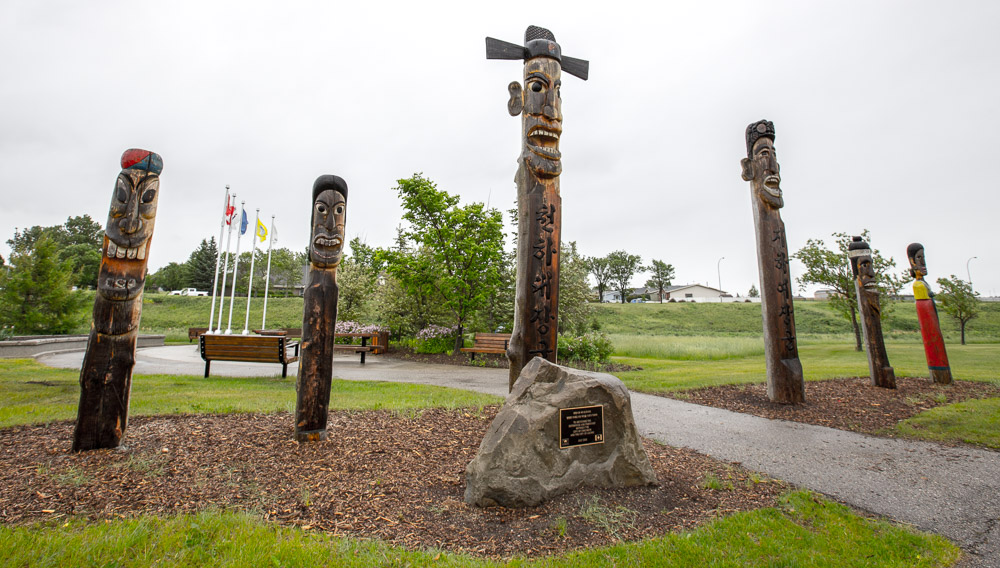 Why are they in the central city of Airdrie? They were a gift from the city of Gwacheon, Korea to commemorate a decade of sister-cityship.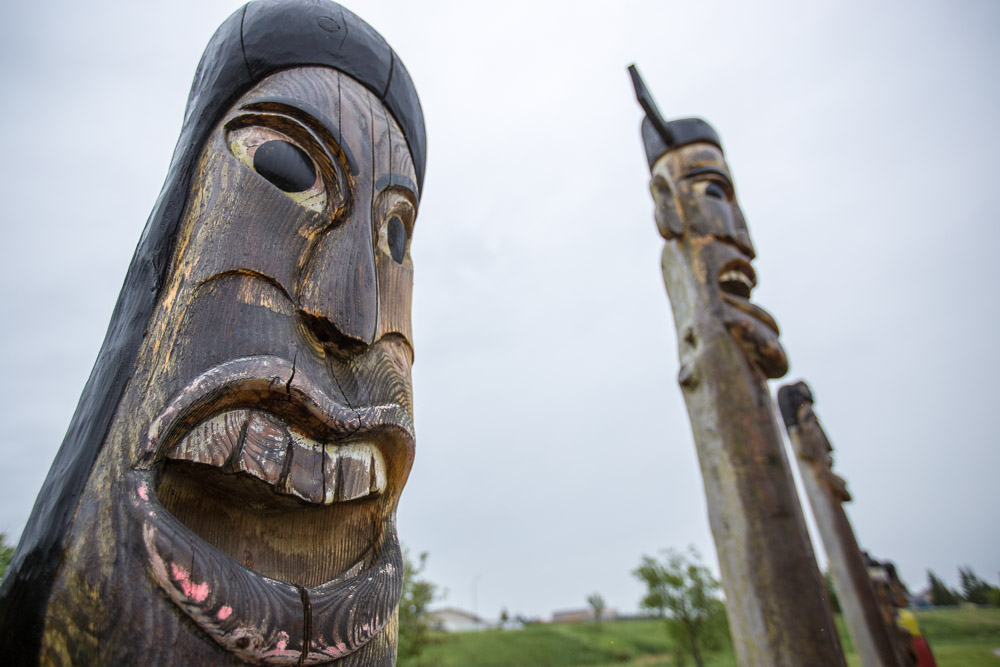 World's Largest Golf Tee (Trochu)
One of our favourite completely illogical stops, even though we saw it during a downpour, was the 40 ft golf tee that sits outside the Trochu Golf and Country Club. Why is it there? Because the town of Trochu won it in a contest. That's it. An Alberta bank decided to run a contest in the summer of 2009 and the winner would get the world's largest golf tee.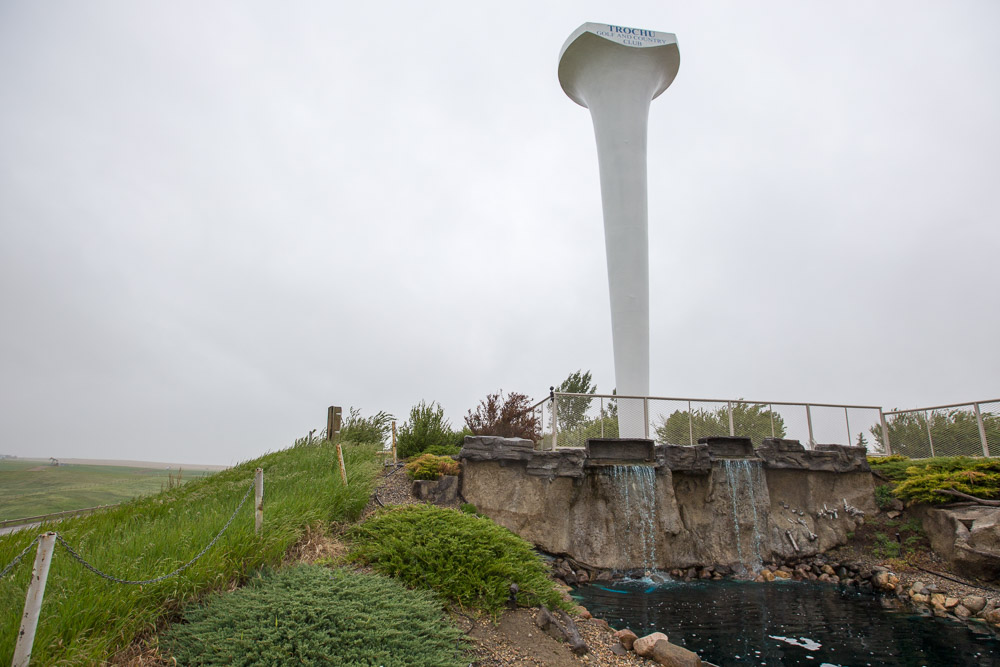 Through video submissions and rounds of voting, Trochu overwhelmingly won and was awarded the tee, which was installed that fall.
World's Largest Dinosaur (Drumheller)
Back to the completely logical attractions (and one of the most fun!) is this 86 ft Tyrannosaurus Rex in Drumheller, the heart of the Canadian Badlands, and what is known as the "Dinosaur Capital of the World". The Badlands region of Alberta stretches north-south, down the centre of the province, and houses some of the best-preserved dinosaur fossils in the world.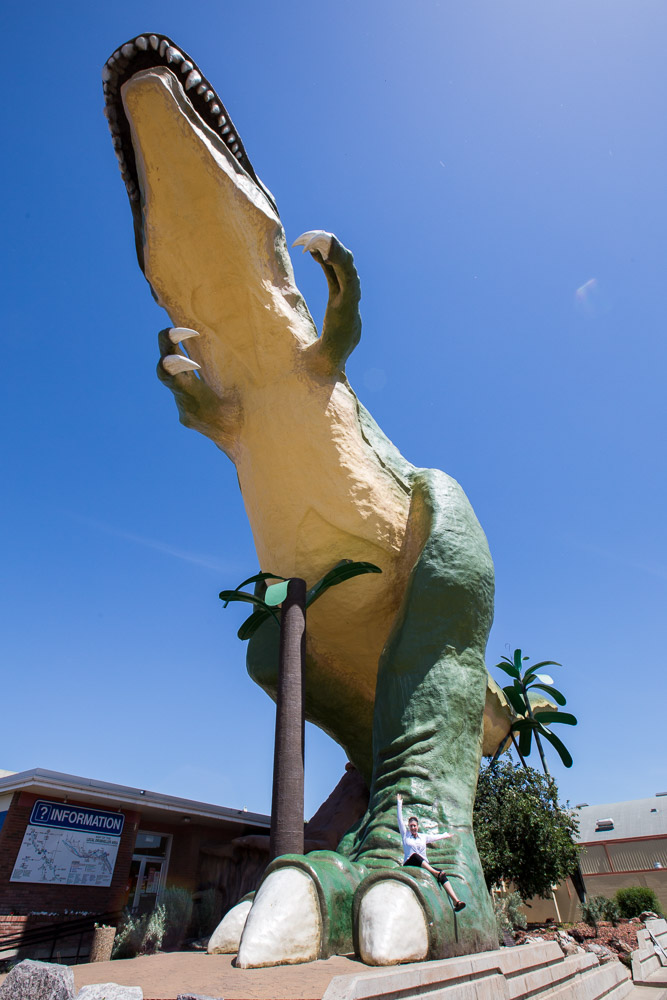 This large T-rex, and the many other awesome dinosaur-related homages around Drumheller, make this a must-stop on any Alberta trip. (I am totally bossy about this now, even though this was the first time in my 40+ years I ever visited!)
It's also worth a visit to the Royal Tyrrell Museum while you're in town.
The Hoodoos (Badlands)
If you're exploring the Dinosaur Trail, you have to continue driving through the Alberta Badlands, to check out the hoodoos. Alberta's hoodoos are Mother Nature's contemporary art project–these whimsical rock formations look like they're ready for an abstract photoshoot. Carved over eons by wind and water, these tall and slender figures stand like a lineup of stone statues in a fantasy world.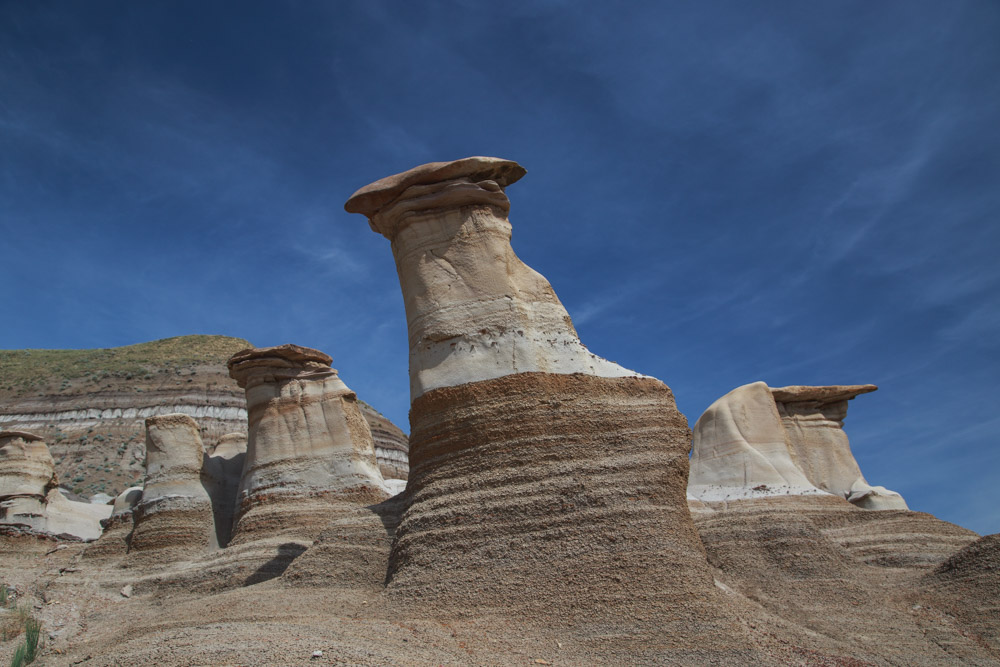 Marvel at how they formed through a dance between soft and hard rock layers, and indulge in a bit of geological daydreaming. Hoodoos are the ultimate rock stars of Alberta.
World's Largest Chuckwagon (Dewberry)
This actually was not quite as big as we thought it would be, but it is the largest in the world! And, in a pinch, if you are in desperate need of a chuckwagon near Dewberry, it is fully functional! Chuckwagon racing is popular in western Canada (especially Alberta), and the first races held as a spectator sport were at the famed Calgary Stampede nearby.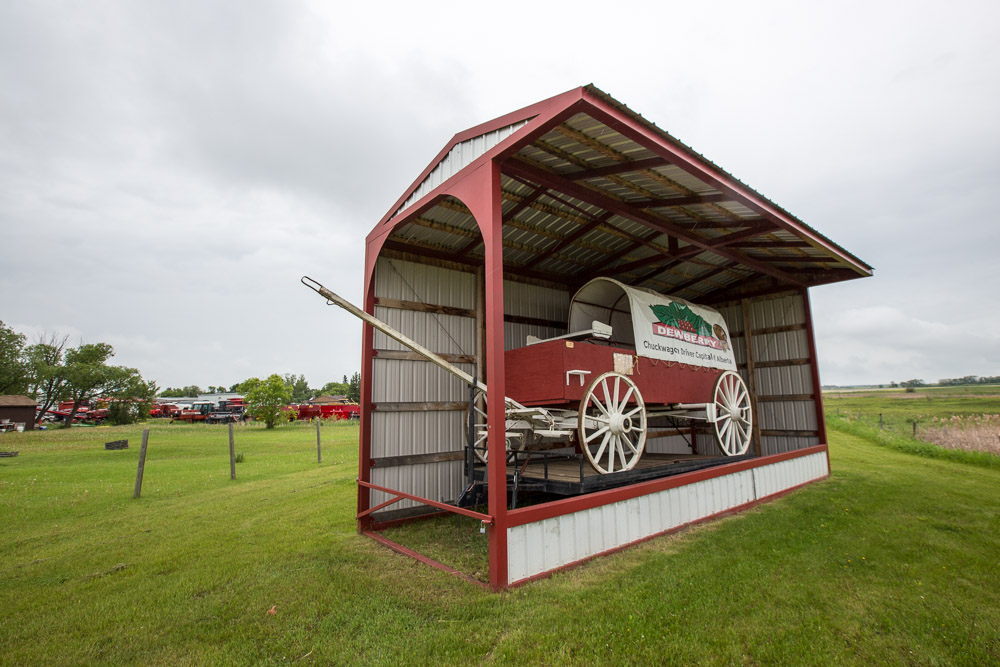 World's Largest Bucking Saddle Bronc Horse & Rider (Ponoka)
(Now, THAT is a mouthful to say, and many takes were required to get it right for the video.)
The Bucking Saddle Bronc Horse and Rider named "Legacy", was built in 2004 to celebrate Ponoka's 100th anniversary and is in tribute to the strength of pioneering families. As you may have guessed, cowboy ways are big in this part of Canada!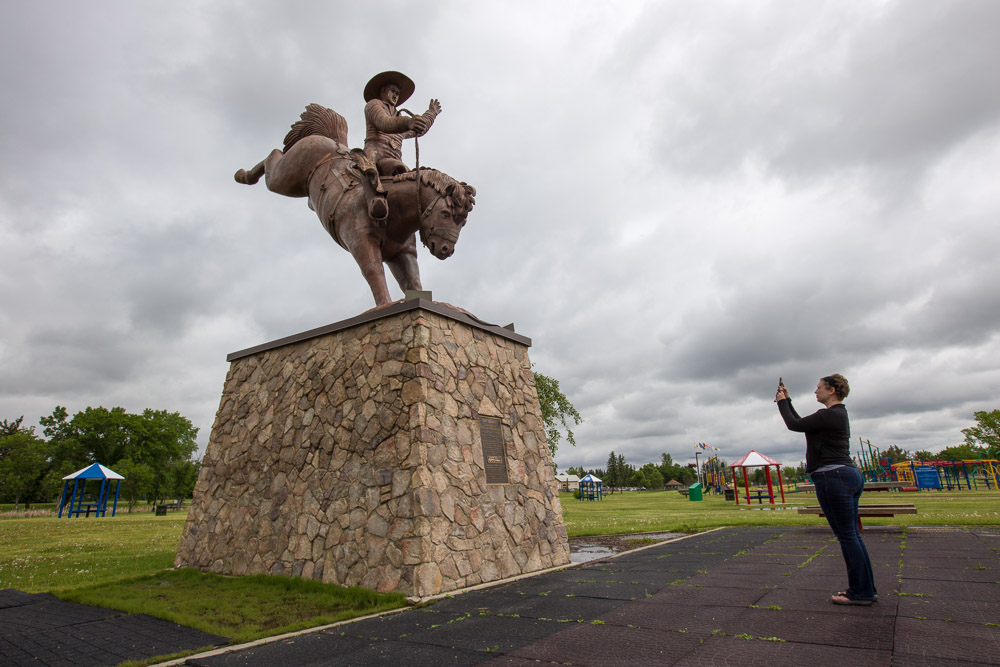 World's Largest Western Boot (Edmonton)
This fibreglass cowboy boot used to stand in front of the Western Boot Factory, which no longer exists. Now the Stallion Boot & Jean Company sits just behind it in the capital city of Edmonton, and has been an attraction since 1989. As we were taking our usual round of selfies, one of the owners came out to tell us that there is even a secret door and ladder to get to the top of it.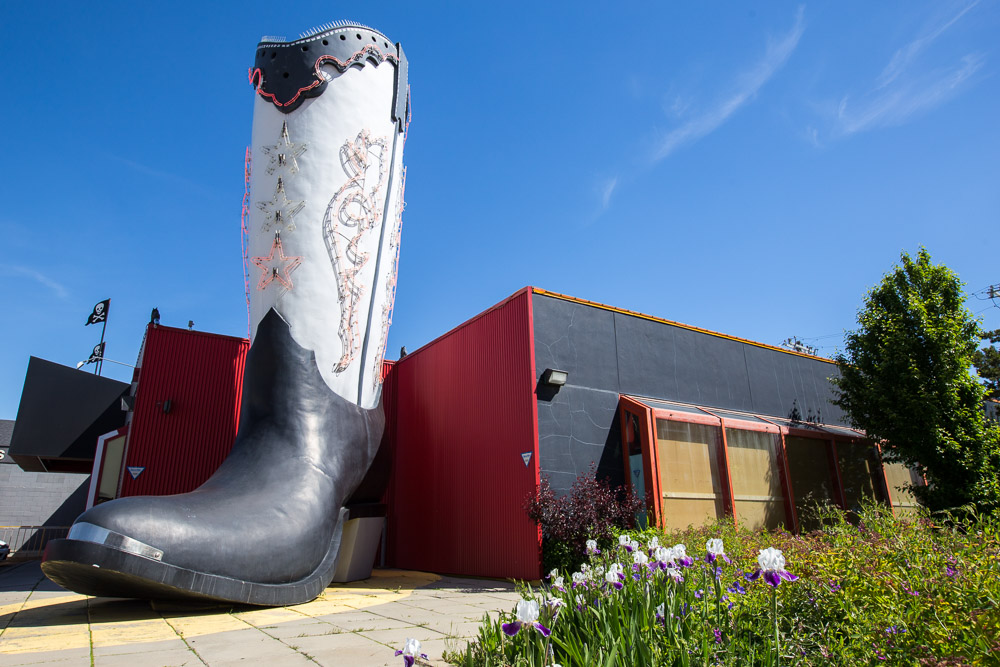 Sadly, he lost the key. (Umm, thanks for nothing.)
Giant Corn Stalks (Taber)
If you are from Alberta, one solace of the fall season (if you're feeling the dread of an upcoming winter) is that it is also Taber corn season. Taber is renowned for its fresh and juicy corn that becomes a staple of the last barbecues of summer.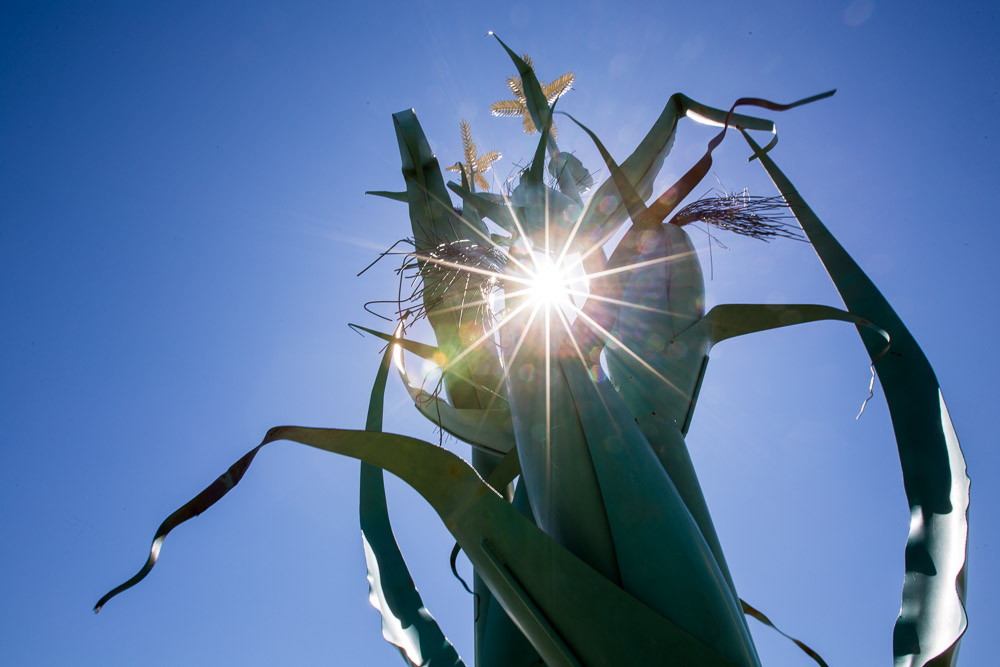 The giant corn stalk can be found just off the highway in the centre of town. You really can't miss it! The challenge is finding a unique way to photograph it.
Giant Potatoes (Vauxhall)
Nearby is the bitty town of Vauxhall, known as the "Potato Capital of the West". And it may not be the world's largest pair of taters, but if you're going to make statues of this visually unattractive root vegetable, might as well jazz them up with lipstick.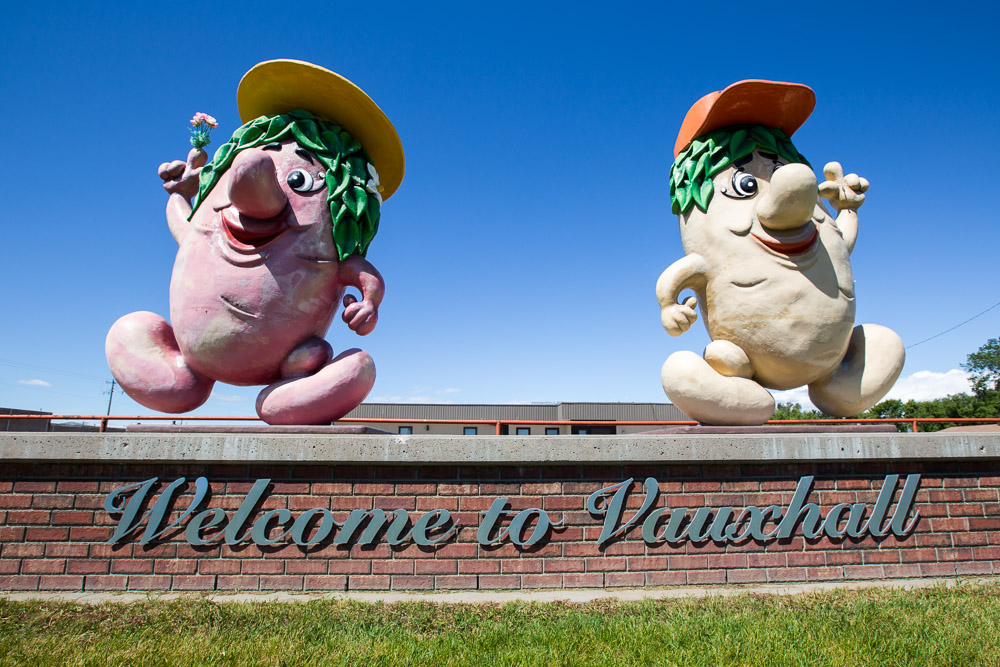 The Invisible House (Unknown)
This was a completely unscheduled stop and on a gravel back road. We have found no conversation of it online. It is simply a ladder to nowhere, or as the sign suggests, the ladder is apparently propped up against an invisible house.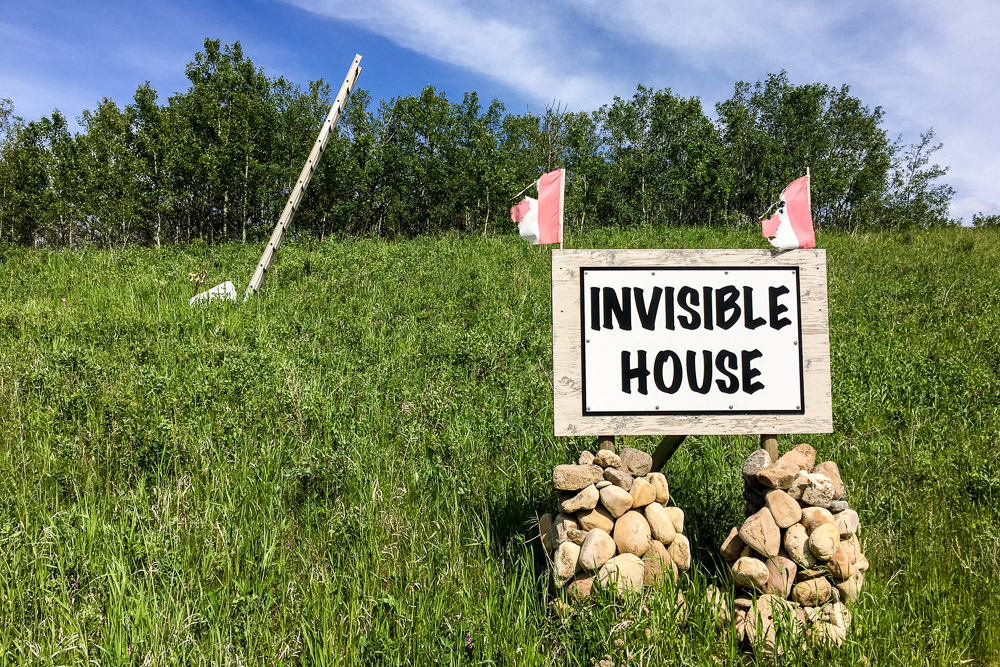 On a nearby stake is a laminated letter asking for taxes on said house. Although, given that the letterhead is marked as coming from "Red Beer County" (as opposed to Red Deer County, where it indeed resides), we have to wonder how this quirky roadside attraction came to be.
Was a real letter (asking for taxes) mistakenly sent and the invisible house created as a jokey result? Or did someone just have too many red beers one night and thought this would be a fun gag for passerbys?
Whatever its origin, it was the first invisible house we'd ever seen.
OR WAS IT?
How We Did It
We covered a LOT of ground in nine days of travelling in Alberta via an RV, and still didn't even come close to seeing all of the incredibly offbeat attractions that the province has to offer.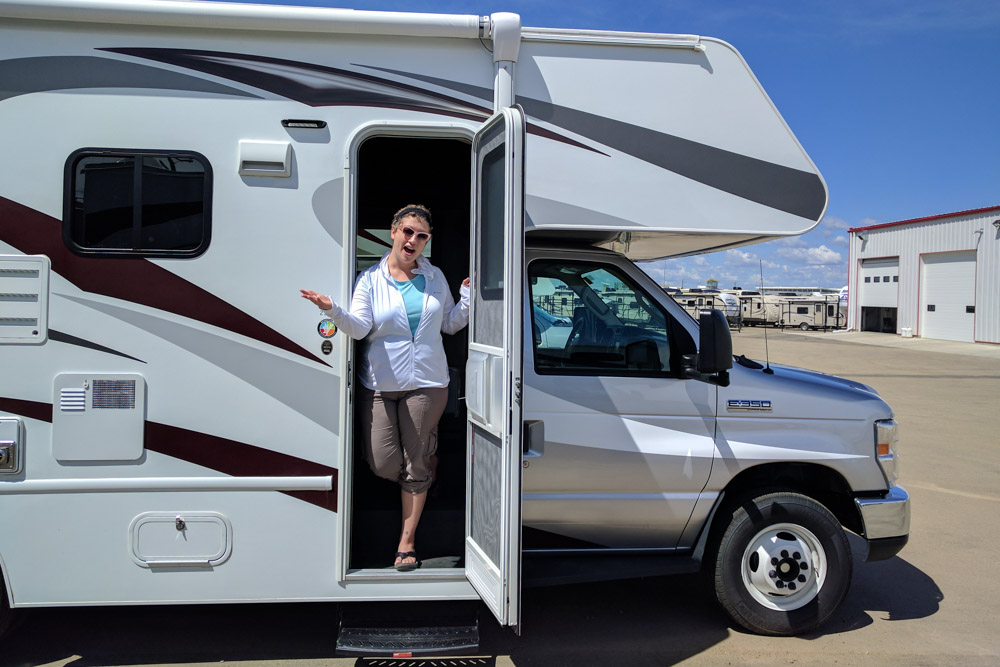 But we've mapped them all out here for you (along with our camping sites, which we will talk more about in another post). And if you've got time to spare, here is a more complete list covering the whole province. (We're debating planning a round two already!)