Words by Dalene Heck / Photography by Pete Heck
It is sometimes tough for us to explain the method of our travel, especially when it comes to how sluggishly we move through a country. Other tourists and locals alike all seem quite perplexed when we said we were staying in a small city like Brasov for more than a week. And I do understand their confusion considering that all the touristy things in the area can be done in a mere few days.
But given the fact that we need to work as we move, and that we really like to get to know locations a little deeper, a few days of activities means at least a week of residence. If we want to explore the surrounding area, add a few more. And then it still puts us in the position of sometimes having to make tough choices between sights. We are not the hop on/hop off people just to fit everything in, we prefer to be much more deliberate when we can.
So when it came to a day trip from Brasov, we had to make a choice. There was the nearby castle of Bran (with misleading ties to the Dracula story), the fortress at Rasnov, and the resort town of Sinaia, home to Peles Castle. All have their merits and so it wasn't an easy choice to make, but conversations with others upon whose opinions we trust finally led us to a decision.
We waited for a day where we could trust the spring weather to cooperate (mostly), and off to Sinaia we went.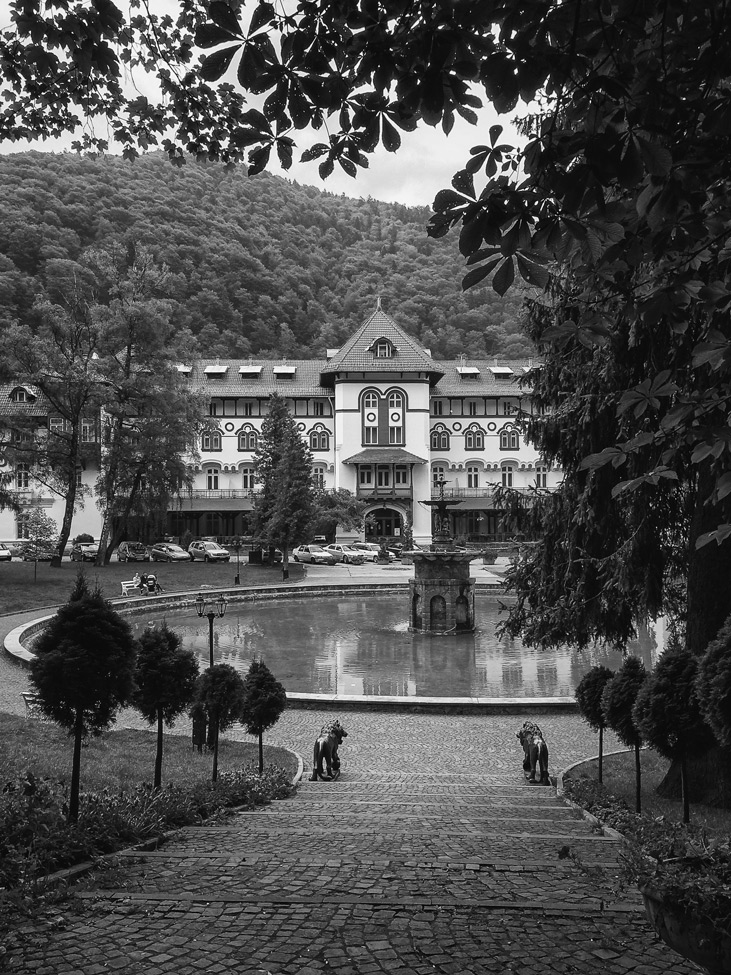 It's not far from Brasov, but trains move pretty slow in Romania. The bluebird skies became laced with increasingly dense cloud as we crawled a bit higher up the Bucegi mountains. The day would turn such that we walked in some bits of rain as we strolled through the town.
From the train station it is a hike uphill on windy streets to get to Peles Castle. Tour buses swooped around us and we passed few locals on our ascent, but did spot several men dressed in robes as they made their way into the Monastery we passed. That stop, we would make later.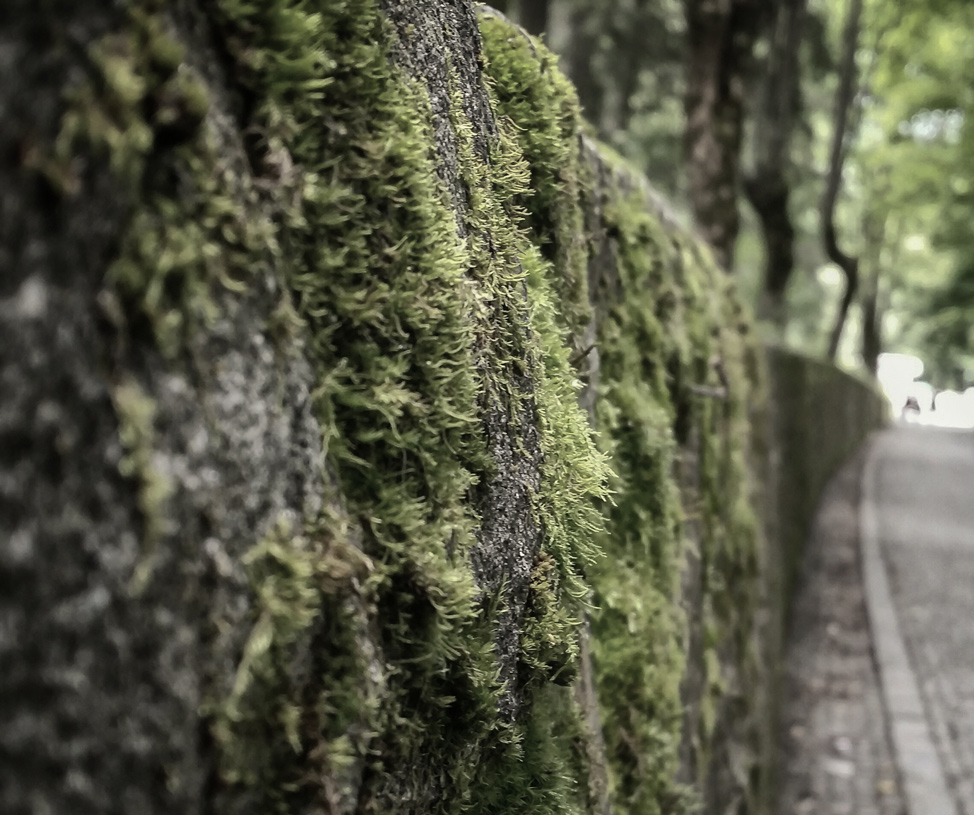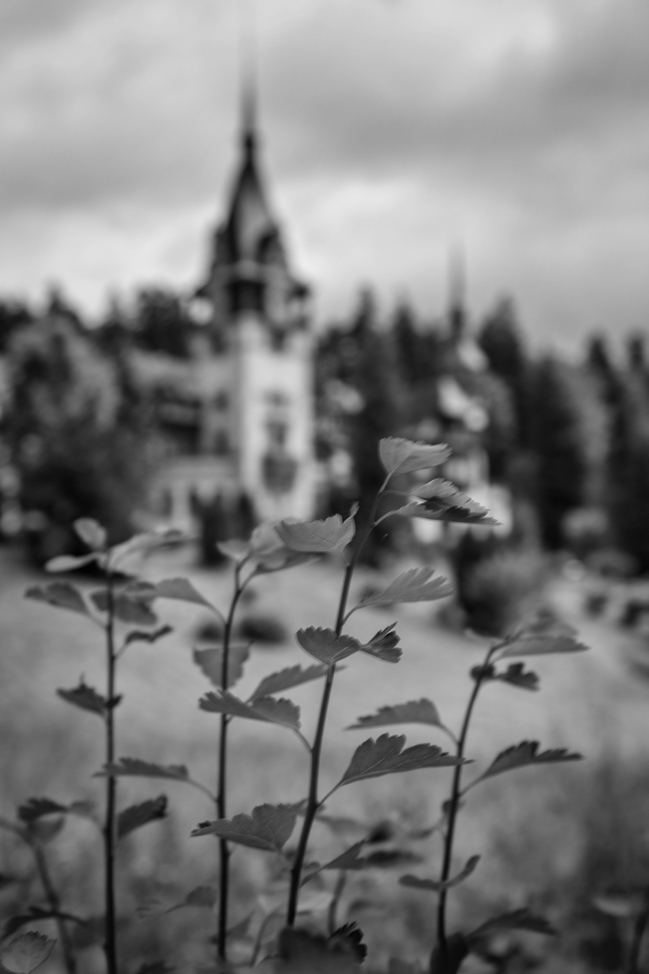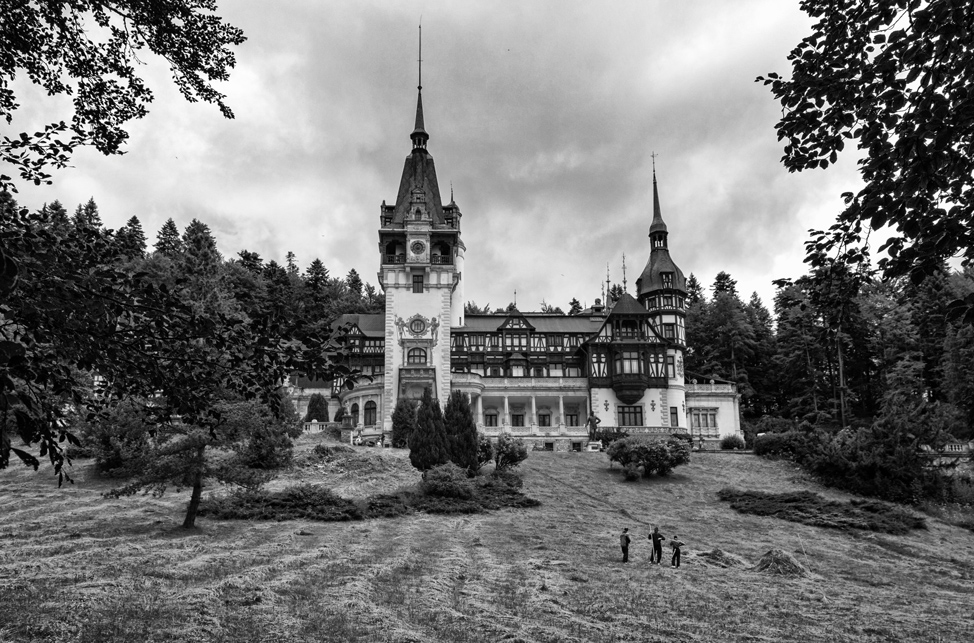 Peles was, in fact, only built to be a summer home.
King Carol I fell in love with the mountain scenery during his early reign and began construction in 1875, touching on many classic European styles by design. And it was a true cross-continental effort. From the journal of his Queen Elisabeth:
"Italians were masons, Romanians were building terraces, the Gypsies were coolies. Albanians and Greeks worked in stone, Germans and Hungarians were carpenters. Turks were burning brick. Engineers were Polish and the stone carvers were Czech. The Frenchmen were drawing, the Englishmen were measuring, and so was then when you could see hundreds of national costumes and fourteen languages in which they spoke, sang, cursed and quarreled in all dialects and tones, a joyful mix of men, horses, cart oxen and domestic buffaloes."
The result: a dreamy courtyard best imagined being enjoyed in full regal wear under the fragrance of wildflowers and chill of morning dew. The interior is dense with rich and intricately carved wood, complete with hidden passages, foreign thematic rooms, and a captivating ancient weapons collection from around the globe.
(The latter of which we can't share with you as the interior is under strict copyright. Trust us when we say that seeing the inside is definitely worth the tour, if you can manage to tear yourself away from the gardens and stately courtyard.)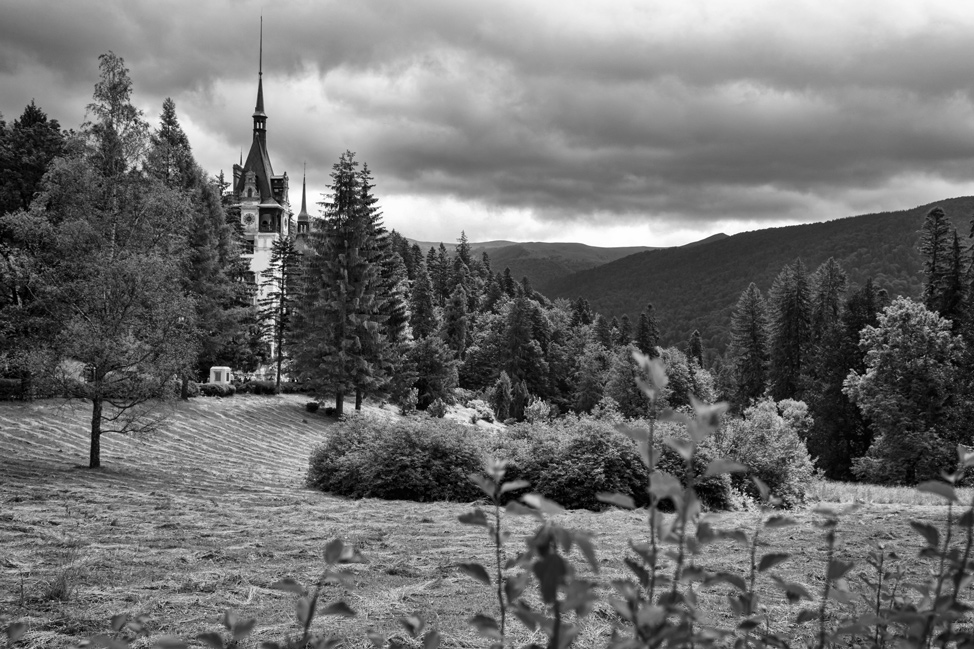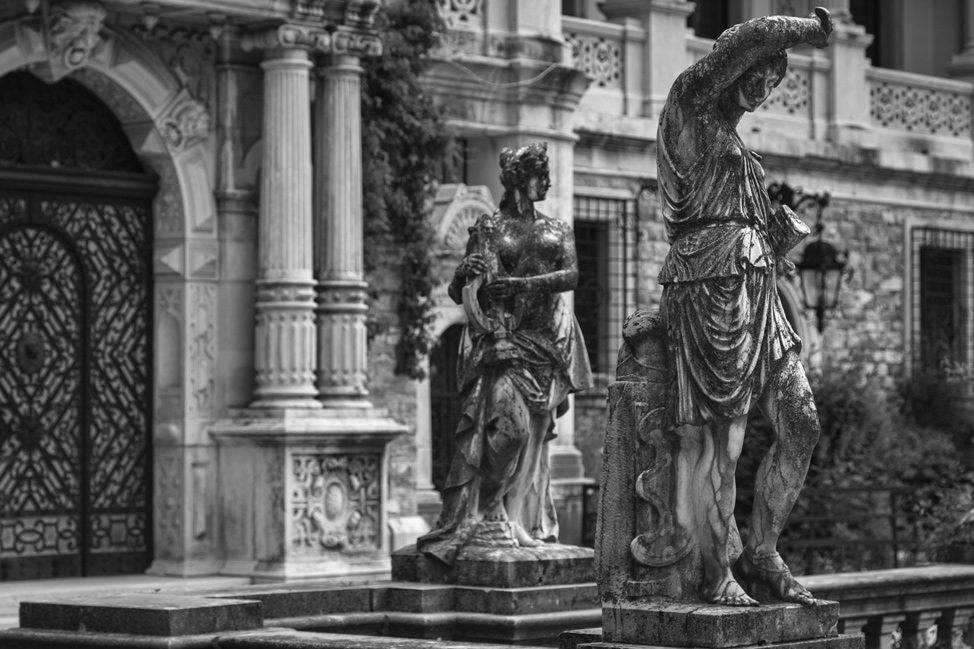 Growling stomachs finally drove us from lingering in the finely manicured gardens and back towards town. More tour buses whizzed past us on there way back to Bucharest or Brasov or the next castle in the next town, as we paused for a stop at the Monastery which gave the town of Sinaia its name.
Locals and tourists alike made their way in and out of the gates. Founded in 1695, this Christian Orthodox Monastery is still in use and houses a dozen monks.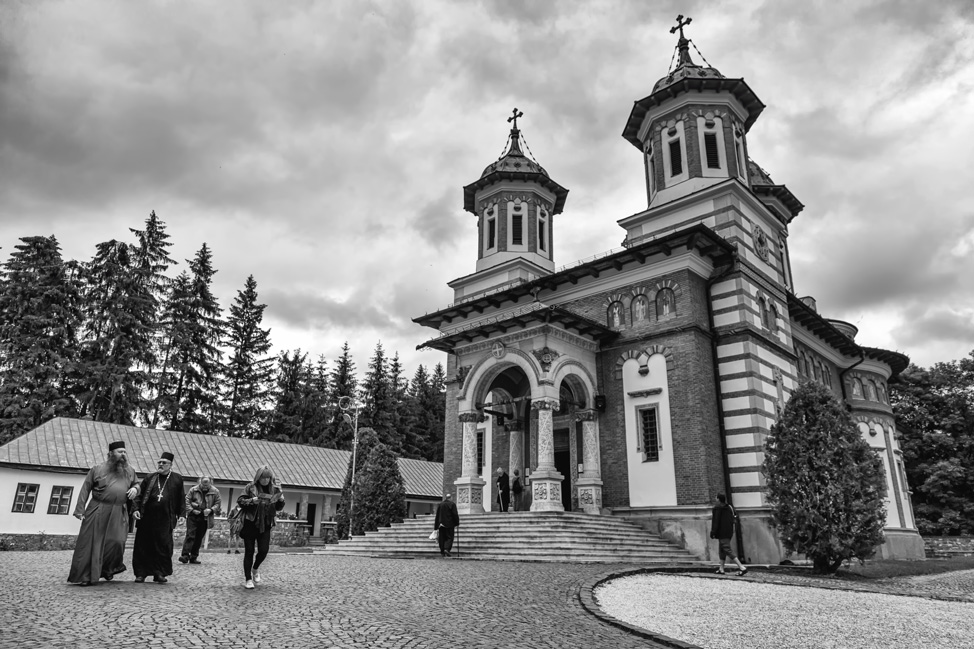 Before we returned on the next slow train, we dawdled in a cafe, discovered the quaint but gorgeous Central Park, and lamented that the weather deterred us from exploring the many hiking trails around us. We came to understand why this is a popular resort town for locals, but curiously only a quick stop for most foreign tourists.
I can't say we made the exact right choice for our day trip in the face of the others without seeing them personally – trips to Bran and Rasnov may be equally or more worthy of a visit – but we know we made a good choice.
how to do it
There are many options to get to Sinaia by train or bus from Bucharest or Brasov. Being a small town it is possible to see all the sights in a day trip, but we wished we had a little more time (and better weather) to do some hiking as well.
Still curious about Bran Castle or Rasnov? Here are some posts by others to help you make your own decision.
Castle Dracula (also talks about other castles in the area, including Peles)