Words by Dalene Heck / photograph by Pete Heck
I am so incredibly brave from behind a computer screen.
Long, treacherous hikes are entirely doable, even running off of a mountain didn't seem too bad at the time. You can entice me to do just about anything with a juicy photo of scenery that will accompany the task.
I convince myself that I am a brave and adventurous soul, and that there is nothing I can't do.
Then, come 'game day', I whine. I freeze a little, I curse a lot, and when it's over, I always vow that I've reached my adventurous limit, and I'll never do anything like that again.
But time is a gentle yet treacherous beast. Enough days pass to make me forget about the fear and I feel invincible again. And when I stand poised to start the next foolish adventure I talk myself into, it all comes rushing back.
Who am I kidding, really? I am a total wimp.
Yet I keep putting myself in these terrifying situations.
Slovenia is an adventurer's haven. The Triglav National Park in its northwest corner offers world-class white-water rafting, kayaking, canyoning, and more.
We left it up to our Facebook fans to decide what we would do – white-water rafting or canyoning. They chose canyoning, which was my preference anyway, seeing as we had never done it before.
Not once did it occur to me that it would be such a fear-inducing rush. On our drive to the canyon, our guide Zan said: "You will enjoy canyoning. It gives you more of an adrenaline boost than white-water rafting."
Say, what now? Why had that not occurred to me? Once again, I had been seduced by the pretty pictures.
Enter frayed nerves. I was practically mute for the rest of our trek to the top of the canyon. And the only way out was to endure sliding down natural waterfalls and jump several metres into small pools in the Šusec Canyon.
You might be able to guess how I fared. And, I could tell you all the gory details behind how I reacted in the face of our first canyoning adventure…
Or, I could show you…
About the Video
We strapped our GoPro video camera to my helmet and I filmed almost our entire journey. However, I got the angles wrong a lot. For most of Pete's jumps and slides, I only showed water splashing and nothing else, so he is barely featured in the video. Me = bad wife/videographer.
You might guess from the title of this post that I used a bit of profanity in the face of danger. You would guess right.
I honestly can't believe I am showing this in public. Do I really sound like that?
To my Mother, who has a strong fear of water, you might want to pour yourself a glass of wine before watching this.

Would I do this again? Maybe not tomorrow, but ask me again in a few months. I do have some pretty pictures to be seduced by…
I look really happy! This might have been a "before" picture.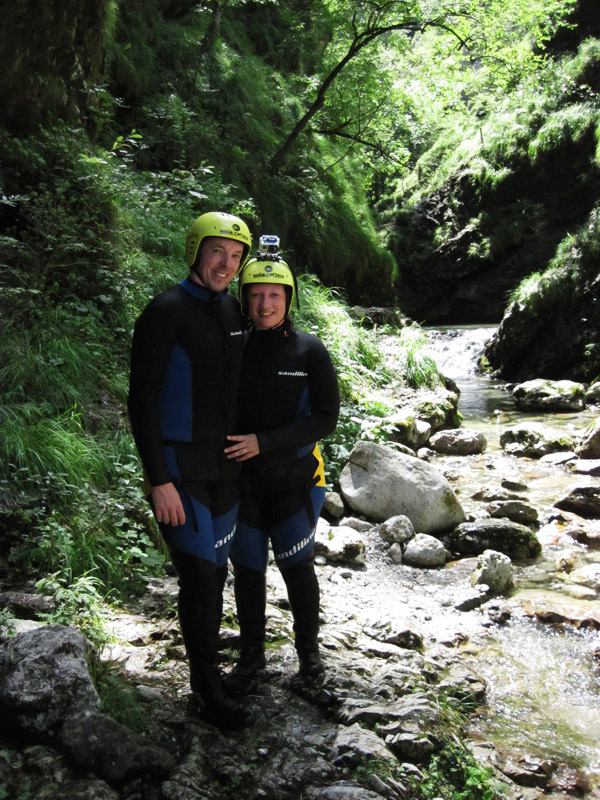 Pete would do it again tomorrow, for sure.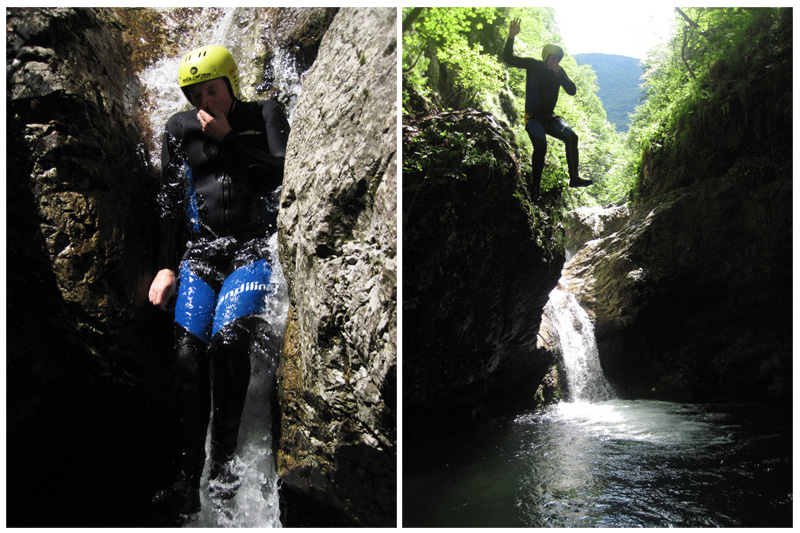 Yep, that's me, mouth wide open and screaming as I was going down backwards. My favorite slides were the ones we went down head first, like Pete is doing on the right.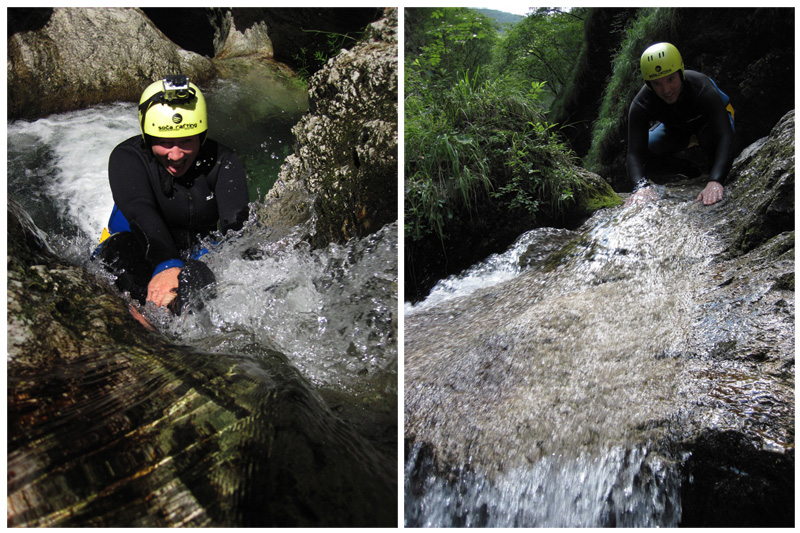 Our sincere thanks to Soča Rafting for this heart-racing excursion. We were so happy to have done this adventure with the longest-running company in the area – with their expertise, pleasant staff, and strong attention to safety. Our guide Zan was also incredibly patient with me. If I were him, I probably would have pushed me in a few times. I'm glad he didn't.
And while our canyoning adventure was complimentary, all opinions and girlish screams, as always, are our own.