Words by Pete Heck / Photography by Dalene Heck & Skydive Wanaka
Nine point eight one.Defined: Ignoring the effects of air resistance, the speed of an object falling freely near the Earth's surface will increase by about 9.81 metres (32.2 ft) per second every second. I nearly failed Physics in high school, but this number stuck with me. I've always wanted to skydive and no better place to do it then in New Zealand, where adrenalin runs thick in their native's blood.
I suggested that I would do it without even really thoroughly thinking about it. I've seen the photos from above and it looks incredible. I'm drawn to the thrill of skydiving but it similarly scares the shit out of me. (Didn't help that I couldn't convince Dalene to join me.) And then a week before I was scheduled to jump, my nerves really started to tingle. And the questions…THE QUESTIONS…so many bounced around my head for days.
What about me…do I fall faster because I'm heavier? What am I doing? I have a loving wife, I love my life already, why do I need to jump out of a plane?
I have a fear of heights, a fear of falling, will this help?
I have several friends who have done it. It can't be that bad, can it?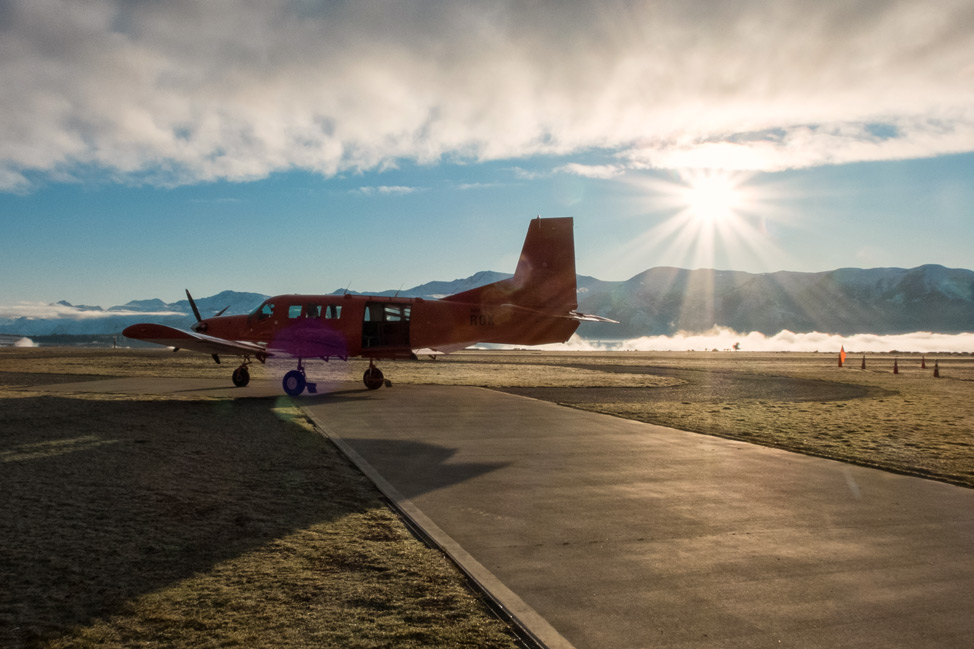 The worst thing I probably could have done was book it with SEVEN days to wait. My sleep was restless. At times I woke up almost hyperventilating. I had sudden panic attacks thinking about it.
3 days before the dive, we posted about it on our Facebook page which means I couldn't back out. Dalene said she was starting to feel a little jealous. I half-jokingly asked her if she wanted to go in my place. (Ok, maybe more than half joking.)
If there is one thing that New Zealand is good for it's clearing head space. I took the dogs out for their morning walk on my own and used that time to nut-up. I had the chance to dive nearly five years ago with a friend in Argentina but I backed out because I was speculative of the safety. But New Zealand is where extreme sports are born – the chances of anything bad happening to me were extremely slim.
The day before the dive I checked the weather – the forecast called for snow in the early morning. My dive was at 9am – the thought of it being canceled and having to go through the agony of waiting longer seems unbearable.
Oddly, I was calm on the morning of the jump. I got harnessed up, met Boris (the professional diver I'd be tethered to while hurtling towards earth), kissed Dalene, and stepped into the little orange plane. While ascending the pilot gave us a quick tour of Wanaka and the surrounding southern Alps. I took long deep breaths and just stared at the door – in a few minutes it would open and I would be plunging back to earth.
Then the pilot changed his mind. Unable to find a suitable opening in the clouds, he began the gradual descent back to the runway.
Was it a sign? Was I meant to NOT hurtle towards the earth at 120 miles per hour?
IS ANYONE MEANT TO?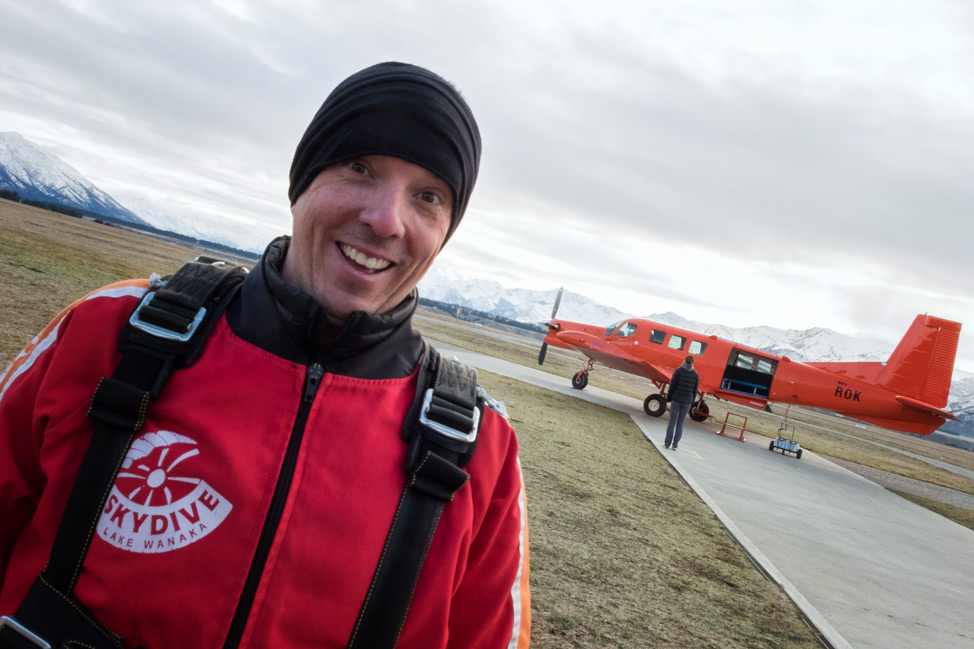 I rebooked for three days later. And the cycle of worry-calm-panic-whatever began again. The emotional swings were more dramatic, to the point that I considered bailing a couple of times. Then I found this article.Now I know right? Somehow, it didn't make me feel much better.
Dive day arrived (again). There was a low hanging fog that was said to not be a problem. I watched the safety video again, suited up, and loaded up in the plane. I left Dalene waiting near the runway, her camera poised and ready to capture every detail she could.
We rose above the fog and the mountain peaks just popped. While three of us are set to jump at 15,000ft, one of the girls chose to jump a little lower. We got to 12,000 feet and the door opened. It all happened so fast and along with her tandem master they seemed to immediately be sucked out of the plane.
Another short climb and my time had come. I watched one, two, three divers exit the rear door and then it was my turn. "How do you feel?" Boris asked me. "Good!" I said aloud. My inner voice: "Let's do this so I don't have to think about it anymore!"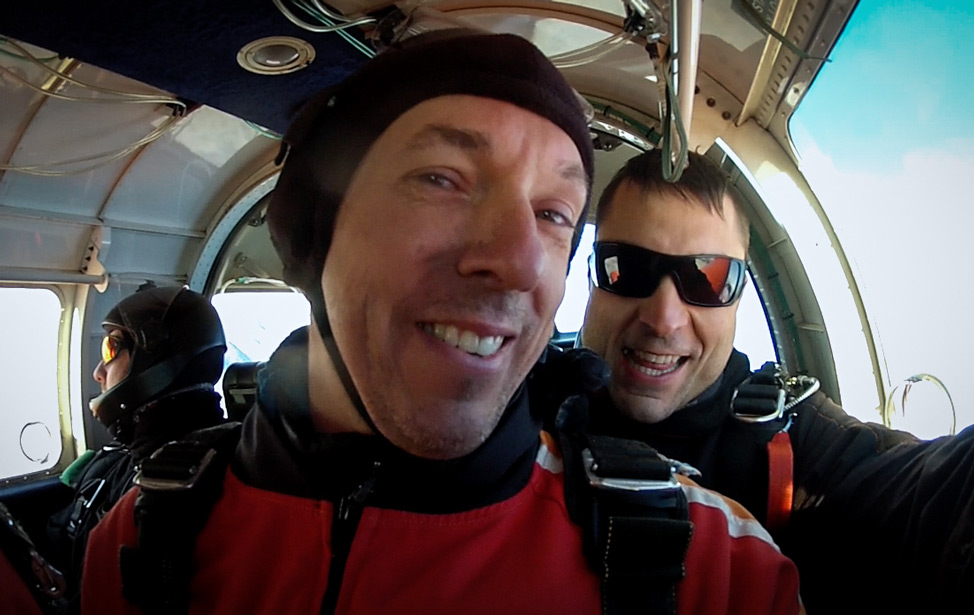 I slid to the door and was suddenly hanging out of the plane attached to my new best friend. Boris tilted my head back onto his shoulder and the next thing I saw was the ass end of the plane fading away, and then we flipped and I was hurdling towards the fog.
You know that feeling when you go over a steep little hill in a car and your stomach drops for a few seconds? That. That for just the first few seconds, and then I was surprised by how calm it was. My brain was no longer doing the math of how quickly the ground was coming at me. I just took it all in. After the first exhilarating rush, I was relaxed. I never thought I'd say that, but I was.
Although you would never know it from some of my facial expressions.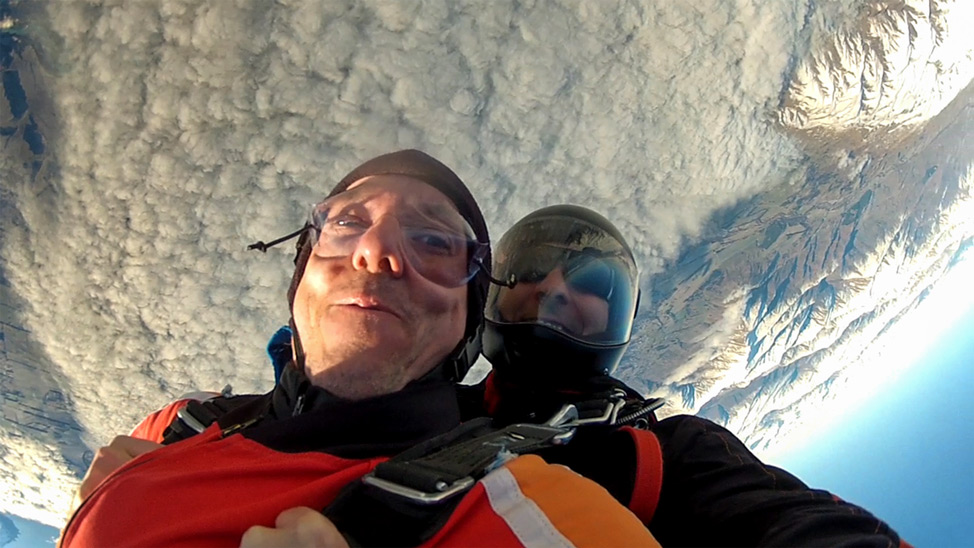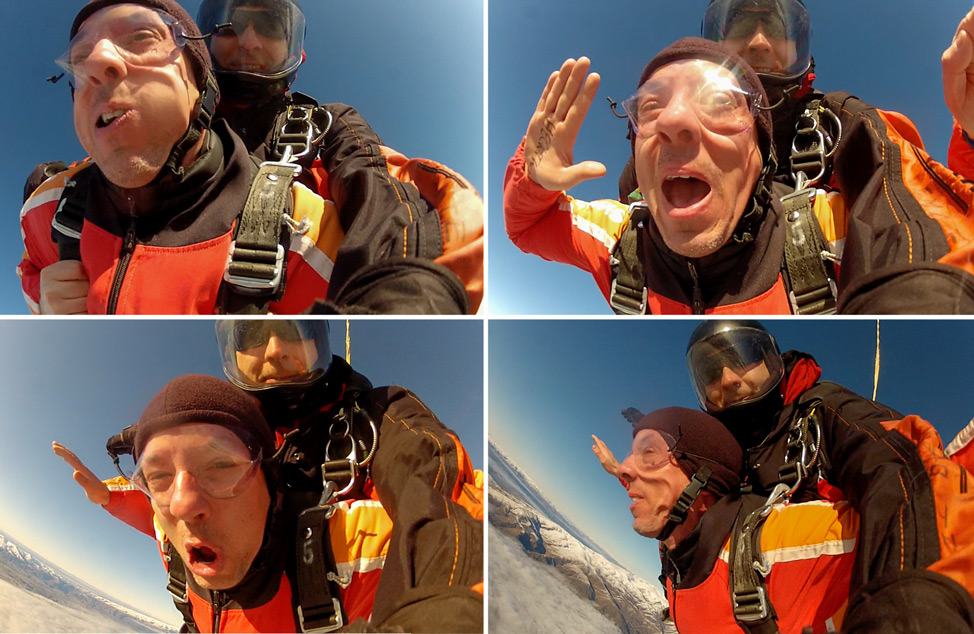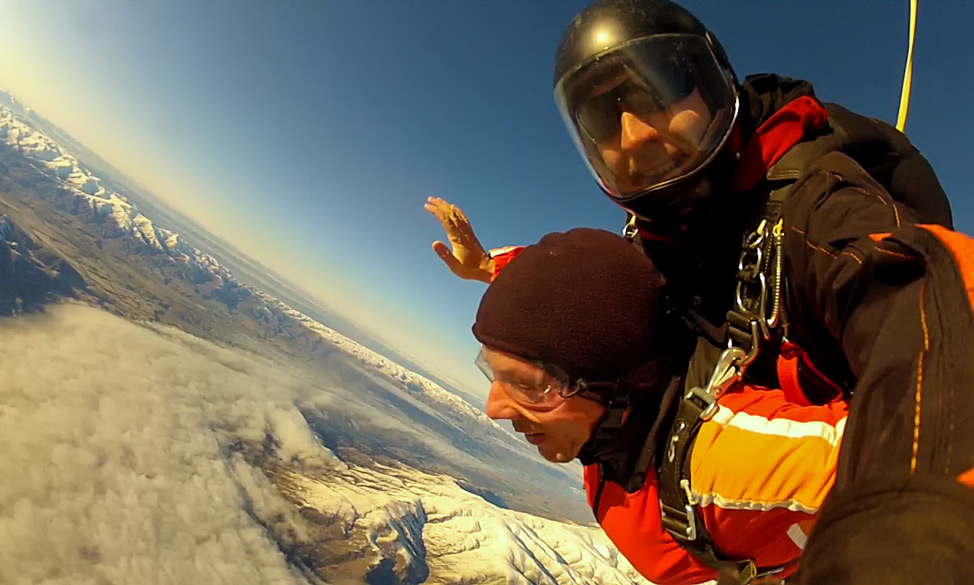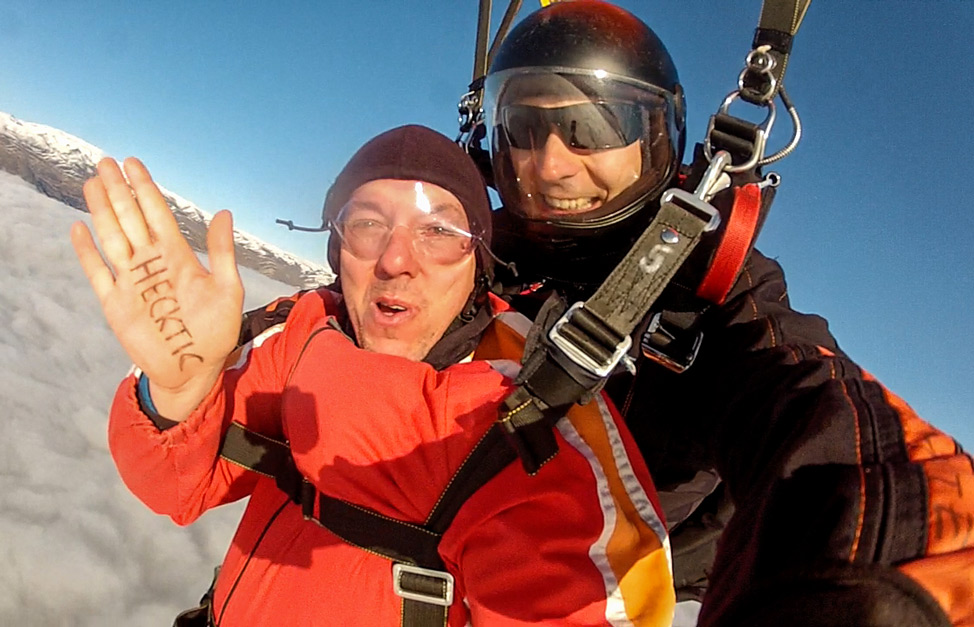 For one full minute we rushed towards the earth in free fall, and when the chute was finally deployed, it was a bit of a shock. Our pace immediately slowed and without the rush of wind, there was just pure silence above the clouds. We floated with such beautiful views that I was sad it would all soon be over. I could have stayed up there all day.
The end to our own little dive was a bit more adventurous than the others. Coming through the fog Boris realized we had actually missed the landing zone and so chose a nearby farmer's field instead. We finally reconnected with the earth skidded along the grass and through sheep shit. Dalene ignored the smell and gave me a forceful hug when I finally got back to the shop. I was buzzing and happy I finally did it, especially because now I'd be able to get some sleep.
Or so I thought. Now I keep see images of me jumping out of a plane.
What the hell did I just do?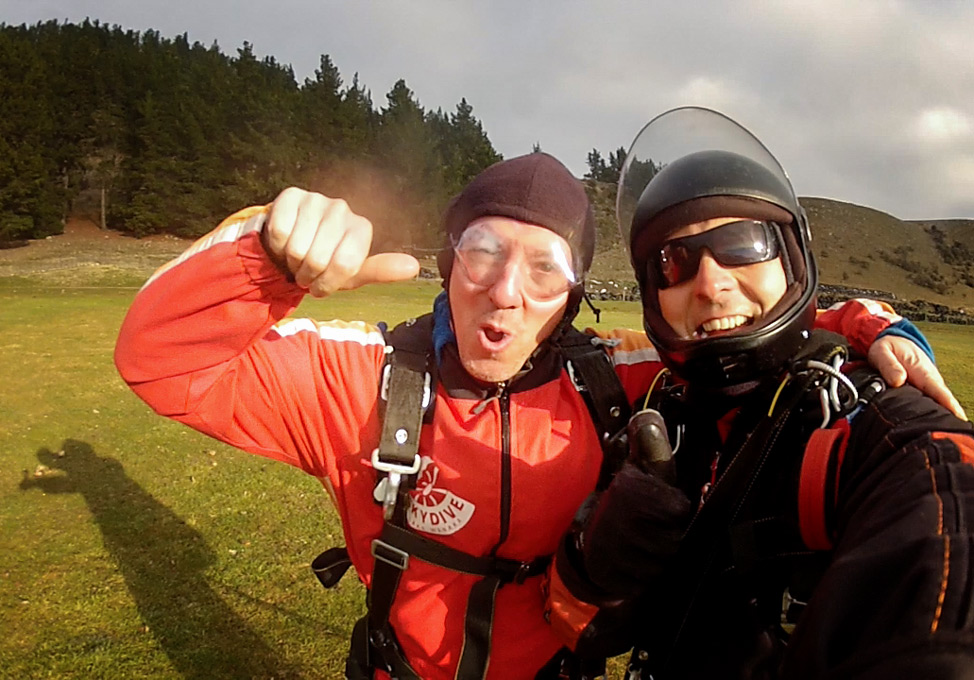 P.S. So happy to have this to be able to relive it!
how to do it
Skydive Wanaka operates out of the small airport just outside of town. Their staff were top notch and I felt like I was in good hands the whole time.
Many thanks to Skydive Wanaka for the complimentary skydive. As always, all opinions are our own.