Arrivals and Departures: Train Travel in Europe
Words by Dalene Heck / Photography by Pete Heck
We left Novi Sad mid-morning. It was an uneventful departure – compared to the trip to Novi Sad from Belgrade – where I had misread information online and estimated our departure time almost two hours from when it was. We frantically stuffed our bags, erroneously bought one ticket instead of two, and wasted precious minutes sorting the situation. It was the kindness of a tall Serbian man who saved us from our ticketing blunder. "I have a sister living in Montreal!" he said as our initial chatter revealed our home country. In all of our years of travel, such connections have always been what most quickly bound us with strangers. He spoke on our behalf to the ticket counter attendant and we were soon on our way. We dashed into the near-empty train car, out of breath and relieved. Our train travel in Europe adventure was about to begin!
In Novi Sad, with our Rail Europe passes in hand, there was no need for any commotion at the ticket office, and we instead filled the passes out while enjoying a leisurely coffee and watching the minutes tick down to our departure time. Our first-class tickets afforded us a gentle ride to our destination of Budapest, a city we had fallen hard for a few years past, and that which now housed two dear friends we were eager to see.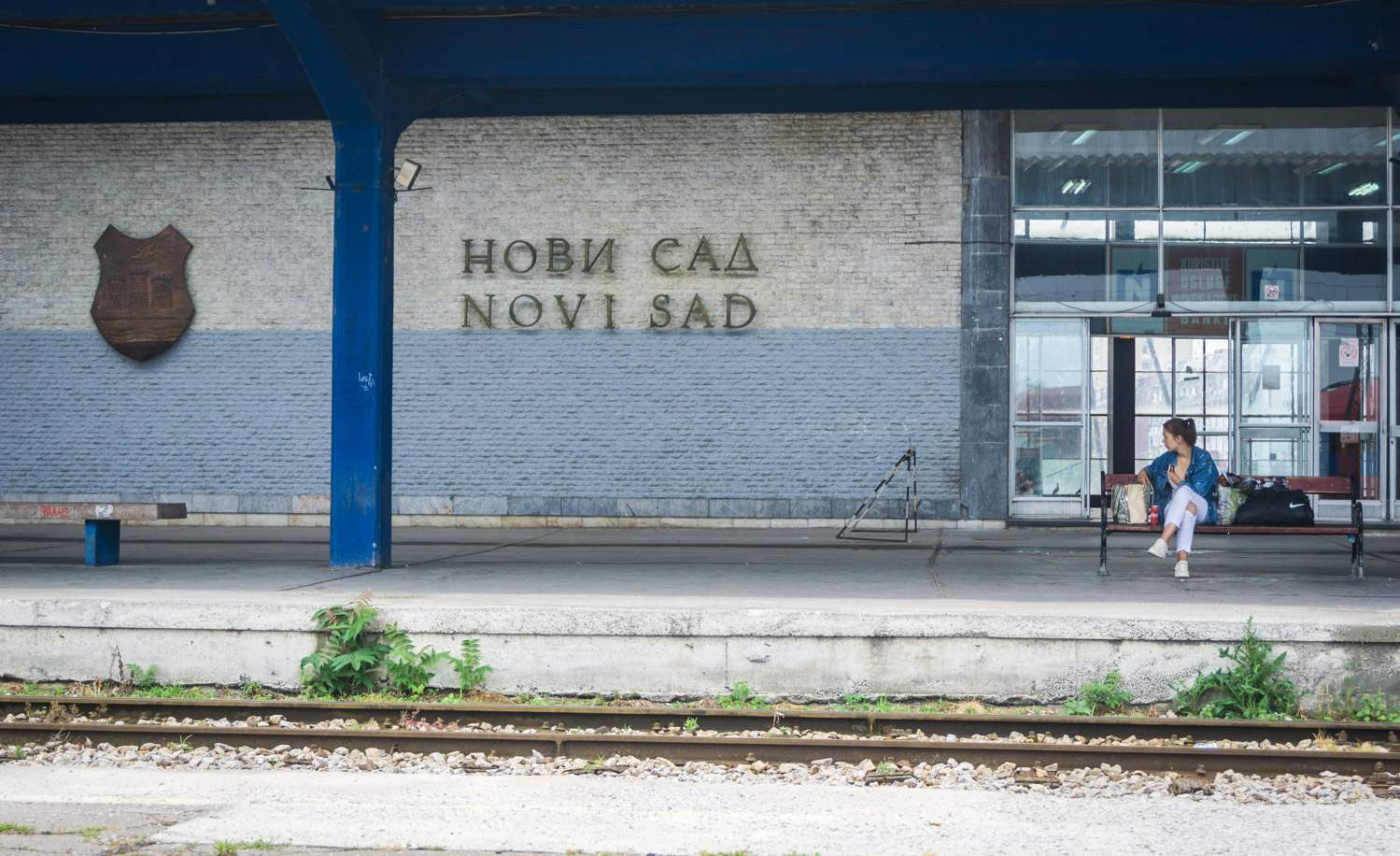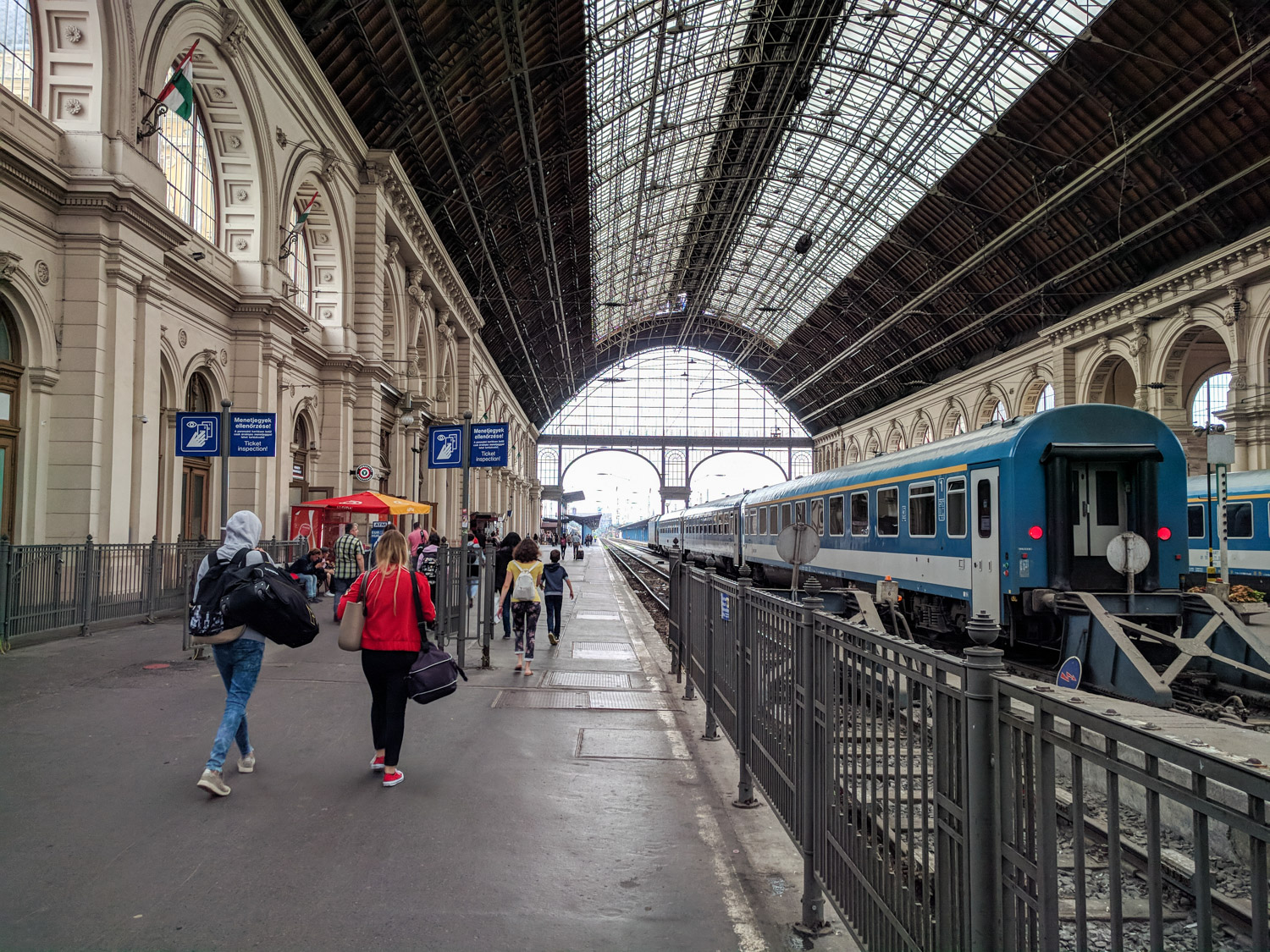 Journey To Budapest
Our next leg on our train travel in Europe adventure would see us ride the rails to Budapest. We arrived to Keleti station and felt oddly at ease as soon as we stepped out on the platform; the familiar rumble of luggage wheels over rough concrete followed us to the door. The majority of our travels over the years have been in perpetual chase of new destinations and new experiences, but on this European adventure, it was the "recognizable" that pulled us. I was surprised at how much we remembered. The station's eclectic style made it one of the most modern in Europe when it was constructed; it sustained damage through the world wars but recovered to reclaim its role as the central portal to Budapest. The arched windows high above the entrance station cast long and curious shadows over the people who bustled in and out.
I hid in the shade, away from the blistering Budapest sun, as we waited a few minutes for our friends to arrive. I watched as people came and went; long hugs were bestowed to both arrivers and departers. One woman, in particular, caught my eye as she waited by the metro ticket booths, with one nervous foot tapping that sent small ripples up her lengthy, canary yellow skirt. She clutched a small bouquet of assorted flowers and checked her watch frequently.
I knew her party had arrived before I saw them because of the smile that erupted on her face as if she was suddenly lit from within. A child ran forth, maybe 5 or 6 in years, and encircled her waist with a fierce grip. Her travel companion pulled two bags, the familiar rumble reached my ears before they rested while she was handed flowers and gave an intense hug. Was it her sister? Girlfriend? I couldn't know, but silently created my own story for them, as I tend to do when people-watching. Airports and train stations were among my favourite places in the world, for that exact reason.
And in the next minute my own story in Budapest was about to unfold, as I saw our friends, who we hadn't seen in two years, walking up to us with arms outstretched.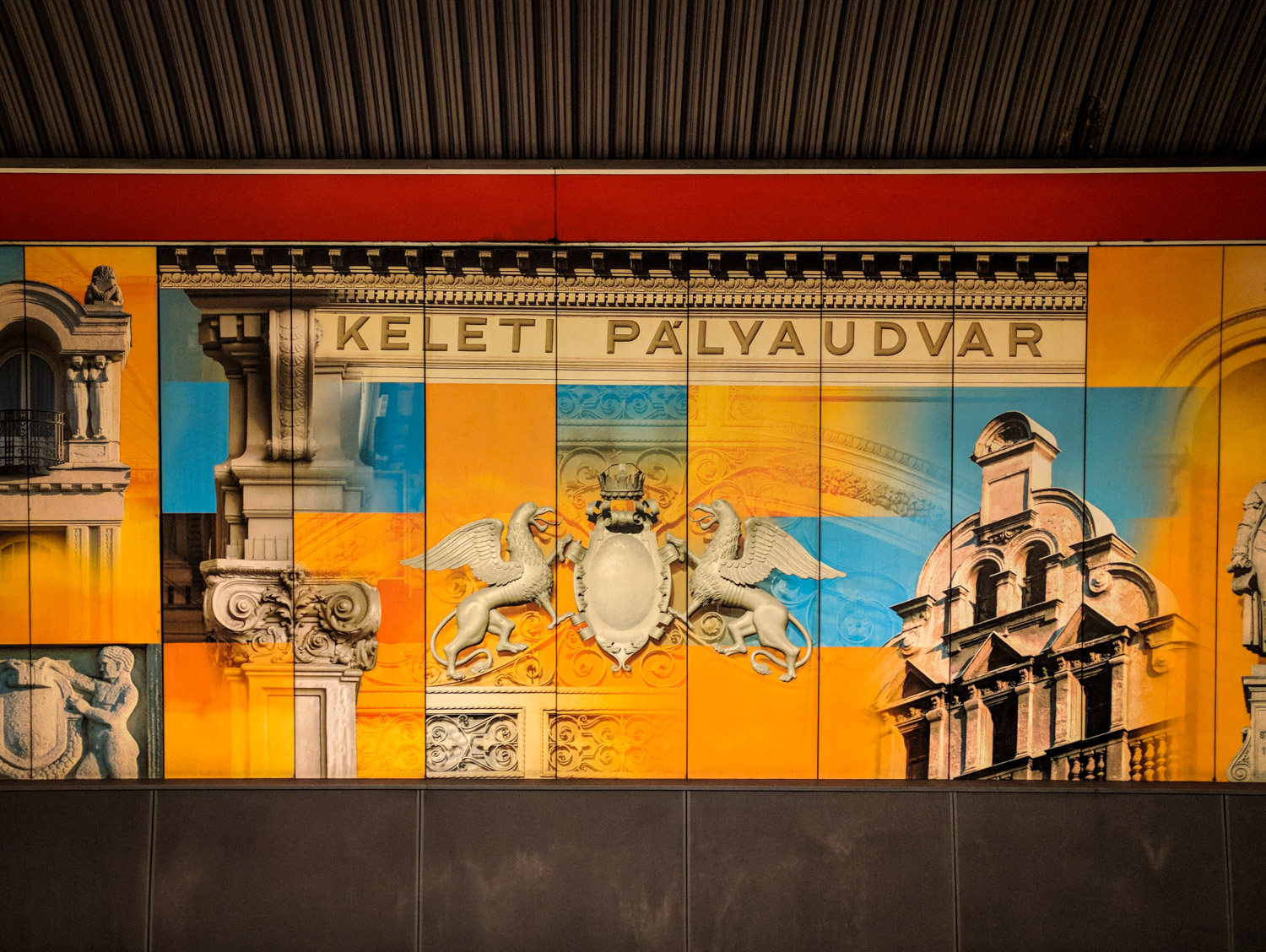 Train from Budapest to Stuttgart to Paris
This was going to be our longest journey with our train travel in Europe. Looking at the map, it seemed entirely doable. There are high-speed trains and all, I told Pete, as we plotted out our route across Europe. In my usual unplanning style, I didn't bother to check actual distances and times. It turns out that it is a 17-hour trip from Budapest to Paris (high-speed trains and all). Not that many years ago, I would have done it with no problem. But these days? That was a journey of endurance that I was not willing to sign up for.
We broke it up with a stay in Stuttgart, Germany. Given the ten-hour trip in, I was in no mood to explore the new-to-us city and turned into bed early. We were out first thing in the morning, leaving me with no firm impression of the city except that it was rainy. All I really cared about was getting to Paris anyway.
We brought the rain with us. Water streaked across our windows as the train sped towards the capital city, one that we first visited as a surprise on our wedding anniversary. We returned to Paris a couple of times since, and always with the same fiery anticipation of romance that wowed us on our first time. This visit was a little different, dedicated to seeing clients and friends, but still under our lofty expectations of being similarly enchanted. We could not have arrived fast enough.
At the Gare du Nord station, we shuttled ourselves quickly to the subway after weaving through this busiest terminal in all of Europe. From there, we took two different routes, hauling our bags up and down stairs, grimacing from being so tired after two days of travel. As I have many times in the past, I cursed Pete for not giving in to an easy cab or Uber ride. (He has a perpetual disdain of paying for taxis when we have two perfectly good feet to carry us onto cheaper subways. He forgets, sometimes, that my feet are not as perfectly stable as his are these days.) We turned into our hotel in Le Marais, and in the following days, we let ourselves be taken by the city again.
On the way out, we did not make that mistake again and arrived back at the Paris-Nord station with ease. And thankfully so, as our day then was about to unfold quite differently.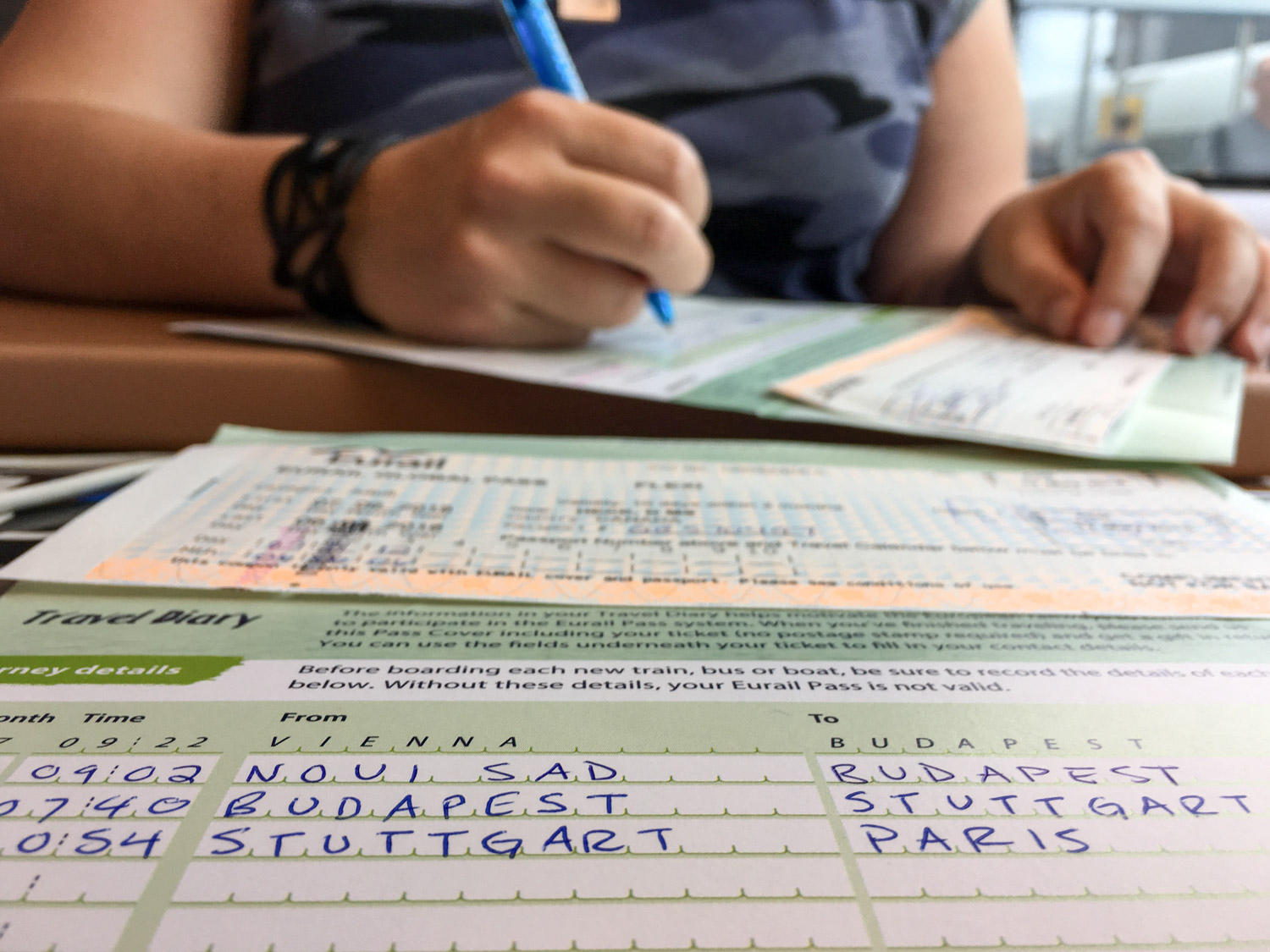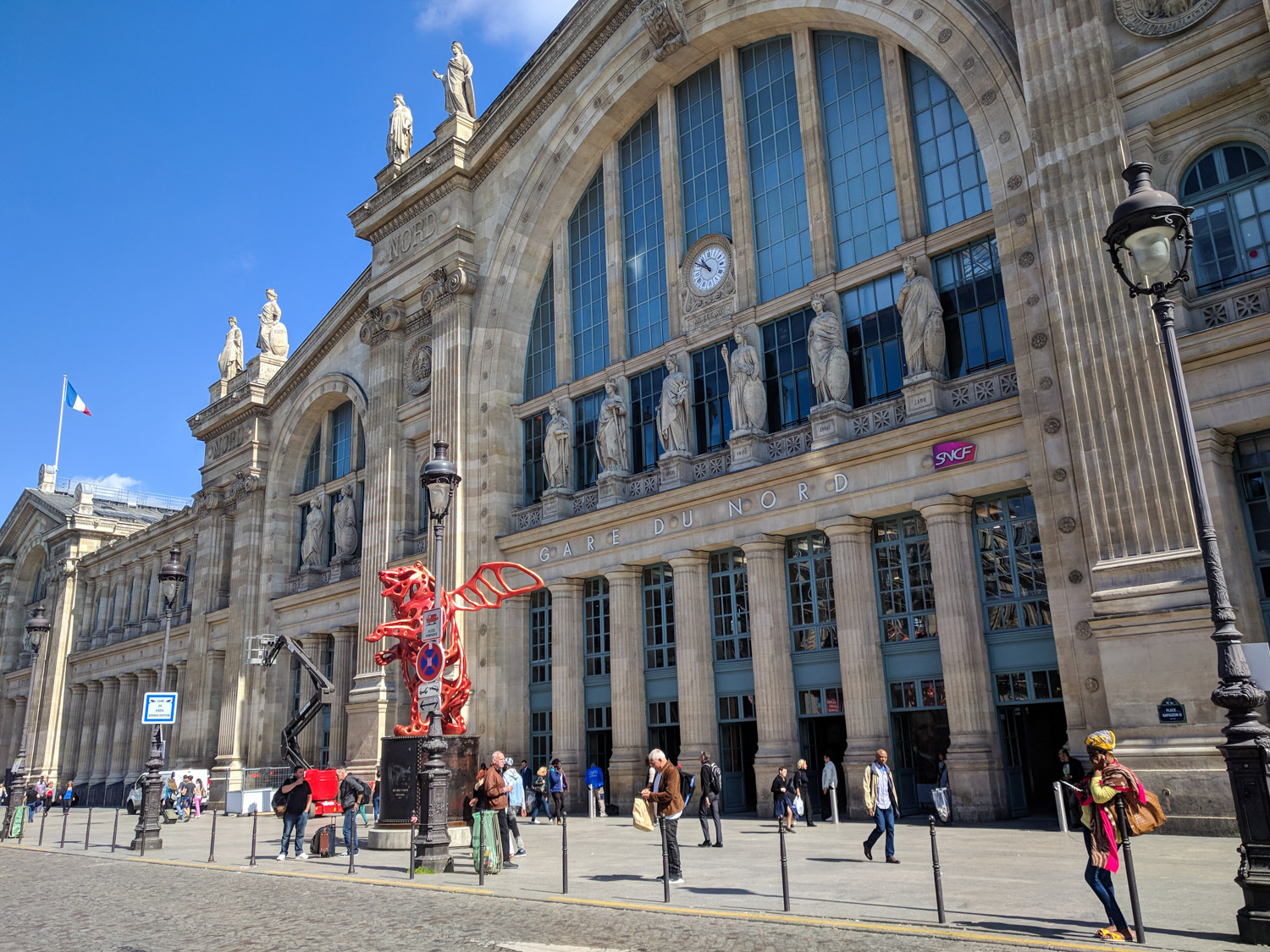 Train from Paris To Maastricht
We left in a panic. (See a trend here? We are terrible at organizing the ordinary paces of travel.) We showed up at the Gare du Nord in Paris with just a half hour to spare before our anticipated departure time, only to find that it was sold out. It is the busiest station in Europe, we discovered much too late. We reserved seats on the next train and waited out the hour in between.
Arriving in Brussels with minutes to spare, we sprinted (as much as one can spring with heavy bags in tow), to catch our next train. What did that station look like? Neither of us can comment as our focus was on one foot in front of the other.
We made it just in time and had one more stop between us and Maastricht. We had never been to Liège before and walked slowly off the train, mouths agape, upon our arrival.
The station is a marvel. Finished less than a decade ago, it is made of steel, glass, and white concrete, contorted overhead in a giant wave that leaves striking layers of shade on the platforms below. The luminous sunny day ensured we walked in a Matrix-inspired world. Below the platforms is a buzz of commercial activity; I enjoyed coffee with trains zipping over my head while Pete ran around with the camera, furiously capturing what he could with the half-hour available before our next train.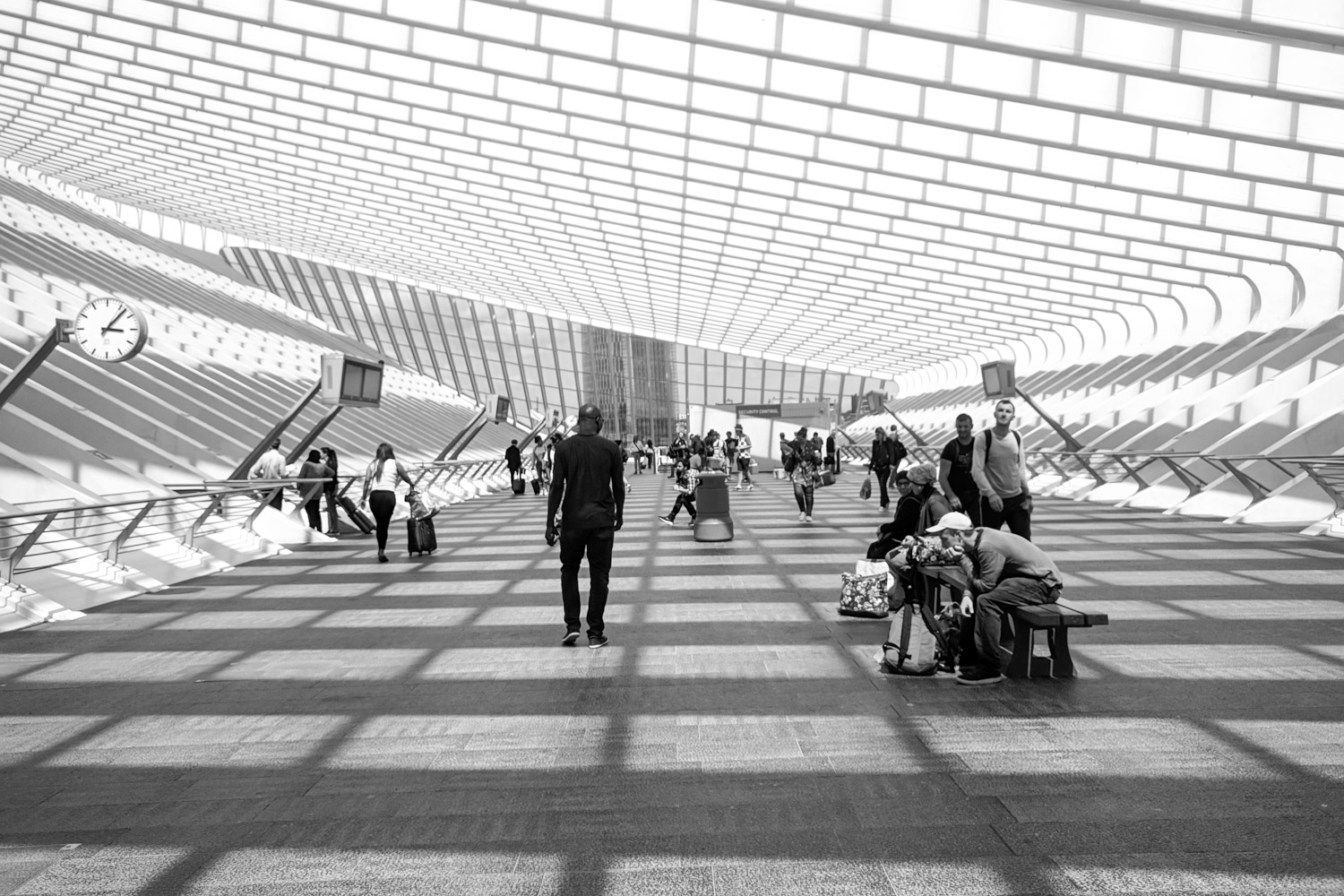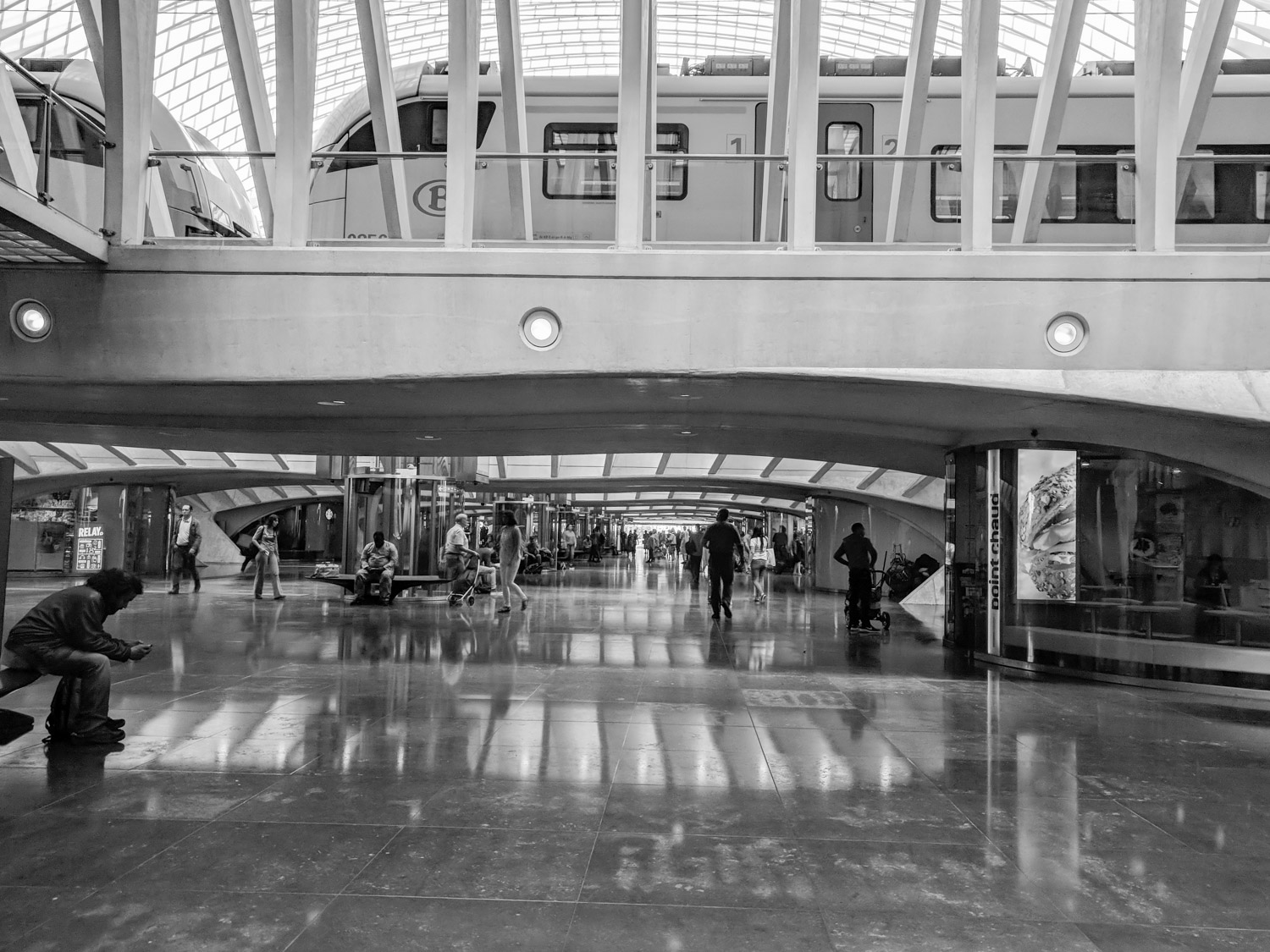 From there to Maastricht, a city we had been to several years before during a self-directed tour of the Netherlands. It's not the most scenic we've ever been to, nor does it boast a diverse array of things to do, but we immediately sensed a romantic vibe and just went with it. In the fall, vibrant leaves scattered across the cobble-stone streets, and patios were full of people enjoying the last balmy rays of sun before winter came. A passing boat captain had even caught us kissing on a bridge as he passed underneath – he blew his horn and playfully wagged his finger at us as we blushed. It was a very memorable stay.
Maastricht is not on many people's 'list' but when sketching out our trip we both felt compelled to return. It would serve as the perfect rest stop between friend visits.
The small train station, so many years later, was quiet and entirely familiar, but the walk down the main street to our accommodation was not. It was busier than we remembered; much more happening than we remembered. Across from our apartment, Pete procured the best Indonesian food we have had in a while, and then the best Thai the following day. (Don't worry – snacks consisted of bitterballen and stroopwafel – we did indulge in the local cuisine as well.) It had grown in both activity and diversity, yet still felt as comfortable as it always had.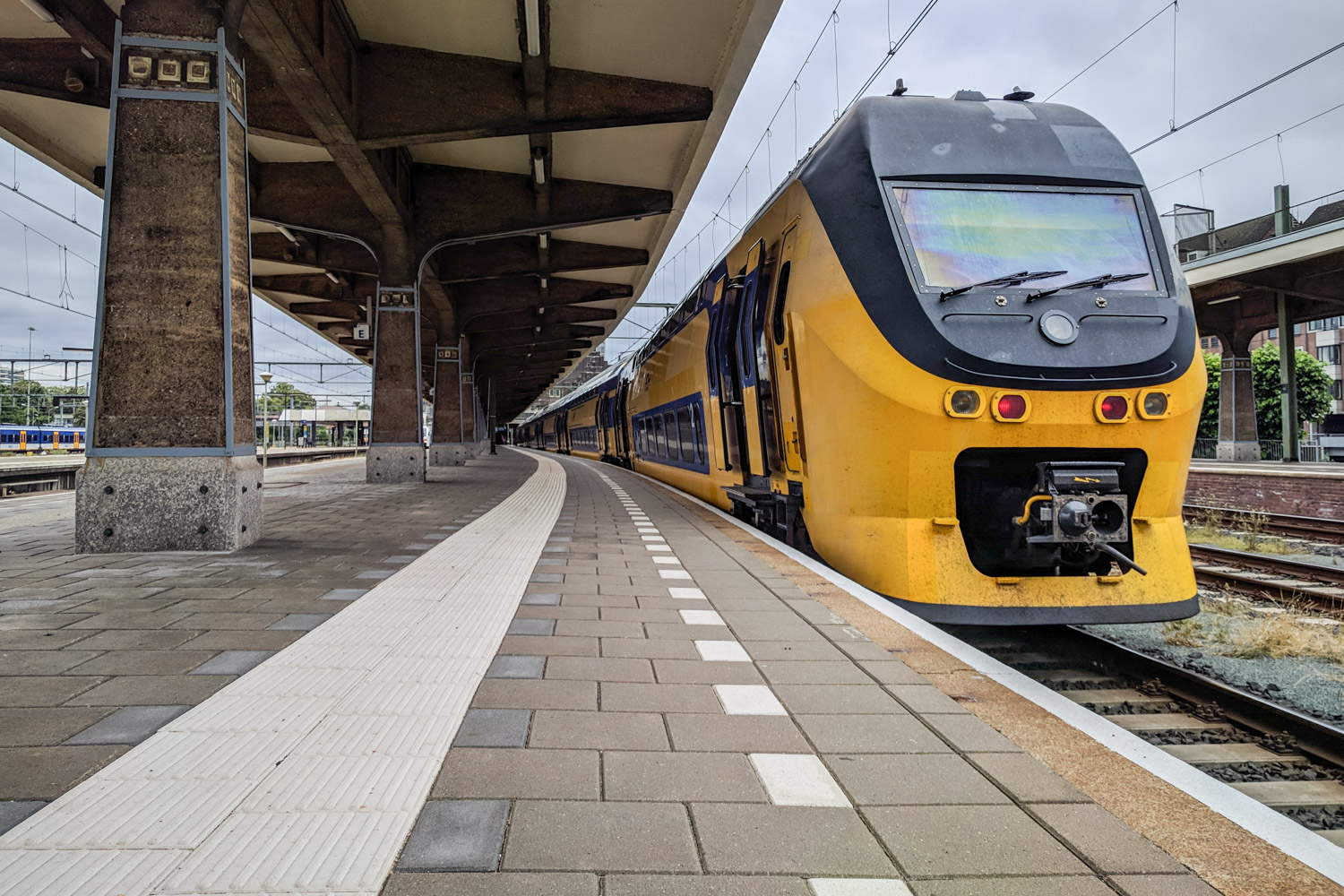 Train To Maastricht Amsterdam
Our train travel in Europe continued with a trip from Maastricht to Amsterdam. Music festival-goers filtered in and out of the train as we neared Amsterdam. From what festival, we never figured out, but the carts of camping equipment, the attendees slow and sloppy stagger to the train steps, and the assortment of ironic t-shirts seen were dead giveaways to the event of the past weekend. That was us, many years ago, Pete and I both commented.
The train ride was short and once again felt very usual. I'm not sure I can even count the number of times we have been to Amsterdam but it is several. We are always brought back by the distinct charm that this city holds, and especially by the friends that live within.
From the platform at Amsterdam Central Train Station, we trudged down the stairs to the hallway that would bring us outside. There are only two ways to exit the station but we were suddenly trapped and confused. New (at least, new to us) barriers had been put up that only allow passengers to exit after scanning the cards that they had purchased to get on the train in the first place. With our Rail Europe passes, we had no such cards.
I sent Pete down to the other side to see if we had missed a step while I waited with the bags. We had not. Passengers weaved around us as we stood in utter confusion until I finally spotted a kiosk labelled 'help' in the middle of the barriers. A friendly voice greeted us, and after I explained the situation, the small doors promptly opened and we were ushered out. Still shaking our heads at the sheer absurdity of this new system that doesn't account for train passes, we walked out into the open air of Netherlands' capital. We stopped for the obligatory selfie in front of the striking Gothic and Renaissance-styled facade of the station before finding the tram that would take us to our home for a few days.
(Later, we would discover that emblazoned on the front of our Rail Europe pass is a QR code specifically to be used for exiting within the Netherlands' train system. We'll get this whole "travel" thing right one of these days.)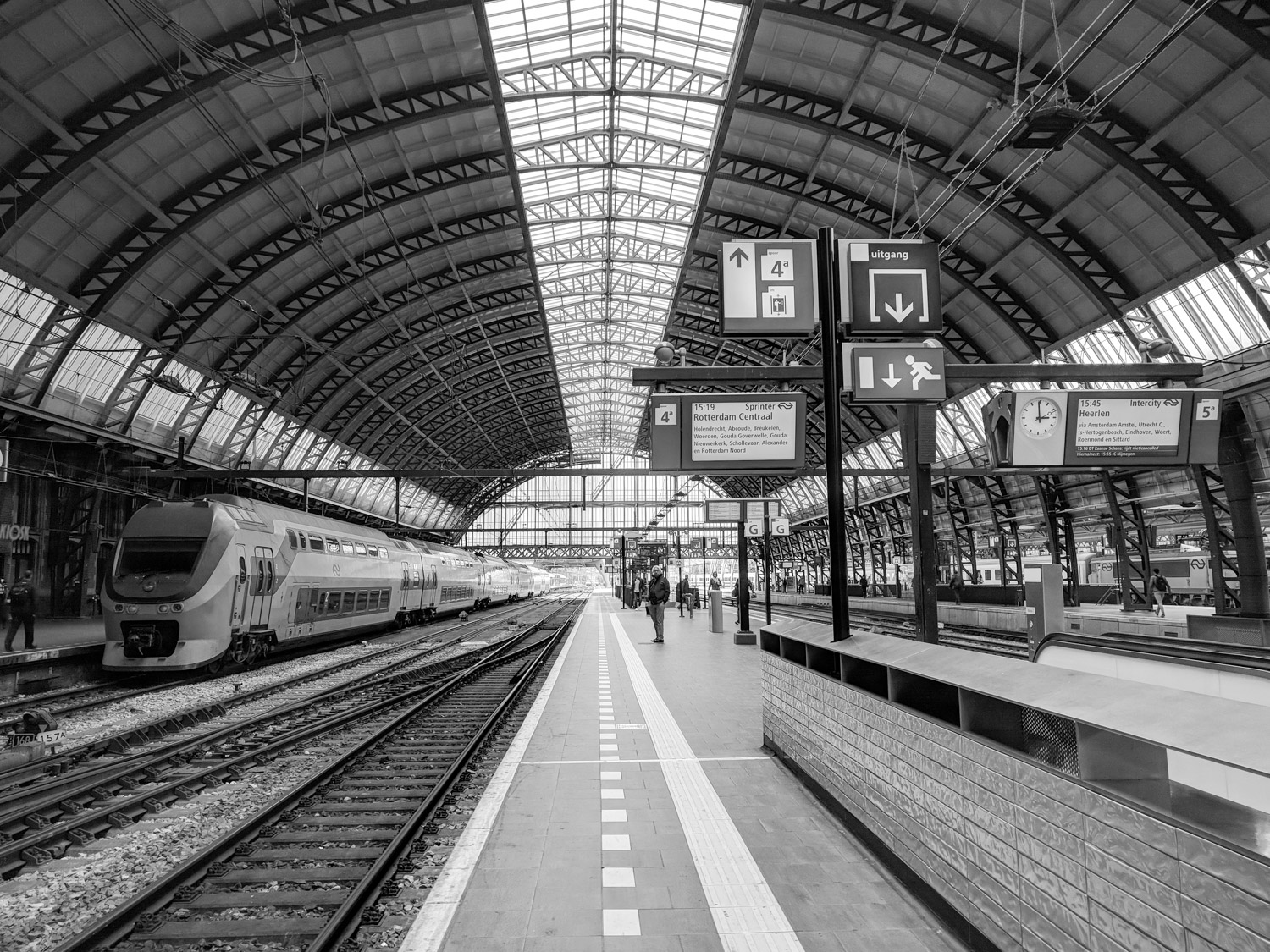 ---
The Best Way to Train Travel in Europe
As you read above, we have a tendency to make things SO much harder than they need to be. Ahem. BUT, the one thing that worked very well for us all over the continent was our pass from Rail Europe/sold by Rail Europe. It makes train travel in Europe extremely easy and affordable.
We had the passes shipped to us in advance of our European adventures. They allowed us to be flexible with our schedules and most of the time we could just hop into the first-class car without booking anything (although there were a couple of routes that required us to make reservations for our seats in advance which we typically did the night before). Having those passes in hand took away many potential headaches, and we travelled in first-class comfort while saving a few hundred dollars had we bought all of those tickets separately.
---
Rail Europe provided us with complimentary passes for this journey. But we have purchased them before on our own and will again!