One infamous holiday dinner, many years ago, my family and all of our spouses sat talking about each other. It was in the most glorious way, as we went around the table, commenting on all the good things we loved about our companions.
Just before Pete's turn, we sat and listened to my brother-in-law Chris talk about my sister, and what a loving, compassionate person she is. Words flowed about how she is an incredible teacher and an even better mother. Eyes welled up and there was a heartfelt exchange of smooches at the end.
And then it was Pete's turn.
"Dalene's very logical," was the first thing he said.
LOGICAL?
Of all the things he could say, he chose…logical?
It is a running joke between us still.  And for as much as I comment on the fact that I apparently have no greater quality then to reason in accordance with the principles of logic, he is right about it, in a way. I like to think I have pretty sound judgment, and can often make good decisions fairly quickly.
This also means, however, that I need to see to believe. If any phenomenon or story can't be explained logically, then it's just not possible. My line of reasoning thus excludes a belief in ghosts, the supernatural, or anything of that nature.
Which is why, when my skin started to crawl during a walking tour of Edinburgh, I REALLY got freaked out.
Upon first arriving in the city, I quickly commented on the eeriness of the setting. It's climate means most days are spent under a shroud of grey clouds, the stonework on the ancient buildings are stained black after years of being subjected to pollution. Ranking high in popularity are the Edinburgh ghost tours which delve through the seedy tunnels of the city's underground and lead visitors to dark statues looming in steamy corners. Imagine the settings to the movies Sweeney Todd or Sleepy Hollow and you're not far off.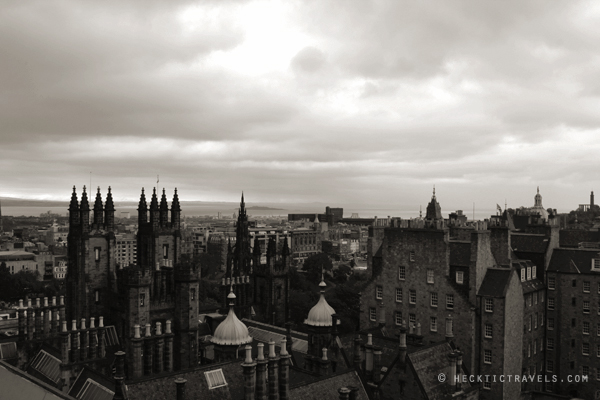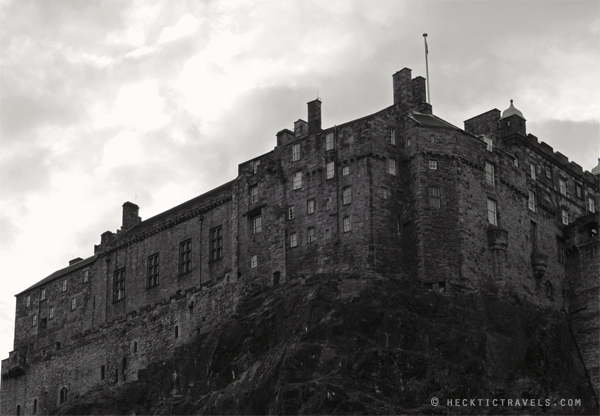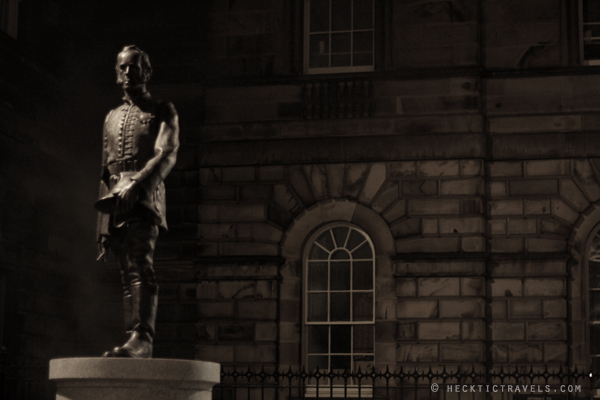 On our first morning, we embarked on a free walking tour offered by our hostel, and found ourselves breathing the heavy air of the nearby Greyfriars Kirkyard – a large and spooky graveyard on the south end of Old Town. Definition to the age-old terminology of "graveyard shift" instantly gave me shivers. During the 18th century, grave robbing was a serious problem as people dug up bodies to be sold to the nearby medical college for a hefty sum. Some were thus kept in mausoleums or the burial spaces were encaged in steel bars to protect the graves. Those that couldn't afford such extravagance to protect the deceased instead worked the graveyard shift to stand guard over their loved ones. (Is this one of the more eerie facts about Edinburgh, Scotland? I think so.)
As our tour continued towards the back corner of the cemetery – it started.
My breath got illogically shorter. The hair on my arms stood up as we passed the monument to George Mackenzie.
He was a bad ass of the worst kind.
He carries the nickname of "Bloody Mackenzie" for a very good reason.  Near his monument is the Covenanters' Prison, a garish place that he filled and ruled in the late 1600s.  It's prisoners were held for their refusal to conform to the King's new branch of Christianity that put the King next in line to God. 1,200 held true to their opposing beliefs and were imprisoned, tortured, starved, and left to die at the hand of Mackenzie.  It is his poltergeist that is said to still be active here, so much so that the Covenanters' Prison is closed off to visitors (save for one available late night tour for the super brave), after a young boy was reportedly trapped inside and lost his mind when confronted by Mackenzie's ghost. Many people have reported feeling strange sensations in the area (count me in!) and it even made the ABC TV show "Scariest Places on Earth".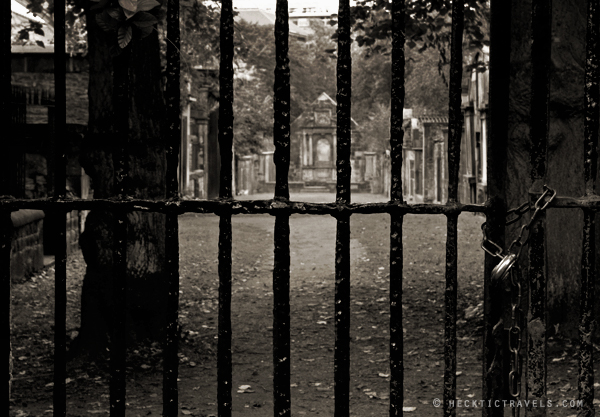 The spookiness of Edinburgh doesn't stop there.
There are tales of the infamous witch trials, and how those condemned to death would be drowned in a lake of sewage (which has since been turned into a beautiful park dividing Old and New Town).  Shudders ran down my spine at the thought.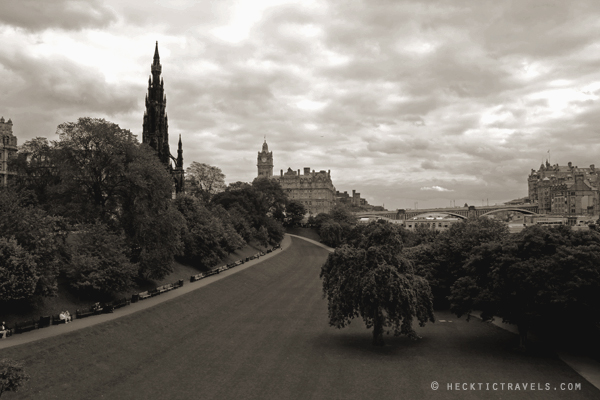 And the current North Bridge, that now is an integral part of Edinburgh infrastructure, used to be avoided by all costs out of superstition after the first bridge collapsed.  Upon completion of the new bridge, and realizing that residents were too apprehensive to use it, the city government went on an aggressive campaign to reassure citizens of its safety.  They asked the oldest living resident in the city to be the first to cross it, to show that if she could do it, so could everyone else.
The old lady agreed to do it, but died a couple of days before the scheduled bridge opening. They wheeled her coffin across the bridge, but this ultimately convinced no one it was safe.  Over time, it only began to be used out of necessity.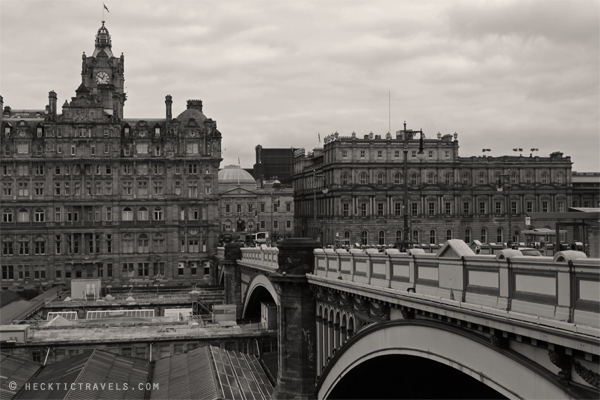 There are undoubtedly many more stories that were not covered in our quick morning tour. Steeped in rich Celtic history, many Scottish legends and stories are laced with superstition.  
But the memories of being near breathless and having the hair raised on my arms stayed with me, delaying sleep that evening. Enough had already been seen to make this logician think twice.