Still recovering from a nasty cold and one extremely long and tiring day of travel, I was feeling pretty down. My mind easily wandered to simpler times of assured comfort in what used to be called "home" – curled up on an overstuffed couch, watching a movie on the big screen, with a fluffy cat cuddled and purring.
I was burnt out. And as always happens with extreme lows – questions of purpose and the future ran rampant in my thoughts. Could I really keep this up?
We arrived in Trapani late and with much relief. Away from the noisy mess of Catania, and a long day of three different trains and one bus, we were unexpectedly greeted at the train station by the owner of our booked B&B and she led us to immediate comfort and sweet sleep.
Being a small city of only 80,000, situated on the rocky west coast of Sicily where the Tyrrhean and Mediterranean Seas meet, Trapani was a breath of fresh air. Laid back, secure, and with gorgeous coastal views from nearly everywhere, we relaxed. We were determined to sleep in, eat like royalty, and fight back against the funk that had crept in the previous few days.
On our first day we caught a ferry to Favignana. A small island just thirty minutes from Trapani, it is known for its tuna and use of an ancient Arab fishing technique of setting nets in a maze. And in the off-season, it's known for being quite empty. Perfect.
We rented bikes, and ventured off to explore. With no map in hand, we relied on the directions of the bike shop owner. He said "left", but indicated the right. When questioned, he changed his tune: "right, right!"
After 1/2 hour of biking uphill, into the wind, and in the wrong direction, we realized he should have said "left, left!"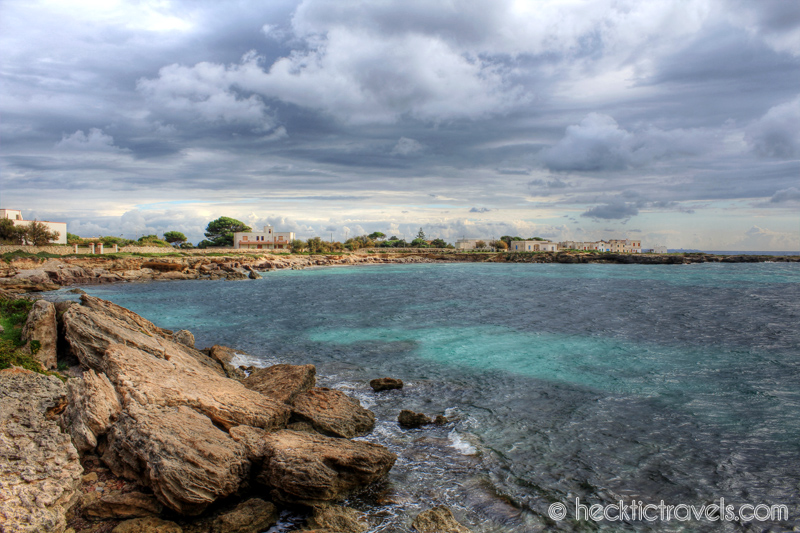 We grumbled, turned around and carried on, stopping briefly when the sun peaked out to light up the sparkling green water lapping gently beside us. Most of the time a chill breeze cut through us, and we biked under the threat of light storm clouds all around. They finally forced us off the road and under big trees for refuge, frantically retrieving rain covers for our camera bag and ourselves.
The rain let up and we continued on. Soon, pavement gave way to soft sand roads. The empty shoreline was lined with complex patterns of jagged rocks and the odd patch of white sand. We did some gentle hiking among the rocks and up to a viewpoint, but most of our time was spent aimlessly gazing out at the water. Boats came in, ferries left. The sun made us sweat one minute, the breeze caused goosebumps the next.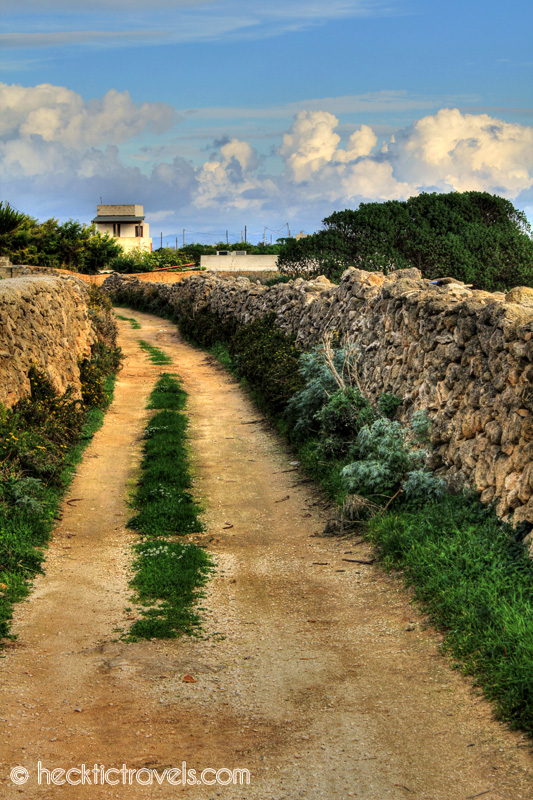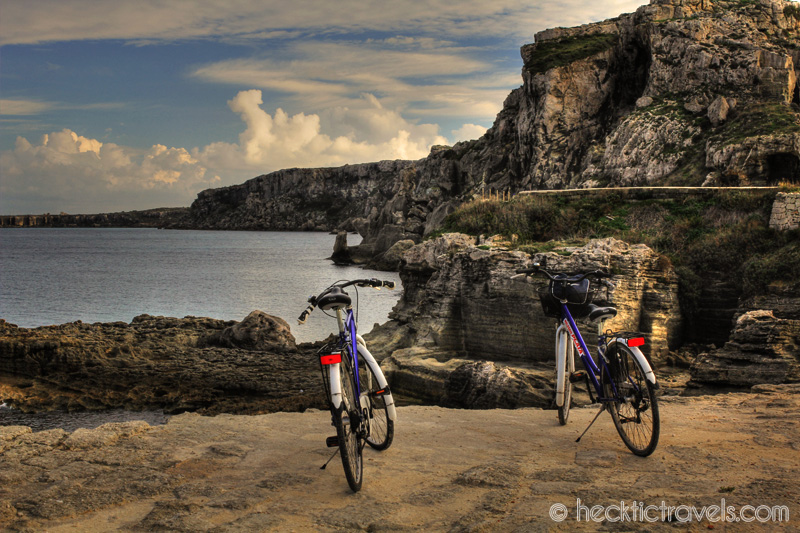 With each serene minute that passed, our irritability from the previous days dissolved. There was no pressing rush of travel, no feelings of discomfort in our surroundings. This day was ours alone to enjoy. We were in an obscure and improbable place on the planet, on the corner of a small island off of a bigger island off of the coast of Italy, and it was ours. Except for the odd fishermen casually casting their lines from shore, we reveled in the silence, the open view and the fresh air.
And as we returned to the port and watched the sun set before boarding a ferry back to Trapani, I breathed deep, and smiled. That day was just what I needed.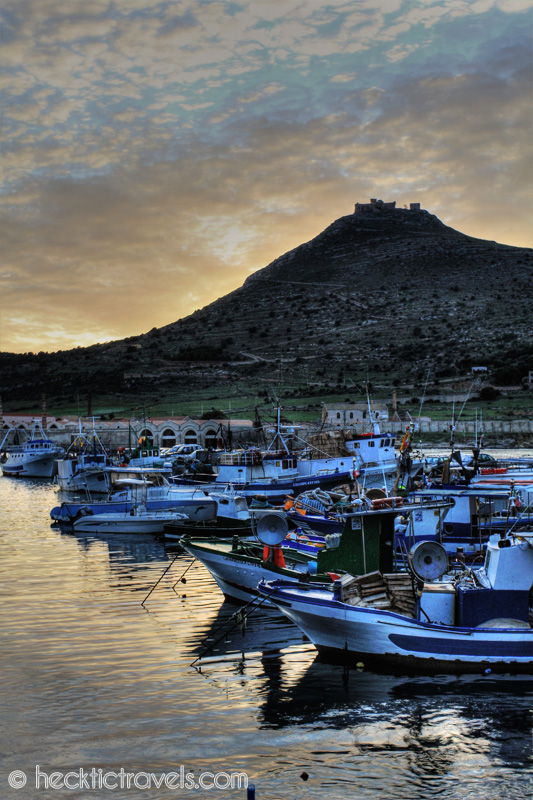 For all the sick days, musty hostels, wrong turns, rain storms, and more…
We have sparks of brilliance in foreign places when we feel untouchable. And when we surely believe we are the most fortunate people in the world.
This is our life.
And it is amazing.