Words by Dalene Heck / Photography by Dalene & Pete Heck
Just call us PANK and PUNK – the Professional Aunt (and Uncle), with No Kids. (That is a thing, really.)
It wasn't our choice to be childless ourselves, but such is life. We adore kids, but can't say we are at all disappointed with the direction our life has taken without them. We instead are quite happy in our roles as PANK and PUNK, and I do my best to be the fun aunt, the cool aunt, and now the aunt that shares a new world view with the kids. On our last visit home, I asked my nine year old niece what she wants to be when she grows up and she said "a traveler, like you." My heart burst into a million pieces. I think I am doing my job well.
While it is heartening to know that we're planting the seeds of travel, it still tears us up every time we leave them. And perhaps most with Avery, the oldest of my sister's children, who was 13 when we left. We had been very close up until then, but upon our leaving a gap began to grow, thanks to the physical distance we enabled and his entering the reticent teenage years. There's only so much that can be shared over Skype or email, and our visits are typically a frantic affair with little intimate time with anyone. Over the years, what I came to know about him could be reduced to a few words. Actor. Singer. Video game fiend. We've missed almost all of his successful forays into theatre and choir, along with every triumph and ugly struggle of getting through high school.
A couple of years ago I hatched the idea to have him join us on our travels, albeit even for a brief period of time, and our excitement for it built up until his high school graduation. With it came our vain and lofty hopes of inspiring a broad world view, to help him find clarity and form goals for his future. Travel has been such a tremendous gift to us and I wanted to pass it on, but he ended up giving us so much more in return. He let us get to know him all over again.
After five years, we had a lot to catch up on.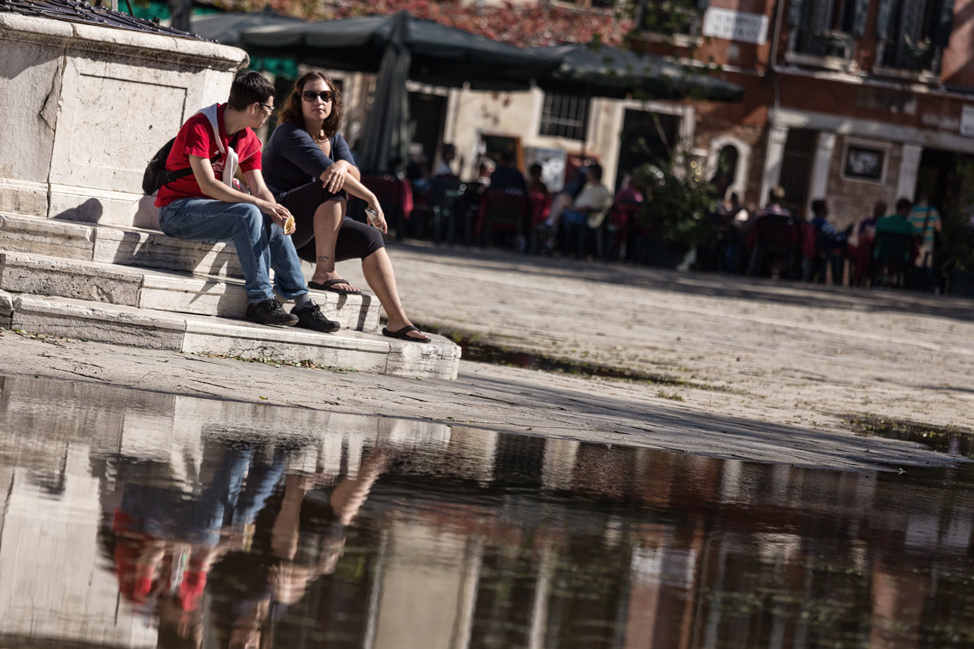 Ave chose Italy for our adventure and his first visit overseas. He arrived in Rome after a grueling 36 hour trip from his front door. He was exhausted and had only one thought: bed. In our typical travel style we didn't make it easy for him – staying away from the touristy centre, we railed to an off-the-beaten-path neighbourhood and traipsed down graffitied and gritty streets in the dark. I had never thought of that brief walk as being impactful, but was reminded that it was quite a change from the scrubbed monotony of Canadian suburban streets. "I don't think I could do this on my own," he said as we opened the door to our apartment, "I don't think I could get past the fear." It hit me then that what was so completely normal to us could be so startling to him. And, most importantly, I got my first lesson on who my young nephew had become, a lesson that I would learn over and over on the trip. He's so very honest and self aware.
Avery never came to really like Rome, and I couldn't blame him. Most sights we wanted to see were under construction. It was busy, noisy, and dirty. He loved our tour through the Colosseum, but the real find was in the beauty of Italian gelato. When we were bored with looking at scaffolding and seeking reprieve from the heat, we found it in icy goodness. And then plates of pasta. And then even more gelato.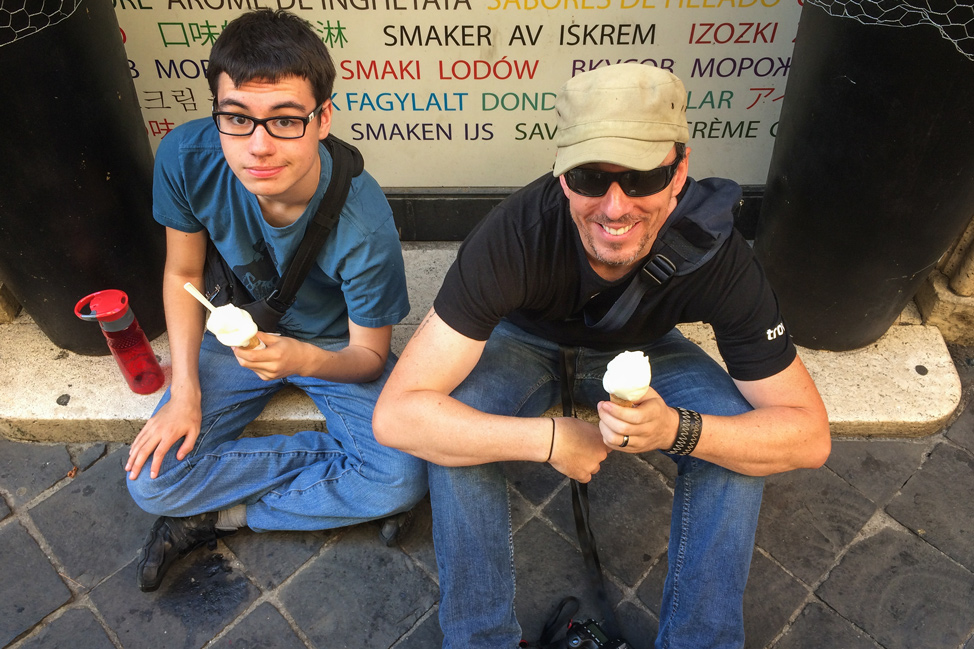 Onto Cinque Terre, then Modena, then Florence, then Venice. The more we progressed, the more Ave began to open up. He quickly engaged other travelers in conversation and appeared eager to meet more. He took few photos, insisting he was there for the experience and not the landscapes. I melted when I saw him adoring the little moments I did along the way – the spontaneous singing by a family on a train, the sound of little kids with foreign accents (especially when they rolled their rrrs).I'm sure we embarrassed him. Or at least I was embarrassed in front of him for our display of such awful travel skills, frequently getting lost and forcing him up and down and up a mammoth staircase with bags in tow. We're much better than this, I assured him, and then demonstrated the next day that we clearly are not. He was patient and didn't complain once.
We had deep conversations about religion and the "age of rationality" we all hope his generation is ushering into the world. At eighteen years I still believed only what I was told to believe, I only cared about the stupid things teenagers care about. He's a deep thinker, and so much wiser than I was. If I can think of Ave as an example for others his age, then I am less worried about the state of the planet. I think we'll be alright.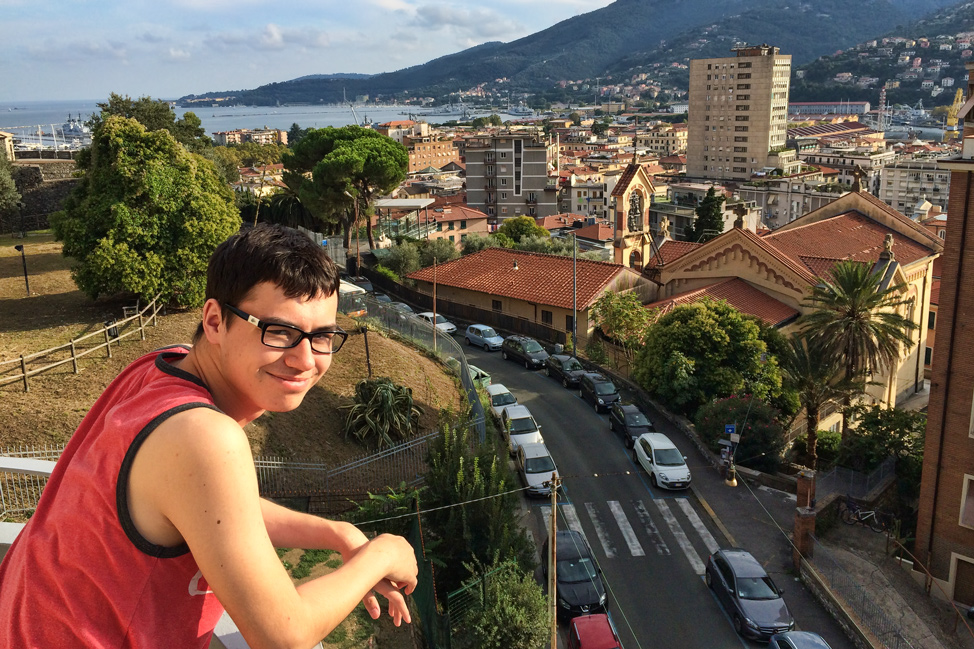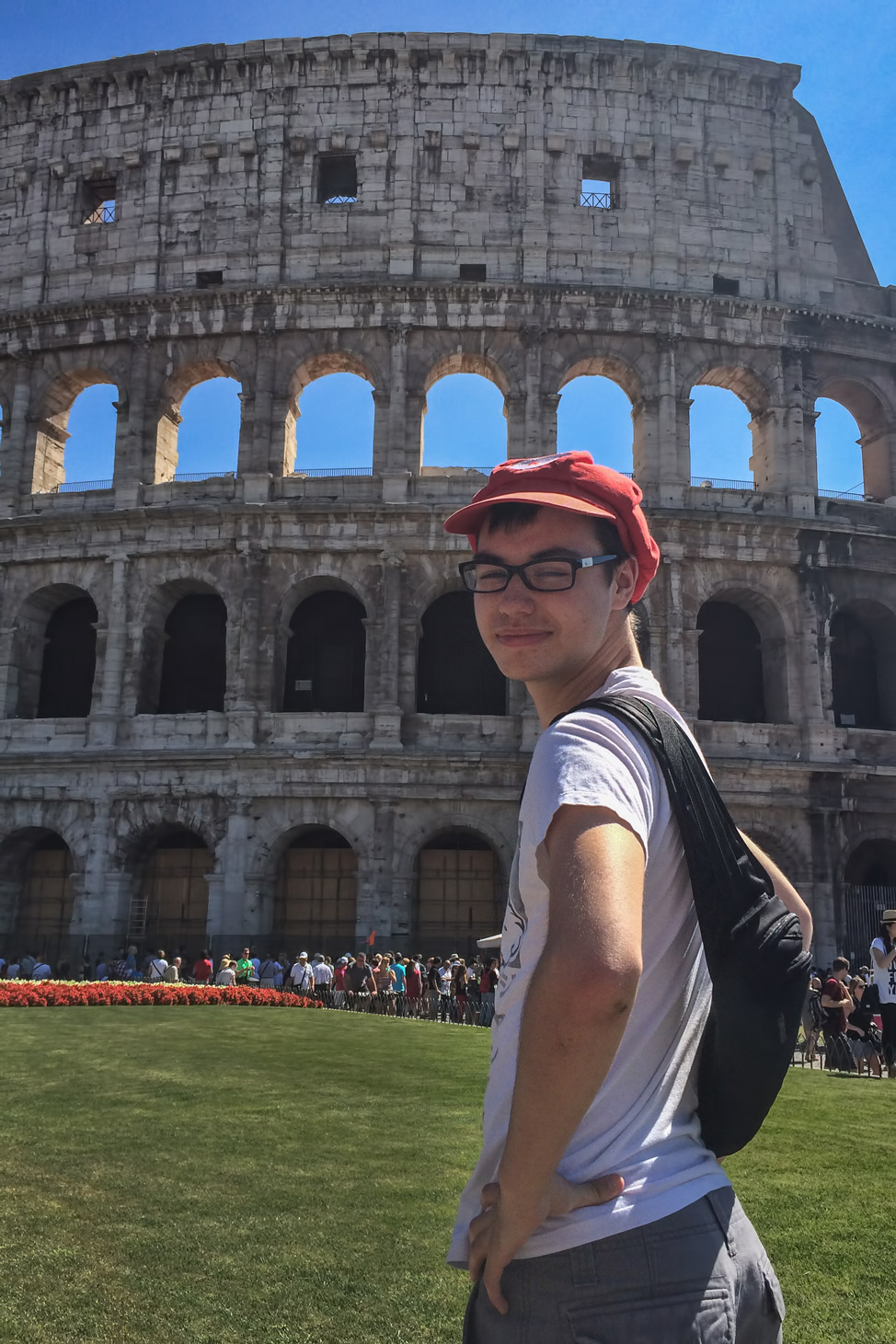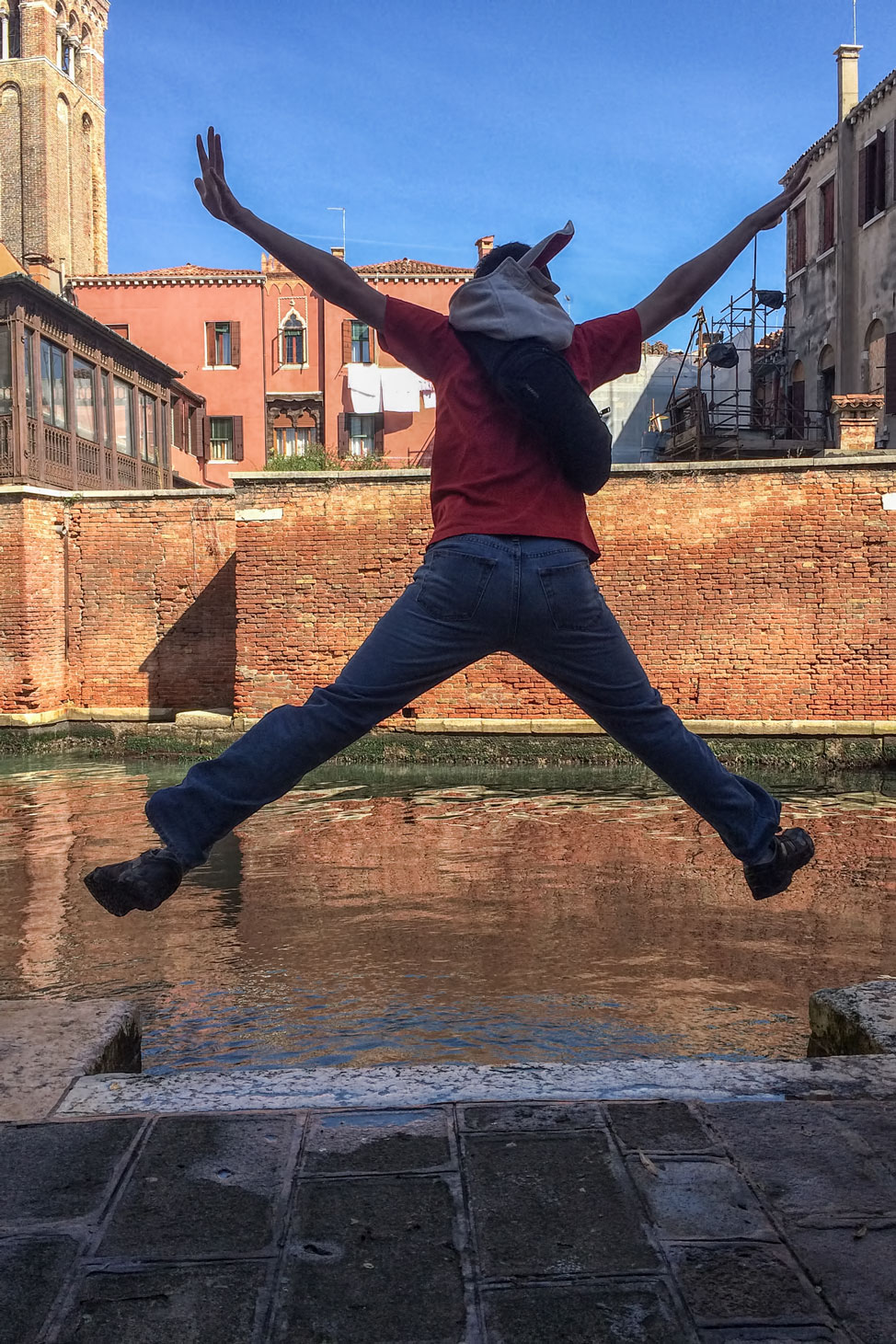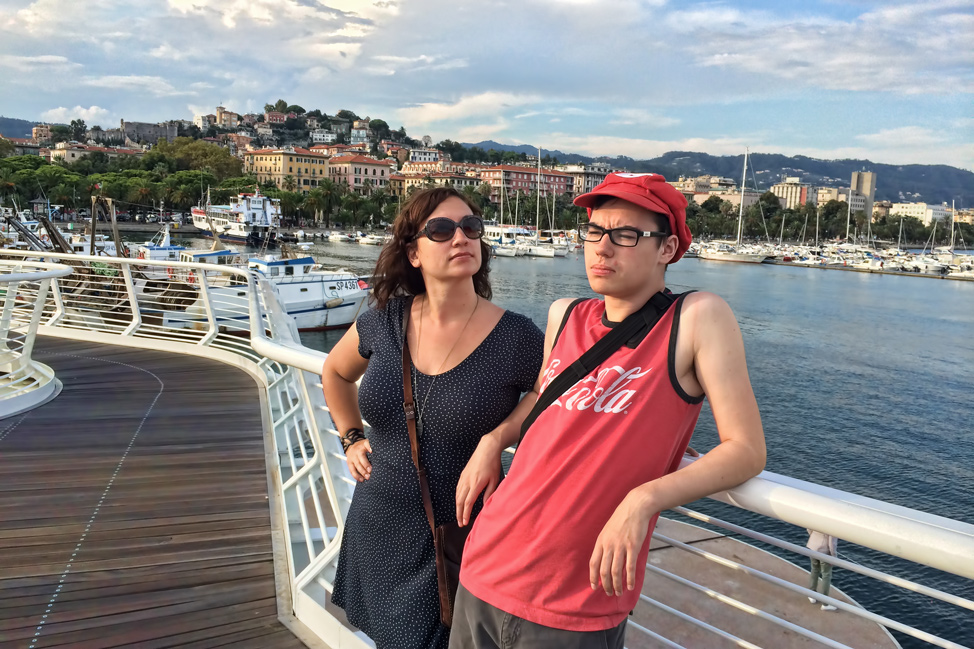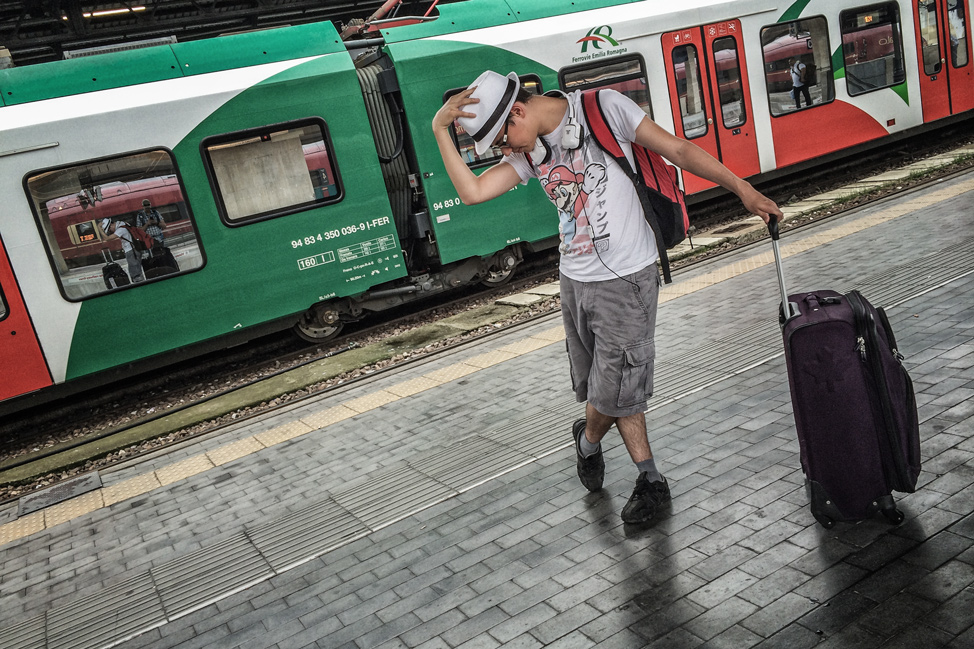 Our two weeks together went by far too quickly.I thought, after being responsible for only ourselves for so long, that we'd tire of having another to care for. I thought, after two weeks with another, that I'd crave the quiet routine that Pete and I have developed on the road. I was wrong on both counts.
When he left, the silence annoyed me. I missed hearing his singing in the shower, I still call out testarossa whenever I see a red head (Ave definitely has a "type"). And overall, I miss having someone else to share the world with.
It was not our choice to be childless, and I am still okay with that. Because I have Ave and his sisters – I have them to inspire me as much as I hope I inspire them.
I can't wait to do this again.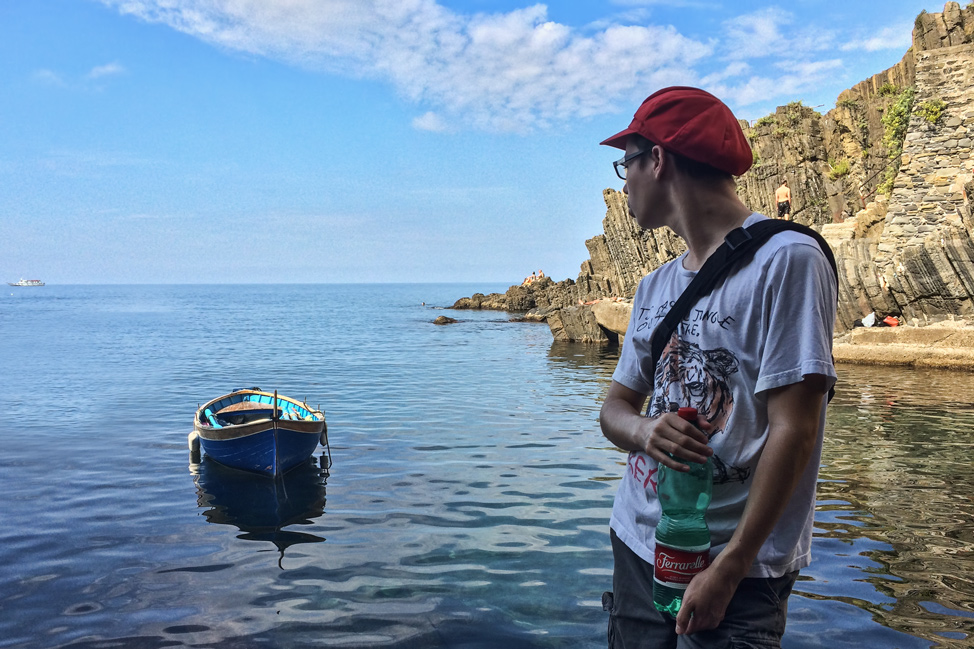 many, many thanks
We had some fantastic partners for this trip who helped make it all possible.Thanks to Eurail for the train passes that took us all around Italy. We commonly assert that train travel is the only way to go in Europe – this trip really cemented it for us, and having our Eurail passes in hand made it so easy to get around.
Avery was most appreciative for our apartment in Rome from FlipKey, as he crashed on the extremely cozy bed as soon as he walked in the room and didn't emerge for a dozen hours. 🙂
We took two excellent tours from Walks of Italy, one in Rome through the Colosseum, and another in Venice (more on that one soon).