It's easy to forget how much the little things can mean. How a casual smile from a stranger can brighten an otherwise gloomy day, or how the simple phrase "I'm thinking of you" can remind us that we indeed are not alone, even in our darkest times. We easily forget that while it costs nothing to be the giver of these little things, it could mean more to the receiver than ever thought possible.
Or, that the giver may actually have this one little thing repaid in an unexpected and glorious way.
In our case, the little action of giving our neighbor a lift has turned into an unbreakable bond between us, this island, and one of it's youngest inhabitants. It has also given us one of our most incredible experiences in our two years of traveling. While we feel blessed enough to have gotten to know one of the families in our neighborhood – Jolien, her mother Francine, and the new baby Julie – we now are a part of their family.
On Sunday, we became Godparents to sweet little Julie.
The Pentecostal church was a mere shell of a building – exposed beams with thin plywood walls and a tin roof. The altar was decorated with heavy fuschia drapes hanging as a backdrop, adorned with various colors of plastic flowers cascading down. The only other embellishments in the otherwise drab and unfinished space were handprinted bible quotes on construction paper, stapled randomly around the open room. We entered mid-song, about 200 people were on their feet with their hands in the air, singing along to the Spanish hymn. Many in the parish had their eyes closed, losing themselves in the words.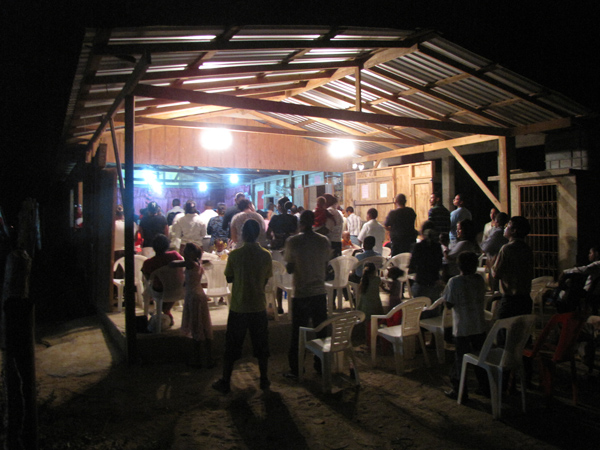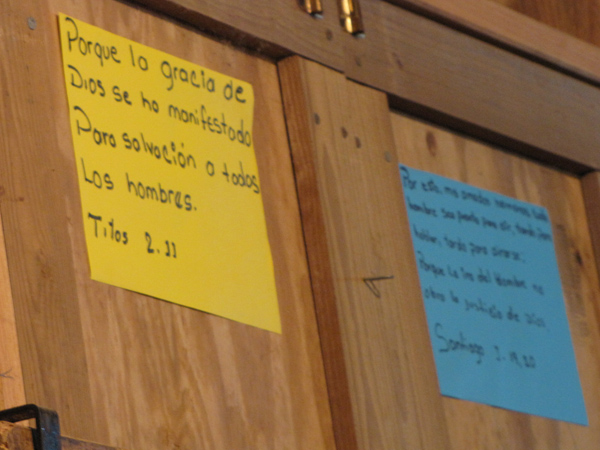 We slid into the back row just as one song ended but it quickly broke into another, barely skipping a beat. Two women belted out the tune into microphones, accompanied by guitar, piano and drums, making the sound quite overwhelming for the small room. We stood, hummed along, and clapped to the tune, catching onto the enthusiasm and energy that coursed through the crowd.
And when the songs were over, after nearly a half an hour of standing, humming and clapping, the preacher began. He was accompanied by an interpreter who followed every sentence with the Spanish equivalent.
We were soon invited to the front for baby Julie to receive her blessing and baptism before the church. With no water used, and only oil on his fingers, the preacher put his hands on Julie, then on Jolien and her husband Jose, blessing them, their family, and their beloved young one.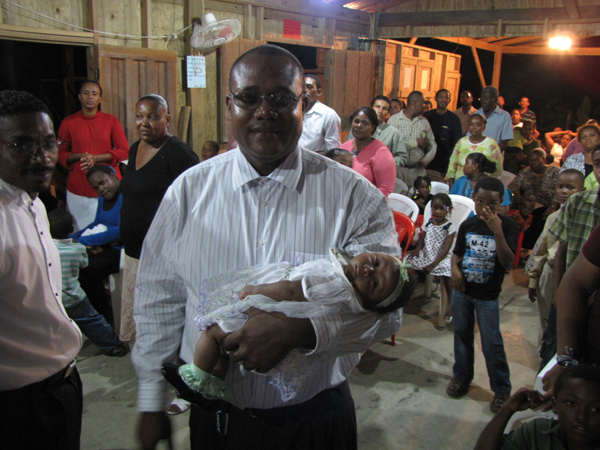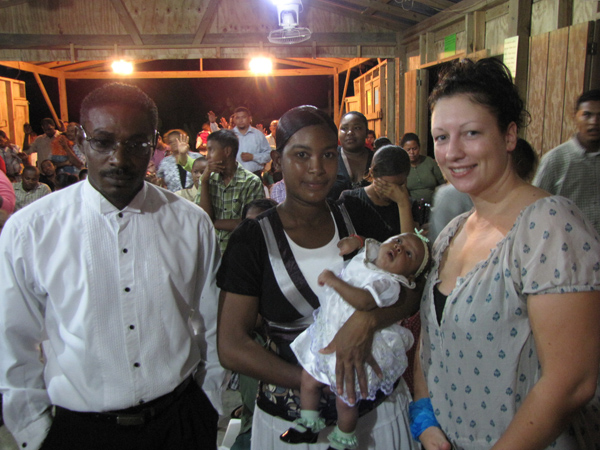 Then he turned to Pete and I, and with his oily fingers placed on our forehead, he thanked us for being there, and asked God to protect "these two special people" so that we could aid Julie in making her connection with God. It was over quickly and without much pomp – I expected needing to declare our intentions and profess vows about our servitude of Julie in this house of God, but there was none of that. The sternness and deep boom of his voice was enough, however, to enforce that our intentions had better be true.
Oh, and how I wish we could somehow have recorded the inflection in his voice. The way he said Aaaaammmeeennn, will forever ring in my brain.
And he was just getting warmed up. After we returned to our seats and he proceeded into his sermon, then he really got going.
He was a performer. Like so many of the excitable ministers I'd only ever seen on TV or in movies, he strode up and down the aisle, punctuating his strongest statements with a melodic "Lord have mercy!" or "Come to Jesus!" He bobbed, he weaved, he yelled. No word of a lie, there was even a rockstar-kick in there at one point.
The crowd was with him. Nodding, hands in the air, yelling out various affirmations to his most rousing statements. I myself wanted to throw in a "hells yeah" at some points, but I kept my words in. He had me enthralled. Pete admitted that the minister actually had him a little scared.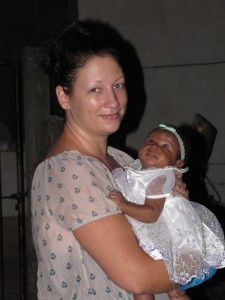 Julie had begun to fuss at the loud noises and overexposure to the bright lights that were obviously keeping her from resting. The service was a long one, and in order to give the baby and Jolien a break, I took the young one into my arms and out of the room. We walked in the cool breeze on the road just outside. I hummed and swayed, trying to help her find sweet sleep.
She was very bright eyed and alert for being less than two months old. She gazed intently at everything about her, her eyes found me when I talked softly to her.
I gave her my own vows then. I pledged to be thinking of her wherever I am in the world, and to carry this most treasured memory dear to my heart. And, of course, that I would be back to see her.
That last vow was repeated later in the presence of her mother, who has occasionally been speaking near tears of our impending departure, and frequently saying: "You have to come back…you have to come back for your little girl."
And we will. For as much as our little action helped them, this little one has touched us infinitely more.