Words by Dalene Heck / Photography by Pete Heck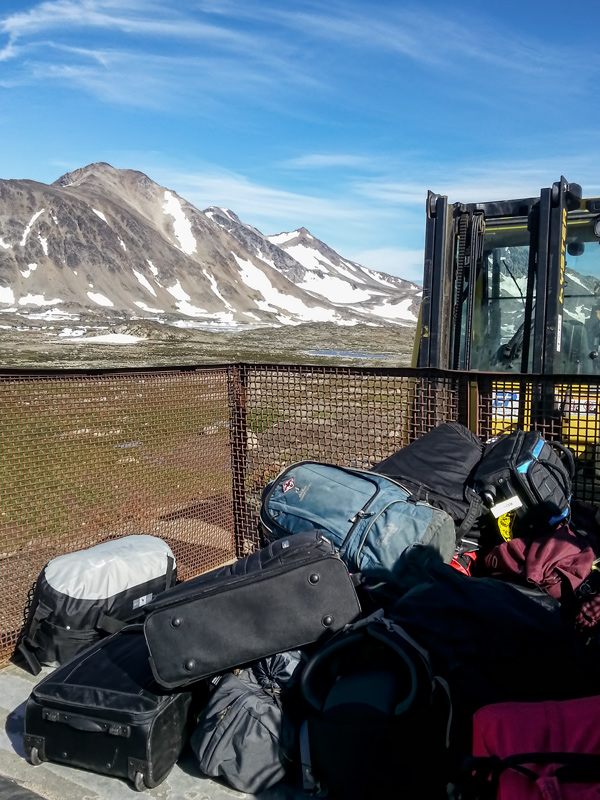 We had been warned that Kulusuk was a "sad" town to visit.
Upon first arrival, with the novelty of "OMG, we're in Greenland!" fresh on our minds and lips, we could not for the life of us understand why. The flight in had been a stomach-twister with a small bank just before landing, skimming around orange-red mountains and over iceberg-filled waters below, ending with a quick landing on a dirt runway. The airport itself was unremarkable, but the view beyond was more of the gasp-inducing scenery we had been treated to on the way in. Snow-laced mountains, crystalline waters dotted with the tips of some very large chunks of ice.
Even our baggage retrieval induced appreciative snickers from all who joined us on the flight – there was no carousel for us to crowd around, instead our bags were brought over by a large bin on the front of a tractor for us to sort through ourselves. Then, the amusing forty minute walk into town (no transfer service here!), some of our bags were loaded onto an ATV but others we slung across our backs and carried by our own power.
The tiny town greeted us shortly, its colourful buildings coming into view just over a hill. A deep red was the dominant hue of the houses, but many others provided variety in shades of blue, yellow and green. Set against the sparkling aquamarine of the north Atlantic Ocean, it was unexpected and surreal, as if the tiny houses were placed by the hand of a child around his toy train set.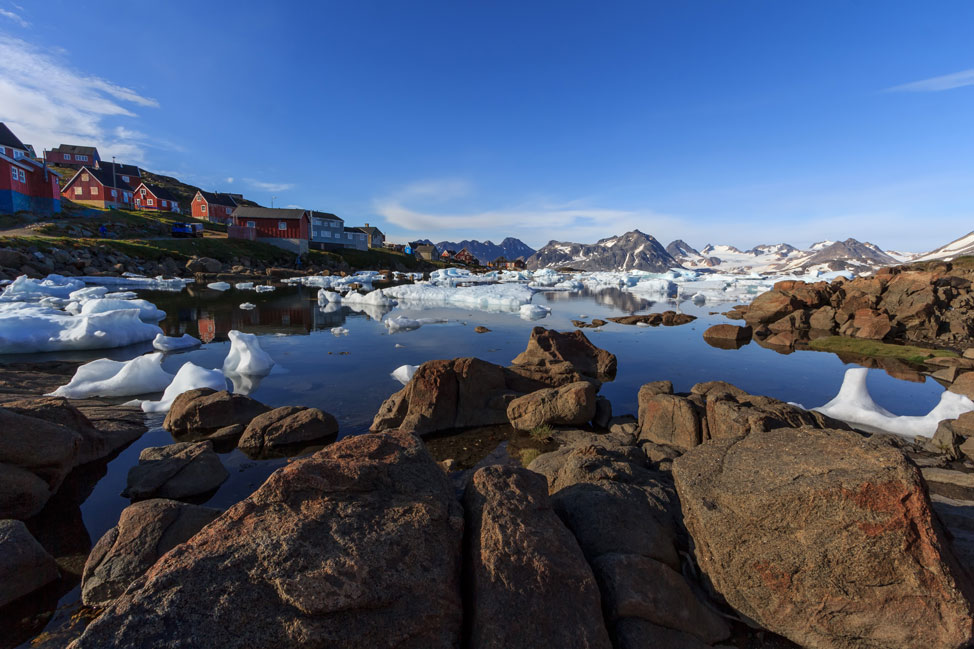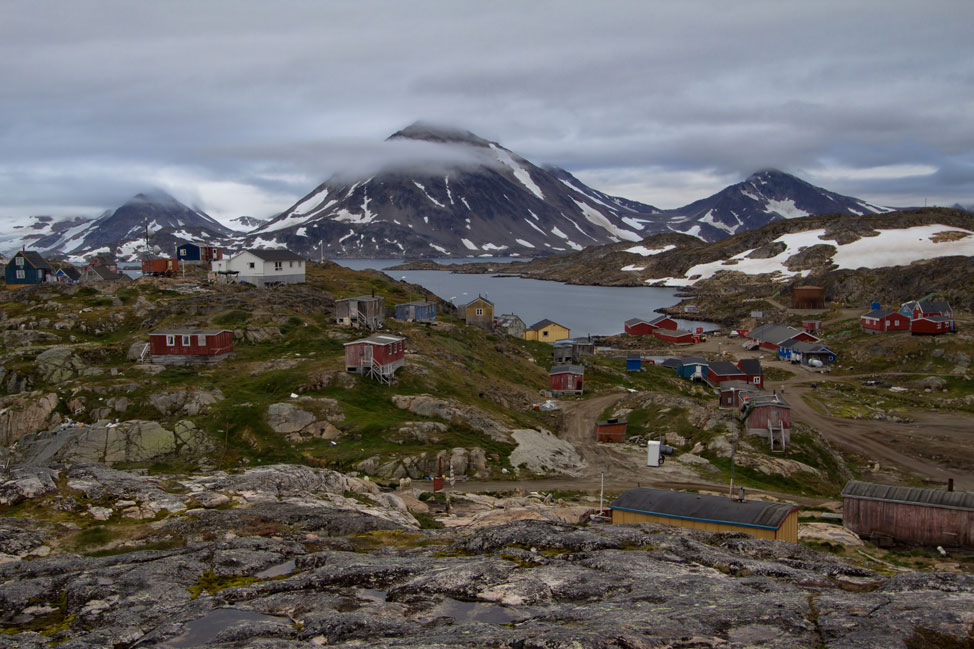 We were giddy and ecstatic to be visiting this remote corner of the world that most others will never. And when some of our tour group was delayed due to weather in Iceland, we had 24 hours free to soak in the town.There wasn't much to it – Kulusuk sits on a small island of the same name, with less than 300 inhabitants. There is a store containing an odd display of scattered goods – shotguns sat next to the bras, across from the Nutella. We couldn't find tomatoes but there were more exotic pomegranates and a sad collection of kiwis – the stock all dependent on when the last supply ship from Denmark came in. Across from the store was also a souvenir shop, and if there were enough of us tourists interested, we were told they might open the museum for us.
The locals were friendly and all had a smile for us. Others had a little more than a smile and shared a few words, but sadly revealed the alcoholism that touches this secluded town.
Unemployment is high and the Greenlandic are hunters – it is their method of survival in such an inhospitable climate and terrain – as macabre as it appeared to us as outsiders. On a brief walk down to the harbour we spotted six freshly killed seals tethered to the dock, their eyes wide open and peering up. They dangled in the "local refrigerator" as someone called it.
Shotguns sat next to the bras, across from the Nutella.
In the hostel there were books detailing some of Greenland's history and customs. I read of the tupilaq, a small carving created with the intention of destroying a specific enemy, sometimes even made with parts taken from the corpses of children. Another book referred to accounts of cannibalism for survival in grim winters. Historic in nature, of course, but an important insight to life in a country mostly covered by a thick sheet of ice.
The dazzling beauty in this area can not possibly be overstated, but it is a harsh land. Kulusuk itself is just over 100 years old, and the future of the small town is uncertain. With an airport providing a good base for adventure tours such as ours, the hope is that this area may vastly improve with increased tourism. Or the town may fade and die out entirely.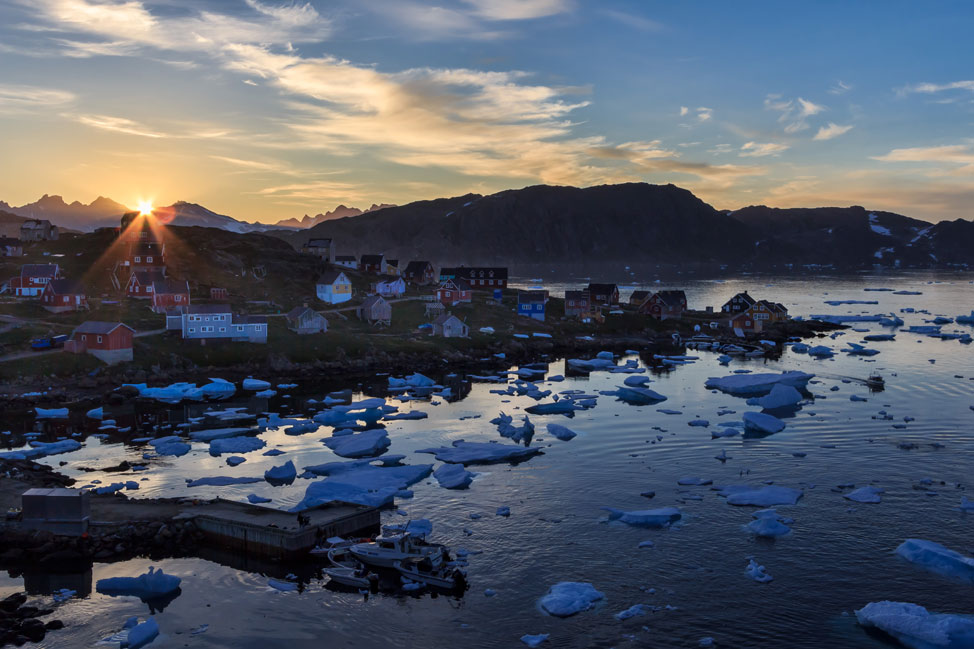 Our 24 hours in the town drew to a close and we set off on our kayak journey, pushing past the floating dead seals, dodging the intestines and bowels of other recently slaughtered animals that hovered among us. We would once again return to Kulusuk, but not before we'd learned more about this isolated environment in which the people live.
Our expedition was about to begin.
Our journey in Greenland was courtesy of Greenland Tours. All opinions, as always, are our own. For a review of our entire trip with them, please click here.