Words by Dalene Heck and Pete Heck
Included in the TESOL program with LanguageCorps are two excursions to popular destinations in Cambodia – Siem Reap and the temples of Angkor being one of them.The itinerary to Siem Reap noted a stop at a town named Skoun, but nicknamed Spiderville.
Yes, Spiderville. And upon doing a little research, I discovered that it is as horrible as it sounds (for someone who is terrified of tarantulas).
I opted out of taking the transportation offered and booked a bus ticket on my own. So while I enjoyed comfortable seats, air conditioning and wi-fi on board, Pete and his classmates experienced Spiderville first hand.
~ Dalene
*****
I couldn't blame Dalene for wanting to skip the stop in Spiderville. Rumor had it there were baskets of tarantulas lining the streets and that kids preyed off of tourist's obvious fear – the more scared you were, the more likely they were to taunt you with their "pets". As we neared Spiderville, my classmates joked about how this would be the only instance where they might feel justified in harming a child.
But for me – I was more intrigued.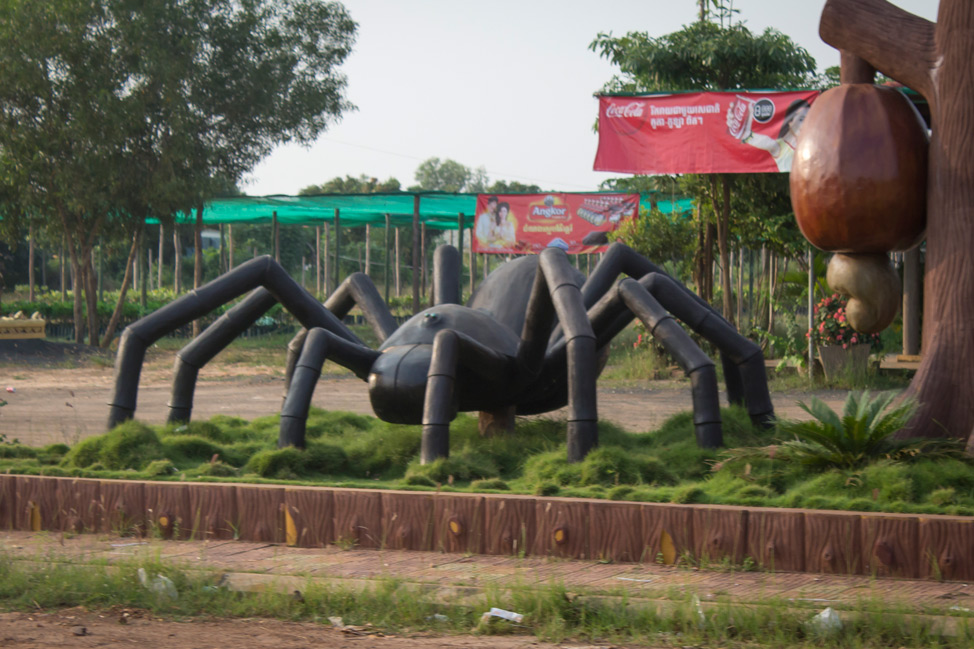 When the bus stopped, kids flocked to it. Not with tarantulas at first, but peddling fruit. Their little bags of mangoes, pineapples, and bananas were going for a steep $1 each, and the kids were aggressive and insistent. One kid attached themselves to each of us and repeatedly begged for their fruit to be bought.
All of a sudden, a small boy approached me, and before I knew it there was a tarantula crawling up my arm.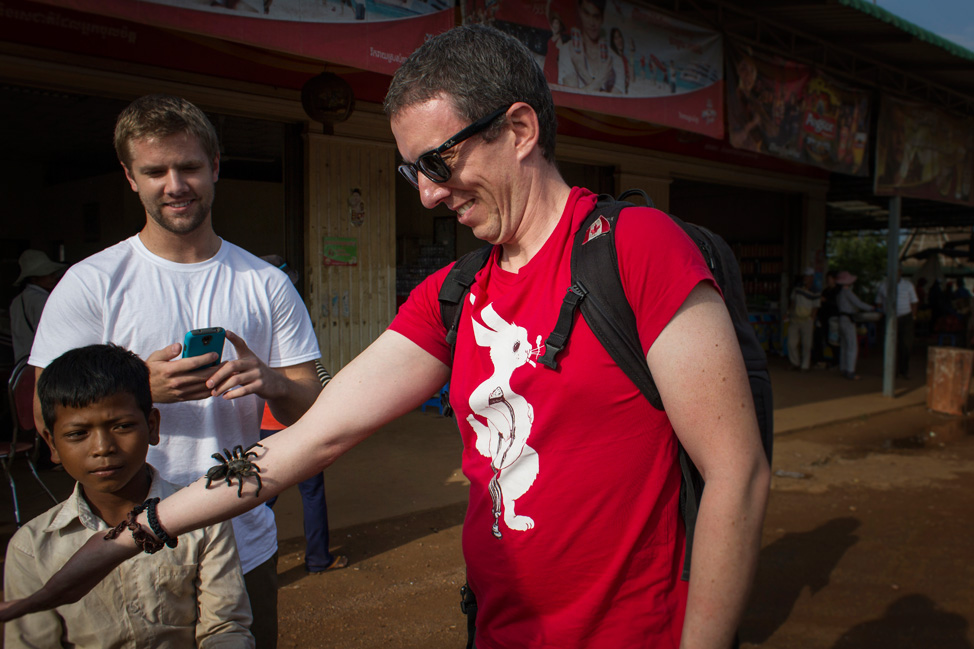 It felt exactly as I expected it to. A tingly sensation as the hairs on the tarantula's legs brushed my skin on it's climb up. I was given the nickname 'Spiderman' by the little boy as he laughed – it's hardly an honor as I was sure everyone got that name.
Then, the unexpected: the boy takes his pet tarantula and puts it in his mouth for a couple of seconds. This charade is obviously well rehearsed and elicits the required screams from most of the girls.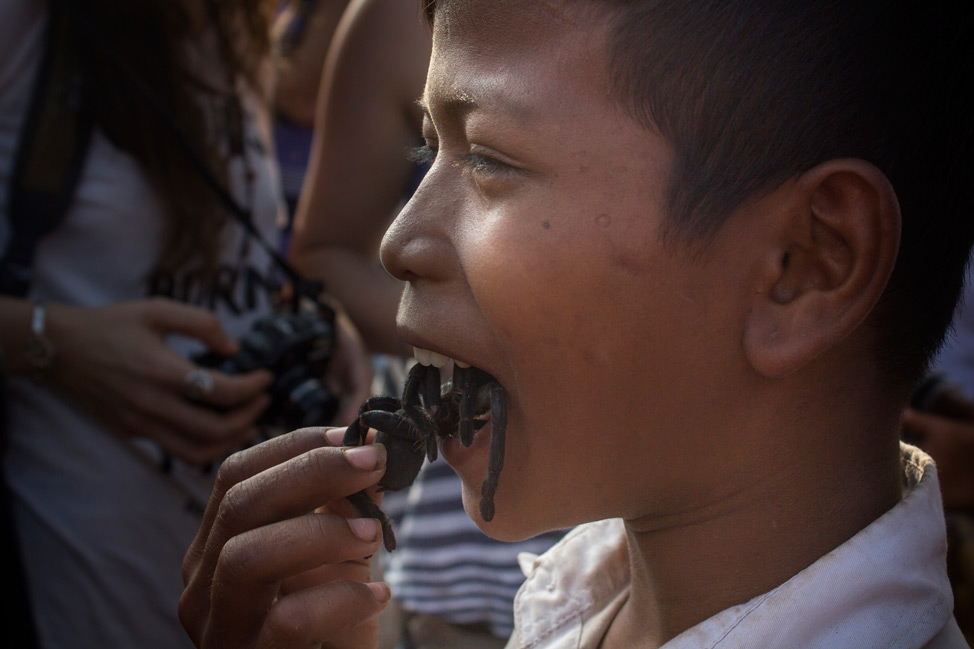 And then it was time to do what we came for: sample the local delicacy of deep fried spiders. The tarantulas are bred just north of town in holes in the ground or foraged in nearby forests and fried in oil. (We learned later that they are first killed with a pin-prick to the head, and then soaked in ice water for several minutes before being fried.)
At $0.50 each, it is a cheap snack. One of my classmates bought two and passed them around, I tore off a couple of legs and sampled them. Surprise! They tasted like chicken. Fried chicken wings, to be more accurate.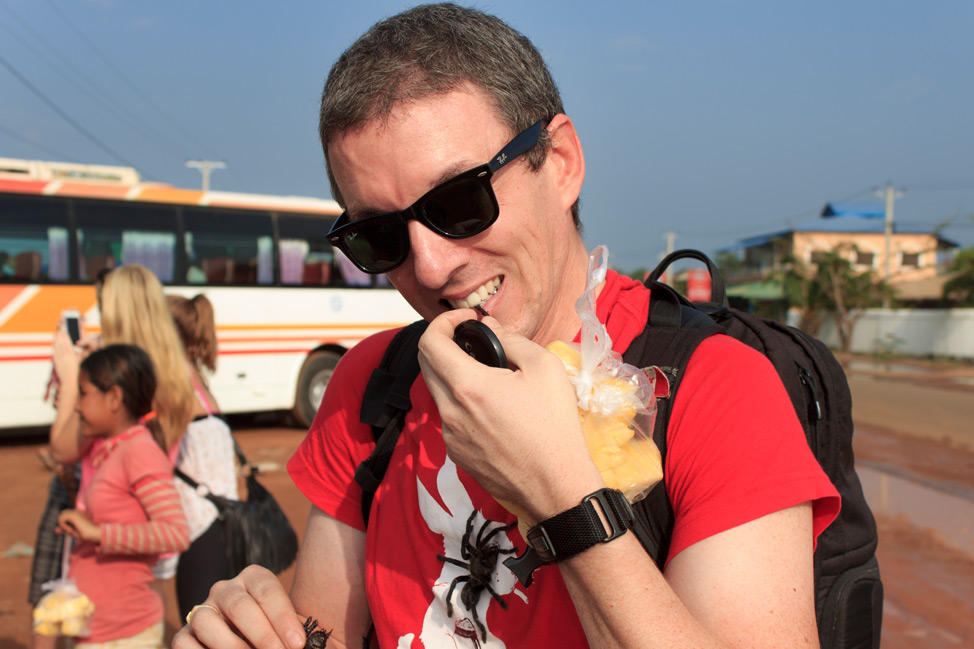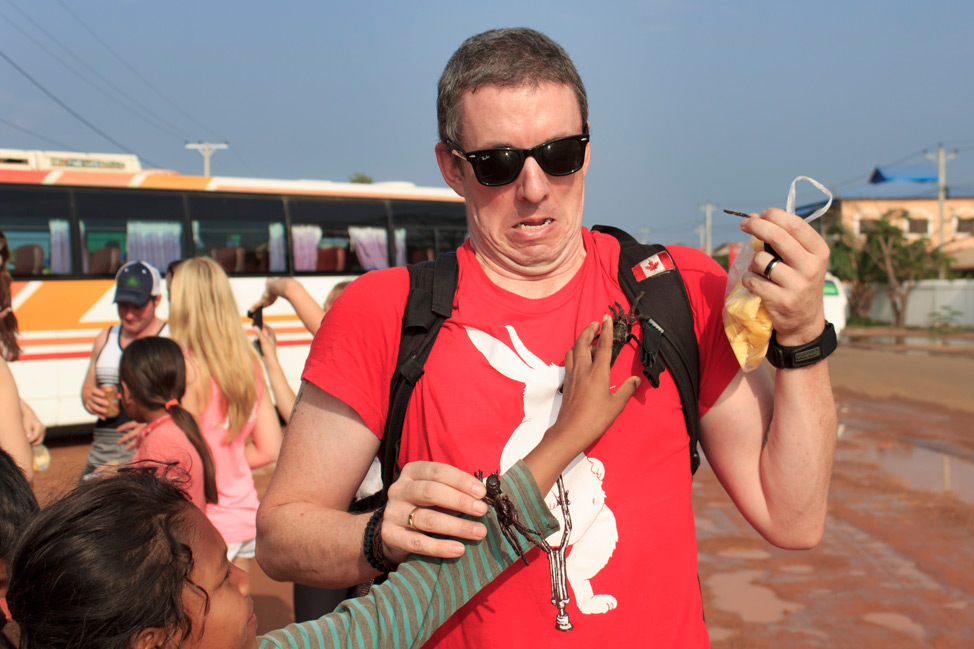 Our spider-sampling done, we began to make our way back to the bus, but not without the children re-attaching themselves to us and continue their harassing sales tactics. They did not leave us alone (even following some into the bathroom). They knew exactly how to make us feel guilty: money for school, a dollar to eat, etc. There were even tears from those who didn't make a sale.
(I am ashamed to say that I bought a bag of mangoes, knowing that this is not the practice of a responsible tourist. What can I say? Sometimes I am weak.)
Overall though, an interesting experience, but maybe the only time that I was glad to not have Dalene with me (she would have FREAKED). And that would not be my last taste of this local delicacy as before this trip to Spiderville, I had promised our friend Tammy that I wouldn't let her try it alone. She recounted our entire experience (there is even video!) in this post.
~ Pete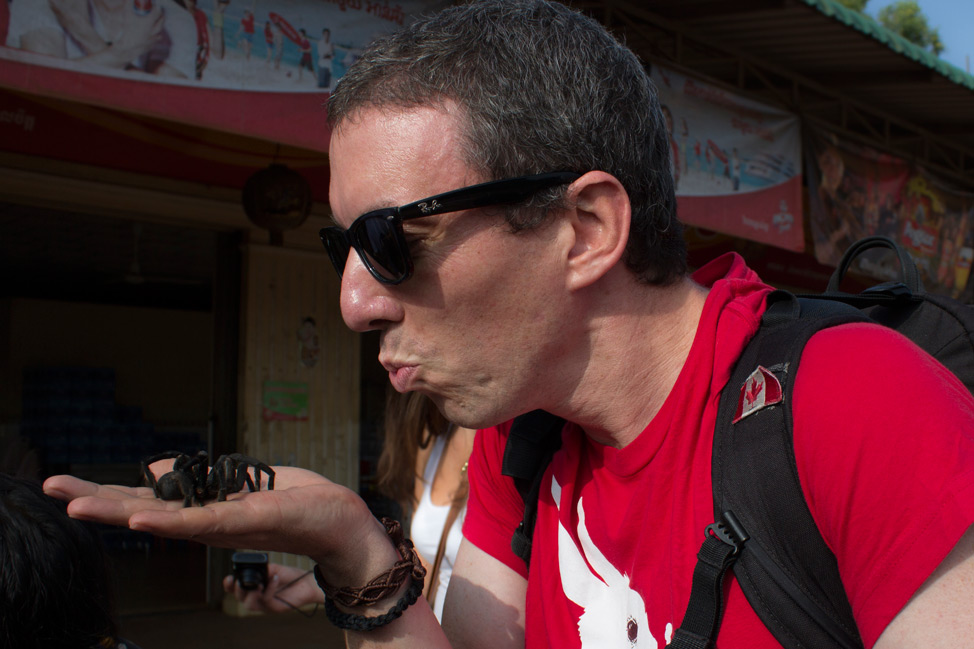 *****
That bus ride I took? Yeah – best $14 I ever spent.
~ Dalene