After ten amazing days riding the rails in Croatia, I wasn't quite sure how that experience could be topped.
But it was this post that got me excited about Ljubljana, the tiny capital of the tiny country of Slovenia. Such stark profession of love from such a seasoned traveler is a pretty big statement.
Still, I had no idea. I, REALLY, had no idea.
Ten minutes into our exploration of the old city center, on a foggy and cold November night, I was brought to tears.
After two and a half years of traveling, no other place has affected me like this, no other place has evoked such an immediate and profound claim of love from me.
It's the coziness of the small city, the gorgeous historic center, the friendly people who return smiles aimed their way. The chilled fog in the air hung low on our first evening wander, covering the old buildings in a mystic charm with soft white lights dimly lighting the way. The small river was lit bright green, locals patronized the patio bars under heat lamps and blankets, drinking cheap hot wine.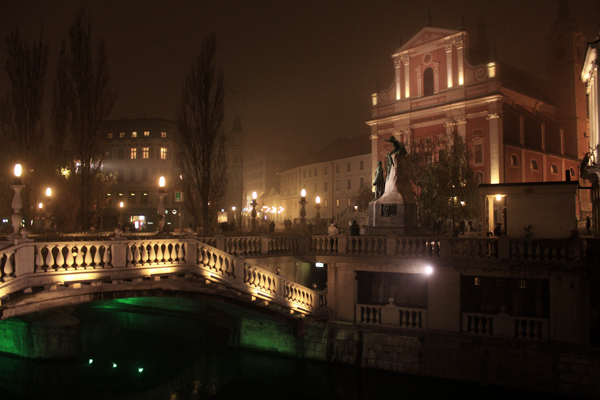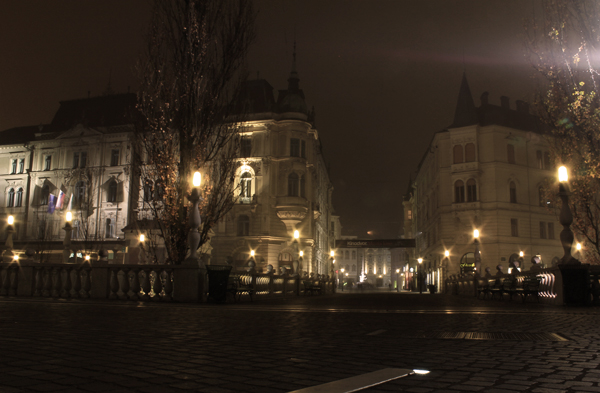 Pete and I held hands and darted through the streets, in awe and with constant exclamations of "look at that!" We were often sidetracked from the planned dash to our chosen restaurant for just a quick glance here, a rapid snapshot there. We briefly lost our way, regained our path, and then completely stopped short.
The melodic voices of a choir, arranged on a plaza corner,
halted us in our tracks.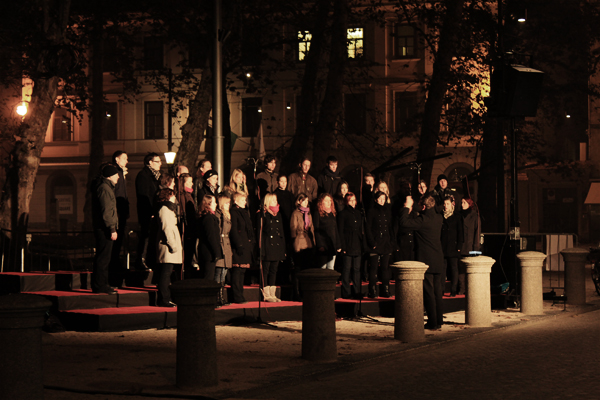 Beneath that soft light, surrounded by those smiling locals, and immersed in that enchanting fog, the choir mesmerized, and brought forth a rush of emotions that suddenly brought warmth to my cheeks and hot tears to my eyes.
The setting, the voices, the surrealty of the moment.
Several long minutes later, the choir was finished and gave up their position. I shoved my hands deep into my pockets to warm them and we continued on our way.
Wordless and walking quickly, Pete kept glancing over to check on the state of my glistening eyes. As they were accompanied by the hugest of smiles, his face was too.
Over a joyful dinner we bantered around a word that neither of us has uttered in quite a long time…
Home?
**********
Many thanks to the Slovenia Tourist Board for accommodating us at the Grand Union Hotel (click here to read our full review of the hotel). The tourst board slogan is "I Feel Slovenia" – oh boy, they sure got that one right!