Words by Dalene Heck / Photography by Pete Heck
Before we arrived in Romania my idea of their typical cuisine was meat and potatoes. I expected that vegetables were pretty much non-existent in Romanian food and finding a good salad would be a challenge.
I was half right. Meat is definitely a big part of Romanian food, and they really know how to do meat right. Starches are served with every meal. Salads were a challenge, at least ones without cabbage in them, but not impossible to find.
So what did we eat?
soup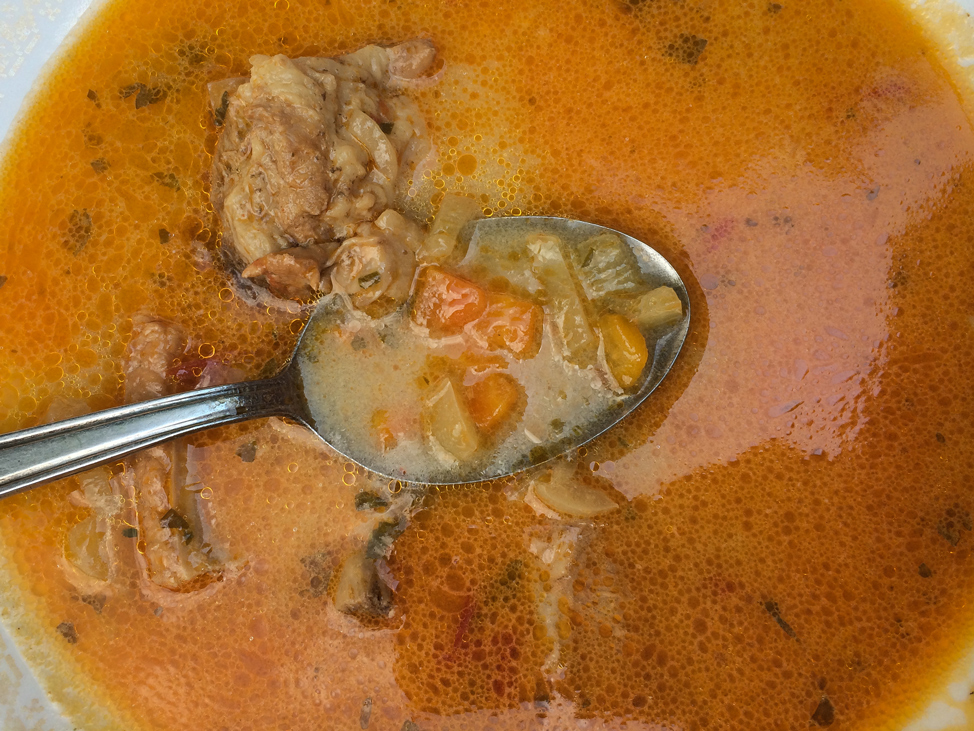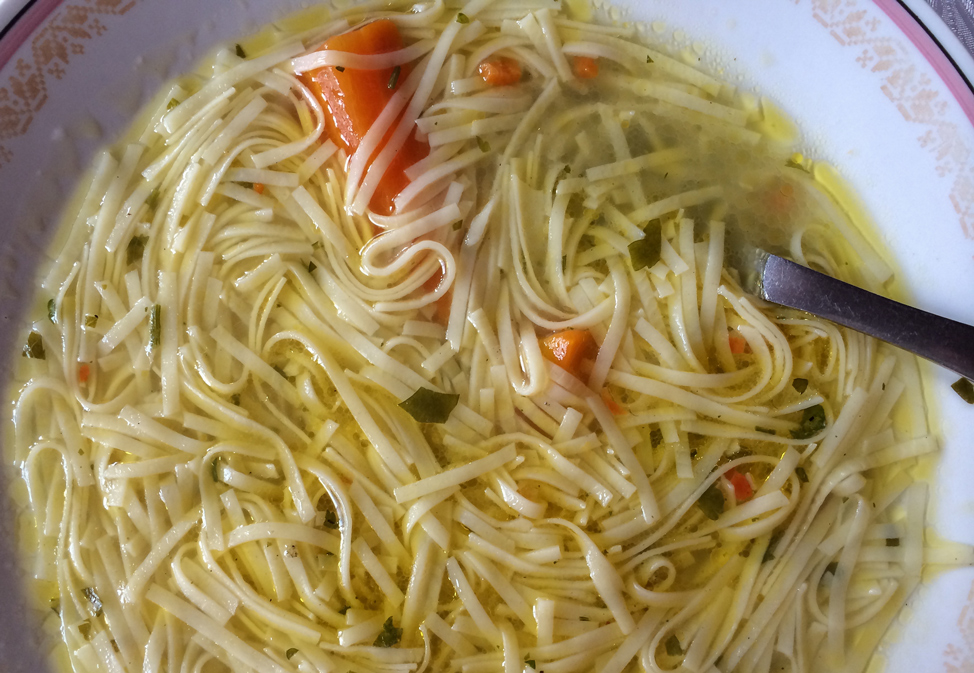 Bean soup (pictured left) is a staple in Romania. It is prepared differently in various regions throughout the country, but the concept is similar: stick-to-the-bones-soul-food. My favourite variation was in Bucharest, prepared with bacon and vegetables and served in a bread bowl. While in Sinca Noua more we savoured a chicken noodle soup and a pork rib and vegetable soup (bones still in) as a starter to every meal.
meat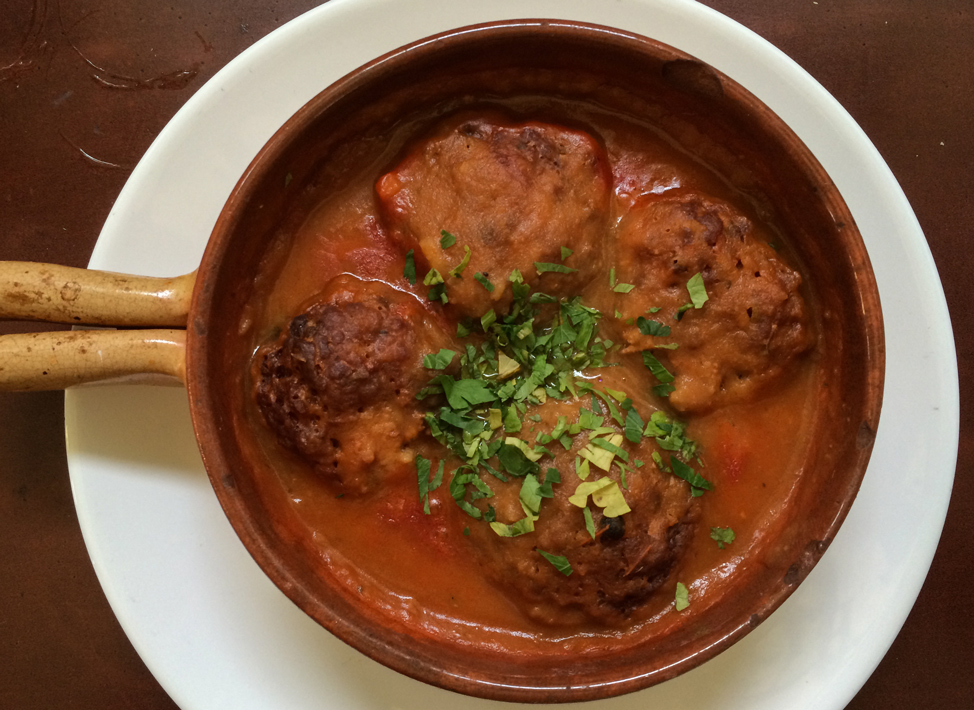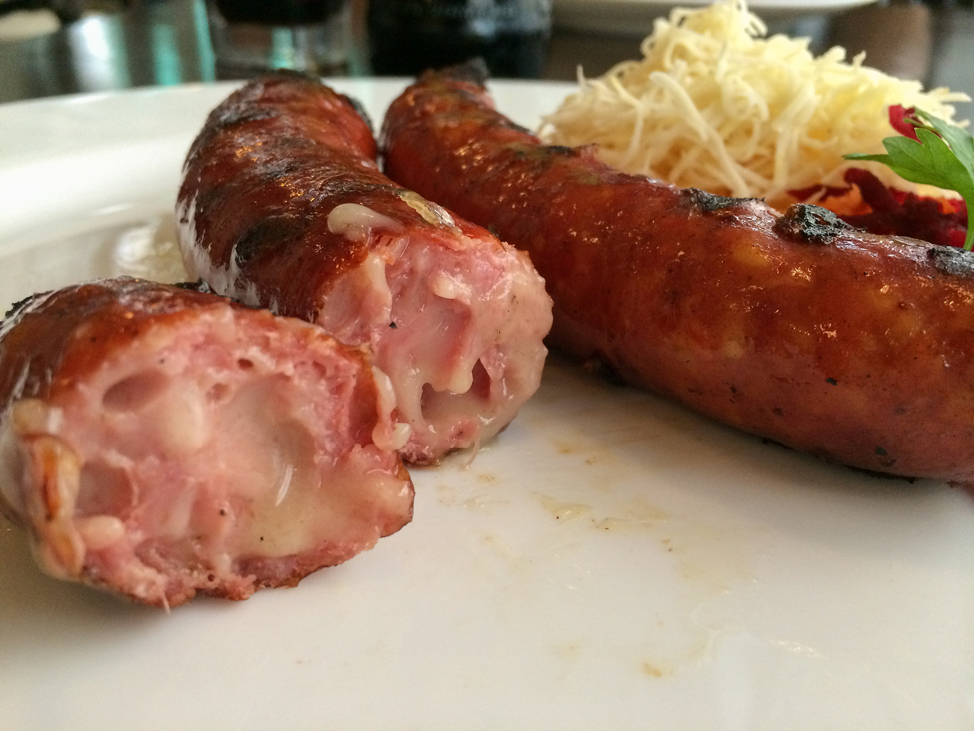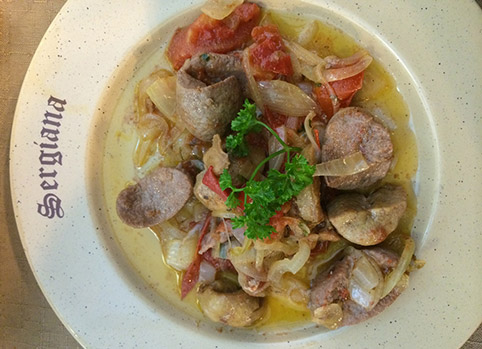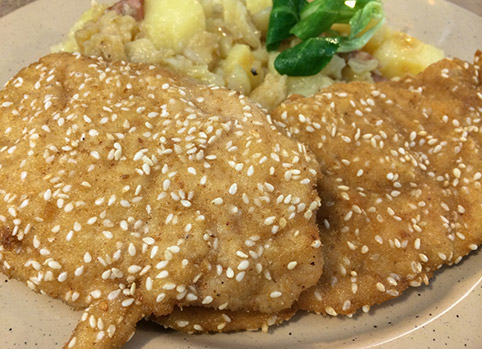 The Romanians know meat, especially sausage. Upon visiting numerous traditional Romanian restaurants we usually found a whole section dedicated to sausages alone. The most common being mici (pronounced michi) which is a finger sized grilled mince meat sausage, usually consisting of beef mixed with pork and sheep, and then heavily spiced with garlic, pepper and paprika. These are quite common in street food stalls accompanied with a pint of beer. Menus will have easy items such as pork and chicken schnitzels, and for the more adventurous eaters the Romanians embrace the "whole animal" concept. We found brains, testicles and other parts of the pig on the menu and we put it to ourFacebook fans to decide which one I would try. The testicles pictured above won out – they were quite tasty but a little chewy.
typical meals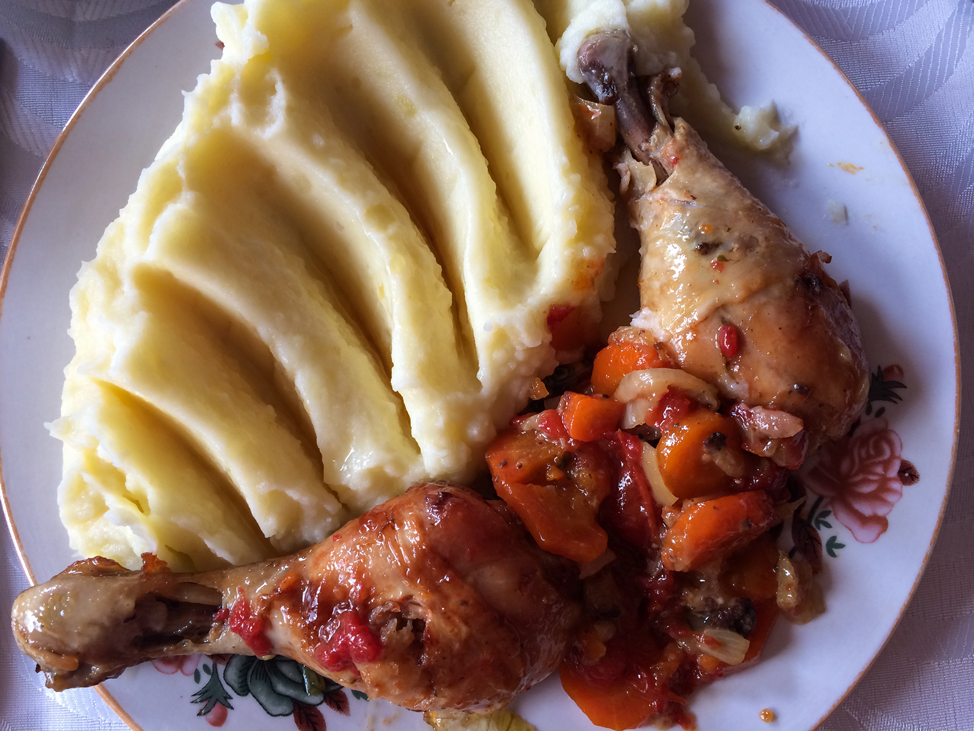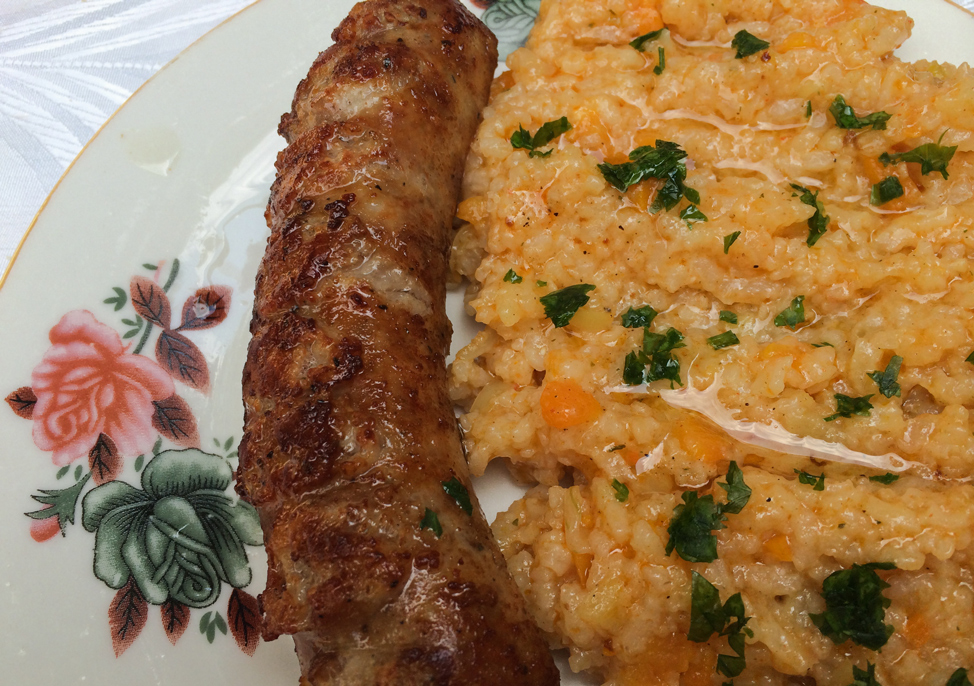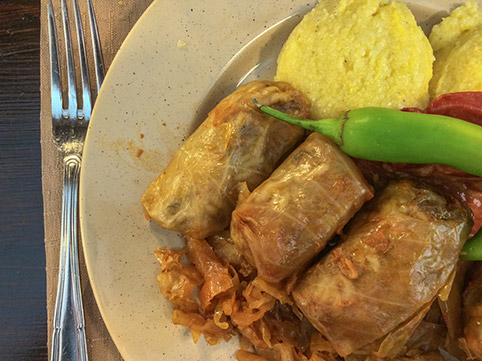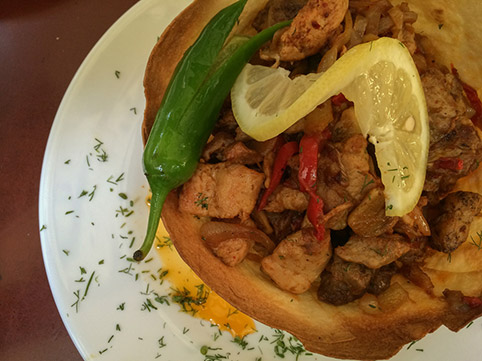 Typical Romanian food consists of a meat and a carb. Sarmale (pictured upper left, better known as cabbage rolls) is one of Dalene's favourite meals and very typical throughout the country and entire region. A pilaf (bottom left) with tomatoes, carrots, onions and dill, and mashed potatoes soaked in butter (bottom right) is also popular. On another occasion I enjoyed a blended grilled meat dish served in a phylo pastry bowl to absorb all the juices from the meat.
Pizza is also very common throughout Romania – in some towns your only restaurant choices will be Romanian and a pizza joint. Although it is no Italy, the pie is generally cheap and tasty. The menus also have sauces on the side (tomato and spicy) and are recommended as generally the sauce is spread thin on the dough.
side dishes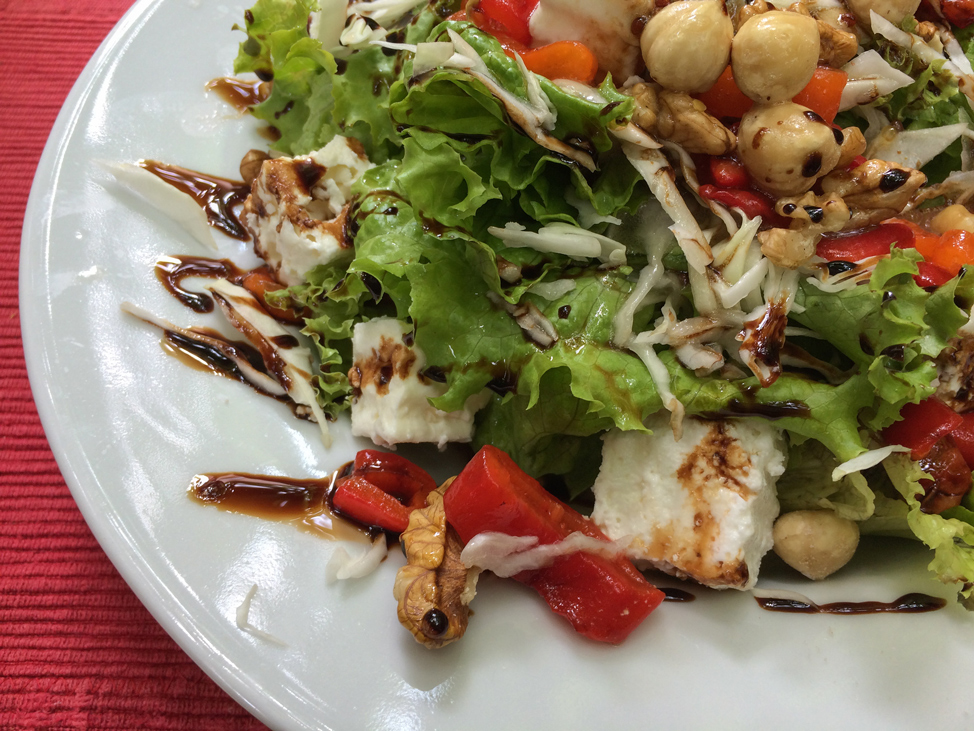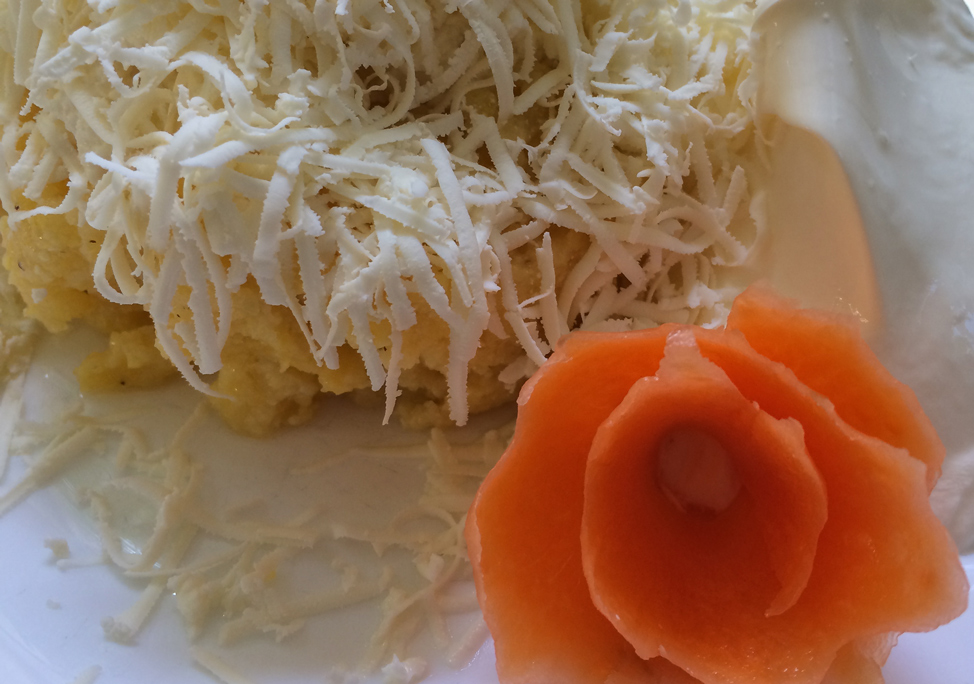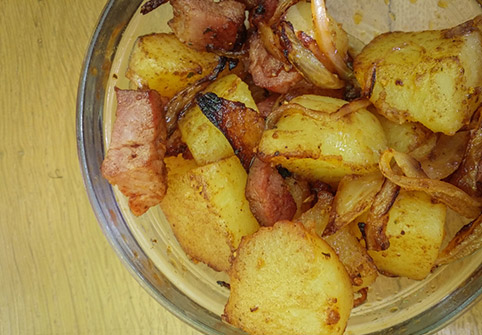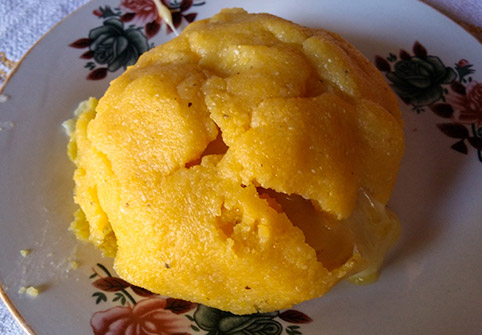 Potatoes, polenta, rice. One thing to be aware of when ordering food in a Romanian restaurant is that main dishes do not come with sides. Peasant potatoes (pictured left) was one of our favourite side dishes and how could it not be? Pan fried potatoes with big chunks of bacon and onions. Polenta is also a very popular Romanian side dish and it is served in various ways, the most common being mamaliga, topped with cheese and sour cream (pictured top right) or with traditional cheese baked inside (middle right). One thing is for sure, ordering one of these side dishes with our meal meant that we never left the restaurant feeling hungry.
Salads generally consisted of tomatoes, cucumbers, onions and or cabbage. While we ordered a salad with every meal after a couple weeks our bodies were craving green veggies.
Our last city in Romania was Sibiu where we managed to find an incredible salad (bottom left). Topped with goat cheese, hazelnuts and an assortment of fresh vegetables with a vinaigrette glaze, it was a nice change from the heavy Romanian food.
desserts and sweets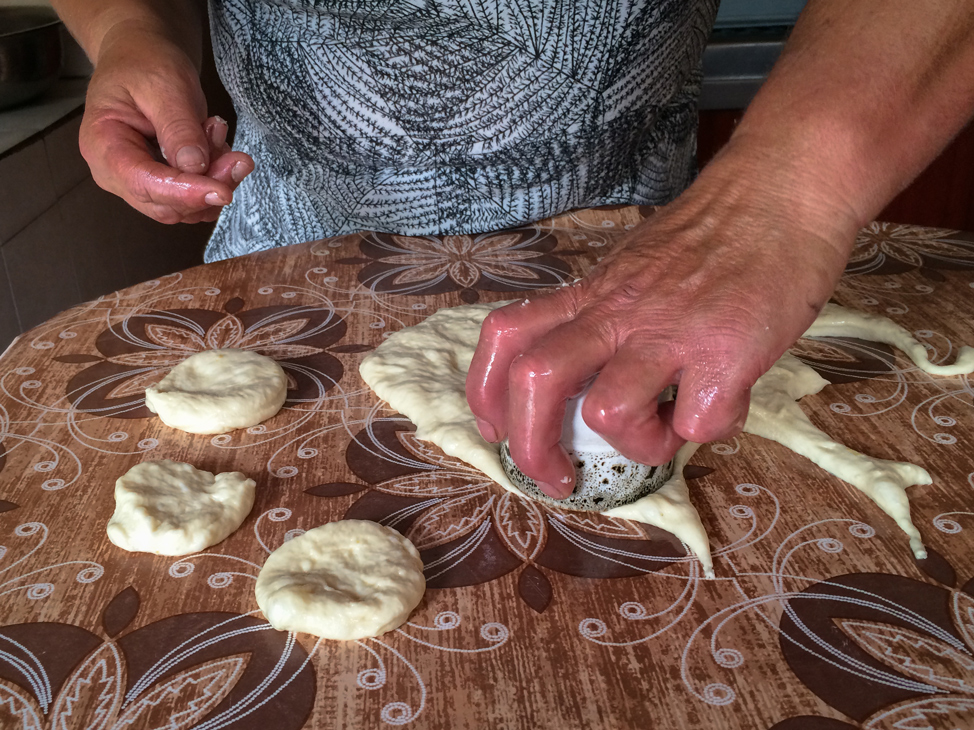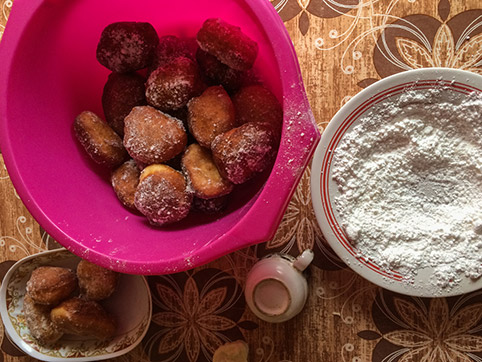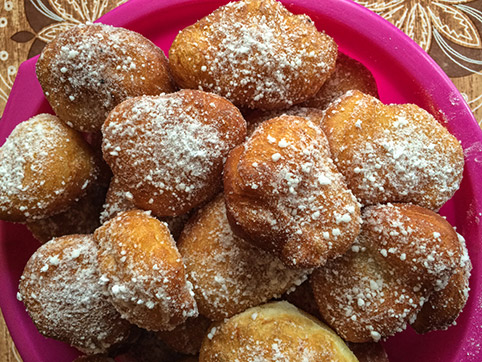 Known as the Romanian donut, Gogosi is pan fried dough tossed with icing sugar. Dalene had the chance to make these with the family during our stay in Sinca Noua and learned the secret ingredient of lemon zest in the dough to give it just a hint of citrus.
We had expected to see dumplings on menus as side dishes or mains, but surprisingly we only found them in the dessert sections topped with fruit or chocolate.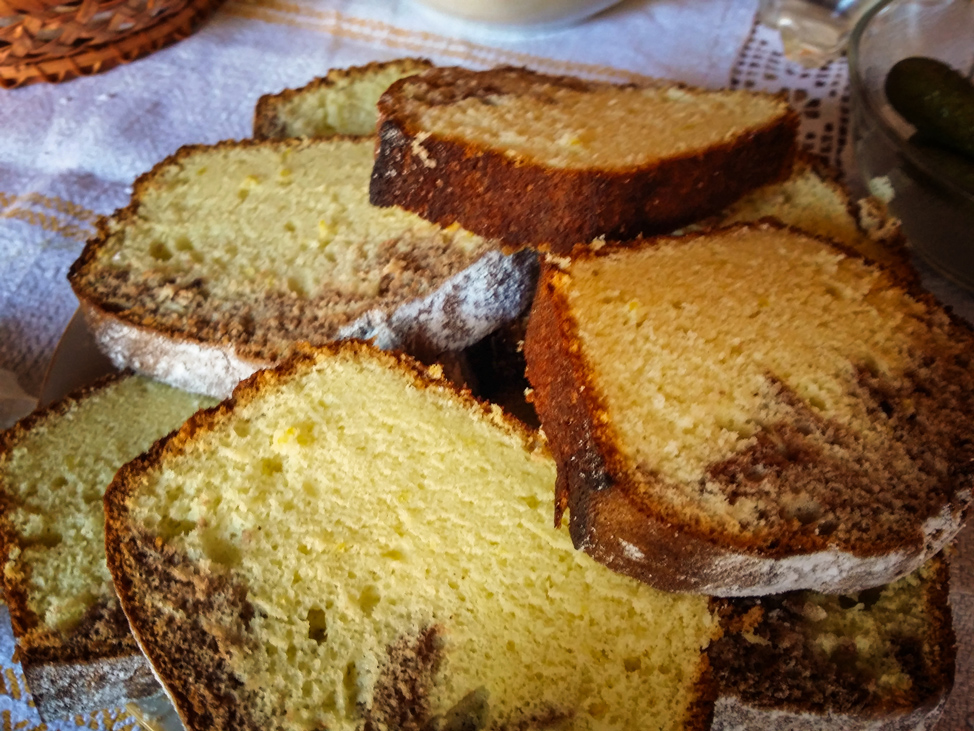 Upon leaving Sinca Noua, our host family gave us a bag of cozonac for the journey. This light pound cake did not last the journey.
drink
I was shocked how much I enjoyed Romanian beer. I was expecting typical lager type brews with not much variety. Instead I found there are some very nice dark beers and best of all, very cheap. The dark beers I enjoyed were Ursus Black and Silva. Dalene enjoyed the Ursus Lemon which is a low alcohol percentage radler type beer, refreshing on a hot day.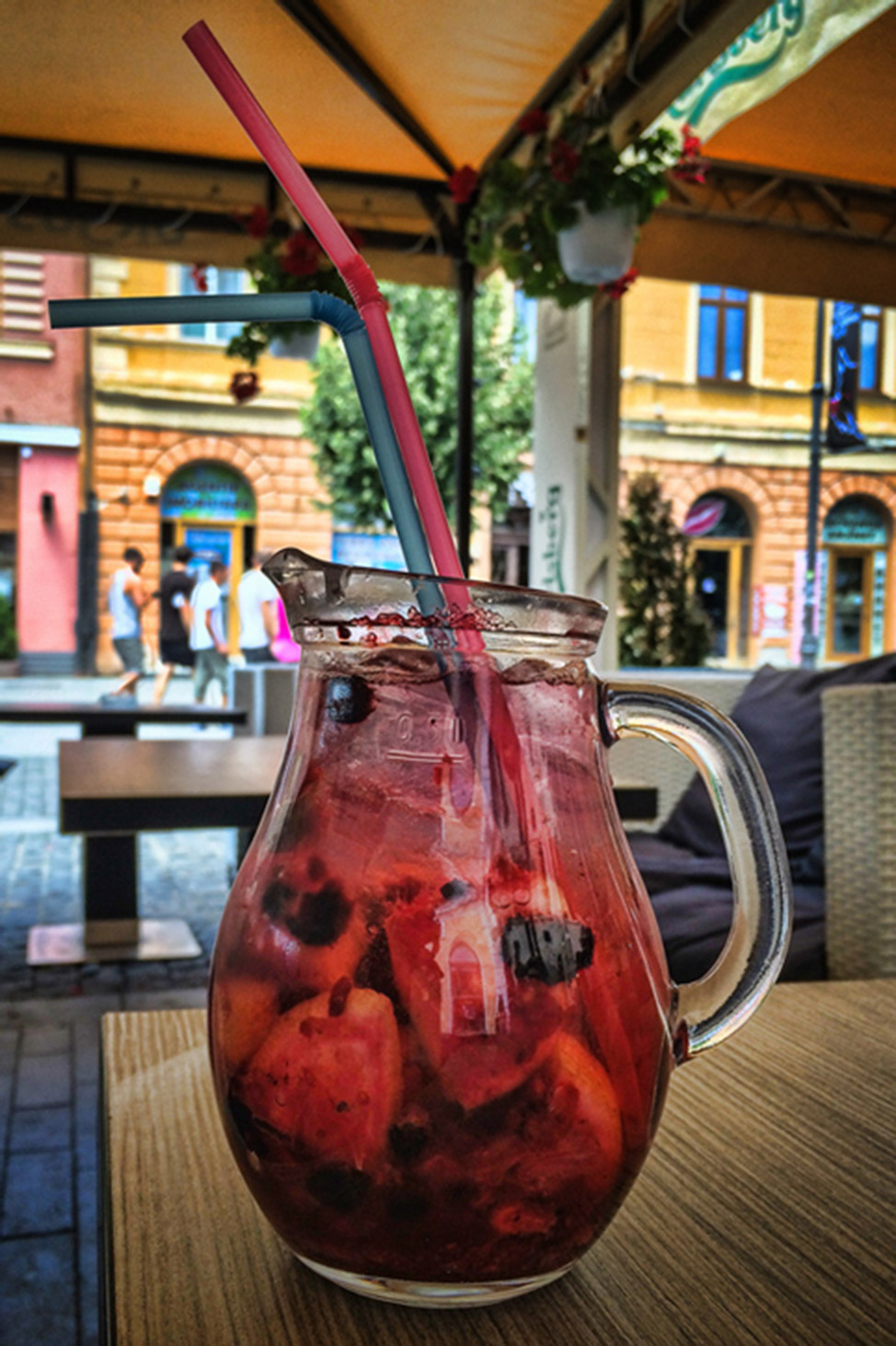 Romania has mastered the art of lemonade. Every restaurant offers it freshly squeezed and some even put there creative spins on the beverage. From basic mint to mixed berries we tried all sorts of blends.
Palinka is a double distilled product with an alcohol percentage between 40-70% and is made from fermented plums. It is found all throughout Romania and we both think that this might be the secret to the long life of the Romanians.
Another popular liquor, vișinată or visne is made by mixing fermented sour cherries with sugar and vodka. The quality of the drink highly depends on the quality of the fruit and it is why it is recommended that the fruit be hand picked. After the 100 days the fruit is filtered out leaving a smooth syrupy goodness.
overall

Our impression of what Romanian food would be like was not far off. Heavy, simple meals consisting mainly of meat and carbs which are intended to stick to one's bones. We enjoyed most of the food, but were excited to find a green leafy salad after a month.
While we stayed over a month, we definitely didn't get a chance to try it all, and a Romanian menu is a diverse one. For more information about Romanian foods, be sure to check out these posts: