Pete Ate P.E.I.
Words by Dalene Heck / Photography by Dalene & Pete Heck
Unless you are talking about tacos in
Mexico
, it is very seldom that we choose destinations based on food. I, on one hand, tend to view food mostly as sustenance. I could regularly eat toast with peanut butter for dinner and be quite satisfied. Pete, on the other hand, has a deeper appreciation. He adores most everything, attempts a greater variety when he cooks, and more fully respects the art of cuisine.So as much as this trip was about
connecting with a part of our country
we know little of – for Pete it was also largely about the food. He's a seafood lover who does not get to indulge often (given that a mere whiff of it can cause me to flee in the opposite direction). In Prince Edward Island, a reputed hotspot for exquisite cuisine featuring everything from the sea, he was in a consistent state of salivation.
Pete, with rampant enthusiasm, ate heartily in search of the best restaurants in P.E.I. It's a fairly small province, so he covered the known culinary treasures with gusto and intense satisfaction. I tagged along, of course, steering him towards places with more diverse menus whenever I could, but sustaining on plates of chicken fingers when a seaside shack serving of fish and chips was his heart's desire. Not a day went by when he didn't consume at least some sort of fish or seafood. (If you can believe it, by the end of our entire trip, he declared himself lobstered-out. Prior to our trip, I didn't think that was possible for him, but that just speaks volumes towards his concerted effort to taste and test them all. He was determined.)
When we weren't exploring side-roads in search of the best beaches in P.E.I., we were scouring online reviews and pestering locals for their tips on the finest places to eat. We were overwhelmingly impressed and eager to share our finds with you. And we must first start by sharing that place Pete returned to over and over.
We scoured online reviews and pestered locals for their tips on the finest restaurants in PEI.
Dave's Lobster
Admittedly, Pete first discovered Dave's when in Saint John, New Brunswick, but because the small chain was actually started in Charlottetown, all credit must be given here. In his quest to find the best lobster roll in the Maritimes (he really ate SO many), Dave's handily won out over the rest. As he says: the minimal yet flavourful dressing (so many other places use far too much) allowed for the true taste of the lobster to shine through.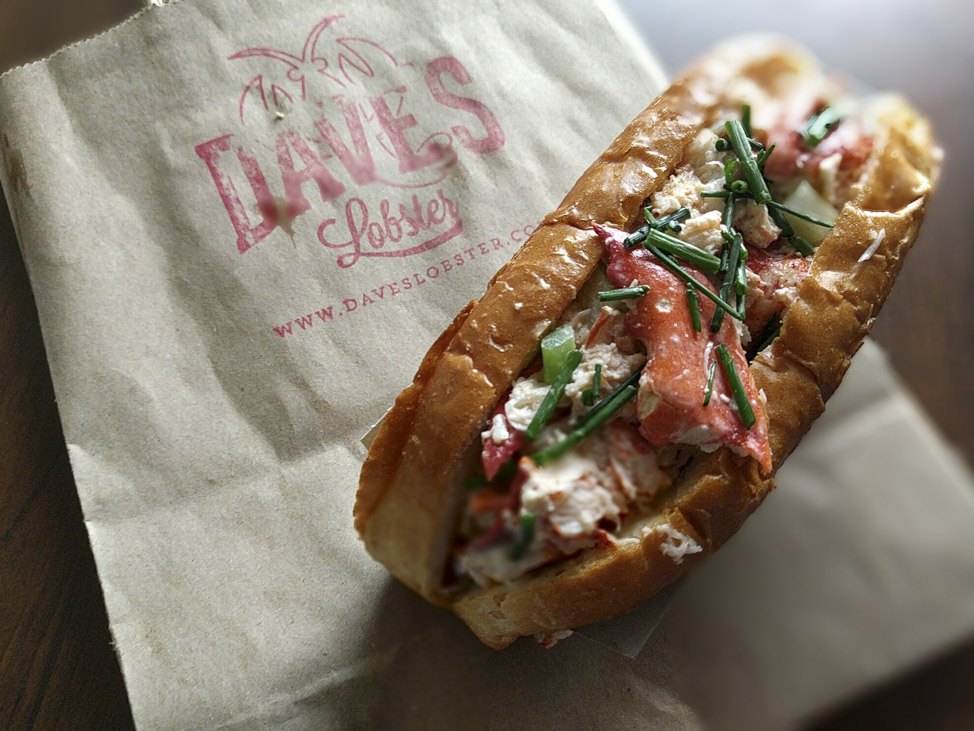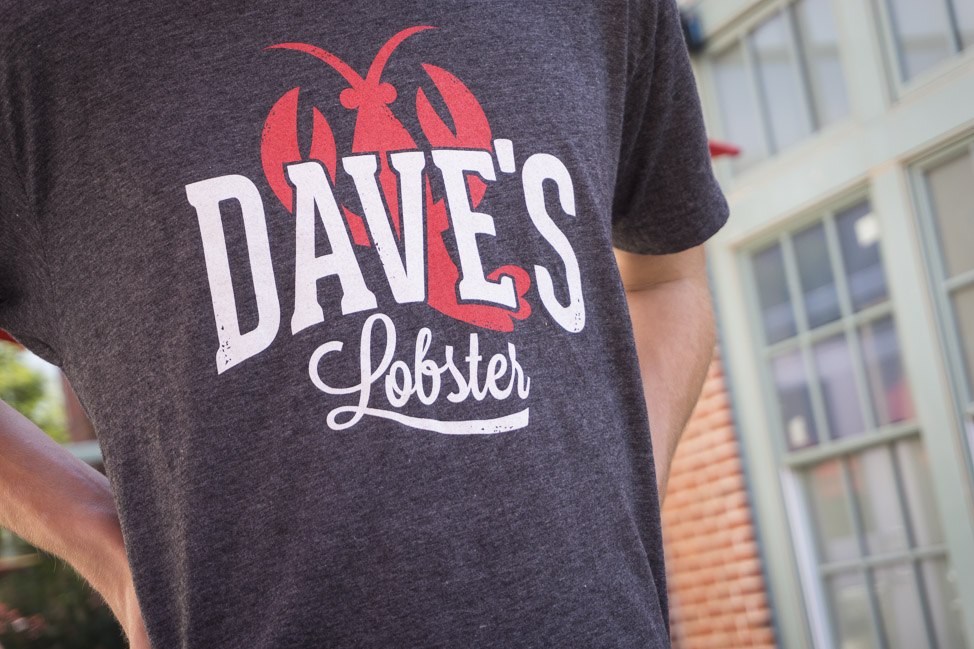 The Chip Shack
This one, I added to the list. Sitting in a bitty bright red shack near the Charlottetown harbour you'll find the best french fry you may ever eat, along with the eccentric owner whose quest is to make the best in the world. There is no doubt that the quality of ingredients is there – the humble potato is a big part of P.E.I.'s economy, producing 30% of Canada's intake alone. Taking one of the best exports of the province and perfecting its method of cooking fresh in front of you makes this as much a cultural experience as it does a culinary one.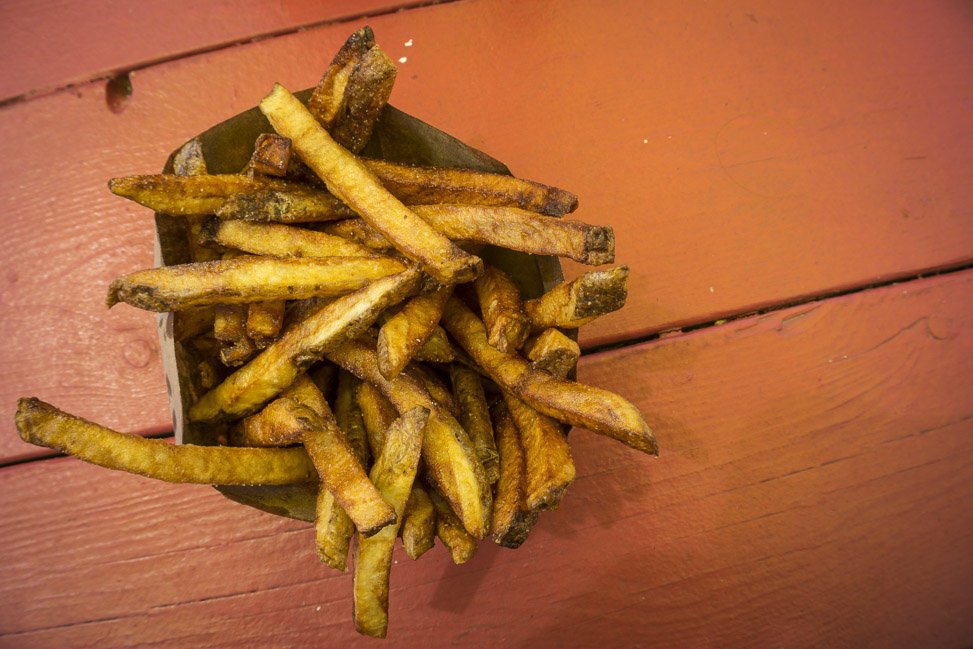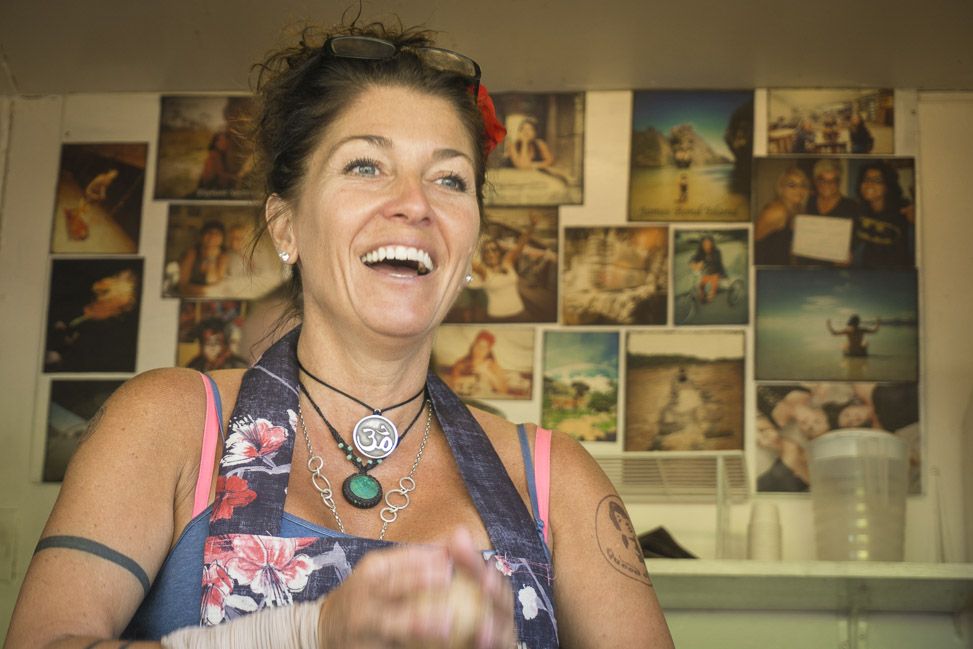 Hopyard
So, part of the appeal of this place comes from its musical offering – order a meal but also choose from a selection of vinyl to hear some vintage tunes with dinner. Add in some truly whimsical fusion food (Pad Thai poutine!), an impressive selection of craft beers, and a little table dancing (so we're told, we never stayed long enough to find out), and this place isn't just a restaurant, it could be a regular hangout.
We ordered up some bahn mi tacos with a side of Fleetwood Mac. The menu changes frequently; we wish we had the luxury of a longer stretch of time in order to try it again.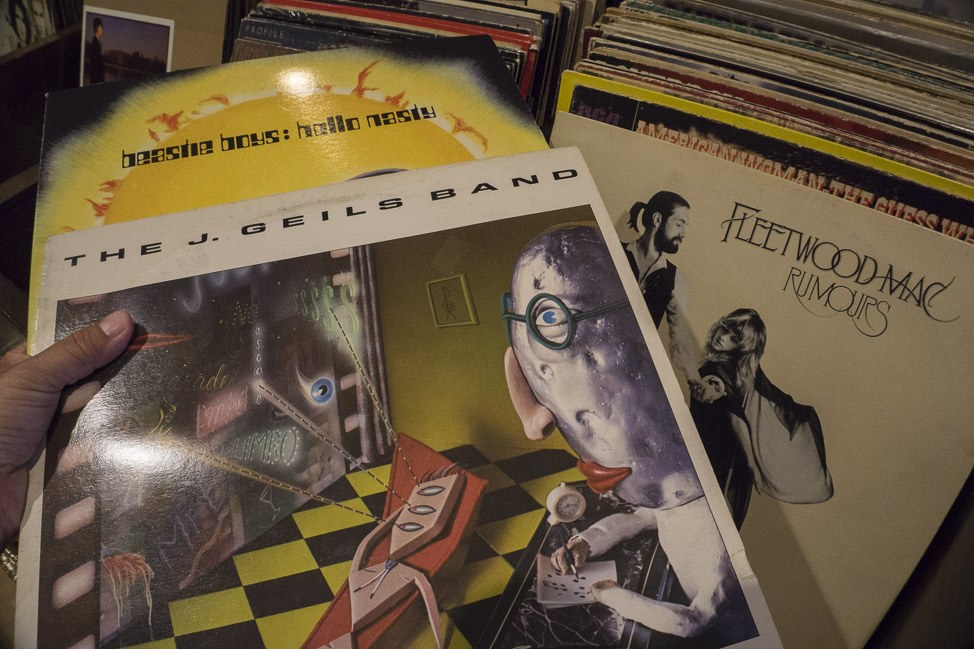 Inn at Bay Fortune
We honestly had no idea what we were getting ourselves into when an evening at the Inn at Bay Fortune was presented to us. Yes, we had heard of Chef Michael Smith, but never expected that the opportunity to feast at his Inn was so attainable.
It started outside, with an array of food and drink stations scattered across the yards. We snacked on grilled tenderloin with chimmichuri and local sausage made from the pigs on the farm, ate oysters shucked by Chef's hand (well, Pete did that), and even sat at a table where Daniel Day Lewis himself had dined recently. We were treated to a full six course meal starting with a humble bread board (which we all squealed over, until the Chef himself actually came by to say: "It's just bread, people")! We ate until we were truly ready to burst but still could not stop ourselves. And as it was served family style, we enjoyed company with people from all over Canada for several hours. It was, without a doubt, the most exquisite culinary experience either of us have ever had. (Maybe becoming food bloggers wouldn't be such a bad idea after all if we could be guaranteed this all of the time.)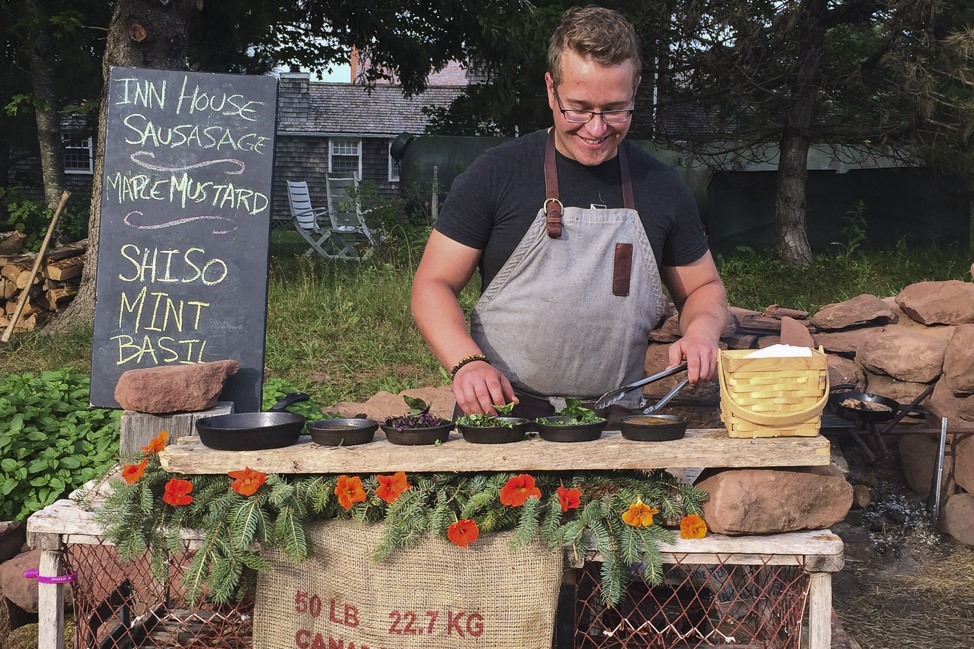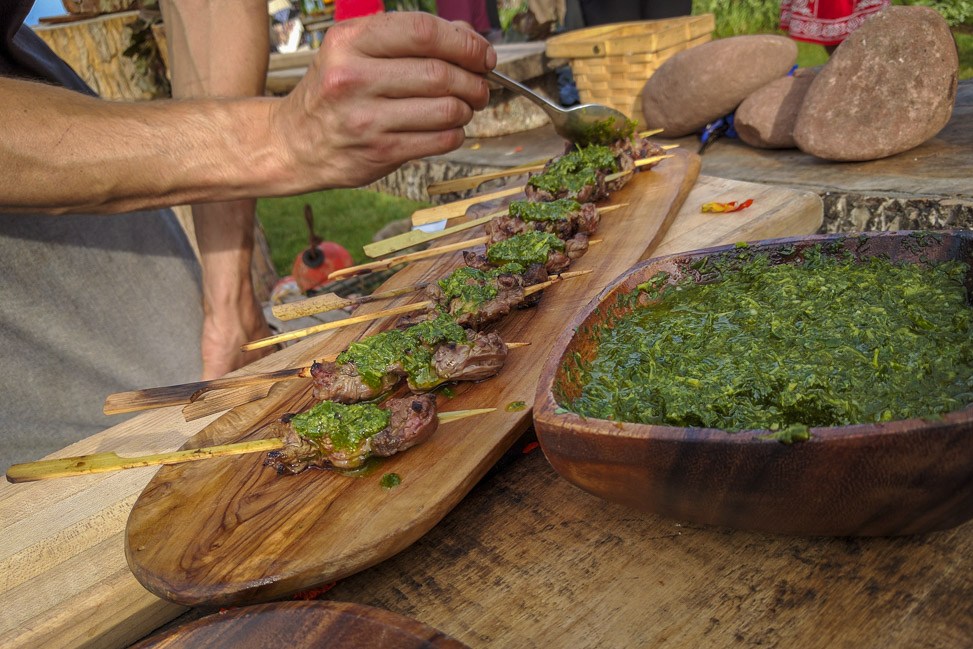 Rick's Fish and Chips
From dining at the table of one of Canada's best chefs to a humble fish shack, Rick's was one of the first mentioned to us, situated near St. Peter's Bay and Greenwich Prince Edward Island National Park. Yes, I relied on my ol' standby chicken fingers at this stop, while Pete tucked into two pieces of haddock and pile of fries, served pseudo-old-timey style on staged newspaper. He found his first piece of fish slightly chewy but the second one worthy of every piece of praise it earns.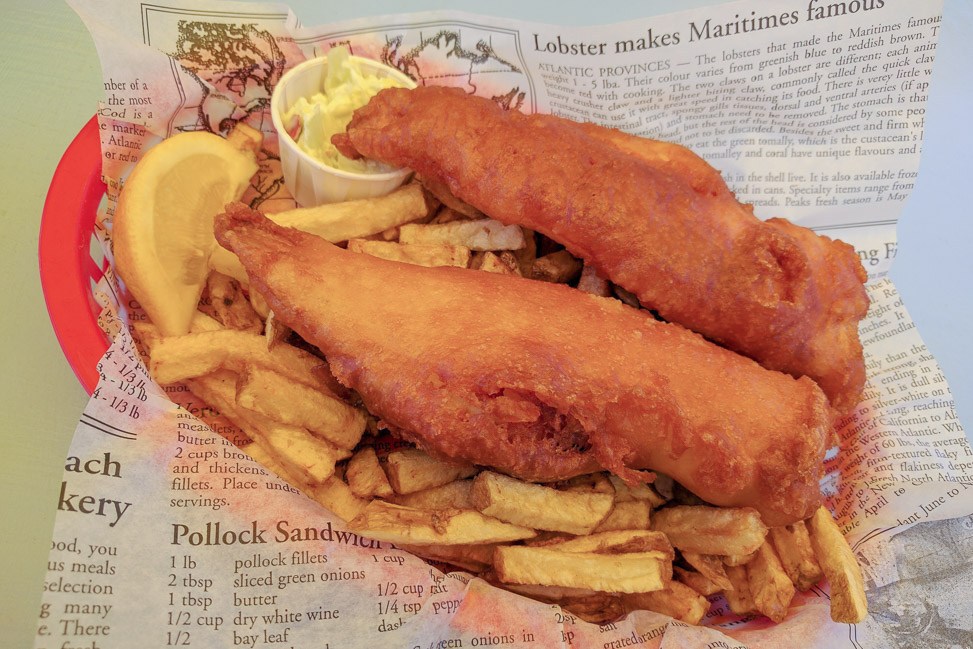 Blue Mussel Cafe
I have a few photos just like this one, with Pete's smiling face above a bowl of fresh mussels. While mussels were a frequent and easy appetizer for him (they're light, just like eating savoury popcorn, he says), this serving in a cafe bearing their name was most memorable. Maybe it was the fact that he sat down to them after a two hour kayak – maybe that is what made them so delectable – but he insists that they were the freshest he had ever eaten. My pasta dish was also impressive, and as always I was grateful for the varied menu.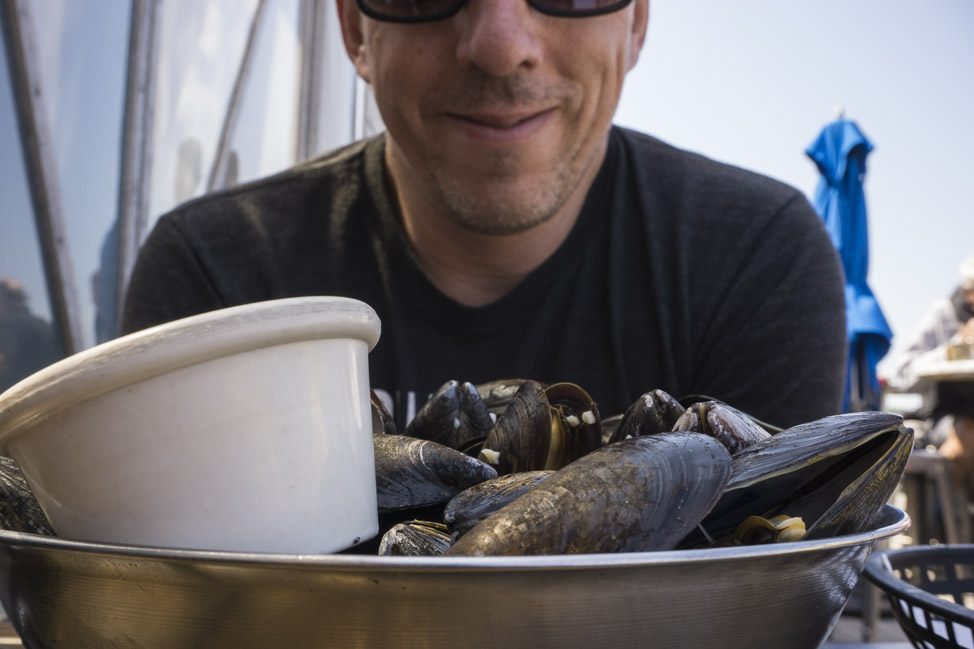 Point Prim Chowder House
Our last stop in P.E.I., before catching the ferry to Nova Scotia, was at the renowned Point Prim Chowder House. We almost ran out of time to visit but were so glad we didn't. Not only did it give us the best restaurant view in all of the province, but we were both equally elated in our seafood/non-seafood wares. Pete enjoyed a lobster roll (no surprise), while I devoured a pulled pork grilled cheese and a golden beet salad.
But really, THIS view. The best part.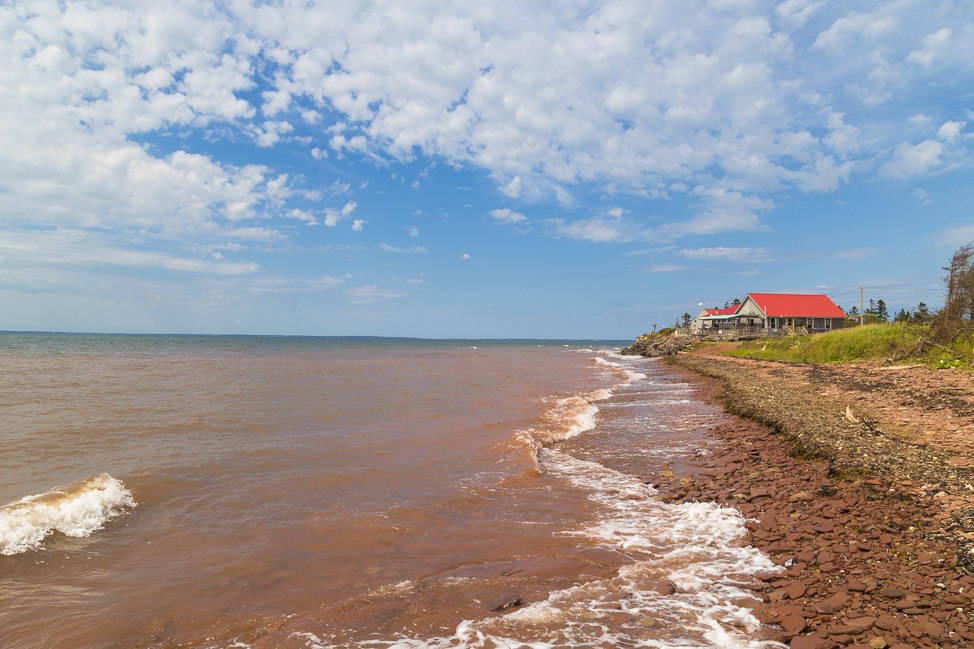 where we stayed and how to do it
We spent one week of our time in P.E.I. right in the heart of Charlottetown at
The Great George
. Yes, we had a fabulous and comfortable apartment for the week and were right in the middle of the action, but there were two specific things that made this stay most memorable. For one, fresh chocolate chip cookies EVERY DAY at reception. For two, there always seemed to be people hanging around in period clothing! At times it felt like we had stepped back into the glory days of when the union of Canada was discussed (Charlottetown is considered
the birthplace of Canadian confederation
). In fact, tours were also available by these costumed folks every day of just the historic hotel grounds. The only slight issue we had with our stay is that there was rarely enough food at breakfast (we seemed to wait every day for fresh stuff to emerge from the kitchen), but overall we could not have asked for a more fitting base from which to enjoy the city and surrounding area.Want to get a good taste of the culinary scene in Charlottetown?
This historic/foodie walking tour
around the core was on our agenda and well worth the time. Some of the spots noted above were included, and we learned everything from the lifecycle of a lobster to which walking stones Canada's Founding Fathers strolled along.
This post was produced by us, brought to you by Tourism P.E.I.