The Best Restaurants in PEI You Need to Eat At
Words by Dalene Heck / Photography by Dalene and Pete Heck (unless noted)
Welcome to Prince Edward Island, Canada, a culinary paradise renowned for its exceptional dining experiences. From charming seaside eateries to elegant fine dining establishments, this island province offers a tantalizing array of gastronomic delights that are sure to satisfy even the most discerning palates.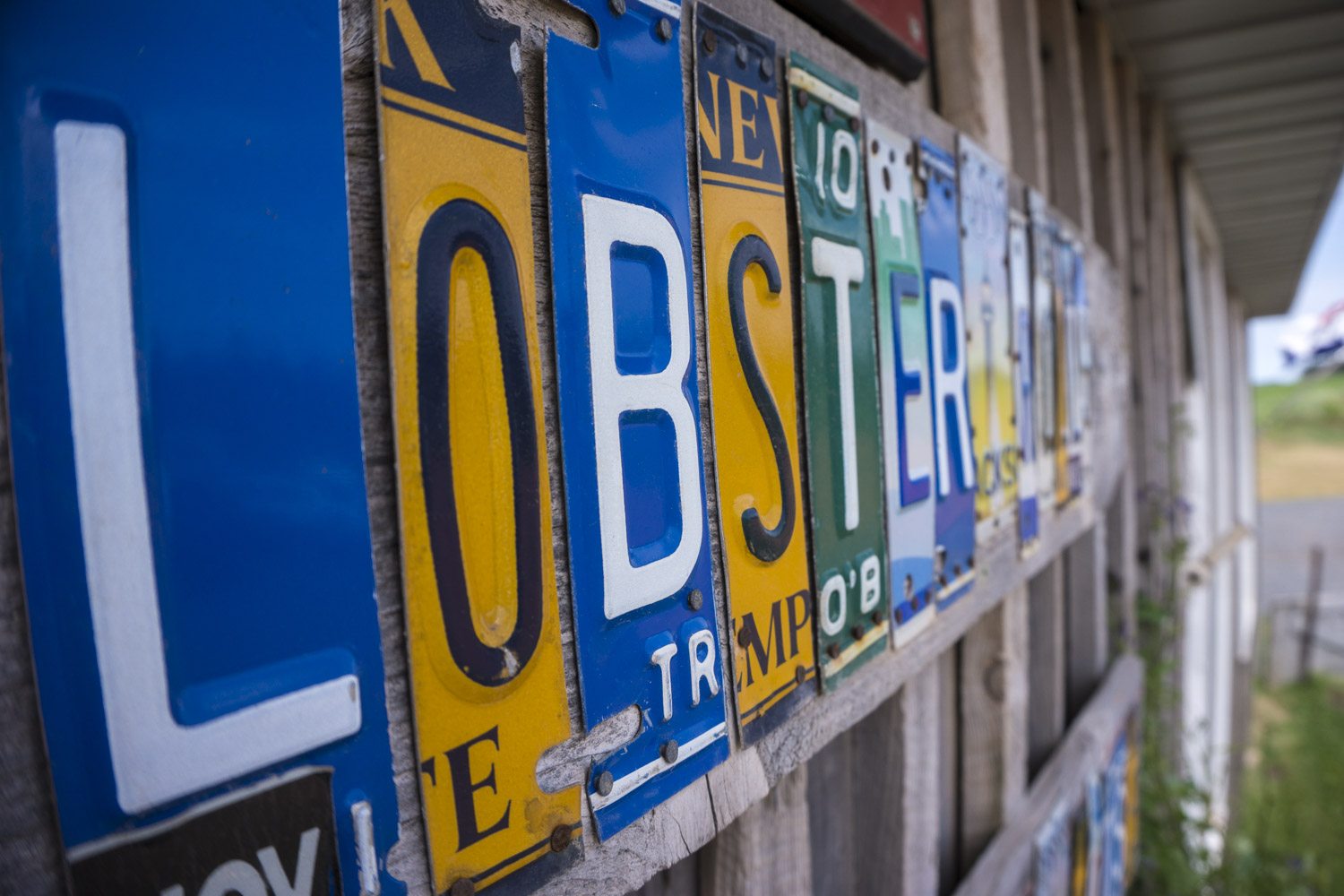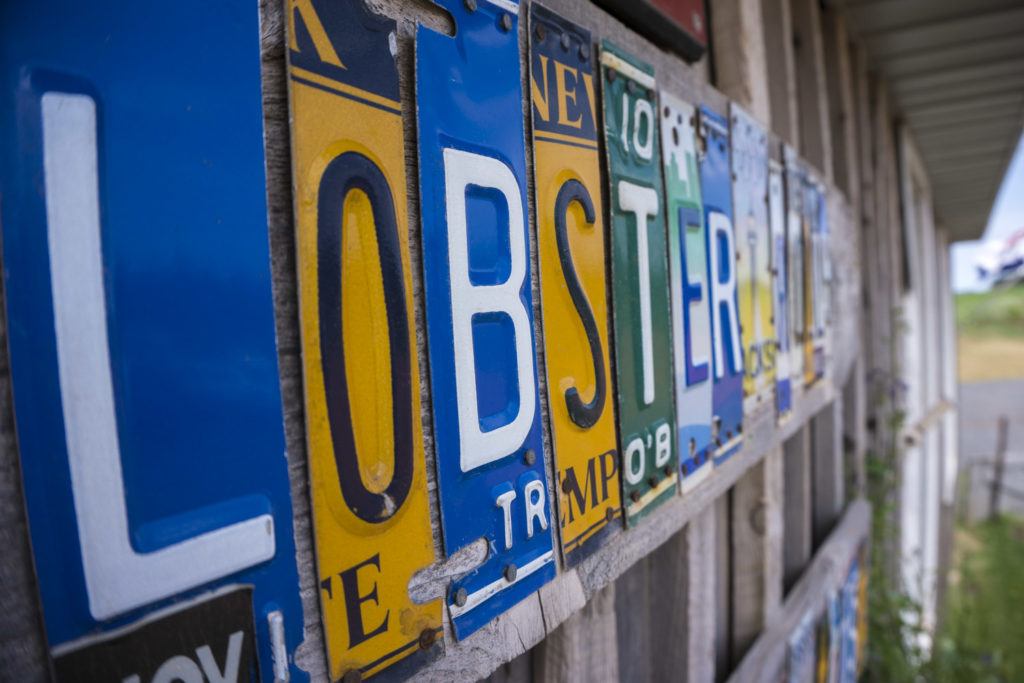 Think fresh seafood dishes, more lobster rolls than you can count, PEI oysters, award-winning seafood chowder, local craft beer, fish tacos, cooked lobster dinners, Island beef, and so much more made with the freshest of local ingredients at great restaurants with an intimate setting.
With its bountiful seafood, farm-fresh ingredients, and vibrant food culture that celebrates local flavours, Prince Edward Island has earned its reputation as a haven for good food enthusiasts. Prepare to embark on a culinary journey where talented chefs showcase their creativity, crafting exquisite dishes that highlight all the flavours of the island's rich culinary heritage.
Whether you're craving succulent fresh PEI lobster, delectable fresh oysters, or innovative farm-to-table creations, the best restaurants on Prince Edward Island are ready to take you on a mouthwatering adventure you won't soon forget.
Find out why Prince Edward Island is called Canada's Food Island by visiting the best restaurants in PEI.
Charlottetown
Immerse yourself in the vibrant energy of this capital city, where the blend of historic and contemporary architecture and restaurants creates a captivating atmosphere. Uncover classic pubs, innovative fusion restaurants, trendy coffee shops, and charming cafes.
Claddagh Oyster House
131 Sydney St, Charlottetown
Fan fave seafood restaurant offering an ever-changing menu, a full bar & wine list in a historic building.
The Claddagh Oyster House serves contemporary and classic cuisine using fresh, local ingredients from land and sea. But it's what their kitchen does with those ingredients that makes them a favourite with Island epicureans.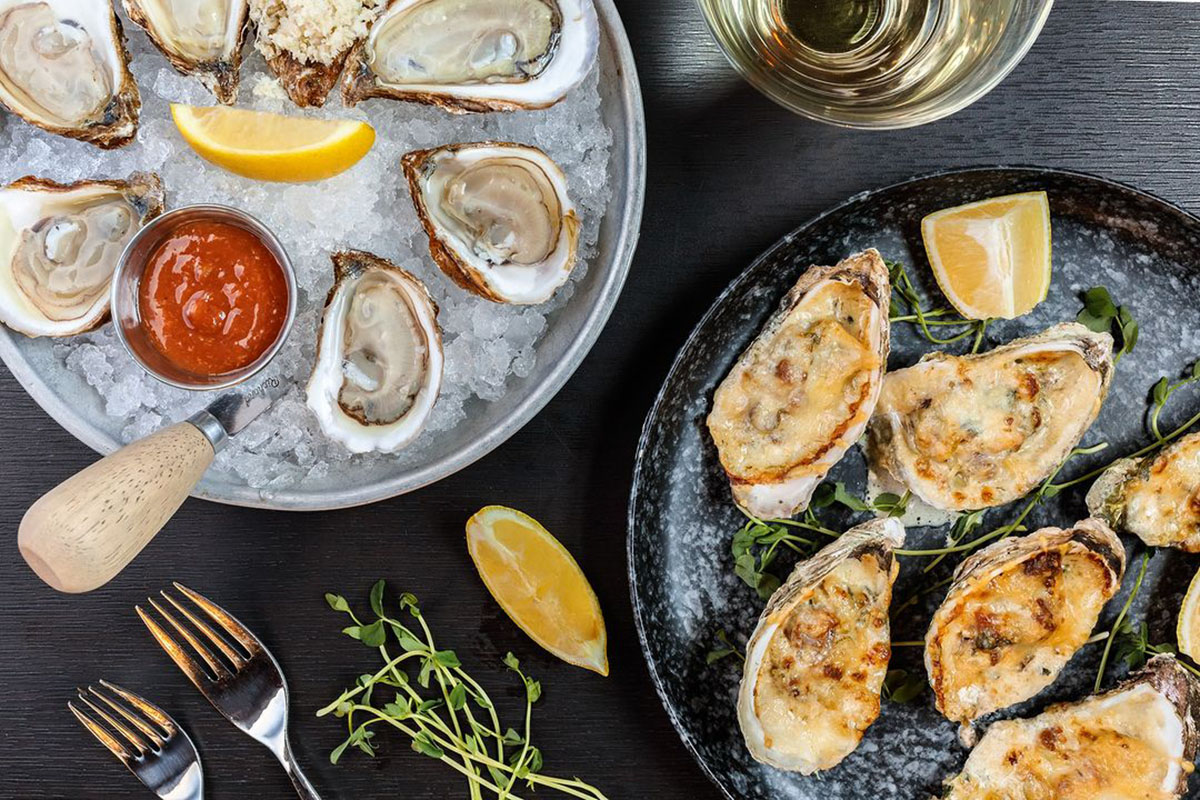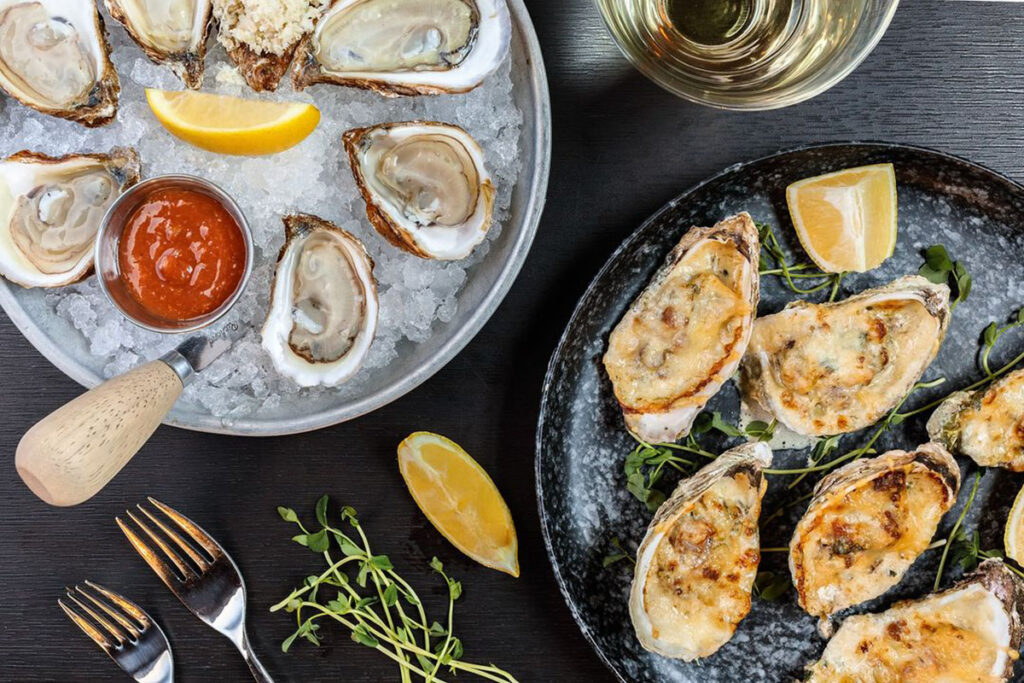 An oyster bar that's known for infusing their distinct signature into every aspect of their culinary creations. From the meticulous preparation of each dish to the artful presentation and thoughtful pairing of flavours, they leave no detail untouched.
The Chip Shack
2 Great George St, Charlottetown
Walk-up window with a selection of classic seafood sandwiches, plates, & poutine with ocean views.
Sitting in a bitty bright red shack near the Charlottetown harbour, you'll find the best french fries you may ever eat, along with the eccentric owner whose quest is to make the best in the world. There is no doubt that the quality of ingredients is there – the humble potato is a big part of Prince Edward Island's economy, producing 30% of Canada's intake alone.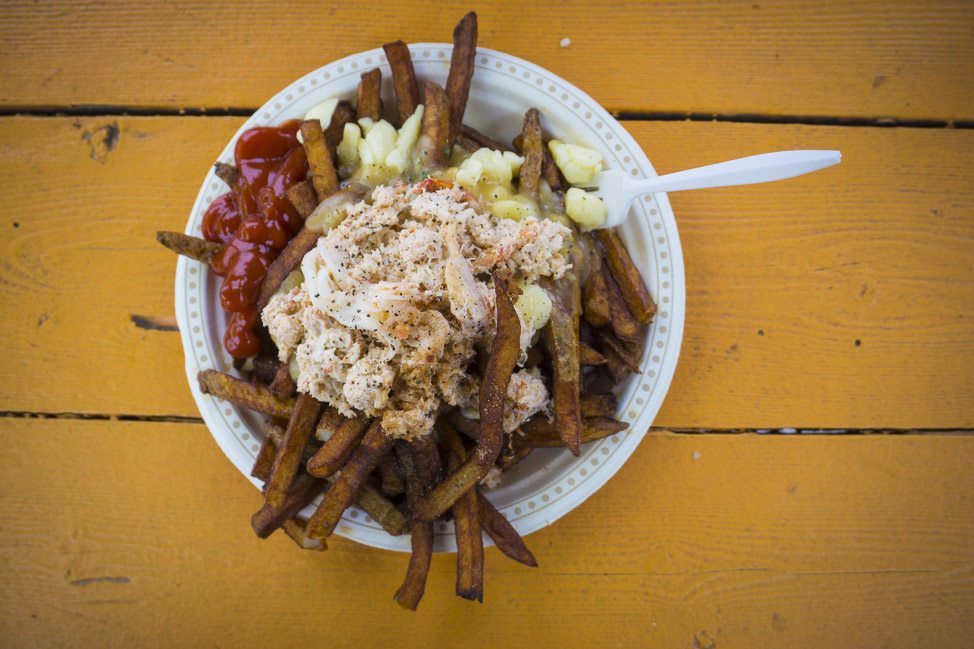 Taking one of the best exports of the province and perfecting its method of cooking fresh in front of you makes this as much a cultural experience as it does a culinary one. It's a small but mighty restaurant.
Dave's Lobster
Peake's Wharf, 5 Great George St, Charlottetown
Offering delicious PEI fresh lobster rolls alongside lobster tacos, grilled cheese & local craft beer.
Admittedly, Pete first discovered Dave's when in Saint John, New Brunswick, but because the small chain was actually started in Charlottetown, all credit must be given here.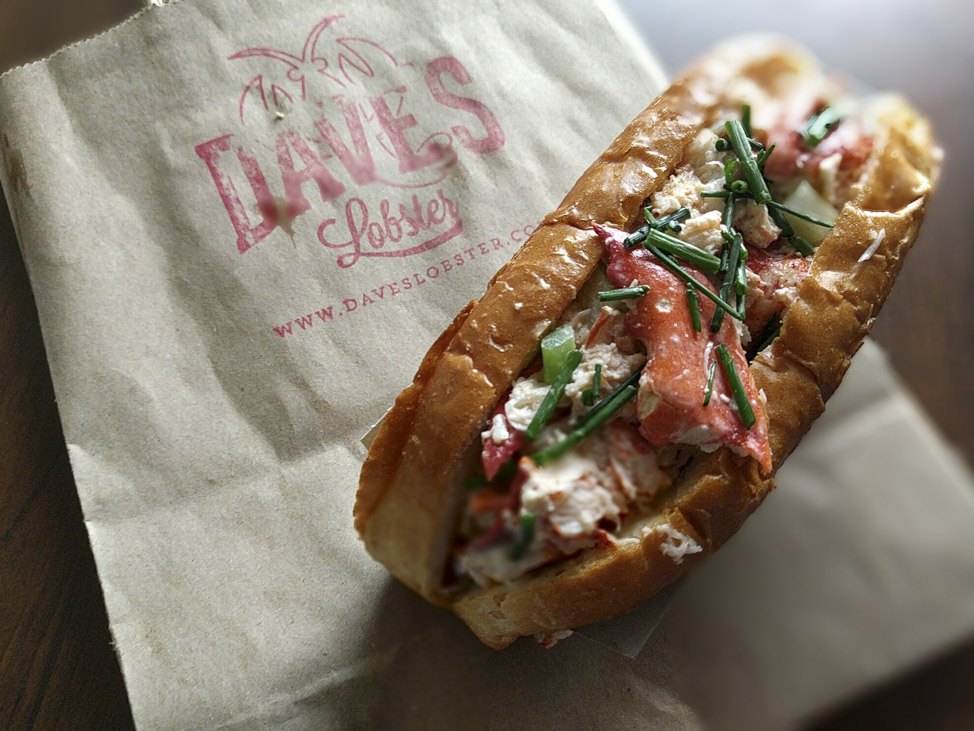 In his quest to find the best lobster roll in the Maritimes (he really ate SO many), Dave's handily won out over the rest. As he says: the minimal yet flavourful dressing (so many other places use far too much) allowed for the true taste of the fresh lobster to shine through.
Hopyard
151 Kent St, Charlottetown
Rotating menu every two weeks, each unique visit offers a wide variety of craft beer and vinyl.
So, part of the appeal of this place comes from its musical offering – order a meal but also choose from a selection of vinyl to hear some vintage tunes with dinner.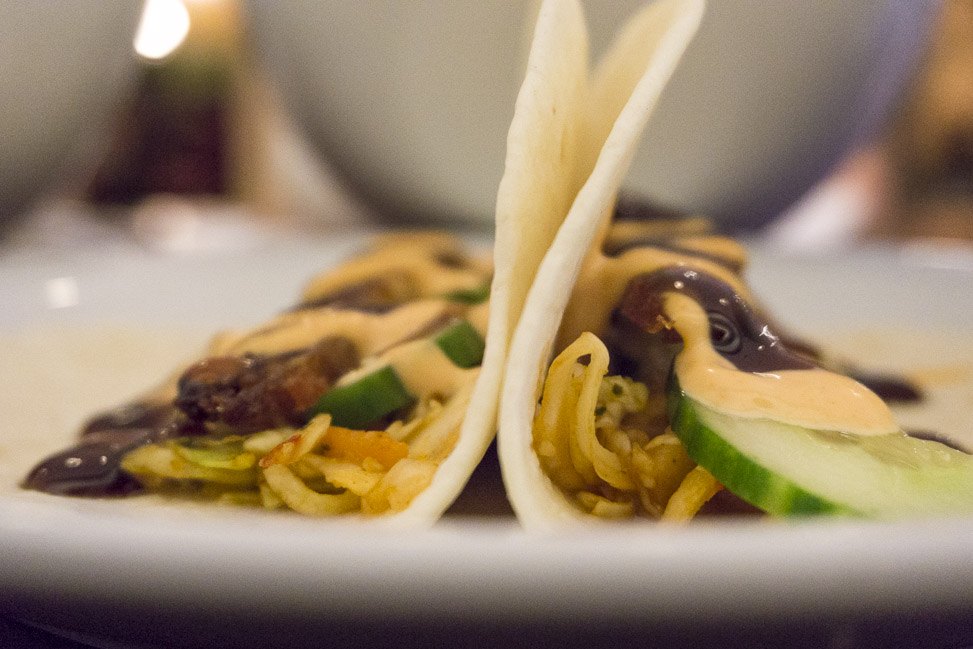 Add in some truly whimsical fusion food (Pad Thai poutine!), an impressive selection of local craft beers, and a little table dancing (so we're told, we never stayed long enough to find out), and this place isn't just a restaurant, it could be a regular hangout.
We ordered up some bahn mi tacos with a side of Fleetwood Mac. The menu changes frequently; we wish we had the luxury of a longer stretch of time in order to try it again.
Points East Coastal
Embrace the allure of the eastern end of the Island, where a plethora of breathtaking beaches awaits, with over 50 to choose from, all within a short distance of each other. Let the guiding beacons of lighthouses along the Points East Coastal Drive lead you to exquisite dining experiences and all the award-winning seafood chowder you could ask for.
Point Prim Chowder House
2150 Point Prim Rd, Belfast
Cheery, rustic eatery offering down-home seafood eats, a full bar & a patio with amazing views of the sea.
Our last stop in Prince Edward Island, before catching the ferry to Nova Scotia, was at the renowned Point Prim Chowder House, a local's favourite PEI restaurant. We almost ran out of time to visit but were so glad we didn't. Not only did it give us the best restaurant view in all of the province, but we were both equally elated in our seafood/non-seafood dishes.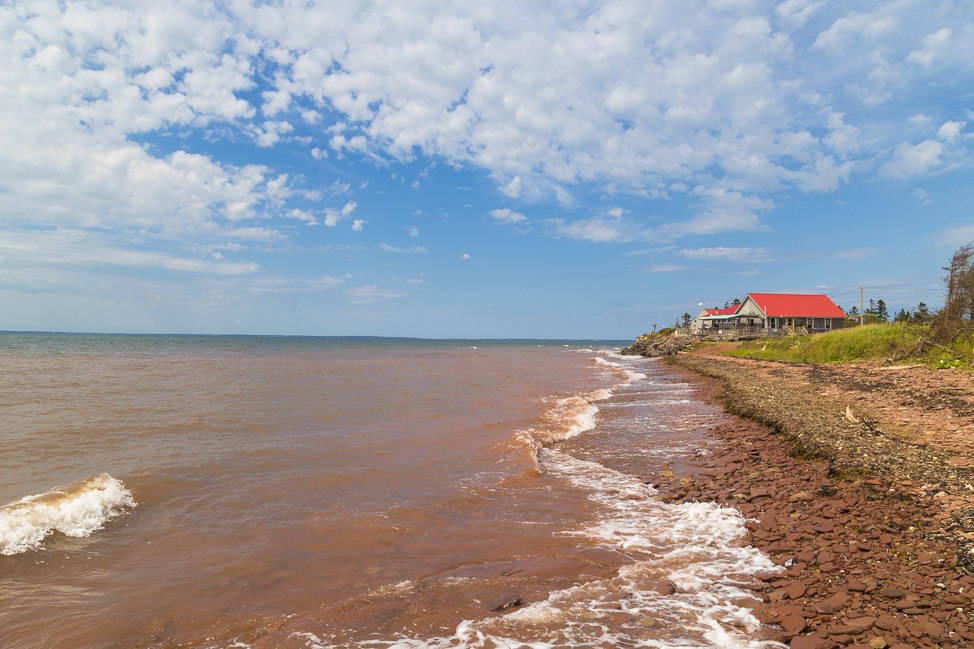 Whether you're a seafood enthusiast or simply seeking a comforting and enjoyable meal, this eatery promises a memorable dining experience in a setting that truly captures the essence of coastal living. Pete enjoyed a fresh lobster roll (no surprise), while I devoured a pulled pork grilled cheese and a golden beet salad.
But really, THIS view. The best part.
Inn at Bay Fortune
758 Route 310, Souris
As a farm first, they grow what they serve at this authentic culinary adventure of a restaurant at an inn.
We honestly had no idea what we were getting ourselves into when an evening at the Inn at Bay Fortune was presented to us. Yes, we had heard of Chef Michael Smith, but never expected that the opportunity to feast at his Inn was so attainable.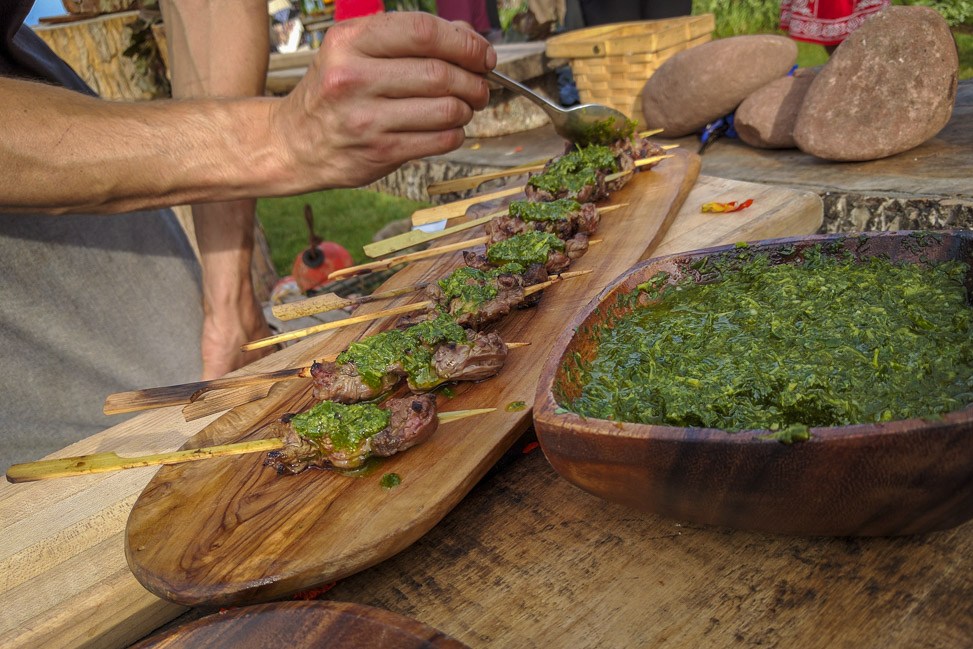 It started outside, with an array of food and drink stations scattered across the yards. We snacked on grilled tenderloin with chimichurri and local sausage made from the pigs on the farm, ate oysters shucked by Chef's hand (well, Pete did that), and even sat at a table where Daniel Day Lewis himself had dined recently.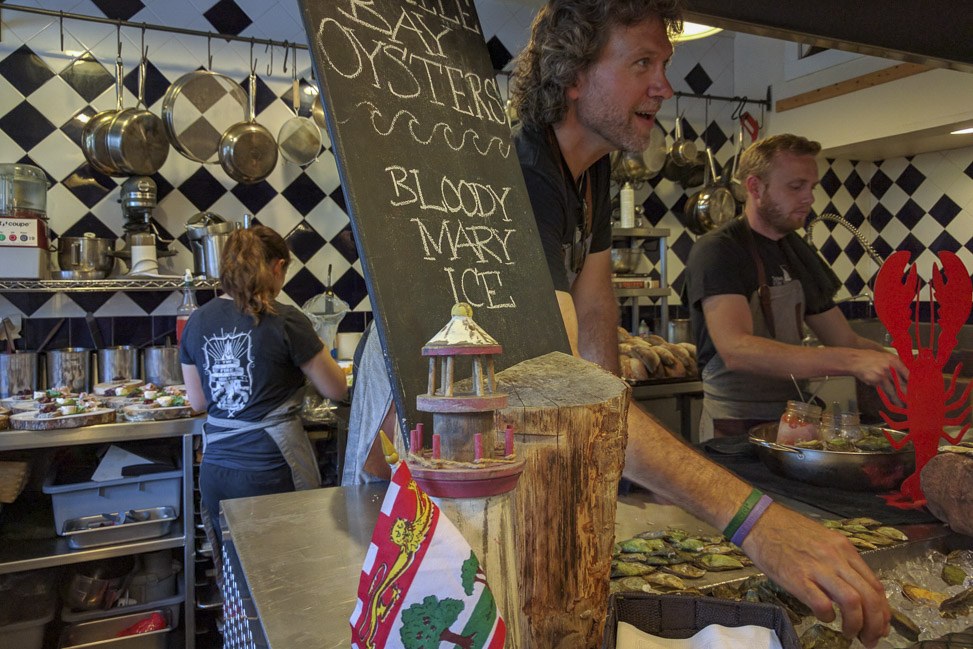 We were treated to a full six-course meal starting with a humble breadboard (which we all squealed over until the Chef himself actually came by to say: "It's just bread, people")!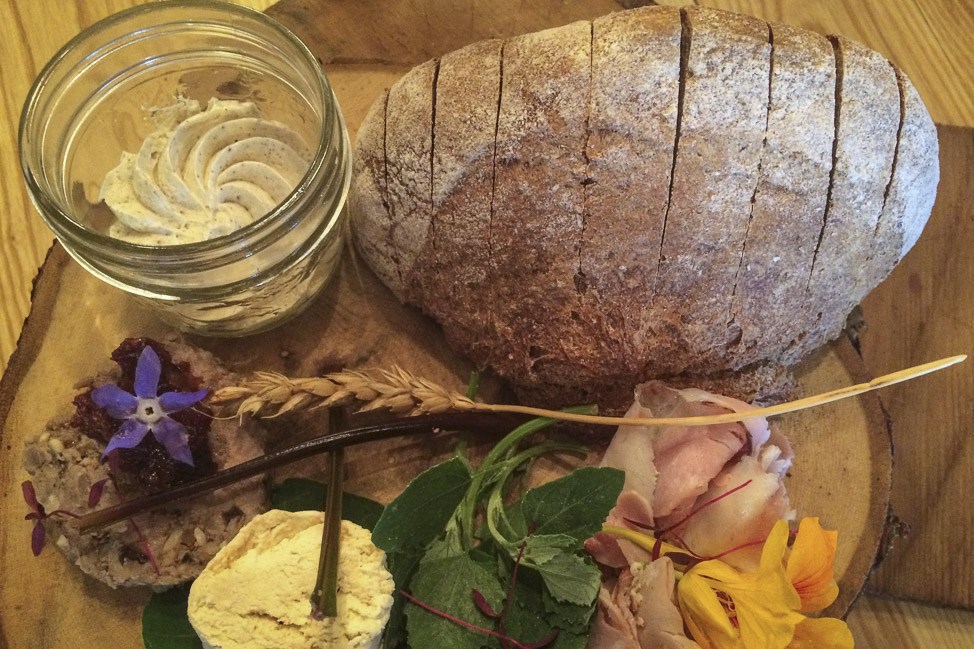 We ate until we were truly ready to burst but still could not stop ourselves. And as it was served family style, we enjoyed the company of people from all over Canada for several hours. It was, without a doubt, the most exquisite culinary experience either of us have ever had, and it's no wonder it's one the most popular restaurants in PEI. (Maybe becoming food bloggers wouldn't be such a bad idea after all if we could be guaranteed this all of the time.)
Rick's Fish and Chips
5544 St Peters Rd, Saint Peters Bay
Veteran eatery serving fish 'n' chips, seafood chowder & other fresh seafood on a sunny patio.
From dining at the table of one of Canada's best chefs to a humble fish shack, Rick's was one of the first mentioned to us, situated near St. Peter's Bay and Greenwich Prince Edward Island National Park.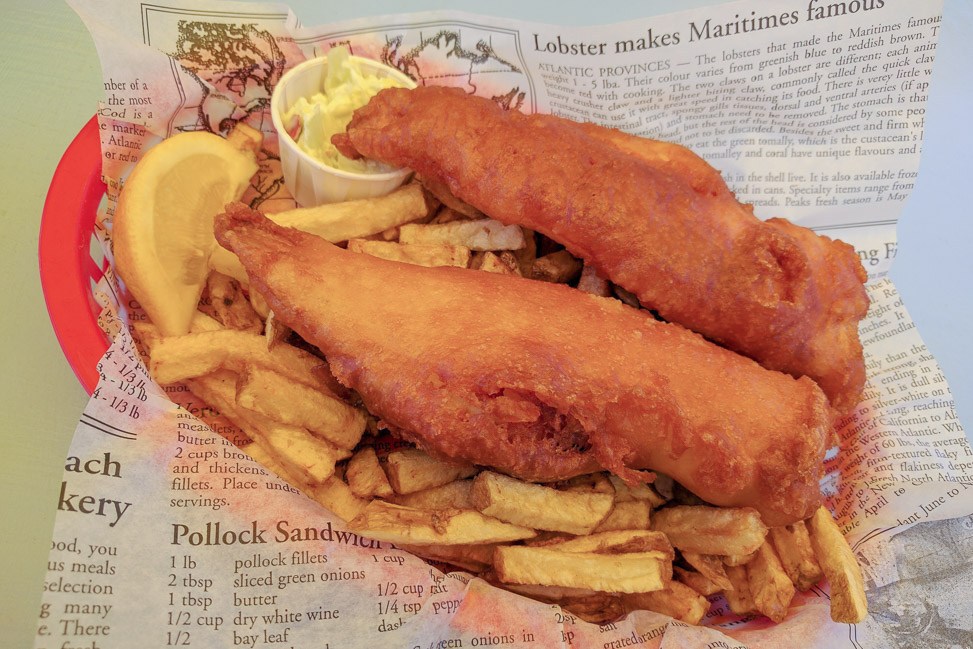 Yes, I relied on my ol' standby chicken fingers at this stop, while Pete tucked into two pieces of haddock and a pile of fries, served pseudo-old-timey style on staged newspaper. He found his first piece of fish slightly chewy but the second one worthy of every piece of praise it earns.
Red Sands Shore
Embark on a journey along the route named for its signature red sand beaches. Here you will enjoy expansive nature trails alongside stops for craft beer, wine, spirits, and cider, with views of the Confederation Bridge.
Lobster Barn Pub & Eatery
19 Main St, Victoria
Proudly owned and operated by locals, this place is a true classic on Prince Edward Island.
Among its many accolades, the Lobster Barn has garnered a well-deserved reputation for serving one of the island's finest lobster rolls. They use local products, organic fresh vegetables, and sustainable fresh seafood dishes whenever possible.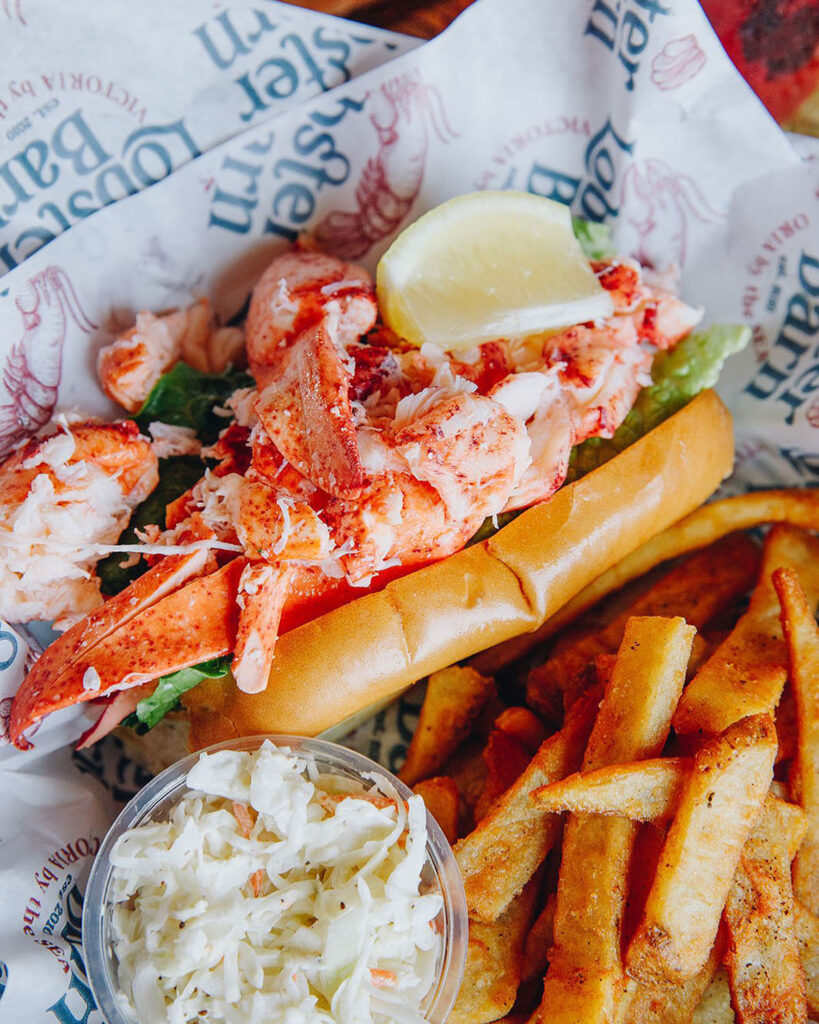 With each bite, you'll get the flavours of the sea and experience a taste sensation that solidifies its place among the best lobster rolls on Prince Edward Island.
Summerside
Within this coastal city, the proximity of coastal boardwalks and cycling trails ensures that you are only a few minutes away from an array of local restaurants and charming cafes. Immerse yourself in the seaside ambiance as you leisurely stroll or cycle along the scenic paths, indulging in the culinary delights that await at every turn.
Brothers 2 Restaurant
618 Water St E, Summerside
Casual joint offering tavern fare, like steak, PEI mussels & burgers, alongside comedic theatre shows.
With a legacy spanning five decades, Brothers 2 proudly celebrates their commitment to bringing the finest flavours of the Island directly to your table. Their dedication to showcasing the best of what Prince Edward Island has to offer has made them a trusted destination for locals and visitors alike.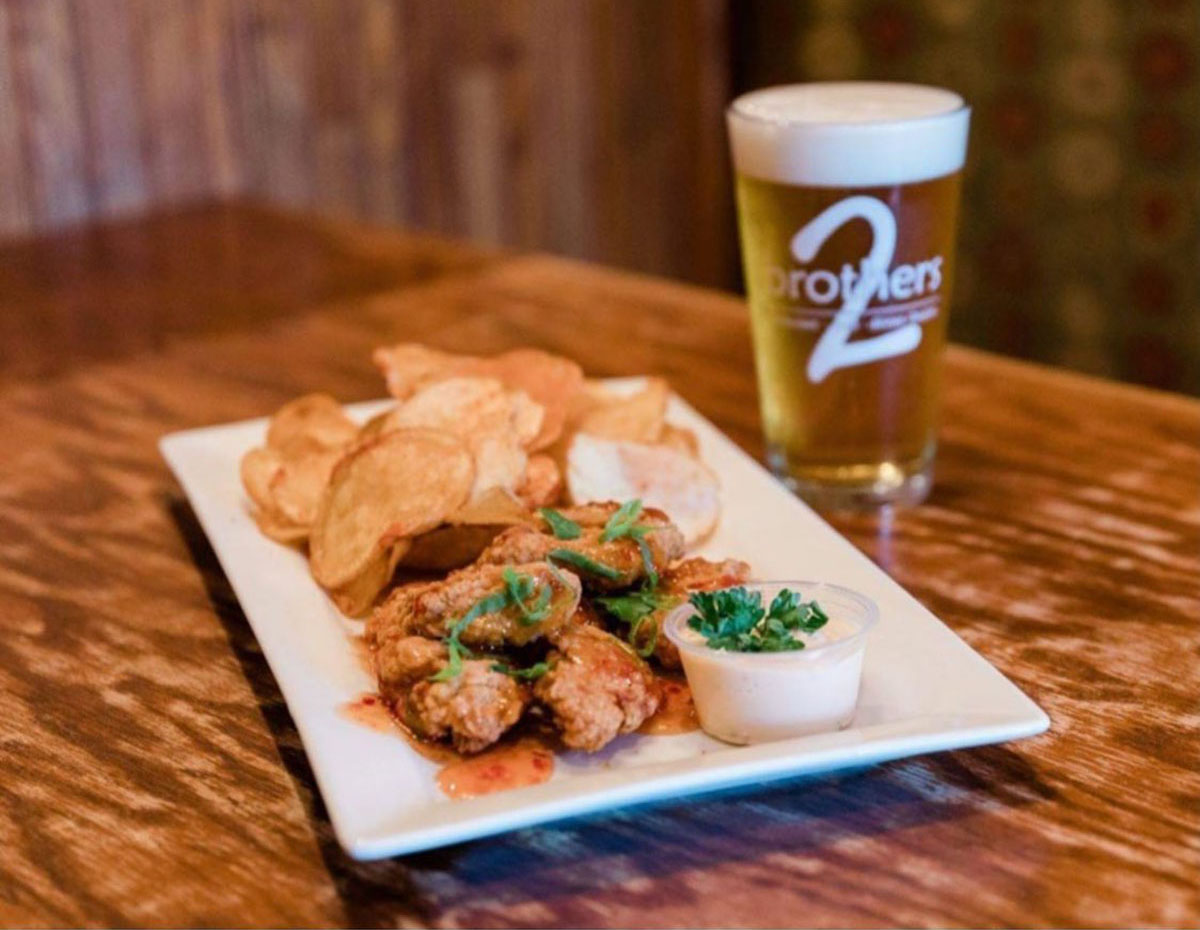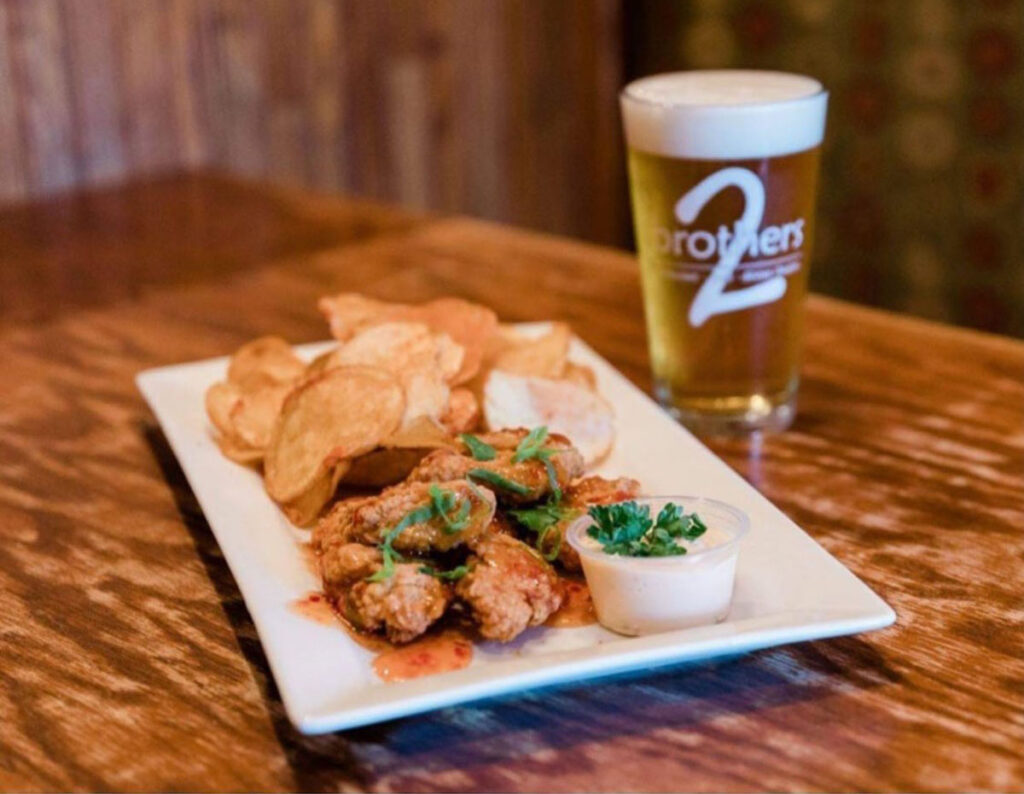 Grab a table as they continue to honour the island's vibrant food culture and share its bounty with you, ensuring a fun dining experience that encapsulates the essence of this wonderful region.
Green Gables Shore
Give in to the charm of the north shore's quaint fishing villages and rural communities, which served as the inspiration for L.M. Montgomery's beloved novel, Anne of Green Gables. Explore the beauty of sandy beaches, and indulge in the tantalizing culinary delights that await on the north shore.
Blue Mussel Cafe
312 Harbourview Dr, North Rustico
Open from May to October, this rustic, low-key eatery features classic seafood grub and outdoor seats.
We have a few photos just like this one, with Pete's smiling face above a bowl of fresh mussels. While mussels were a frequent and easy appetizer for Pete (they're light, just like eating savoury popcorn, he says), this serving in a cafe bearing their name was most memorable.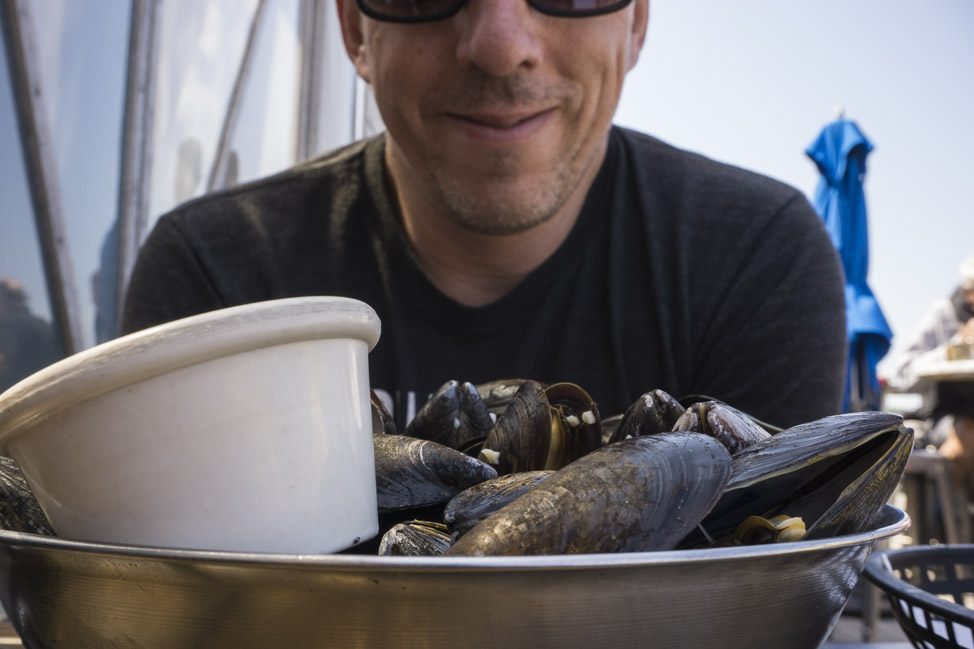 Maybe it was the fact that he sat down to them after a two-hour kayak – maybe that is what made them so delectable – but he insists that they were the freshest he had ever eaten. Also, my pasta dish was also impressive, and as always I was grateful for the varied menu.
The Lost Anchor
8572 Cavendish Rd, New Glasgow
Easy going outpost offering local seafood alongside fish and chips & sandwiches plus patio seating.
Hailed as the home of the "best fish tacos" on PEI, The Lost Anchor also boasts exceptional seafood, refreshing cold beverages, and renowned Island hospitality.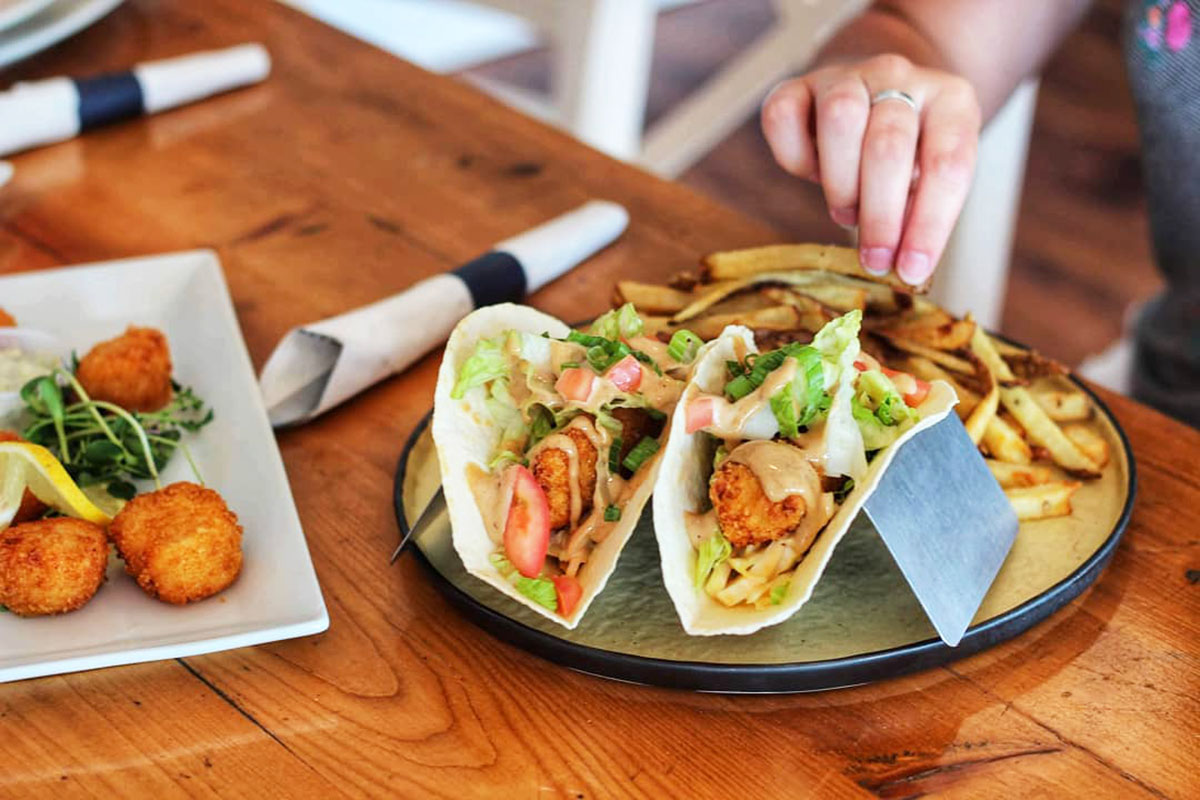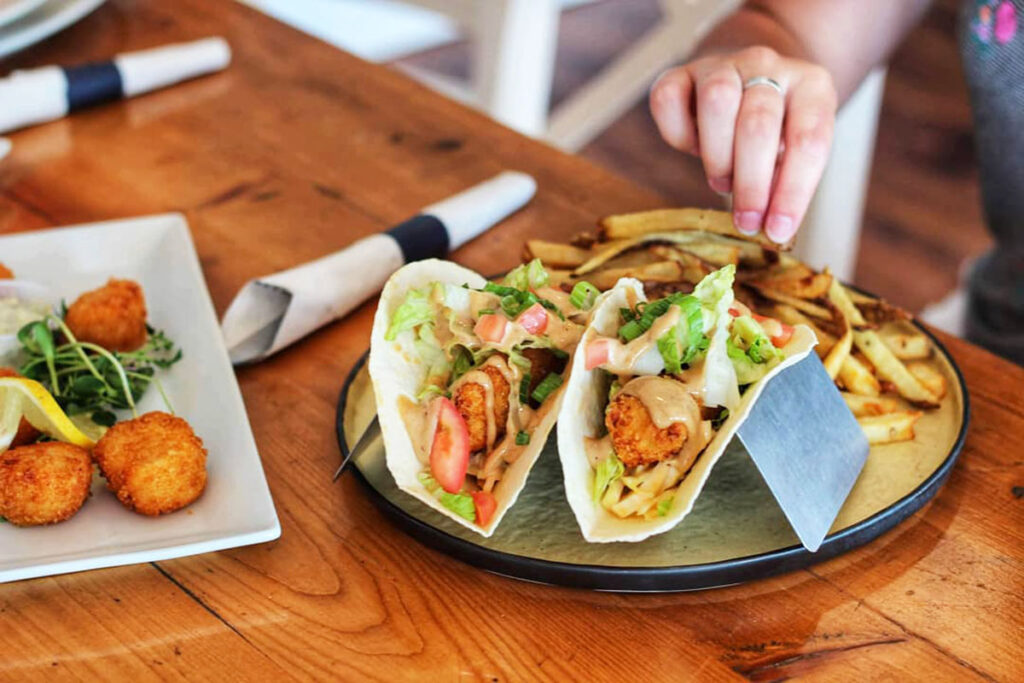 Their mission is to make anyone's day better! They want you to feel great about the food choices you make, and feel better when you leave, than when you arrived.
FiN Folk Food
106 Beach Rd, York
Sit down or take out with surf & turf options of lobster roll, fish tacos, seafood chowder, fish 'n' chips etc.
FiN Folk Food, a charming beachside restaurant on Prince Edward Island, delights patrons with its laid-back atmosphere and a great food menu inspired by the sea. This culinary gem specializes in serving casual fresh seafood dishes alongside innovative dishes that are bound to become new favourites.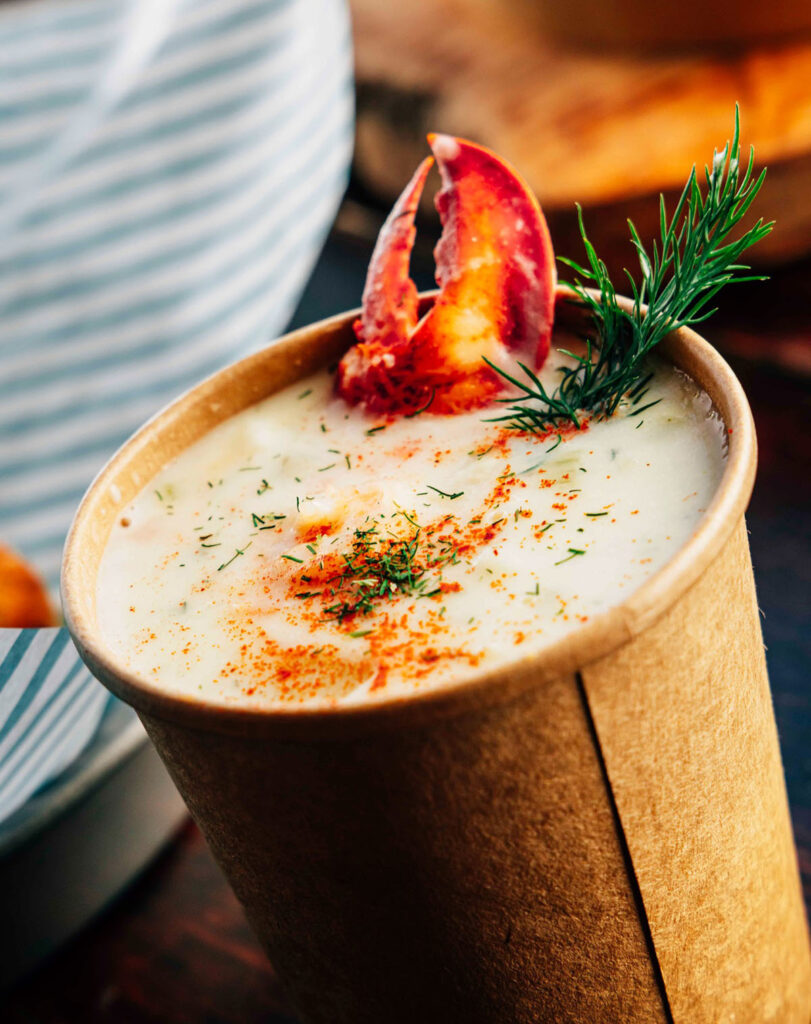 With a strong commitment to supporting local producers, FiN Folk Food proudly showcases the island's finest ingredients, ensuring a fresh and flavourful dining experience. Prepare to embark on a culinary journey that celebrates the essence of Prince Edward Island, where traditional flavours meet inventive culinary twists in a setting that exudes coastal charm.
North Cape Coastal
Venture beyond the striking red cliffs and endless coastline, and you will uncover a world of unique wonders. Explore extraordinary houses constructed from bottles, encounter a towering 14-foot-high giant potato, and discover the acclaimed Oyster capital of the world. The warm, shallow and rich bays and estuaries of the North Cape Coastal Region provide excellent conditions for the world-famous Malpeque Oyster to grow.
Lighthouse Willy's Restaurant
159 Cedar Dunes Park Rd, O'Leary
Open for lunch and dinner Lighthouse Willy's specializes in fresh seafood with a locally cooked lobster dinner option.
Indulge in the ultimate seaside dining experience as you relish an ice-cold drink and savour a feast of fresh mussels, perfectly pan-fried fish, whole lobster, mouthwatering crab cakes, and delicately home-battered haddock.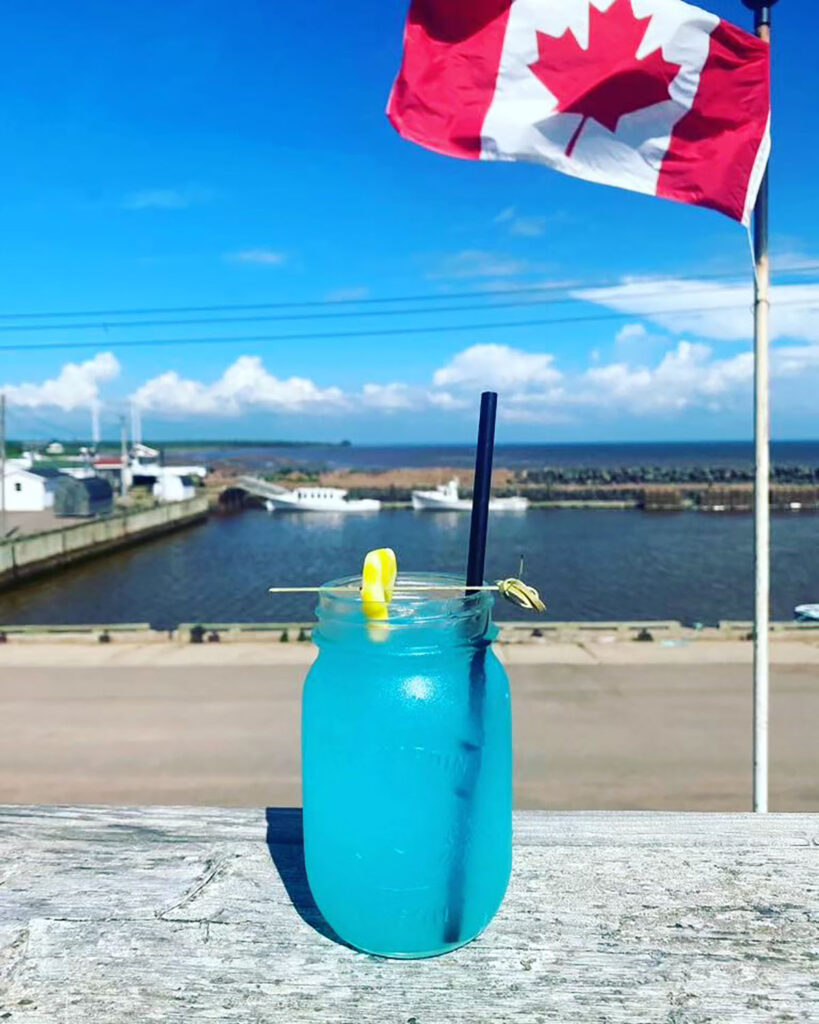 Settle onto the inviting deck and immerse yourself in the picturesque surroundings, taking in the breathtaking view that enhances every bite. Let the gentle sea breeze caress your skin as you delight in the flavours of the ocean, accompanied by the satisfying crunch of perfectly prepared fresh seafood.
This is an opportunity to embrace the essence of coastal living while treating your taste buds to a symphony of flavours, creating memories that will linger long after the meal is over.
Our Experience
Unless you are talking about tacos in Mexico, it is very seldom that we choose destinations based on food. I, on the one hand, tend to view food mostly as sustenance. I could regularly eat toast with peanut butter for dinner and be quite satisfied. Pete, on the other hand, has a deeper appreciation. He adores almost everything, attempts a greater variety when he cooks, and more fully respects the art of cuisine.
So, as much as this trip was about connecting with a part of our country we know little of – for Pete it was also largely about the food. He's a seafood lover who does not get to indulge often (given that a mere whiff of it can cause me to flee in the opposite direction). In Prince Edward Island, a reputed hotspot for exquisite cuisine featuring everything from the sea, he was in a consistent state of salivation.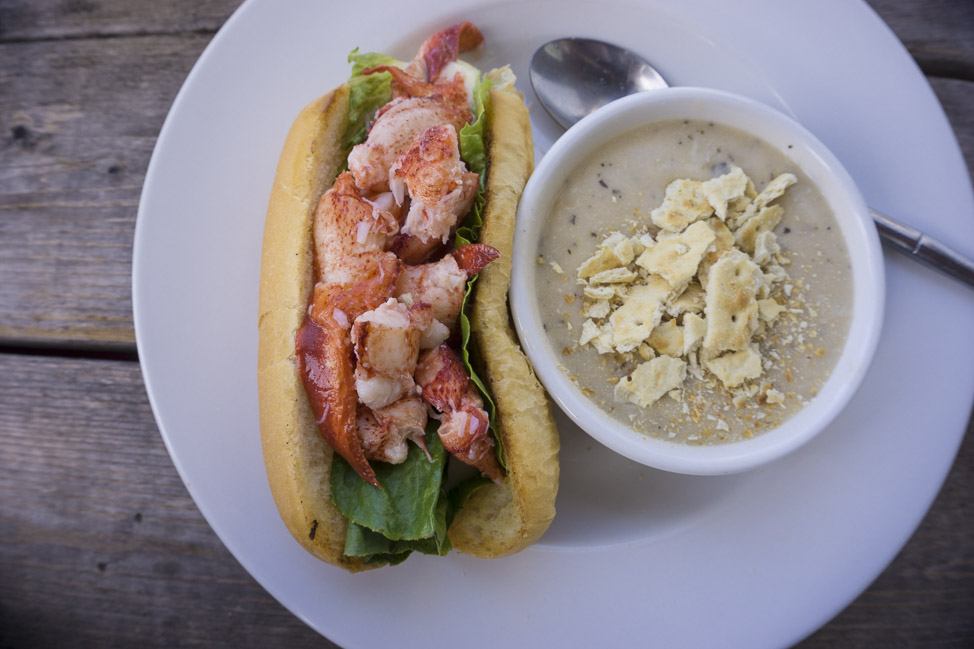 Pete, with rampant enthusiasm, ate heartily in search of the best restaurants in P.E.I. It's a fairly small province, so he covered the known culinary treasures with gusto and intense satisfaction. I tagged along, of course, steering him towards places with more diverse menus whenever I could, but sustaining on plates of chicken fingers when a seaside shack serving of fish and chips was his heart's desire.
Not a day went by when he didn't consume at least some sort of fresh fish or seafood. (If you can believe it, by the end of our entire trip, he declared himself lobstered out. Prior to our trip, I didn't think that was possible for him, but that just speaks volumes about his concerted effort to taste and test them all. He was determined.)
When we weren't exploring side roads in search of the best beaches in P.E.I., we were scouring online reviews and pestering locals for their tips on the finest places to eat. We were overwhelmingly impressed and eager to share our findings with you. And we must first start by sharing that place Pete returned to over and over.
From coast to coast, Canada's Food Island offers an abundance of dining options that will satisfy every craving and delight every palate. Whether you seek to indulge in a hearty traditional meal, savour a culinary masterpiece, satiate your sweet tooth with delectable treats, or grab a quick bite on the go, the island's diverse culinary scene has you covered.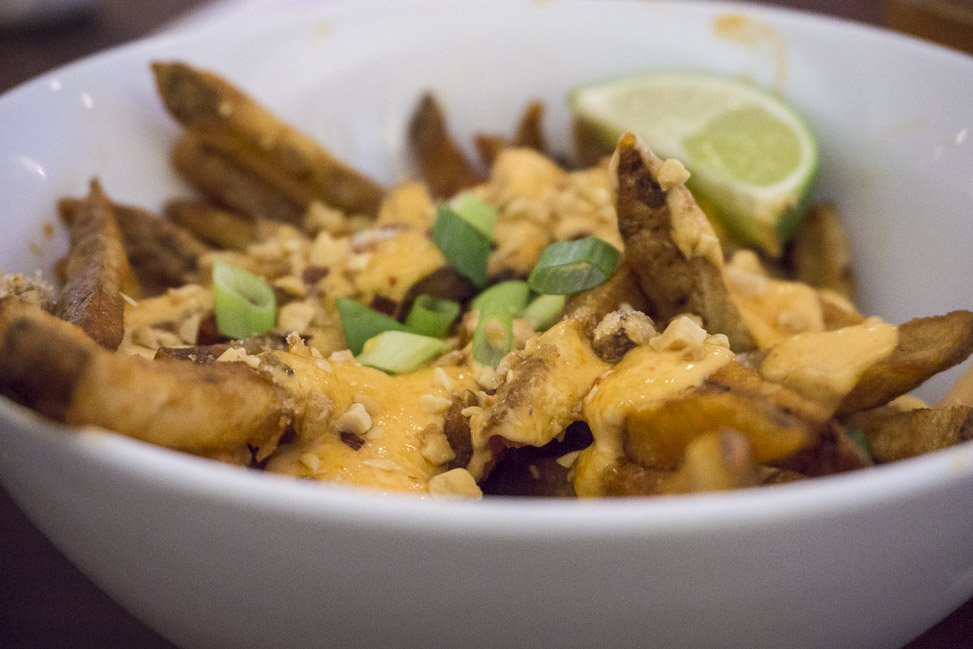 Prepare for a gastronomic adventure that will leave you raving about the unforgettable dining experiences and eagerly sharing stories of where and what you ate. Let Canada's Food Island ignite your taste buds and create lasting culinary memories that will have you longing to return for more.