Up Close With Arcade Fire
From Ireland we made a quick trip to Edinburgh, Scotland for one main reason – to see the band Arcade Fire.  We had watched them perform live twice before, but to see their musical genius against the backdrop of a medieval castle…we just couldn't pass that up.
And then, thanks to a friend working at Universal Music, we were given a photo pass to be able to shoot the event. 
Uh oh.
Obsessed fans become press photographers.

You have to wonder how this will turn out…
**********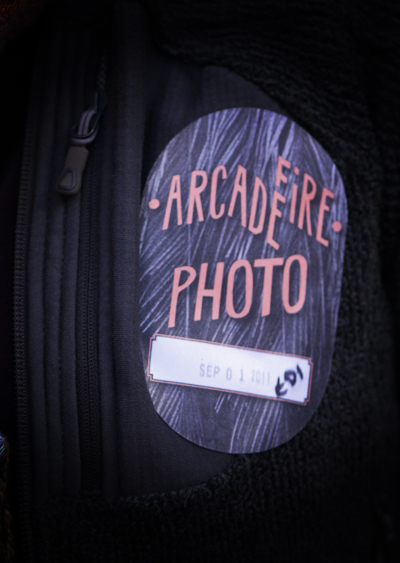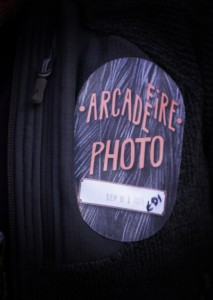 "What do you mean we both can't go?" I asked incredulously, shoving my proof-bearing iPod under his nose and pointing at the screen, "See? It says 'Dalene Heck plus one'!"
"You both don't need to take pictures, right?"
"Yeah…but…" was the best argument I could muster. This is something we'd both been talking about for weeks, I couldn't imagine only one of us getting to do it. I turned to Pete, and knew what he was going to say before he even opened his mouth.
"You have to go," he said, "this is ALL you."
While we both have an intense love for every sound uttered by the band Arcade Fire, mine is a love that borders on scary obsession. As much as he wanted to do this, he knew exactly what this experience would mean to me.  My gawd, I love him.
I waited ten painstaking minutes with the other photographers and then we were lead through the crowds to the stage. Single file up the right side, I felt like a minor celebrity being guided to the front of the line. Fans parted to let us pass, many commenting that they were jealous of the privilege our big cameras afforded us.  I felt so important.
Soon enough though, that elated feeling was lost, and I felt like a complete fraud. Myself and the five other photographers stood in front of the protective gate just before the stage, thousands packed in the crowd behind us. We all began taking practice shots with our cameras.
None of mine were working out.
Why the f#$% couldn't Pete be here? I thought, fiddling with all the knobs, trying different settings. F-stop, ISO, up, down. Pictures were blurry and I couldn't get the shutter speed fast enough. I looked at the professionals around me, all settled into their routines and waiting for the show to start. Dare I ask for help? I'm sure Amy would help me, she's awfully nice. However, she's also working for Spin Magazine. How embarrassing would that be.
Still blurry. Panic rose.
Deep breaths. Think, think, think. And then it dawned on me, the stage was currently near pitch black. None of the stage lights were on yet. Of course pictures would be easier to take once the show actually started.
I am such a rookie. SUCH a fraud.
Heart in throat, palms sweating. How am I supposed to take good pictures if my hands are shaking?
The crowd started to cheer wildly, and just out of my view at the back of the stage, the band filtered in.
Camera aimed, I tried to stay steady.
They opened with "Ready To Start". Snap snap snap. The other photographers were weaving around each other to get different angles so I started weaving too.
Why do rock stars have to move so much?
What is with the yellow and green lighting? That is not very flattering for the band members.
Why the f#$% couldn't Pete be here?  More weaving from one side of the stage to the other. My finger continuously pressed the shutter release, I didn't even stop to look at what pictures I was taking.
Suddenly, our time was over. Three songs, fifteen minutes, and about six hundred photos later, we were escorted from the stage and beyond the barricades. I stumbled in a daze back to find Pete at our seats. I met his open arms and barrage of kisses; he told me how proud he was and was so excited to see the pictures I took.  
Oh gawd.
Please let me have taken a few good pictures.
I swayed along to the continuing music but really had no idea what songs were being played, which is remarkable for someone who knows every single lyric by heart. I was completely zoned out. I even turned to Pete at one point and asked what songs they played while I was up there – I couldn't remember anything past the opener. "Keep The Car Running and No Cars Go," he responded, smiling.
And then it started. The first few bars of my favorite song, "Wake Up". This song has the ability to bring forth a raucous wave of emotions on a good day.
Look up, look up. That's supposed to stop tears from coming, right?
Somethin' filled up
My heart with nothin'
Someone told me not to cry.
Closing my eyes. Maybe that will work.
Children wake up
Hold your mistake up
Before they turn the summer into dust
The crescendo of the song began to build. I knew it was hopeless.
We're just a million little gods causin' rain storms, turnin' every good thing to rust
I guess we'll just have to adjussstttt……
Tears began to creep out of the corner of my left eye, and then soon began a free flow from both. All the adrenaline, all the emotion from the evening caught up to me in that moment. I cried for the blur of the day, the hope in the music, the beauty of the ancient castle backdrop, and for the memory of the first time I saw them perform live with my sweet departed sister.
I just let it go.
With my lightnin' bolts a glowin'
I can see where I am, go, go, where I am
You'd better look out below!
**********
From the 600 photos I snapped at the stage, thankfully a few did turn out!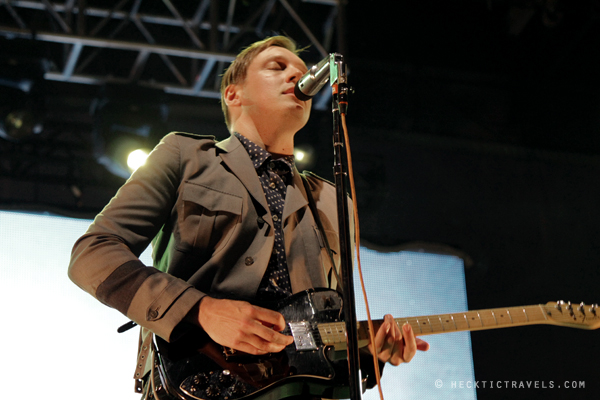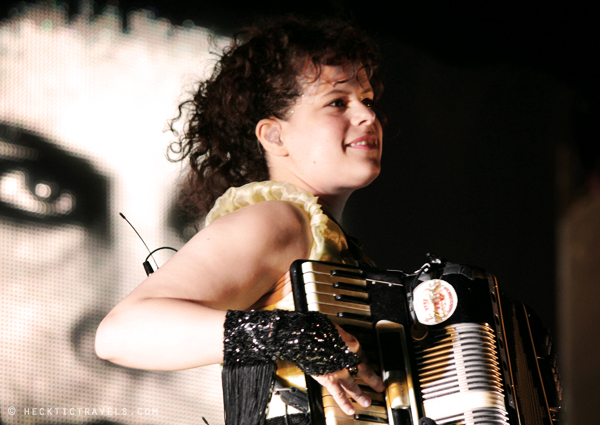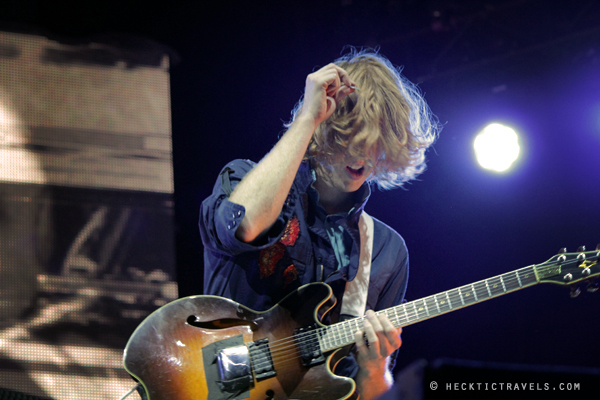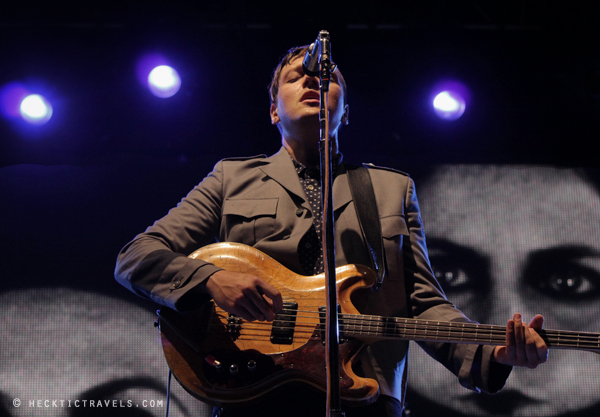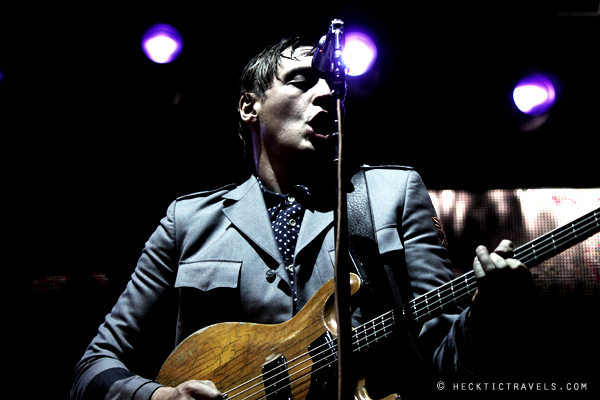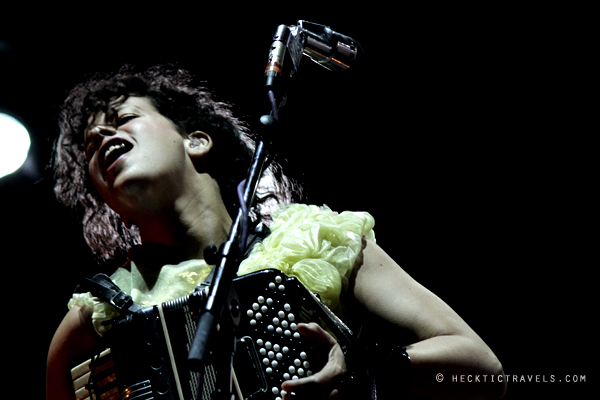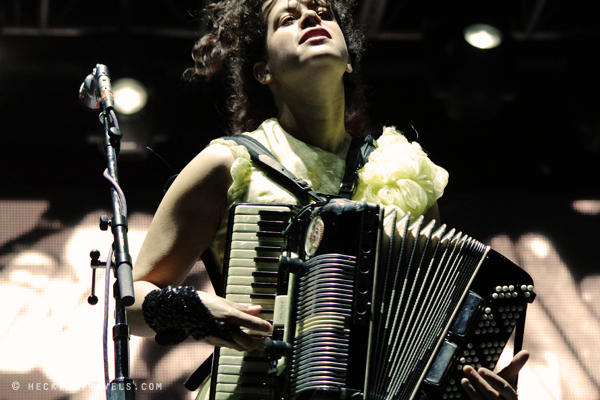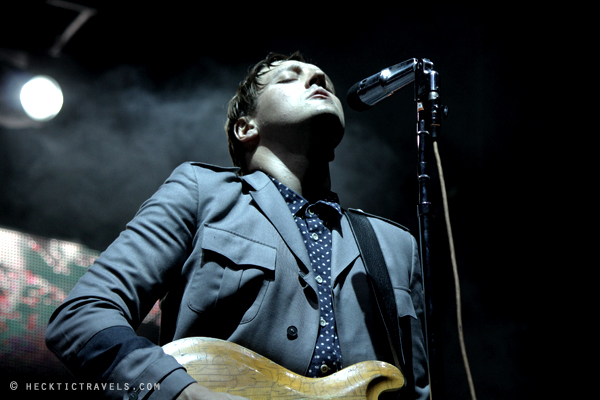 Once I got back to the seat, I happily handed the camera off to Pete for the rest of the evening.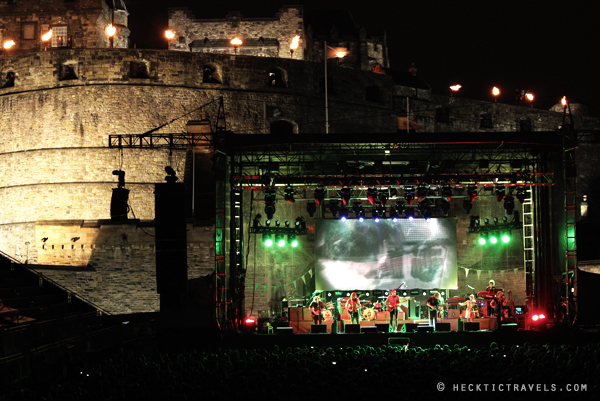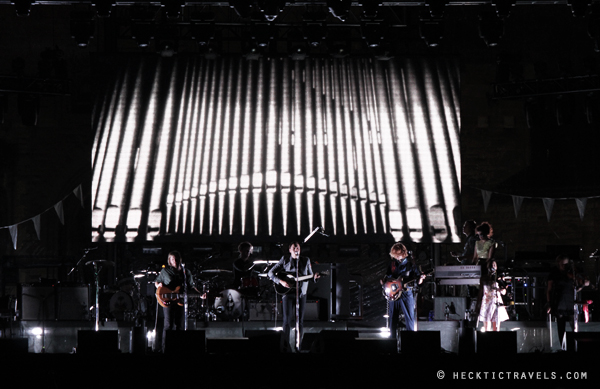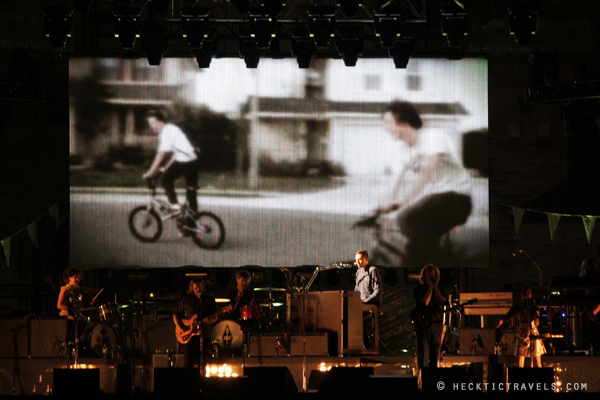 Thanks DGT and Universal Music, for this lifetime highlight. (5th Rundle rules!)