Is that all you've got New York?
Really?
You couldn't muster up any better competition? Instead, you let a group of Canadians walk on in, race around the city for a few hours, and come away winners of The Amazing NY Race (with the t-shirts to prove it)?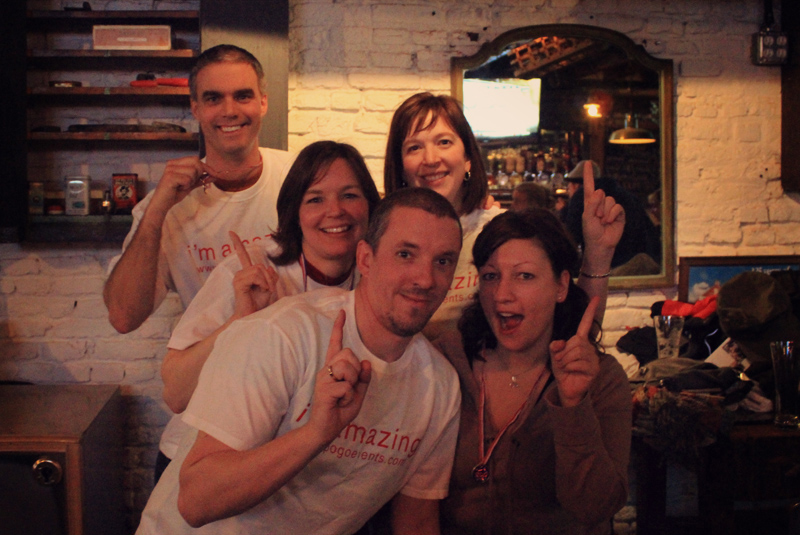 Not only did we win the race, we dominated the eleven other teams. The second place team didn't even come near us, with our final tally at 311 over their 246.
Although Pete and I had already been in New York a few weeks, we were far from experts on navigating the subway (which was where the race was largely based). The rest of our team was comprised of our Calgarian friends Paula, Sharon and Daren, who had come to the Big Apple for the first time that weekend.
Our sheer superiority even included being embarrased out of the road-block challenge where we had to answer questions about New York. Thank goodness we received 25 points just for making it to the challenge, because I believe we scored zero on the actual quiz. How were we to know that it is illegal for women to wear body-hugging clothing, or what percentage of single-dwelling apartments in the city are occupied by females?
We can credit our massive final score to some solid strategy going in. Paula, a dear friend who I met through competitive curling many years ago, offered a truthful revelation about her character the day before. She admitted freely to our group that she discovered she might have a problem with being "too competitive". While recently donating blood, she silently raced her friend to see who could fill the bag the fastest. She won. And there we had it: Paula became our team captain and chief-decision-maker.
We divided up the tasks to conquer the 3 hour time limit. There were 20 scavenger hunt items to find, 6 clues to decipher based on subway art, a detour, and the road-block – each item involved the entire team being present for pictures proving the completed task. Before getting on the subway, we wandered around the downtown area to knock off some of the scavenger hunt items. The boys and Paula scoured the area while Sharon and I worked some google magic to find answers to all the clues.
And then we were off, bouncing from train to train, station to station. We walked, ran, harassed strangers to help us, and screeched to a halt when one of us would notice something obscure that we were looking for.
It wasn't the best way to show our friends the sights of the city, as we jogged through some ugly, under-construction subway stations and ran through the streets with no attention paid to the views around. But it turned out to be a great way to get to know the New Yorkers themselves. Some ignored us completely, but many generous locals often approached us to ask if they could help, and we even had one train conductor hold up his cars so that we could get a picture with him and get his advice on where to go next.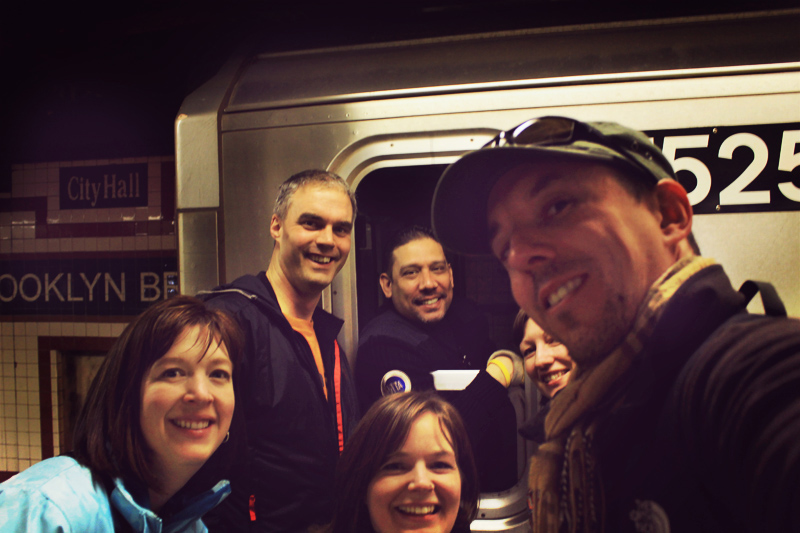 We worked well as a team and had a lot of fun doing it. We trusted each other for decisions made and didn't cramp on each others tasks. Paula led us well, yelling when she needed to (!) and making the tough decisions on when we needed to cut our losses and move on from finding certain clues. In the end we only missed 3 of the 27 necessary items.
We almost failed to get the valuable 25 points awarded for finishing the detour. Needing to complete the requirements for either "Sing" (get pictures with the whole team and six different musicians) or "Bling" (pictures with six different people wearing bling), we faltered early and were uncommitted to either one. We finally landed on "Sing" and had to get awfully creative to capture some of the shots with the short amount of time we had left. We conceded defeat when we approached the finish line and were two pictures short. Luckily, there happened to be a band playing at the pub, and we stopped the music to take our final necessary picture.
Turned out we didn't need the points anyways as we were leaps ahead of everyone else.
We own this city.
Our ever-competitive and fearless team captain approached the organizers at the end with one more important question: "Are we the best team you've ever seen?" They had no answer.
(We'll just assume we were.)