We almost didn't go. When a bus-mate mentioned the Chichicastenango market not far from Lake Atitlan, we both immediately shrugged it off. With over 18 months spent in Latin America, the markets tended to repeat themselves and become a blur of the same products and harassing vendors. We aren't souvenir collectors, being without a home to put them in, and so the appeal of such an event is mostly lost on us.
We were assured that it was unlike any other we had been to. We've heard that before too. But we heeded his advice, and boarded a crowded 8am bus through the mountains.
*****
Pete appeared like a giant, towering above the crowd as we worked our way through. He knocked his head on several overhead covers, the infrastructure obviously being built for the large indigenous population of Mayans in the area, and not for someone who reaches six feet.
So many distractions. Our footing was so often lost on the uneven cobble as we wound through very narrow aisles, trying to take it all in, but always finding new items to study each time we repeated our path.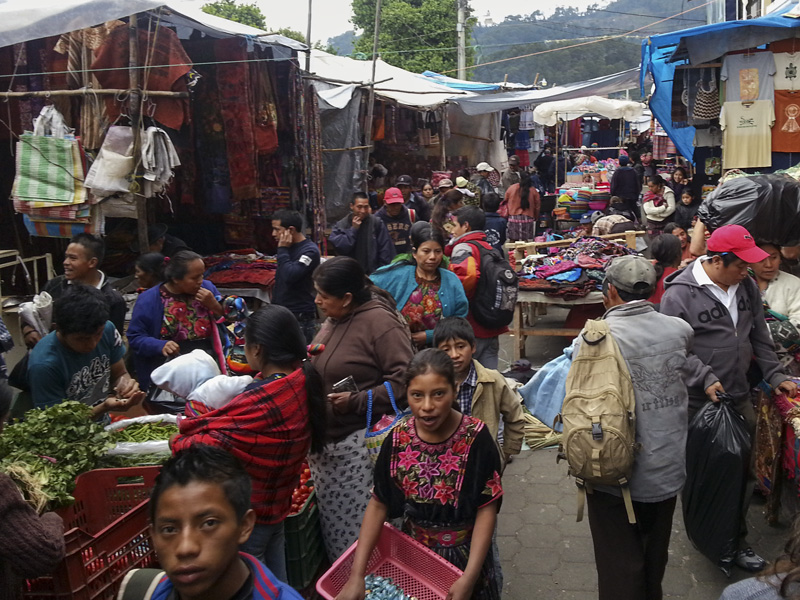 Severed chicken heads were strewn on one table, across the aisle were rows of vibrant coloured threads, wound carefully into twisted sections, ready to be purchased and woven by textile makers.
A toddler was stretched out sleeping on a pile of large bed covers his mother was trying to sell. His impenetrable catnap was most impressive given the volume of activity surrounding him.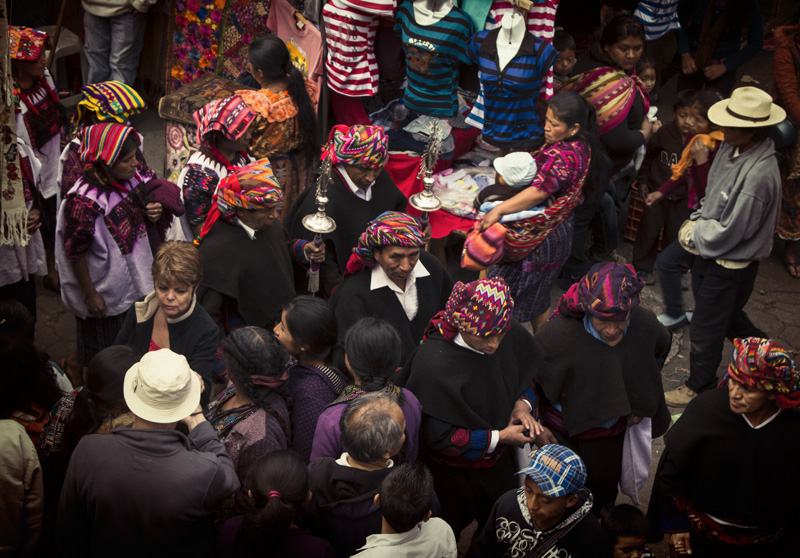 A man carried four crates of tomatoes strapped together and across his back, expertly maneuvering around the crowds and product displays that crept past the covered tables and onto the streets.
One aisle we briskly left to avoid the depressing site of the living merchandise – baskets of chicks and mangy-looking roosters bound at their ankles.
Ripped CDs, precisely woven fabrics, leather goods, piles of fragrant pom and copal (traditional incense). We were never far from ladies making tortillas, the raw paste overflowed large gaudy bowls, the ladies hands repeatedly tossing and whipping the dough into shape.
A woman walked brusquely by us, a heavy bag on one arm and a baby on the other, clung greedily to her exposed breast.
We drifted to the Saint Tomas church, allured by the pretty flower vendors that lined the steps up to the sanctuary. Small billows of smoke were produced from a lady constantly fanning flames from burning incense.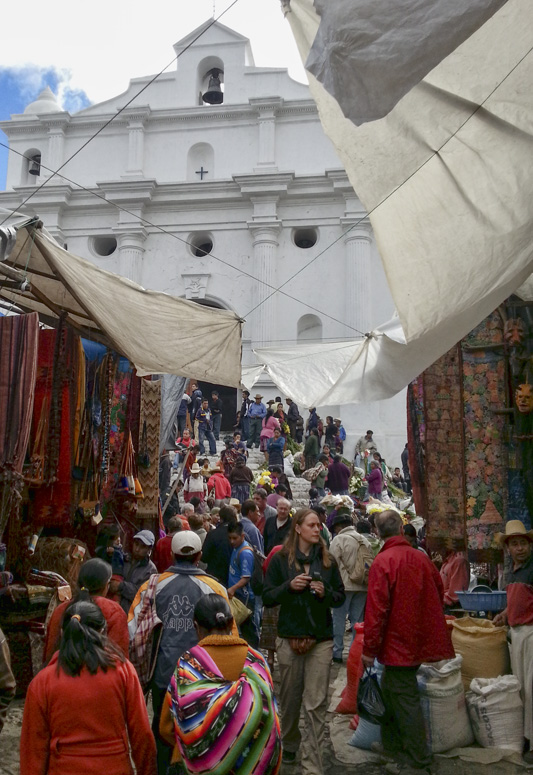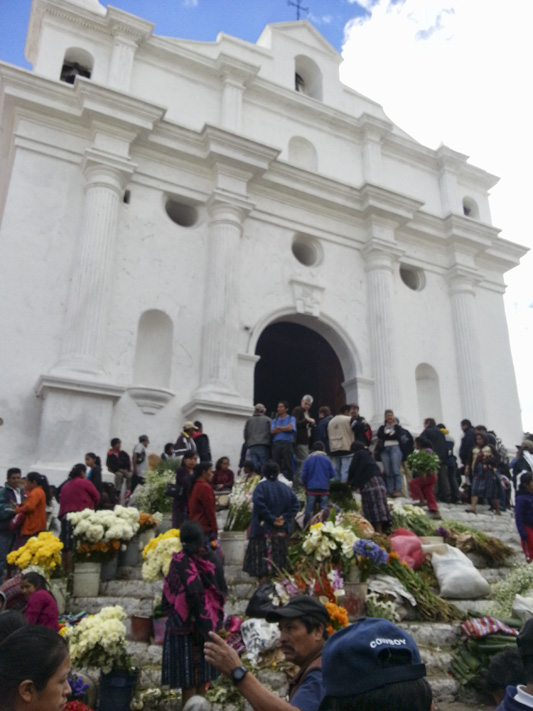 A vendor approached and spoke within inches of my face, using perfect English, and showing me her handmaid table cover. I said: "Es hermosa, pero no, gracias," for the hundredth time that day. Dishing out constant rejection is always the hardest part, especially with their offer of a strained grin in return.
Fire crackers started bursting in the air and a small child beside us started crying. We worked our way back to the church, beckoned by the sound of a band striking up. A colorful procession was making its way from the church down one of the crowded alleys. Men laboured on each corner of large wooden platforms, but stopped frequently so that small boys could spread incense in front. Another round of fire crackers was dispersed from the front of each platform before the whole processions picked up again. We lost them in the crowd.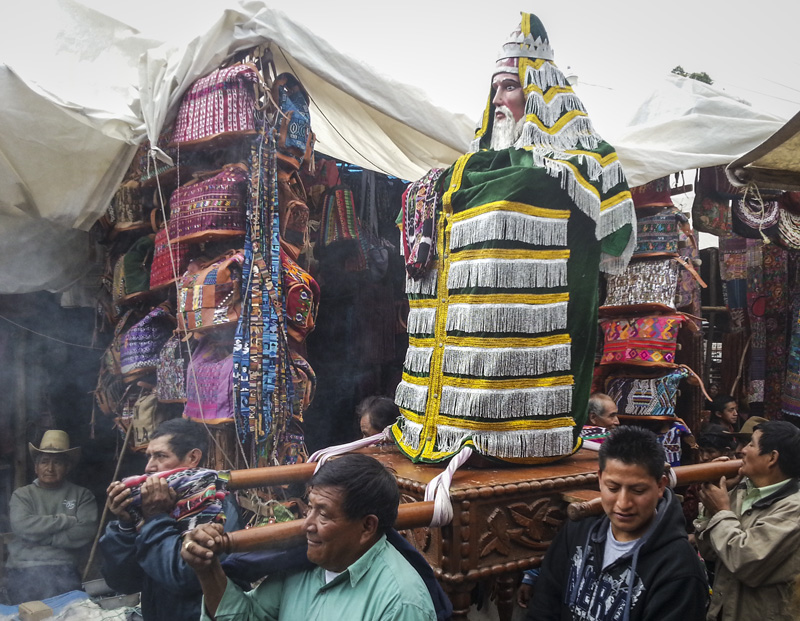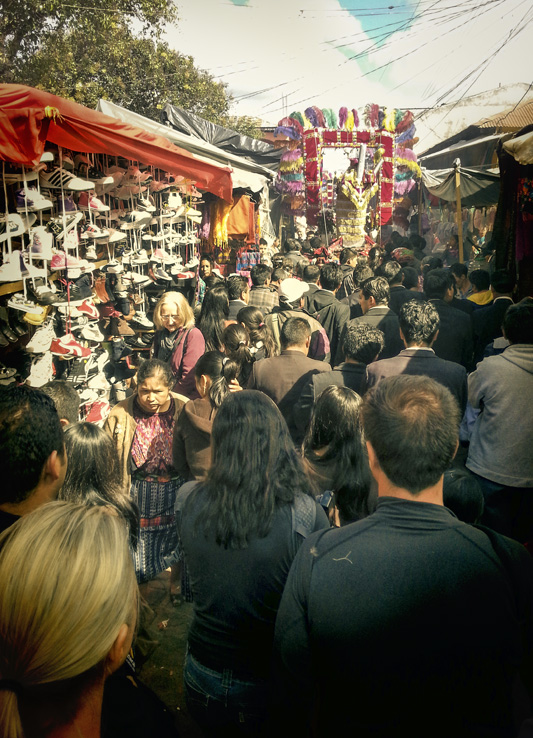 We reversed direction, and made our way up the stairs and into the Santo Tomas church. The vision was remarkably beautiful in its simplicity. Thick, rich, dark wood lined the floors and beams overhead. Long sheets of white were draped from the ceiling to near the floor and billowed slightly in the breeze. Small pallets lead the way up the center aisle, the remnants of burned incense and melted candles blanketed them. A lone man swept up scattered flower petals as tourists and locals alike wandered through, some stopping to genuflect at each change in floor height.
We found a quiet corner just outside one of the side church doors. A small Mayan woman in traditional garb sat beside us, her smile was wide and showed her metal capped teeth. A small child hung out of the fabric strapped across her back. We learned that he was 6 months old and his name was Luis. She learned that we are from Canada and in Guatemala to escape the cold. She nonchalantly pulled Luis around and started breastfeeding. As I chatted with her in my broken Spanish, Pete raced down the stairs to assist in lifting an iron gate a young girl knocked over. He was thanked in smiles and nods.
Famished, and in need of seating to rest our feet, we found our way through the maze to an elevated restaurant, eager to get a birds eye view of the activity below. My eyes were immediately drawn to a man I noticed earlier – situated in the exact center of a major intersection, he peddled his heavy basket full of silverware to all who passed. I guessed that he got up awful early for that prime spot and must quickly tire of repeating the same beckoning chorus over and over. And I thought I had long days.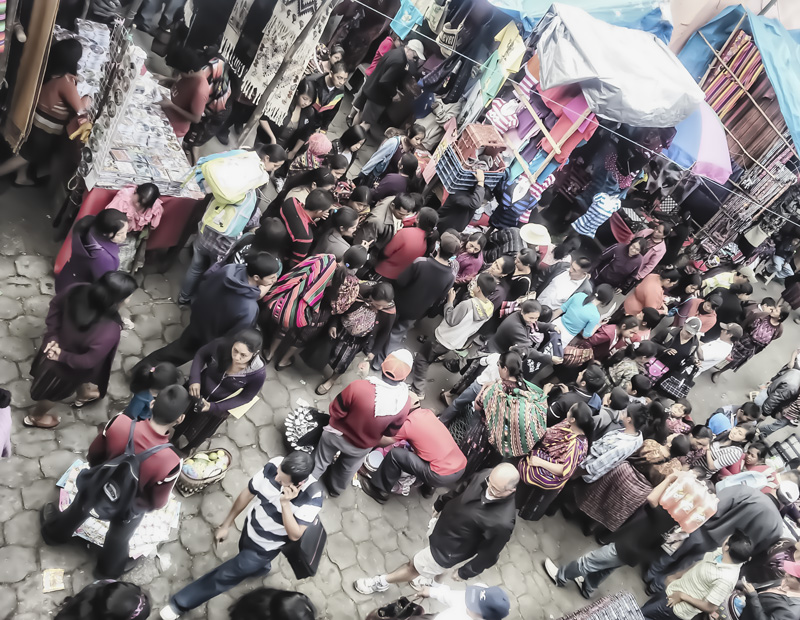 Our cool drinks soothed and we elevated our feet. We sat in silence, absorbing the ever-changing scene below.
Wowed, once again, by how much we have to learn. And how expectations can sometimes have a way of preventing that.