Words by Dalene Heck / Photography by Dalene & Pete Heck
The island of Kalsoy stretches north like a slender finger – the southern end reachable by ferry and the opposite by a single one-lane paved road from the port. The ratio of sheep to people that we met on that road was probably one thousand to one, so beside the occasional showdown with a gang of the wooly creatures daring us to contest their blockage of the pavement, we cruised with little to slow us. Although we did feel the frequent need to stop and record the scenes before us. Clumps of colored houses in the four communities encountered along the way, some black with tar to better stand the weather, some with traditional grass roofs and the odd sprig of yellow daffodils growing on them. A beautiful statue of the Seal Woman in Mikladalur and the legend of her heartbreak and revenge on a local community. A waterfall that roared near her feet.
We had plenty of time between ferries to get to the most northern tip. And with just one highway, there was no need for a map for our trip to the small island.
Or so we thought.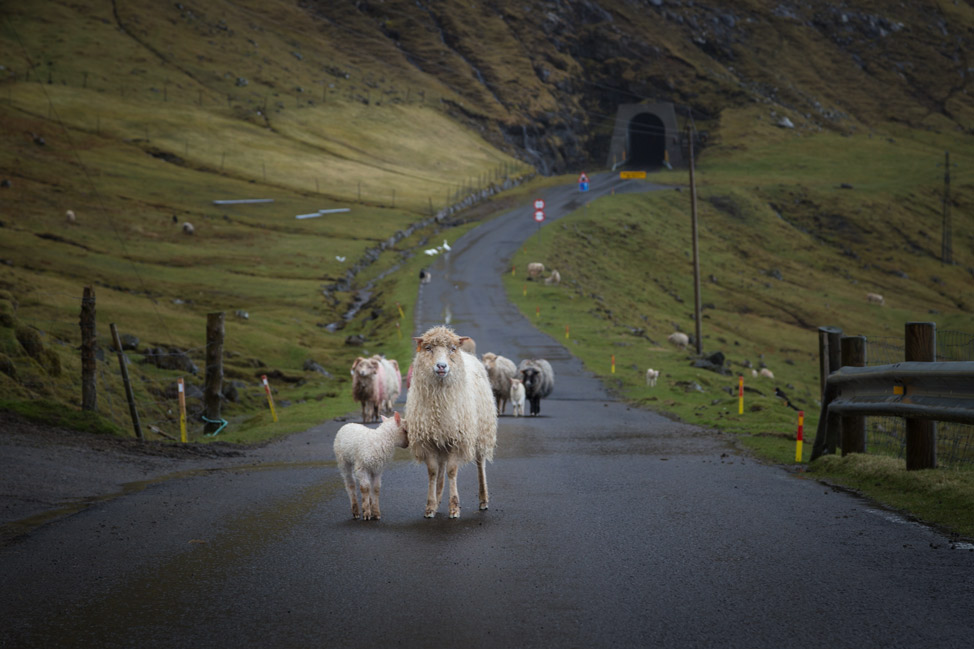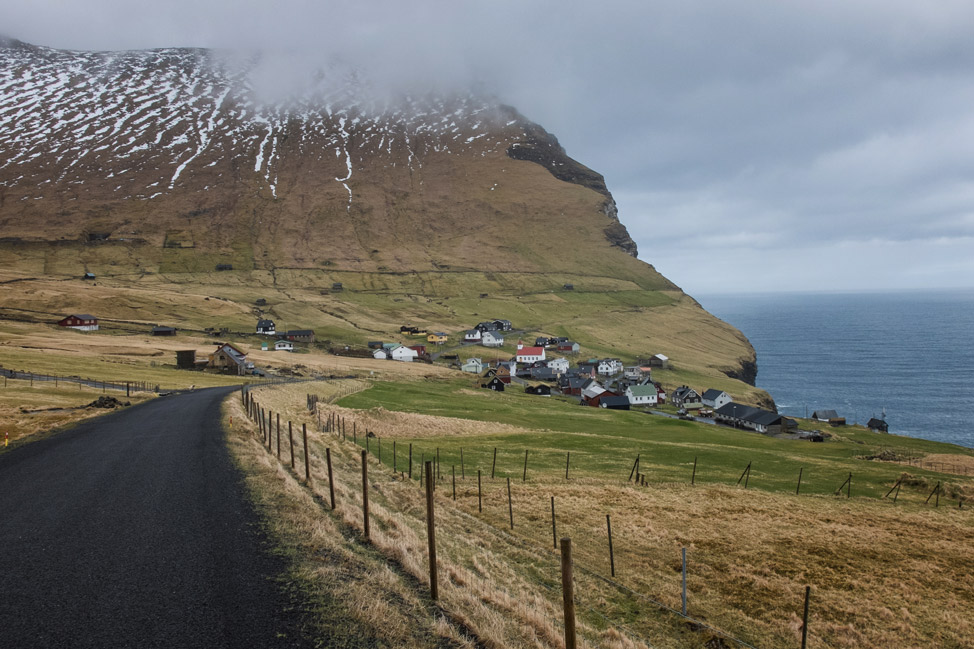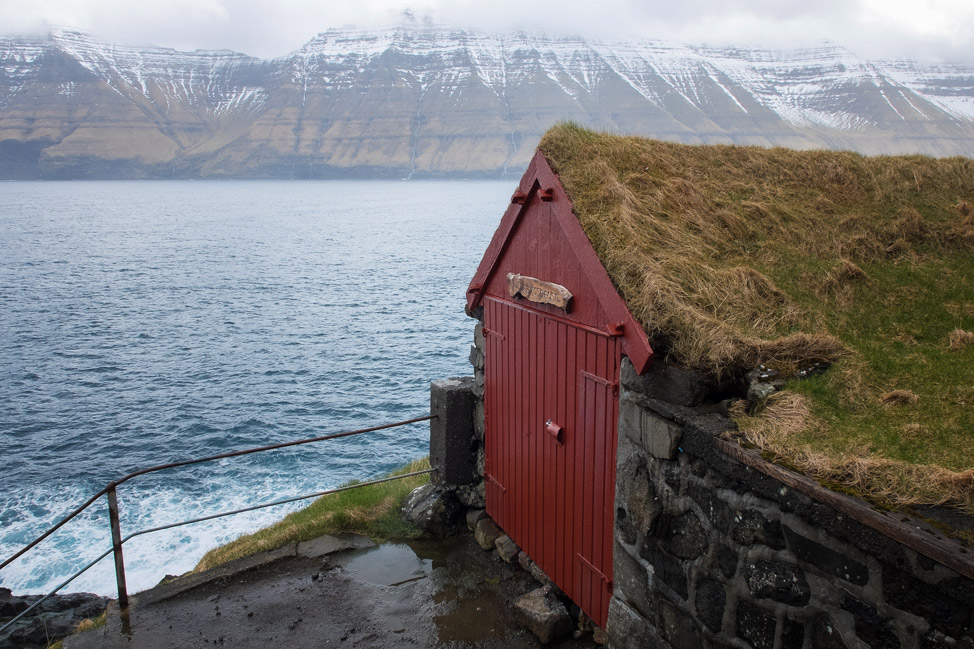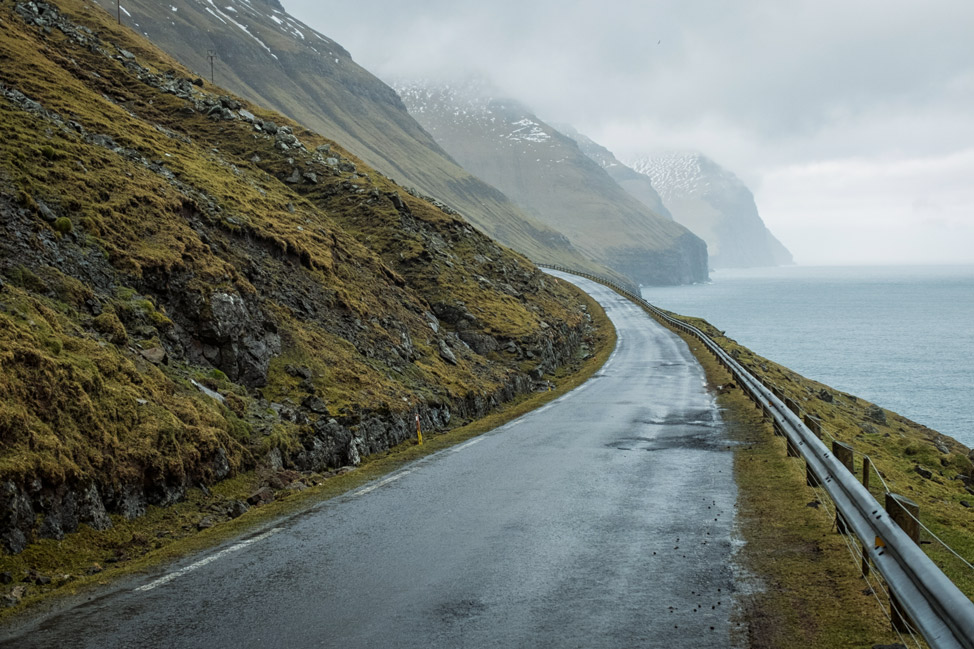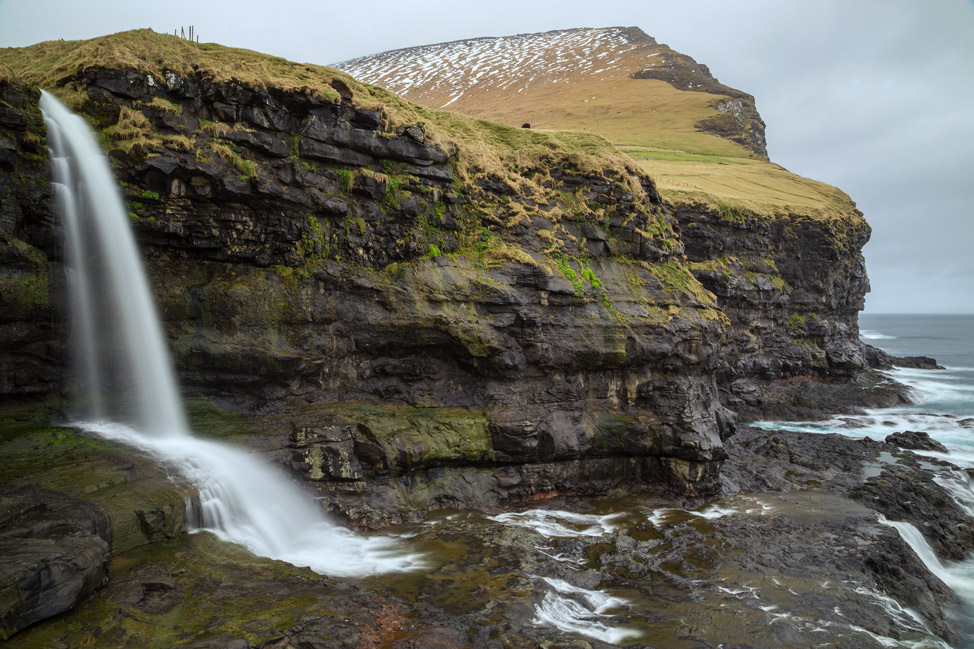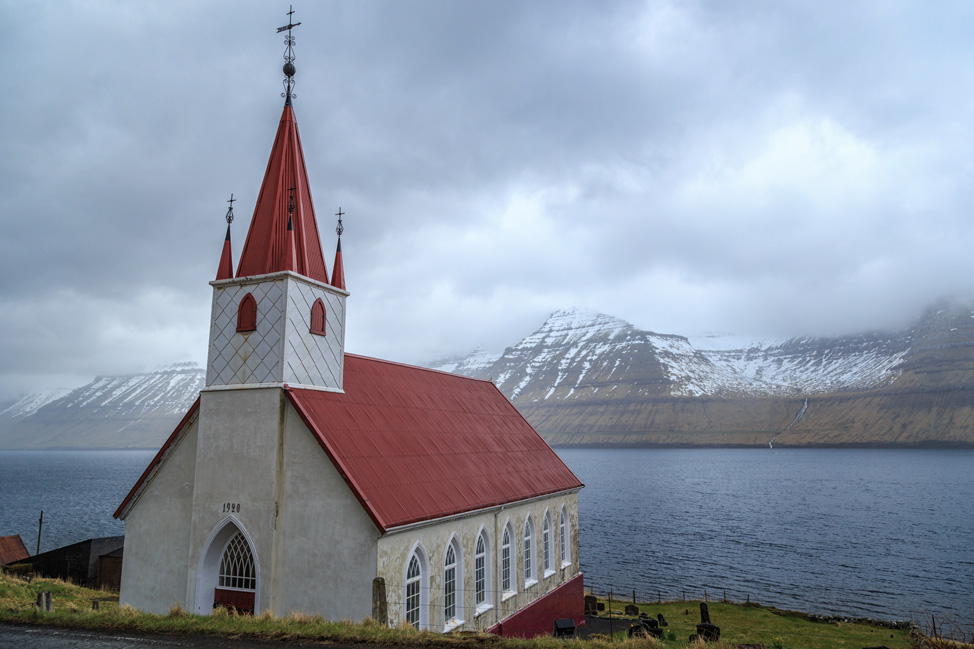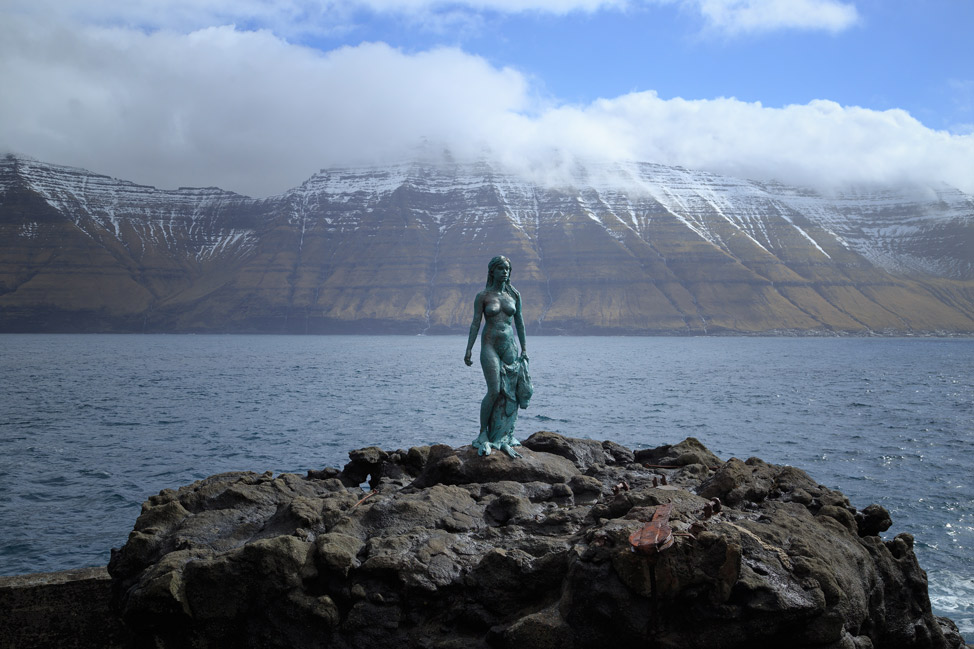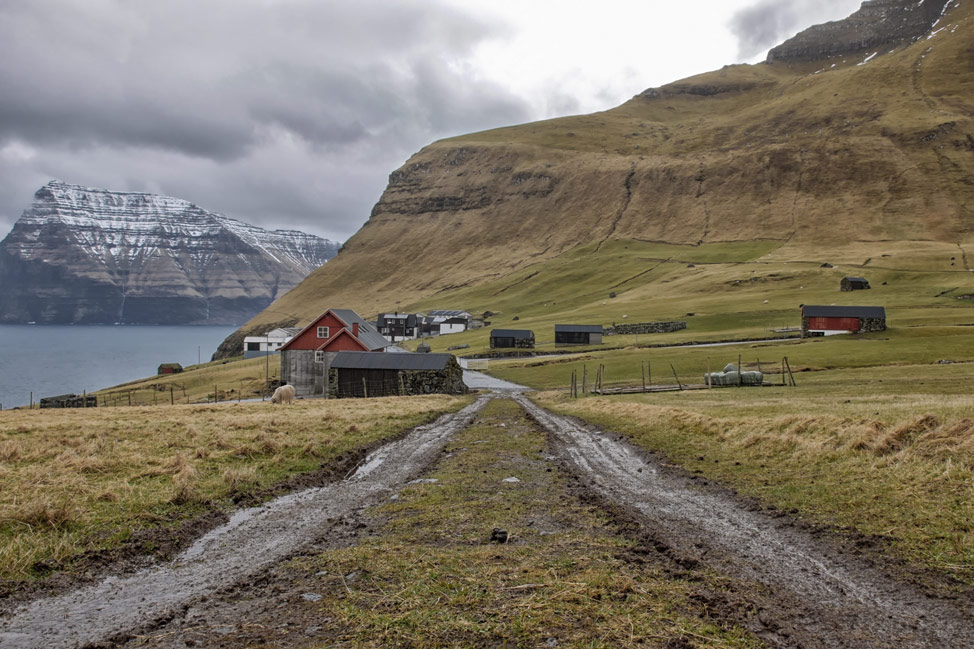 Trøllanes, a town of 20 inhabitants at the northern tip of the island, was our ultimate destination and the reason that Kalsoy was on our must-see list to begin with. Not exactly for the town itself (although worthy in its own right), but for a spot that could not be seen upon arrival. Somewhere, over one of the hills that surrounded, would be this view of a distant lighthouse that we wanted to capture for ourselves.The day shaped up perfect for our arrival – only minor skirmishes with rain and patches of blue sky were even pushing through. We came into town and found an announcement board that we were sure would have the instructions on where to find the lighthouse. Or maybe even a map, or maybe we would even soon see a visible path.
Instead, we saw none of the above. Only the pretty little town and a very scant idea where to go based on what we had previously read.
So, we started walking.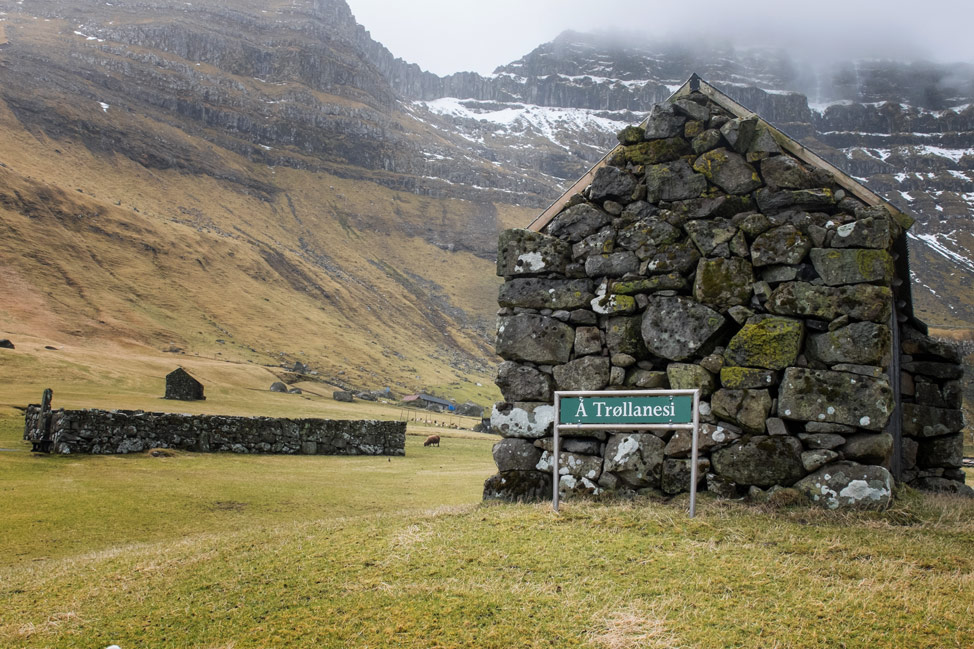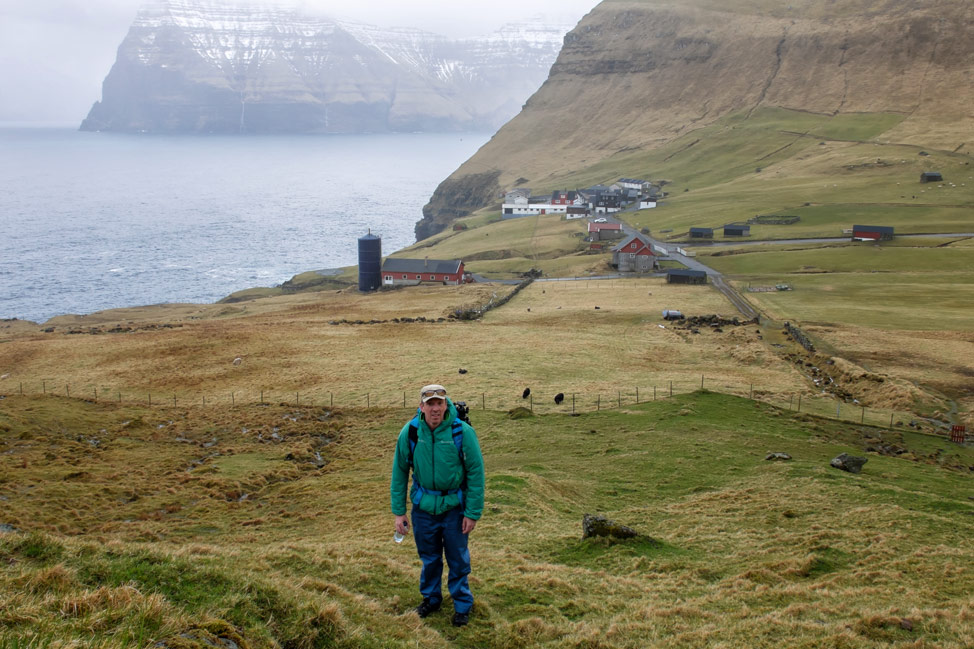 An hour later, feet soaked and caked in sheep shit, we were back at the bottom of the hill just to the west of town. Pete gestured a bit further south, believing that we had passed over the correct starting point. I wondered if it was instead the mountain to the east. Wherever it was, it wasn't where we were. And big billowy grey clouds began to intermittently spit rain. I couldn't get a solid connection to research on my phone and to start over again somewhere else would likely mean we'd run out of daylight anyways. We gave up our quest. But the funny thing was, we weren't disappointed. (Well, maybe a little, but that didn't last long.)
Because we grabbed a snack out of the car, and sat on a cliff, and stared out at the Norwegian Sea, and wondered if we could throw a rock hard enough straight over the Arctic, would it hit Alaska or Russia or fall right into the Bering Strait? We had sheep stare at us intently, I debated testing a path that wrapped around the side of another mountain (Pete talked me out of it based on the swift drop to the sea that would happen with one misstep), and the sun briefly found us once again.
We took a slow drive back to the ferry, stopping again to catch new photos at new angles of light on Kalsoy.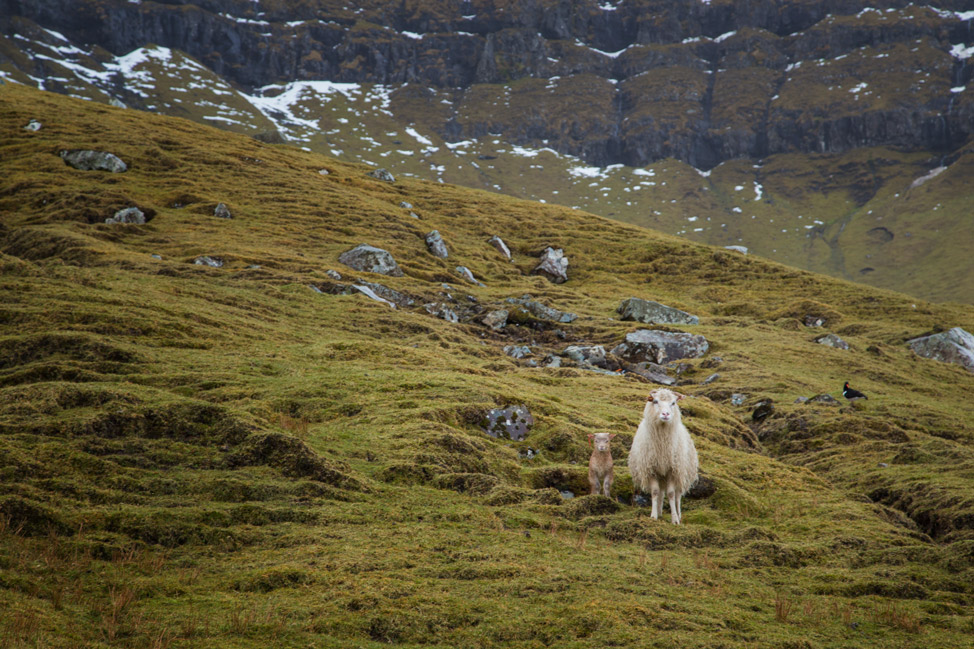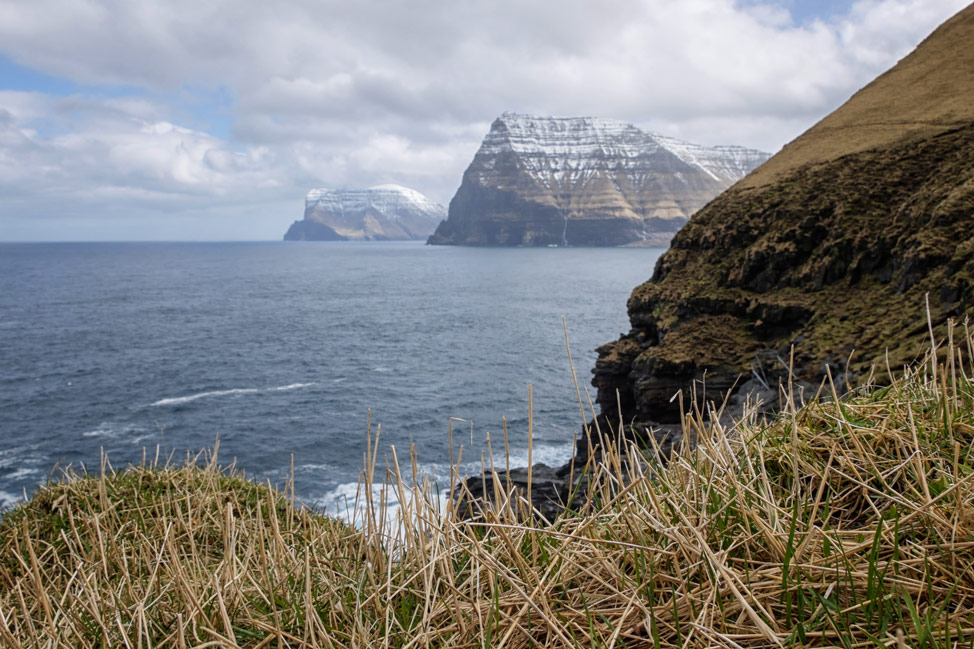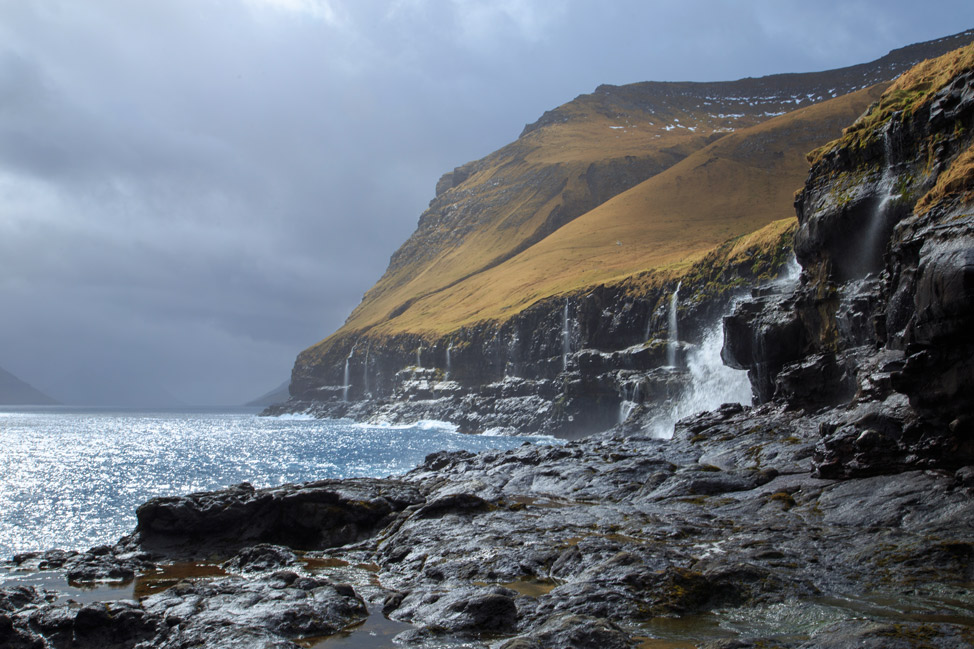 We learned later that we had been going the right way, but just had not gone far enough. We sighed in disappointment, slightly chastised the regional tourism for not putting up signs or a path or anything to help us get there, but then, a few minutes later, realized we were actually happy for it.
In this world of carved up paths for tourists to follow, how often are we left to forge our own?
How often do we get to tramp into the wild to find (or not find) a worthy sight?
Not often enough, I tell you. But that is what a true adventure should be about. And that is what we found in Kalsoy.
how to do it
Driving into the town of Trøllanes, you'll arrive at a T intersection. Park on the right, but then walk left at that T, and keep walking straight and up and up. You should find the lighthouse. (So we've since been told.) Such is the case often while hiking in the Faroe Islands – do your research before hand!
where to stay
High-end Hotel Foroyar is about a 5-10 minute drive from the Tórshavn city center, but the distance provides fantastic views over the city, harbor, and islands!
Check reviews | Book this hotel
Mid-range Hotel Hafina is located in the Tórshavn city center, and according to the reviews has amazing views and great food!
Check reviews | Book this hotel
Budget Guesthouse Marknagil is great for budget-seekers. This guesthouse is 30 minutes from town but provides everything needed to have a wonderful stay on the Faroe Islands.
Check reviews | Book this hotel
Our trip was courtesy of Visit Faroe Islands. All opinions, as always, are our own.