Words by Dalene Heck / Photography by Pete Heck
Just a couple of days into our stay in Brussels, this article circulated on the web.
Via a worldwide survey, it was determined that Belgians are the least cool people on the planet.
After two weeks in the country, we have something to say about that. Even though Canadians are only marginally "cooler" (4th LEAST cool? C'mon now! What about our hockey dominance and national animal being the beaver?), at least we ain't the worst, and thus we believe we are qualified to pass judgment on those *lesser* than us.
Here's our analysis…
COOL!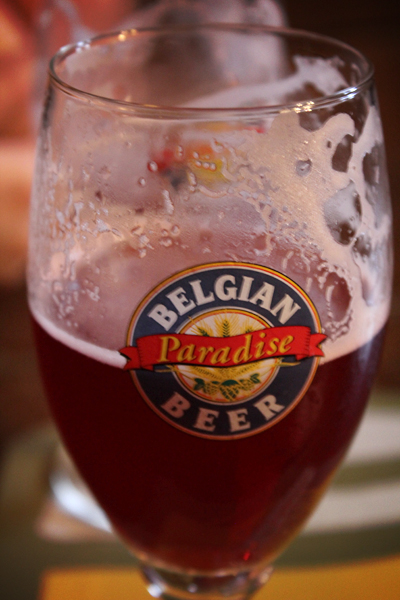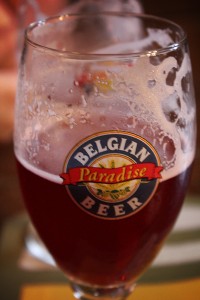 – Beer: Gawddamn, but does Belgium make some good beer. For such a tiny country, they have approximately 125 breweries and make a very wide range of beers. I discovered the lovely combination of beer and intense fruit flavors here; Pete enjoyed trying many of the Trappist beers which are brewed by monasteries and are entirely produced not-for-profit. Definitely cool.
– Chocolate: How can a country that produces 172,000 tons of chocolate a year NOT be cool? A little chubby, maybe, but still cool.
– Frites: One of the biggest companies in the world (McDonalds), from the determined coolest nation in the world (America), owes the Belgians a big high five for inventing the French Fry. In the late 1700s, Belgium claims to have started frying up potatoes when small fish were scarce (they even cut the potatoes up in the shape of the fish). They were an instant hit!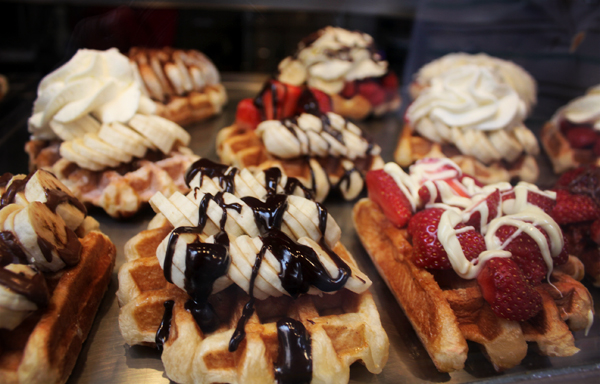 – Belgian waffles: We had a hard time walking in Brussels without drooling over these bad boys on many street corners. Load 'em up with fruit, whipped cream, chocolate, whatevs. It's all good.
– Diversity: This took us as a total surprise. I don't think we've ever come across such a demonstrative multi-cultural society as this. Home to the EU and NATO head offices and claiming three official languages, it has a population pulled in from all over the globe. It's reflected in their faces, every day conversations heard in many languages, and in their delicious varieties of food.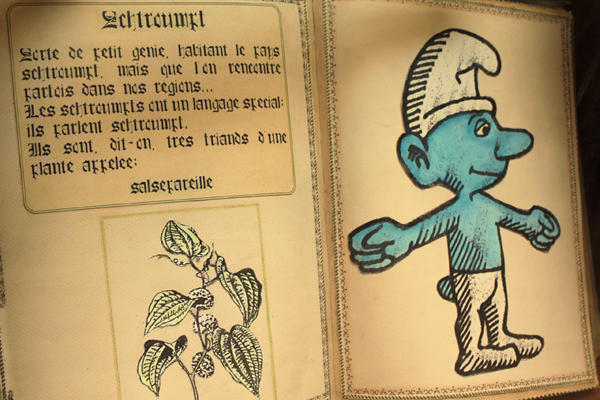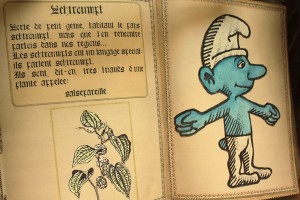 – Schluempfe! The Smurfs are Belgian! Need we say more?
– Awesome people: We have heard more than a few reports from people that the Belgians are rude and not entirely the brightest lot. We strongly disagree. In Brussels we received an impromptu free tour on a VIP bus (so what if she took us the wrong way?), met with a wonderful Brussels native who represented their tourism board very well, and even had a tour operator in Ghent offer up his couch the next time we came to visit his beautiful city.
NOT SO COOL!
– Government: Politics doesn't get much more complicated than the system in Belgium. There is a monarchy, one central government, three regional governments (with as much power), and three community governments with their own parliaments (split according to the three different languages). Confused? Yeah, us too.
And for reasons that are far too confusing to delve into here, Belgium has been without a functioning central government for almost 500 days (which is a world record, previously held by Iraq). Not something to be particularly proud of, even though the country runs smoothly thanks to the working regional governments. Wait! Maybe that is cool!?
– Weird restrictions: Victor Horta was a Belgian designer and architect who was instrumental in helping bring the Art Nouveau style to Europe. And for whatever reason, we can't show you why. All the buildings he created in Brussels are copyrighted, and pictures of his work are not allowed to be shared. Which is a shame, and totally uncool.
And…that's it!
We are a little hard pressed to come up with the "not cool" list in our cursory, two week review. Some people who have been living here awhile tell us that there is much more to add, but after our very pleasant time, we're going to give this tiny country the benefit of the doubt.
Maybe Belgium doesn't have Carnaval like the Brazilians (ranked #2), and they don't have supercool wooden clogs like the Dutch(ranked #7), but we do believe that they're "cool" enough to be out of last spot.