Into The Sahara: My Camel Hates Me
Words by Dalene Heck / Photo by Pete Heck
As we checked out of our hotel in the morning, the man at reception commented on our intention to enter the Sahara with camels that same day.
"Mmmrrrraaaaaa…!" he bellowed, mimicking the legendary beasts of the desert, before bursting into laughter. When we tried to explain our excitement and the fact that we had never seen camels before, he pointed to his wide eyes and with honest incredulity said: "No see camels?" We nodded.
"Mmmrrrraaaaaa…!" he cried out again, louder and with all-consuming laughter.
Ahem. So maybe it is hilarious to a local that it is some dumb tourist's dream to ride on a large, smelly (and apparently, loud and obnoxious) creature, to spend the night in tents in the freezing desert, and absorb fine sand into every pore. But we were proudly those dumb tourists, and we didn't really care.
For the rest of the morning, we sped through the black sands of the leading desert, the paved road to the Sahara stretched out smoothly for many straight miles. The large copper dunes crept closer, the color becoming impossibly more intense with each mile. Our excitement rose with each passing minute.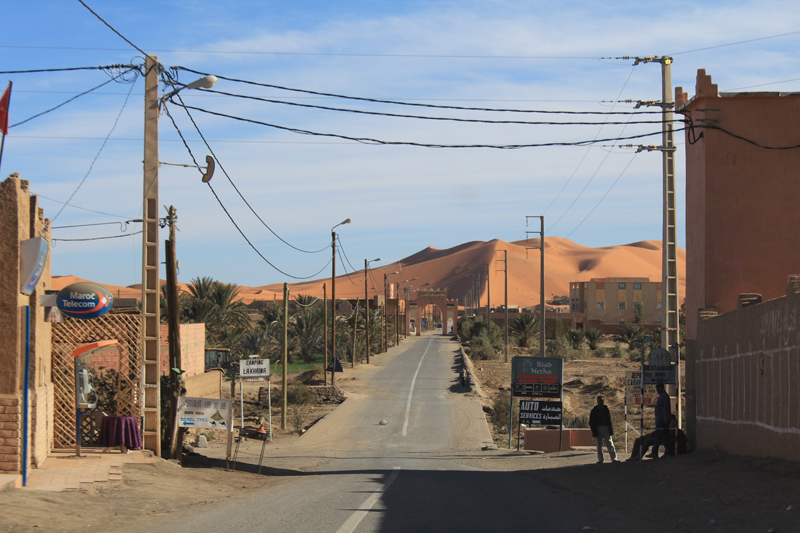 Upon arrival into the nearly empty town of Merzouga, a gateway to the desert, we were introduced to three Mohammeds.
Mohammed ("The Original") was to be our chaperone and guide, leading us into the bright orange dunes of the vast Sahara desert.
The remaining Mohammeds, affectionately nicknamed "Number Two" and "Number Ten" were our camels who would take us there.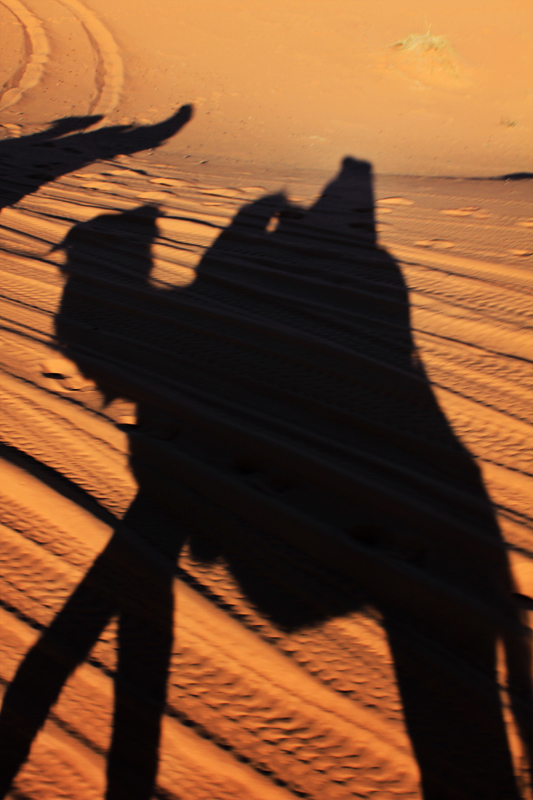 Number Two and Number Ten obediently followed the lead of The Original, trudging through deep mounds of sand, up and over hills. Pete and I both rode with large grins plastered on our faces, fawning over the camel's strength, height, and the unexpected smooth ride. So enamored were we that we wanted to give our new friends better names – I chose "Ranger" for mine, after a beloved horse of my best friend back home, and Pete's was perhaps a little less loving, but was definitely accurate. He was riding "Farty".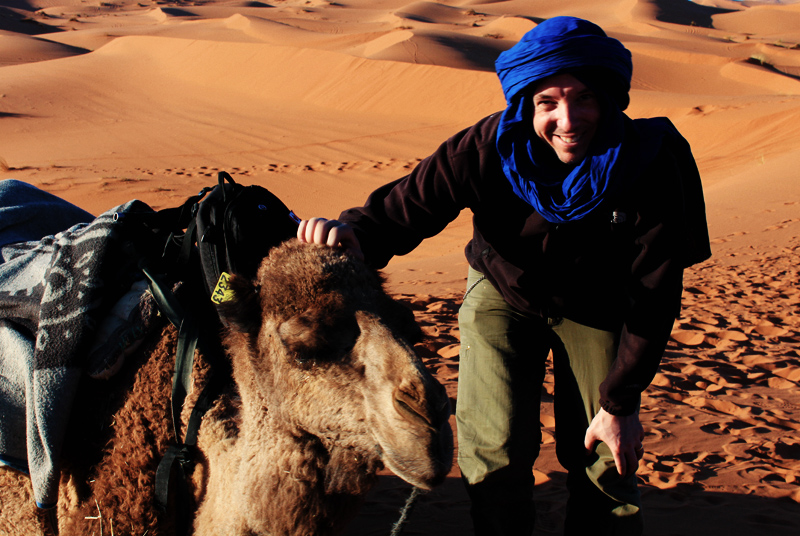 After almost an hour of riding, at a point where we could see nothing more around us but the orange sand, we stopped for a break and to stretch our legs. We dismounted our camels and took the time to get a closer look, snap pictures, and give 'em some love.
Pete scratched the top of Farty's head, and Farty lapped it up. He leaned into Pete's hand, encouraging deeper pets, and Pete moved onto scartch his neck while Farty closed his eyes and enjoyed every second of it. I turned to Ranger, hoping to replicate this intimate experience with this majestic animal, but I was immediately turned down.
"Mmmrrrraaaaaa…!" Ranger cried out, baring his teeth and causing my heart to race as I jumped back.
The Original burst into laughter. "He doesn't like Canadian women," Mohammed declared.
I was so hurt.
Be that way then, Ranger.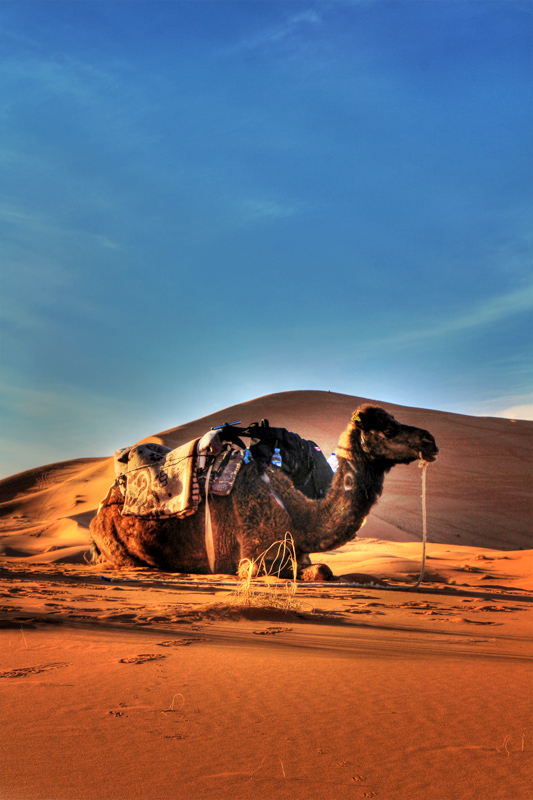 Ranger and I managed to smother our newfound dislike for each other and make the rest of the trek with indifference and without incident. Luckily for him, I didn't care much, as I was smitten with another new love, the bewitching Sahara desert landscape.
Yeah, I'm fickle like that.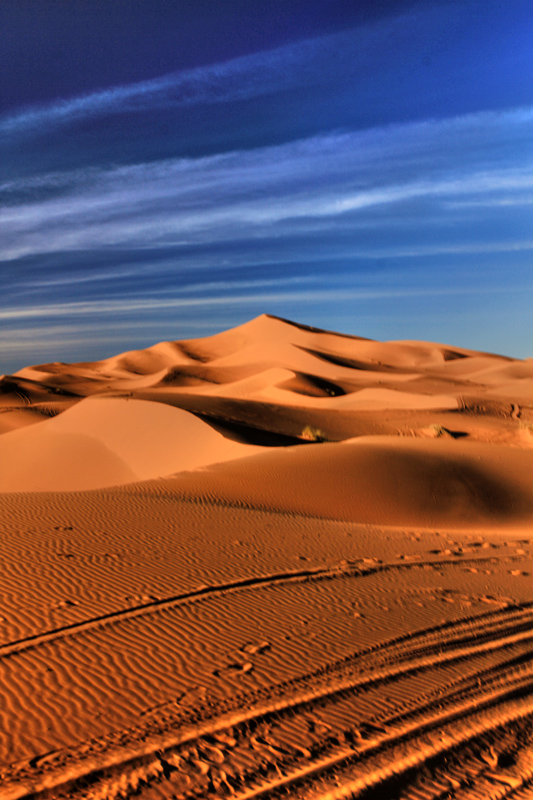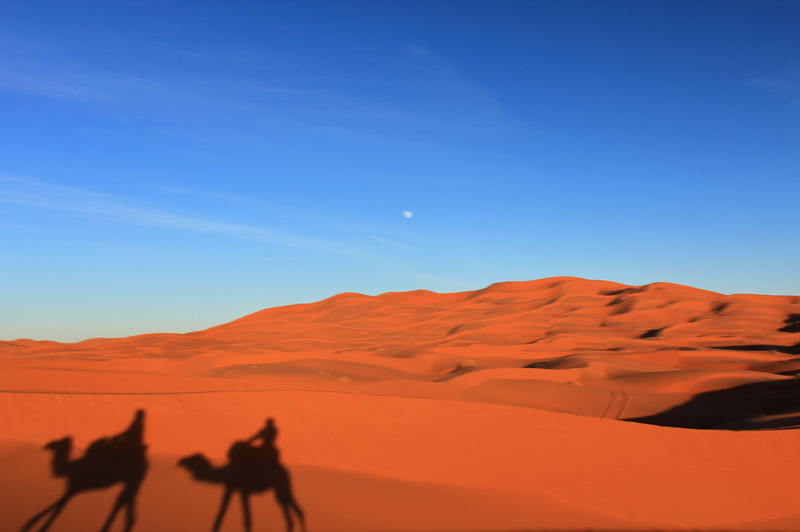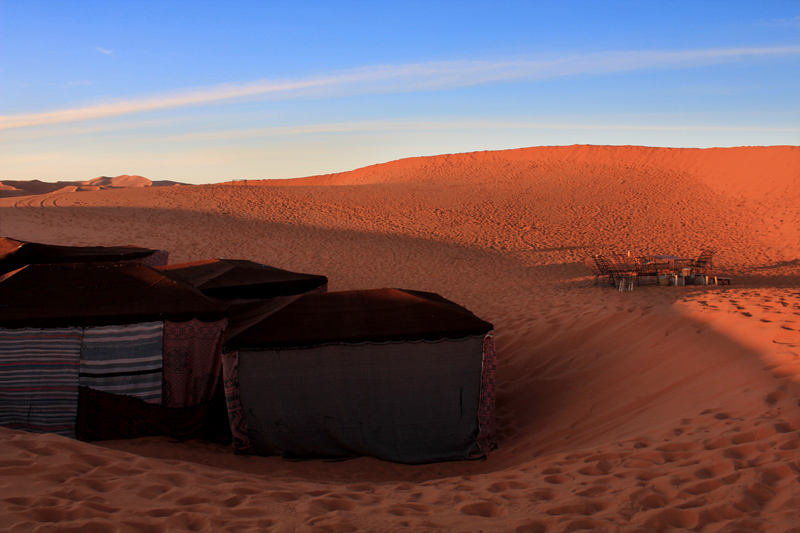 Our camp in the desert!
**********
Our visit to the Sahara Desert was a part of our wonderful tour with Merzouga Journeys. For a full review and the itinerary for our entire tour, please click here.