Words by Dalene Heck / Photography by Pete Heck
Pete and I have a deal.
He is the official Hecktic Travels Cultural Food Tester, and I am the Cultural Drink Tester. After watching him eat both fried guinea pig (Peru) and stewed iguana (Honduras), I have to say that I am pretty happy with this arrangement.
Especially because in Ireland, it means sampling whiskey and sipping beer.
Bushmills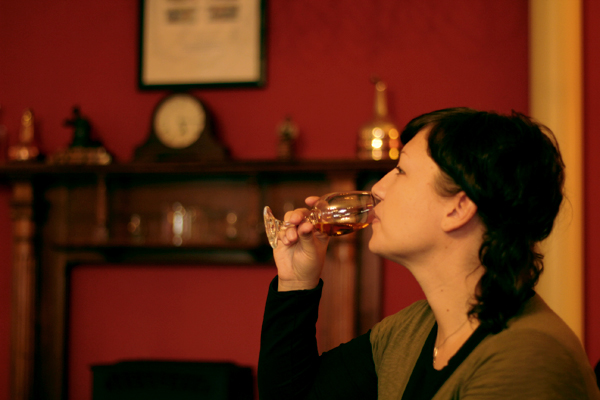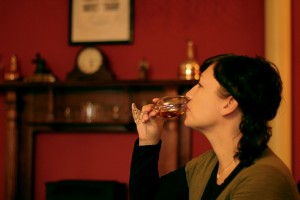 Whiskey is my liquor of choice, much to the delight of Pete who has to take care of me when it's just…too…good…to…resist on a long night out. So what better way to pass a rainy afternoon in Northern Ireland then to spend an hour sampling different types?
As luck would have it, despite the intimidating look of a very full parking lot, I was the only one signed up for an afternoon tasting at the Bushmills Distillery in Northern Ireland. I had the tasting guide all to myself as he led me through 6 shots of different types of whiskey.
All I knew before stepping into the distillery is that I liked the taste of Canadian (rye) whiskey. I knew nothing of the Irish, Scotch and Bourbon variations, and admittedly didn't pay a terrible amount of attention to what makes them different. I let my palette do the learning for me.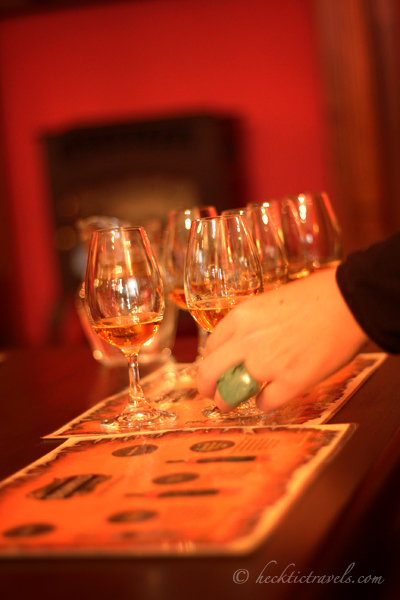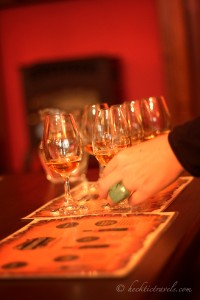 Bushmills Original – Their biggest seller that has a huge burning kick on the first sip. On the advice from the guide, I held the liquid on my tongue for a few seconds before swallowing. Then, I waited until I could feel the burn finish at my rib cage before taking another drink. The next sip went down much smoother, with much less burn, and I could taste it's subtle spiciness. I'd still prefer it mixed with a cola, however.
Bushmills Black Bush – This has a high proportion of malt whiskey and is matured in former Sherry casks which gives it a rich fruity flavor. This was really delicious.
Bushmills 10 Year Malt – This is matured for a minimum of ten years in bourbon-seasoned barrels. Not bad, but not my favorite.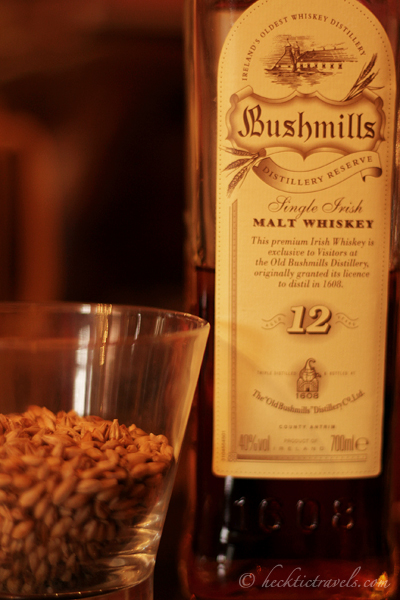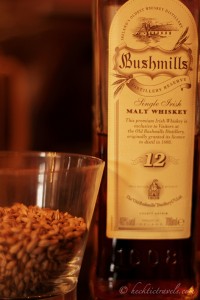 Bushmills 12 Year Malt – This cannot be found in stores, and only bought at the distillery for a steep price. And wouldn't you know it – it's my favorite. It had all the rich flavor of a mature whiskey, and is also kept in former Sherry casks which again gave it a lush fruity flavor.
For comparison, I was allowed to taste two other types of whiskey not made by Bushmills.
Scotch (Johnny Walker Red Label) – Disgusting. The malt used in whiskeys from Scotland are dried with peat moss smoke. In comparison to the others, there was a lingering taste of smoke in my mouth as if I had licked an ashtray. Gross.
Bourbon (Jim Beam) – Passable, but does not rank near as good as even my least favorite of the Bushmills variety.
One dream came true that day…I am now a professional whiskey taster!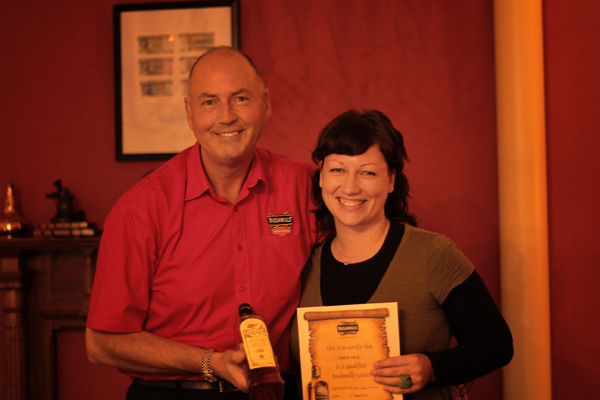 Guinness
Just to prove what a good wife I am, I allowed Pete to join me in being a Cultural Drink Tester for the Guinness tour in Dublin (along with our friends the Inspiring Travellers!) And while this definitely wasn't our first sample of Ireland's most precious brew, we did learn an awful lot about it while we were there.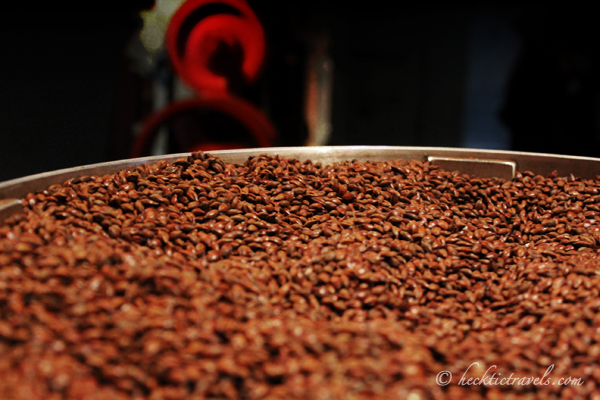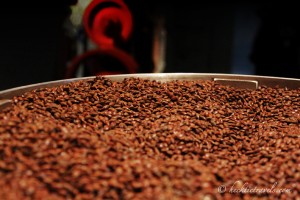 – Arthur Guinness signed a 9,000 year lease on St James's Gate in 1759, with an annual rent of only 45lbs. They've got a lot of brewing years ahead of them!
– He was very dedicated to his product, having once personally defended his water supply with a pick-axe.
– Kept in a safe at the Guinness brewery is their own strain of yeast descended from Arthur Guinness' time. Should anything happen to their main supply, they could produce some from the small reserve in just a few hours.
– St James's Gate uses two thirds of all the hops produced in Ireland.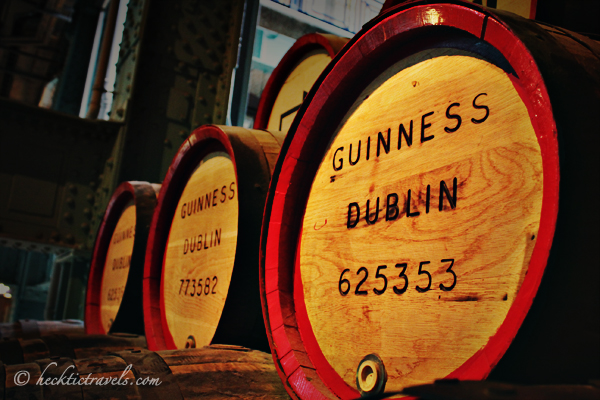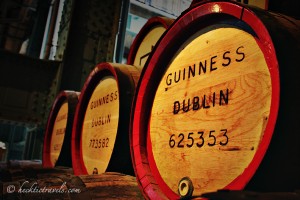 – The marketing slogan "Guinness is Good For You" has been used since the 1920s. Some of the older advertisements included such statements as: "Guinness builds strong muscles. It feeds exhausted nerves. It enriches the blood. Doctors affirm that Guinness is a valuable restorative after Influenza and other weakening illnesses. Guinness is a valuable natural aid in cases of insomnia." I have to say, I kinda believe it.
– The Guinness World Book of Records did indeed begin with a connection to the brewery. In 1951, a managing director of Guinness got into an argument during a shooting party over what the fastest game bird in Europe was. Realizing that there was no way to confirm an answer, he had the idea to develop a reference book to answer this question among many others, evolving to what it is today.
– One of the most interesting facts we learned is that crustaceans like it too.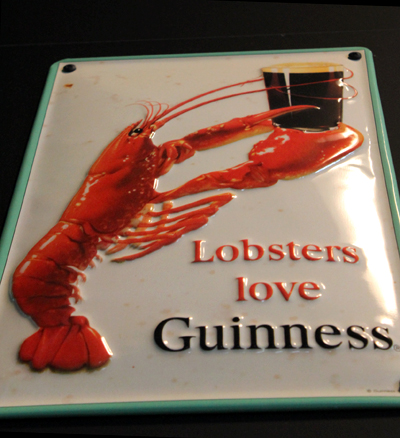 – Another ad, apparently before being politically correct was a requirement.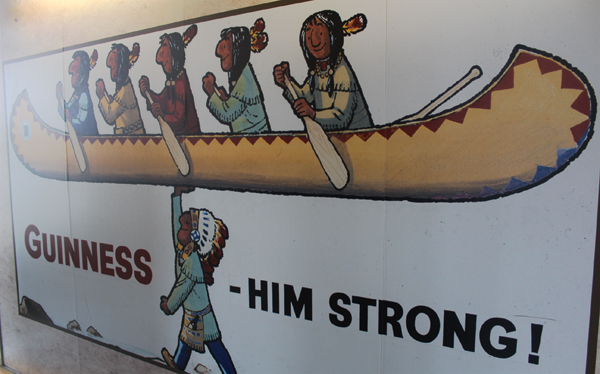 Cultural food tester or cultural drink tester – which role would you prefer?