Words by Dalene Heck / Photography by Dalene & Pete Heck
It happens often, during these vagabonding days, that I wake up with no clue as to where I am. I glance around the room, take stock of what is around, and look for revealing clues. I then flip through my mental rolodex of recent places we've been until I link the chain of events that lands me in that particular bedroom, in that particular moment.Sometimes, if I'm lucky, I have more conspicuous indicators. Like a dull and repetitive fog horn.
My initial reaction, that first morning on the island of Grand Manan, was to lambaste Pete for not turning the sound off on his phone before going to bed (as is a common occurrence). But soon I realized what it really was.
A glance up to the uncovered window revealed the truth. A fog had rolled in overnight and hung low, so thick that I couldn't see the stretch of land that was on the other side of the narrow cove the evening before. Instead of being a notification on Pete's phone, that noise which shook me awake was an echoing alert to warn boaters of this land that they may not see from the water.

Oh yeah, we're on an island. Tucked into a cozy cabin by the coast. The previous night, we had read by a fire and went to bed with the sound of gentle waves rushing the pebbled shore. On this day, we would poke around the coastline a bit but were chased back inside by the fog and rain. Hey, we didn't mind too much.
We had a whole week yet to explore.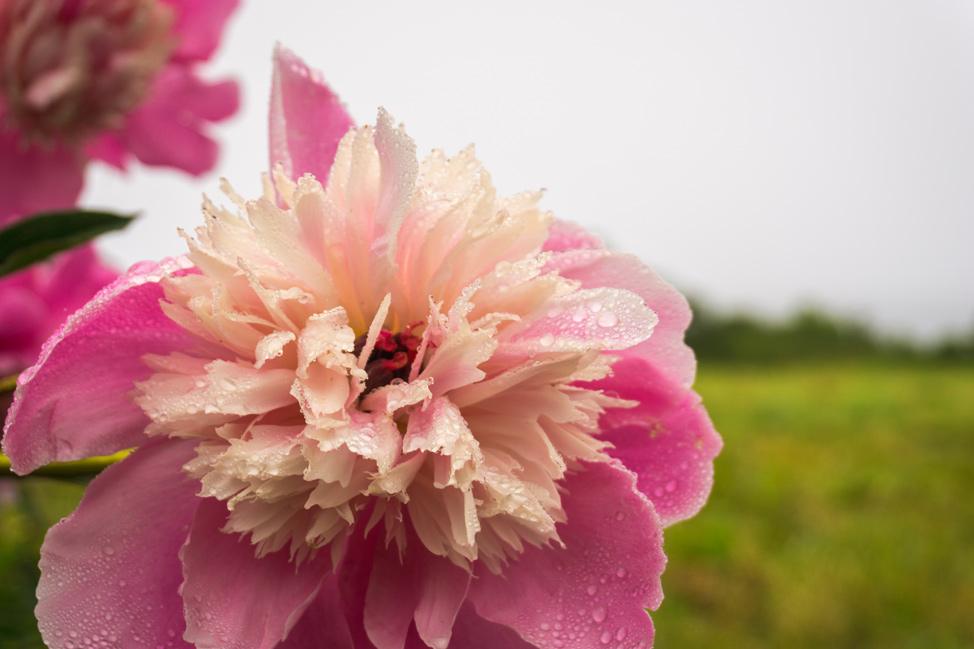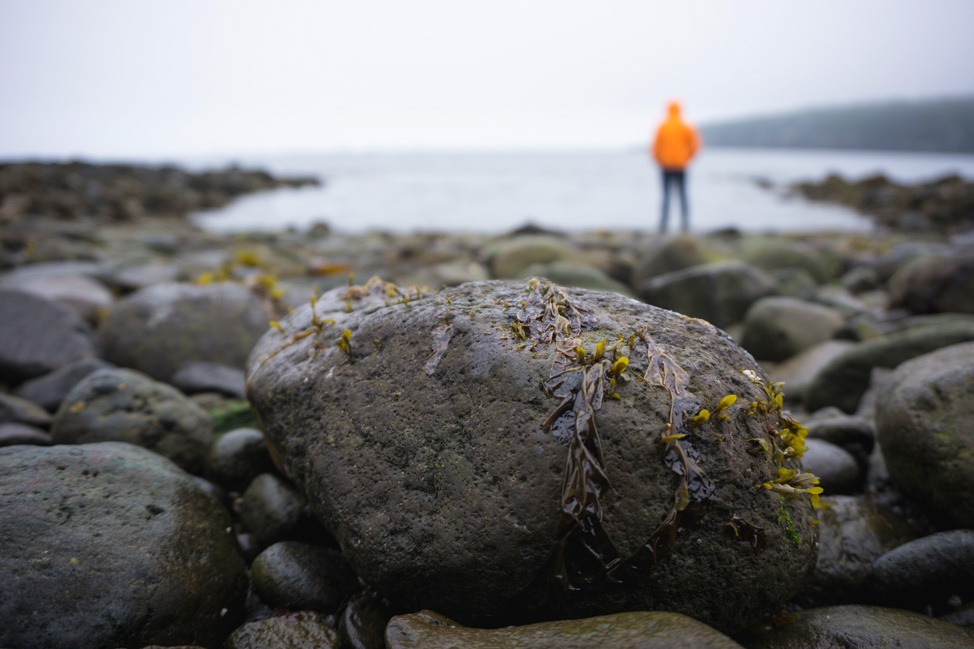 Grand Manan Island is one of the largest in the Bay of Fundy but still able to be driven from one end to the other in about an hour. And its width can be crossed in even less. We figured that our task, to discover the best of this island of New Brunswick, would be easy work with time to spare. We hoped to afford many hours appreciating the bookcase in our cottage and big lounge chairs on the patios. Besides the fog horn, there was nothing but comfort and quiet.And sometimes, especially after hecktic visits home coupled with time apart, this pair wants nothing more than these two things.
But on our first evening out, spent surrounded by a roomful of locals at a fundraiser for an iconic lighthouse on the island, the tips on what to see and do were flying our way. This beach has the best sea glass, be sure to stop at this art gallery. We ended up carefully planning most of our days around special activities and especially photo opportunities – not only did we have to plan for early sunrises and late sunsets, but tide tables had to be considered. We found ourselves driving more than reading; beach-combing more than resting.
The weather was glorious – that rain on the first day was all we encountered. Nothing stopped us from bush-whacking along the Hole in the Wall trail or seal-spotting in Pettes Cove. Or watching a humpback breach or kayaking in Whale Cove. Yeah, we did all of that, and a lot more.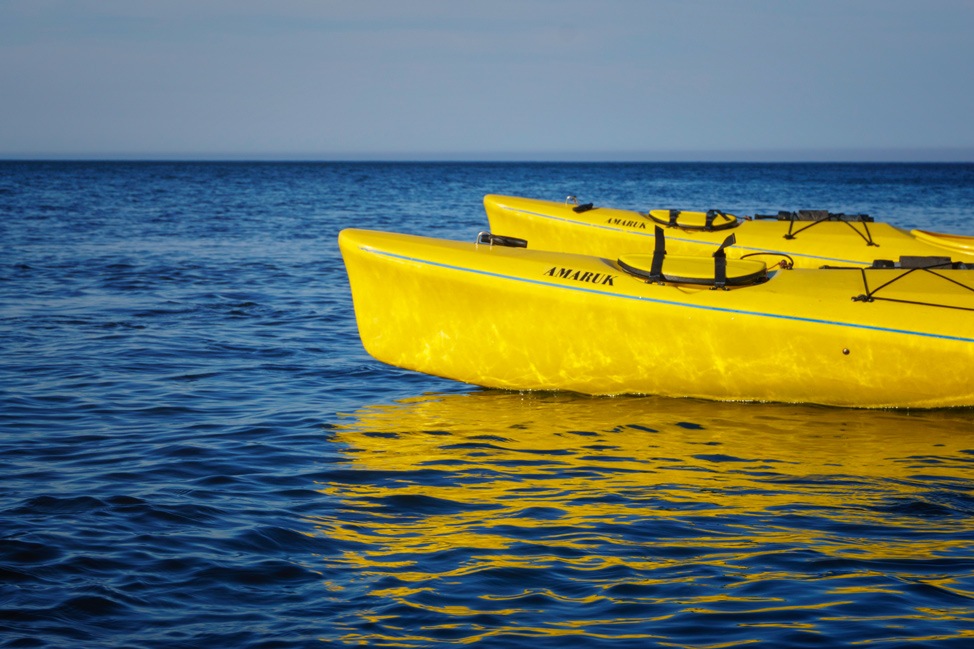 We Hit the Trails
There is a trail that encircles the entire island that takes about three days to complete (says a 19 year-old we met, add on a few more days for us). While that hike is now firmly bucket-listed, we settled for a shorter journey called the Hole-in-the-Wall trail that took us all the way from an arched rock through some cliff-edge camping sites (also bucket-listed), and then onto the Swallowtail lighthouse.
The best part about this trail for these hikers is that much of it (save for the short trip that can be done to the arch rock and back) is adventurous hiking. It's decently marked, but through a variety of terrain that saw us cliffside one moment and then shuffling through tall grass the next. The dirtier we got, the more rewarding we found it.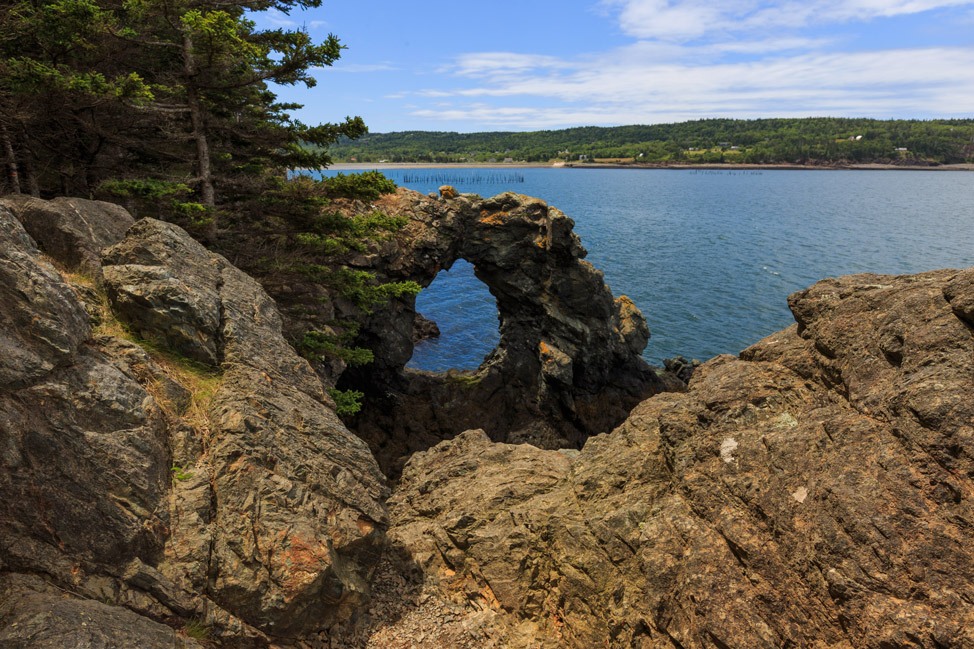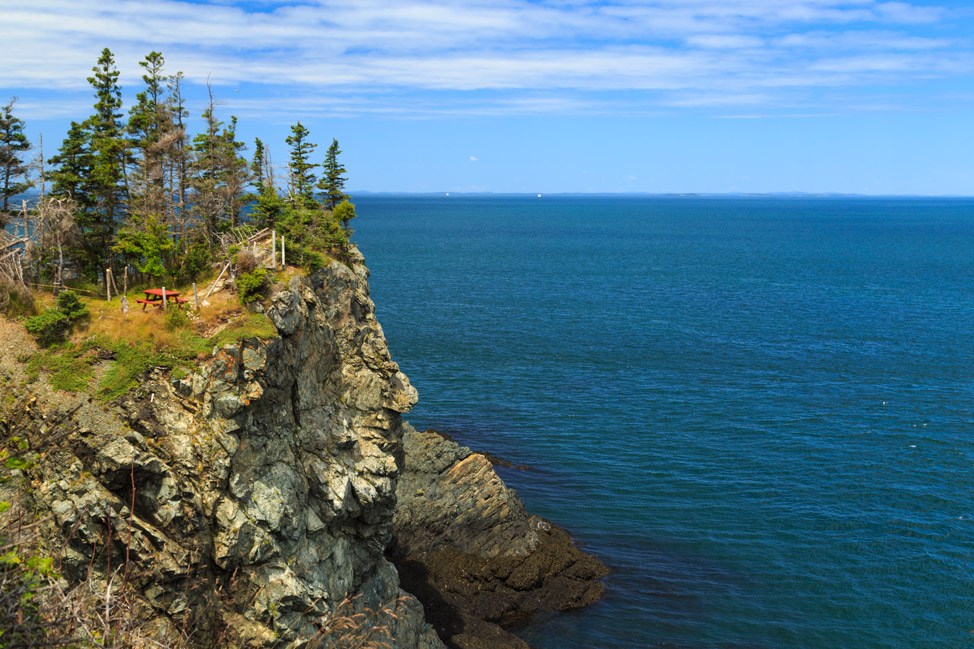 Then, the Water
We have gone whale watching before, several times, and will admit that we were initially a bit meh on going again. Our previous experiences were pretty spectacular, could they be topped?
Turns out, they could. We voyaged 15 kilometres offshore to find humpbacks that gave us a show like we had never seen before. A young male, probably 2 or 3 years old by our captain's estimate, played tirelessly alongside our boat. He flipped, he waved, and he breached for us several times.
The captain stated that he kept a book to track those whales who habitually hung around in this spot, complete with photos and names to set them apart. This young male had not been added yet. When he does, we recommended that his name be Show-Off.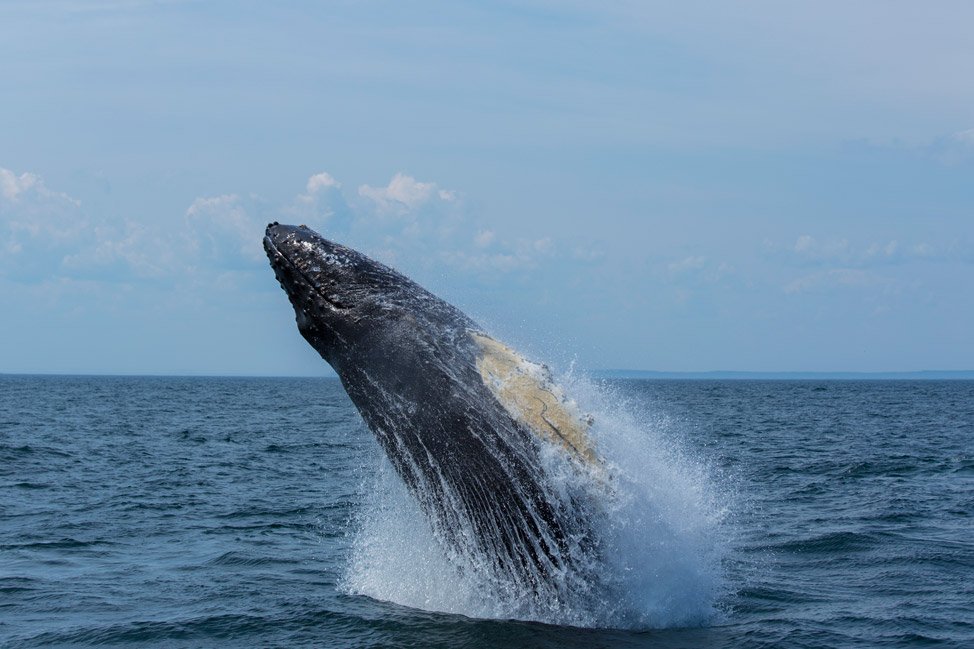 Shooting the Sun
After being woken by foghorn that first morning, my future early rises on Grand Manan either came from planned outings to capture the sunrise, or from Pete running out the front door in his underwear with camera in hand. (Apologies to those who stayed at the cottages around us.) Those shots at Whale Cove, along with capturing the famous Swallowtail Lighthouse at daybreak, were some of our favourites.
For high drama, South Head is the place to watch the sun descend. The 100-meter cliffs are made of basalt rocks left from one giant lava flow.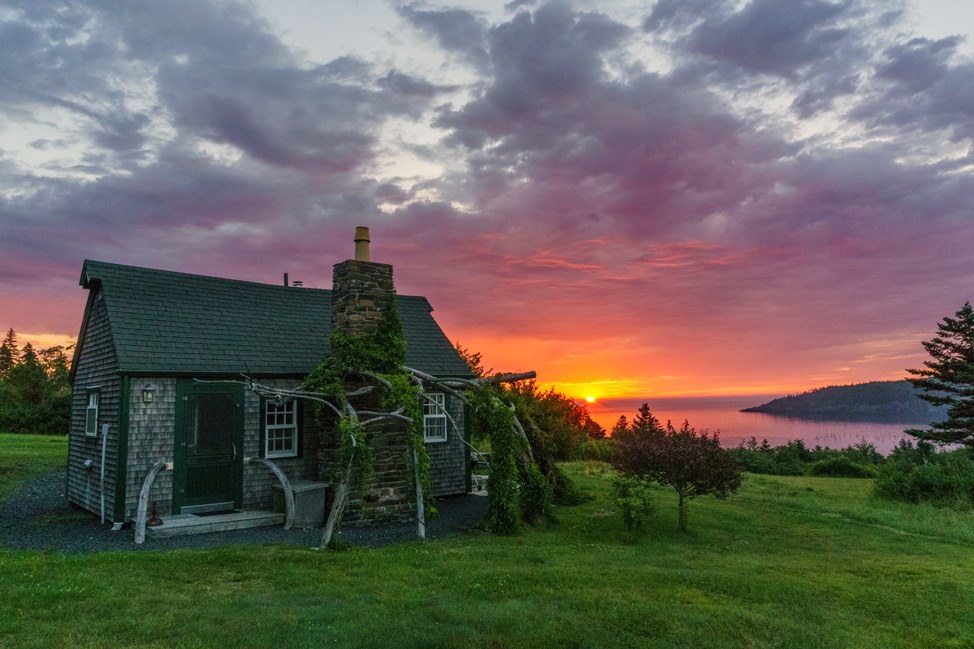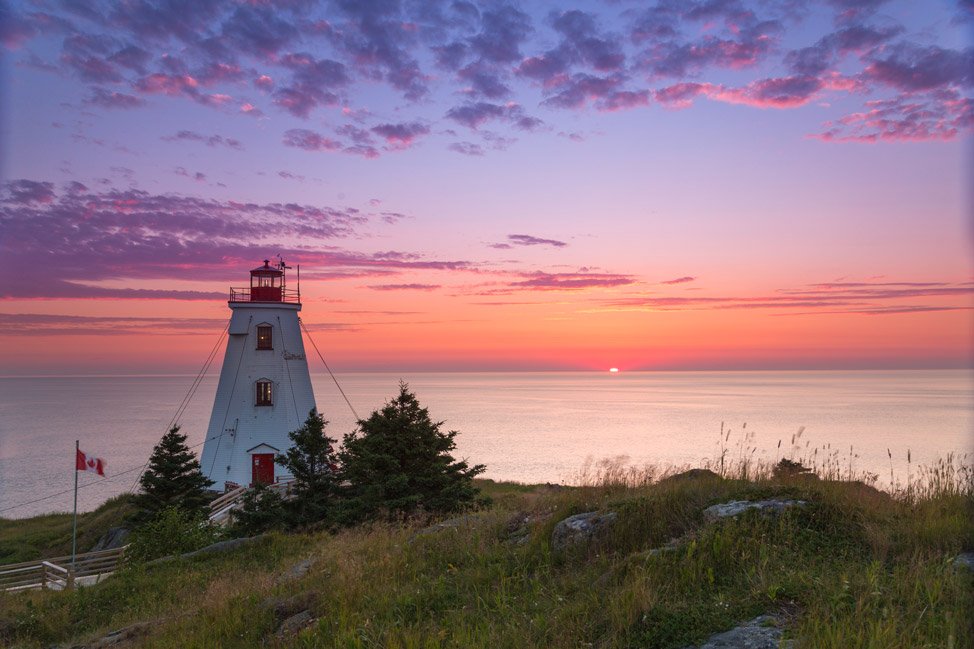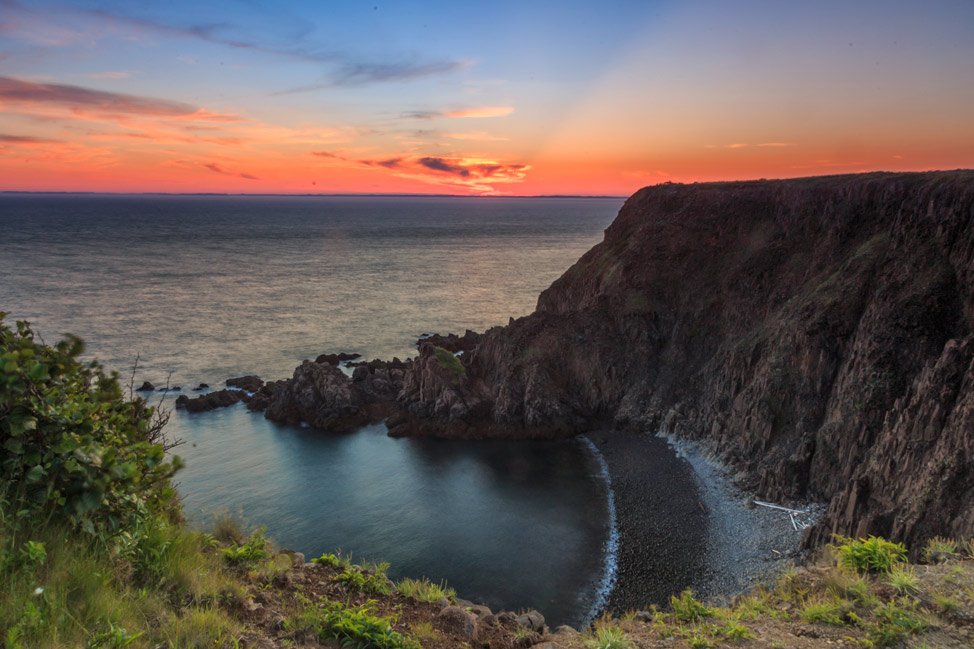 Combing the Beaches
As our trip wore on, we got better at being prepared for spontaneous beach enjoyment. Sunscreen, bathing suits, sandals, beach towels – all the required gear took up a permanent spot in our back seat. We found our best beach moments to be those that are impromptu. They provided an immediate infusion of mellow that we usually never make time for otherwise.
We especially loved Deep Cove Beach for lounging and Stanley Beach for strolling on Grand Manan.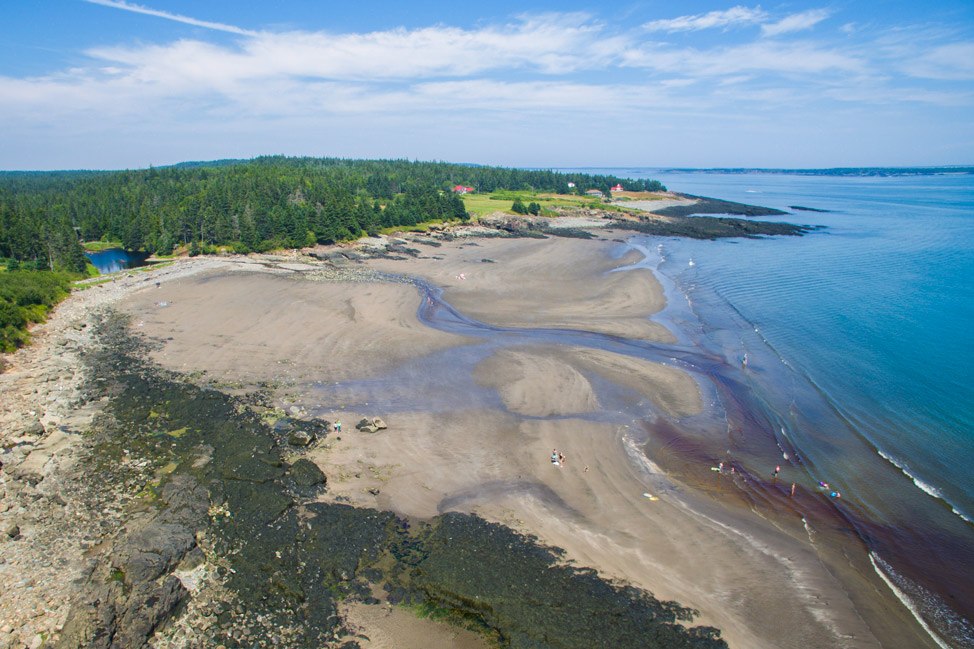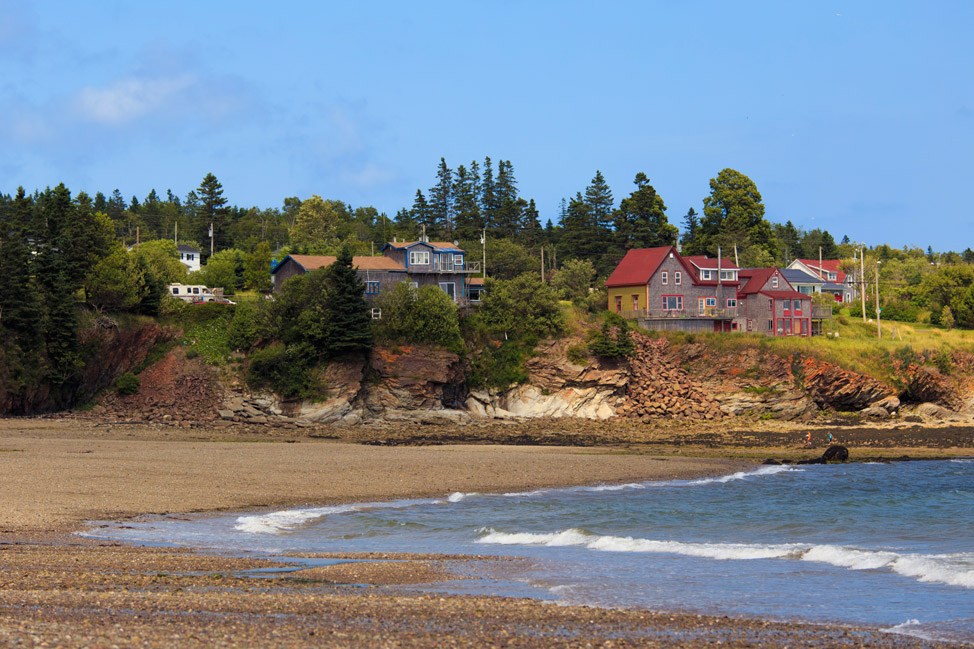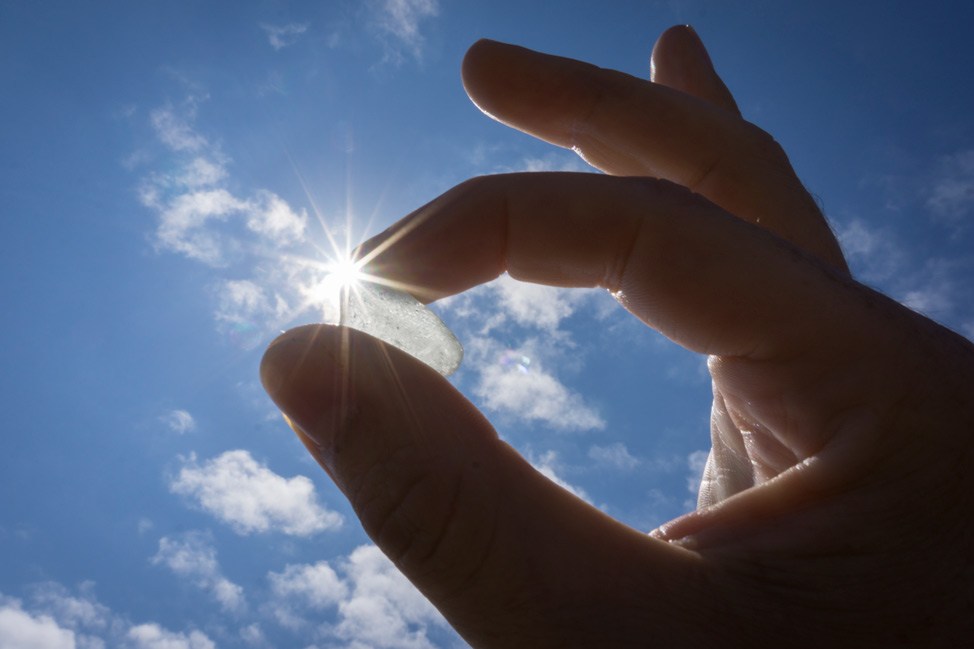 General Exploratory Pleasantry
The best thing about Grand Manan is that it has a distinct character that was unexpected; a diverse and harmonious community that made us feel immediately welcomed. We met people who had moved there from across Canada, a salty fisherman who had spent his life on the island, and eavesdropped on a conversation involving an American looking to buy a house.
There is a strong community of artists – we encountered many photographers or others with easels set up in the most scenic places. That was again reflected in the cute cafes and craft shops. Yet it exists without an ounce of kitsch, and not at all to overtly appeal to tourists.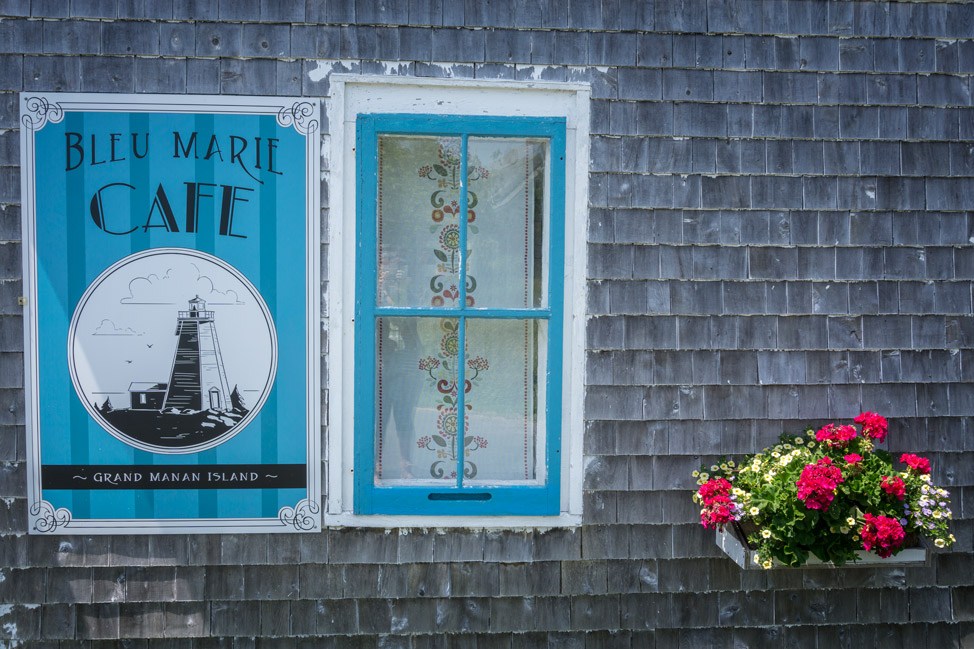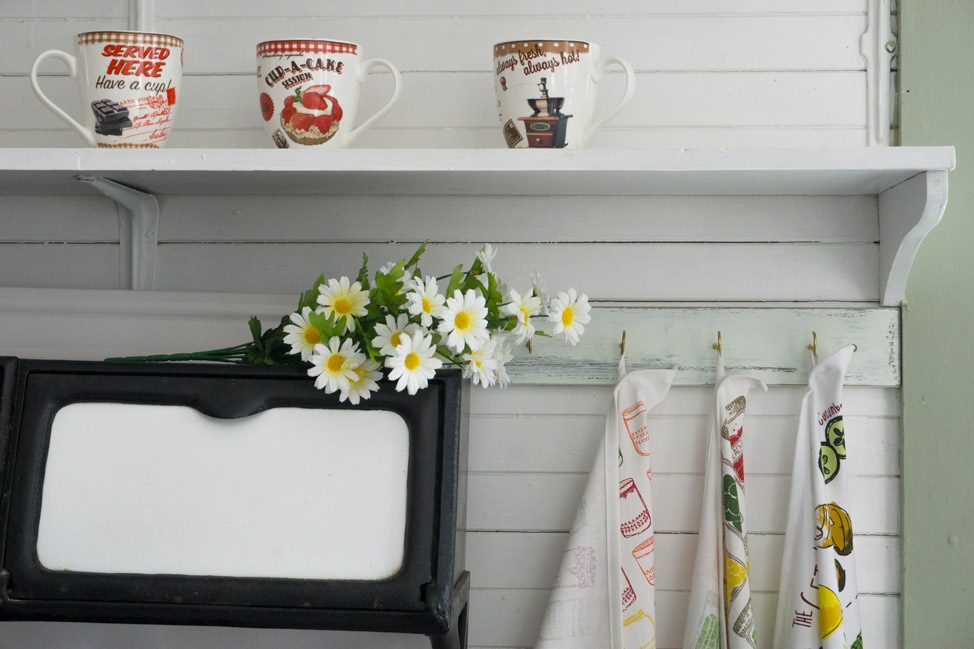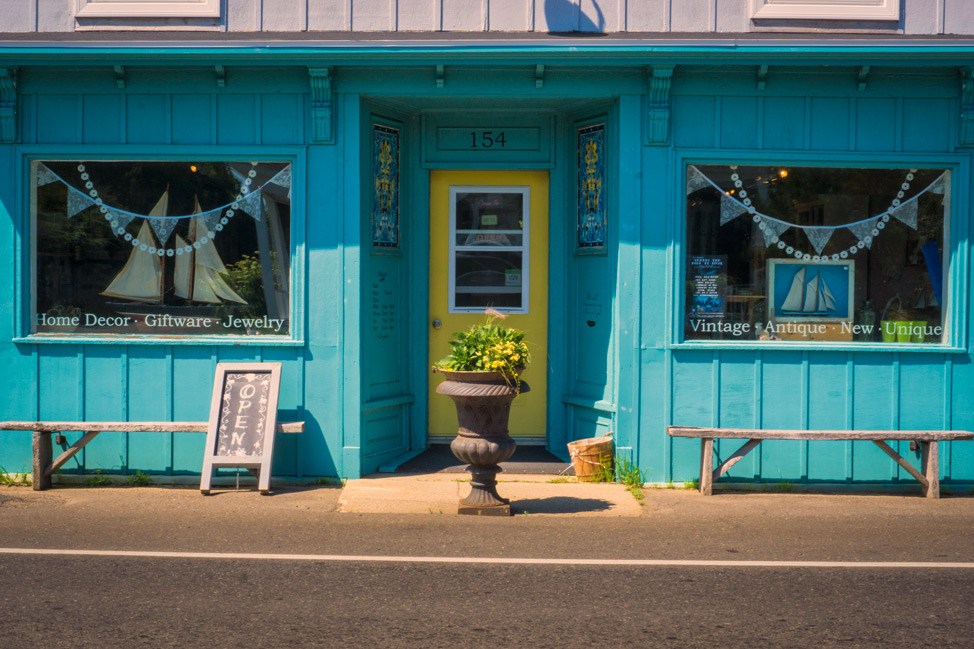 After one week we left the island for the mainland. We were somber for the parting yet energized by all that we had seen and done. This was our first taste of a province previously unknown to us, and set us up well for what was yet to come.
---
Where we Stayed and How we Did it
We can't say enough about our stay at the Inn at Whale Cove. Our bed at the "Orchardside Cottage" was one of the most comfortable we've had in months, and the cottage overall was well stocked and comfortable. We had two patios to choose from, views of Whale Cove, and only a fog horn to disturb us. We also indulged in one dinner at the Inn and it was superb!Of course, watching young humpback whales breach isn't guaranteed on every outing, but if they are to be found, trust this company to do it.
Our kayak excursion wasn't exactly as planned – we were rerouted due to wind – but any day on the water is better than a day out of it. Especially when a couple of curious seals pop up to say hi.
---
This post was produced by us, brought to you by Tourism New Brunswick.