Festival de la Virgen de Guadalupe – A Photo Essay
In September 2009, we began our South American journey with our first stop being Sucre, Bolivia. Our timing couldn't have been better if it was planned, as we unexpectedly arrived just two weeks before the annual festival of La Virgen Guadalupe – one of the biggest celebrations in the entire country.
Not only do Bolivians know how to party, but they also know how to practice for a party. The locals and several surrounding communities prepared for weeks with nightly practice parades through the main streets, setting off massive fireworks and shaking the surrounding buildings until the wee hours of the morning (on one of our very first nights we thought we might have just moved into a war zone, not knowing at all what was going on).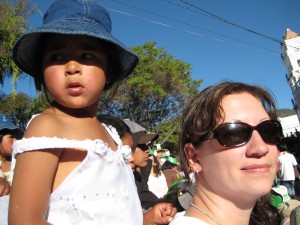 And on the actual day of the festival, streets throughout the city were shut down and the massive parade ran for six straight hours in the hot sun – participants battled the heat in their elaborate costumes while they marched, sang and danced with pride, all in honor of the Virgen. We were two of many onlookers who bought chalked off sections on a makeshift bench to sit on and watch. With large crowds and only tiny spaces allotted for each bum, we were only able to rest one cheek, and also often had children leaning against our shoulders during the parade.
Vale la pena!! (It was worth it!)  Enjoy the photos!