Best. Chocolate Chip Cookies. Ever!
A cloudy day in paradise can be turned around with one batch of these bad boys.  I have no idea where this recipe originated from, all I know is that I stole it from my sister and will never stray.
They are full of everything that is oh-so-bad.
But they are oh-so-goooood.
3/4 c. brown sugar
1/2 c. sugar
1/2 c. shortening
1/2 c. butter or margarine
1 + 1/2 tsp. vanilla
1 egg
1 + 3/4 c. flour
1 tsp. baking soda
1/2 tsp. salt
1 6 oz. pkg of chocolate chips
Preheat oven to 375 degrees F.  In bowl, beat brown sugar, sugar, margarine and shortening until light and fluffy.  Add vanilla and egg; beat well.  Add flour, baking soda and salt; mix with hands.  Mix in chocolate chips.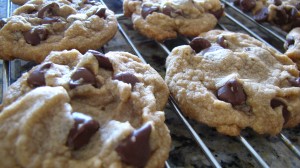 Form into balls and place on ungreased cookie sheet.  Bake for 8-10 minutes or until edges are slightly golden.  Remove and let cool on pan for 5 minutes before transferring to wire rack for 10 minutes. Store in air-tight container to retain moisture.
They taste best if eaten in batches of six.  =)
*Time and energy saving tip
– have two pans going at once.  While you are letting one batch of cookies cool, stick the other pan in the oven.  Repeat!