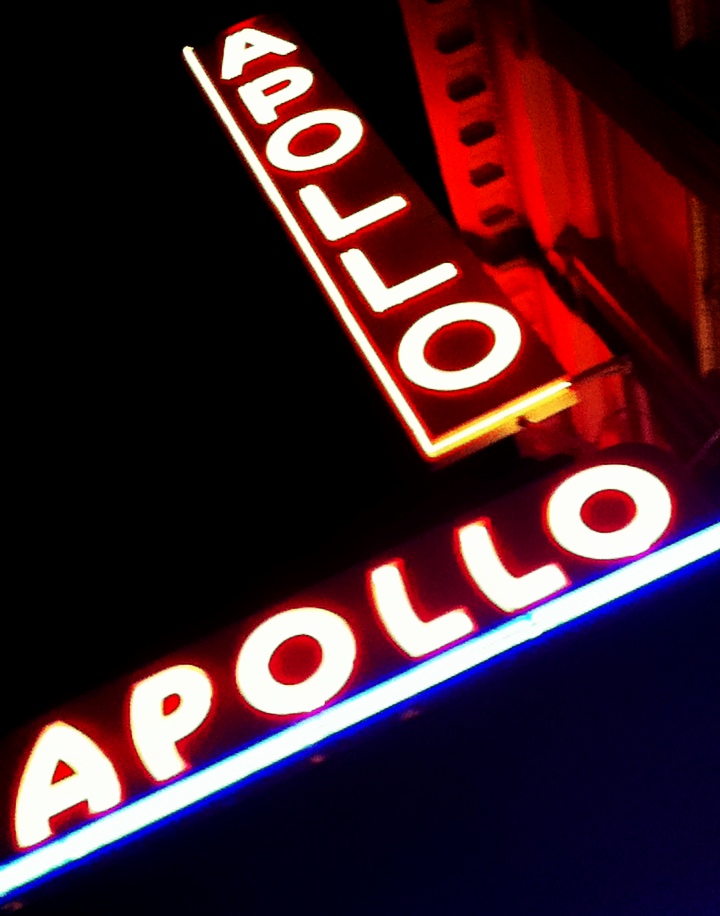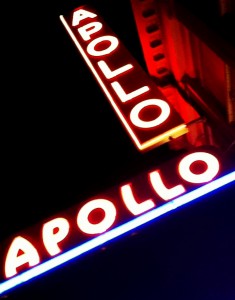 There was a whole lotta dancing.
Even more singing.
And also some very unfortunate gyrating (which will haunt me forever, I am sure).
I'm talking about our evening at the famed Apollo Theater for Amateur Night, where performers were invited to strut their stuff in front of a live audience. Each was faced with the intense reality of possibly being cheered on to victory, or booed right off the stage – their fragile egos and potential careers in the hands of the audience before them. And this audience was not entirely sober.
The performers also had the added pressure of following in massive footsteps. The list of famous musicians who got their start on the Apollo stage is astounding: The Jackson 5, Ella Fitzgerald, James Brown, Marvin Gaye, Mariah Carey, even Jimi Hendrix.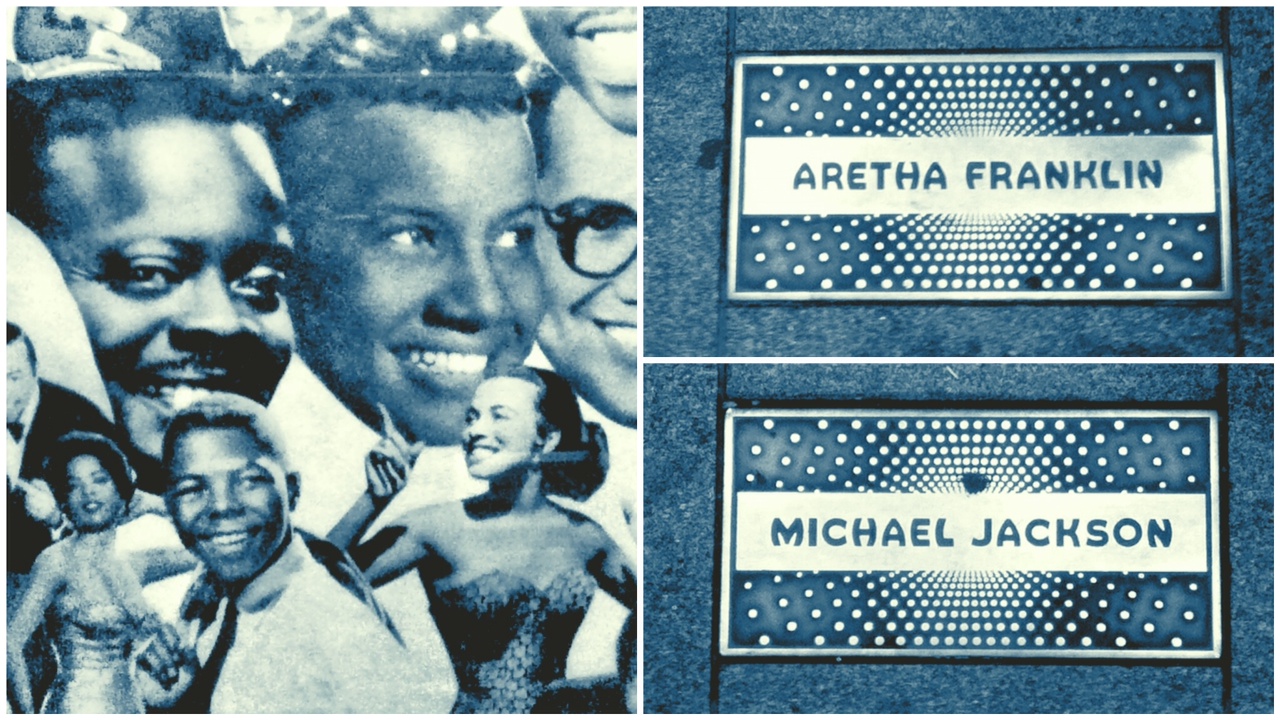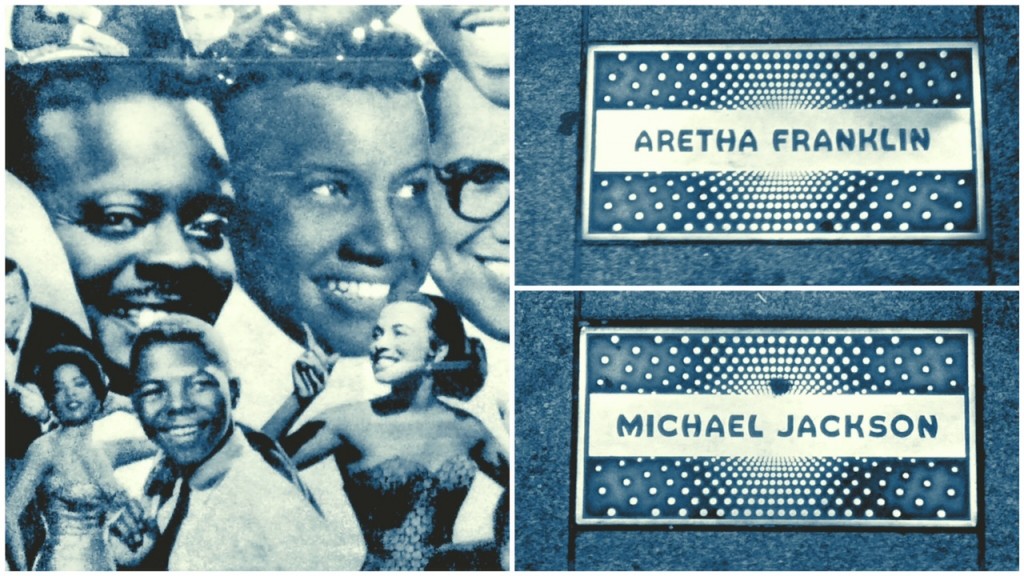 Diana Ross. Billie Holiday. Patti LaBelle. And, unbelievably, plenty more still.
It all culminated in a near frenzy that rippled through the theater. The display of talent wasn't solely showcased on the stage as a result. The evening's host, the hilarious comedian Capone, had us all on our feet singing and clapping. During intermission, strangers continued the party by dancing together in the aisles.
The whole evening carried an electric buzz from the start.
So much so, in fact, that this writer felt compelled to try to perform on the grand stage as well. Urged on by the streaming energy, the perpetual search for a great blog post, and perhaps a shot (or three) of my favorite whiskey, I waved my hand frantically to be chosen for the extreme-amateur portion of Amateur Night.
Alas, to my drunken disappointment, I was glanced at and passed over. A few minutes later, I was immensely glad for that.
Four audience contestants took to the stage, and for thirty seconds each, gave it all they had. There was wiggling, grooving, and yes, gyrating, with a complete lack of inhibition from all four. We were hooting, hollering, and cheering for our favorite.
There was no question who the winner was. When a senior man (70ish?) displays moves like that, there is no contest. Give that man a prize.
Next up were the kids. Four more contestants, ages eight to sixteen, were much more impressive then any of the fearless adults could have been. Three flexed their pipes and one dance troupe dominated the stage. They each had more talent in one leg of their leather pants then I've shown in thirty-plus years (only a couple of which I have worn leather pants).
No boo's were allowed for the kids, only cheers to help choose the winner: a sixteen year old girl with incredible range who deserved every ounce of praise. The booing was soon to come.
"It's about to get all ghetto in here," Capone announced.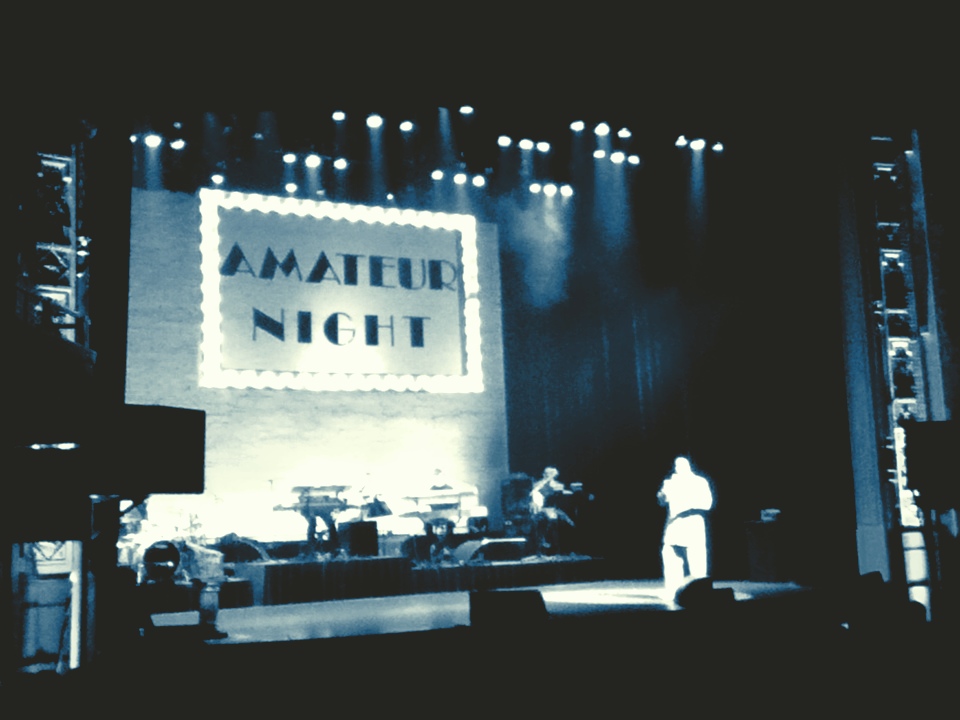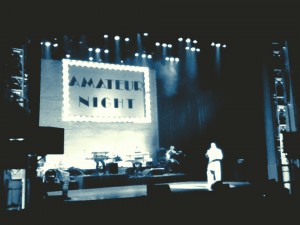 He explained the rules at the start of the official Amateur Night competition: winners would be chosen by cheering, but if a performance wasn't going well, the audience was encouraged to be just as vocal. He suggested checking with our neighbors around us: "If they're terrible, everybody has to make the consensus to boo. You gonna boo? I'm gonna boo. Let's boo." And if the heckling was intense enough, an "executioner" would come on stage to remove the perpetrator for his or her crimes against humanity.
It turned out to be the most fun we could have by trying to make someone else miserable.
We were warmed up with easy reason to cheer as the first two contestants sang their hearts out and won the favor of the crowd.
The third was most definitely boo-worthy. Being a little shy of heckling at first, the crowd kept him on stage for far too long. By the end the booing gained intensity but the singer escaped unscathed and was able to finish his entire song. Unfortunately for the contestant after him, there was a lot of pent-up energy in the crowd. She was barely into her first verse and the booing started. It wasn't long before the executioner crept up beside her.
He was dressed as Michael Jackson, and he moon-walked her off the stage.
The bad continued, but she somehow was the only one to get brushed off. The following contestant was all flavors of awful: dressed in a full white suit with red shoes, he threw in some severely inappropriate hip movements, and destroyed all notes outside of his prescribed range. I even stood up to boo. But it apparently wasn't enough and he was allowed to stay.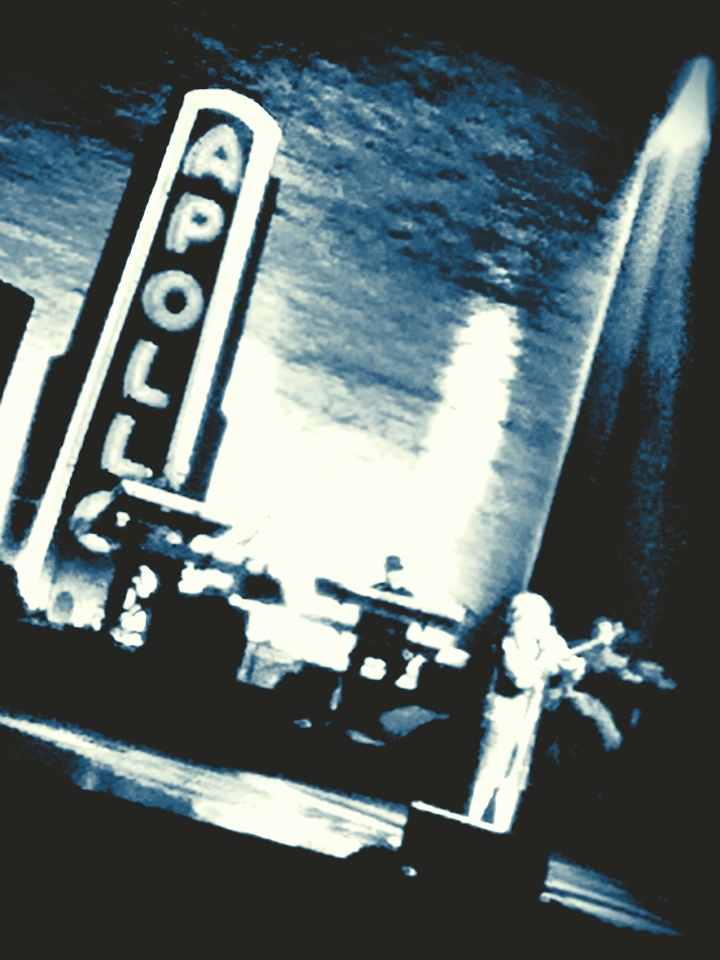 In the end it was the first contestant who won and she moved on for the chance at a $10,000 prize.
The real highlight of the night came in the form of the iconic Miss Jennifer Halliday (the "original" Dream Girl), who owned the stage at intermission. She bellowed the famous song "And I Am Telling You I'm Not Going", and brought the house down. And by down, I mean up, rising on feet, tip toes, clapping, cheering, whistling and crying. Maybe that was just me, but I doubt it.
Perhaps it goes without saying that the entire evening was a highly entertaining roller coaster of an experience. One best encountered with a penchant for singing, grooving, and being swept up in a boisterous energy.
And maybe with some leather pants. A shot (or three) of whiskey is fun too.
 *****P.S.***** Pete and I were lucky to get back inside the Apollo that weekend when a free Open House of entertainment was scheduled. We thus managed to get our moment of fame onstage, gracing the wooden planks that so many people have famously before us.
That wooden stump we're posing with is the "Tree of Hope" – a famous hunk of tree stump that contestants have rubbed smooth for good luck. The tree stood outside the Lafayette Theater where Amateur Night was previously held before moving it to the new Apollo which opened in 1934.