Lesson from Mom
If I had a dollar for every time my Mom said: "I don't want to go home!"…a shot of whiskey for every time she said: "I can't believe I have to leave here!"…and a lobster for every time she simply said: "Wow!"…
…I'd be making a big deposit into the travel fund, be pretty wasted (for several consecutive days), and I'd have a whole lotta lobster to give away (because I don't really like lobster).
Granted, my Mom is excitable by nature.  You would understand this if you could talk to her during the fall harvest season, when you'd have to listen to her gush about the taste of fresh garden potatoes for days on end.  But even though I know this about her, it didn't stop me once from relishing in her joy; I was grateful to be able to give her the opportunity to visit Honduras, and also to bear witness to it.  The constant giddiness and excitement in her voice was captivating.
She would stand and gaze out our window as the late afternoon sun cast shadows on the jungle treetops below and shake her head at it's captivating beauty, also always commenting on the different shades of blue visible in the ocean just beyond the trees.  She reveled in each moment along the bumpy dirt road that leads to our house – especially when we fulfilled our role as neighborhood taxi, enjoying these brief interactions with this island's native inhabitants as we gave them a lift into town.  She made friends with the brilliant green and blue lizards that frequent our patio, giving them names and talking to them whenever they showed up.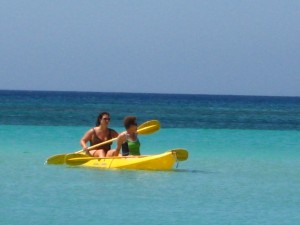 Mom also pushed herself to face her fears and try new things – she ate iguana and enjoyed it, and even took to the water twice (by boat and kayak) just to prove that she could – which is no small feat given the immense fear she has had all of her life with water.
To be a spectator to her wonderment was inspiring – at times it seemed that she was like a child opening her eyes to the world for the first time. And while I enjoyed every minute of it, I couldn't help but compare her expressions in these last two weeks to my first few days on the island. Her enthusiasm trumped mine tenfold. I mean, I do recognize the beauty which surrounds me, and I am grateful to be spending this time here, but I'm pretty sure I could count my exclamations of "WOW" on just my two hands.
When I think back to my first days traveling 19 months ago, that is more comparable.  I am pretty sure I walked around Bolivia with my chin on my chest, dropping wow-bombs around every corner as I soaked up all the new sights, sounds and smells.  I pushed myself then as well – taking to long hikes in the Andes (unlike any I have done before), and jumping off a mountain with only some fabric and strings attached to my back, just to prove I could.  My reactions during that time would be much more relatable to my Mom's in the last two weeks.
So, what does that mean for me now then?  Given my comparable lack in emotional response to the very obvious beauty of this island, am I becoming weary?  Have I lost my travel passion?
After 19 months roaming through my own country as well as eight others, I've seen a lot. Beautiful mountains, beaches and waterfalls?  Check. Inspiring art, unique wildlife, natural wonders?  Check. Bright green foliage, crystal blue water, scarlet red sunsets?  Check, check and check.
It is obvious that I have definitely become harder to impress.  Mountains have to be grander, wonders have to be more intriguing and colors have to be crisper for such dramatic exclamations to escape my lips.  But I don't believe that means I'm done, that I'm ready to put my backpack to rest, or that I've lost my desire. My childlike wonder for new sights may have passed, but my steadfast dedication to soak in as much of the world as possible remains. I want to do it all, see it all, explore it all.
Although in my quest to keep pushing the boundaries of my journey, perhaps, just perhaps, I am missing the little things that should be continually causing me to exude passion for what I am doing today – even if it's not particularly more spectacular or daring then what I did yesterday.  I need to be giving someone else the chance to increase their travel fund, get drunk on whiskey, and enjoy a month of lobster dinners, because of the expressions of MY joy.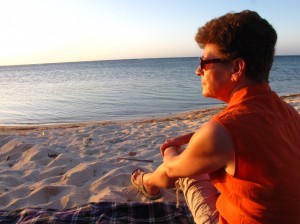 I was very sad to put my Mom back on the plane home.  But I am so happy for the memories and the lessons of her visit that remains.  I have a bit more spring in my step, and the way that the sun casts shadows over the jungle below will surely get a second glance from me.  To see it all again through another appreciative set of eyes reminds me how incredible this life is that I am living. I will stop shrugging off the beauty of this place and stop comparing it to others that I've seen.  I will stop thinking about what is next to be explored on this journey, and start appreciating each moment I have here right now.
And so, years later, after her work of raising me is done, my beautiful and inspiring Mom still has lessons to teach me.
Thanks Mom. xoxo