A Dog-Friendly Adventure in Colombia
Waterfall Hunting: A Dog-Friendly Adventure in Colombia
We have recently been welcoming guest bloggers to our site (because of this). When Jen approached us with a tale about traveling with her dog Sora it was an easy YES for us. We are forever intrigued by the decision to travel with a furry friend when we can often barely take care of ourselves. ~ Dalene
After two years traveling by bicycle internationally with our dog, Sora, my partner Dave and I have successfully mastered the art of traveling with a dog. We have our spiel nailed down for convincing hotels to allow us to stay with her in the room. We know that the vegetarian restaurants generally allow us to bring her along, and, most importantly, we know how to find the best dog-friendly outdoor activities.
Most tourist activities are not dog-friendly, and to be honest, we tend to avoid the mega destinations anyway. Aside from them not being dog-friendly, they are crowded, expensive, and not always run with social and environmental sustainability involved.
We prefer to explore the lesser-known adventures, where we are the only ones leaving footprints on the trail, where there are no blazes indicating whether we turn right, left, or stay straight, where we become lost and have to strike a conversation with a local farmer.
These types of journeys leave us feeling more connected to the place we are visiting and to the people who make their lives on the land. The locals always know the best spots and serve as our main guidebook.
While cycling through Colombia, we made a short detour to the small, yet busy town, San Agustin, in Southern Colombia. Best known for the abundance of hand-carved statues, depicting sacred animals and sculpted in by local artists, San Agustin is also situated among lush green hills near Colombia's most important water source—the Magdalena River.
These types of journeys leave us feeling more connected to the place we are visiting and to the people who make their lives on the land.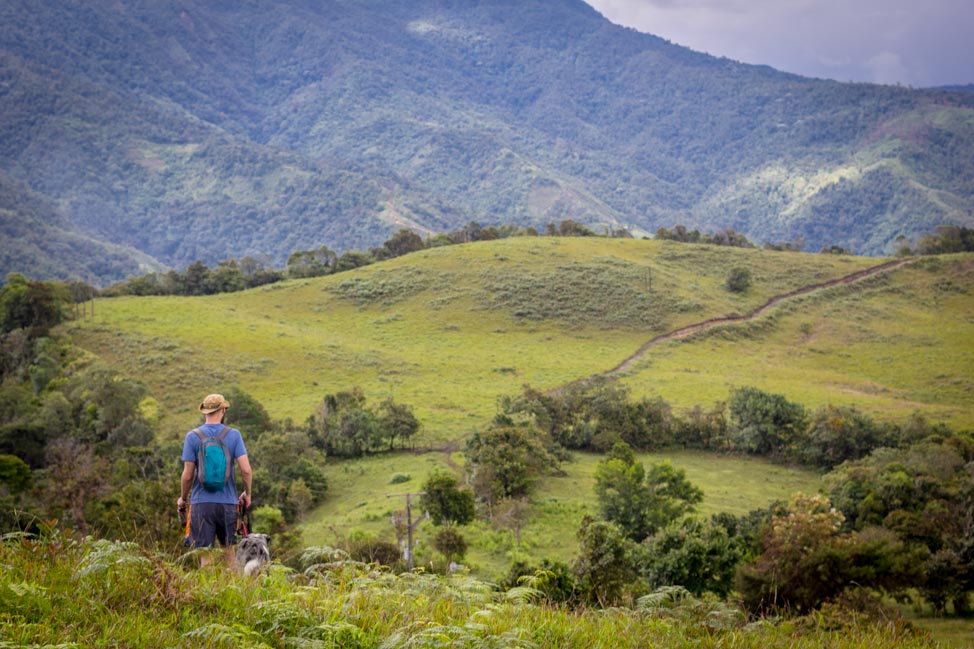 Where there are rivers and hills, there are bound to be waterfalls. Originating from the Pacific Northwest, I set our sights on locating the most secluded cascades we could find. After spending much of our cycling life in South America alongside busy highways, blocking out road noise, we craved the connection to nature.
We turned down daily offers to join an excursion in a jeep where we could visit several sites featuring famous stone sculptures and admire tall waterfalls from far away distances. Sora was welcome, but we'd spend most of the day sardined into a jeep with other foreigners. That's not the sort of waterfall hunting we sought.
When asking the locals about waterfall hikes in the area, the hike to Los Tres Chorros, came up again and again. This was a faraway waterfall where one could swim in the pool below the three spouts pouring water from above. That is where we wanted to visit.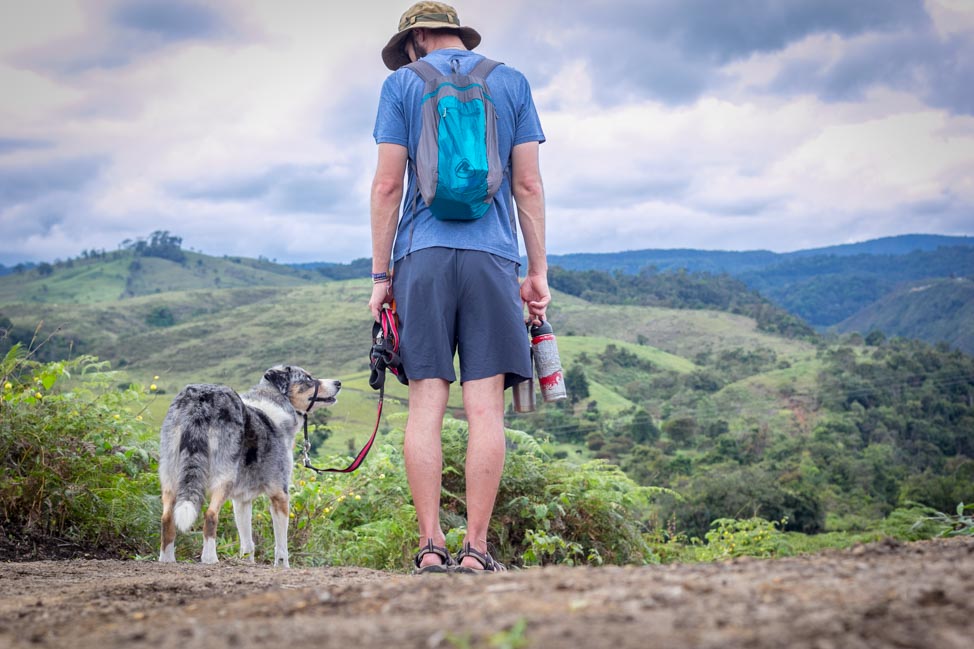 After consulting with several locals, we set off on our adventure and hired a taxi to take us to the village where the hike began. Neither the road nor the village showed up on any maps; even our driver had to ask for directions to the start of the hike once we entered the village.
A knowledgeable local directed us to stay on the main road, a bumpy muddy path that led uphill. She said we'd pass a farm, go up a hill, and eventually arrive to a house-like structure where we would see a sign directing us to the waterfalls. The hike to the falls should take us an hour, hour-and-a-half at most.
We set off along the road, a rusty orange color due to the minerals in the soil, and set our sights on the distant hills off, seemingly more than an hour's walk away. The clouds made way for the sun, and they continued the exchange throughout our walk.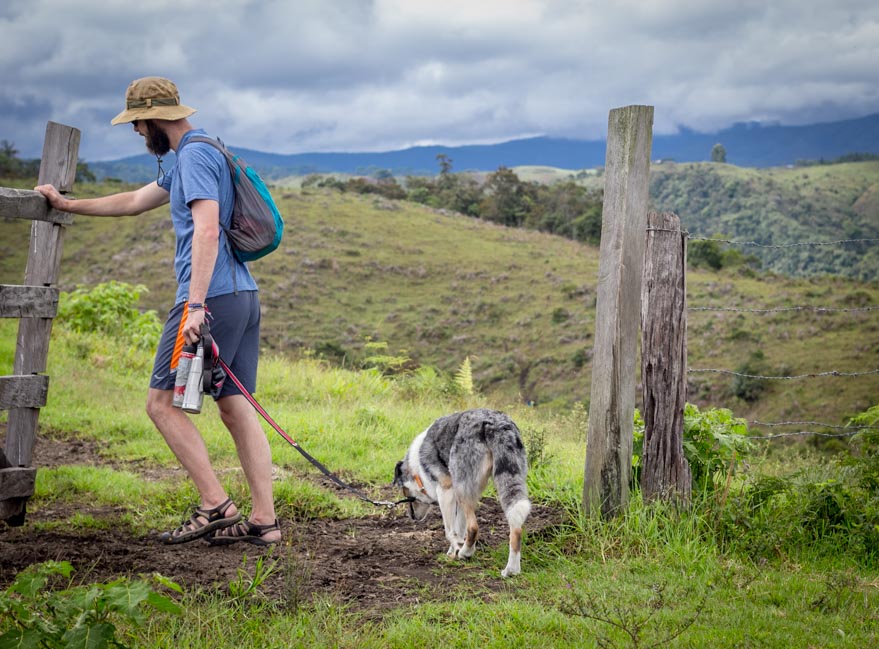 A livestock gate led us to our first farmhouse and three small dogs and one too-skinny puppy came charging toward us on alert as we entered their property. Unafraid of their petite size, we allowed them to greet Sora as I spoke with the farmer, inquiring as to whether we were following the correct route.
He told us to continue along the road, and when we arrived at the house with the angry dogs, to ask the woman where to go next. We thanked him for the information and continued on our way.
Just beyond his house, we climbed a steep hill that earned us a view of the entire region: the verdant mountains towering around and filled in by pastureland. A few farmhouses speckled the vista in the distance, but otherwise, we were completely alone with the landscape.
Our peace was abruptly dismantled when three angry dogs came racing toward us, teeth bearing and heckles on end, as we approached an orchard. Dave hoisted Sora into his arms like a baby, while screaming at me to pretend to throw something at them. (In Latin America, that's how people deal with dogs, by throwing rocks at them. We do the fake version if we find ourselves in danger.) I froze in place as a tan lab mix barked at me aggressively.
The woman, and owner of the house finally came out and called her dogs off of us. I released my breath and slowly approached her. She must be the woman with the angry dogs who would tell us where to head next.
She assured us her dogs were nice, as she directed us through two barbed-wire gates and up a small hill. Just beyond that, we would find the house with the sign to the waterfall.
Our peace was abruptly dismantled when three angry dogs came racing toward us, teeth bearing and heckles on end, as we approached an orchard.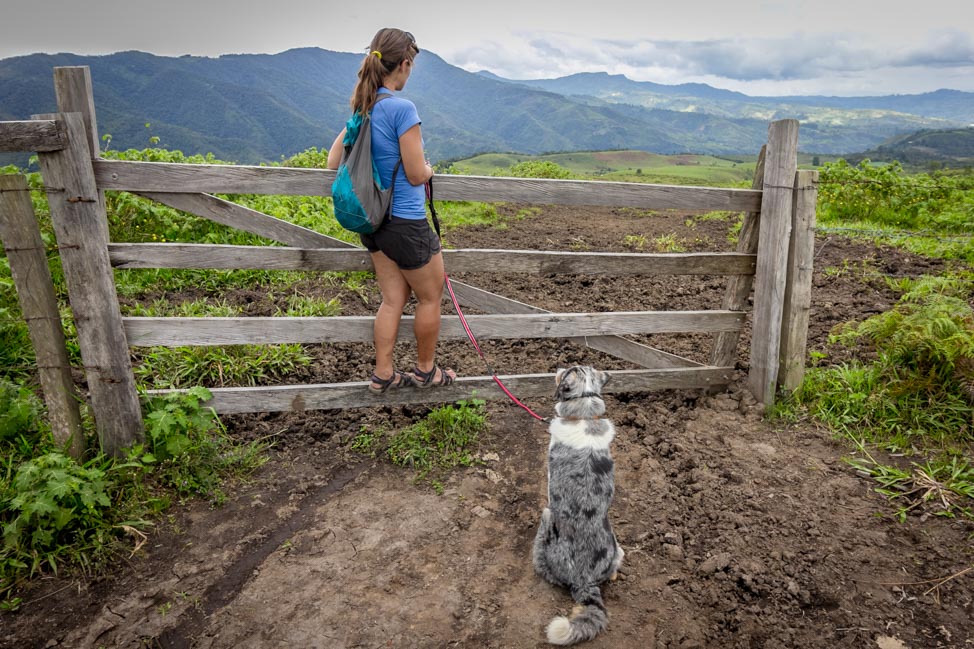 Not five minutes after we crossed through the gates, did we meet our next obstacle: a large herd of male cattle blocking our path that appeared rather unhappy with our arrival. Not being all that familiar with cows, we approached with trepidation, wondering what they would think of our herding dog that trotted by our sides.
Having quite a few kilograms on us, plus their sharp and pointy horns, we paused and gauged whether they would make way for our passing or just stand there. They did neither. Instead, a few of the leaders answered our question by turning to face us, stare us down, and make mini-charge movements at us. We found ourselves in a stand off with a herd of cattle protecting their young.
A barbed wire fence sat to our left, containing yet more cows, and a steep, lumpy hill blanketed in brambles to our right.
Our option was to turn back around or detour down the hill.
Dave took Sora and chose the hill, making a large circle around the herd. I watched from my place as one of the herd leaders set off chasing them down the hill. Dave yelled at the cow, who stopped briefly and considered retreating, but ultimately decided to continue after them. Dave started sprinting and dragged Sora behind him, eventually outrunning the cow to safety.
Recovering from a recent severe ankle sprain, I preferred to remain on the path, rather than tramp blindly over uneven terrain. I stood still, waiting to see if they would accept me with my dog farther away from the herd. I posed no threat, right? After five long, unmoving minutes, I decided to brave the hill and follow Dave and Sora's footsteps.
Having survived the angry cow attacks, we moved more briskly, filled with adrenaline and finally came upon the house with the sign indicating the waterfall was close by. Really more a structure than a house, a handmade wooden sign with the words "Tres Chorros" and an arrow pointed down a steep hill to our destination.
We found ourselves in a stand off with a herd of cattle protecting their young.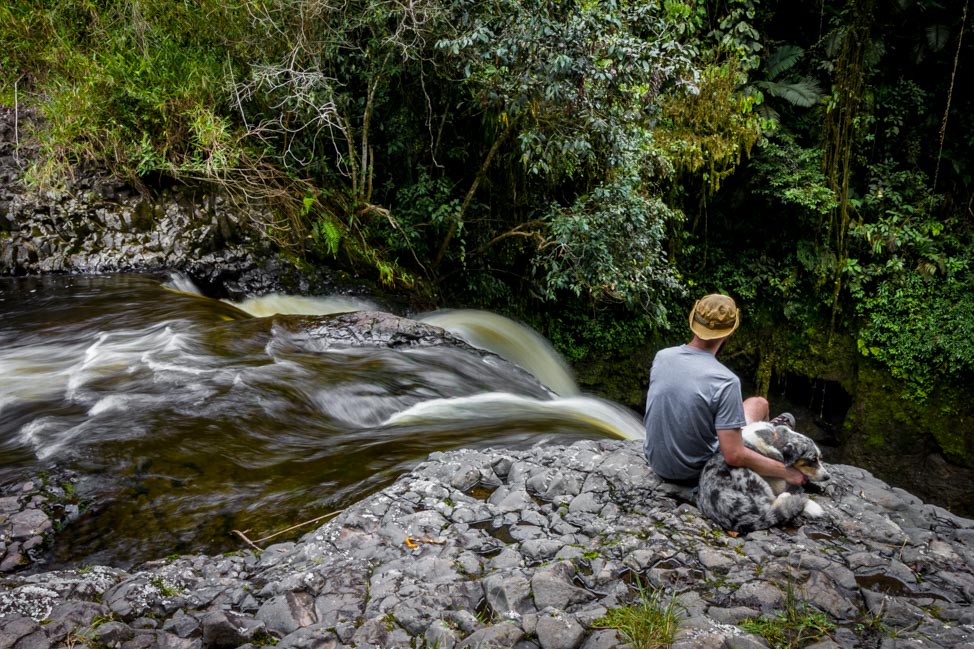 The roar of the river amplified as we neared the waterfall and when the trail ended, we found ourselves at a set of rocks alongside the river, but no waterfall in sight. I carefully navigated the rocks a bit further to discover that we had made our way to the top of the falls, with no apparent trail leading us to the bottom. Perplexed and with a raging appetite, we sat down along the rocks and ate our lunch, deciding to search for a trail on full bellies.
Upon careful examination, our options seemed to be to continue on a steep pseudo-trail-like path that involved plenty of slippery mud, or scaling down the rocks to the bottom. Since neither seemed a wise nor safe option, we just found a comfortable spot on the rocks and enjoyed the sound of the river, the solitude in which we found ourselves, and discussed our gratitude for the moment. For being in San Agustin, Colombia, with Sora, on a trail where the only people we saw were local farmers.
After some time, we continued back, now familiar with the route and knowing the obstacles that lay ahead. As we arrived back to the village, the only two gringos in sight, and waited for the cooperativa, the public shared taxi truck that would take us back to San Agustin, we made friends with the local street dogs.
When the truck arrived, I was invited to sit in the front seat, while Dave and Sora crammed in the back along with a broken down motorcycle, its engine still hot from motion and a giant bunch of plantains still on the vine, stabbing his leg at every bump and turn on the unpaved road.
We may have missed out on places like Torres del Paine National Park in Patagonian Chile, the Galapagos Islands in Ecuador, but when we departed on this journey, we made an agreement to never leave Sora behind. If we go, she goes. It's not always easy, traveling with a dog, but it sure as hell is always an adventure.
author bio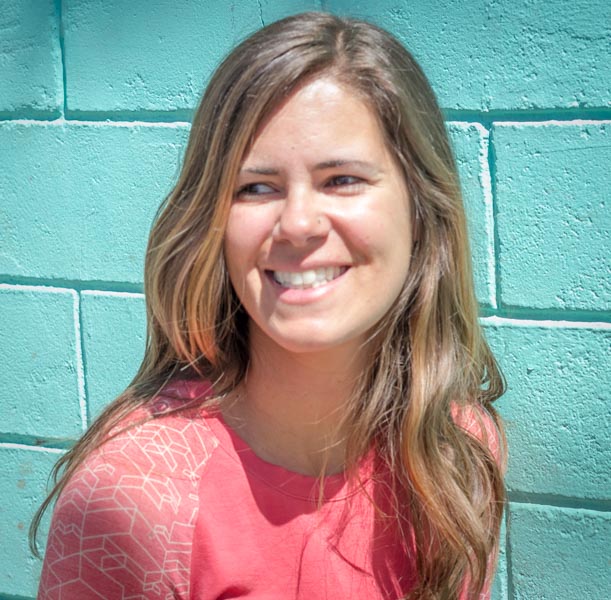 Since April 2015, Jen has been traveling the world by bicycle along with her partner, Dave and their dog, Sora, an Australian Shepherd who convinced her humans that exploring the world is much better than life behind a desk. When she's not cycling, you can find her running long distances in the woods or hiking in the mountains. You can follow her at:
www.longhaultrekkers.com
or
@longhaultrekkers
on Instagram.