Do It Yourself: Turkish Food, Part 2
Do It Yourself: Turkish Food, Part 2
Words by Dalene Heck / Photography by Pete Heck
The kitchen is heating up here, folks!
We are doing our best to bring you the best of Turkish recipes by trying out some traditional dishes ourselves. Our first attempt included the popular köfte and stuffed peppers, and this time we bring you Circassian Chicken and Eggplant Paste (Sultan's Delight).
Circassian Chicken (Çerkez Tavuğu)
Ingredients:
1 whole chicken
1 small onion
1 small carrot – grated
1/2 tsp salt
Fresh dill
Garlic Salt
Sauce:
250g. walnuts
3 slices dry bread
1 tsp. ground red pepper
1/2 tsp. ground chilies
3 cloves garlic
3 glasses chicken stock
2 tbsp butter
1 tsp crushed chilies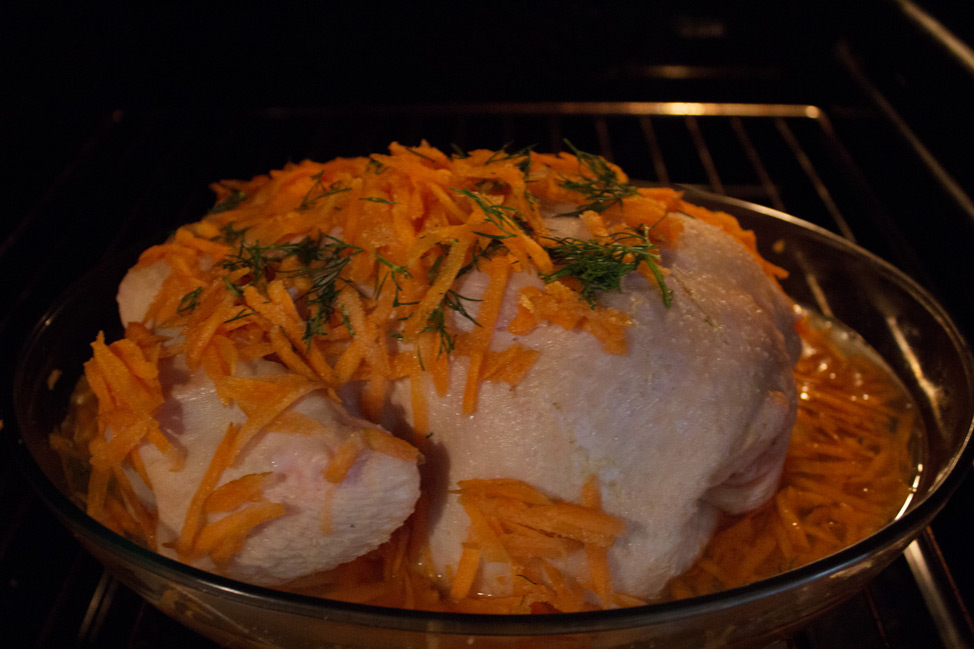 Put whole washed chicken, peeled onion and grated carrots into a saucepan. Cover with water then sprinkle on garlic salt and dill. Cook at 300 degrees until fully cooked.
Remove the chicken from the stock and let the chicken cool. Set aside the stock and whole onion for the sauce. Remove the skin and bones and tear the chicken meat into small pieces and put in a bowl. Set aside.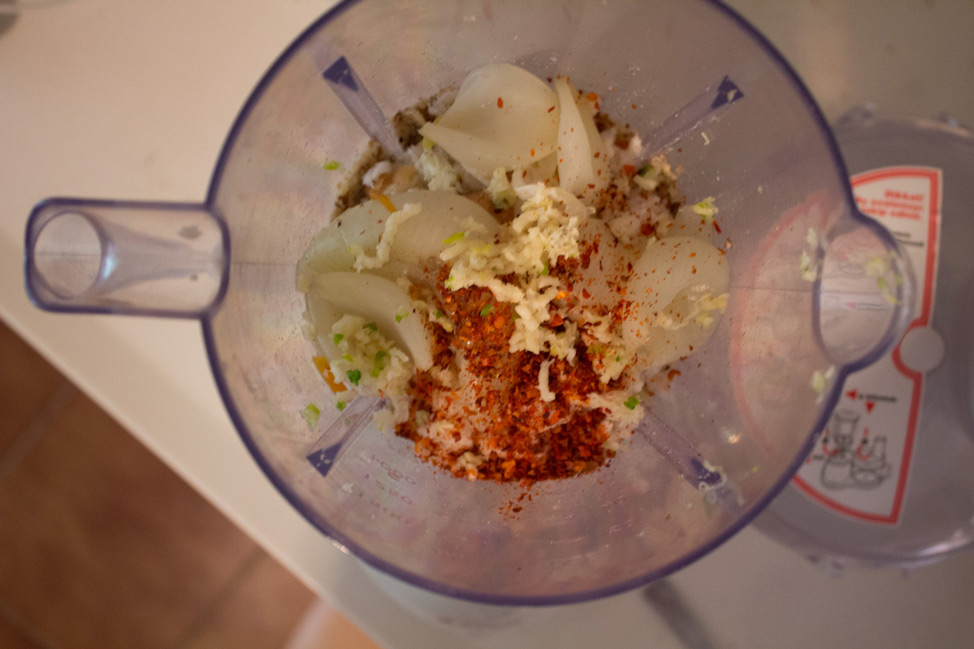 Sauce: Put the walnuts in a blender. Soak the dry bread in water, squeeze out excess water and crumble the bread, adding it to the walnuts. Add the onion that had been cooked with the chicken, crushed garlic, ground chilies, ground red pepper and blend. Slowly add the chicken stock that was put aside and continue to blend until the sauce is creamy.
In a serving dish, combine half the sauce with the chicken. Mix well until all the chicken is covered. Spread the rest of the sauce over the chicken.
Melt margarine in a saucepan and add crushed chilis. Let simmer for 3 minutes.  Remove from heat and sprinkle over chicken dish.
Refrigerate the chicken dish for 4 hours (or longer). Serve when ready.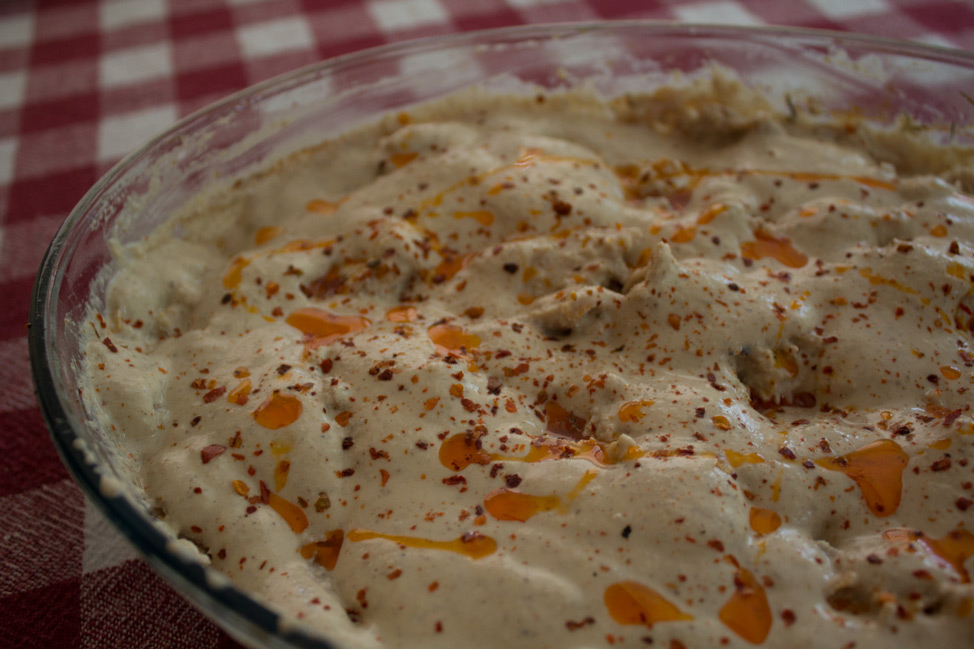 The Verdict: This took a long time to prepare (including the 3 hours cooking time for the chicken). If we were to do it again, we may just use chicken breasts to speed up the process. It was worth it though as the taste is quite nice with the walnut and chili sauces blended. It is traditionally an appetizer or side dish (would be perfect for a dinner party), although we enjoyed it best as a modified chicken salad sandwich the following day. 🙂 It was also way too much food for two people and this recipe is easily enough for six.
Eggplant Paste (Hünkar Beğendi)
We first tried this dish with our good friend Güneş and were inspired to try and make it ourselves.
Ingredients:
1-2 large eggplants
2 tbsp. butter
2 tbsp. flour
1 cup milk
1/2 cup grated cheese (optional, and recommended)
1 tsp salt
1/2 tsp garlic powder
Melt the margarine in a saucepan.  Add the flour and brown lightly on medium heat.  When done, leave aside.
In a separate pan grill the whole eggplants (we had to cut in half so they would fit into the pan, you can also put them on a barbeque).  Cook them until they are burnt on the outside and very soft on the inside (about 20 minutes).  Hold the eggplant by the stem under cold running tap water for about 4-5 seconds.   After, peel the skin (it should be easy) and then put the egg-plant on a wood cutting board and mash with a fork.  Add it to the flour mixture.
Next, put the mashed eggplant mixture in a saucepan and cook on medium heat for 5 minutes stirring constantly.  Slowly stir in the milk, salt, garlic powder and finally the cheese.  Once the cheese in melted it is ready to serve.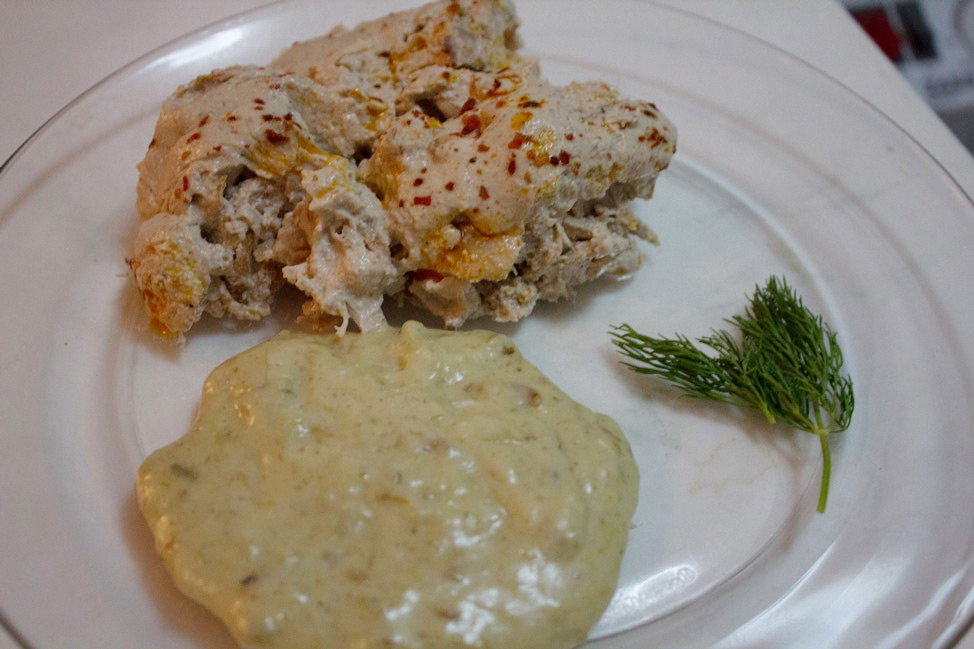 The Verdict: This turned out to be an easy favorite. We are generally not big fans of eggplant, but this is an exception as it is quite tasty and was very easy to make. It really was not the most visually appealing dish but as we quite often say, it's all just going down the hatch anyway.