From Guanajuato to San Miguel de Allende
Words by Dalene Heck / Photography by Pete Heck
When we started faintly planning for our romp through Mexico, San Miguel de Allende, Guanajuato was near the top of our must-see list.
It had everything we were looking for: a small and colourful colonial city up in the Bajio mountains, a welcome refuge after the heat of a coastal stay, and San Miguel de Allende gets rave reviews from most everyone we know, including some Mexican friends.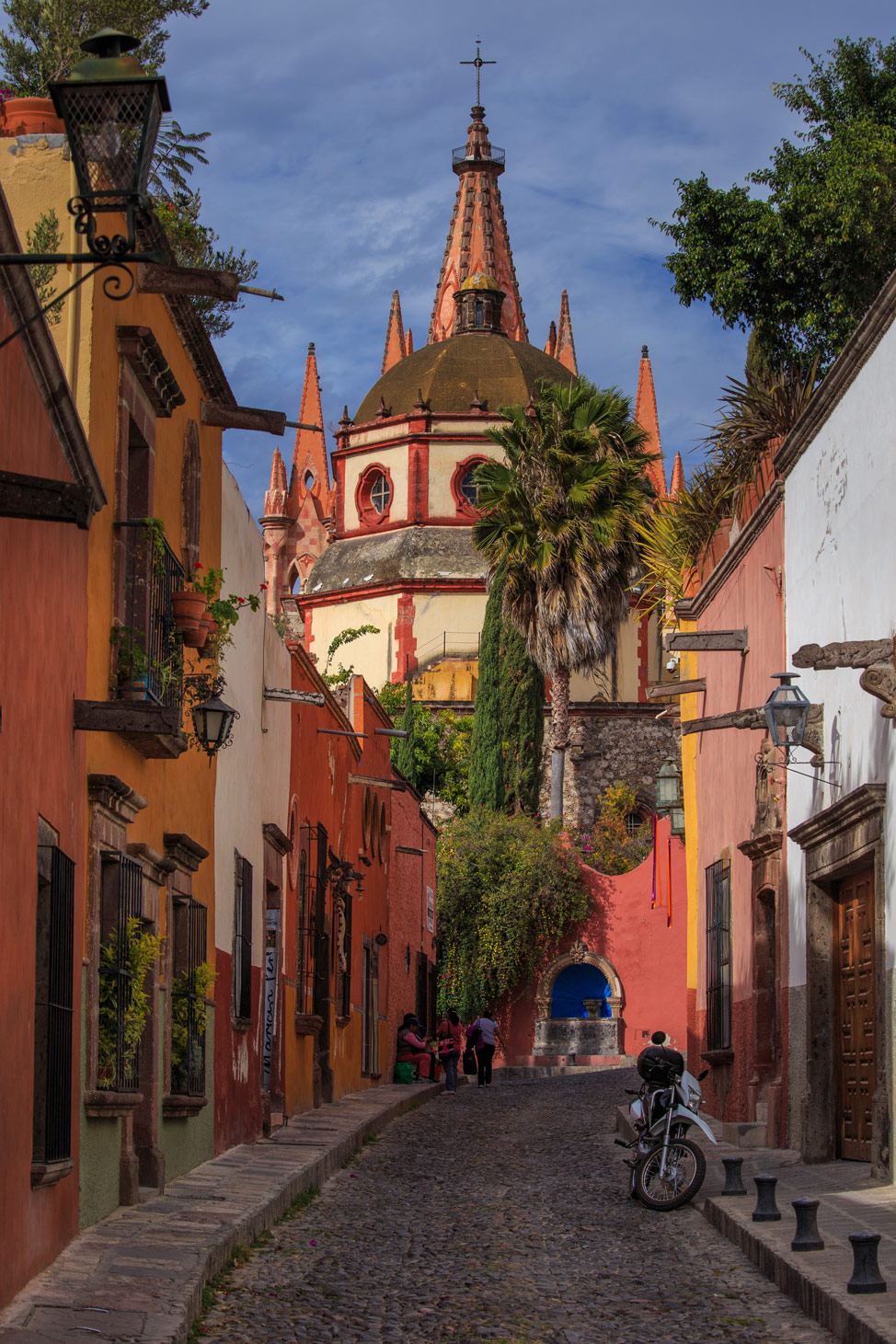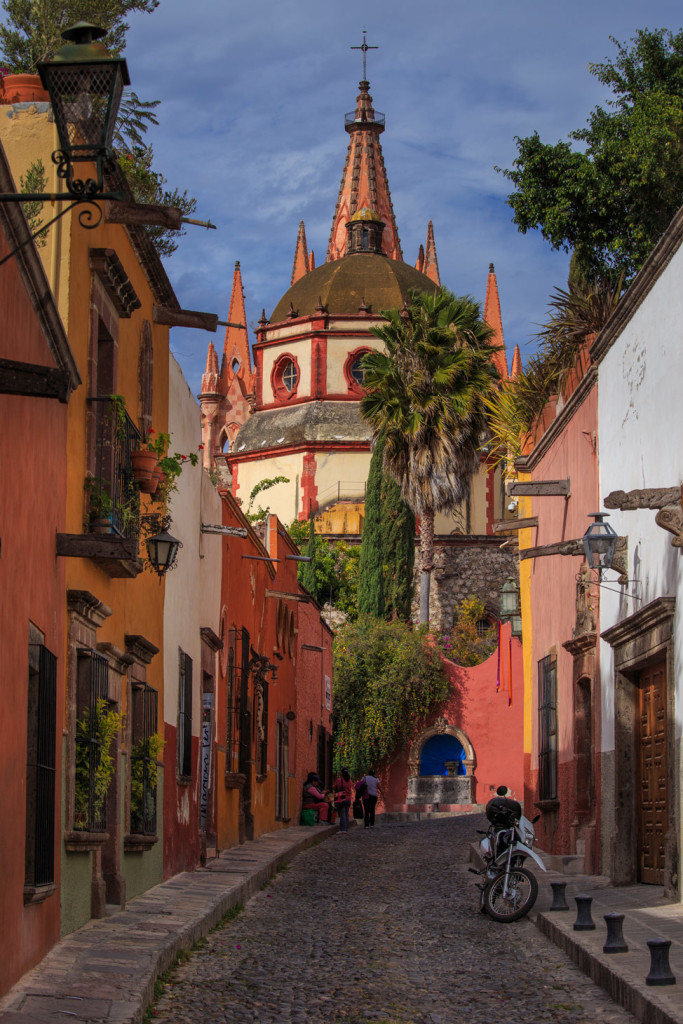 But then we heard several people also speak fondly of Guanajuato and we changed our minds. Only an hour away from San Miguel de Allende, the immediate draw to the state capital city was due to reports of fewer tourists and ex-pats and the ability to immerse ourselves in a truly Mexican city.
It was definitely all of that and more, and we were happy to spend a month there. But being so close to San Miguel de Allende, we decided to make a quick trip there to see if we had made the right choice.
First impressions had us second-guessing our decision.
San Miguel de Allende
San Miguel de Allende is a smaller and less congested city, and the variety of baroque Spanish architecture and colours across the historic center is truly captivating.
At the heart of the cobblestone-laden historic center stands the neo-Gothic Parroquia de San Miguel Arcángel, a striking church with pink towers that command attention above the main plaza of El Jardín.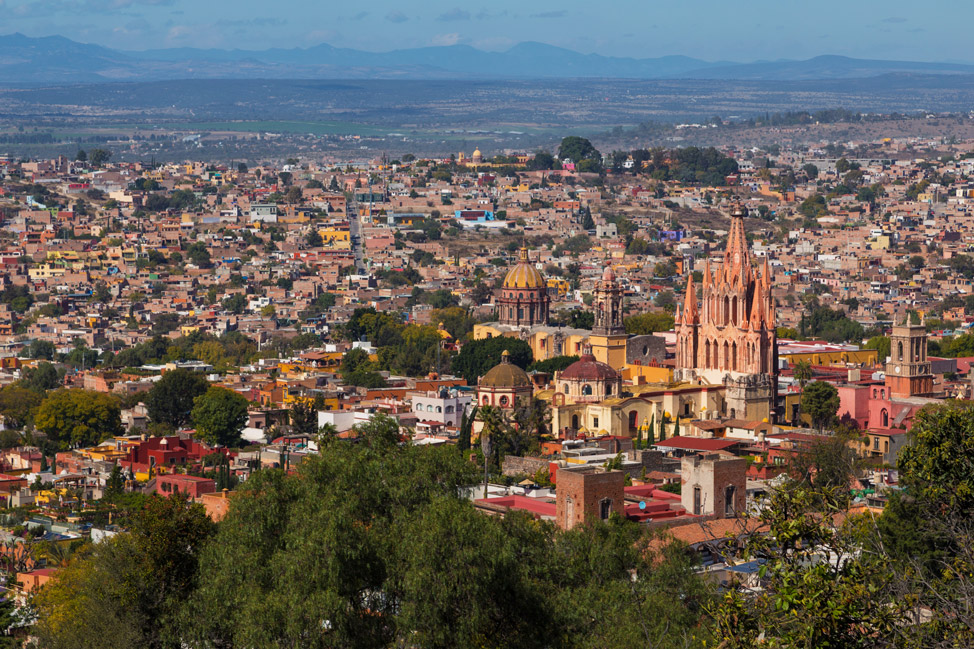 In a way, we were also happy to briefly be in a place with better tourist infrastructure – we didn't need to rely on our terribly broken Spanish which made attractions more accessible.
I think on arrival I expected to not like it much at all, being fiercely protective of my love for Guanajuato. But there was little I could find to pick on – we enjoyed a variety of delicious food and found our endless bouts of wandering to be equally seductive as in Guanajuato.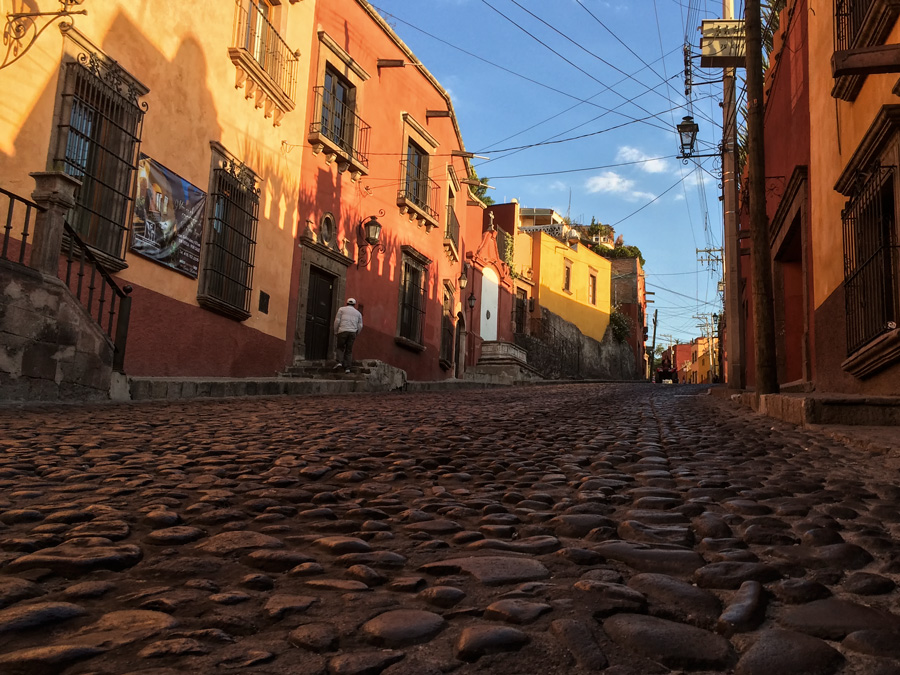 San Miguel de Allende carried the same evening electricity where the locals poured into the streets to gather, perform, or just sit back and enjoy.
There were more gringos mixed into the crowd to be sure, but they never distracted from being an authentic experience.
Tips for Visiting San Miguel de Allende
Where San Miguel de Allende is Located
Nestled in Mexico's central highlands, San Miguel de Allende is located in the state of Guanajuato, approximately 274 kilometres (170 miles) northwest of Mexico City.
Sitting at an elevation of about 1,900 meters (6,200 feet) above sea level, San Miguel de Allende is surrounded by rolling hills, scenic landscapes, and charming countryside.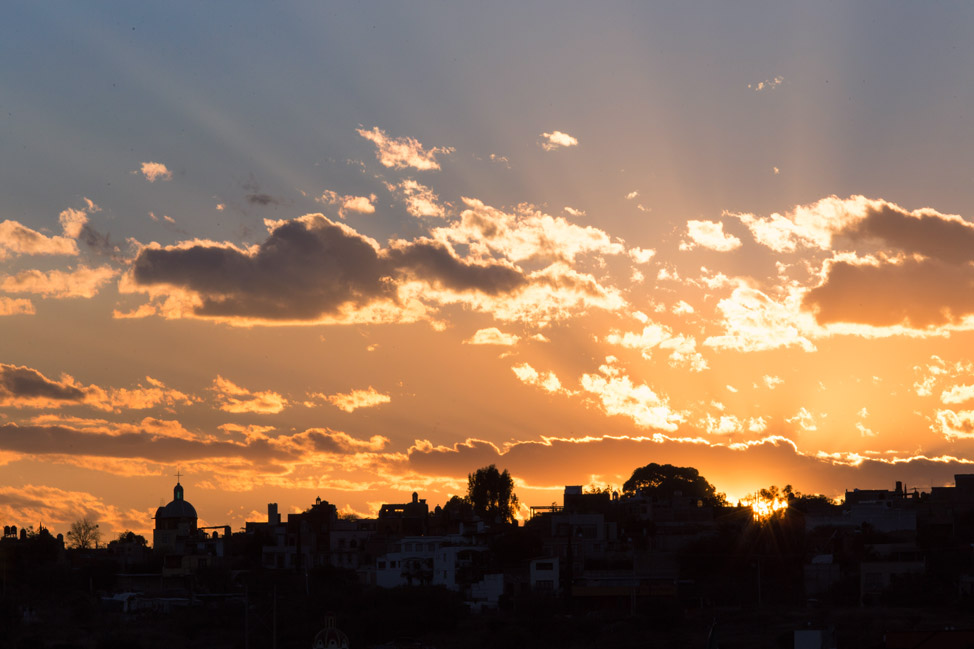 The city's setting is characterized by cobblestone streets, historic buildings, and stunning vistas of the surrounding mountains.
The central location of San Miguel de Allende makes it a generally accessible destination, attracting visitors from Mexico City and aboard with its picturesque blend of colonial architecture, vibrant art galleries, cultural center, upscale restaurants, historical sites, and warm Mexican hospitality.
Practical Information
San Miguel de Allende has a temperate climate with warm days and cool nights.
Summers (June to September) can be the rainy season, while winters (November to February) are drier and cooler.
Pack layers and comfortable walking shoes.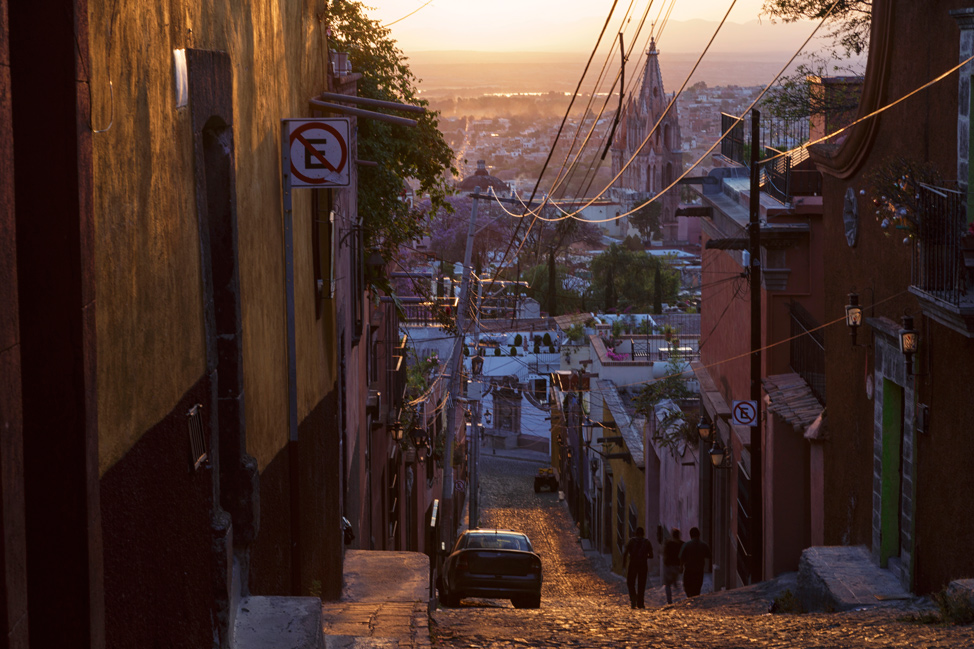 The official currency is the Mexican Peso (MXN). Some businesses also accept $US, but you should carry some local currency for smaller transactions.
The historic center of San Miguel is best explored on foot due to its narrow streets.
Respect the local customs and traditions. When visiting churches or other religious sites, dress modestly.
How To Get There
Bus
If you're arriving from within the country, you can opt for a bus, which offers comfortable and well-connected routes from major cities like Mexico City, Guadalajara, and Querétaro.
The bus journey not only provides scenic views of the countryside but also offers a more affordable and efficient travel option.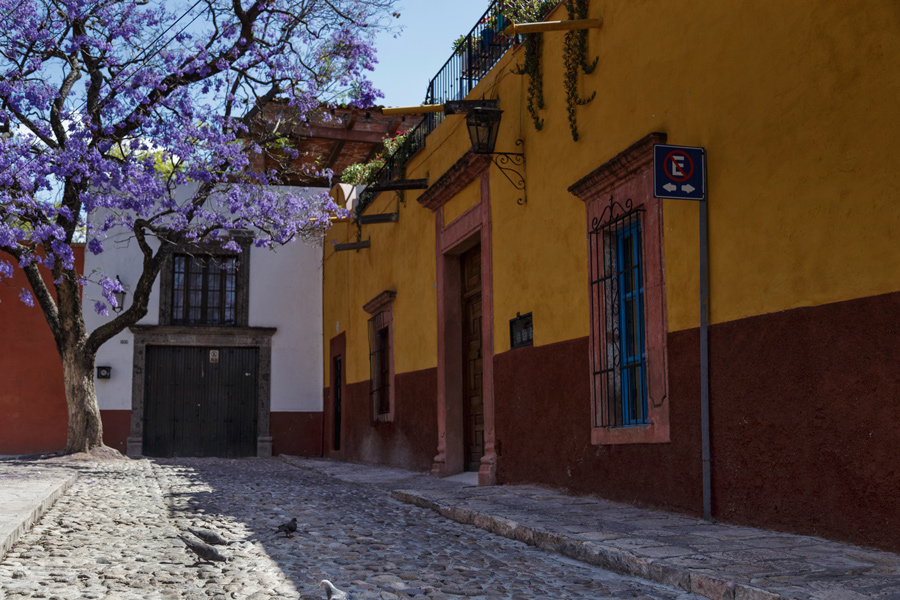 Flight
If you prefer air travel, the nearest major airport is Del Bajío International Airport (BJX), located in León, Guanajuato.
From the airport, you can arrange ground transportation to San Miguel de Allende, which is approximately a 1.5 to 2-hour drive away.
There are also shuttle services that offer direct transfers between the airport and San Miguel de Allende.
Car
For those seeking a more personalized journey, driving to San Miguel de Allende is also an option.
The city is accessible via well-maintained highways, and the drive provides the opportunity to explore the beautiful hilly terrain at your own pace.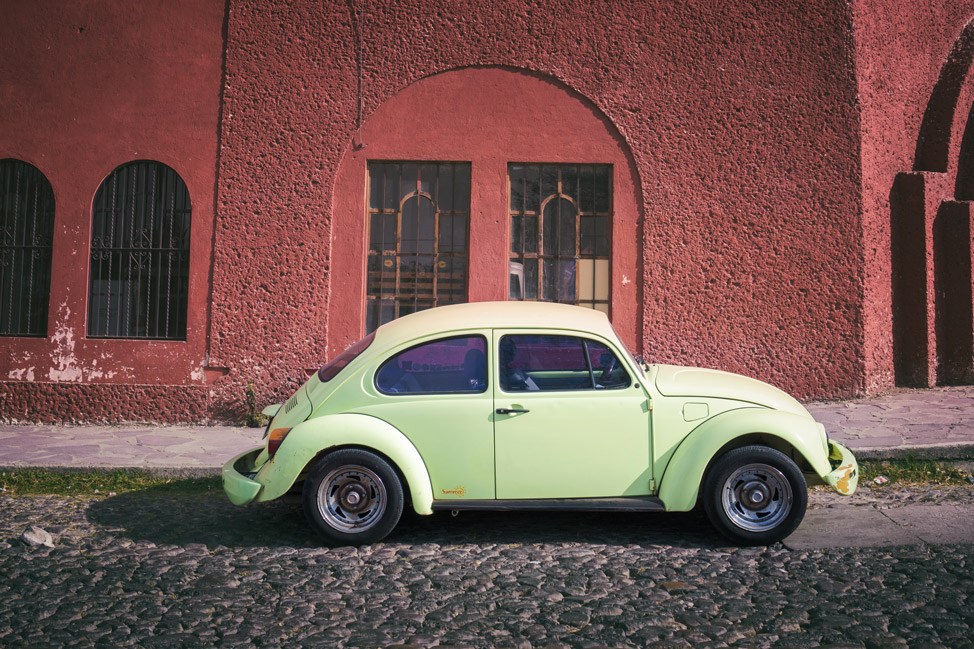 Things To Do in San Miguel de Allende
Visit Parroquia de San Miguel Arcángel
Marvel at the iconic bright pink neo-Gothic church that dominates the main plaza, El Jardin.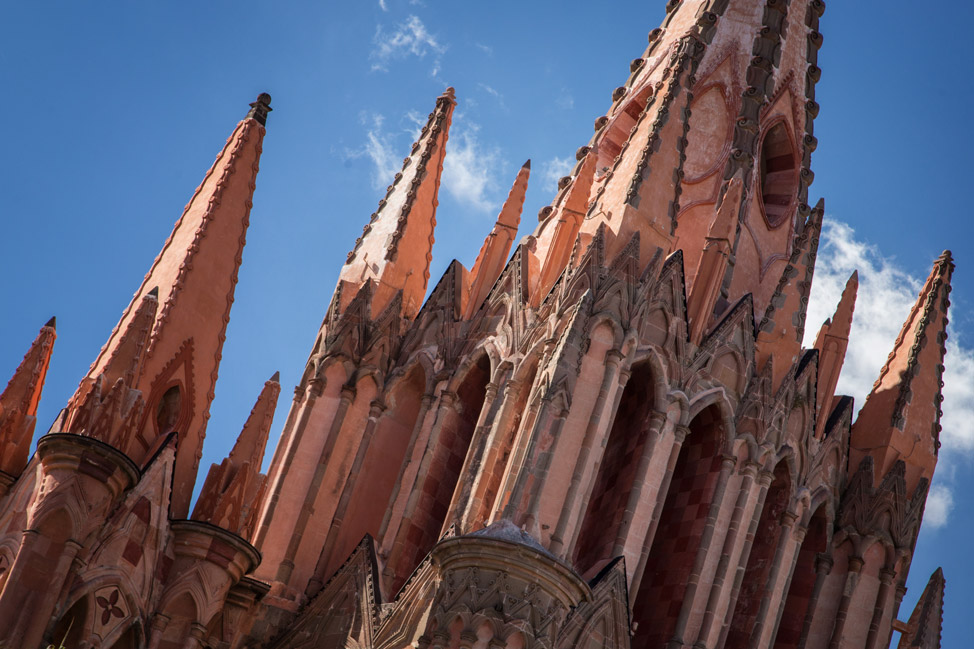 The intricate façade and soaring towers make this architectural work of art a must-see.
El Jardín Allende
Spend time in El Jardin, where you can relax on wrought iron benches and enjoy the lively atmosphere surrounded by local shops, coffee shops, and restaurants.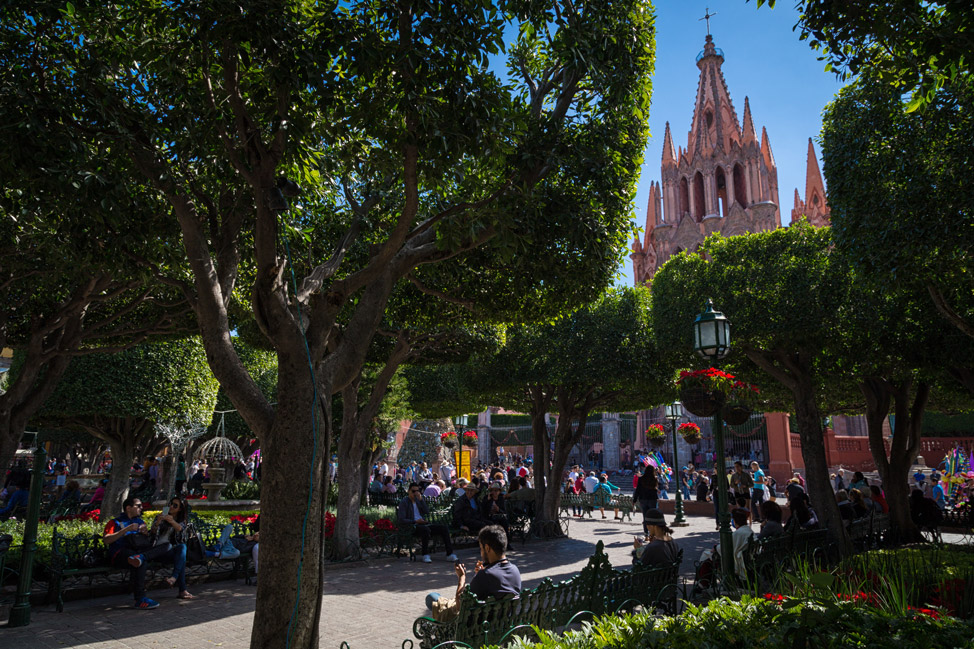 A lovely spot for a break during your tour of San Miguel de Allende.
Rest in the shade of the thick greenery, listen to the sounds of church bells and live music performances, after taking in all of the nearby street art, art exhibits, and cultural activities of the city center.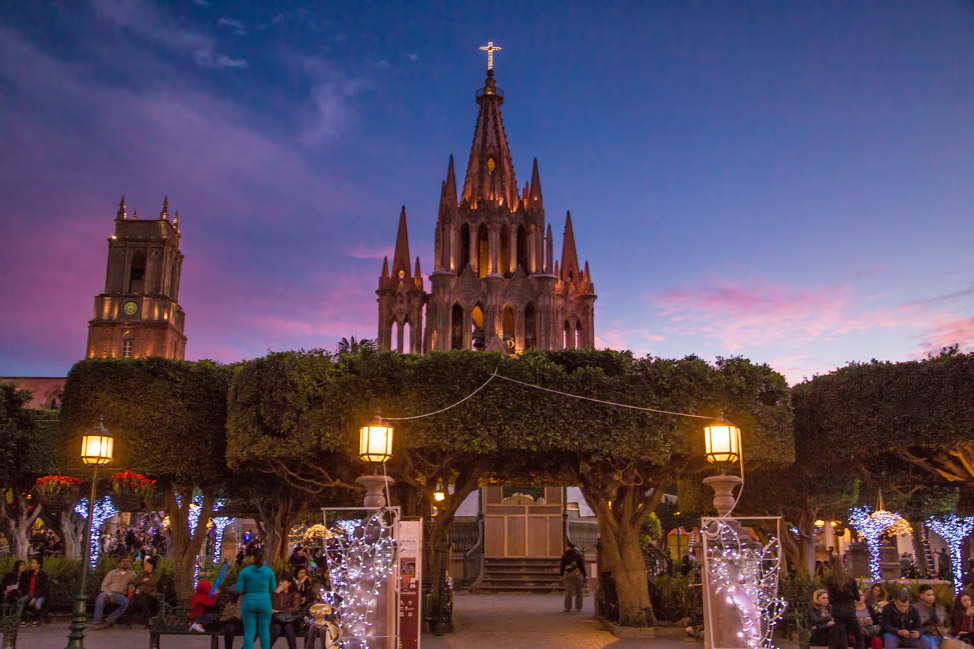 Wine Tasting
Enjoy wine tasting at a local vineyard and winery in the surrounding countryside, and experience the quickly growing wine culture of the region.
Didn't expect to go wine tasting in the mountains of central Mexico? You'll be happily surprised.
Cooking Classes
Learn about traditional Mexican cuisine and regional delicacies by participating in a cooking class.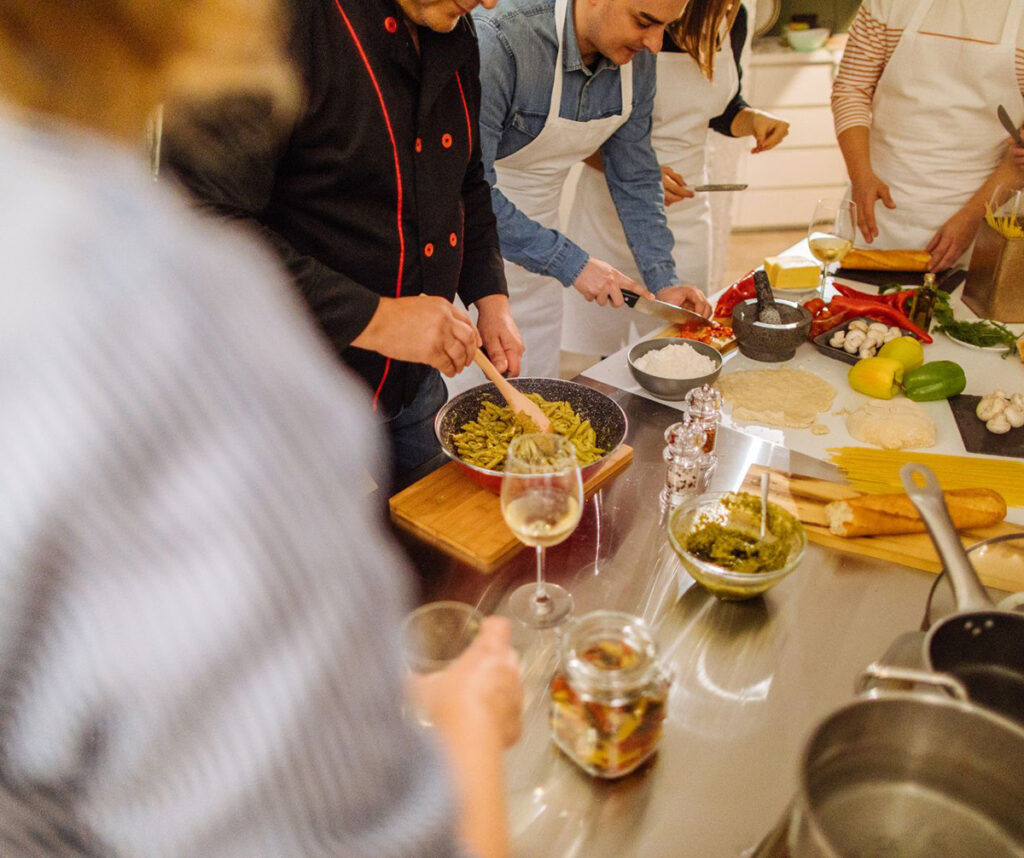 Cooking classes often include a visit to local market to source some of the fresh ingredients needed, so you'll get a little bonus two-for-one market tour.
Hot Springs
Relax in the nearby hot springs, such as La Gruta or Escondido Place, where you can soak in mineral-rich waters surrounded by lush landscapes.
This is a great option for nature lovers looking for something a little different.
Sanctuary of Atotonilco
Take a short trip to this UNESCO World Heritage site, an intricately decorated church with stunning frescoes, vaulted ceilings, and religious artwork.
Botanical Garden El Charco del Ingenio
Discover this ecological reserve featuring fascinating cacti, lengthy walking trails, and stunning views of the city.
It's a serene escape for nature enthusiasts.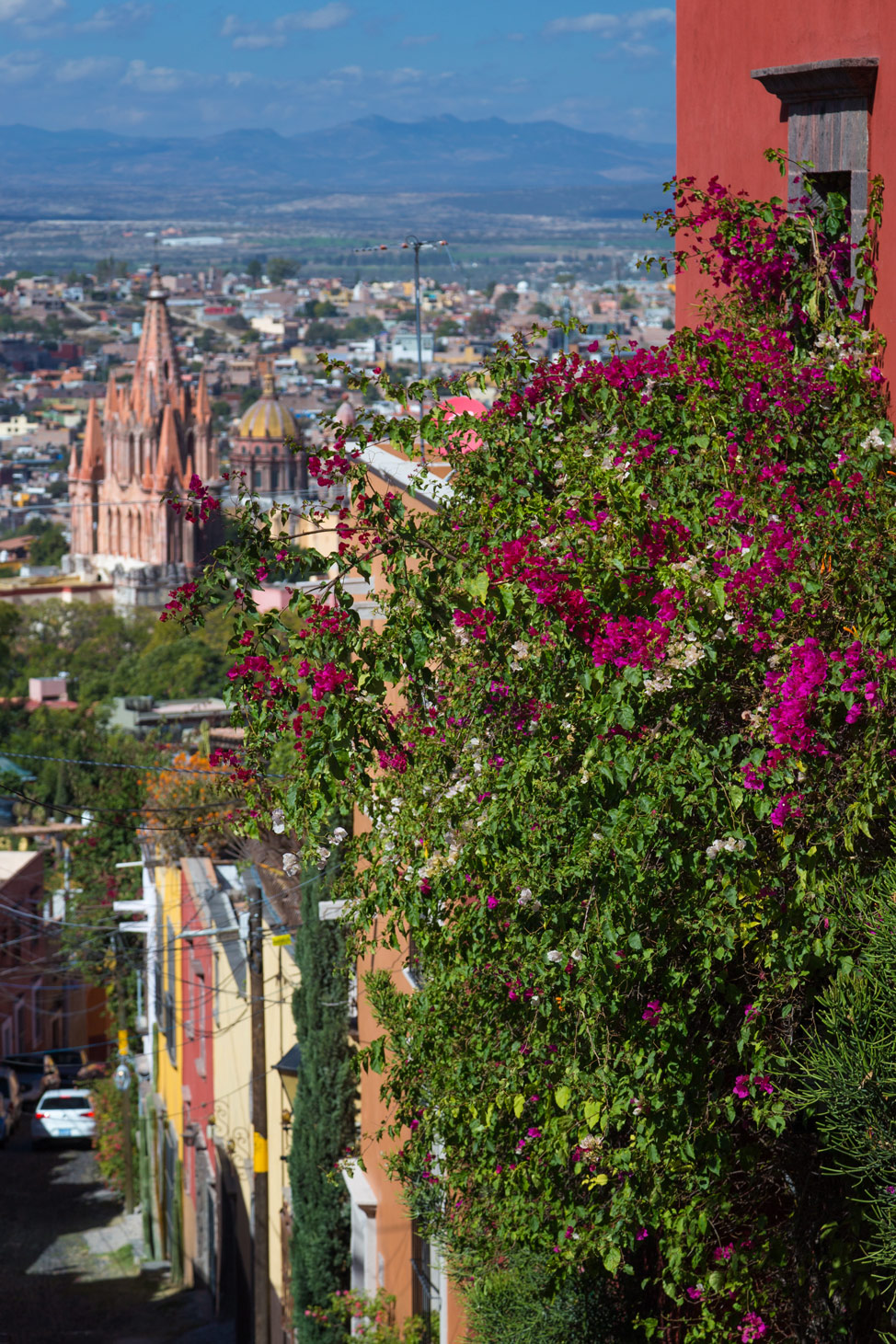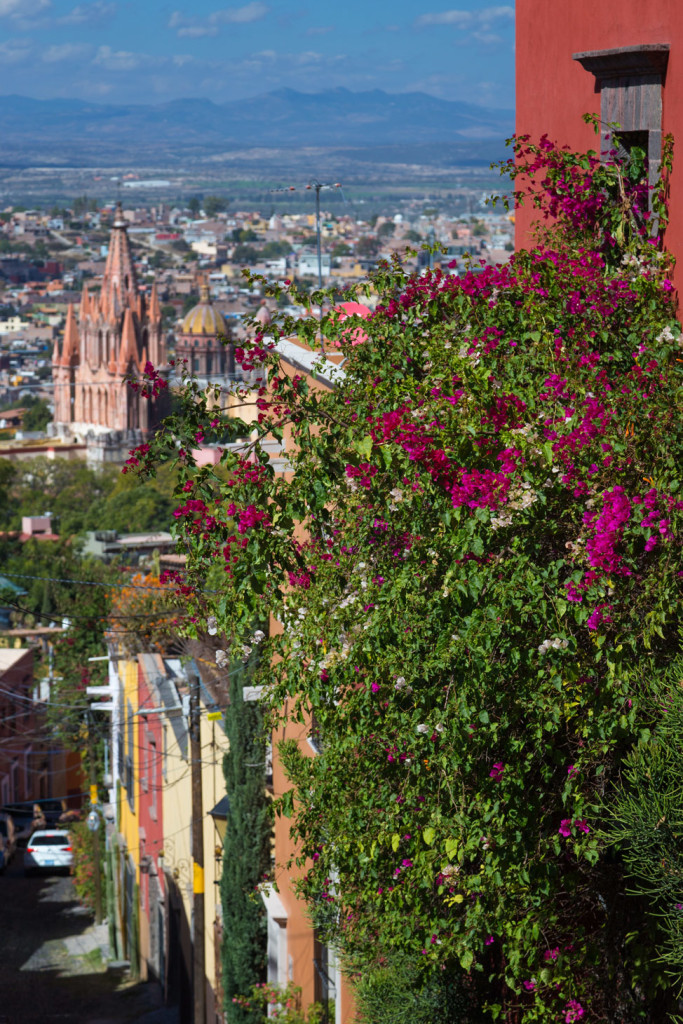 Mercado de Artesanías (Artisan Market)
Explore the local artisan market, where you can find a variety of handmade goods, textiles, jewelry, ceramics, and more, all showcasing the region's craftsmanship.
You're likely to get some better deals if you can speak Spanish, but it's not entirely necessary.
Mercado Ignacio Ramirez
This Market is truly a lively hub of San Miguel de Allende that offers fresh produce, artisan crafts, international cuisine, and health-conscious options.
It's a place to shop, dine, and experience local culture while supporting the community and enjoying a diverse array of flavours and products.
Plaza de la Soledad
A must see while exploring the historic district and city center of San Miguel de Allende, and a great place to sit a while and people watch.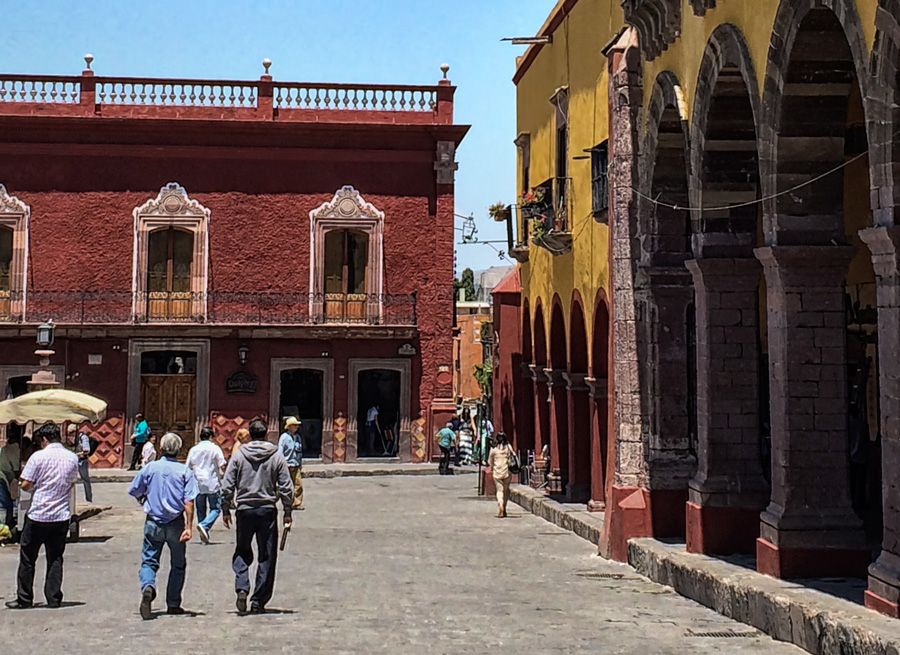 Where To Stay
There are a lot of options in San Miguel de Allende from luxury hotels to grungy hostels and we settled in a private room in La Catrina Hostel, on the edge of the historic center.
It was spotless, well located, and the staff were very pleasant and helpful. The bed wasn't the most comfortable, plus the noise carried easily down our hallway, but overall it was a decent stay.
---
Visiting San Miguel de Allende, Guanajuato was, on a whole, thoroughly pleasurable. But as we boarded the bus to head back to Guanajuato and reflected on our stay, we realized that we were happy to be returning.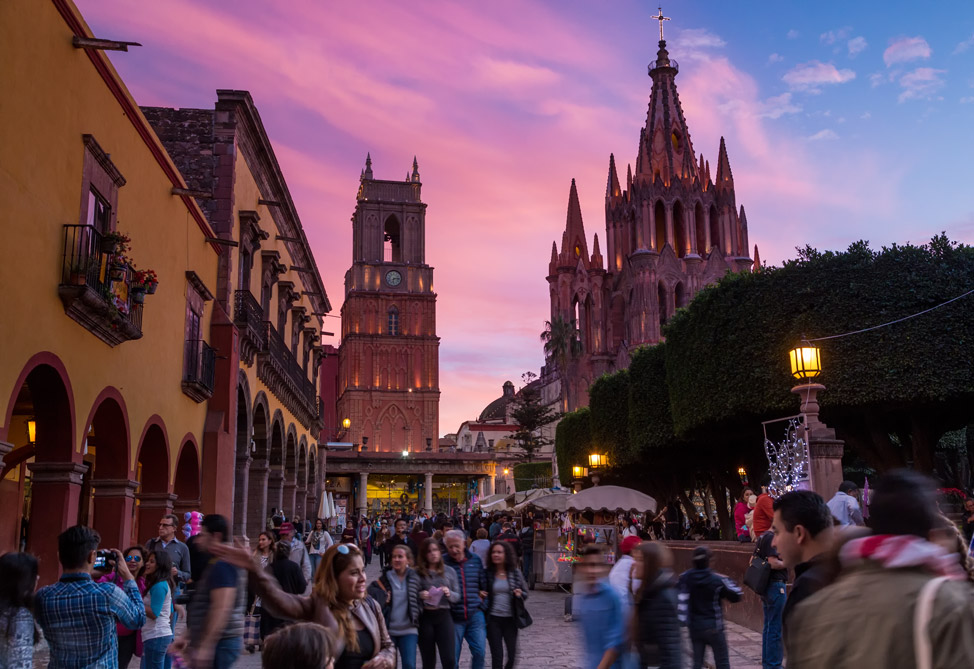 In a word, San Miguel de Allende was just too polished, a little too built for the tourist. Nice for a visit, but for a longer stay, we felt more at home in Guanajuato.
We had made the right choice for us to live in Guanajuato, but definitely recommend visiting San Miguel de Allende.