Remember this? How, after three weeks in London, we weren't particularly thrilled with our time there?
We sure do. Because we still get flack from it.
We chalked a lot of our feelings of indifference to the fact that it's a big city, and we ain't big city folk. We much prefer the slower, friendlier pace of smaller towns in the country, and this inclination has been tested time and time again. We liked Trim over Dublin, Trapani over Catania, and so on.
So when we came to our conclusion about London, which was after we had booked our housesit in New York, we began to worry.
One massive city to another. If we were anxious to get out of London after three weeks… how would we feel spending six weeks in New York?
It took only the first few days to diffuse this apprehension, thanks to one Big Apple icon that continues to surprise. For it's frequent stench of urine, our first sighting of a rat (ever! in our life!) running along the tracks, and the excessive, jolting brake force used by drivers – the iconic Subway impresses a large smile on our face each time, and leaves us with the feeling that we are having an indepth cultural experience, a true taste of the eclectic humanity that drives the energy of this city.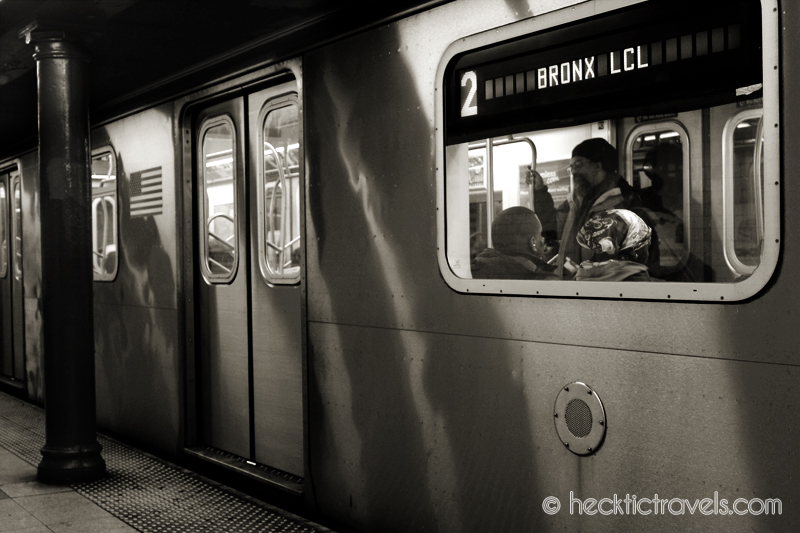 Like when, on our very first day out:
— One man asked a crowded car of people for spare change in order to find his way back to New Jersey. Someone behind him shouted "Man, what you wanna go back to Jersey for? I just paid to leave that dump!" to the mass laughter of everyone else.
— To help support this man's plea, a lady started reciting bible verses loud enough for the entire train car to hear.
— Behind me, two young girls rolled their eyes and continued their conversation of which hotels were currently reported to have bed bugs.
— Another girl, holding onto the same pole as me to brace against the repetitive pounding of the brakes, constantly flipped her dyed-blonde hair with her other hand in an attempt to flirt with the man standing next to her. She was discussing a commercial she was just in along with other auditions in the works.
— When we got off that train at Times Square station, we passed a gentleman sporting a fleece hat decorated with teddy bears, playing the christmas carol "Joy To The World" on his kazoo.
— A little further down, a fairly talented folk band was playing in a busy corner with many people crowded to listen. Just off to the side, three girls were having their own dance party to the music (presumably induced by some "liquid courage").
— When we boarded the next train, we found ourselves in the midst of about six or seven strangers in a heated discussion about the differences in criminal laws in the city and state of New York. At the next stop, several of the participants left, and a mother and her child sat down in their place. All conversation stopped, and the young girl hopped up on her mother's lap, resting her head atop her hands in a prayer position against her mother's chest. We all sat silent and smiling – the drastic adjustment in mood was just so abrupt and sweet.
— On a train later that night, an older man did a jig down the center of the empty car, erupting into bird noises after every chorus sung. He clung to a beat-up ball cap with his right hand, showcasing the few coins it held.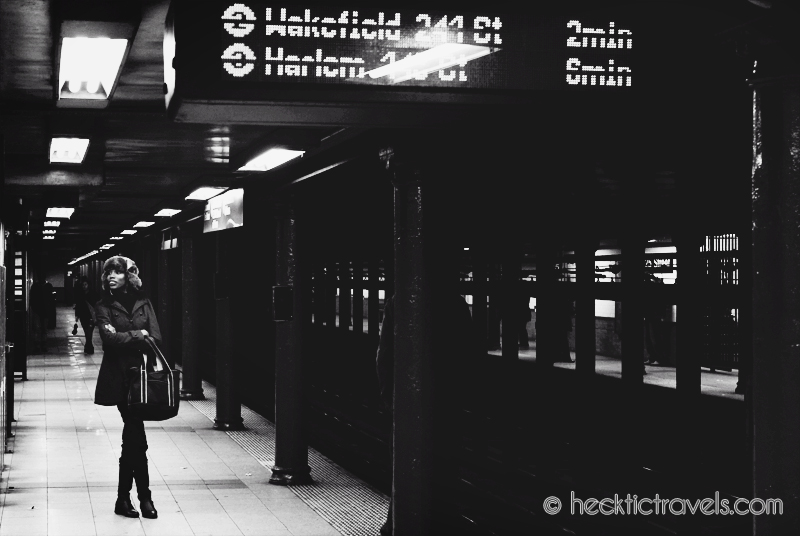 For that first day and each Subway experience since, we've left with a lighter step, not only from having dispersed all extra change in our pockets, but from being uplifted by the tremendous energy that exists underground. It has so far been my favorite big city experience. Ever.
In our three weeks in London, we saw barely a fraction of the character we've seen in one day here. Highly aware of the fact that a few days or weeks experience is hardly the basis for ultimate judgment on any one place or any one thing, I'm going to do it anyways.
New York kicks ass.