Pirate Baseball
I tend to take on too much. While people often comment that Dalene and I are on some sort of permanent "vacation", they don't realize how much work we actually do.  Between my time as a substitute teacher, a volunteer teacher's aid, coaching a little league baseball team, and working on this site, there is very little time left for doing vacation-y type things.
And I just made it worse by adding one more thing to my to-do list, but something came up that I just could not say no to.  I am now a part of the competitive men's baseball league here on the island!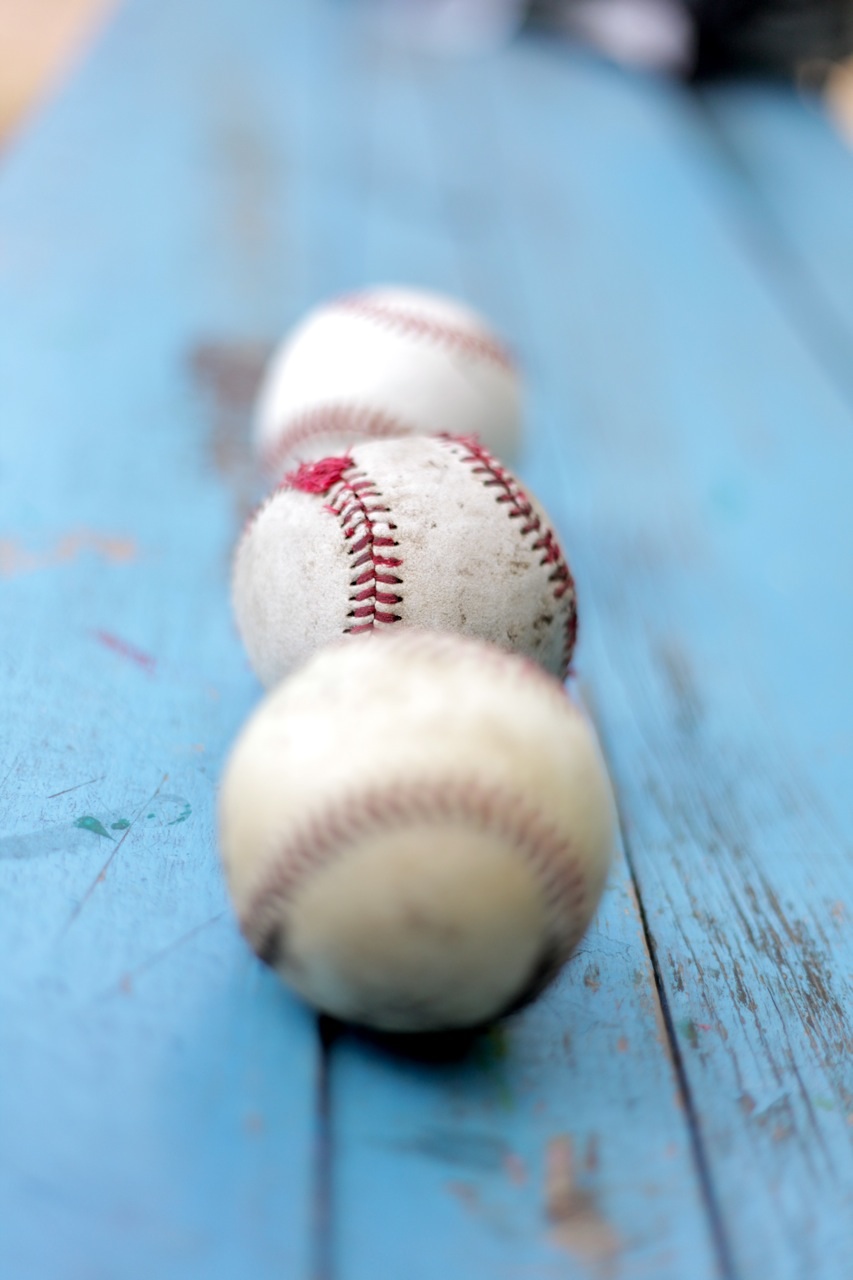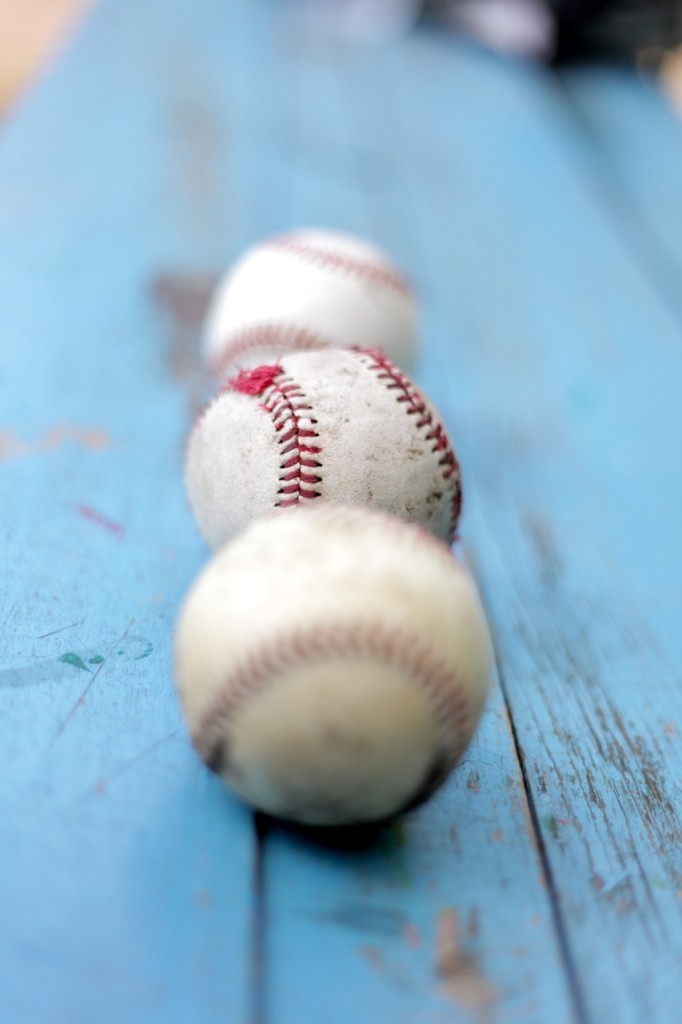 Before coming to Roatán, I was in contact with the SOL Foundation about helping coach a little league baseball team during our time here. Having played ball all of my youth, the sport has remained a deep passion of mine.  And being able to participate in this region (the calibre and number of players that come from the small Caribbean countries are far and above that of Canada), had me very excited.  This is the type of opportunity that slow traveling provides for – being able to integrate into the culture and become a part of something exciting.
So imagine my enthusiasm when Dave (the head of SOL, and the coach of one of the competitive mens teams), asked me to pitch for his team, the Sandy Bay Pirates.  While I was a little intimidated, I wasn't going to let that stand in my way.  I had to give it shot. I eagerly accepted his offer and got ready for the first practice the following day.  *Gulp*
I arrived at practice and was introduced to the team.  Jimmy, Joe, Josh, does anybody's name not start with "J", I asked? I felt a little out of place, and not just because I was the only white skinned person on the bench.
Coach Dave put me on the mound to see what I had.  With the ball in hand, and a batter in front of me twice my size, I threw my first pitch *just* a bit outside (um, about 15 feet wide).  Yikes, had I lost it? And this was just a light practice.  Could I get it under control come game time?
I settled down, threw some strikes and let them hit.  And hit the ball they did.  Granted I was only throwing about 70%, but they still impressed me with their skills.  After practice, coach gave me word to get ready for Sunday as I would be on the hill.
Sunday morning, and it was game time.  I didn't sleep much, but I wasn't tired. I was pumped, and loving every second of it.  Being involved in competitive sports for most of my life, there is something about the lead up to a competition that excites, thrills, and drives me – no matter how nervous I might be.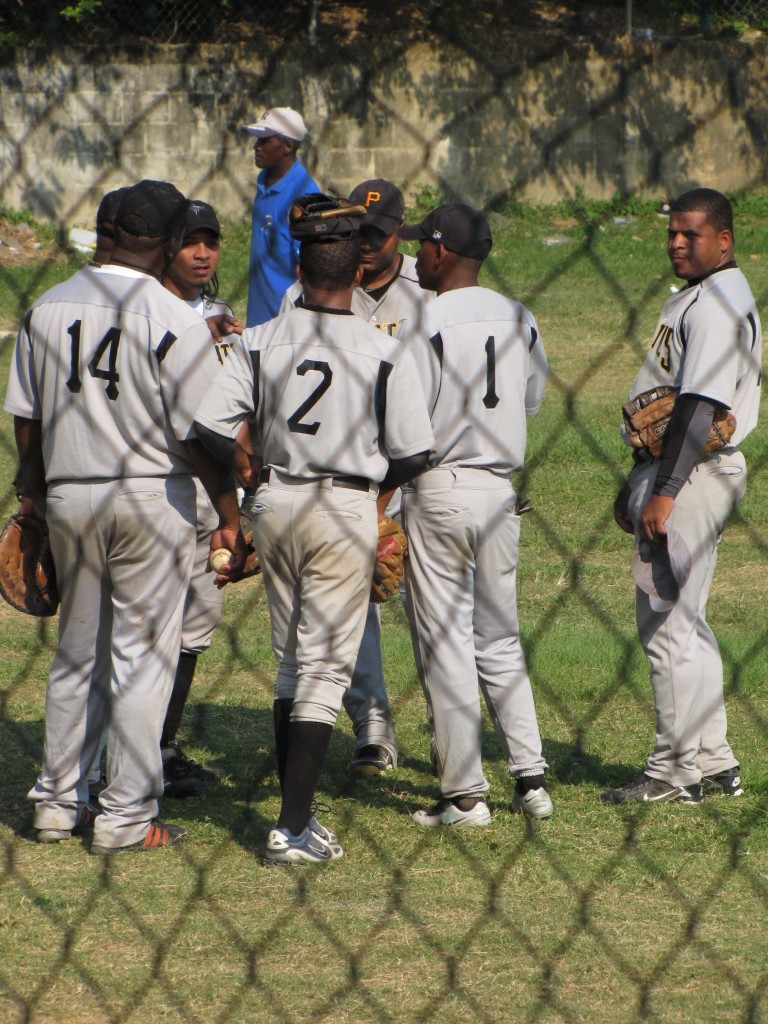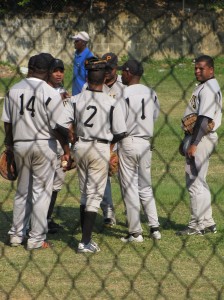 Dalene and I arrived at the diamond.  Every emotion returned to me from when I used to play.  Seeing the teams warm up, fans piling in, and vendors setting up food stalls put a huge smile on my face.  Dalene found a nice spot in the stands in the shade and I met up with the guys to start warming up.  Coach had a uniform set aside for me and someone had a spare pair of spikes.  I was set.
I didn't start the first game – *phew*.  I received a few stares from fans, and I overheard more than once: "who's the white boy?" Not only was I the only gringo person on our team besides Dave, I was the only one on the diamond.  And never mind that even though I don't consider myself small, I looked like a toothpick compared to these boys.  I'm sure most of them could eat me for breakfast. Hello, intimidation!
I knew I had to work to earn my spot, and their respect.  Sure, I'm officially on the roster, but to really be part of the team, I had to show them that I belonged.  I excitedly cheered on the team throughout the game, helped coach first base, and then my time had come.  Without warning, coach put me in at the start of the 8th inning when we were down by 3 runs.  Holy shit.  No warm up, just go out and pitch. Flustered, I ran out to the mound, and started to throw a few.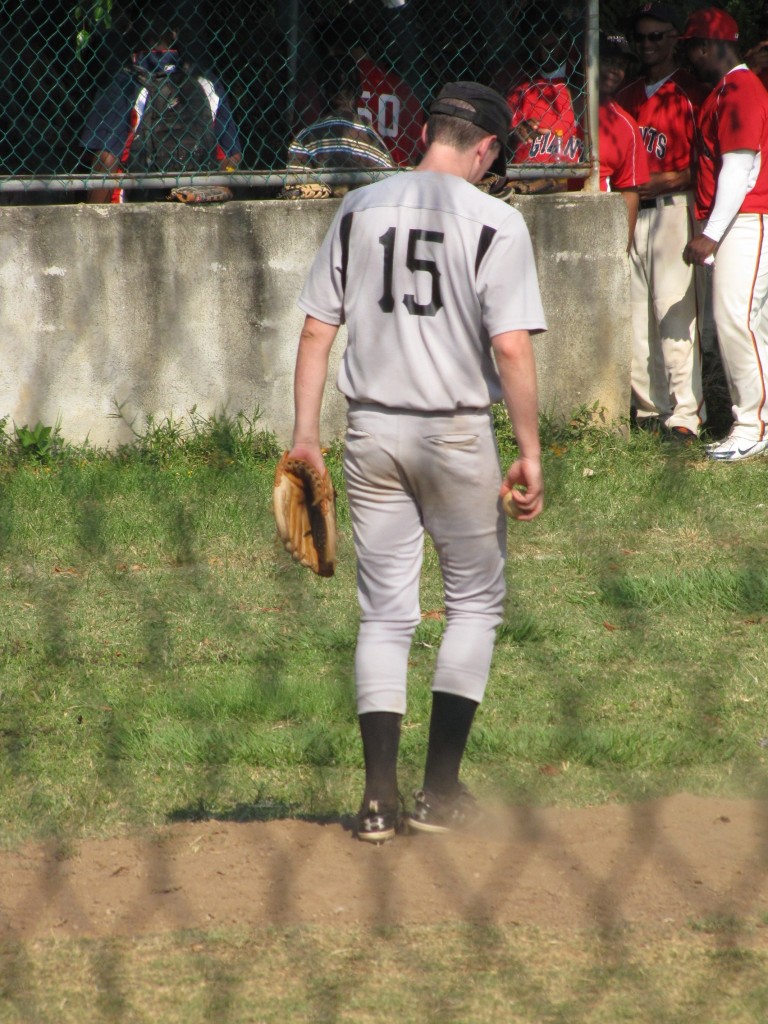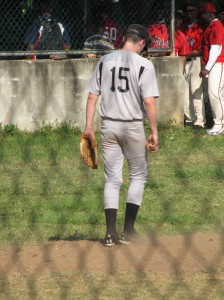 It feet alright and I got into a groove.  Luckily, no wild pitches ,and the 8th inning went by with no runs scored.  The team was pumped, we still had chance to win it.  The bats didn't do their job, however, so we went into the ninth inning still down by three.  I pitched another scoreless inning and the fans were beginning to cheer me on: "You go White Boy!" Dalene overheard: "You don't need to blow it by them White Boy, just get outs, keep it up."
We ended up losing the game, but I didn't let in any runs in my first appearance and that earned me the chance to start the second.
I realized quickly that baseball is serious stuff here.  The fans were intense throughout the day, mostly directed at the atrocious umpiring. And it got quite vulgar, f-bombs flying everywhere, no regard for the numerous children wandering around.  There was even a point where two fans got into a fight and cleared out everybody around them (including Dalene).
My performance was good in the second game, but our team came out sloppy – errors killed us and we give up too many runs.  The bats on our team had also gone silent and we found ourselves on the bottom side of a lopsided game.  But I still felt pretty good about my pitching, and I earned some addaboys, which is the best I hoped for on my first day out.
I was a kid again, and that baseball diamond was my candy store.  I still have a huge grin on my face.  I can't wait until the next game.
This White Boy is a Pirate.  And I earned a spot on the bench.