I hadn't planned to write anymore about my Gram on this site. But the line between personal and travel blog are often blurred here.
And besides, she just showed up. Inserted herself into a day planned only for exercise and frivolous fun after the long trip from Lake Atitlan to Semuc Champey.
She was just there.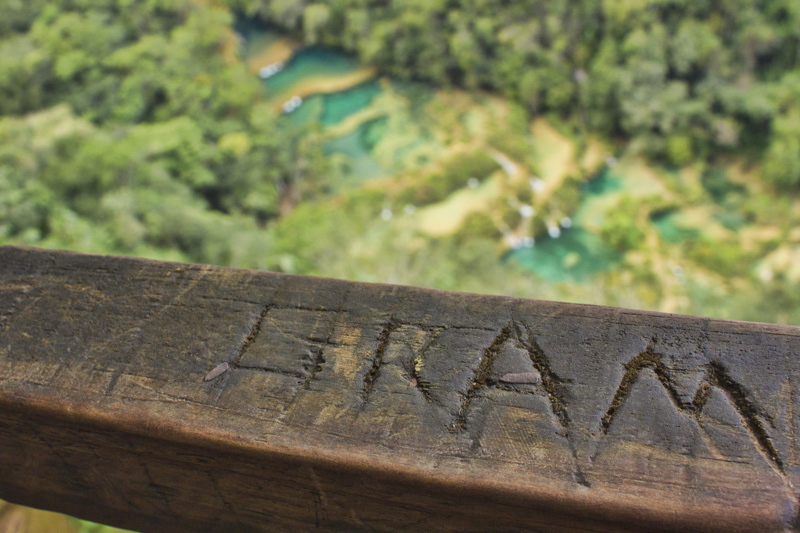 Not as Grandma, or Grammy, but as Gram, just as we all called her.
I couldn't not write about it, although wary of the fact that I do seem to write about death a lot, but goddess knows that was never my intention. Thoughts and words just ooze out of me on the subject, usually in staunch prevention of sleep. Up until six years ago, I never experienced any sort of deep traumatic loss, and now thoughts of it have a tendency to overtake me.
Such is our lot in life though. We must take in what is handed out, and do our best with it. Pete and I have dealt with our share of loss, but it did happily take our life in a pretty drastic direction, which we love.
My Gram began to appreciate that, even if she spoke of her desire to have us 'home' in every conversation. She was a traveler herself, having made it overseas to Germany to explore her roots. To Hawaii, to Jamaica, to Mexico. In fact, her last trip was only two months before she passed – at the urging of her family she made the long journey south to break up the oppressing winter of her home in the north. At 88 years old, that was no small feat.
And she loved it, and I am sure was grateful for that time with her family as her health quickly declined. For those new experiences and memories shared with those dear to her.
As I sat near her during her last hours, I thought of peace, that love, and her beautiful soul that we were so privileged to know. I thought of all the times she followed me around to my curling events, her hilarious birthday calls that she never failed to make, and one of my favourite days of last year, where we sat around her kitchen table and she tried to recall stories of her life as I sat taking notes. Of when I asked her what she admired about Grampie and she answered: "Well, I don't know, I just loved him I guess." And when she told tales of games she played as a child, her chores as the oldest of thirteen children, and of course about eating the bland but highly economical 'Lumpy Dick' every Friday for supper.
But curiously, other notions pervaded my thoughts more strongly. That even in the agony of death, there could be some elegance in the ritual of it. In the care she was being given by loved ones, and in the coming together of her family who did not always like being together.
All I could feel, and see, was radiant light.
I felt proud to be there, to be a part of the transition. I almost feel selfish in saying that – it was a death after all, a death of someone I love dearly – yet I found deep personal satisfaction in attending to it. I feel wholly changed by the experience, and at a profound peace with myself, my Gram, and our relationship.
Perhaps that is what happens with over-exposure to death. The appreciation for the circle-of-life follows.
And then, there she was. Snack dab in the middle of the remote Guatemalan jungle, after a steep climb straight to the top of a slick mountainside. With my bad curling knee aching, and my clothes soaked in sweat. She was there, welcoming me, offering me a view of paradise.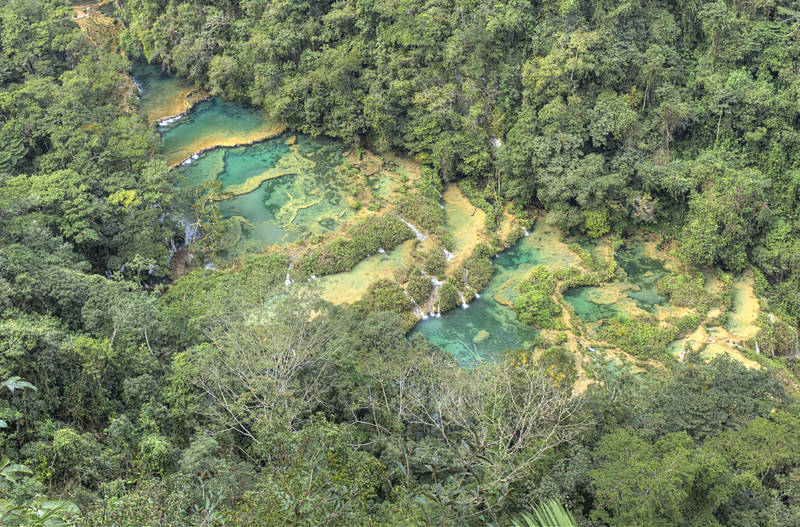 I'm not one who typically looks for signs and meaning, but this was too obvious. I surprised myself by not being overwhelmed with tears. Instead, I felt pure joy.
And I couldn't help wondering –  what did this sign mean?

— To tell me that I've had my fun, but now it was time to go back to a good country? (Which is how she always jokingly asked for me to come home.)
— Or, as a dear friend said, am I exactly where I need to be? Am I on the right path?
I believe Gram's intention, in raising strong-minded daughters who raised strong-minded granddaughters in turn, is that we would have the foresight to interpret for ourselves and choose our own paths in life.
And I believe she had faith in me. I choose b.
We all need these symbols of peace, these moments where we can feel a connection with loved ones we've lost, it is part of the healing process. And this was mine, in the most unlikely of places, but with astute timing. For that, and many other things, I am forever grateful to my dearest Gram.
(And I hope, I hope, I don't have to write about this again for a very long time.)