Roman Ruins and Satellites


"Look at this guy, carrying his fish he just got at the market," Boris said, pointing directly at a tall, gray haired man just a few feet away, clutching a yellow plastic bag. "He doesn't care that he's walking on a 2,000 year old Roman road." The fish-bearing man grimaced at the three of us staring at him while we absorbed the point that Boris made to us over and over again.
"This is the only place in the world where satellite dishes hang off of ancient Roman buildings." While we walked around the inside of the Diocletian Palace, Boris constantly pointed out the juxtapositions of old and new – refrigerators seen through windows framed by large Roman arches, air conditioning units and satellites hanging off the walls, new brightly colored buildings built around the frame of ancient stones.

One of these things is not like the other…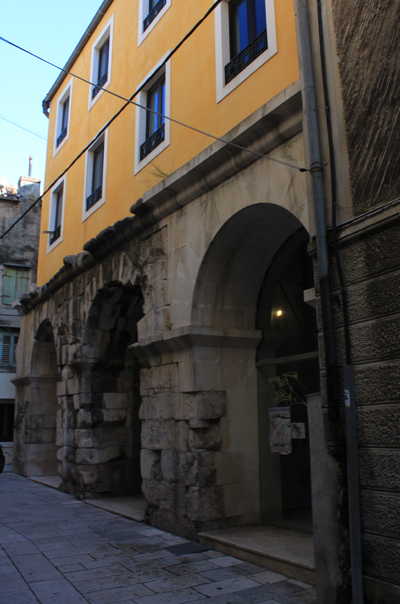 Modern electronics on old walls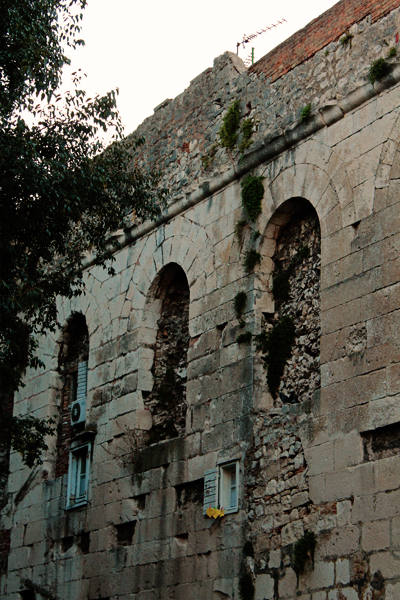 The Diocletian Palace in the city of Split, Croatia is the only of it's kind built outside of Rome. The Emperor Diocletian, having grown up in a smaller nearby town, built it as a place to retire from his post with the Roman Empire. Taking only 10 years to build and having been completed in 305 A.D, it has survived centuries well intact. The emperor only enjoyed living there for 6 years in his palace before dying. His successor was the first to recognize Christianity as a religion in the area and soon began to make drastic changes.
Over the years, artistic flourishes by new rulers make for an eclectic mishmash of styles. Some of the ancient cathedral's beautifully preserved Roman arches are covered in Renaissance art. It is both distracting and appealing, but keeps with the scattered theme of the city.

What was originally built as a temple to Jupiter (Zeus), now houses a statue of St John the Baptist.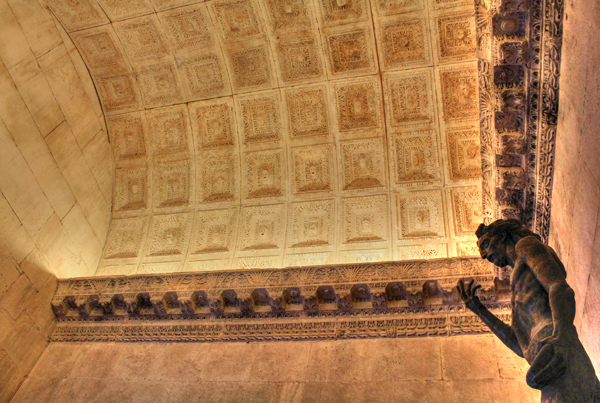 Big changes continued. As we wandered up and down the ancient streets of the old Palace, Boris pointed out historically significant spots with more amusing contradictions – an open soldiers corridor that is now an enclosed church, complete with an elevator for the old nuns to come to and fro. Even an old sewage cover found in the corner of a shoe store, and a preserved Roman road running through the center of a bank.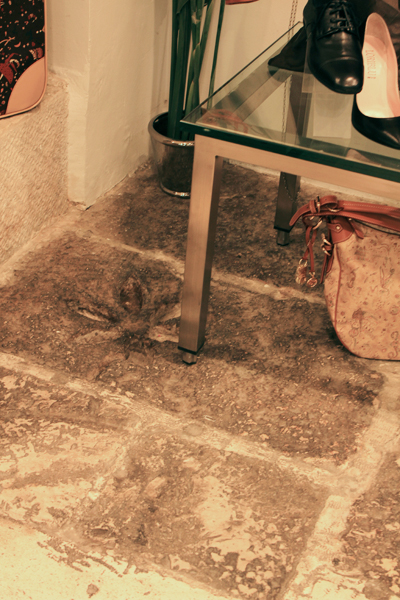 It appears that preservation is not always important to the residents, and Boris stated that tourists generally know more about the history than they do.
I am undecided as to how I feel about this. As a tourist, I love the idea of the entire world of ancient ruins and wonders of nature being kept pristine and frozen in time as an exotic museum waiting for me to visit and explore. But at the same time, the fact that a population of people lives among this monumental architecture after 2,000 years and still puts it to good, functional use, equally impresses me.
And I can't entirely fault them for not waking up everyday with wide-eyed wonderment and appreciation of their surroundings, when clearly there are many amazing things about my home I took for granted. My embarrassingly infrequent trips to the nearby Rocky Mountains, or seeing Aurora Borealis so regularly in my backyard I became dismissive of it.
It's so easy to forget how special those things or experiences are when they're always in front of you.
**********
Many thanks to Boris and the Croatian National Tourist Board for the complimentary city tour.