Wanaka Base Camp
Words by Pete Heck / Photography by Pete Heck
Upon arrival, the weather in New Zealand kind of shocked us. We were expecting a version of the winter we grew up with in northern Canada – lots of snow and thick grey clouds. We were surprised at the crisp bluebird skies almost every day – weather that allowed us to get out and enjoy our environment as much as we could.
For me, every day started with an hour long walk with the dogs we took care of for our housesitting job (Dalene joined sometimes when she could drag herself out from under the cozy pile of blankets). In the late afternoon a shorter walk was required, which left us the whole day to discover all the things to do in Wanaka.
And although the town of Wanaka is quite small, we were never left feeling like we had nothing to do, and it served as an excellent base camp for the entire area. We managed to squeeze in plenty of activities in our two months.
Hiking, hiking and more hiking
The folks at New Zealand's Department of Conservation do an amazing job of detailing paths, conditions, and upkeep. It's no wonder that the country has the reputation it does for tramping. Seeing that we had to walk the dogs every morning there were a few paths which quickly won us over. Let's face it, the south island is pretty photogenic no matter where you are. Every walk we went on was scenic.
The following were some of our favourites.
Waterfall Creek – Glendhu Bay
We never did the full walk at one time, but instead different portions at different times. The path goes along the edge of Lake Wanaka and then turns at Damper Bay towards Glendhu Bay. A recommendation is to sidetrack and go up Mount Ironside. Here the second most famous tree of Wanaka stands alone on top and the views of Mount Aspiring National Park, Roys Peak and Wanaka are all outstanding.
Butterfield Wetlands
One of our favourite walks with the dogs. A real easy scenic walk with views of crystal clear ponds and mountain peaks in the distance.
Diamond Lake and Rocky Mountain
If one is lucky (as we were), Diamond Lake will freeze over in the winter, and photography opportunities with mountain reflections are possible. Above the lake is a path to lookout platforms and even further on up the mountain are amazing views back towards Wanaka. This is a great half day activity.
Mount Iron
Despite having the title of "Mount", this really is a glorified hill. Mainly it's a workout area for locals as we were passed many times by hill runners. The tops offer decent views over Wanaka.
Roys Peak
Roys Peak is an easy path but a steep climb up the mountain. It has highly rewarding views of Lake Wanaka and all the surrounding peaks. Coming down was probably more challenging than going up, especially for me as I slipped four times. Depending on level of fitness, getting to the peak will probably take about 2 1/2 – 3 hours to go up and 2 hours to come back down.
The following are two popular hikes we didn't have the chance to do (but wish we did).
Isthmus Peak
30 kilometres south of Wanaka townsite is the mountain which separates Lake Hawea and Lake Wanaka – Mount Isthmus. Our friend Marta from labeled this as one of her top ten hikes to do in New Zealand.
Rob Roy Glacier (Mt. Aspiring National Park)
From what we've heard, the biggest challenge for this hike is getting to the car park, which requires fording numerous streams. The hike is a three to four hour (depending on how many photos you take) return trek. Our vehicle wasn't suitable to ford the streams, so unfortunately we missed out. You can see some of the possible views (and many others) in this post by our friend Liz.
Day Trips
The Blue Pools
Or, the "not so blue" pools, as they were when we saw them. Normally under blue skies the pools are a glowing turquoise blue. Under cloudy skies they are green, but still lovely to look at. They are reachable by a short twenty minute walk through a forest and crossing two suspension bridges.
Mount Cook / Aoraki
An incredible two hour drive from Wanaka lead us along the turquoise blue waters of Lake Punakaki to Mount Cook National Park. Here we had the option to either hike the Hooker Valley Track (3 hours return) or visit the Tasman Glacier. We choose the Hooker Valley track and the views of Mount Cook on the lake were breathtaking. There were even some little icebergs floating in the lake still.
Queenstown
This is the biggest city nearest Wanaka and where we flew into from Australia. If you're flying into Queenstown prepare for "Remarkable" (the name of the mountain range) views of the mountains and likely a very bumpy ride. The city sits on Lake Wakatipu and there is plenty to see and do. If you're looking for a pleasant walk there is a path all along the lake from the airport to town.
There's two ways from Wanaka to Queenstown, and via the Crown Range is the recommended way to go. Atop the range you will get amazing views of the Remarkables and surrounding ranges.
Arrowtown
A once historic gold mining town is now a cute and quiet artsy town about 20 kilometres from Queenstown. We enjoyed a nice afternoon having lunch at The Chop Shop and then walking through the quaint streets and alleyways of the town. We took a detour coming back to Wanaka to stop at the Shotover bridge to watch jet boats scream down the river through the narrow gorge.
Clyde
We followed the Clutha river from Cromwell to the sleepy town of Clyde. Another historic gold mining town is now a popular spot for biking on the many paths along the Clutha river. We extremely enjoyed lunch at Olivers which by day is a bistro style cafe and craft brewery.
Extreme Tourism
We quickly found out that New Zealand lives up to its reputation for adventure.
Skydiving
What the hell, I might as well just jump out of plane, right? The folks at Skydive Wanaka did their best to ease my nerves (and it worked). Even if my face didn't say it.
Heli Tour and Glacier Walk
The family run business of Aspiring Helicopters took me on the a grand tour above the Southern Alps to land on a glacier. Setting foot on the glacier wqs a surreal feeling – we were the only ones on top of the mountain with a full 360 degree panoramic view of Mount Aspiring National Park.
River Jet Boat Adventure
Wanaka River Journeys took us on a speedy trip up the Matukituki River and into Mount Aspiring National Park. We enjoyed views of Mount Aspiring which is not always visible, even though it is the tallest mountain in the park . We were warned to be prepared to get a little wet as the drivers love to make 360 degree turns while blasting along. Along with the tour we stopped halfway through to go on a brief hike through the park.
Ski Fields and Snow Farm
Although we weren't able to get up to the ski fields, we've been told that they offer some of the best views of the valleys below. Treble Cone is meant for more advanced skiers and Cardrona is a little tamer for the less experienced. Also available is Snow Farm for a cross-country ski session.
Kayaking on Lake Wanaka
We asked numerous people about getting out in kayaks on Lake Wanaka (you know how addicted we are), but found no one who was renting in winter. Instead we had to watch (with extreme jealousy) the locals who owned kayaks pierce the glass on the calmest days.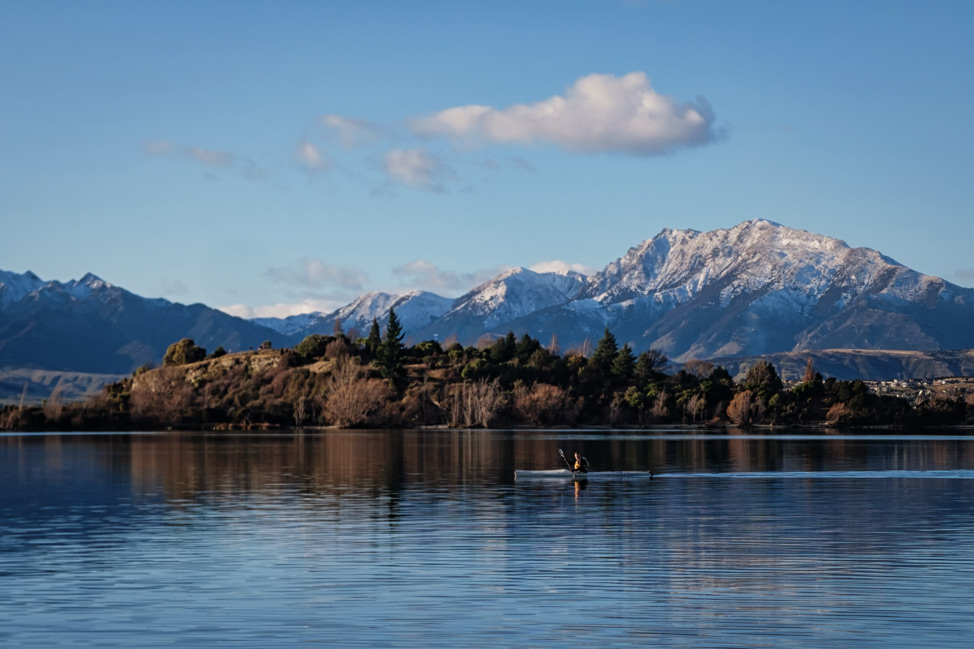 For the Photographer
Often times the area reminded us of western Canada, and we adored all the beauty surrounding this small town. There probably isn't a bad spot to take a photograph, but below are a few of our favourite spots to get a shot.
That Wanaka Tree
Probably the most photographed tree in the world. The tree is situated on the west corner of the lake there was hardly a moment when I could photograph the tree by myself.
Astral Photography
Big open skies and in the winter months the Milky Way was right above me every night begging to be photographed.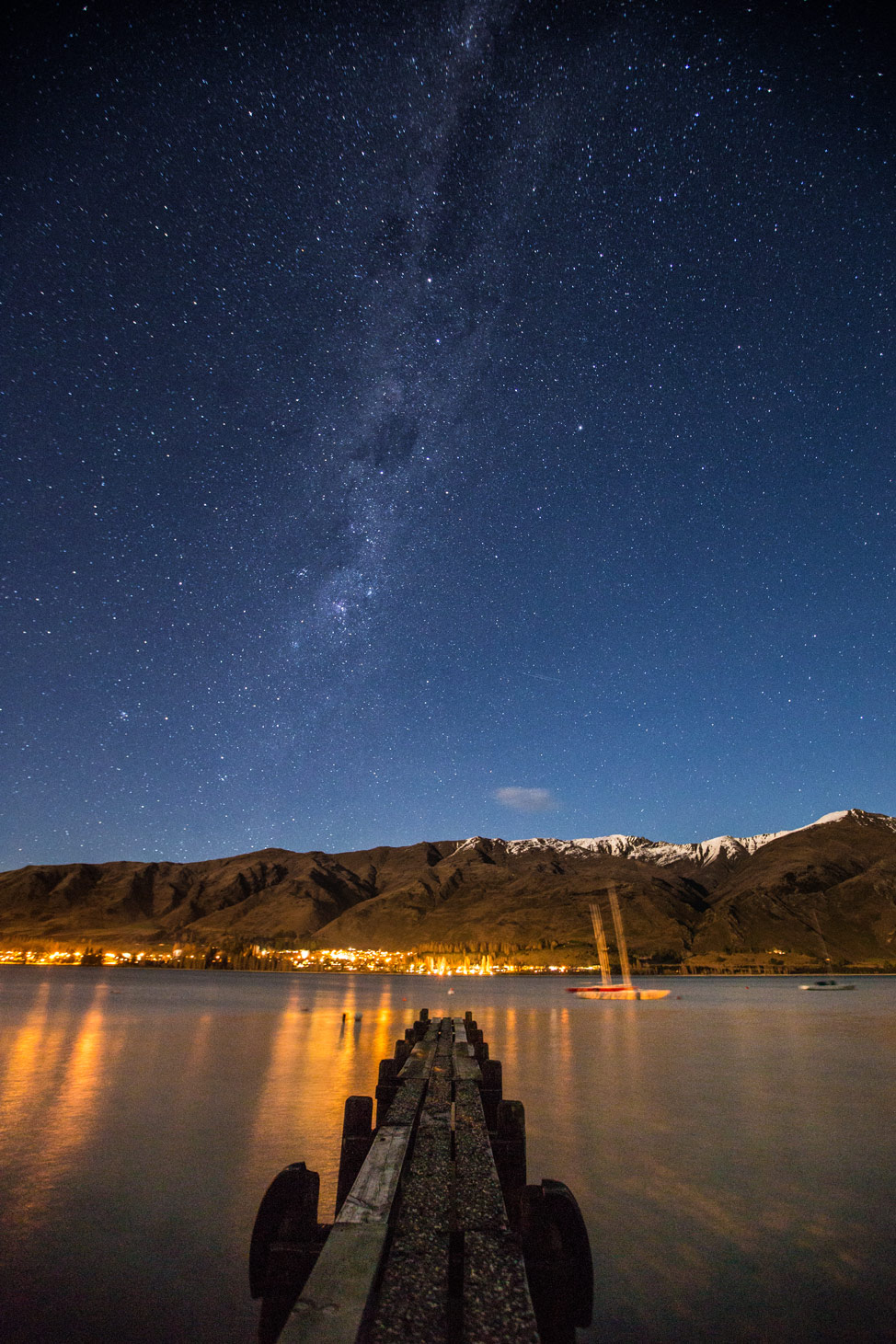 Southern Lights
This year the southern lights have been extremely active, and I got lucky catching them atop of the Crown Range.
Mount Aspiring National Park
There are countless photo stops along the drive into Mount Aspiring National Park.
Mountains and Sheep
If there are two things that are not in shortage in New Zealand, it's mountain and sheep.
Beacon Point
One of our favourite spots to bring the dogs in the morning. On calm mornings there would be reflections of the alps from across the lake.
Despite New Zealand not being the place for us, we never grew tired of the beauty and adventure this place had to offer.