Review – Osprey Sojourn 60L Bag
Words by Dalene Heck
It's about time my travel bag caught up with my travel style.
I haven't considered myself a backpacker for a very long time. Sure, the term fit while we made our way around South America – changing locations every few days, lugging our belongings on treks and setting them down in dodgy hostels.
But our travel style has long since evolved. We prefer extended stays in one location and choose house-sitsor apartment rentals over hostels. We still find ourselves in some pretty challenging locales from time-to-time, but for the large majority of our time neither of us require backpack straps to move our stuff around.
For some reason, it took me awhile to realize that changes in the way we travel could be reflected in the way we pack. And now that I've made the switch to enjoy one of mankind's most vital inventions – the lovely wheel – I will never go back.
From henceforth, I shall once again celebrate wheeled luggage.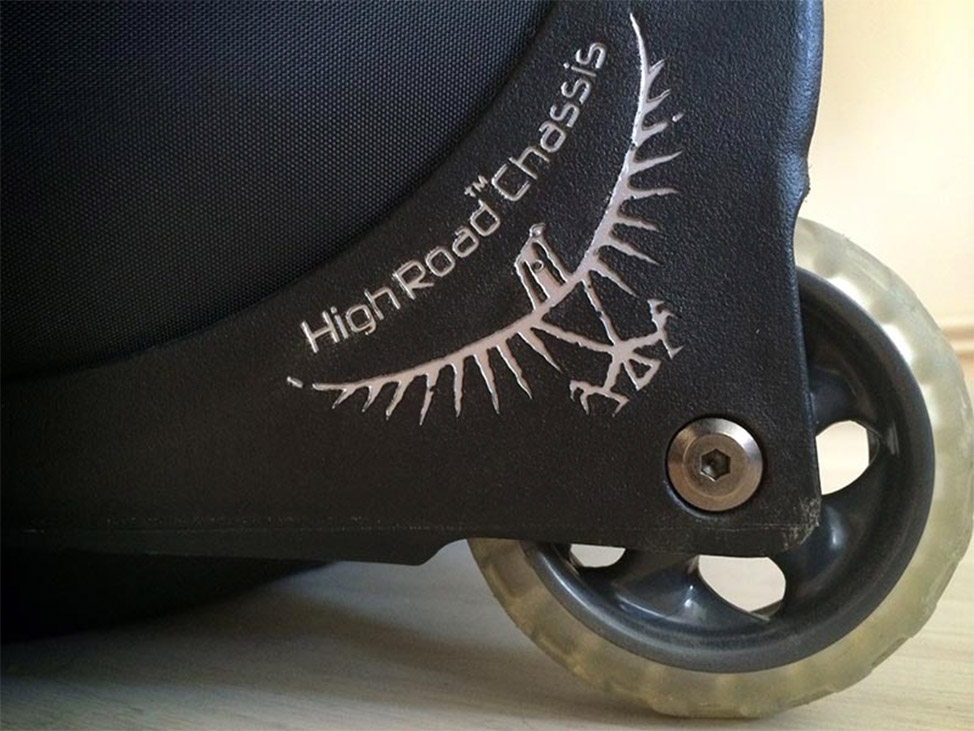 Osprey offered to send me their 60L Sojourn bag, and I was skeptical of so many things. How heavy would it be? Would it withstand constant use? What about those inevitable times when I will need to carry it some distance?
I need not worry for one second. Because in the six months of having it, I have rejoiced in every single moment of use. Every single time Pete and I have packed and are ready to head out the door, my back thanks me for not putting it through repetitive and unnecessary strain. And, there are many other things about the bag that I am very happy with…
It is lightweight. When the bag first arrived, I figured the box to be empty – or at the very least, someone packed in shipping material but no luggage. It is less than 3.5kgs, which is remarkable considering the material required for the wheels and retractable handle. I think it is actually lighter than the backpack I previously used.
It is tough. While we haven't taken it too far off-road yet, I believe it would hold up. The wheels are big and solid and handling these European cobblestones well. I trust that this bag will be with me for the long haul.
Did I mention it has sturdy wheels? Seriously. What on earth took me so long to realize that I didn't need to unnecessarily kill my back?
But if I need to strap it on…The Sojourn is ready for me. Zip away the back panel to reveal comfortable straps to lug it the ol' backpacker way. Thankfully I haven't had to use them yet, but in this unplanned life that we lead, having that flexibility is key.
The only slight thing that I don't like about the bag…
I lika me a lotta pockets. I adored the way I could organize my last bag. It had lots of components and pockets to keep everything in it's place, and it has taken me awhile to get used to this one. It does have some handy slots on the inside for separating things, but I do struggle a bit to make it work. For example, the biggest slot on the inside does not close with my hiking boots in it. And while the pocket at the top to hold toiletries and whatnot is handily separated (very good if there is ever a spill), I wish it was a little roomier – it ain't built for girls who have to struggle with several products to tame frizzy curls.
(But I can also chalk that up to my fairly random organizational style and reluctance to accept change.)
Overall, I'm feeling some serious love for this bag. It is a perfect match for my flexible lifestyle, and I can't believe it took me so long to realize that.
Osprey sent me this complimentary bag for review. All opinions, as always, are my own.