8 days, 96 km of paddling, and the opportunity to experience a place where not too many people ever set foot.
This is the "Back to the Wild" excursion offered by Greenland Tours.
We were greeted at the airport by one of our two guides (Jón) and he made sure that all was on track with the gear and our tickets. We took off from Reykjavik, Iceland and our journey had begun.
The moment the tour kicked off, Greenland Tours was thinking about us, their customer. For the flight to Kulusuk, they had arranged for seats on the right hand side of the plane to ensure that we are treated to an amazing first view into what is Greenland. We were joined by our second guide (Gaddi) when we landed.
THE JOURNEY
The tour lasted 8 days from Kulusuk to the Knud Rasmussen glacier, and we camped along the way. This was pure Greenland wilderness (except for one stop at a small town) – there was no wi-fi, no power, and of course, no toilets.
There were only two long kayak days (+20 kms), which took us about five to six hours to paddle. The rest ranged from 8 – 16 kms, and one day we could not kayak at all because the wind had been too strong. Instead, we just enjoyed a day exploring the area by foot, which was not at all a disappointment.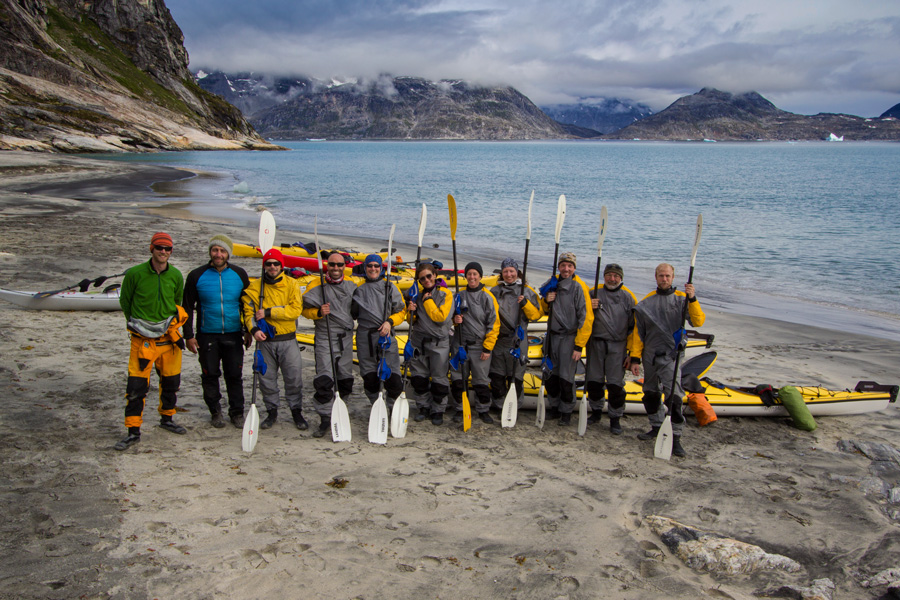 There were both double and single kayaks to be used. We rotated such that everyone could get a turn in whichever kayak they preferred. Dalene and I found that we most enjoyed using the double kayak as we could easily focus on our video and photography without falling too far behind.
In all honestly, the paddling was not the heavy endurance test that we thought it would be. The weather, on the other hand, was a bit more of a challenge.
THE WEATHER
By the end of our journey, we were just a few kilometers shy of being in the Arctic Circle – we did not expect sunshine the entire way, and we were right. We also paddled through many fjord crossings where the waves can get tricky especially if the weather changes quickly.
A warm front normally sits right over this part of east Greenland – one other group we met that had done it before said that last year they were wearing t-shirts the entire time. We had a couple of days without seeing any sun at all and that did wear on us a bit. But luckily, the rain was never too hard, and the wind only delayed our journey once. Considering where we were, we could hardly be too disappointed. The dry suits given to us worked as intended, and on land we dressed appropriately and were never too cold.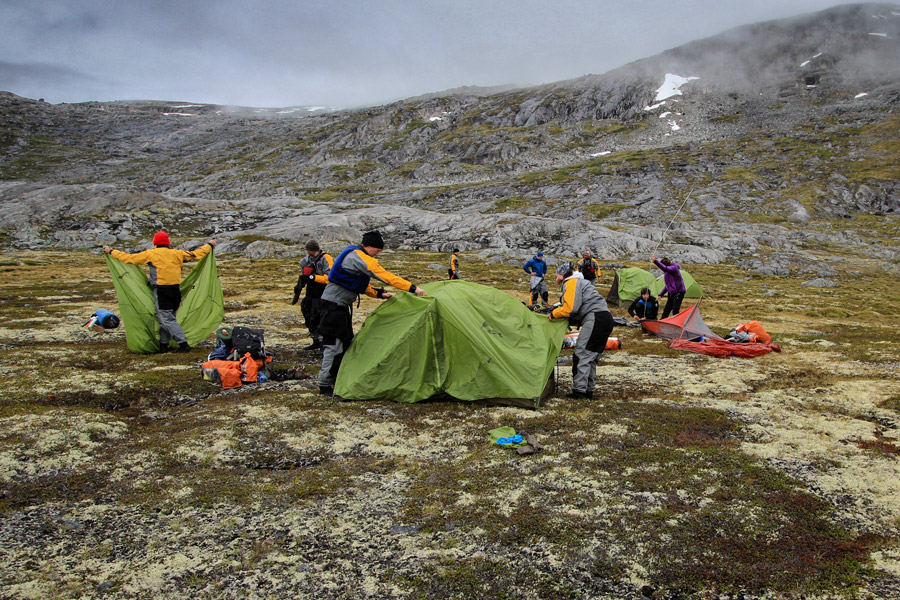 THE GUIDES
It was evident from the very first meeting with Jón and Gaddi that there were two main objectives for our trip: one, that we are safe, and two, that we enjoyed ourselves. And not only were the guides in constant communication with each other, but with all of us. Each morning we would have a briefing to explain the day's itinerary, the weather forecast, any potential challenges or dangers of where we were heading, and to answer any questions we may have had. Jón also was tasked with the responsibility of making using the GPS tracking button whenever we were ashore to assure the people in the Greenland Tours office that our crew had safely landed.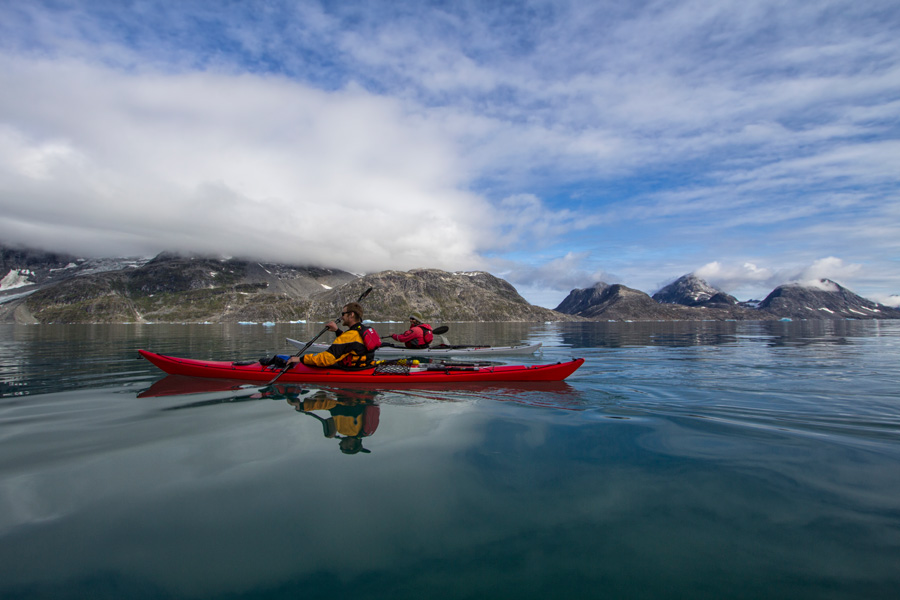 One thing was extremely evident throughout our entire excursion: both of the guides showed a tremendous amount of professionalism and respect, making it easy to give the same back in return.
THE CAMP
On land, we had fantastic camping sites. All of them came with a spectacular view, were near fresh water sources, and were flat enough to be comfortable. The tents that were provided held up well in the wet weather we had.
A large dinner tent was set up daily for us to enjoy our meals and escape any rain that fell. In it, Gaddi and Jón prepared breakfast (a daily porridge feast, with an abundance of available toppings so that we could mix it up), and dinner (packaged dehyrdrated meals that were surprisingly good – everything from pasta bolognese to chicken curry, as well as vegetarian options).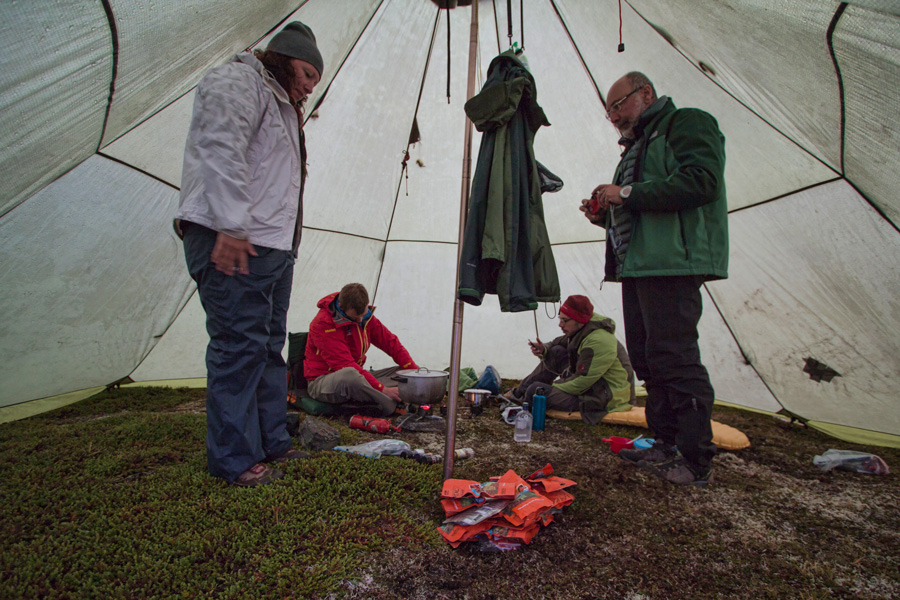 Lunch was served in between paddling sessions and was always beachside. It was an array of bread and crackers with so many options for toppings: cheese, meats, spreads, pate, and even caviar. Hot tea and coffee was always available to warm us up.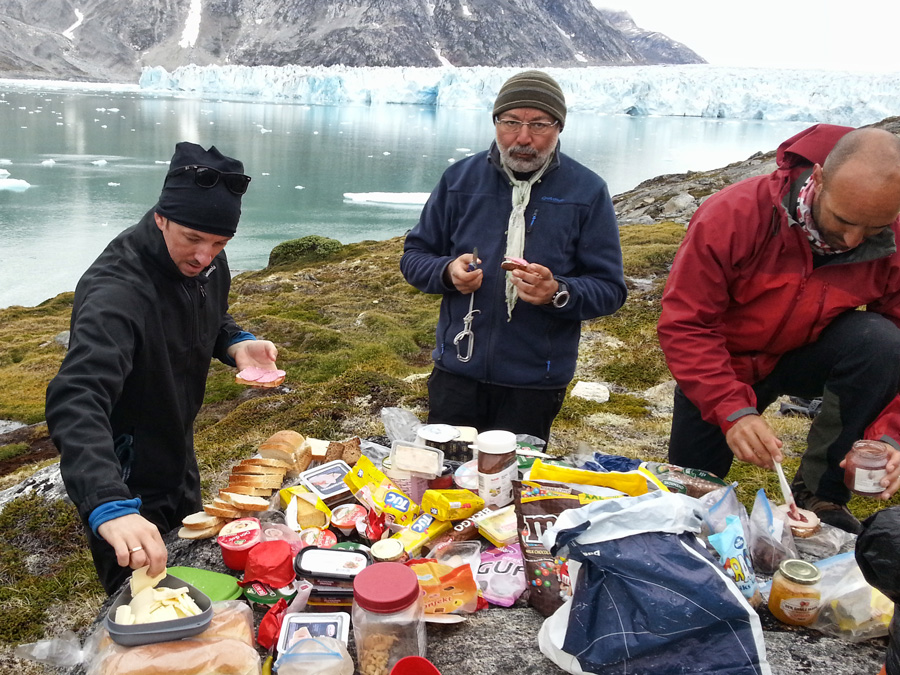 Jón and Gaddi also attempted a decadent dessert one night – it was, errr, interesting. We were also spoiled with such a range of candy options that if any of us had aspirations to lose weight on this journey, I am sure they were all soon dashed. So. Much. Chocolate.
OVERALL
I am writing this a couple of weeks after the completion of the journey and I have to say – the more that I think about it and reflect on our time in Greenland, the more appreciative I am of what an unforgettable experience it was in an unforgettable setting. Greenland Tours ensured that we were always safe, and that this trip was everything that we expected, and far more. The guides were professional, diligent and fun to be around; the kayaking was challenging but not overwhelming (some on this trip were beginners), and the views around Greenland were incredible. We would never hesitate to recommend this tour to anyone, and it will fondly be remembered as one of the highlights of all our travels.
*****
We were invited as guests of Greenland Tours for this "Back to the Wild" excursion. All opinions are own, including the decision on who made the better porridge (Jón wins – can't beat that "slow boil" technique…sorry Gaddi).