Have You Tried Lumpy Dick?
Words by Dalene Heck / Photo by Pete Heck
My brother-in-law's hand flew up to cover his mouth as he sputtered and choked on the roast beef he had been chewing. I raised my hand to touch my lips as well, my concurrent movement in an attempt to stifle sudden, gut-wrenching laughter.
Elegant table manners were out the window with the symphony of giggles that erupted around us. My Grandma's eyes circled the table, laughing a little on her own, but clearly underestimating the depth of the gutter her grandchildren's dirty minds sunk to.
"Oh Pete, this is such a delicious dinner," she had said just a moment before, "and all I have to look forward to when I get home is some Lumpy Dick."
After extracting our minds from said gutter (which took several minutes I might add, as a round of irresistible jokes had to be told), we were dealt a history lesson. We learned that Lumpy Dick is actually a simple dish with few ingredients, made by my Grandma's parents when times were tough as early settlers to Alberta and the Peace Country. It was inexpensive to make, fed their large family (13 children in total), and was served every Friday. My Grandma will make it for herself to this day.
My Mom, who also ate Lumpy Dick growing up, says: "It was a good filling meal that would really stick to your ribs."
And wouldn't you know it, searching for "Lumpy Dick" in the googles doesn't bring up an onslaught of expected racy photos, but instead a variety of recipes framed by early pioneering history, and an accurate definition: "An early pudding made by stirring dry flour into boiling milk until thick, then serving with sweet milk and molasses or sugar."
As we travel the world, Pete and I are eager to attempt new recipes that will help us better understand local culture. Damn straight we were going to have ourselves some Lumpy Dick.
1/2 cup of flour, 2 cups of milk, a dollop of butter, and syrup to taste!

Bring the milk to a boil, slowly add the flour while whisking. Lumps will remain, giving the dish one part of it's name. Who or what the "Dick" is? That remains a mystery.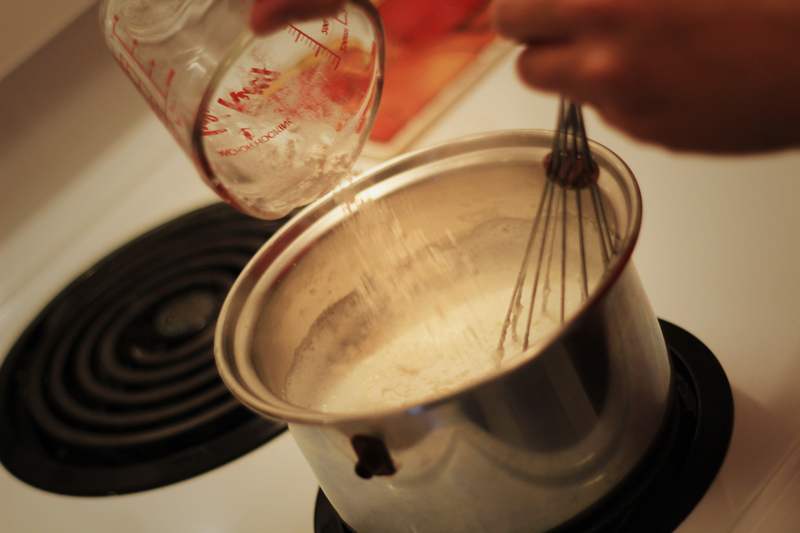 Finished off with butter and syrup. It tastes exactly as you would expect it to – like butter and syrup.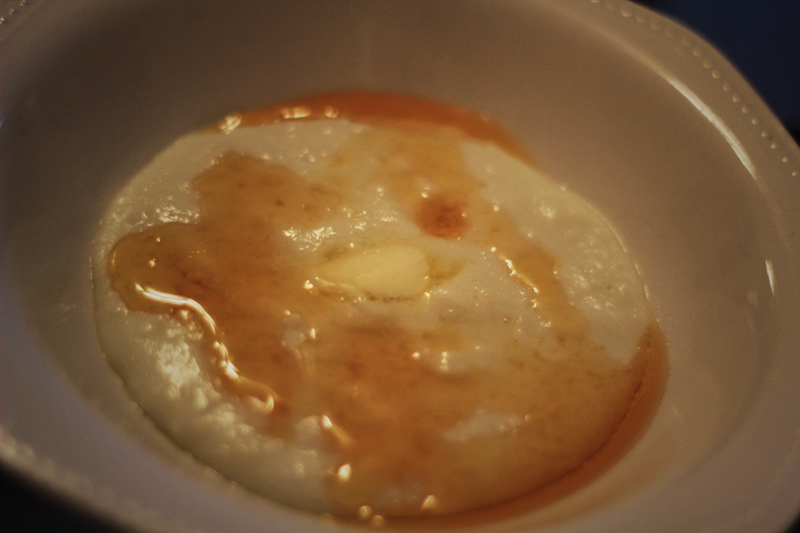 This recipe easily serves three. Or would have, if Pete had chosen to finish his.
I polished it off, in the name of research. And my Mom was right, that Lumpy Dick stuck to my ribs for five hours.