Find Your Beach
Words by Dalene Heck / Photography by Pete Heck
Our favourite moments in Prince Edward Island can be traced back to one afternoon.
We stopped at Chelton Beach at low tide. It's a provincial park and it was a weekend so it was somewhat busy, but not overwhelmingly so. In all honesty we had stopped just to use the bathroom, but as we approached the beachside building, we were taken by the scene that was before us.
We descended the stairs onto the beach and walked out as far as we could, dragging our feet along the soft red sand and splashing in the lukewarm puddles left behind in the tide's retreat. I waded through knee deep water to get to a sandbar all my own. It was no bigger than the room I sit in now to write this, but the sand was soft, free of other footprints, and it was mine. I was jealous of the lady on the sandbar over from me for her beach chair and portable cooler; she had clearly settled in for the day. So it goes, even on sandbars, that we tend to covet what our neighbours have, I suppose.
So it goes, even on sandbars, that we tend to covet what our neighbours have, I suppose.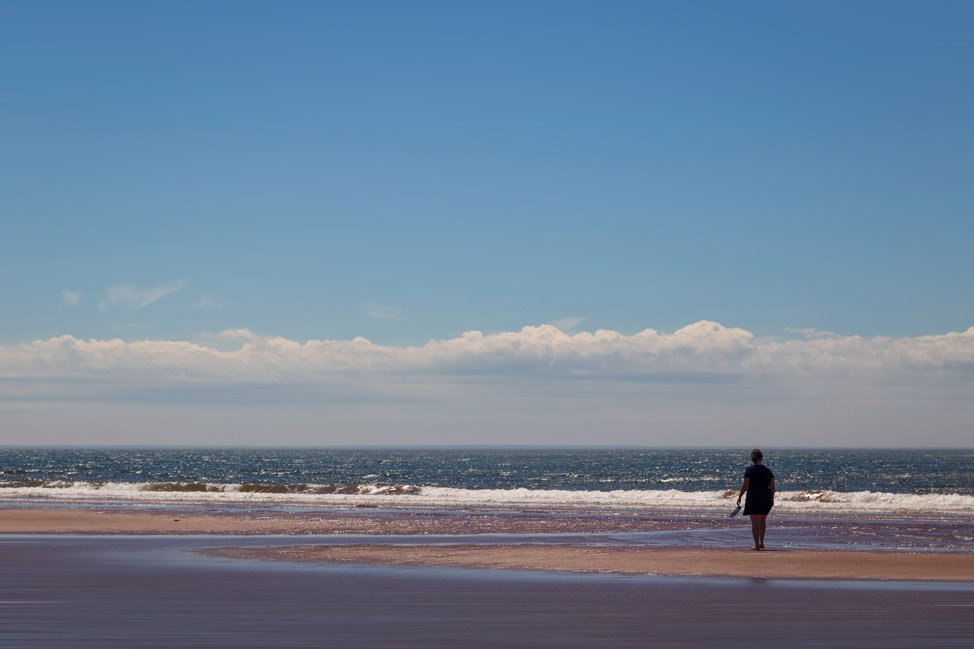 I rejoined Pete and we began to walk the length of the beach to the east. Around a small jut of rocks was a smaller patch of red sand that was a little more under water. We had planned to continue our walk but stopped to poke around in the puddles when we noticed movement. Snails and small fish were darting back and forth in their own little miniature ocean.
"Lobsters! There are baby lobsters in here!" When I reflect on this moment now, I shudder at the thought of my high-pitched squeal. I am pretty sure I sounded like a very excitable tween in my reaction to these tiny and almost translucent creatures that I had never seen before.
Pete and I both grabbed cameras and started following them around, darting in different directions all over the beach. Unsuccessfully, I might add, because damn, those little lobsters are fast. It didn't stop us from looking like fools as we tried, though.
Snails and small fish were darting back and forth in their own little miniature ocean.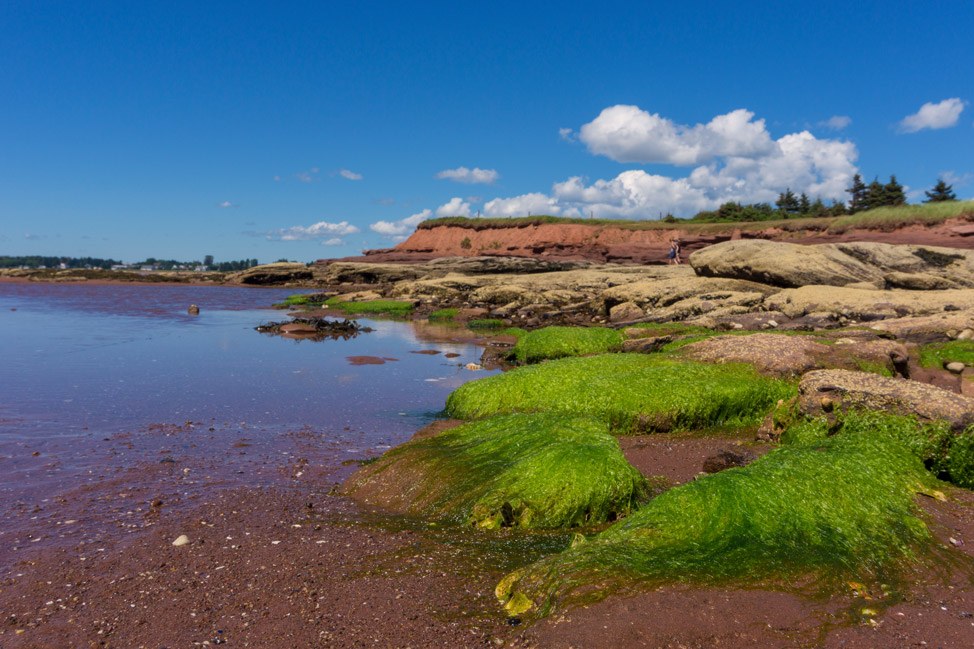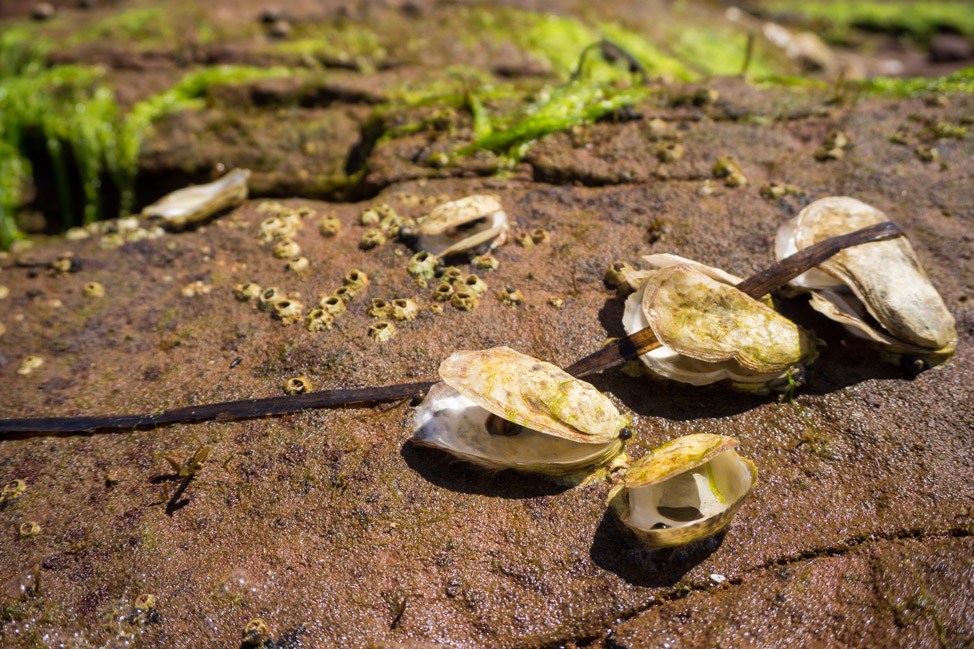 The next day we had lunch with someone who grew up on the island. She said that when recently asked by a tourist about how to capture the essence of PEI, she instructed them to walk along the beach. Preferably alone, to soak in the air, the atmosphere, the environment.
Hey, we just did that. No wonder that those moments caused us to chase beaches all over that tiny island. And what we found was an array of special spots that suited us for a variety of occasions and moods.
GREENWICH BEACH
Greenwich Beach was our very first stop; we were wooed by the promised scenic jaunt to reach it. It's a two kilometre easy walk, and not only is the beach itself worthy, but the walk in is remarkable. On a boardwalk over a marsh, the still water was a dream to photograph and the bird life in the area was entertaining to see and hear. The walk ends with a quick rise over dunes, and then opens up to a beautiful stretch of soft white and red sand.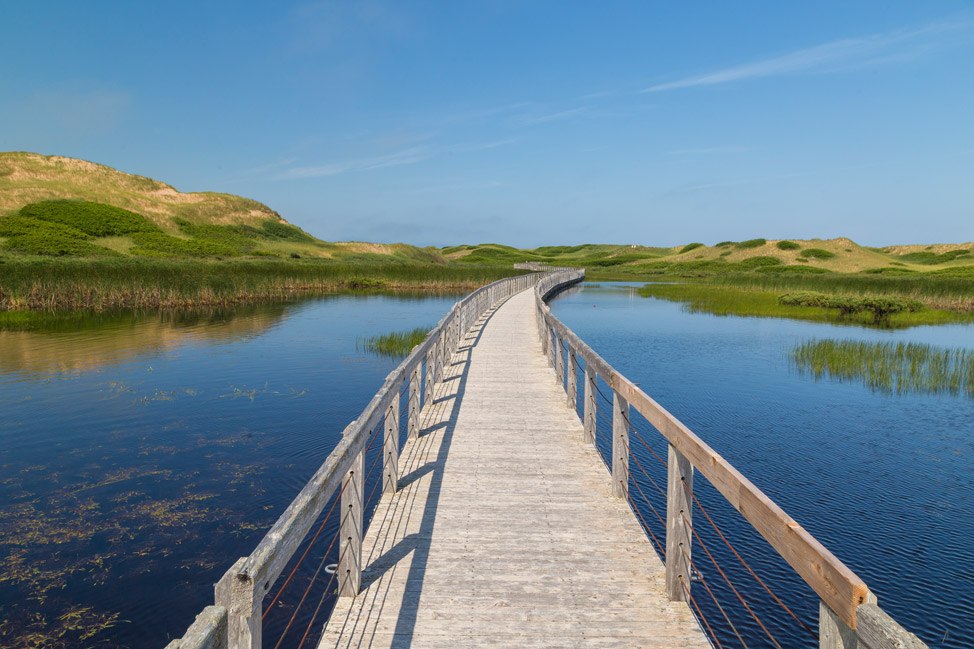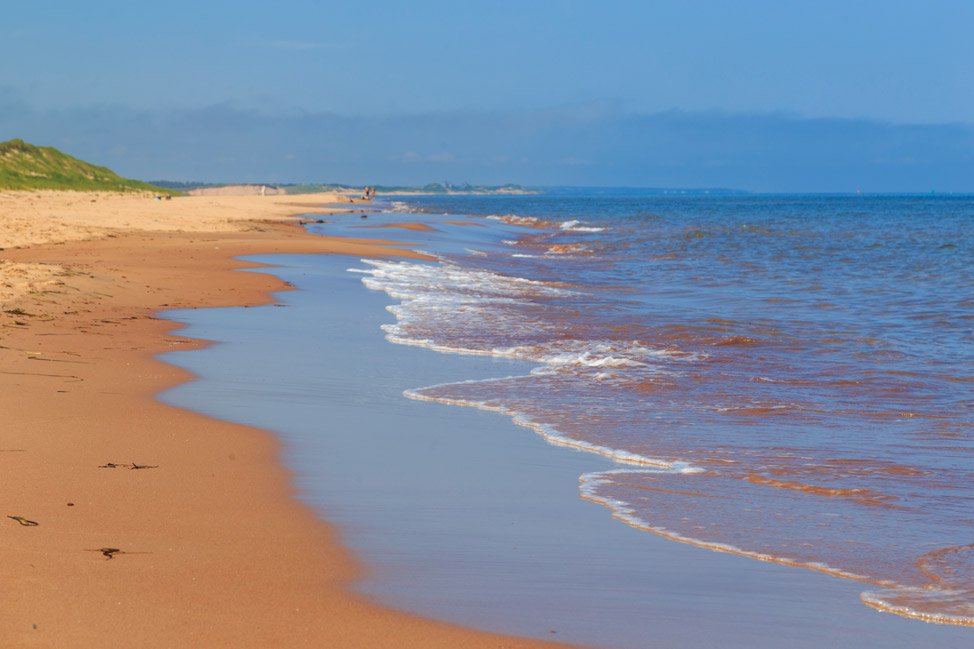 BASIN HEAD BEACH
This popular spot is also known as the "Singing Sands" beach for the sound it makes when you drag your feet in the sand. Except, duh, we didn't understand that part until after we visited. No matter, it was still memorable for our daybreak stroll alone along the shore. The blank and foggy sky made the red cliffs and green moss absolutely pop, so it was a lot of fun to photograph.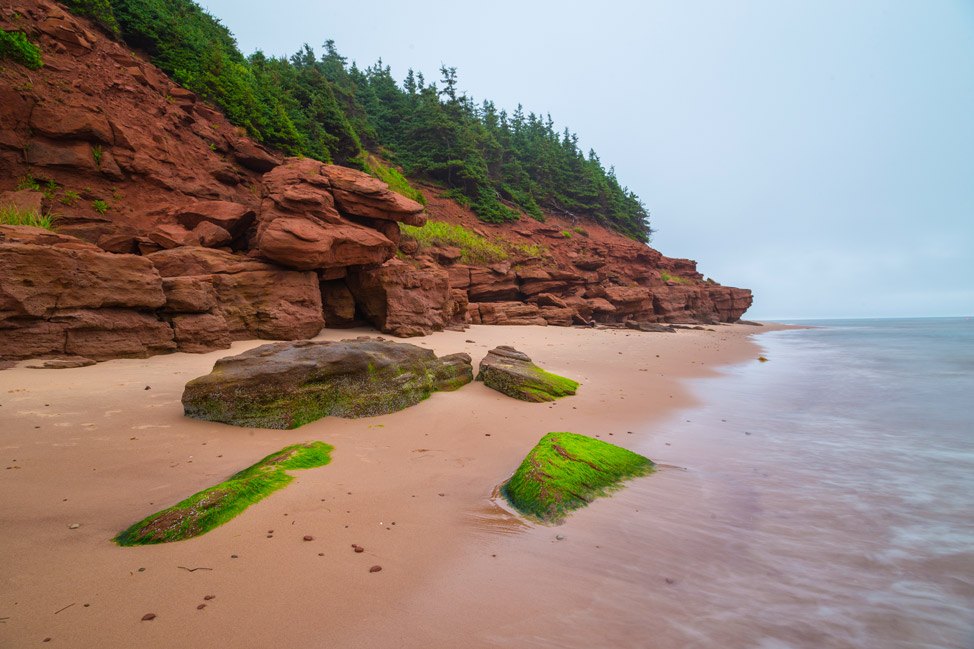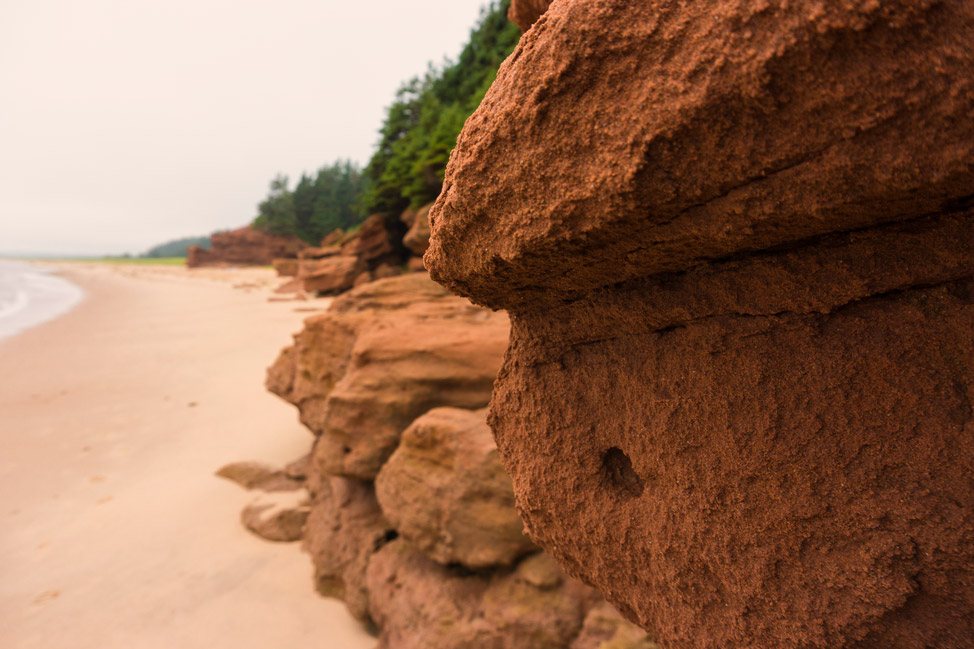 AUGUSTINE COVE
During our second week on PEI we spent our nights perched here, on the edge of Augustine Cove. It was the most perfect place for us. A quick walk down our stairway during low tide had us exploring on the red sand and hunting for clams. There was always an array of puddles – perfect for wading in to cool off or just feel the squish sand beneath our toes.
We barely saw anyone else on there during our week. It's not exactly a lounging beach as it is mostly too wet, or perhaps it is just not on tourist's radar. Yet we loved it. A perfect place to stroll and explore every detail up close.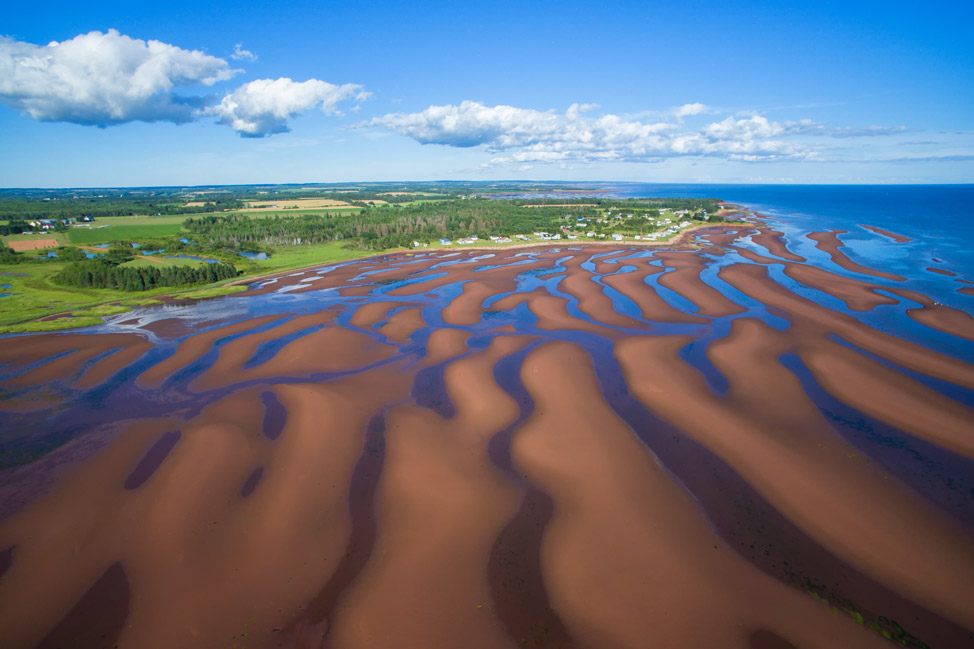 WEST POINT
We pulled up to this (almost) westernmost point of the island, pulled out our beach towels, and settled in for a sunset. That's what this beach is about.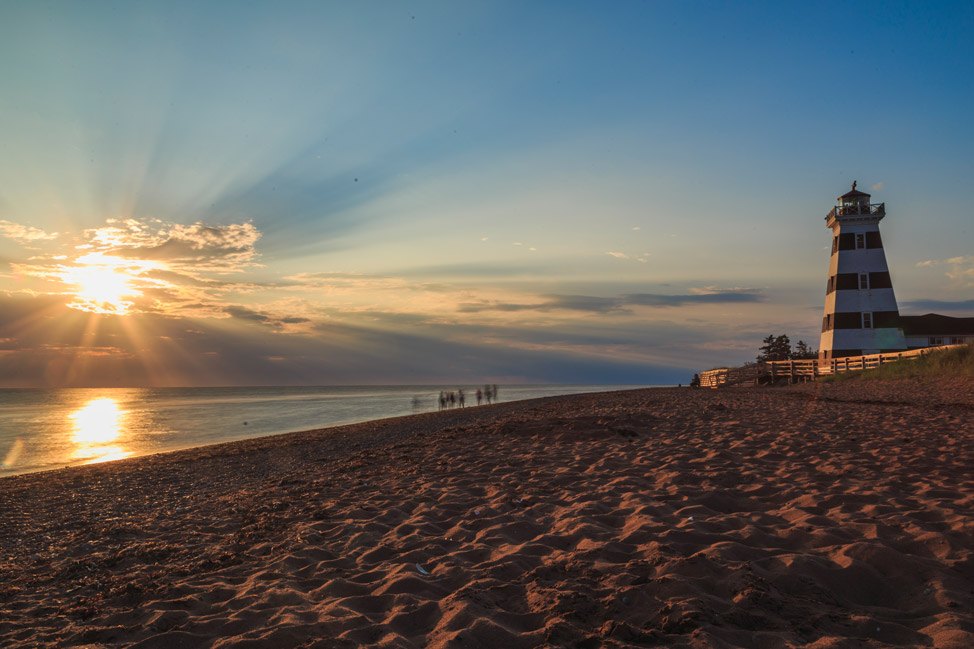 ARGYLE SHORES
This favourite spot of ours technically isn't in Argyle Provincial Park, but instead a bit east of it. Like a lot of secluded beaches on the island we found this one by curiously following a dirt road that lead down to the shore. Sometimes it was a bust, but other times we found gems like this.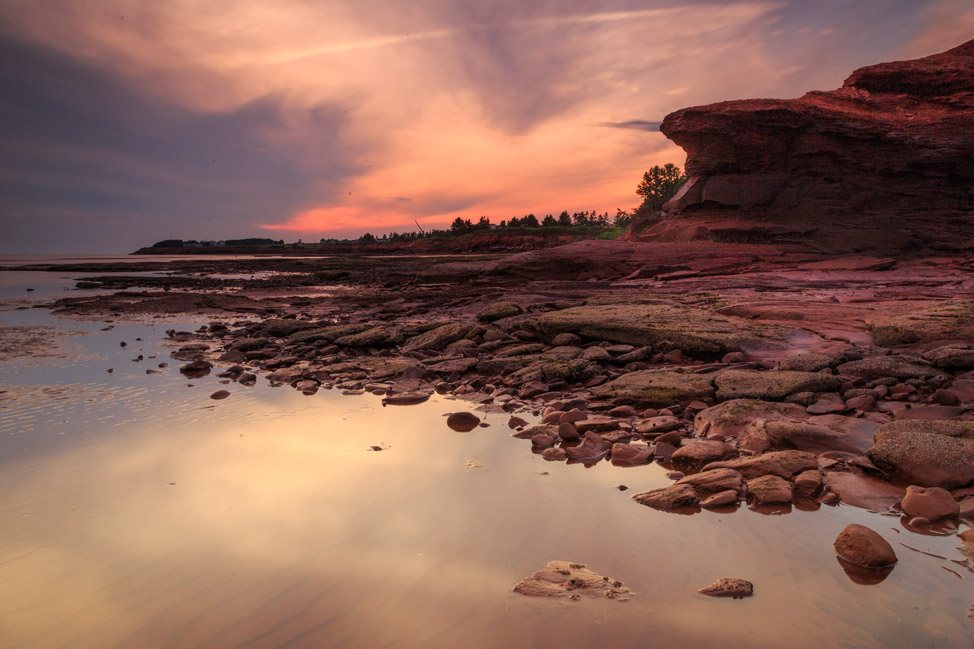 THUNDERCOVE BEACH
The tea cup was what we came for. Upon arrival to Thundercove Beach it was a bit of a walk, but with the right time considering tides and light, we were rewarded with a stunning view of this distinctive red rock.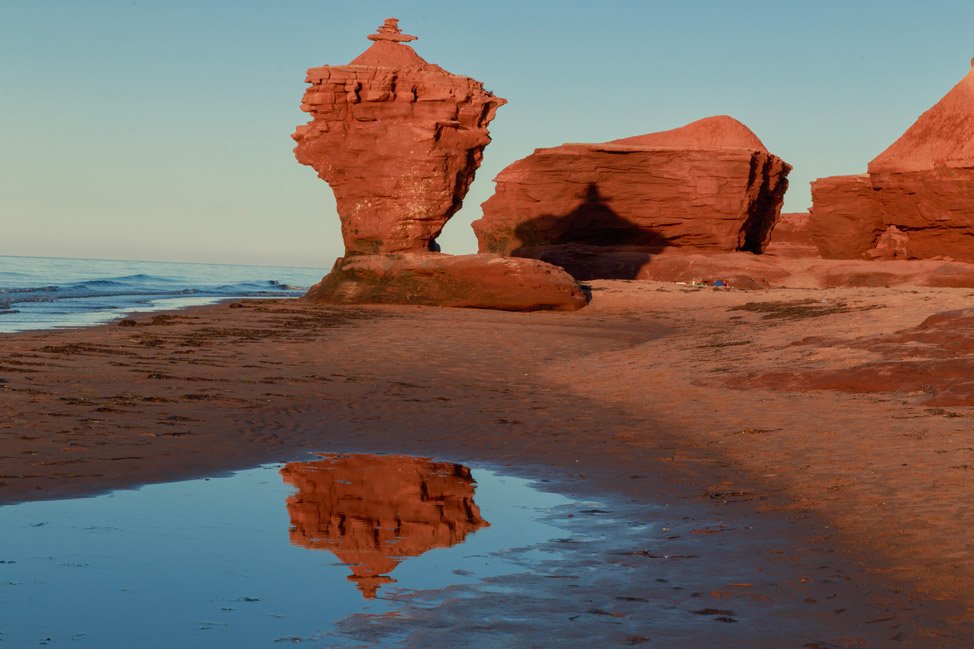 There were many more, of course, as the entire island is practically encircled in soft beaches that are ripe for exploration. And that, for us, was the thrust of PEI's appeal – the pleasure of tossing away maps and finding them for our own.
where we stayed
Finding your own beach moments in Prince Edward Island starts with a cottage stay near the water, and our week in the
Watermelon Wine Cottage
gave us exactly what we were looking for. Quiet, comfortable, and with a red beach just a few steps away, this was one place we truly wanted to change the locks on and never leave.
This post was produced by us, brought to you by Tourism PEI.