Where the Wild Things Are
Words by Dalene Heck / Photography by Pete and Dalene Heck
"There is language going on out there – the language of the wild. Roars, snorts, trumpets, squeals, whoops, and chirps all have meaning derived over eons of expression. We have yet to become fluent in the language – and music – of the wild." ~ Boyd Norton, Serengeti: The Eternal Beginning
I dozed in and out of sleep. Part excitement, part worry, part trying to distinguish between the snoring from the tent next to us and the vocal hyenas that were circling camp.
"Did you hear THAT?" I shook Pete by his shoulder. We would learn later that it was a hyena calling for reinforcements, recognizing that predators were nearby. In the morning, as we drank coffee in sight of a tower of giraffes, others recalled hearing lions roar. Somehow we had miraculously slept through that and I was deeply disappointed.
I wanted to hear it all. I wanted lions circling and sniffing our tents, I wanted to actually shudder with the fear of having them too close.
I wanted lions circling and sniffing our tents, I wanted to actually shudder with the fear of having them too close.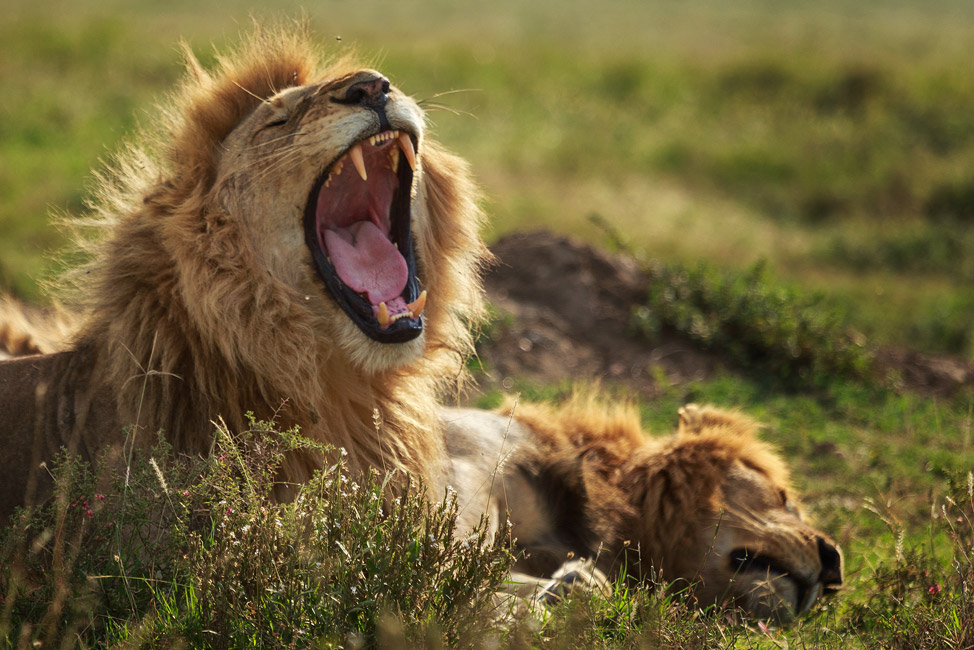 The large size of our tent and vehicle that we drove for three days through the Ngorongoro Crater and the Serengeti National Park meant that we would be safe as long as we were in them. Stray, and we could become prey. That meant being confined for long days on bumpy roads, and not drinking anything after the early evening so that I wouldn't have to rise in the middle of the night to visit the bathroom a good distance away. If I had to, instructions were to flash a light in all directions in the dark around me. If the light reflected on a set of eyes, then retreat to the tent.As much as I wanted to feel a real part of the Serengeti, I'm not stupid. I kept my bladder in check and the tent fully zipped until the sun broke the horizon. I settled for instead trying to blindly identify the noises that raged on around me.
Such was our three days in this, one of the wildest environments that may exist on the planet. Where we were forced into our cages of tent and jeep in order to survey our environment. This was so unlike any of our previous animal experiences, where it was always the other way around.
And we couldn't get enough.
If the light reflected on a set of eyes, then retreat to the tent.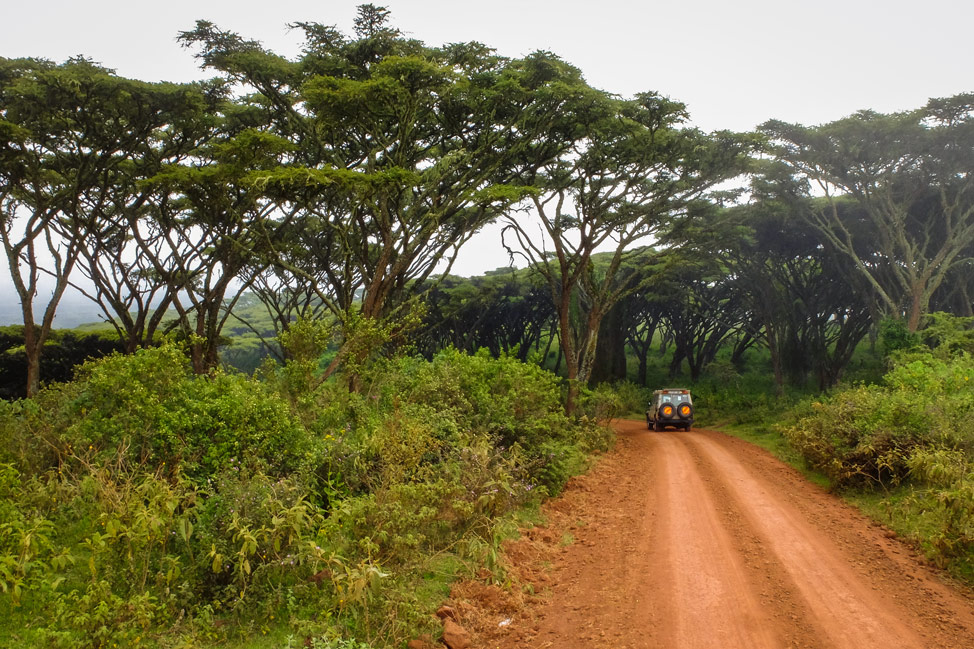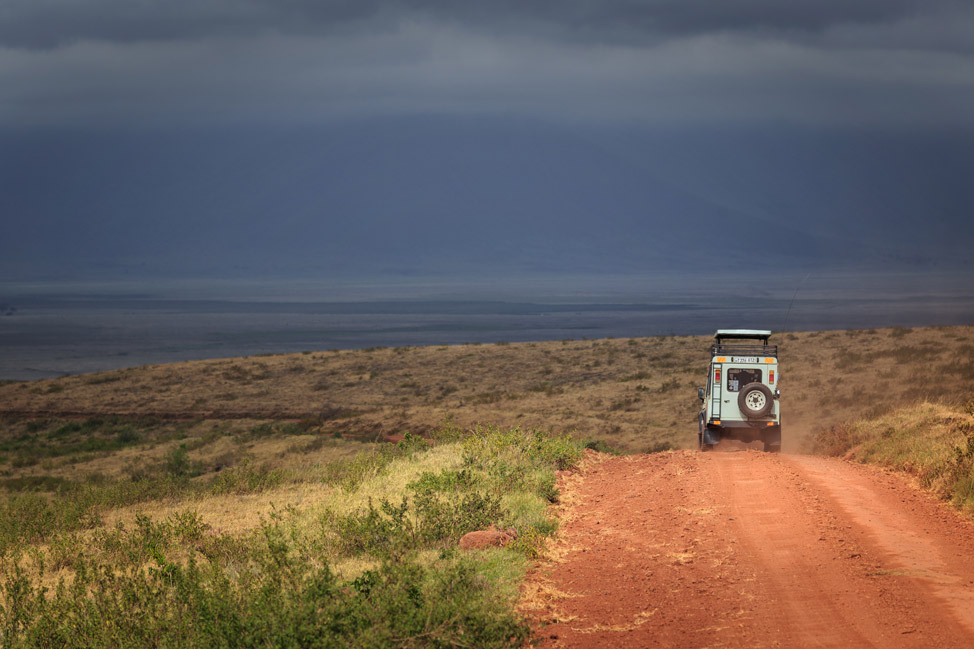 inside ngorongoro
If there is a more perfect microcosm of Africa on the continent, I cannot imagine. For within this deep volcanic crater that is only 20 kms across there is nearly every species we wished to encounter. The big five (lion, elephant, rhino, leopard, buffalo) are all present and almost every other animal that screams Africa, save for giraffes and some antelope, given that their spindly legs make it difficult to navigate the steep crater rim.
They're all right there. Drive just a few minutes in order to encounter a few new animals. Water buffalo were the first we saw, their giant dark frames easy to spot from a distance. Then zebras (or zebbies as our guide Isaya adorably called them), a massive congress of baboons grooming each other, lazy hippos rolling in marshy waters, and then onto one of the main attractions.
"Can you smell that?" Isaya teased, grinning from ear to ear. There was no odour but he knew what was coming – around a corner and at a bend in a small river, a pride of lions spread out lazily along its edge. We fussed and squealed until we found a good spot to park among the other vehicles. Camera shutters snapped furiously and we gasped every time one moved ever so slightly.
If there is a more perfect microcosm of Africa on the continent, I cannot imagine.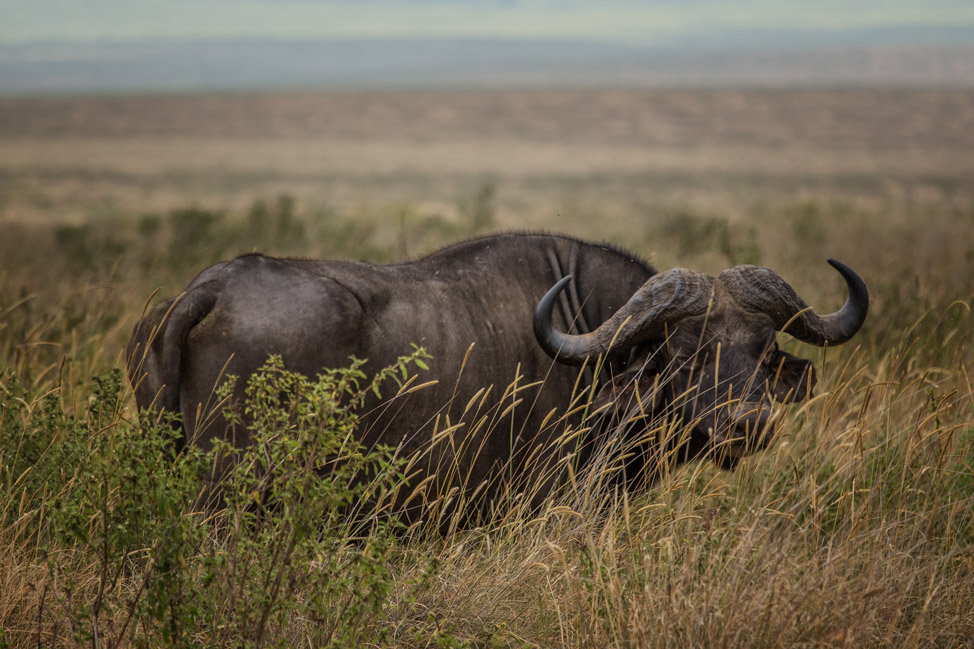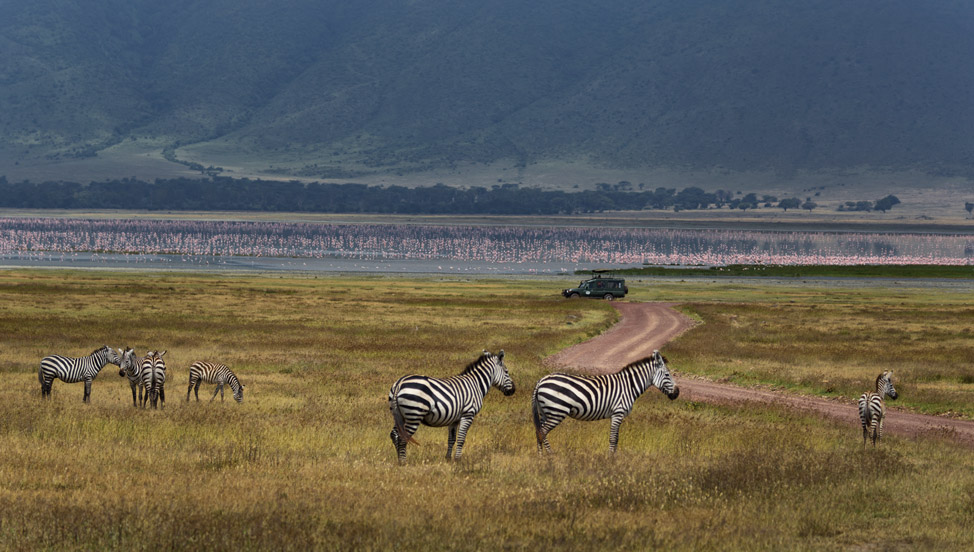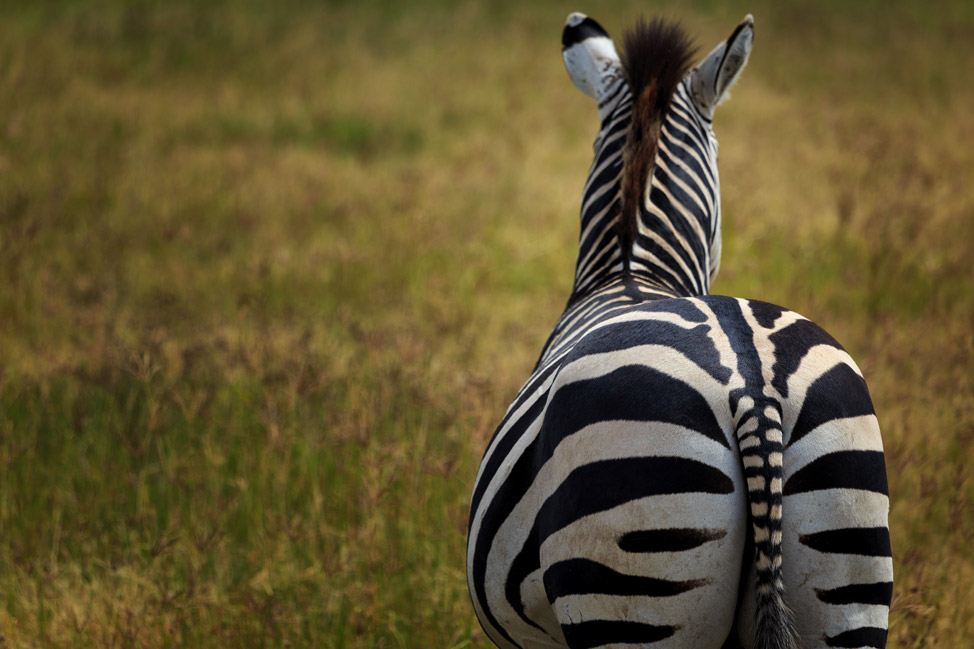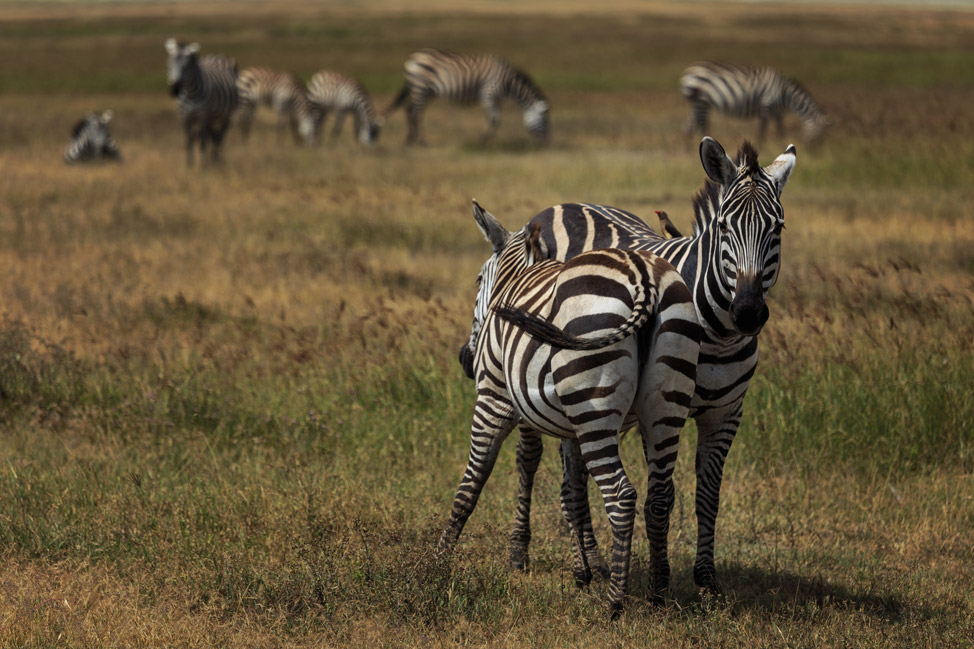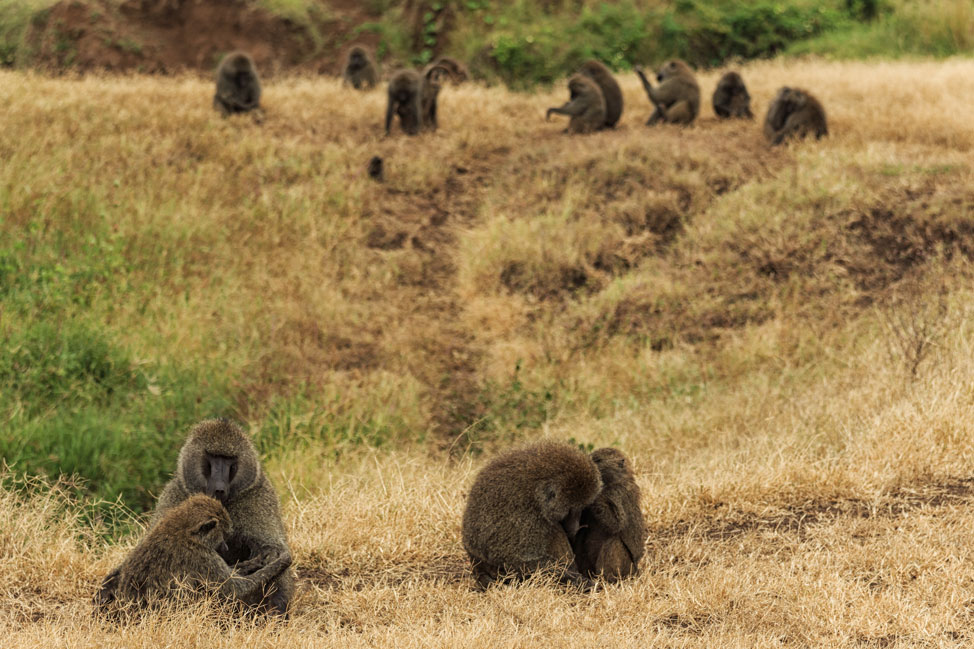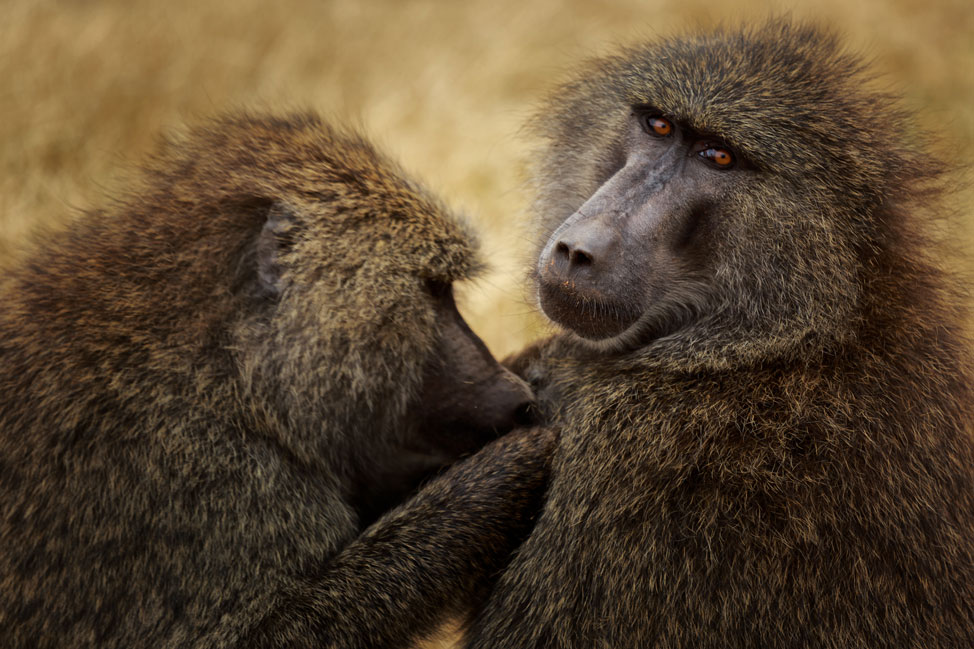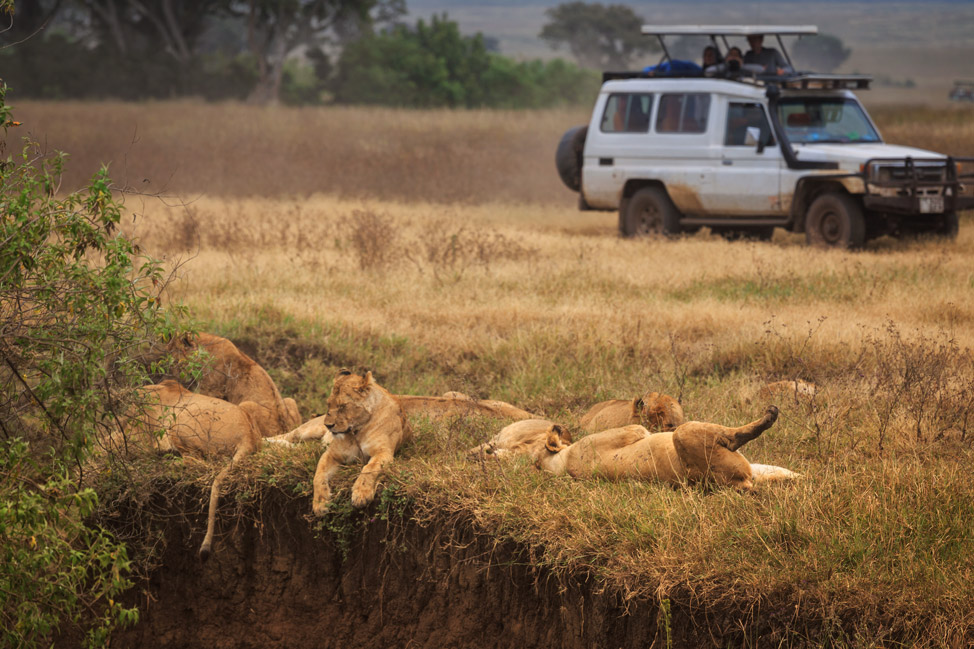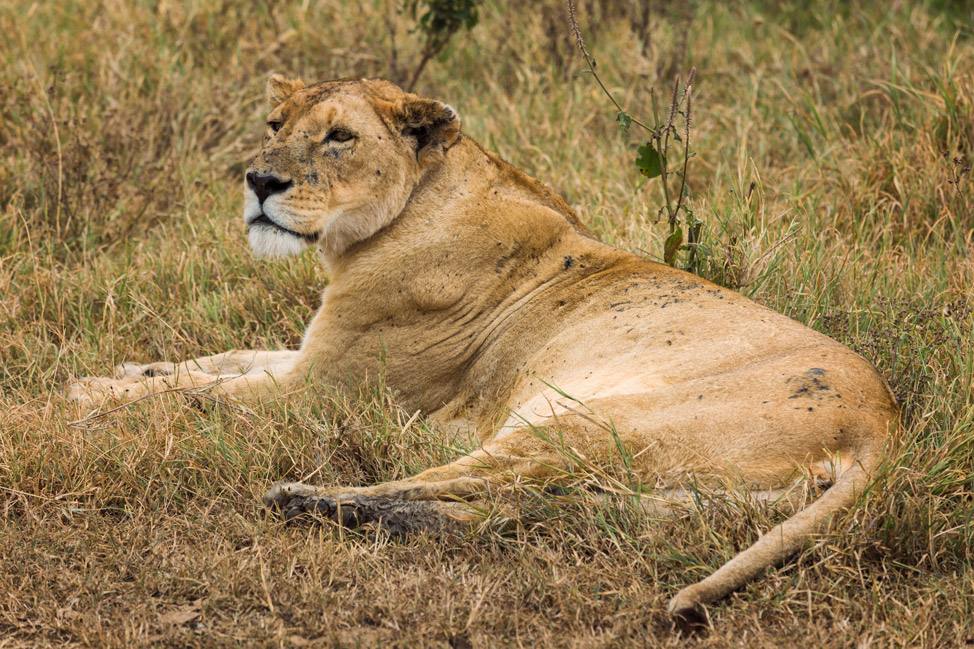 There were 14 of them, which seemed unfathomable, having arrived with the expectation to see only one or two if we were fortunate. (We would learn later that our luck with lions was substantial – someone on our tour counted 85 overall.) We were hesitant to move on but knew we must, regulation of the crater meant that we had to be in and out in just a few hours.
We had no time to be disappointed. We saw elephants with tusks that swept the ground, plenty of warthogs (did you know that their Disney name of Pumba actually means stupid?), and a rare black rhino off in the distance laying on its side. We waited for him to stand and even came back after lunch to see if he had moved, but in the hot afternoon he barely stirred. We moved onto more hippos, the Thomson's gazelle (which was the favourite of our guide for their playfulness and speed), and the homely but fascinating wildebeests.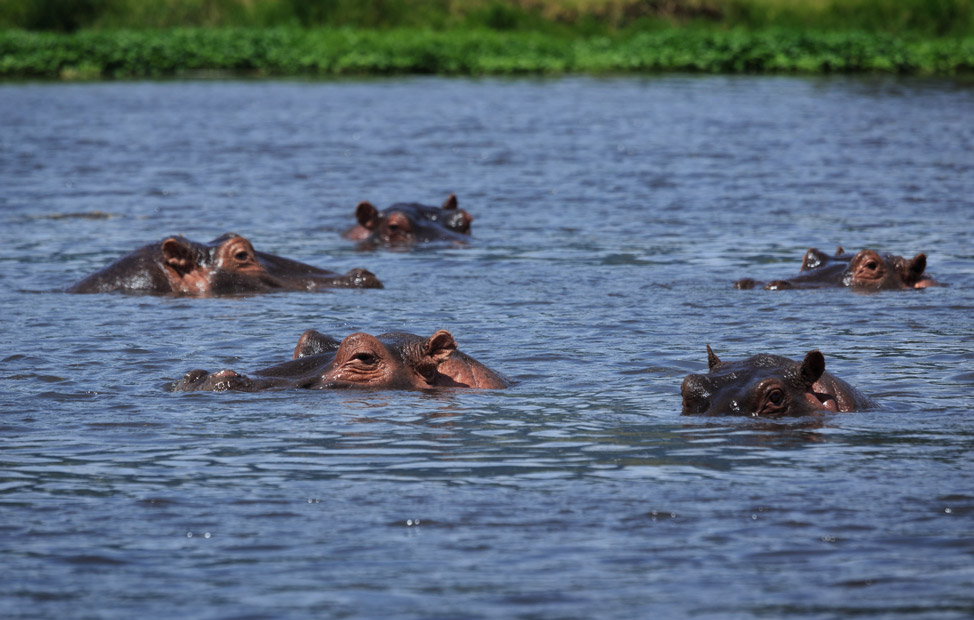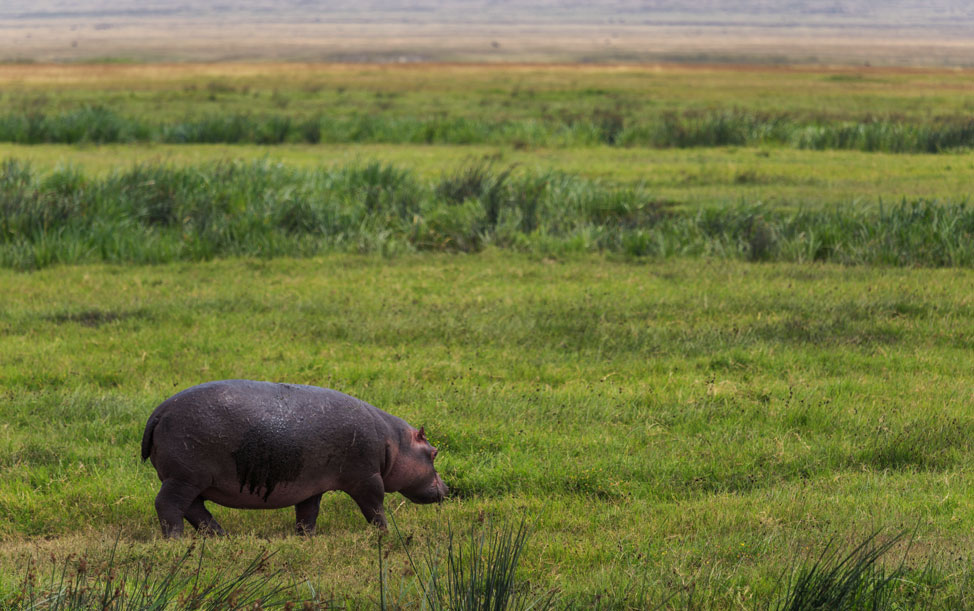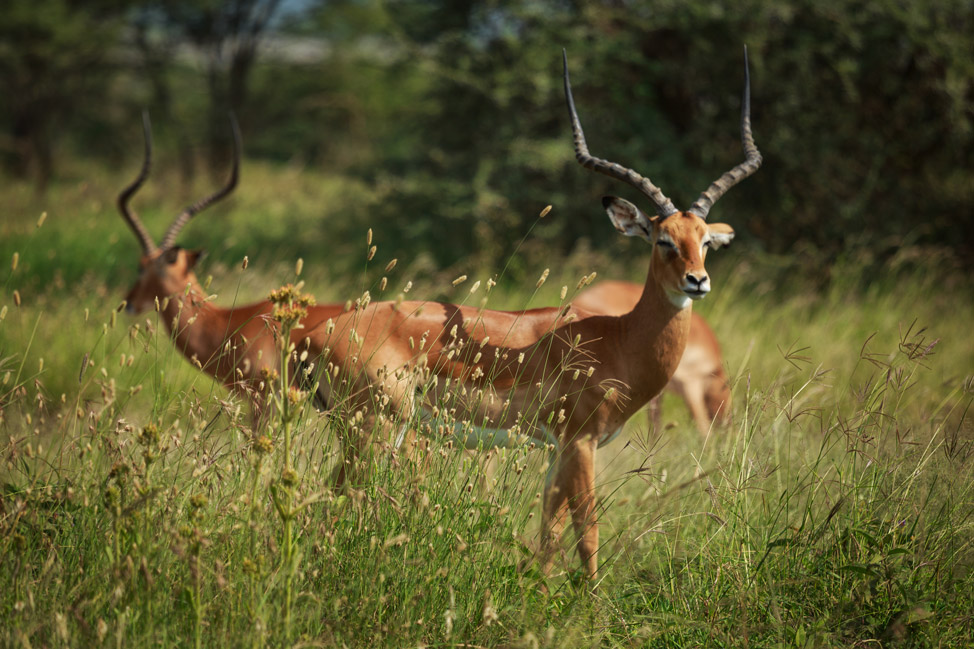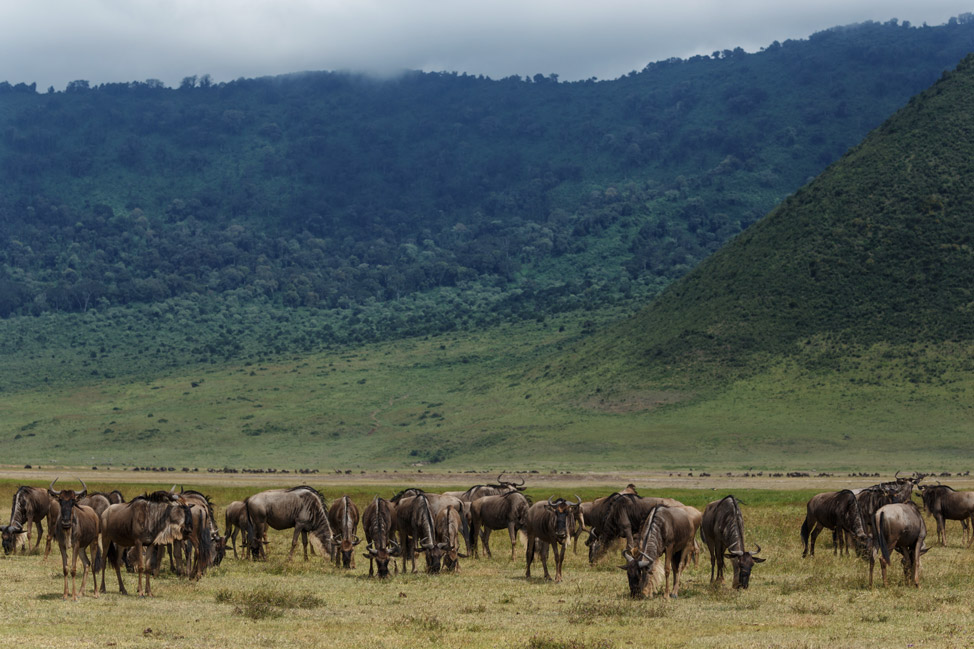 Not only does every animal need to be wary of the seven prides of lions present (our guide referred to the crater as the "lion's supermarket"), but they also need to contend with the hierarchy of their own kind. And as we began our way out of the crater, our drive slowed to a crawl. Wildebeests were dancing around us.
Or rutting, as it is more aptly called. Solitary males, trying to control large herds of females in order to improve their chances of mating, must fend off the others who threaten to steal their ladies. Several large groups milled around us while the territorial males ran back and forth, guarding against an advance.
They sometimes came to blows. It would start with pawing the ground and snorting. Then the males would drop to their combat positions – on their knees a few feet apart, ramming their heads at the base of the horns. Never would they appear to severely injure each other, either the territorial male wouldn't give up ground or the challenger swept past to section off a few females for his own.
And then it would begin again, males would face off mere meters from our jeep. "It's fight hour!" I declared, not knowing at all what I was talking about. We finally moved on to catch up with the others, but the wildebeests would continue this ritual for weeks to come.
"It's fight hour!" I declared, not knowing at all what I was talking about.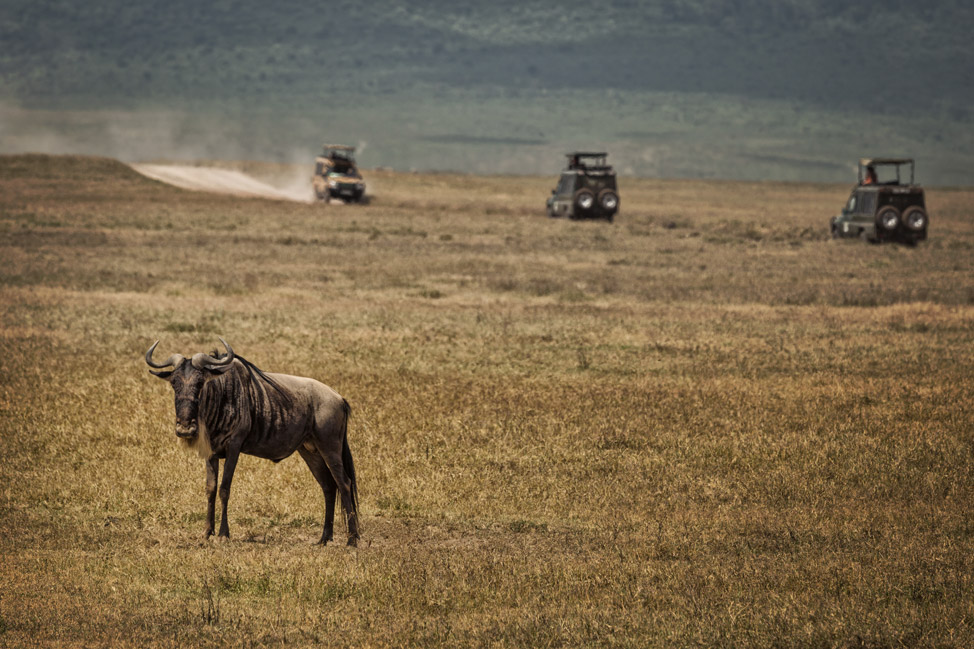 onto the serengeti
We left the crater believing that our trip had peaked, that there was no possible way Tanzania could get any better. But on our first few kilometres into the sprawling expanse of the Serengeti National Park, we were greeted by an unlikely sight. And when our guide, who does this trip regularly, took out his camera and began recording the scene in total awe, we knew we were seeing something special.
Three male lions were stretched out just beside the road. They barely acknowledged our presence, nor the zeal of zebbies spread out around them. Further on, more lions. One male perched up on a rock a la Lion King, and another pride included one cub stretched across a dead branch. His rich fur shined in the golden hour sun.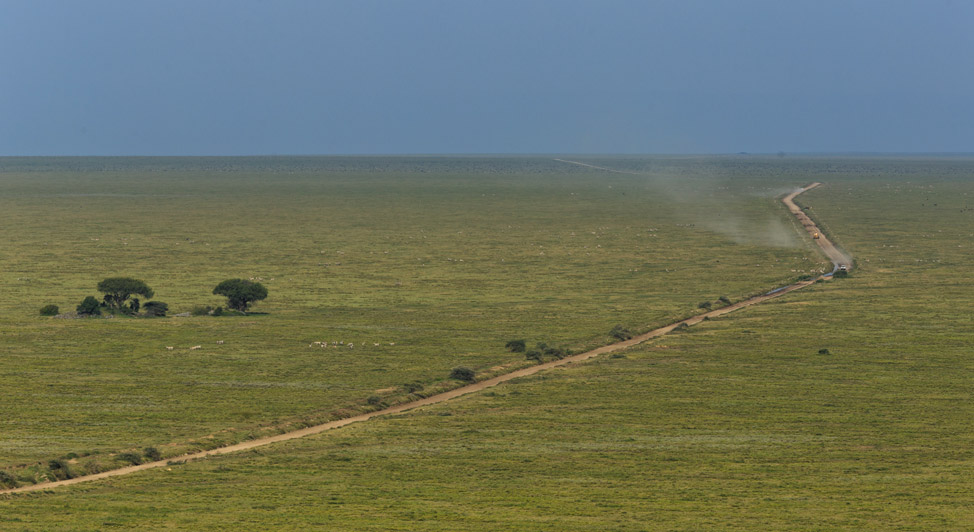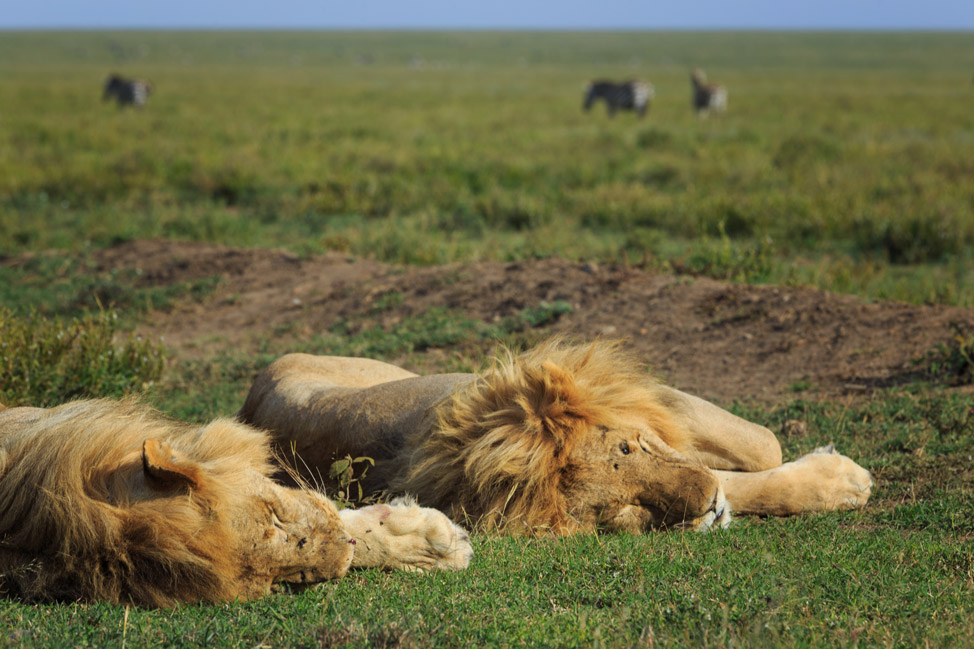 Before we settled into camp that night, we heard more of the language of the wild. A predator claimed their dinner (at least, that was our interpretation of the squeals heard), and then several baboons screamed bloody murder. I was sure that one must have seen their baby being eaten right in front of them to warrant such a noise, but when I asked I was told "nah, they are just noisy."
We ate dinner by lamplight, but not too close to the brightness, in order to avoid the giant moths that swirled around our heads. Giraffes greeted us each morning, dining on leaves from the high branches just beyond our camp. Nothing in Africa comes in size small.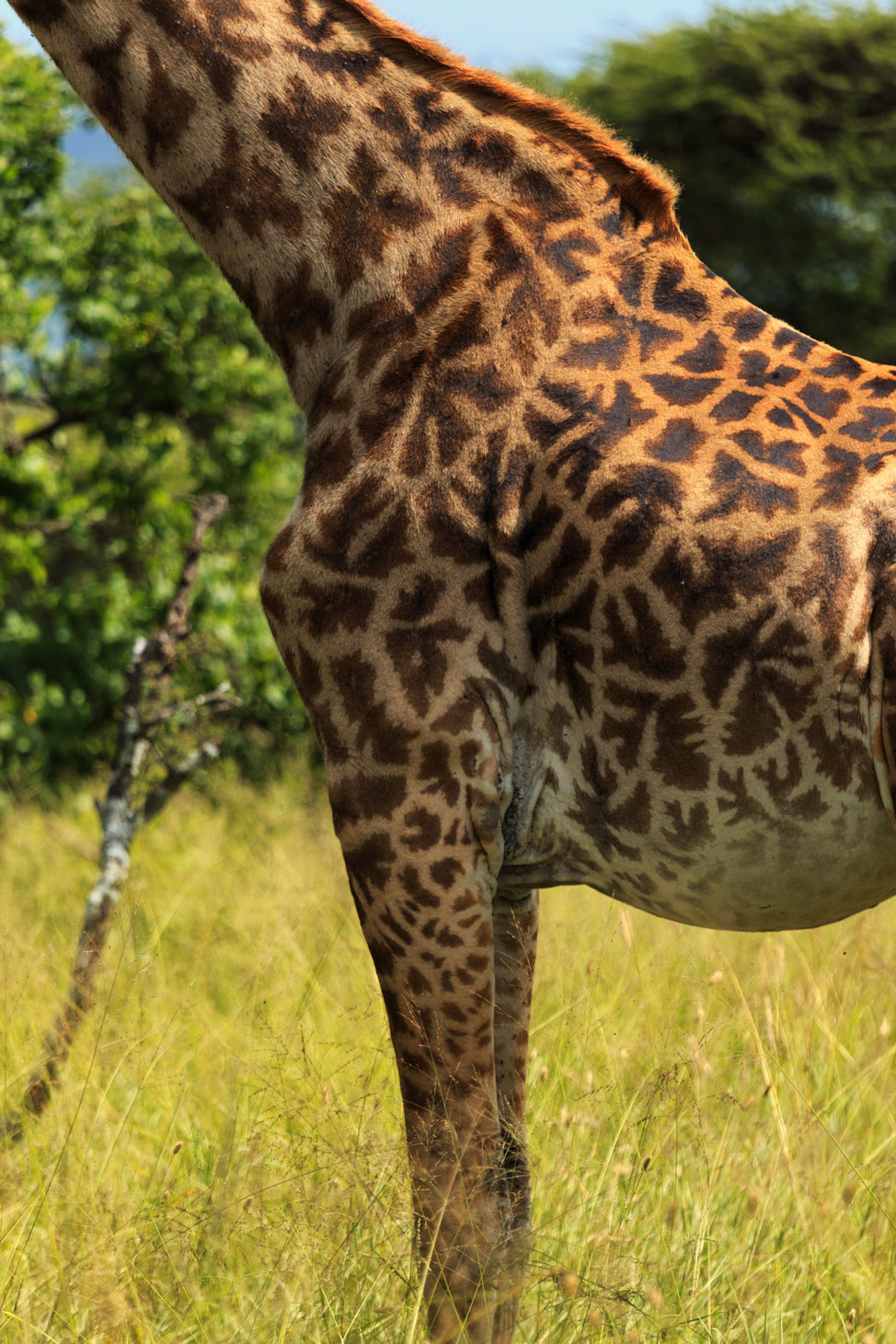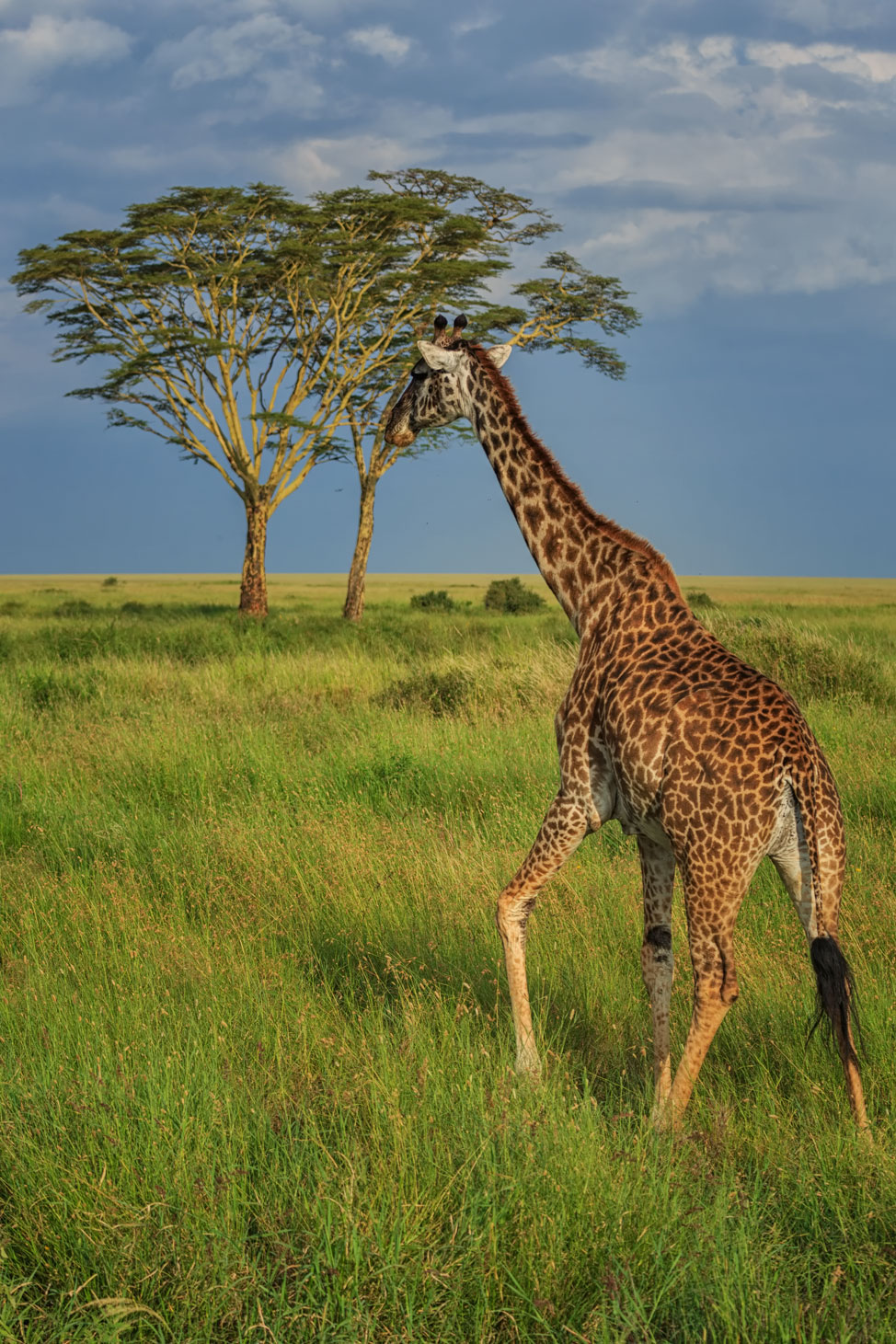 For two full days we crawled over just a tiny portion of the massive park. And after that much time spent with a few relative strangers cramped in a dusty jeep, you would think that it would be something to tire of. You would think that lion after lion after giraffe after hippo might lose their appeal. You might even think that I would have had my fill of African wildlife for awhile, especially after a large dung beetle flew into our moving jeep to hit me square in the throat, and after a blue ball monkey (real thing) snuck onto our open roof and threatened to jump onto my head before my screams turned him away. You might think that I had had enough.
You would think wrong. And after we emerged from the park, tired, cramped, and dirty, I wasn't alone. Our entire tour group unanimously tried to cajole the guides into just taking us back.
But there was more of Tanzania we had yet to see.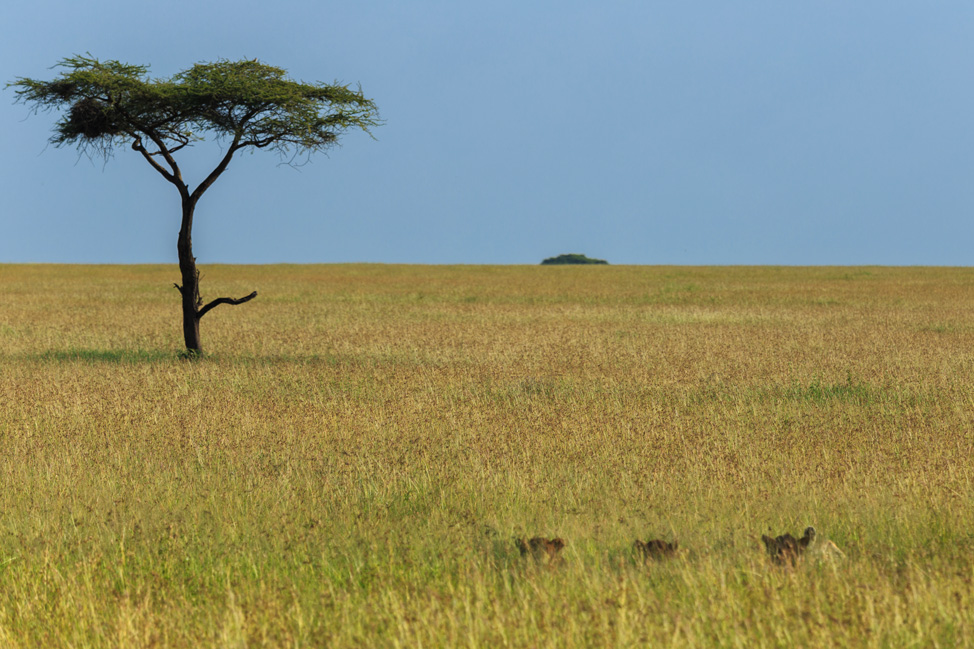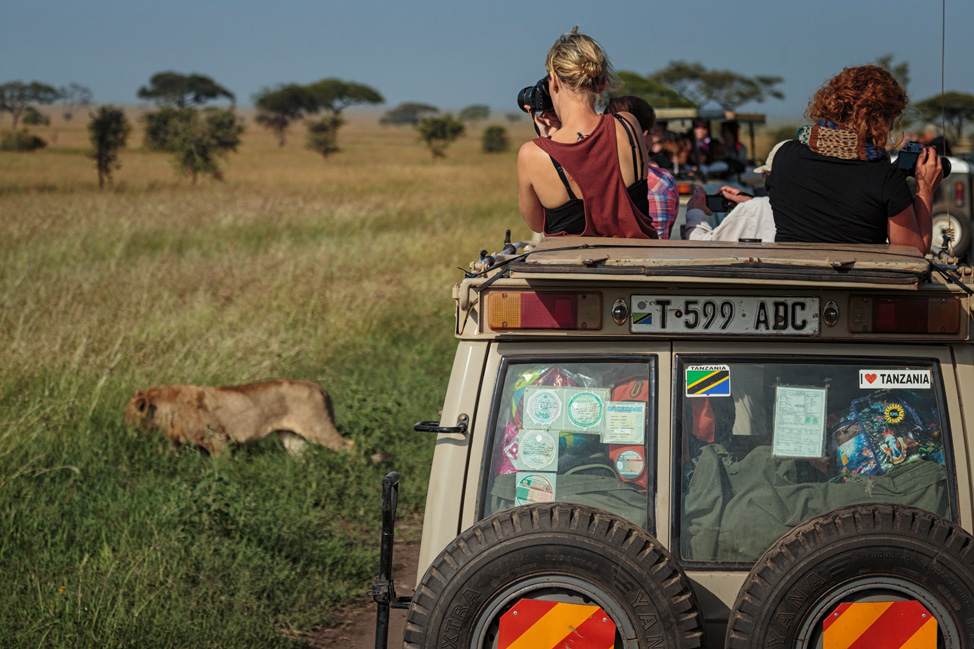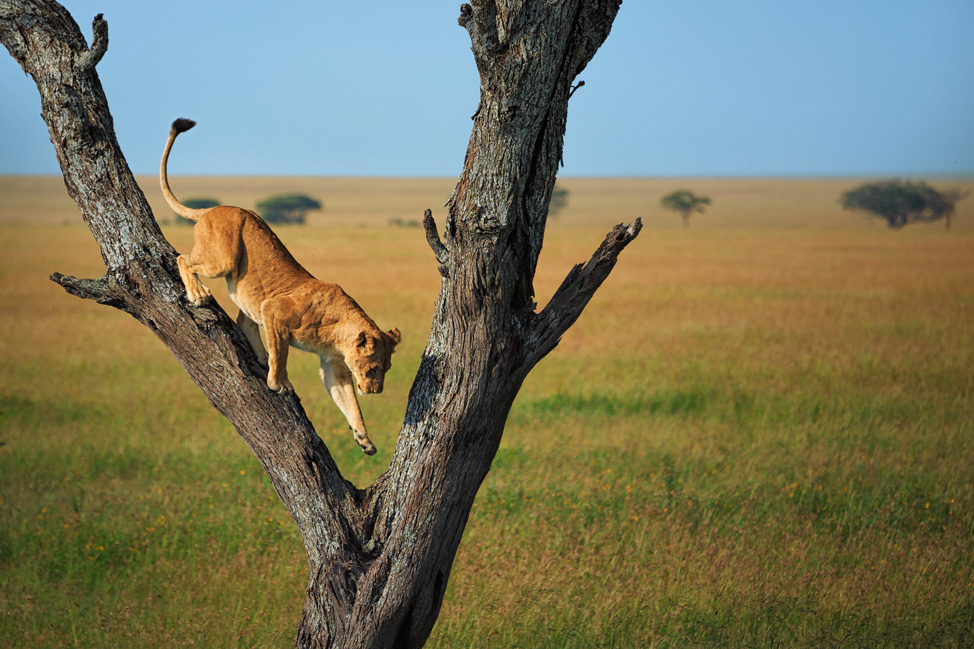 how to do it
Our drives through the Ngorongoro Crater and Serengeti National Park were the most unforgettable parts of our Road to Zanzibar tour with Intrepid Travel. There are, of course, more luxurious ways to experience safaris throughout the region and Africa. But the thrill of staying in that basic camp in the middle of the park will, without a doubt, go down as one of the most memorable experiences we've ever had.