The Best Job in Maui
Words by Dalene Heck / Photography by Dalene Heck and Curtis of Maui Kayak Adventures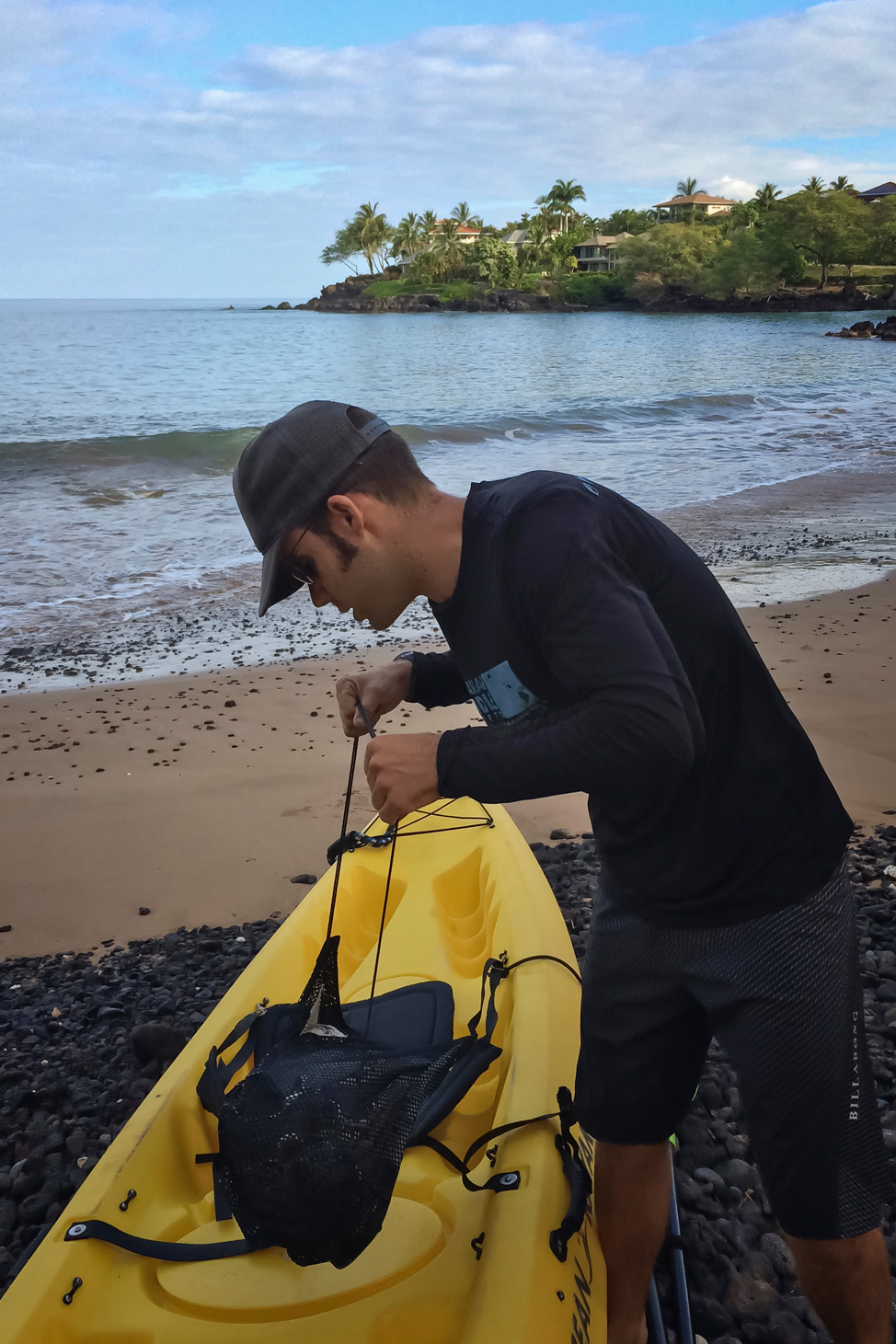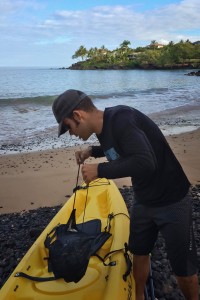 Imagine a world where we could all just do what we really want, where we could earn a good living based only on our passions. We'd all be happier on a universal scale – there would be less struggle, probably even less war and hunger.
It's a desperately altruistic thought. There will always be jobs that no one ever wants to do, yet have to get done. Never mind the responsibilities that grow with age, which often mean sacrificing one bit of happiness to attain another.
I bring this up today because of Curtis.  He is one of the very few people I've met in my life whose all-encompassing devotion for his profession was so evident and motivating. I've talked before about how I never grew up knowing what I should do with my life, and my jealousy of the people who clearly had gifts they put to good use.
Curtis has a distinct gift. He was born to be on and in the water.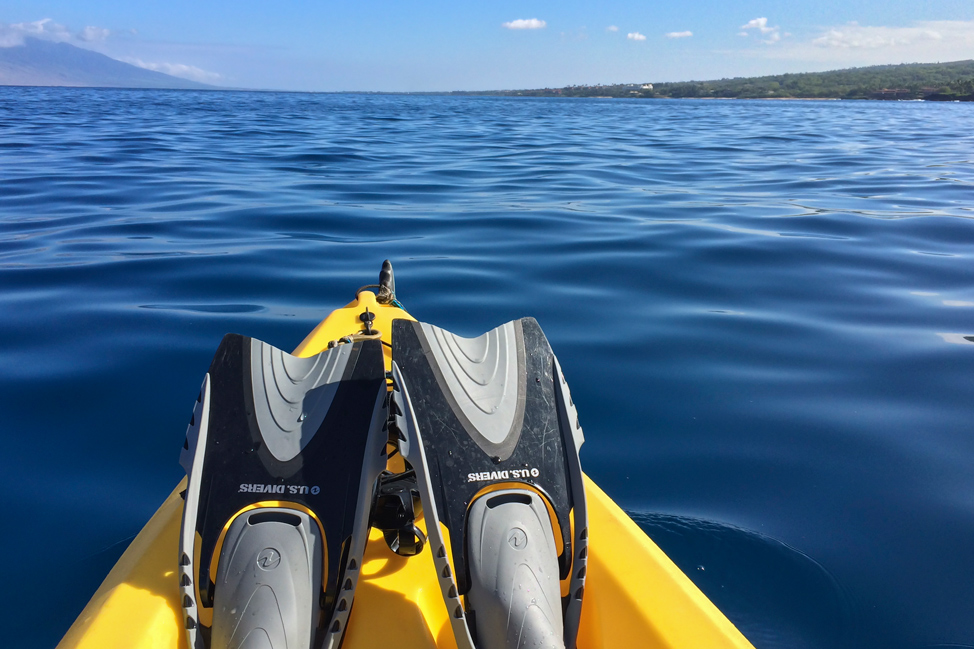 His work is inspired. Originally from the mainland, Curtis followed his passions to this island, and shines doing the work he was born to do.
He is a free diver with lungs of steel and a photographer's eye. Not only did he expertly guide us on kayak ahead of all the other groups to the best spots to see turtles, lava tubes, and more, but he went out of his way to capture and share the very best of our experience.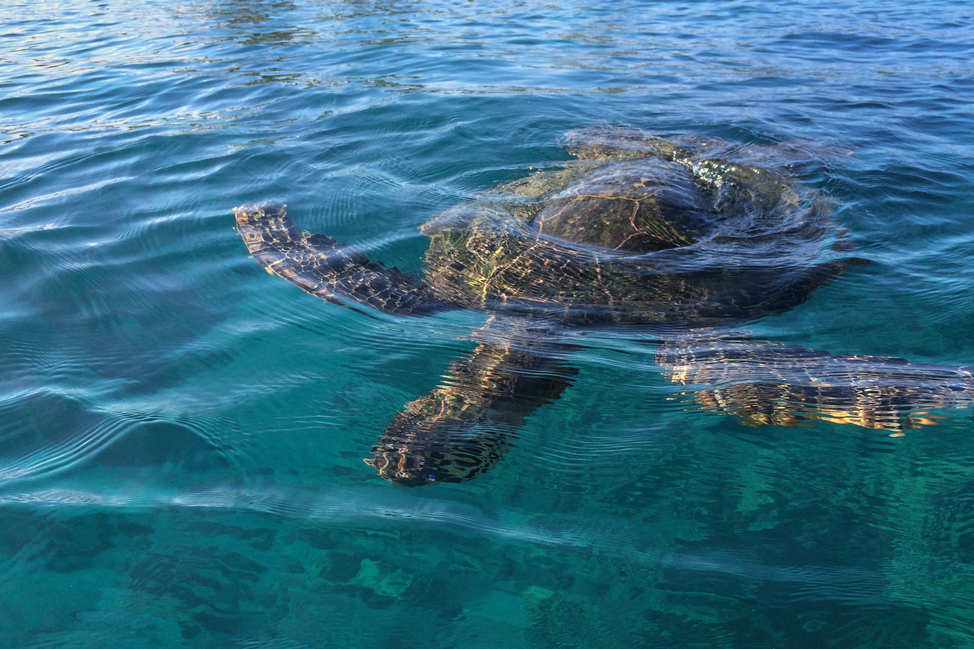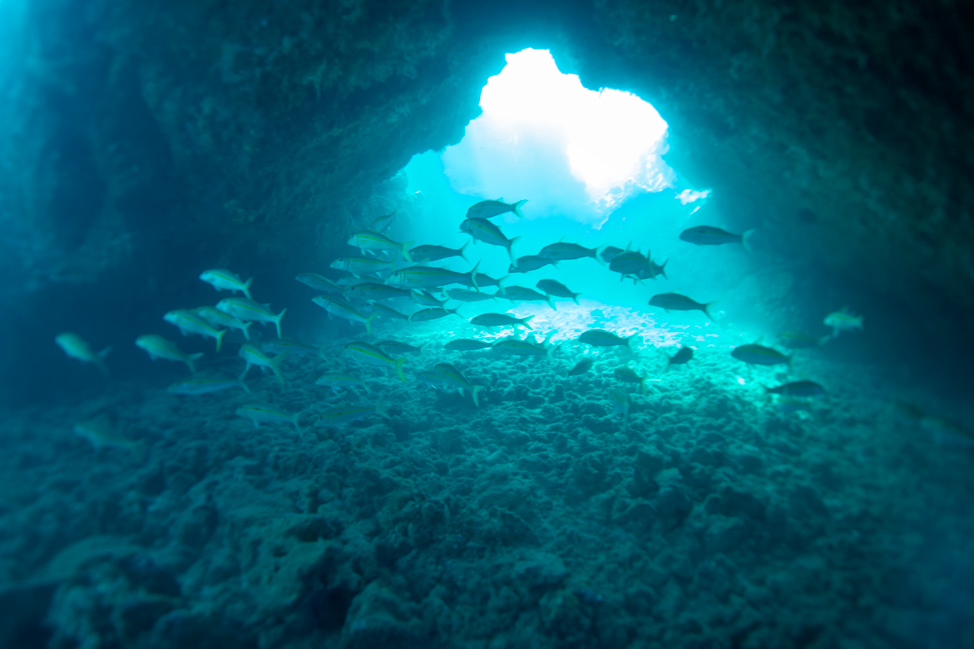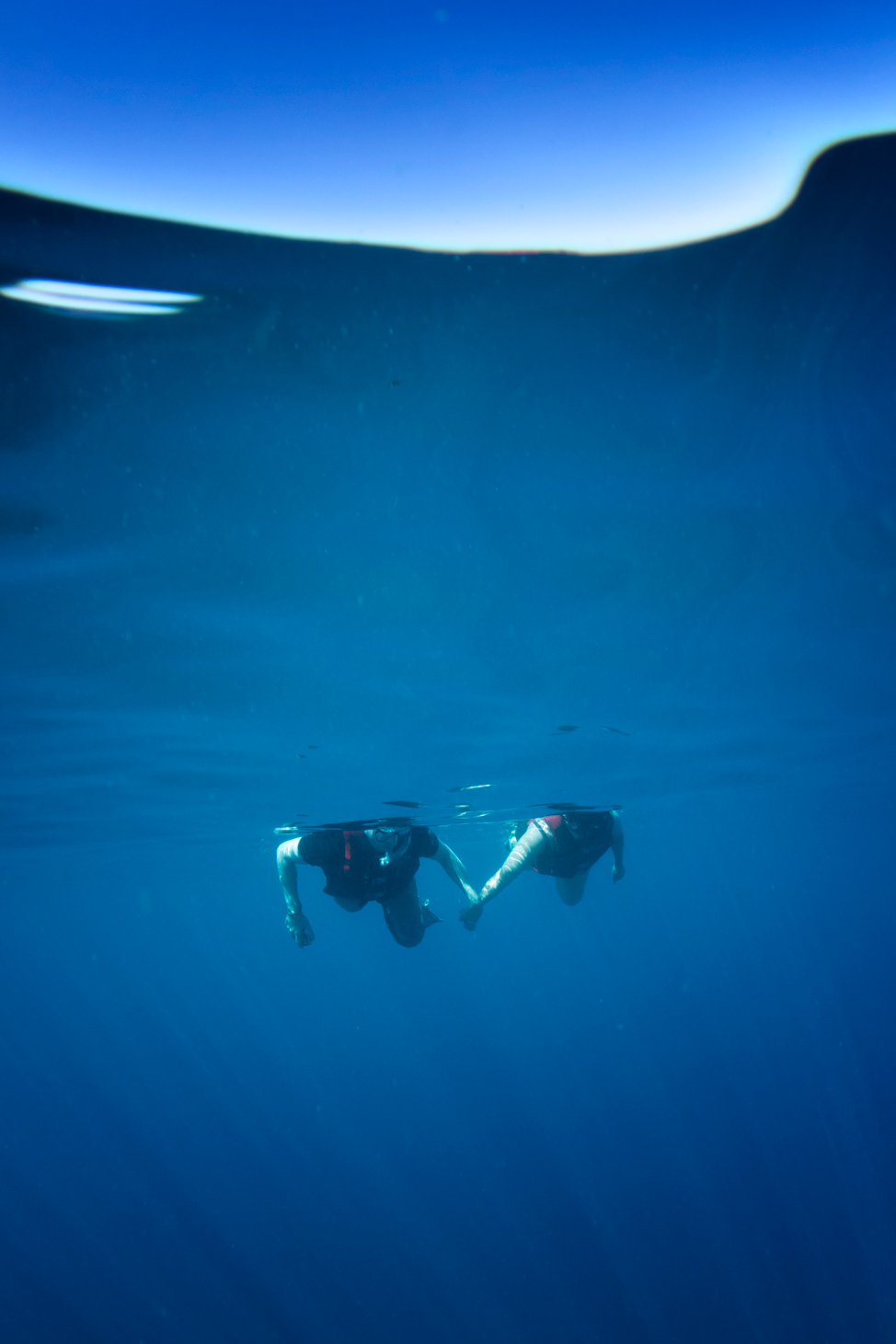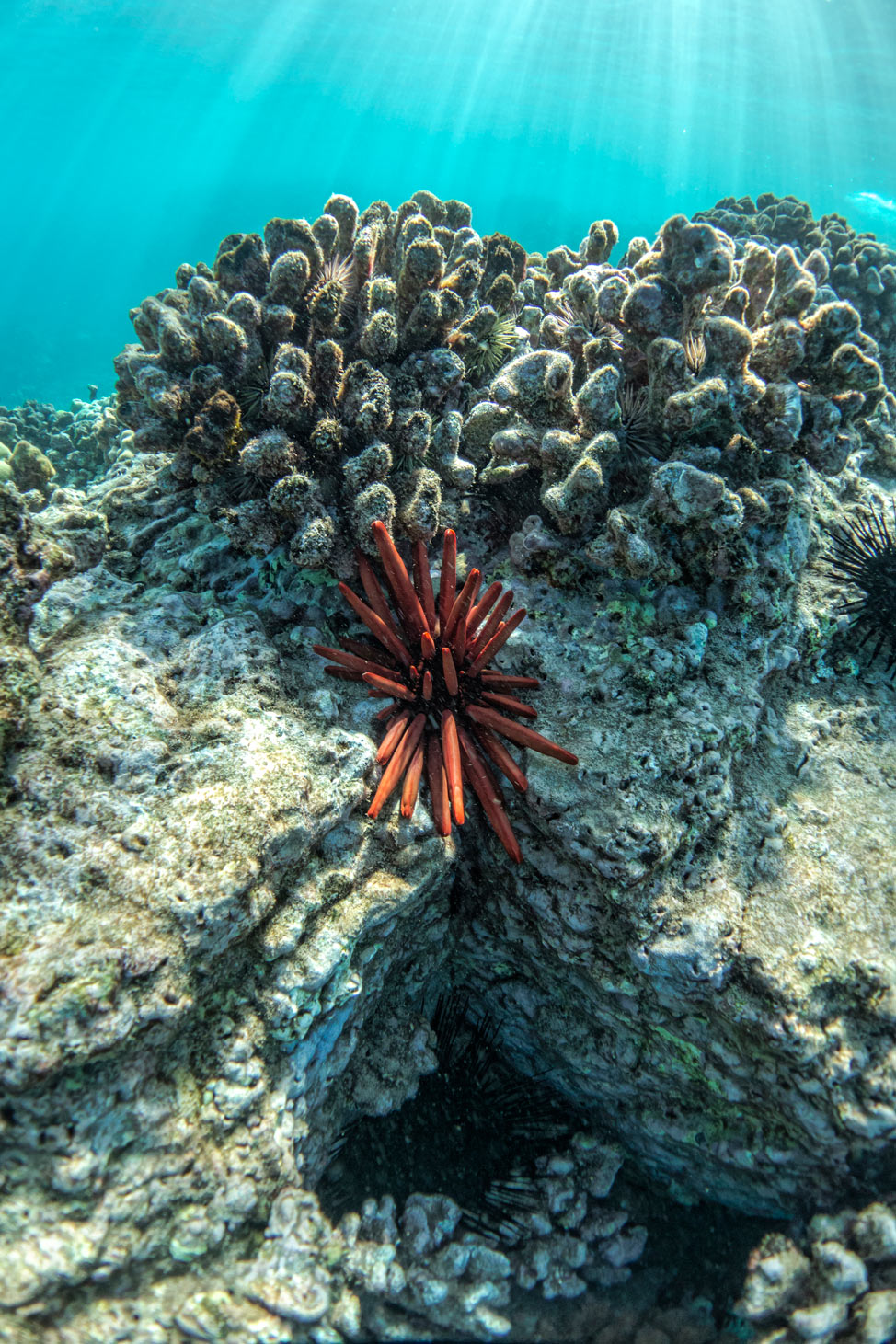 And the best part was that his passion was contagious. If you know anything about Pete and I, you know to what lengths we will go to for a unique experience on the water – but being in a tourist mecca we hardly expected for a kayak/snorkeling tour to be such an exceptional excursion.
Because there is nothing more magical than swimming stride for stride with a turtle. They don't paddle very fast, their lumbering fins push the water and glide forward at a very relaxed pace.
Matching their strides thus makes me slow down too. For a blogger who is often rushing from one sight to another in search of bigger and better, this is no small feat. A little miraculous even, to find myself similarly gliding and willing that blissful and serene moment to never, ever end.
And now, it doesn't have to. Curtis expertly guided us to a quiet spot for this to happen, and then captured that moment for me.
There is nothing more magical than swimming stride for stride with a turtle.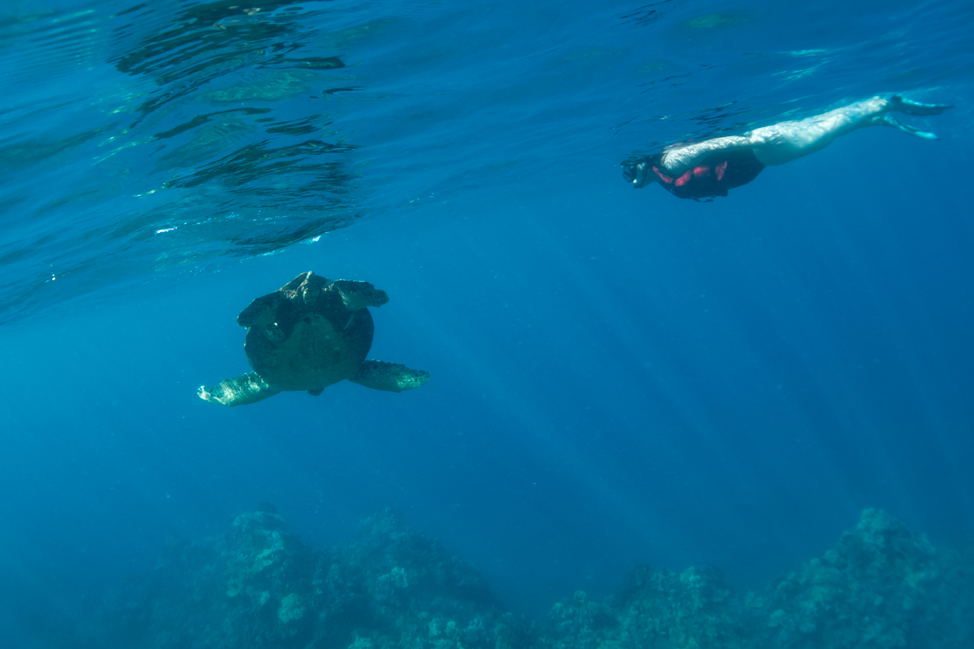 Maui, on its own, is a divinely special place. There is a ceaseless cool breeze to moderate tropical temperatures, soft bites of perfect beach nibbled into the coastline, an exciting and renewed focus on sustainability of their Polynesian roots. The people embody a true "aloha spirit" – whether they are Hawaiian natives or transplants who revel in their newly found paradise because they've found their calling to do so.
Curtis is one of those people. To get even a small glimpse of his "daily grind" was an absolute pleasure. (And made me a wee bit jealous as well.)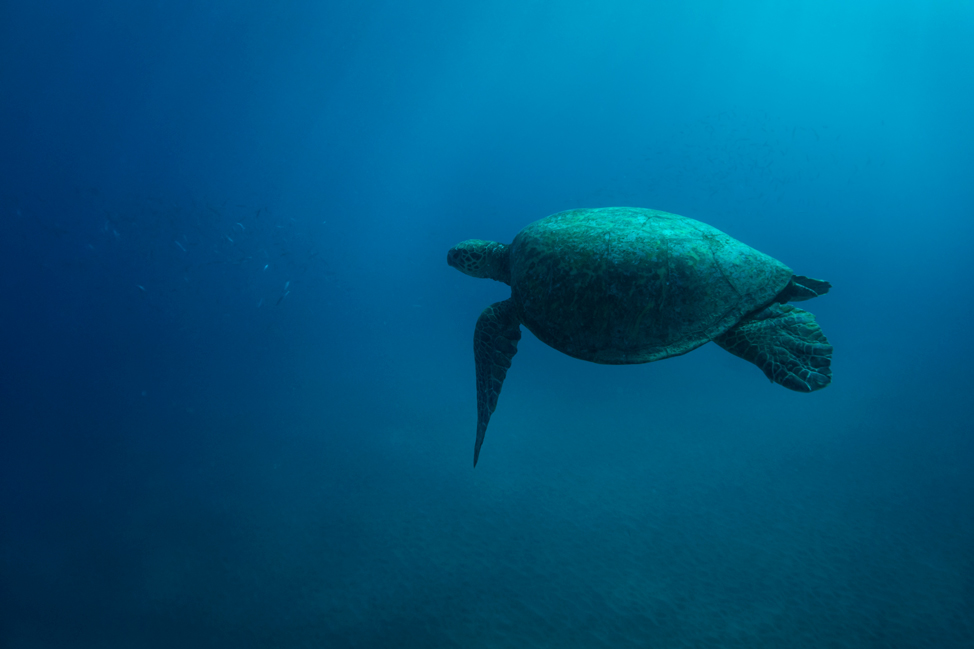 How to do it
Maui Kayak Adventures have many options for excursions across the island. Clearly, you should take our advice and ask for Curtis as your guide. 🙂
Many thanks to the Maui Visitors Bureau for having us. As always, all opinions are our own.