Creating the Perfect Nova Scotia Lobster Roll
Words by Pete Heck / Photography by Dalene and Pete Heck
Nova Scotia is blessed with a diverse culinary scene. Naturally, what first springs to mind is the seafood. The lobster that comes from the ice-cold Atlantic, scallops from Digby, Atlantic salmon (when smoked and candied is simply divine), and too many specialties to name. But there are also so many more delights beyond the sea: Blueberries that are harvested from the many farms across the province, award-winning wines from the Annapolis Valley, and we can never forget about our lunch of Dragon's Breath Cheese that we are still talking about to this day.The thought of it all has me salivating and reaching for my phone to begin flight searches. But since we are currently grounded, we were offered an exceptional opportunity by Tourism Nova Scotia to bring some of it to us.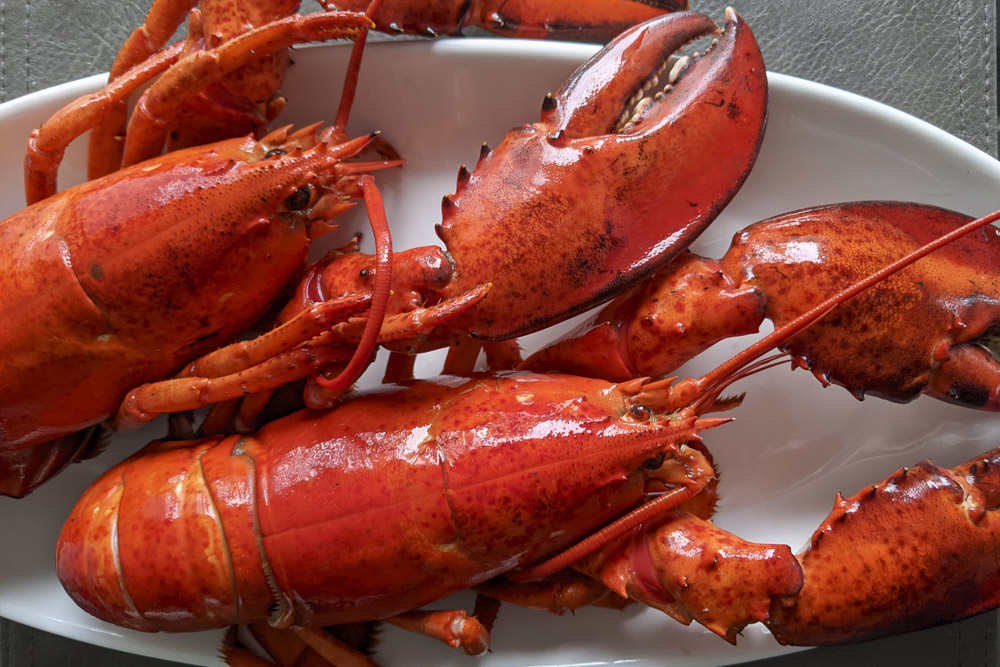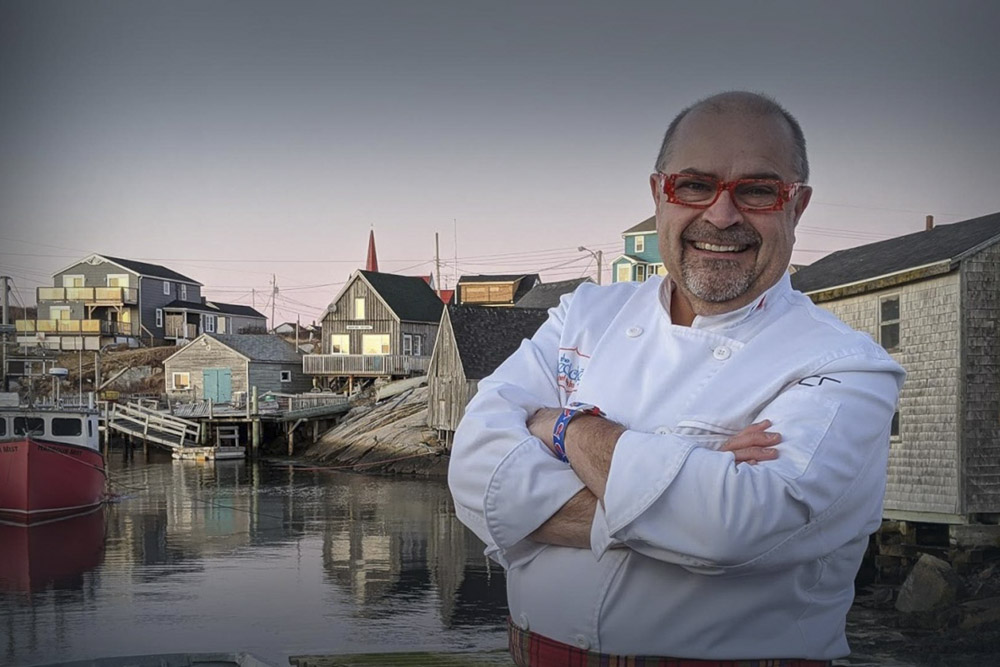 Local chef Alain Bosse is passionate about the province he lives in. Widely known as The Kilted Chef, Alain calls Nova Scotia home and is proud to share his Acadian heritage, cooking techniques, and if you're lucky, his food. He's cooked alongside top chefs Jamie Oliver, Anna Olson, and Michael Smith, just to name a few. He has traveled the world, gathering culinary experiences wherever he roams, and has also collaborated on and authored several cookbooks including French Taste in Atlantic Canada. He has over 35 years of culinary experience under his kilt (so to speak).
For Alain his philosophy is simple: "If you live local, buy local" and in Nova Scotia, he has an abundance of ingredients to work with.
He keeps his cooking simple and allows the ingredients to shine through, and I couldn't wait to learn from him. For one fortunate afternoon, I was able to get lessons straight from Chef Alain about the classic dish of Nova Scotia: the lobster roll. I've eaten plenty, and have some preferences on their construction (for my own tastebuds), but Chef took me right back to basics. While lobster rolls can be found on nearly every menu in every restaurant throughout Nova Scotia, there are rarely two lobster rolls alike. As Chef Alain explains, "Whether it's a food truck, a local diner, or high-end formal restaurant, everyone will have their own take on the classic maritime dish".
With a handful of ingredients and some fresh lobster shipped overnight from Nova Scotia (I would have loved to "buy local", but our landlocked province is sadly without), I was ready to make my own classic version.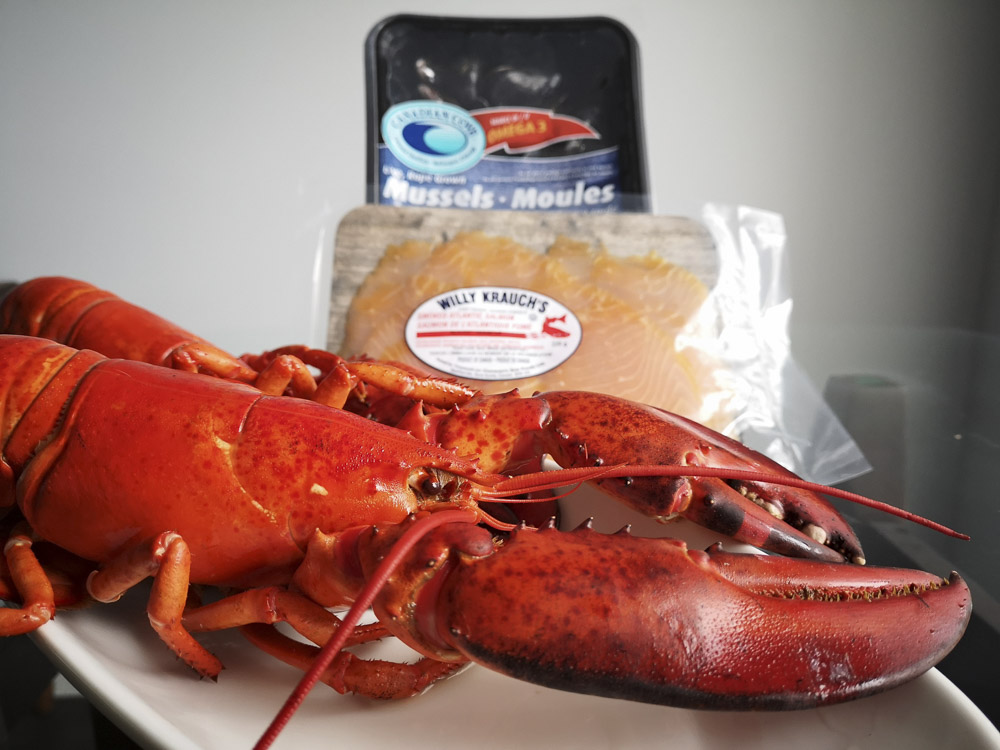 The first (surprising!) lesson from Chef Alain started with a strong declaration of what makes the very best foundation for a lobster roll: a humble hot dog bun. Buttering it on both the out and inside and grilling to golden brown perfection is almost as important as the meat itself. Lined with greens (we used spinach), and cold lobster meat mixed with mayo, diced celery, salt, pepper, and lemon, this recipe was as back-to-basic as it could get.
This recipe ensures that the lobster meat – the star of the sandwich – shines through, and when I replicated his lobster roll lesson following our call, it was as (or more!) delicious than any other I've had.

Traditional Lobster Roll Recipe
Ingredients for Lobster Rolls
2 cooked lobster (refriegerated – cold meat is ideal)
Hot dog buns (2 lobsters will make approximately 3-4 lobster rolls)
2 tbsp Butter
1 stalk celery
1-2 Tablespoons mayonnaise
Fresh spinach or lettuce
½ lemon
Salt
Pepper
Steps for Making Lobster Rolls
Crack the lobster and remove the meat. Cut the meat into bite-sized pieces and put into a mixing bowl.
Butter the inside and outside of the hot dog buns.
Heat up a fry pan on medium heat and toast only the outside of the hot dog buns. You are looking for a golden brown. Do not toast the inside of the buns.
While buns are toasting dice celery and add to the lobster in the mixing bowl.
Add mayonnaise 1 Tbsp at a time to the lobster and celery. Do not add too much to overpower the lobster.
Add a tbsp of lemon juice, salt and pepper to the lobster mixture and stir everything up. Add more salt, pepper, mayonnaise or lemon juice to taste.
Take buns off heat and lay spinach onto the bottom of the hot dog buns. This will prevent the bun from soaking up moisture from the lobster.
Spoon lobster mixture onto spinach, squeeze more lemon juice on if preferred. Enjoy!
Option – Consider adding green onions, chives and other microgreens to the traditional lobster roll to make it your signature.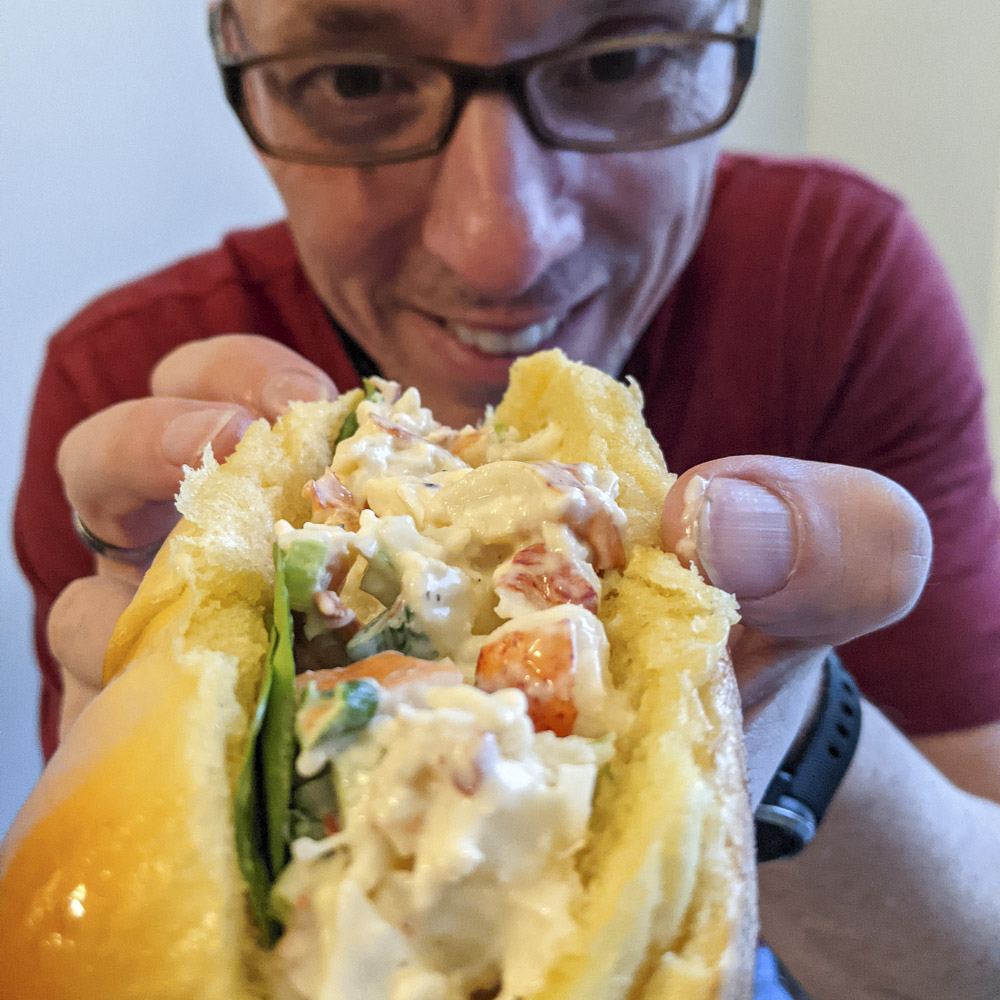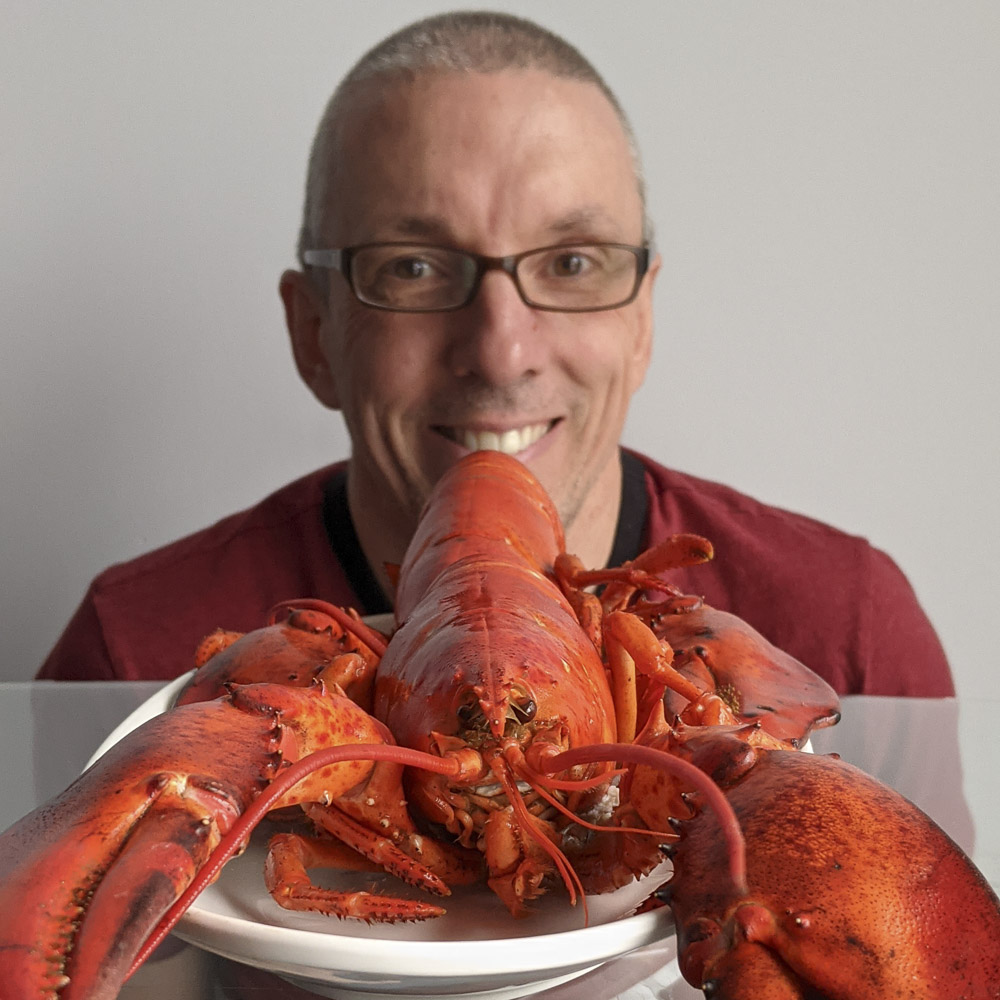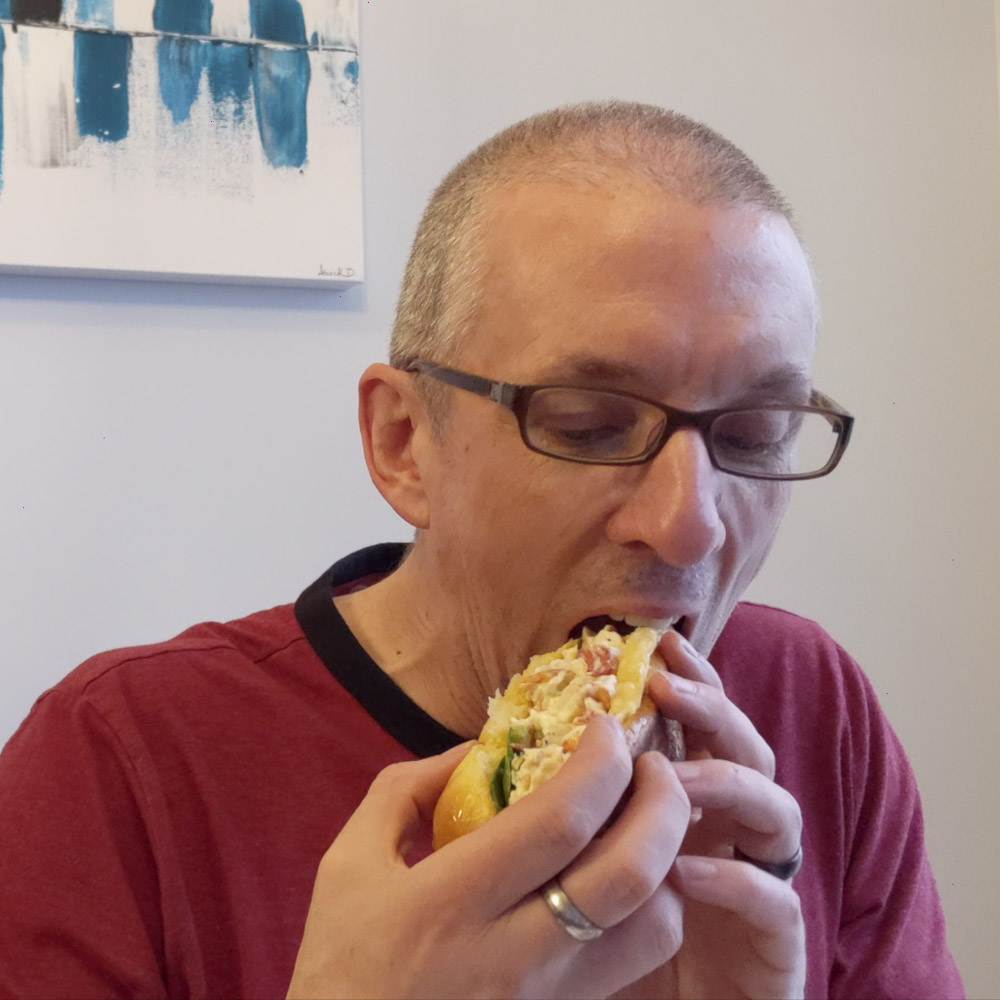 Tips for Cooking Fresh Lobster
Here are the top tips from Chef Alain for cooking and cracking fresh lobster:
Before putting the lobster into the pot make sure that your water is boiling. It needs to be a rolling boil before you put the lobster in.
The water in your pot should be salted similar to that of the ocean. That means 1 cup of salt for every 4 litres (1 quart) of water. If you solely use tap water then your lobster will lose flavour as it cooks.
When picking up the lobster be sure to cross the front claws and grab at the base.
Remove the elastics on the claws before cooking, otherwise your lobster will take on the taste of rubber from the elastics.
Put the lobster into the water head-first.
Cooking time for the lobster starts when the water returns to a boil. 11 minutes for male lobsters and 12 minutes for females.
If the roe of the female is black, this means it is not cooked. You can put the uncooked roe into a frypan with a bit of butter and it will turn a bright orange colour when it's ready.
For tips on cracking the lobster and removing the meat be sure to visit The Kilted Chef's YouTube channel.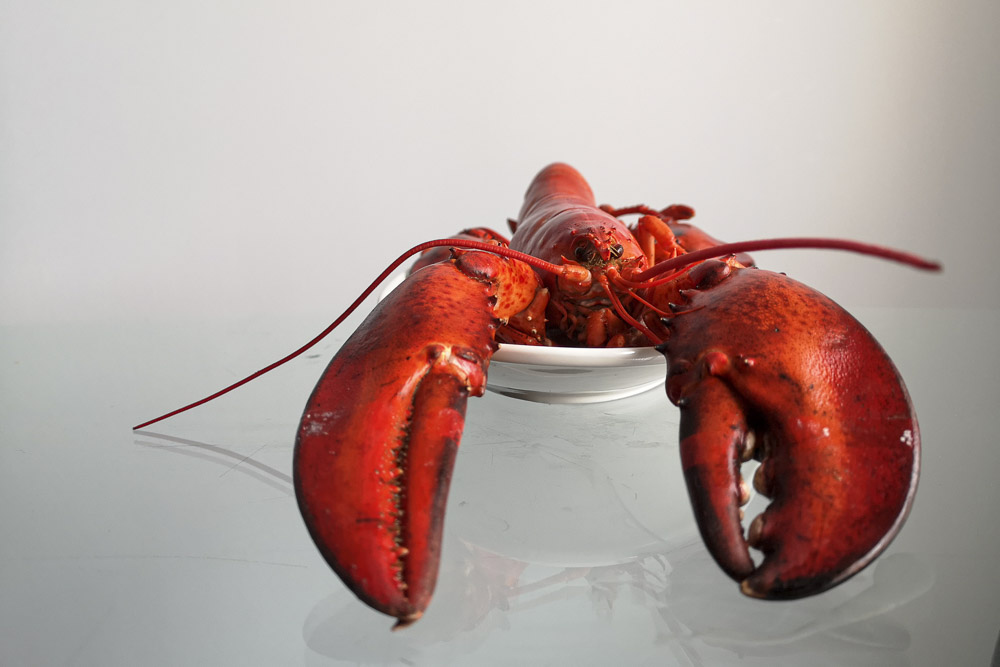 Until we can get back to Nova Scotia, this may not be my last time ordering a lobster dinner to enjoy at home.
This post was produced by us, brought to you by Tourism Nova Scotia.