At one point or another, everyone dreams of living on a tropical island. Endless sun, white sand beaches, a margarita in hand everyday. I remember many times when Pete and I would vow to make it happen – usually during the flight home to snowy Canada after a mid-winter vacation to Mexico or elsewhere.
So, here we are now, living the dream in Roatán.
The temperature hovers in the high twenties (low eighties for our Americano friends). We are five minutes from one of the most beautiful beaches we've ever seen.  And while I'm not a fan of margarita's, Canadian whiskey is actually cheaper here than in Canada.  Life is pretty damn good.
But now that we have been here almost two months, it is time for these dreamers to address the downsides of living on a tropical island, and specifically one in a third world country.  As you may expect, it is not all sun, beaches and margarita's.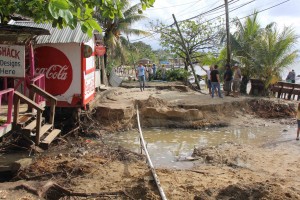 Consider our last few days. Roatán has been encased in dark grey clouds and shivering from all the rain that has fallen.  Constant and relentless downpours have washed away roads, caused minor mudslides, and inflicted some damage on the house we are sitting. Nothing that can't be fixed or dealt with, but a little scary and inconvenient all the same.
And then there are all the other things that makes every day living here harder then at home – daily travel along unpaved and gutted roads, the ominous presence of big bugs and other creatures we are not used to, the lack of consistently feeling totally secure with the people and  new surroundings.  And never mind trying to get things done with the assured conveniences of home – we learned very early on in our travels that mañana does not necessarily mean tomorrow, it just means some time after today.  Everything is just *that* much harder to get done, and takes *that* much longer to do.
This island can tell many tales of people who have come and gone, unable to accept and live with these downsides.  They came to Roatán to fulfill the dream and find happiness living on a white sand beach in the endless sun.  And then, after some time here, they experienced the downsides and high-tailed it back home.  They were willing to go back to the stressful lifestyle they left, in exchange for paved freeways and other modern conveniences that do make life easier and are obviously missing down here.
We feel that we are a little better equipped to handle such things, thanks to our time around South America. We learned patience from the Bolivian bus system – where a bus scheduled for 8am *might* show up sometime in the 10s.  We dealt with big bugs living near the Amazon (although I personally still have a long way to go to be "okay" with them)! We are better equipped to deal with some insecurity after having endured living beside a booming volcano in Ecuador, and after having traveled through some areas that are significantly sketchier then this island. The owner of the house we are sitting has said several times that he is glad we have previously traveled in Latin America and so know what to expect.  We've been able to roll with the punches thus far.
So does that mean that we are "home"?  Are we really living our dream?
The jury is still out, but our contemplation is not necessarily due to our experience with the downsides. We are loving the tropical climate, the new friends we are making and the cheap whiskey, and we feel fairly well equipped to deal with the uncertainties this island may throw at us.  We aren't quite sure, however, that the itch in our feet has been sufficiently scratched yet. It could be that we have some wandering left to do and other corners left to explore before we can make that decision.
What we do know for sure is this: we are really glad we are doing it this way, by only committing to temporary stays in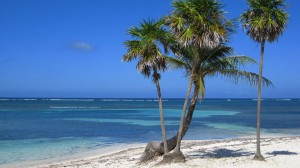 various places to test our desire to live in each destination.  And this is something we would suggest for anyone contemplating a drastic lifestyle change – the imprint left behind after a dream tropical vacation is only a tiny snapshot of what living in such a place really would be like.  You've got to live with the bugs, the damage from torrential rains and the severely pot-holed roads to know if it is really for you.
Can you take the bad with the good to live in paradise?