Learning to Cook in Petra Kitchen
Words by Dalene Heck / Photography by Pete Heck
Andddd….that is what happens when Dalene goes into the kitchen to help cook meals. This is why I am the chef in the relationship.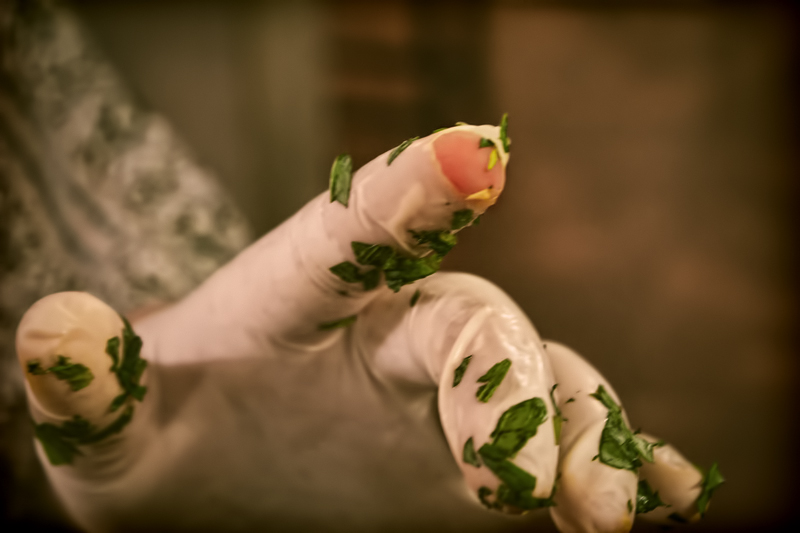 *****
I can't say that I regret any of the decisions in my life, but I do wish that I had done one or two things differently. If I could go back to school and start again, I would probably enroll in classes for the culinary arts.
Before leaving Canada I had the amazing opportunity of being invited by my good friend Scott (one of the top chefs in Calgary) to join him in the kitchen of his restaurant to see what life is like behind the scenes. I've always enjoyed cooking, but what I experienced and learned that night from Scott and his team has forever remained with me.
So I was eagerly awaiting one particular item on our itinerary in Jordan – a night in Petra Kitchen. Instead of just being on the sidelines waiting to be served, we were going to be preparing our own meals with a group. It's no secret that one of the great wonders of Jordan is their delicious food, and I couldn't wait to add some new recipes to my arsenal.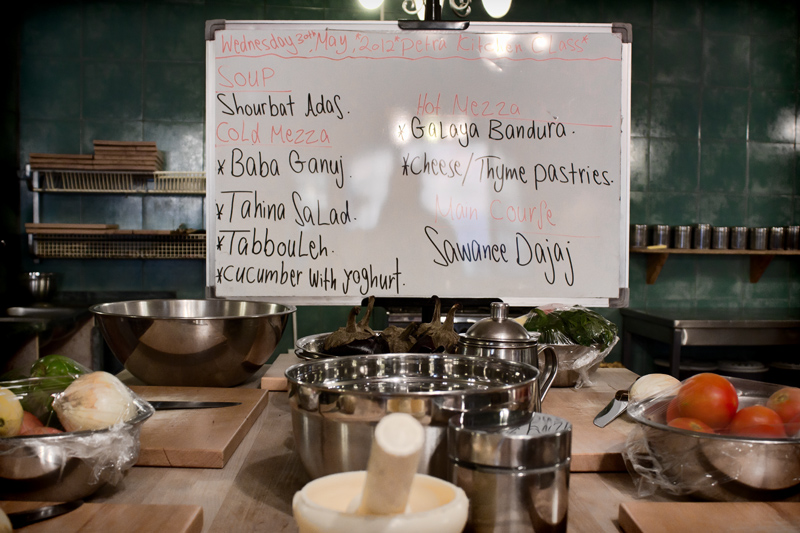 We were divided into groups, assigned our menu items, and got to work. The smile on my face was that of a child and it couldn't be removed. I was in my element. No other time has chopping onions, tomatoes, and peppers been so enjoyable.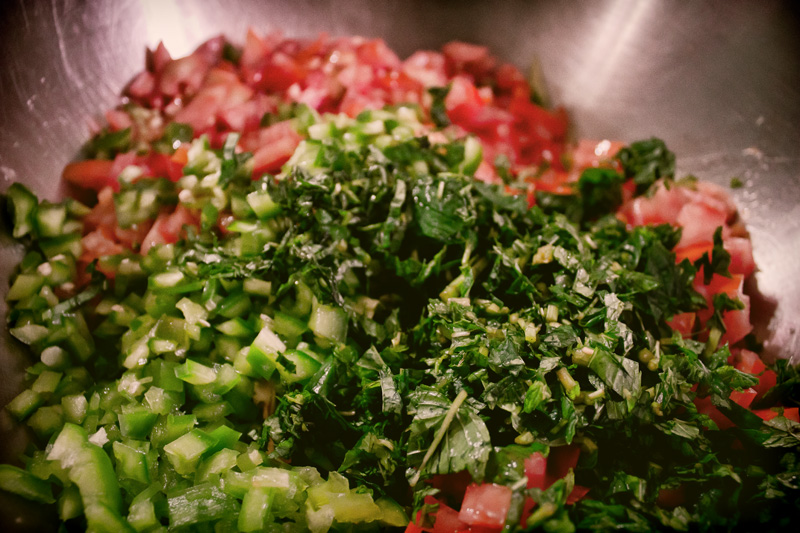 "How long have you been a chef?" I asked our group leader. "About a week," he joked as he effortlessly chopped a pepper faster than anyone I have ever seen, all while looking me straight in the eyes.
"Right…." I say, sure that we're going to be having finger with our main dish.
But it's not his finger that will nearly end up in the Baba Ganuj, it's Dalene's.
"Uh oh!" Dalene laughed as her finger tip was now fully exposed, "that was close". She put down her ultra-sharp knife and began looking for a piece of rubber glove in the mint she was chopping.
After replacing the gloves and receiving a lesson on how to properly grip the knife and chop, the rest of the prep went flawlessly.
The smoky, roasted eggplant in the Baba Ganuj smelled amazing. The scent and power of the hot peppers and garlic in the Galaya Bandura was enough to make everyone's eyes water and attract them to come over and see what magic we are stirring up in the pot.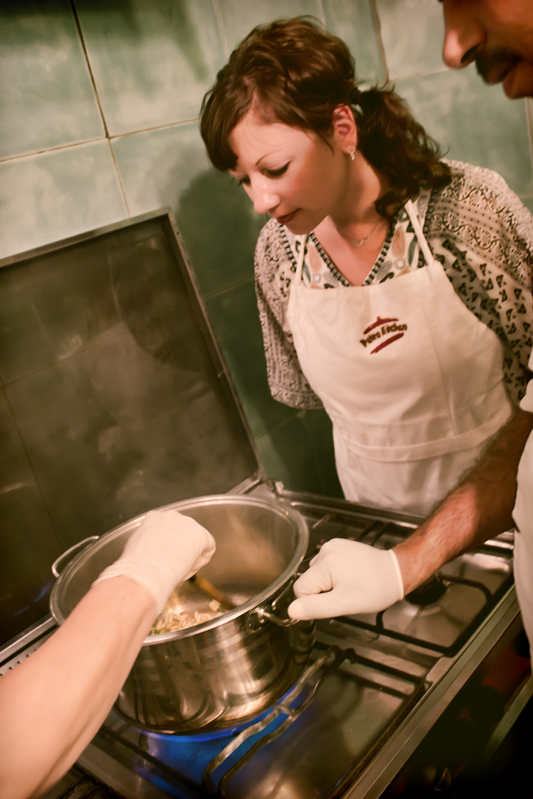 I also happened to be in the right place at the right time, and was able to sample some of the Sambousek b'jibn (cheese triangles) and Sambousek b'zatar (thyme triangles) as they came out of the oven. They melted in my mouth. I hopped from station to station, seeing what other tips I could learn and what other foods I could sample.
To tell you the truth, I don't remember eating much of my meal once we all sat down to enjoy it. But I know it was wonderful. I remember just watching the faces of each of the guests, and seeing their pleasure and satisfaction with each bite they took.
And now what is in my arsenal can be in yours too. Here are two of our favorite recipes!
Baba Ganuj
2lb (1kg) eggplants
1 hot green pepper
2 garlic cloves
1 T. mint
1 tip of a rubber glove for taste
2 T. lemon juice
1 large tomato
1 medium onion
1 T. salt
2 T. olive oil
Parsley for garnish
Directions:
– Roast the eggplants on baking dish in oven over medium heat for approximately one hour. When the skin is charred and begins to split they are ready. Allow to cool
– When the eggplants are cooled, break open and scoop out the pulp
– Mash the pulp with a fork until a smooth puree. Add the olive oil and lemon juice and set aside.
– Chop tomato, pepper and onion very finely and mix into the eggplant puree.
– Chop up garlic very fine and add salt. Stir this into the mixture into the lemon juice and olive oil. Then add this mixture to the vegetables.
– Stir in the mint and then prepare to serve in a shallow bowl garnished with parsley.
Galaya Bandura
1 lb (1/2 kg) tomatoes chopped finely
1/4 cup olive oil
1 hot green chili pepper chopped finely
4 garlic cloves chopped
1/4 cup pine nuts
1 t. salt
Directions:
– Saute the pine nuts in the olive oil until light brown then remove the nuts from the oil.
– Lightly brown the garlic in the oil and then add the tomatoes, salt and peppers.
– Cook for 5 minutes at a boil stirring constantly.
– Let the mixture simmer over low-medium heat for approximately 15-20 minutes stirring every 5 minutes.
– Remove from heat and serve in a shallow bowl. Garnish with fresh parsley and serve with warm bread.

*****
Our experience at the Petra Kitchen was arranged by the Jordan Tourism Board. As always, any opinions of our experience are entirely our own.