Heaven and Hell, Kalaupapa, Hawaii
Words by Dalene Heck / Photography by Pete Heck
It was our second attempt at reaching Kalaupapa, some 500 meters below us, after having been chased off by heavy rain and fog the day before. The more sedentary option, to traverse the 26 steep switchbacks by mule ride, was no longer available to us and we were given the choice instead to fly over or hike the almost five kilometres trail. Our adventurous side won and we began trekking along a road thick with mud until the switchbacks began.By turn four we had to stop, pull out our rain jackets, and stretch protective covers over our bags. The weather had gone from cool mystic fog to punishing rain. The cement step ledges were puddles and some mud was ankle deep; each step required focus so as not to lose control while keeping up a solid pace. We were eager to stay ahead of the group of mules and tourists still to come; we had left with plenty of time we thought, but didn't want to risk sharing the narrow path with them (or stepping in any of their fresh waste left behind).
I half wore my coat, just to cover my head and not get rain in my eyes, but without using the sleeves so as to not trap the humid heat against my body. My eyes stung from the sweat that dribbled off my eyelashes.
But my plight was negligible compared to those who lived in the place we were about to visit. Between us and the Kalaupapa Peninsula stood the high sea cliffs we were tackling – they cut off this beautiful piece of land from the rest of the island and the world. The geography really was perfectly suited for its historic purpose of isolating a contagion, as sorrowful as it is to think about now. And this lush and desolate region, while heavenly in appearance, sometimes resembled hell for those who lived there.
Because until 1969, it had operated as a leper colony for over 100 years.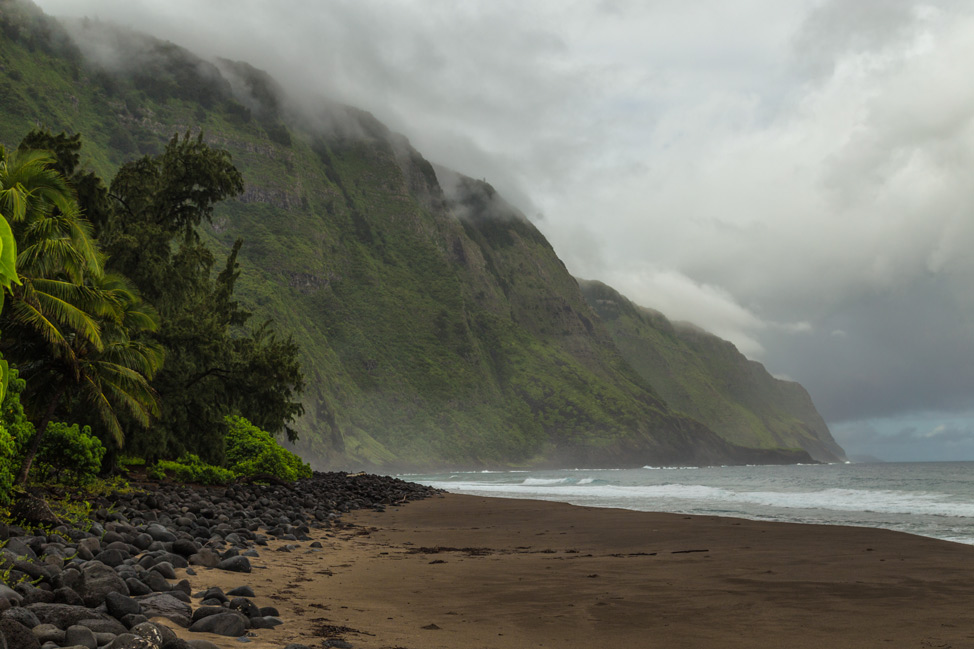 When we knew we would be visiting the Kalaupapa settlement, a friend recommended the book Moloka'i by Alan Brennert. It is a historic fictional story of a girl named Rachel who was taken from her family at the age of six when spots indicative of leprosy were discovered on her skin. Rachel's story took us through every rise and fall of her life and of others on the Peninsula – from growing up and watching her friends die around her, to being cured, to finally leaving, but then returning. I finished it in two days and was crying approximately every ten minutes.I felt like I knew every corner of Kalaupapa after reading the book, making this visit my most anticipated of our time in Hawai'i. The rain, continuing its force during our hike and for the rest of the day, prevented us from spending much time outside of our bus cover, as did the heavy restrictions for our tour. Over the years there were 8,500 patients who lived there, and today there are still several left. While leprosy (now known as Hansen's disease) was cured in the 1940s, many have stayed or returned for the same reason Rachel did: the Peninsula was the only home they every knew. Despite it being a prison during the most difficult times, patients were able to live with some freedom and face no discrimination for the scars they wore. And thus the restrictions placed upon us, that we keep to our tour bus and only visit appointed buildings, were disappointing but entirely understandable so as not to disturb those who remain.
The youngest resident, beyond the National Parks Service employees who maintain the area, is over 70 years old.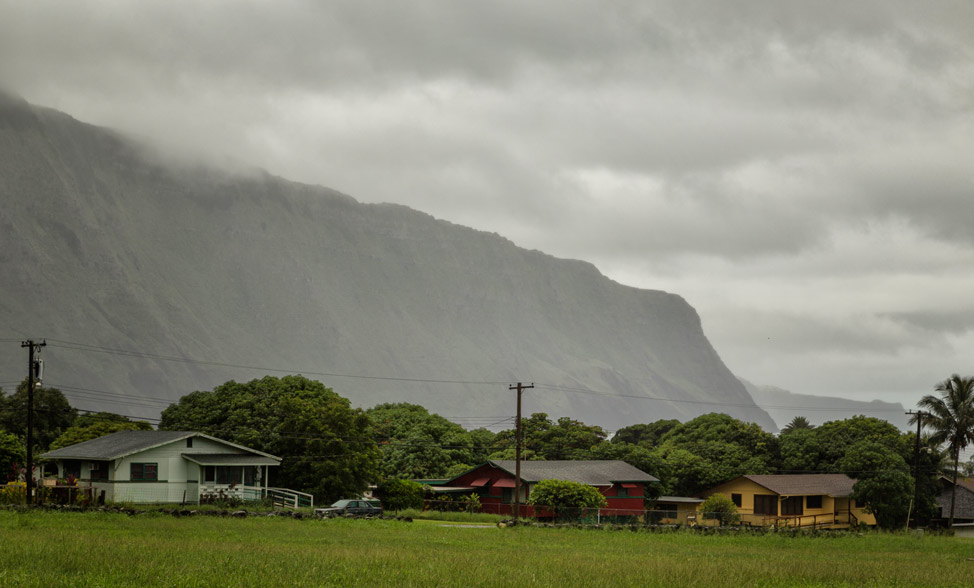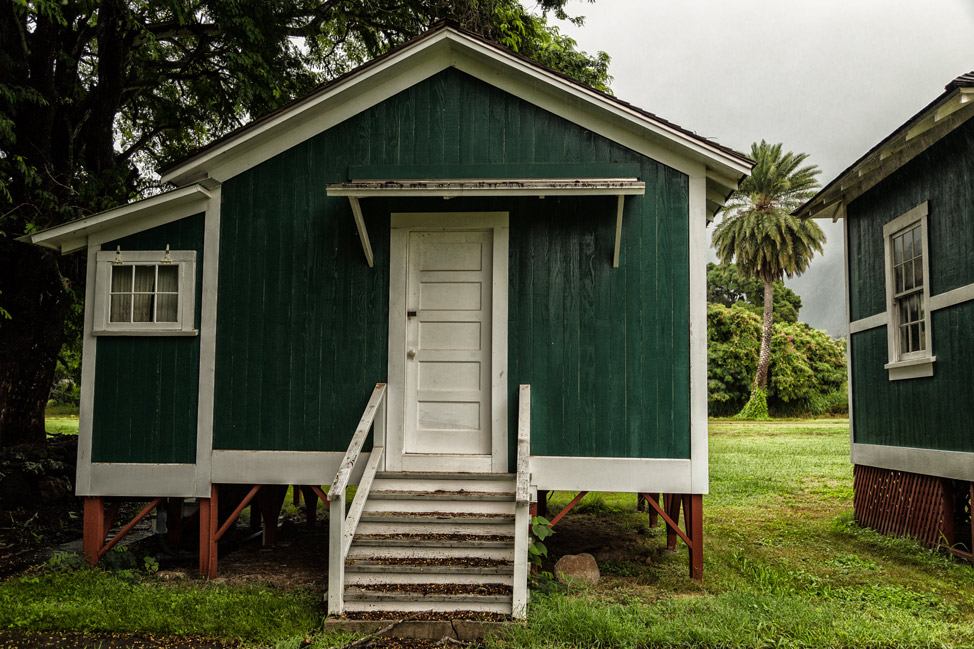 Many buildings are boarded up; houses are peeling of paint and in disrepair. There is a bar, a social hall, a bookstore, and places of worship for several different denominations of faith. Only the state, National Parks Service, or patients can open businesses there. The town was very quiet, save for the sound of our school bus rolling through. It was a heavy and ominous silence, heightened by the fog that refused to lift.
Our guide Ian jumped back and forth in time, speaking often of the famed Belgian priest Father Damien who arrived in 1873 to devote his life to the patients, pointing out the room where patients used to meet visitors while separated by bars, and then showing us where the barge still arrives in summer, bringing large goods in from Honolulu. The history lesson was a bit scattered but in it were nuggets I had not learned from the book. All of it were pieces to a sad but fascinating story that took us up and down the Peninsula. We were moved by Ian's words and the scenery around us.
Can we declare that Kalaupapa just might be the most beautiful spot in Hawai'i? We can, I suppose, but somehow it doesn't feel right to do so.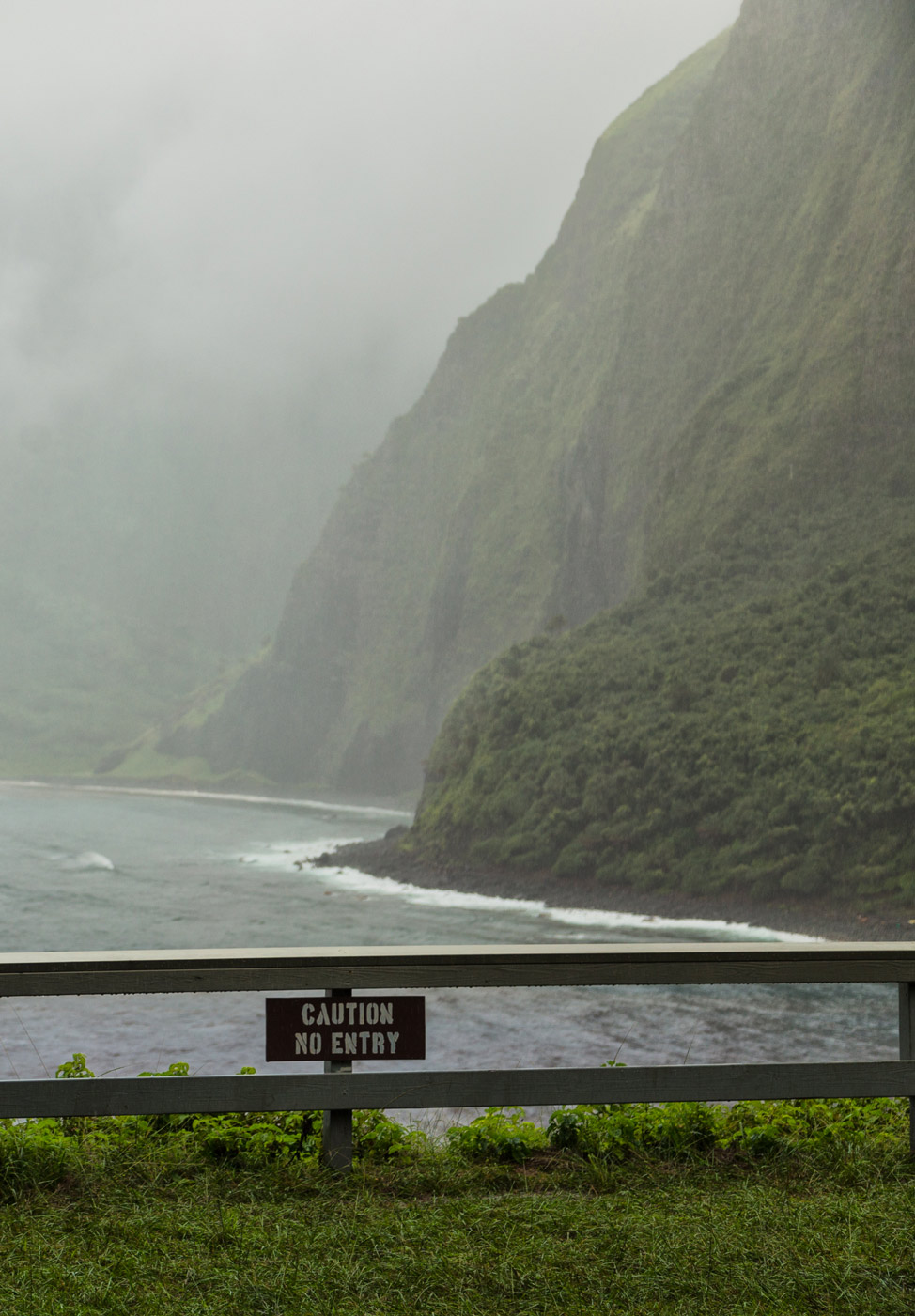 Our tour over, Pete and I stood at the bottom of the sea cliff and looked up. We had a long way back and still through the rain. It forced us to take our time.
On turn nine the sky and brush around the path opened up – we finally had our complete view – if for the briefest of moments. For the rest of our thousands of steps we could see so little besides the cement steps spilling murky water ahead of us. It was a sweaty and gruelling hike, but really, we could hardly mind.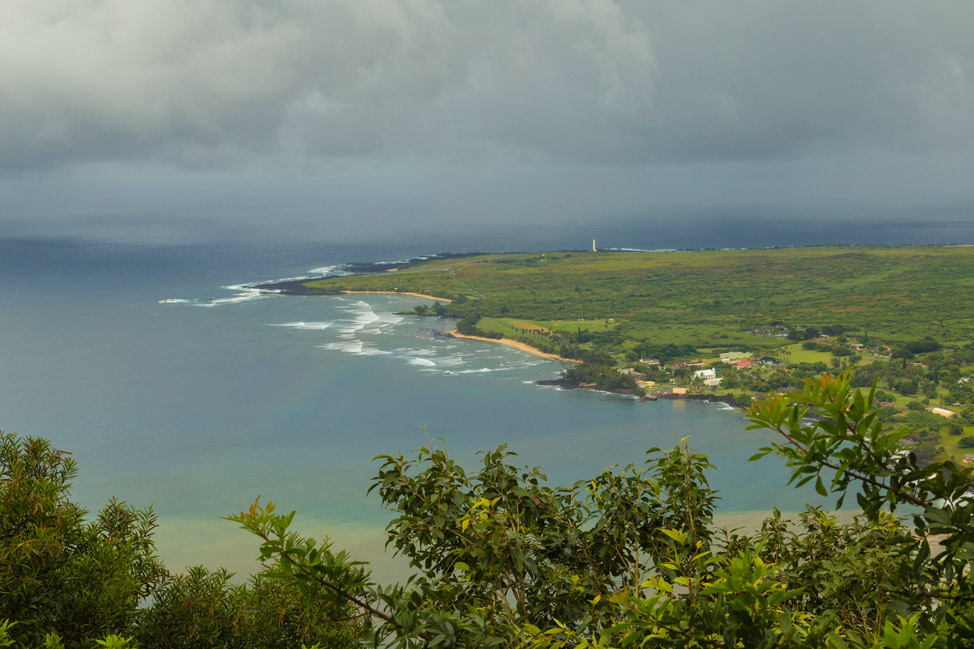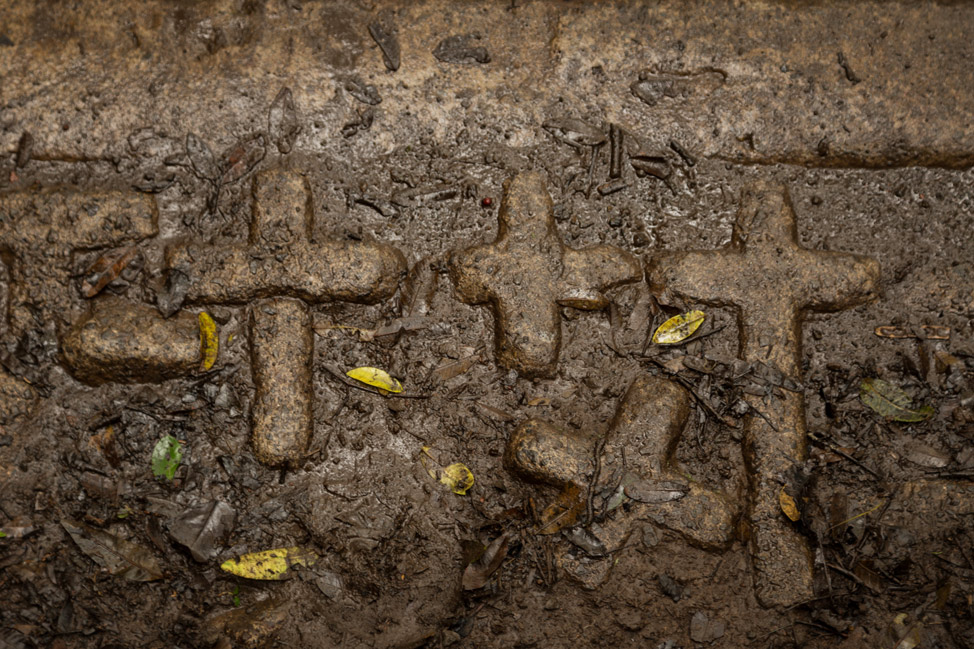 how to do it
Permits are required to visit Kalaupapa, and all can be arranged, along with the mandatory tour (the town cannot be visited independently), via Father Damien Tours. Part adventure, part history, and all stunning scenery, this may have just been our best spent time in Hawai'i.
Our trip to Moloka'i was courtesy of the Moloka'i Visitors Association. All opinions, as always, are our own.