The concept is Hurling is solely put the ball in the net.
The premise is simple, and spans such an incredible variety of team games. Hockey, soccer, basketball, lacrosse, rugby, water polo, just to name a few.
Add one to that list that we had never heard of prior to landing in Dublin a month ago: Hurling, a game that is apparently older then the country of Ireland itself. We learned quickly that it's not just another game here, it's actually their national sport. They take it very seriously, and in the vicinity of most towns a hurling "pitch" can be found. There is even one near the end of our driveway, and a couple of nights a week we can hear the hoots and hollers of players involved in a game.
We've taken in a baseball game in Chicago and a futbol match in Buenos Aires. So, naturally, to immerse ourselves in all-things-Irish, it was our duty to explore the game.
First, the rules:
A bunch of dudes (fifteen per side) have to get a small ball (called a sliotar) down a large field and past the other team to score. Shocker!
One point is awarded for launching the sliotar between the poles over the goalie's head, or three points for a goal (in the net, past the goalie)
Sticks (called hurleys) are used to smack the ball around (and each other, sometimes, even though it is illegal)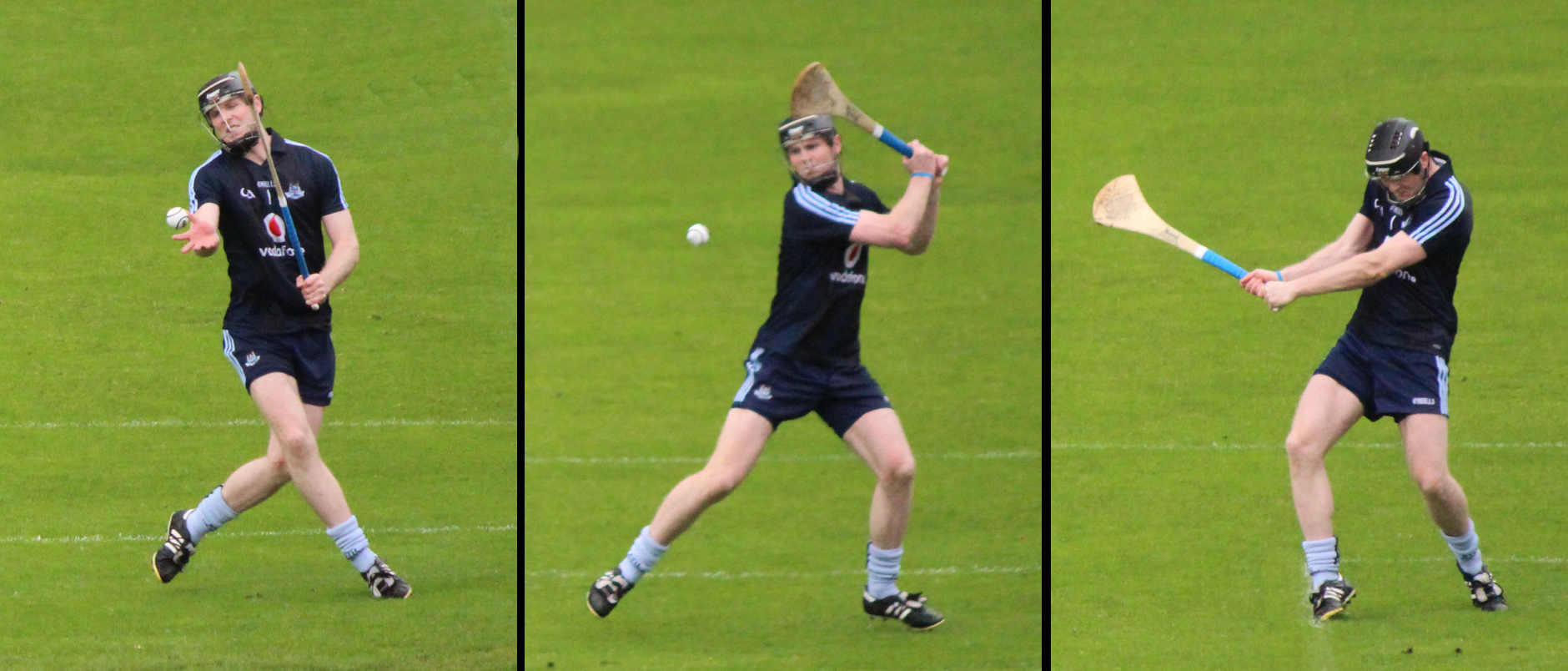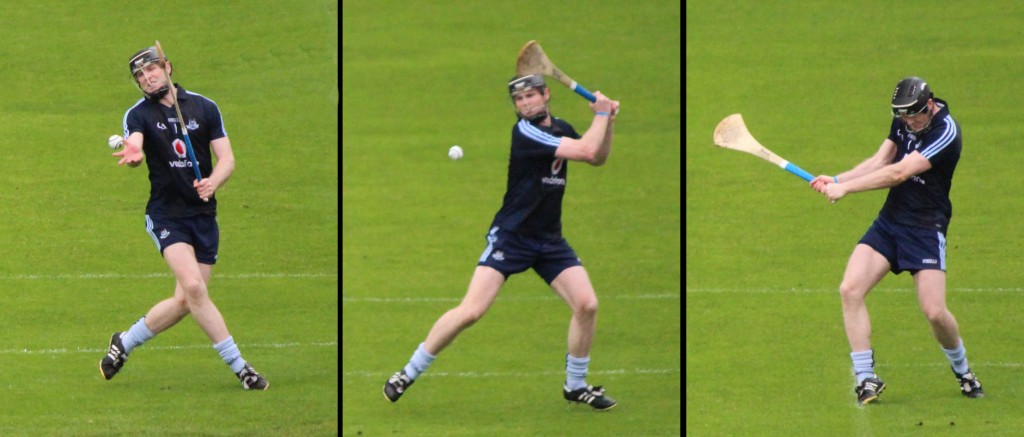 Players have to either bounce the sliotar on their stick every few steps or pass it off
Body checking is not allowed, but there are several forms of acceptable "tackling". The only protection worn by players are helmets with face guards.
We picked up tickets for two quarter finals of the All-Ireland nationals, not entirely sure of what to expect as we descended on a small city with a big stadium. And when the city of Thurles was not even yet in sight, we got our answer as we hit gridlock. We lined up and crawled along the final five miles for forty five minutes until we found a parking spot which was still a fair walk to the stadium.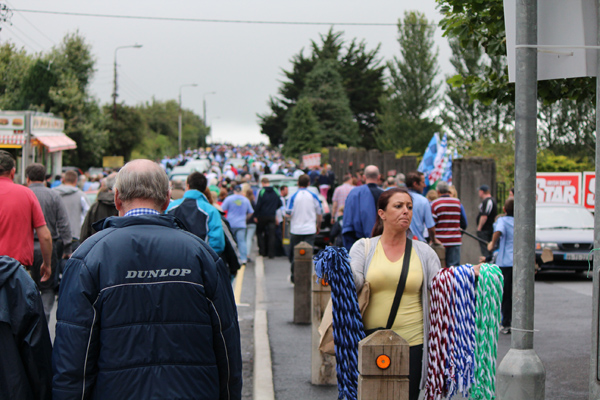 The stands were packed with a crowd of over 33,000 for the two games: Dublin v. Limerick and Waterford v. Galway. In our little corner of the stands, there seemed to be no overwhelming favorite, the curses were pretty evenly flung at both teams.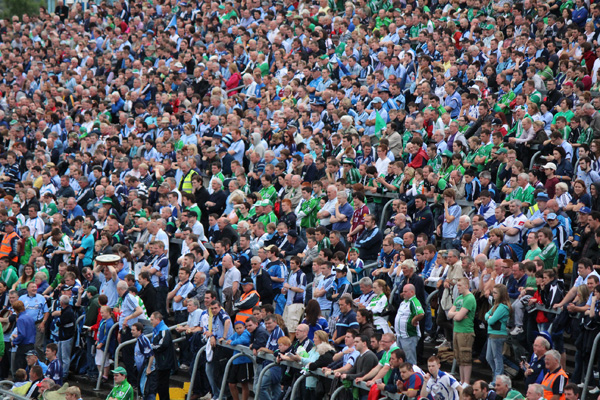 Just a handful of the dudes that were chasing that little ball. So many times it just appeared to be a mad scramble.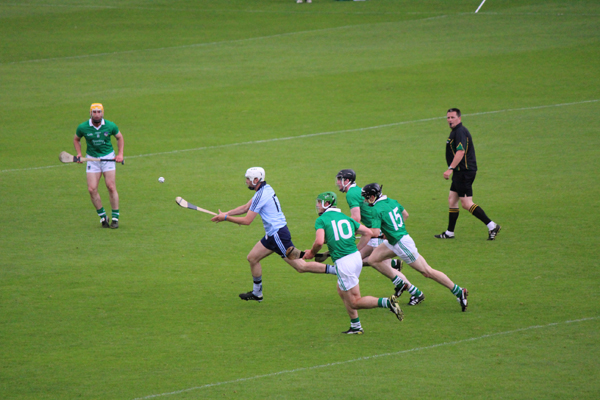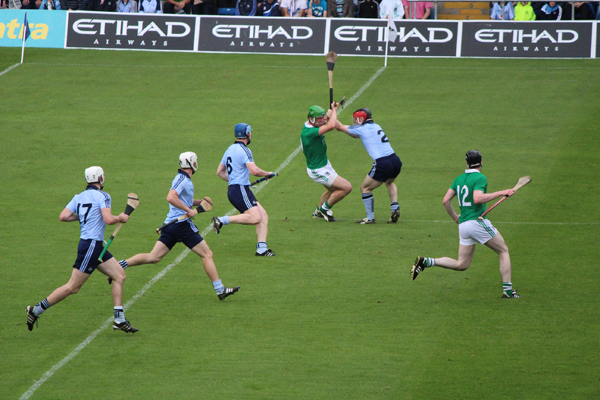 It was understood at the end of the day why they don't serve beer at the matches, as deciphering the scores actually takes some brain power.  They were reported as:  Dublin 3-13 to Limerick 0-18 and Waterford 2-23 to Galway 2-13
Which means…
Dublin (3 * 3) + (13 * 1) = 22
Limerick (0 * 3) + (18 * 1) = 18
Waterford (2 * 3) + (23 * 1) = 20
Galway (2 * 3) + (13 * 1) = 19
The Dublin team made history with this win – advancing to the semi-final round for the first time in 50 years.  They did it with a lot of help from Limerick, who actually beat themselves with so many terribly missed shots. The second game between Waterford and Galway started out a very tense fight and was tied at the half, but then the dudes in maroon came out fighting after the break and the game easily turned in their favor.
A simple game but an exciting day, we likened the experience of watching it to a hockey game back home.  The pace is fast and with lots of scoring, there are lots of animated fans, who seemed more likely to curse for mistakes then praise for triumphs.  At one point Pete even turned to me and said "Hey, that guy is acting just like I would at an Oilers game." Yes, Pete. Yes he is.