Words and Photography by Pete Heck
We were scolded often by Jib during our visit to her kitchen.
Not for sneaking samples of the food that the staff was preparing for customers (which took a lot of restraint!), but instead for trying to be helpful. After each dish we devoured, we would pick up our plates and return to the kitchen so she could start the next lesson.
Hence, the scolding. "You don't need to clear your dishes!" she insisted. In any normal restaurant or cooking class situation, we probably wouldn't.
But in the cozy kitchen of Jib, her Grandma, and the many familial staff, we just felt right at home.
*****
Our day started in the Warorot Market. Jib led us through the maze of aisles, searching for the ingredients we would need for our day. So much of it was strange and unknown to us, she effortlessly rattled off names and offered us samples. Left on our own for a few minutes, we meandered through the aisles which were quite tranquil given our early-morning weekday visit.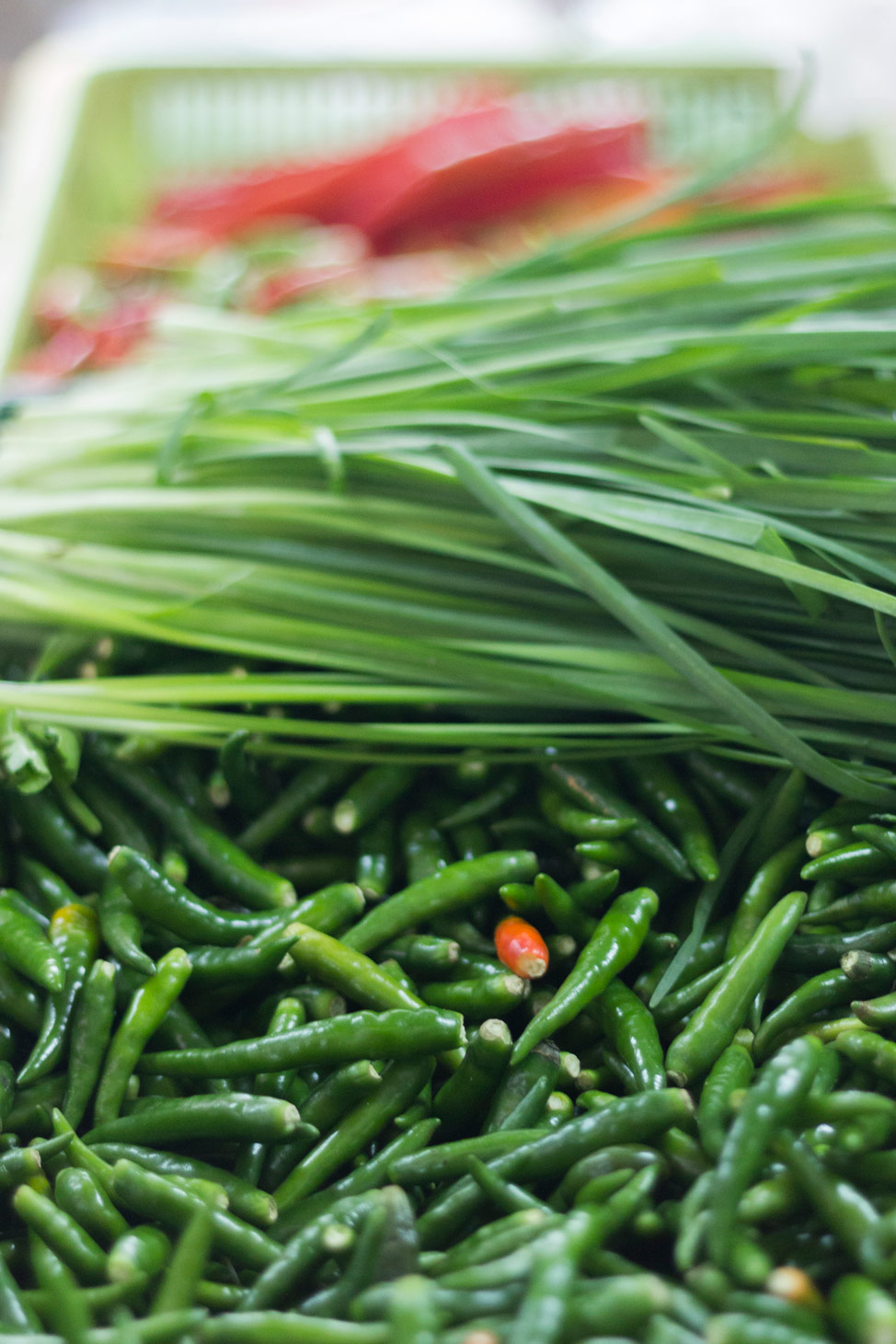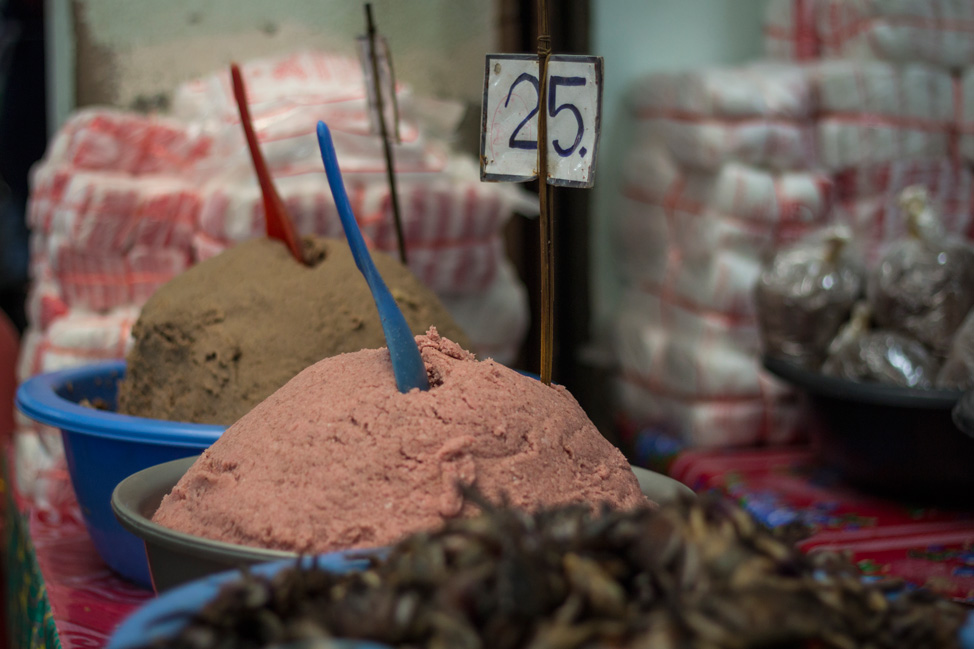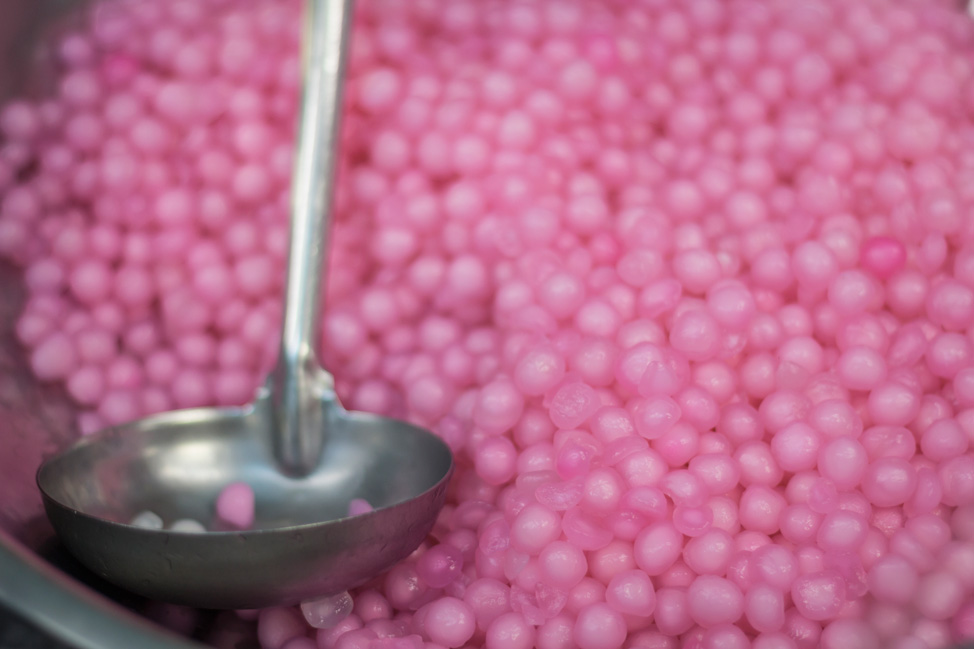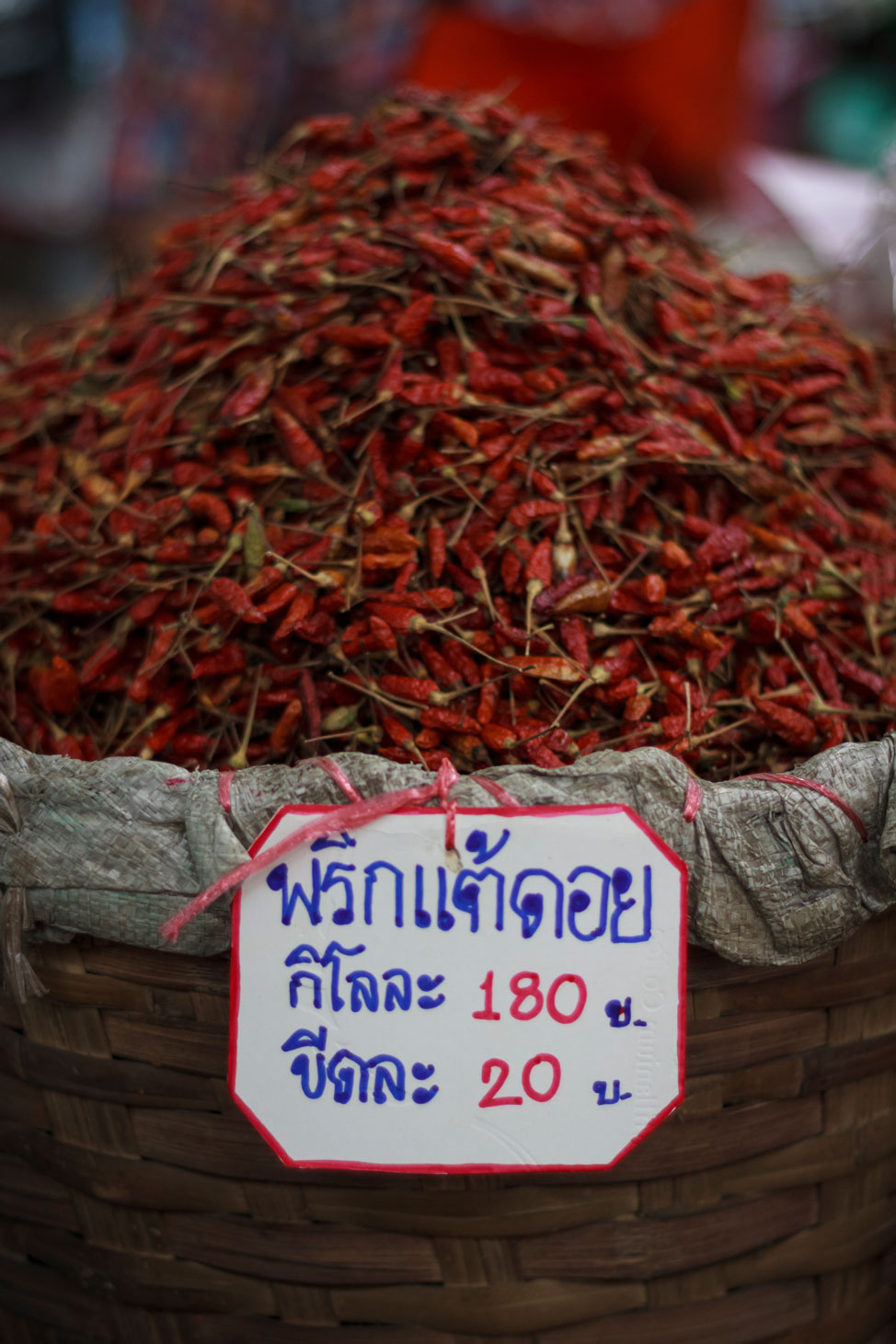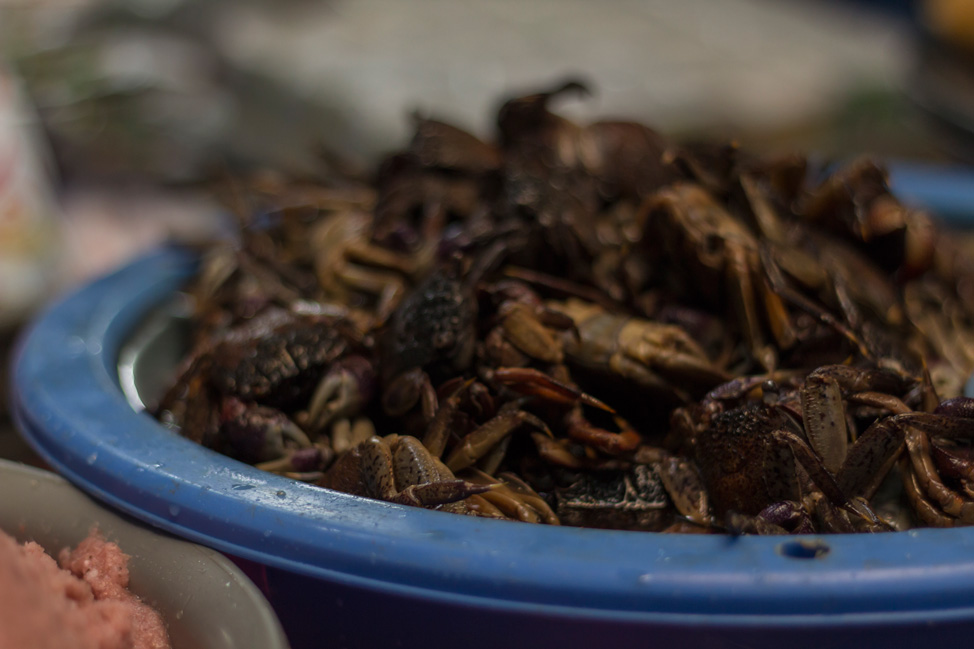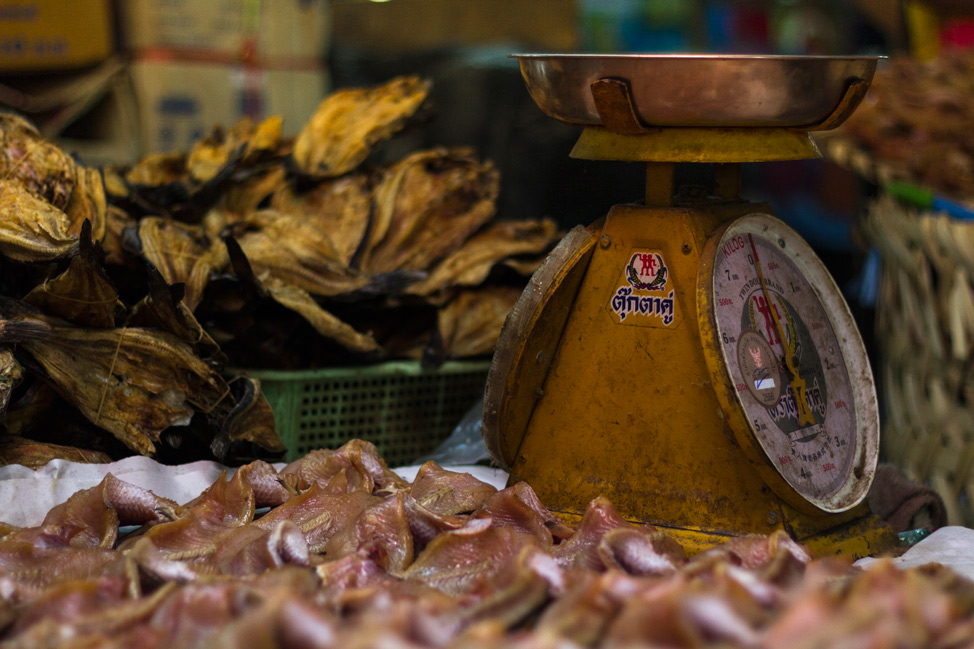 On our way to her Grandma's kitchen, Jib explained the dishes that we were about to create. Given that we were allowed to choose our own menu, Dalene was eager to make some of her favourite Thai dishes:Pad thai with chicken, green curry chicken, spicy shredded carrot salad and a pumpkin souffle dessert.
I was a little more adventurous with my choices (which I hope is expected by now). My menu:
Wing bean salad, thousand year old egg with deep fried basil, deep fried frog legs and Thai cashew chicken.
We wasted no time in getting started. Dalene made quick work of emptying the contents of a pumpkin while I took to chopping wing beans in the traditional Thai open kitchen. A half dozen others bustled around us to meet lunch orders.
Jib's passion for her food and her family was undeniable and inspiring. She whirred around the kitchen, helping us when we needed it, and offering a hand to the others working around us. Her Grandmother, the matriarch of the kitchen, kept to herself and did what she has done for years, serve up authentic Thai food with her own special recipes. She quietly sat in the back, a smile on her face, her hands constantly moving. The kitchen was calm, relaxing, and simply enjoyable to be a part of.
Jib would create one dish and supervise our attempts to duplicate. She didn't join us in our taste testing, which meant we each had eight dishes to consume on our own.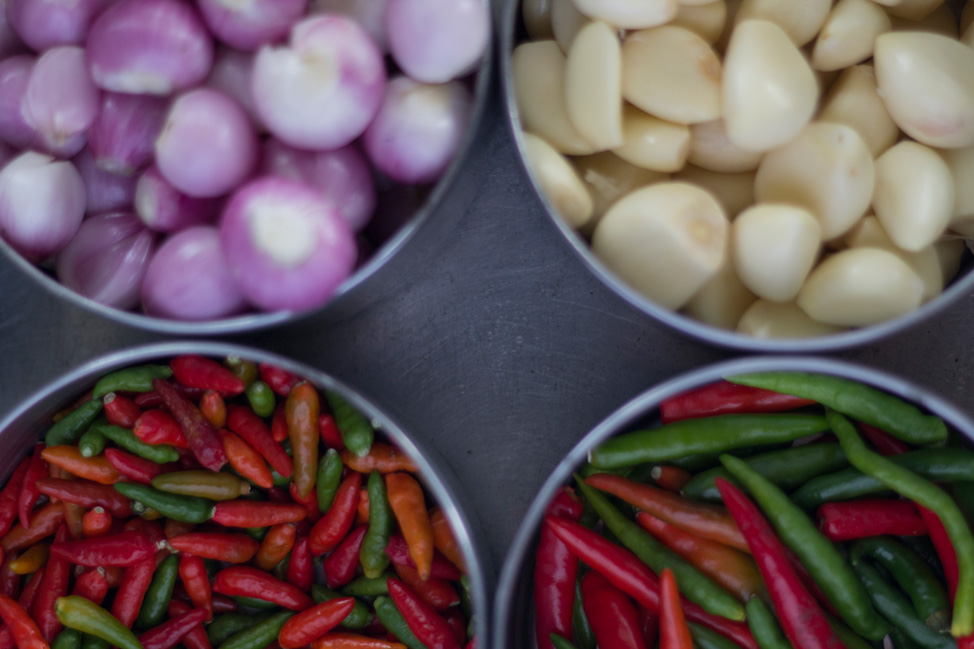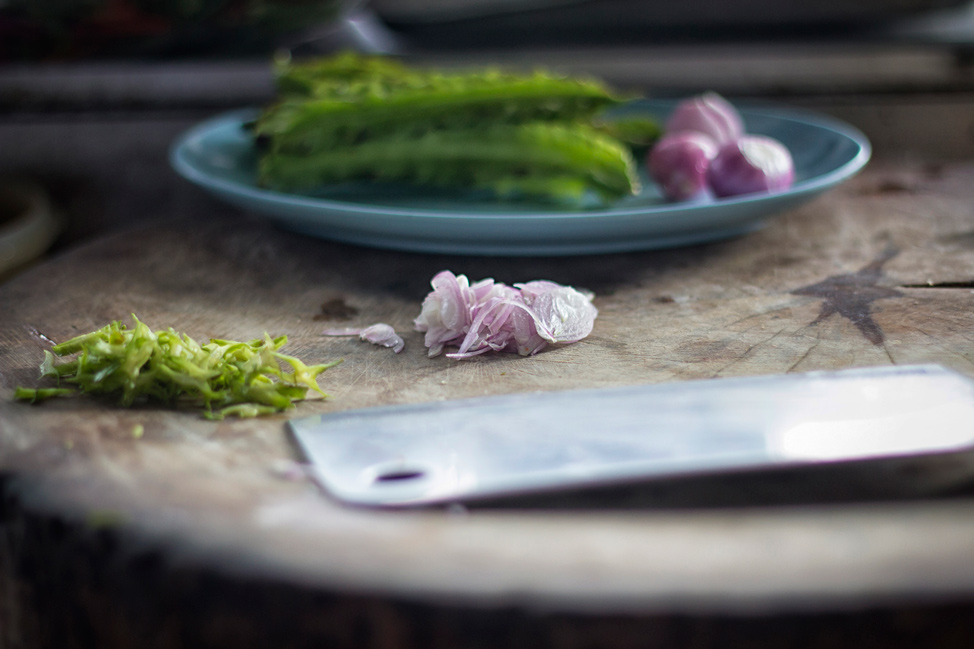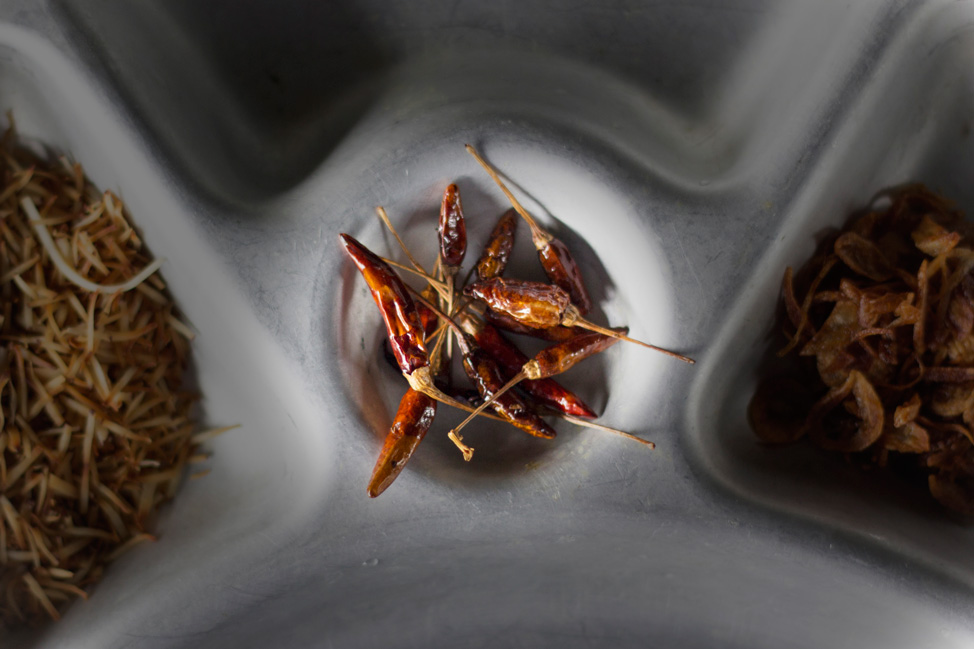 The day progressed and the schedule basically went like this: we cooked, we ate, cooked, ate, repeat, repeat. And how was the food? Guess.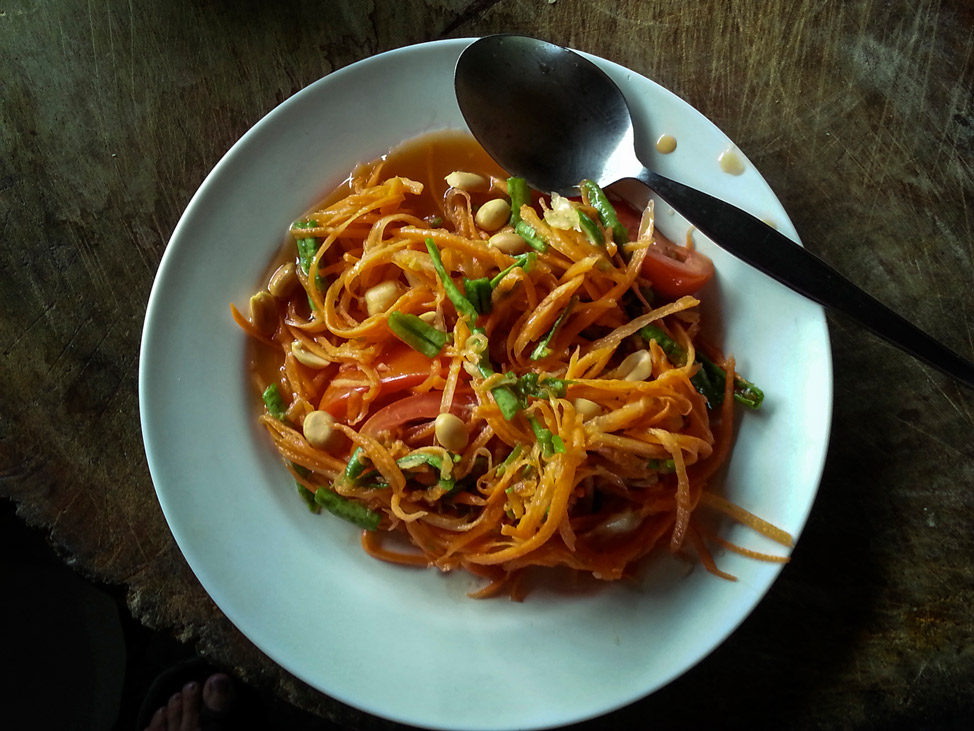 Spicy Shredded Carrot (or Papaya) Salad
Ingredients: 4-9 bulbs of Thai garlic, fresh green or red small bird chilies (to taste), 1 tbsp dried shrimp, 2 long green beans, 1 small tomato sliced into wedges, 2 cups of thinly shredded carrots (or papaya), 1 1/2 tbsp fish sauce, 1 1/2 tbsp palm sugar, 1 tbsp fresh squeezed lime juice (for extra flavor, slice lime wedges, squeeze juice in mortar, and add wedges with skin).
Garnish: 1 tbsp roasted peanuts, raw cabbage, long green bean
Instructions:
1. Add garlic, chilies, and small dried shrimp into mortar and pound until broken
2. Break the long green beans into 1 inch pieces. Add to mortar with tomato
3. Pound and fold mixture
4. Add carrots, fish sauce, palm sugar, fresh squeezed lime juice (and wedges if you like)
5. Pound and fold the mixture well
6. Garnish and serve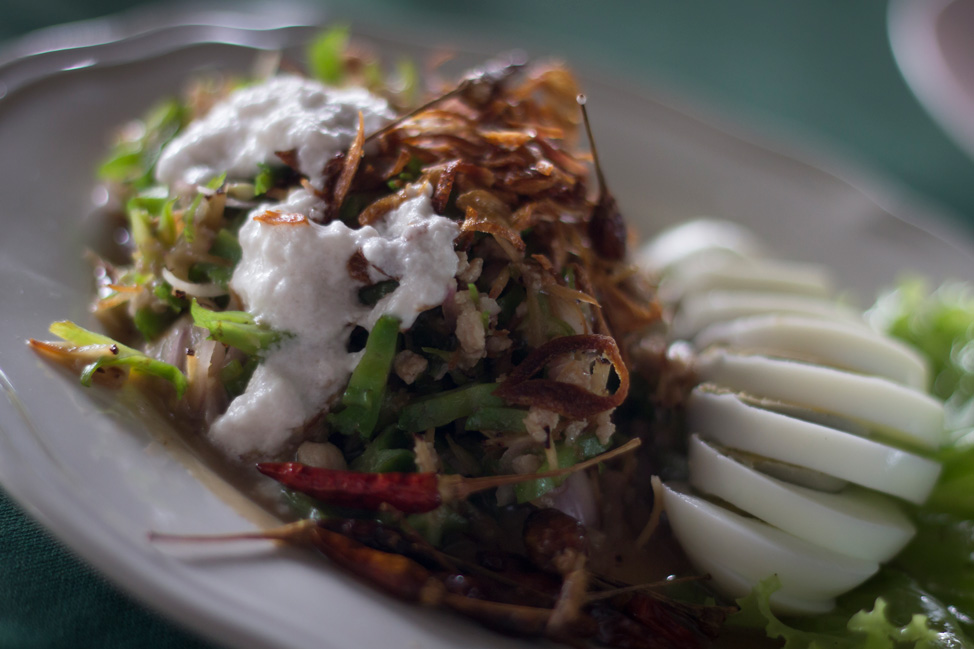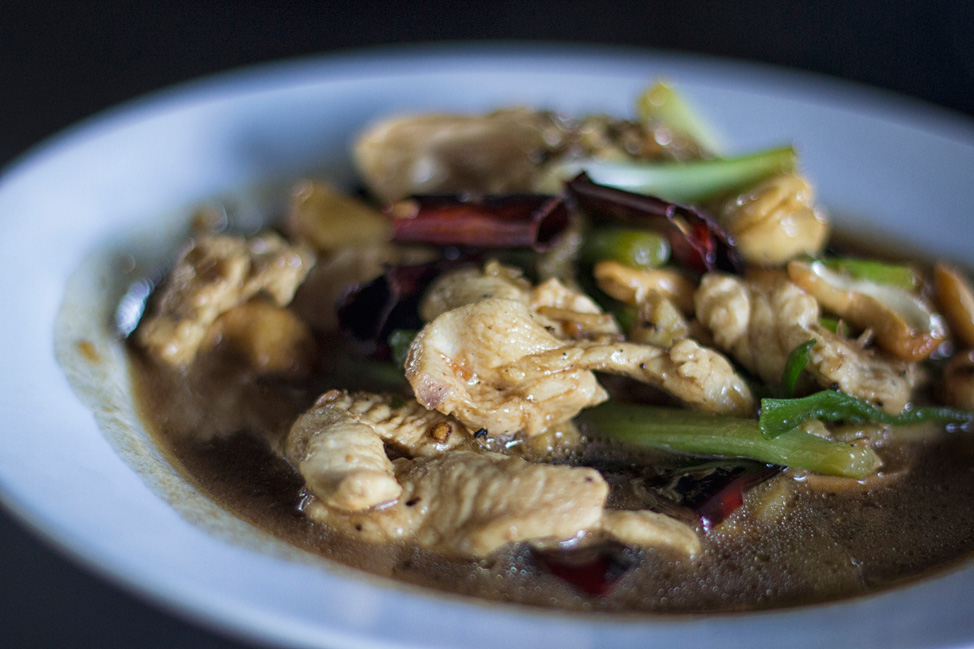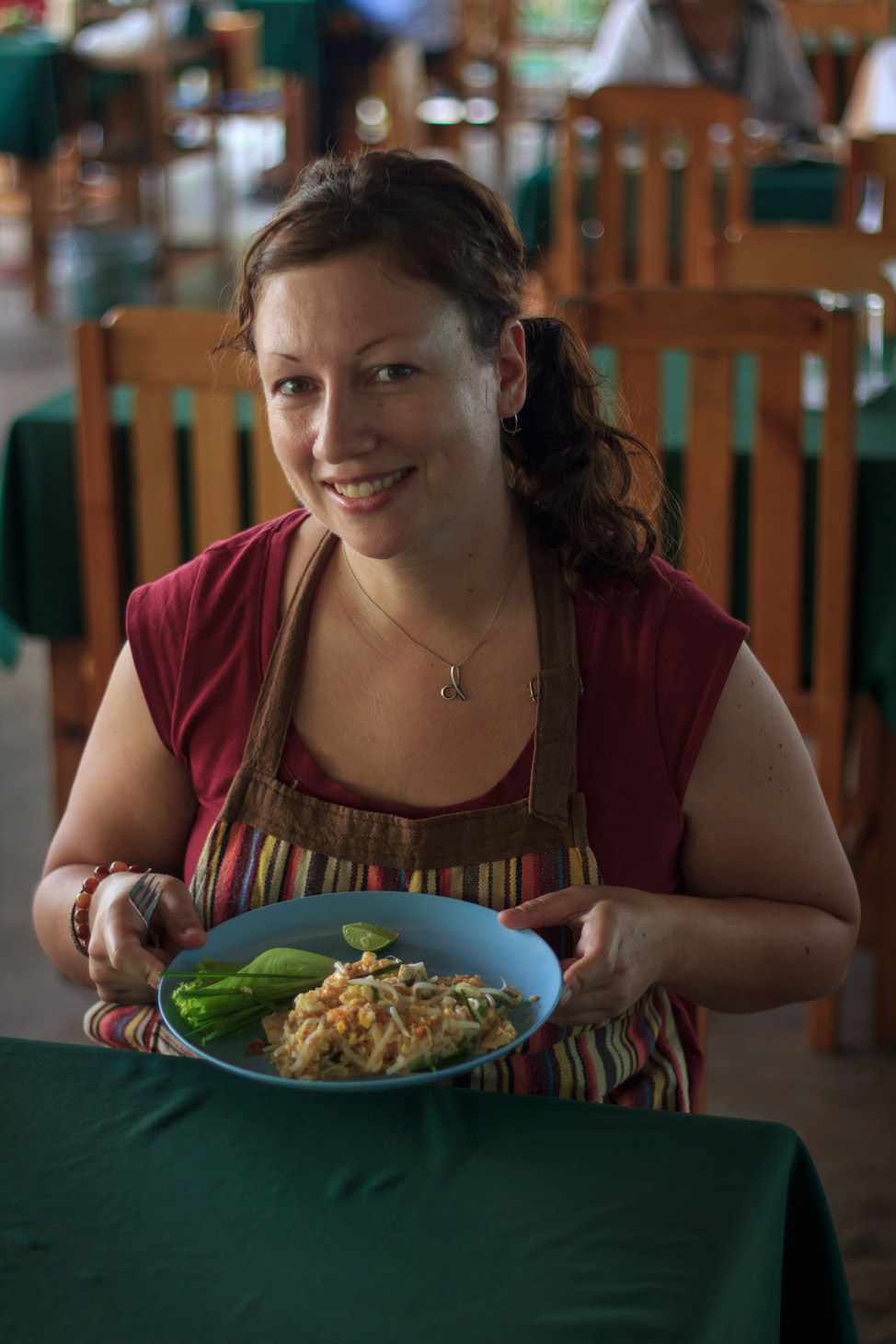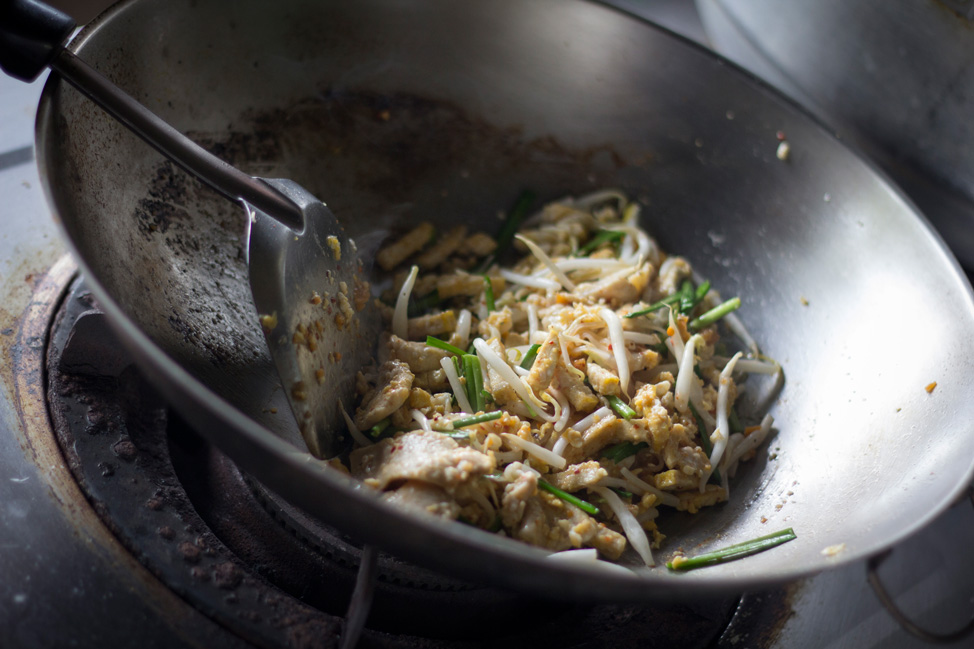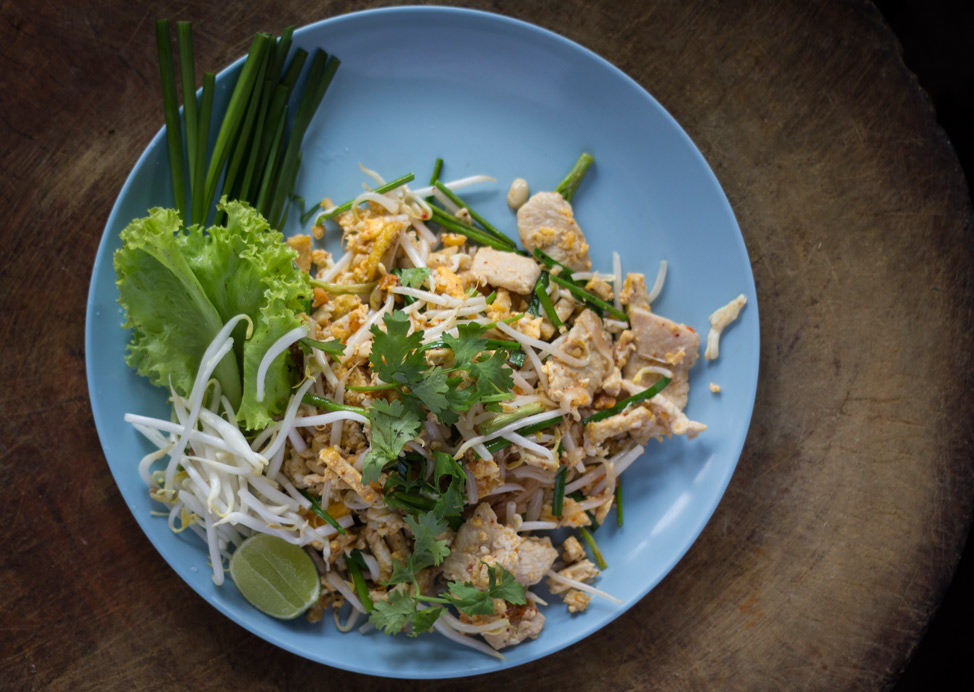 Pad Thai
Ingredients: 2 tbsp cooking oil, 1/4 cup cut hard tofu (optional! Dalene doesn't like tofu), 1/4 cup sliced meat (optional), 1 egg, 1 cup small rice noodle, 1 cup soup stock, 1 1/2 tbsp sugar, 1 tbsp pickled radish, 1 1/2 tbsp fish sauce, chili powder to taste, 1/2 tbsp lime juice, 2 tbsp roasted ground peanuts, 3/4 cup bean sprouts, 3 cut fresh Chinese chives
Garnish: Lettuce, Chinese chives, sprouts and coriander leaves
Instructions:
1. Heat oil in a wok on medium heat
2. Add tofu until slightly yellow
3. Add meat until done
4. Move what is in wok to one side of the wok
5. Add egg to the other side, but don't stir until both white and yolk are cooked a bit to get both colours (pretty!)
6. Then mix well with other ingredients
7. Add noodle and a bit of water and stir until noodles are soft
8. Add sugar, pickled radish, fish sauce, chili powder, roasted ground peanut, and lime juice. Mix well
9. Turn to high heat
10. Add sprouts and Chinese chives. Mix well.
11. Turn heat off
12. For serving, put lettuce on plate, add finished fried noodle and top with sprouts and coriander leaves, and a couple of Chinese chives on the side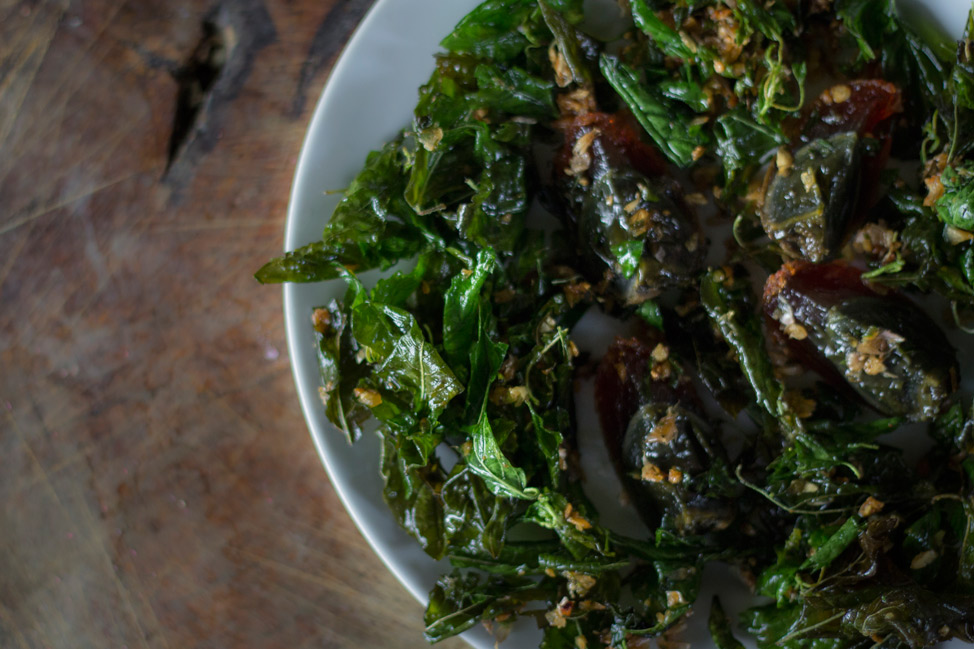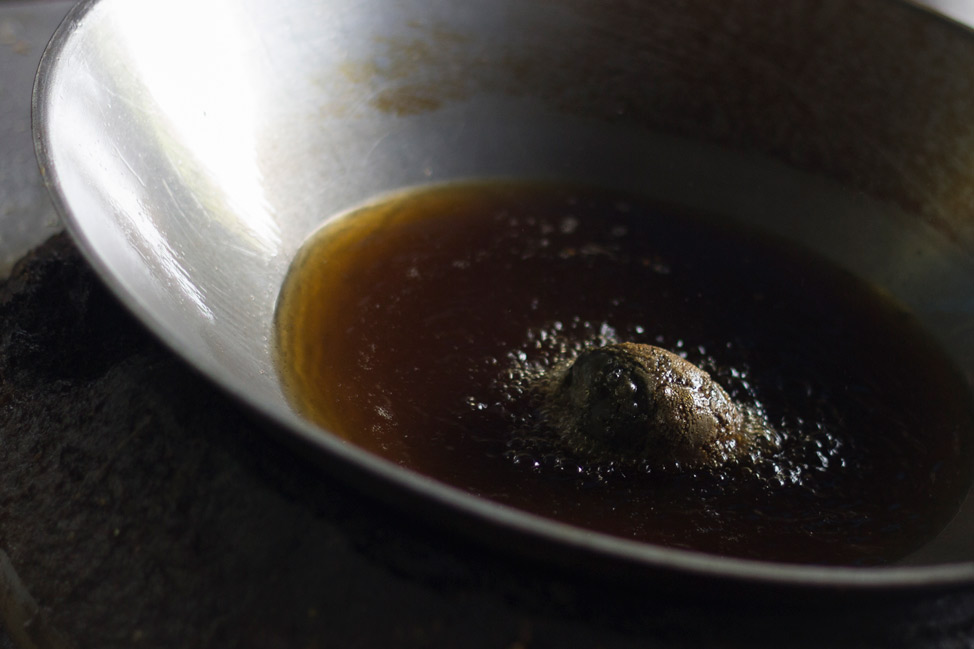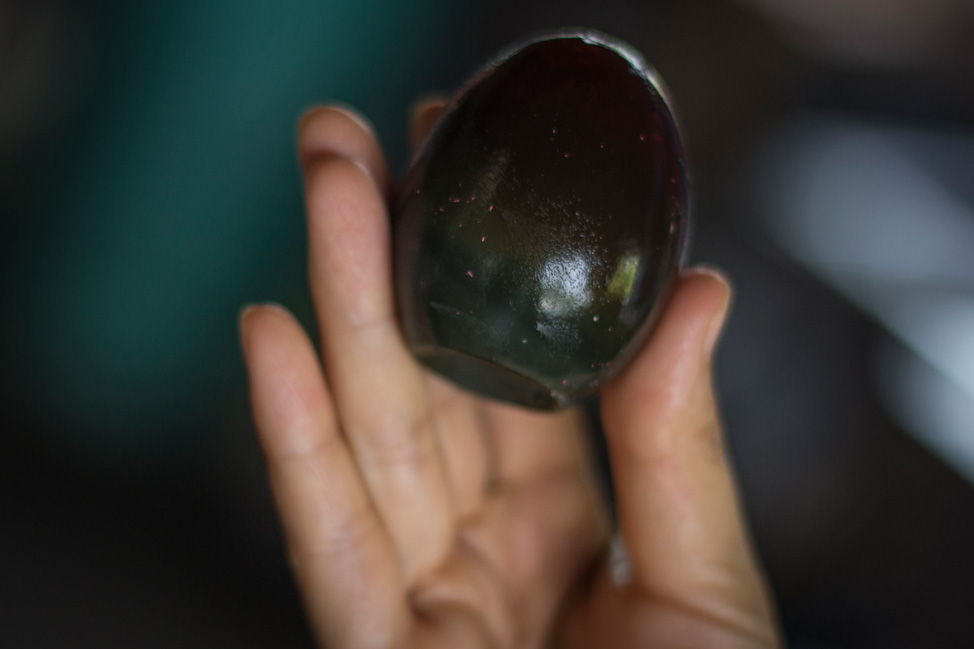 The thousand year old egg isn't quite that, but is a preserved egg that can be kept for up to six months created by a rumored six-centuries old method developed in China. Modern recipes have the egg soaked in calcium oxide, sodium carbonate, ash, salt and tea. In Jib's kitchen the egg was fried in oil and served along with deep fried holy basil.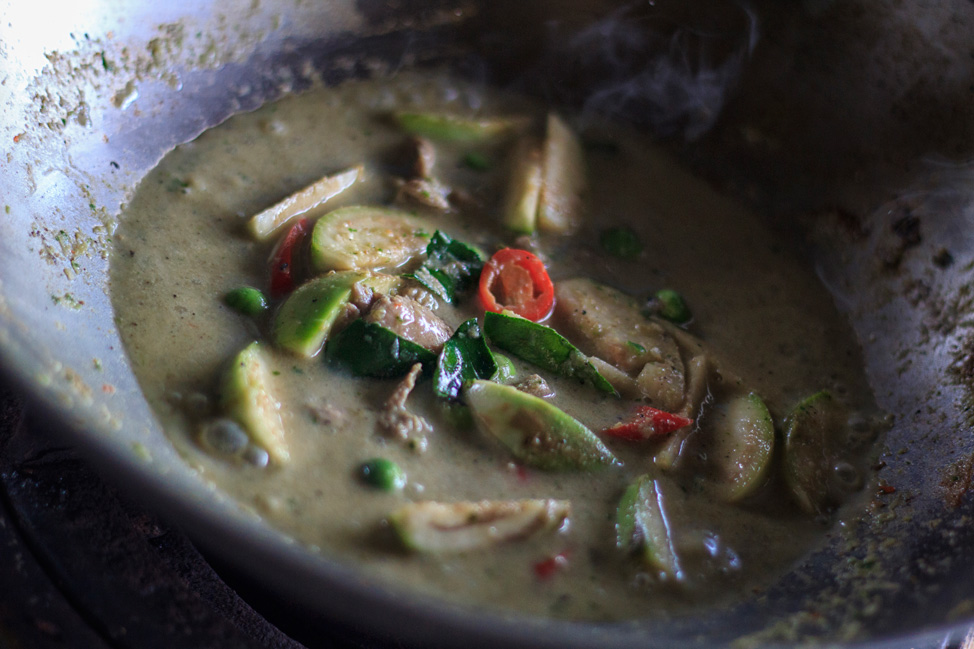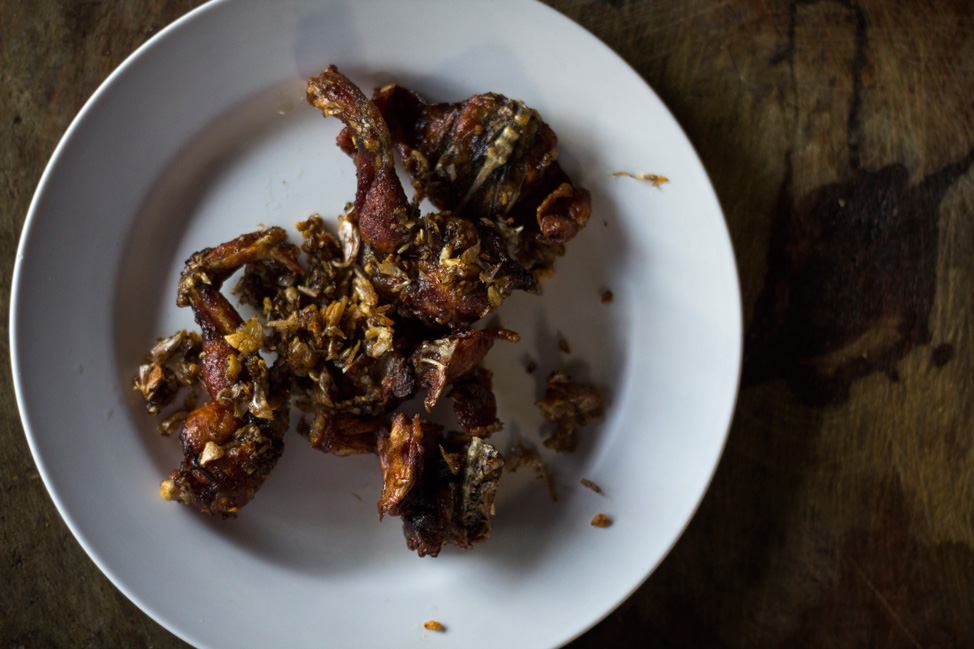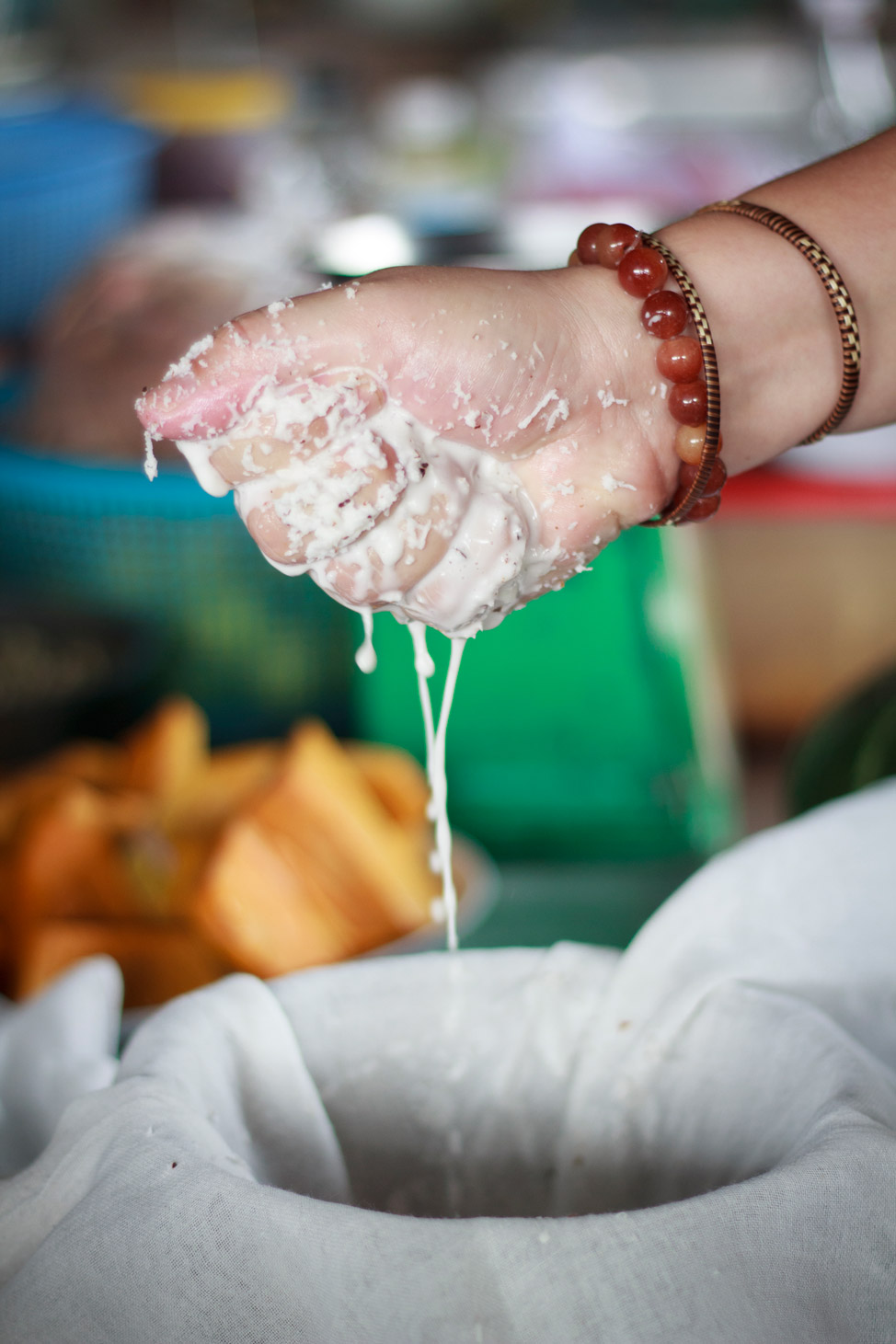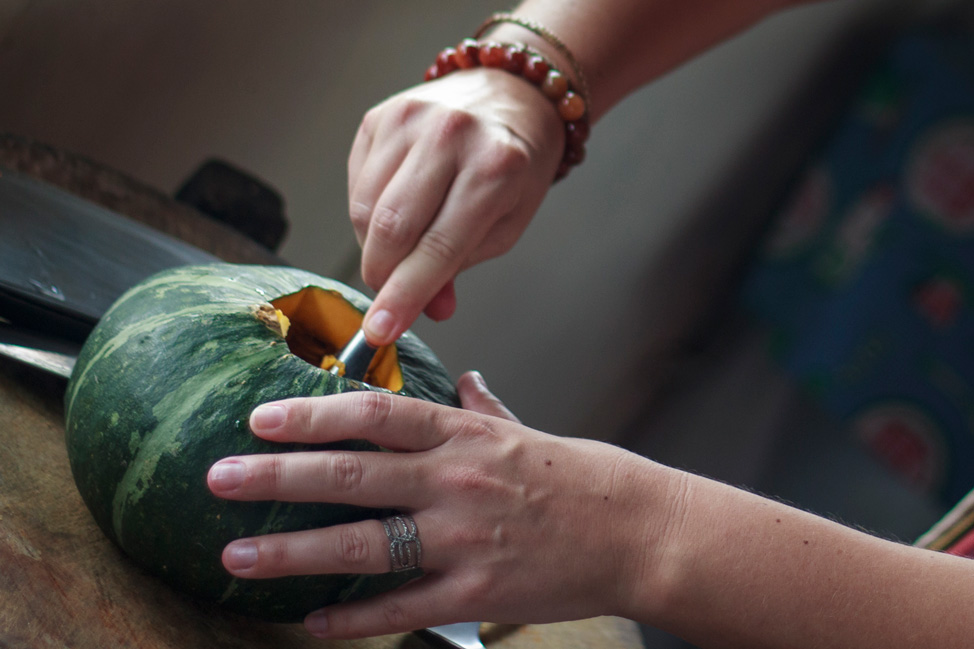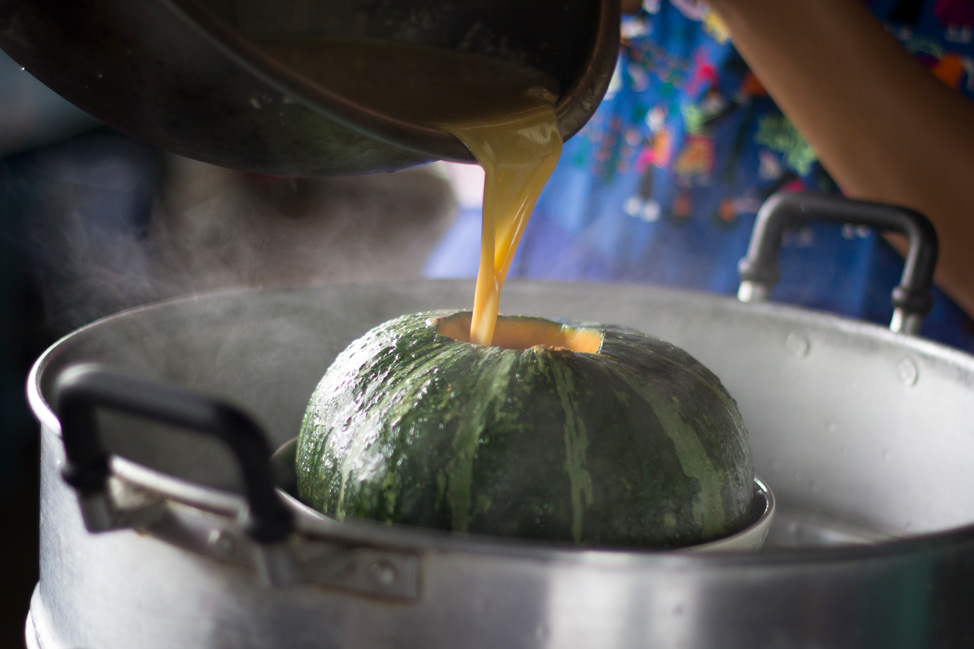 We squeezed our own coconut milk for the Pumpkin Souffle Dessert
To our substantial benefit, Jib prefers to keep things intimate. She first started by hosting classes of 8-10 people, but felt that no one was really able to learn that way. She decided then to make the classes private, but selflessly did not alter the price.
We felt the love in this kitchen. For food, and for family.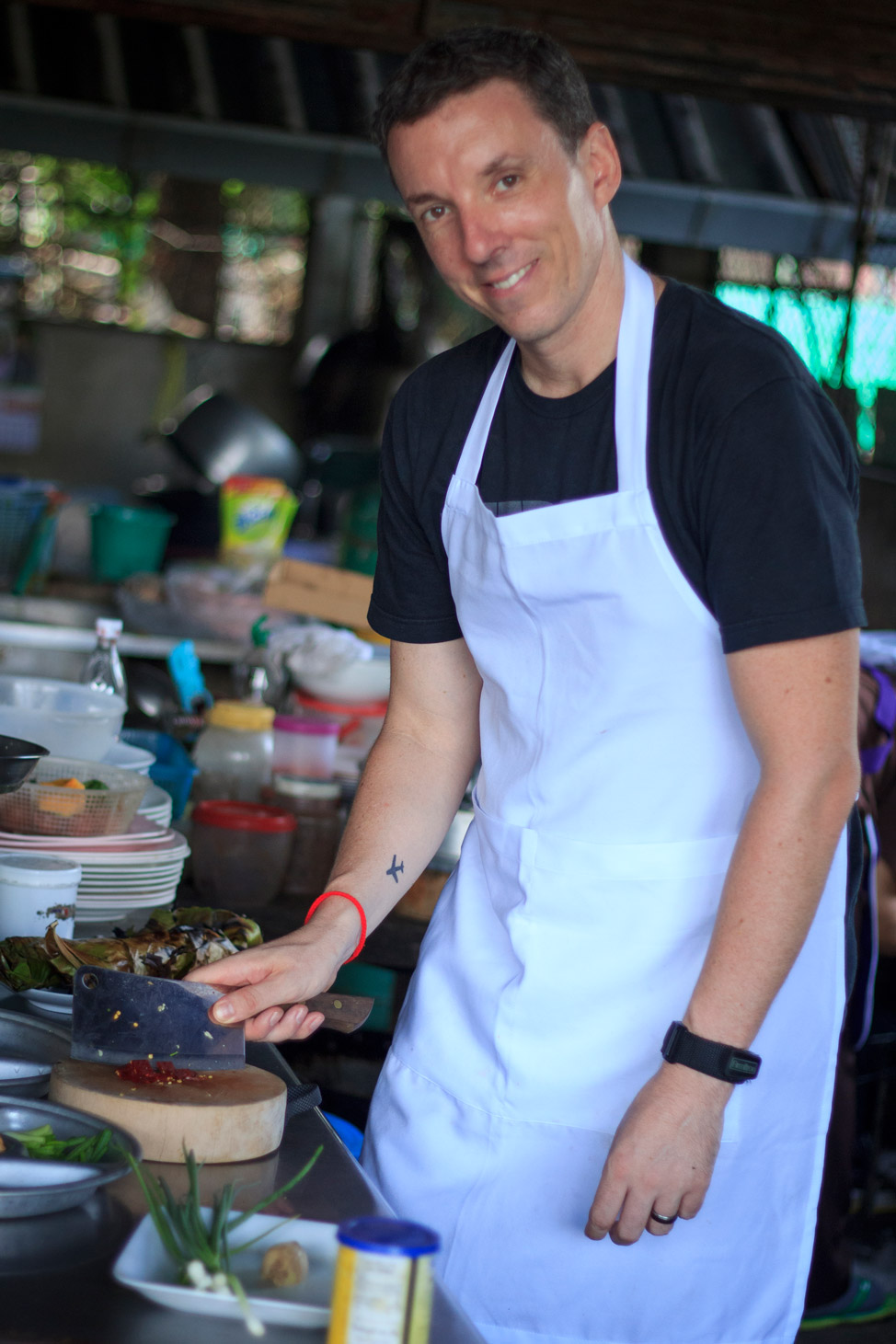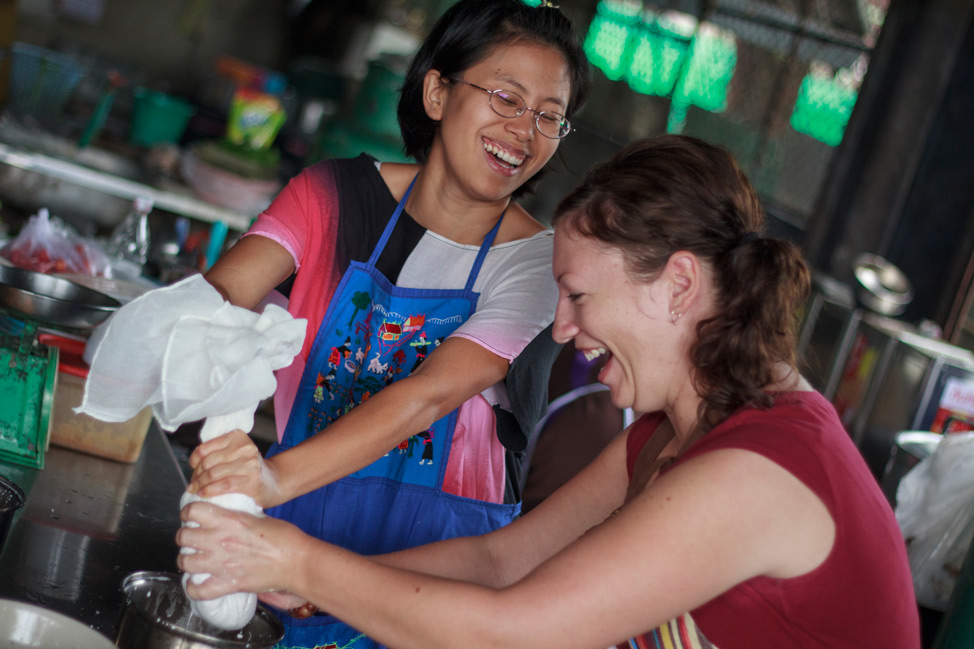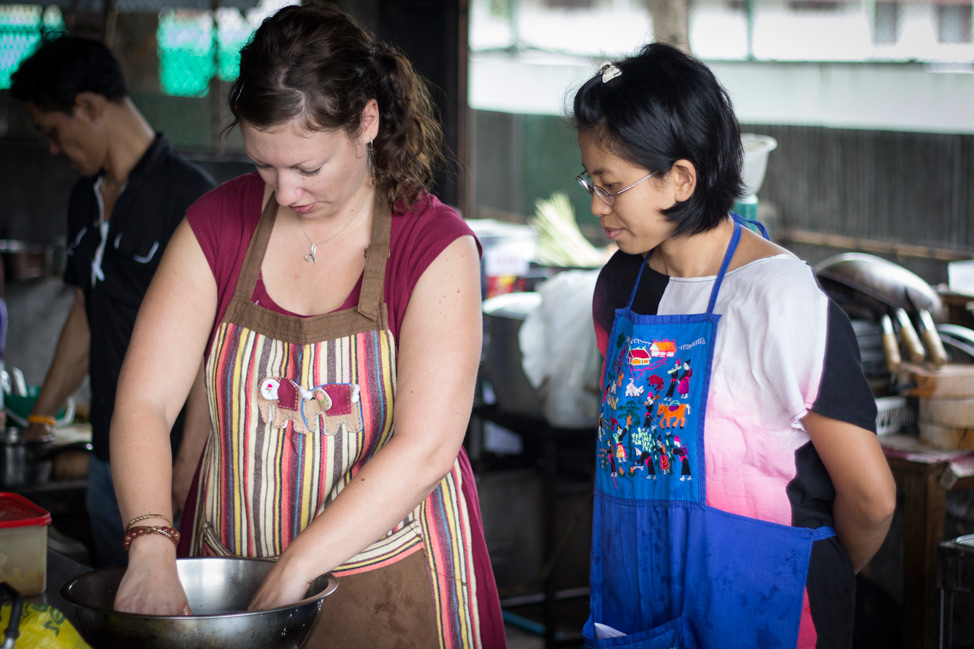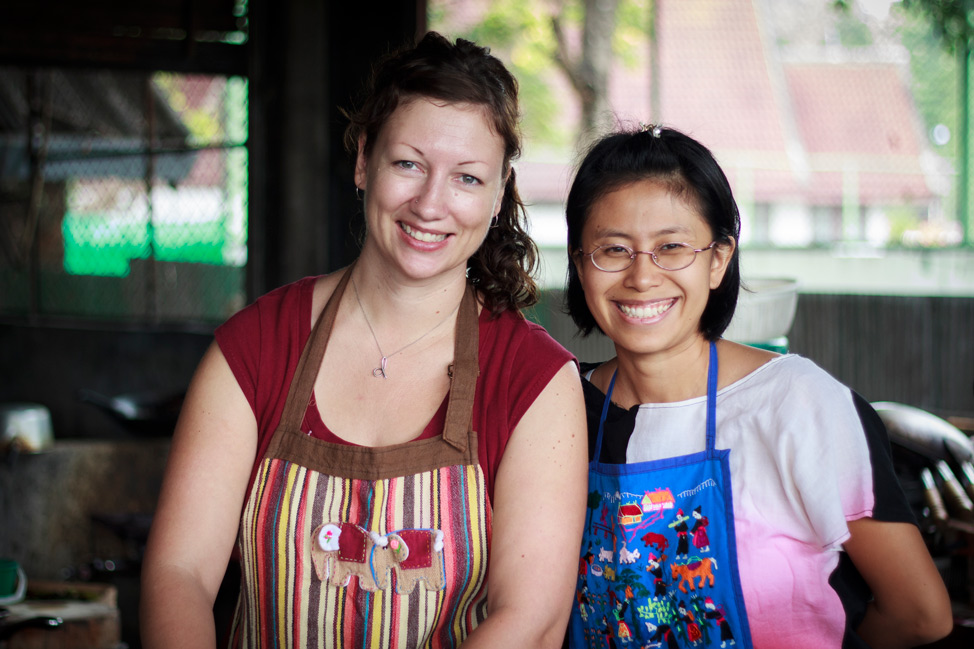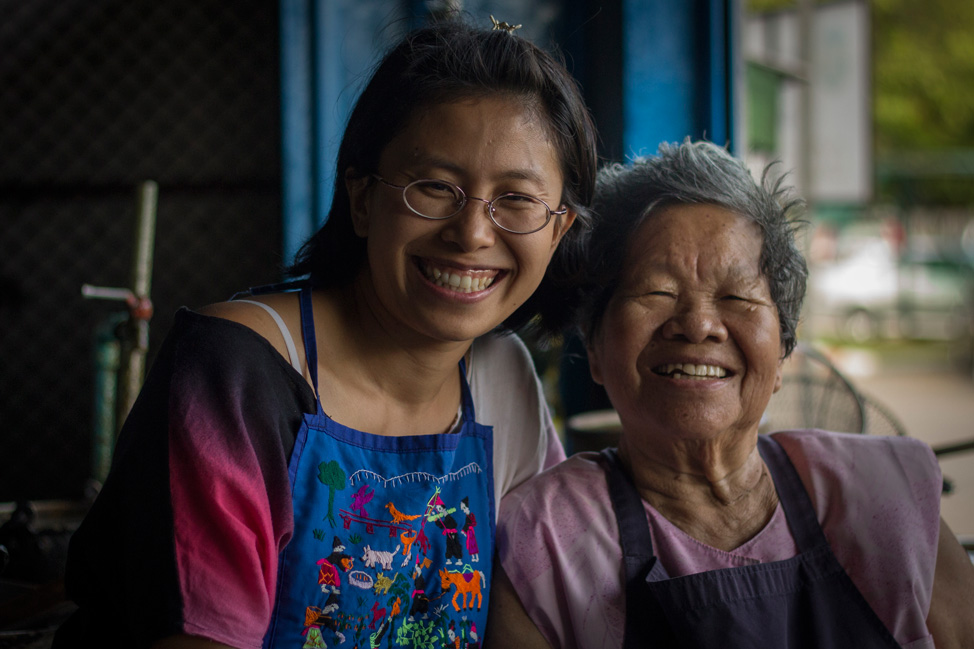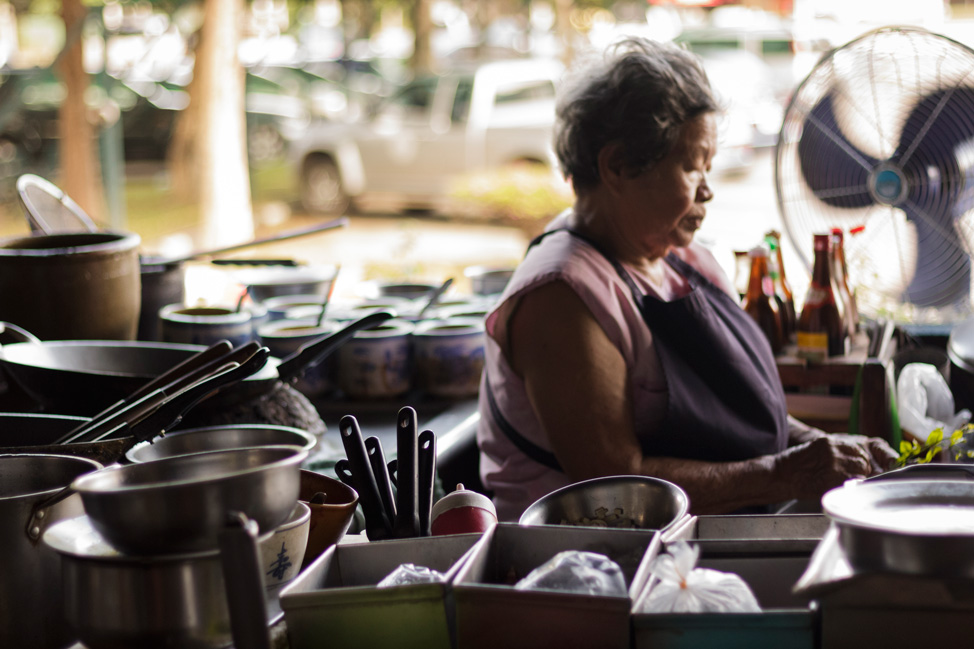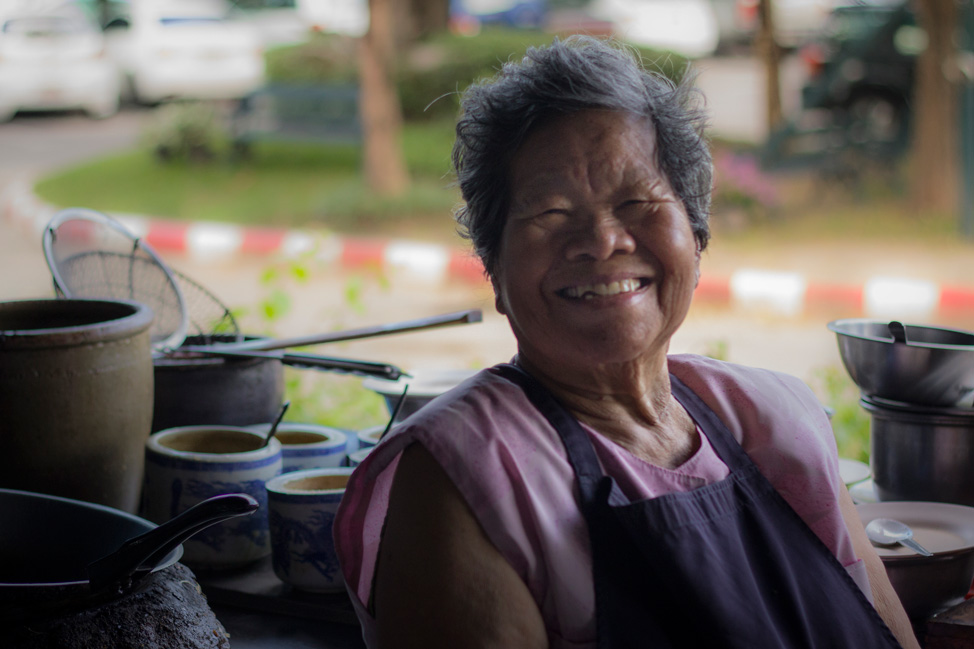 Dalene and I were guests in Jib's and Grandma's kitchen to learn Grandma's Thai Recipes for the day. As always our opinions are our own.