Words by Dalene Heck / Photography by Pete Heck
I almost cried twice on our last day of paddling.
The first time, in utter frustration. As I struggled into the dry suit and pulled on those awfully tight boots for the last time, I was on the verge of a complete meltdown. Tough weather, a couple of bad nights sleep and the greasy state of my being had begun to take their toll.
The last day was to be one of our longest: 10 km before lunch and 16 after. We started the day with no blue sky to be seen, the rain continued to taunt us in slow lyrical drops.On the water, Pete and I had developed too good of a rhythm with the oars. When we both paddled at our comfortable pace we would end up surging past others, and Gaddi was specific about nobody getting too far ahead on this last day. The biggest problem was that it was our coldest day yet – we had to take turns paddling so that we wouldn't get too far ahead, and yet try to keep the blood pumping for warmth.
That morning, we had all vowed to stop using the words blue sky or sun, playfully believing that if we ignored those unfeeling objects completely they would come looking for us instead. Our scheming worked – at lunch the sun peaked out and we felt an immediate rush of warmth – it boosted my mood considerably.
The sun stayed with us for a part of the way but then lost its battle with cloud cover. We were all immediately chilled with many kilometers yet to go. But one turn around the corner and our moments of dismay were cut short – up ahead we saw our end – the Knud Rasmussen glacier. We seemed so close and it first appeared so small, but as we inched closer the sheer mass of it became obvious and we all fell into awe. We finally pulled aside to what would be our home for the night, just meters from the grand chunk of moving ice.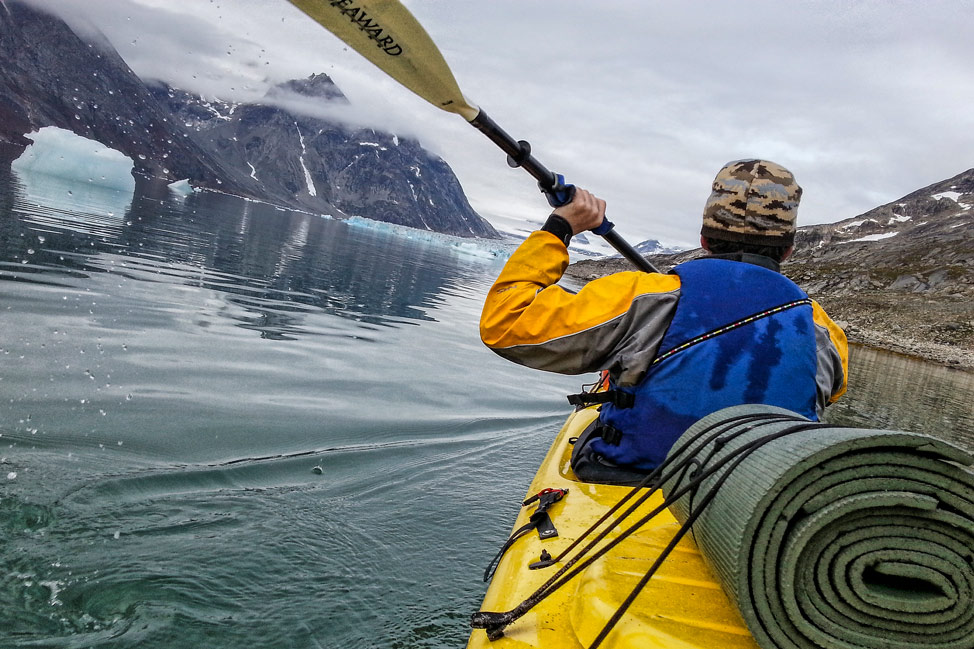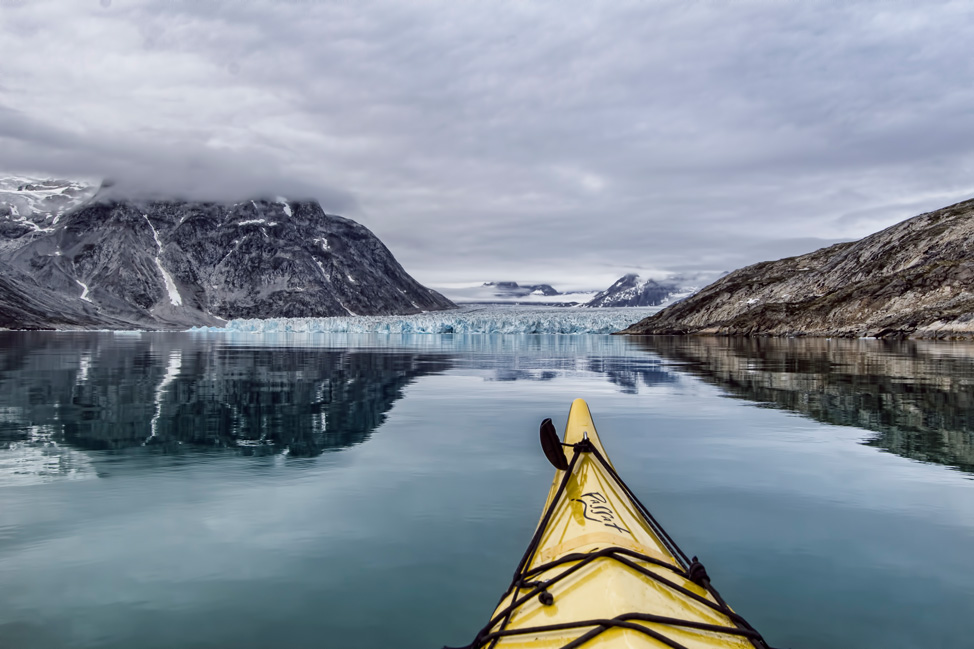 I wobbled getting out of the kayak and carrying our stuff up the hill, the last kilometers had been long ones. But we were finally at the end of our magnificent journey, this would be our last stop, our last camp, our last night in the wilderness of Greenland.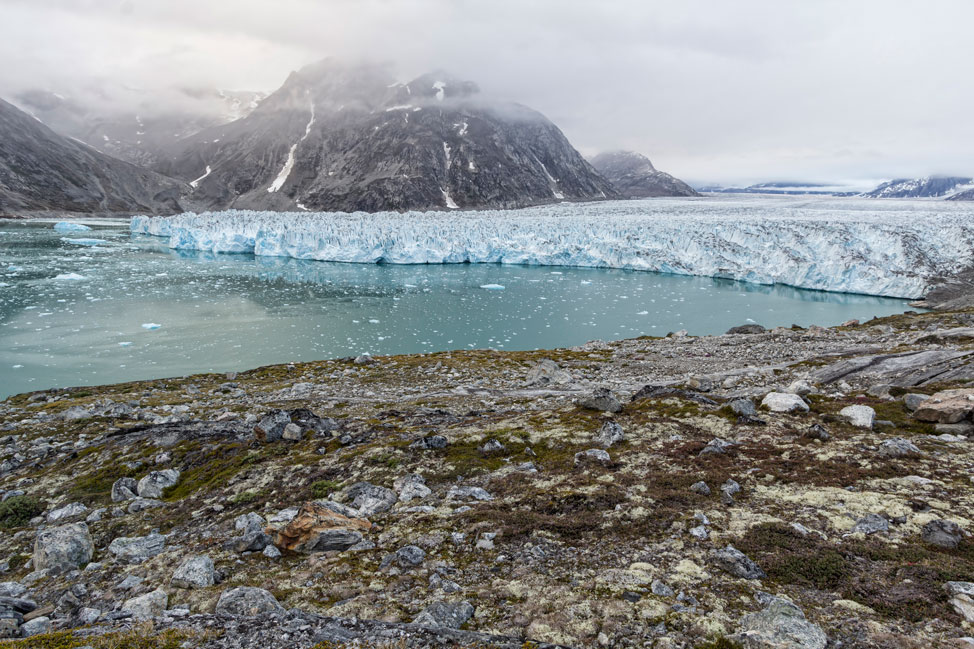 Which brought me to my second brush with tears.
Out of pure joy. This had been, without a doubt, the most adventurous journey I had ever taken. And while some things were easier than I thought (the paddling), dealing with the elements (and those damn boots) had been a constant challenge.
But, I did it. I completed a 96 km journey that undoubtedly brought out the best and worst in me. My sweet reward was not only some of the most spectacular scenery that Pete and I had ever seen, but also a colossal sense of accomplishment.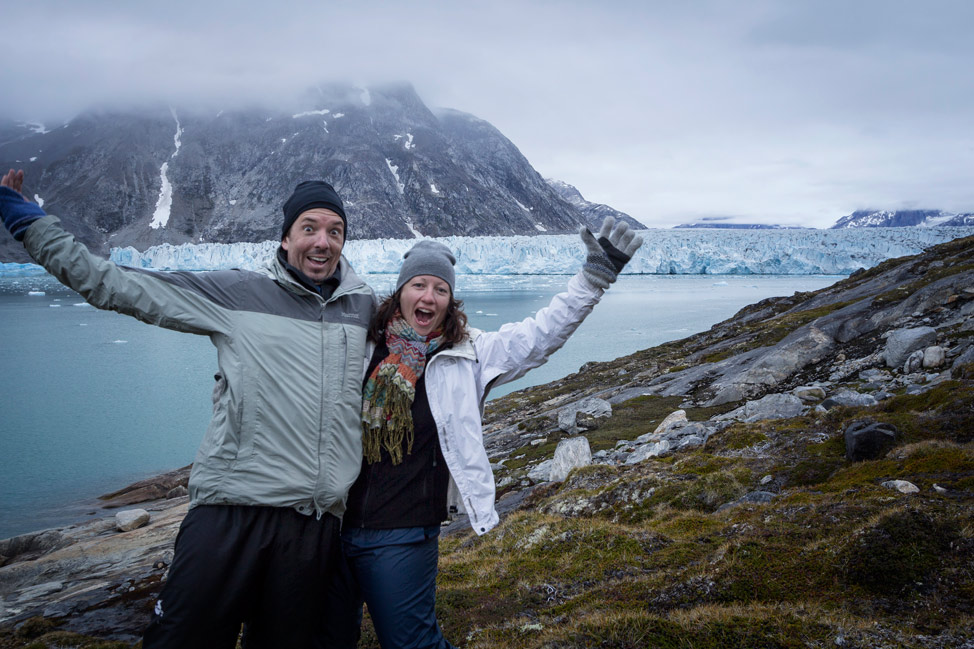 And as we posed for this cheesy 'Hey ma, we're in Greenland!' photo, I had to fight back against the lump forming in my throat.
Because, hey ma. We were in Greenland. We just completed the biggest adventure of our lives in the most remote place we've ever traveled.
If that's not cause for joyful tears, then I don't know what is.
Our journey in Greenland was courtesy of Greenland Tours. All opinions, as always, are our own. For a review of our entire trip with them, please click here.